Not sure if you need to do a Coba Ruins tour in Mexico or if you should go it alone? I'm not going to lie, Coba ruins can be a little tricky to get to, so many people choose to do a Coba Ruins tour to save stress. But with a little planning, it is possible to see Coba Ruins without doing an organized tour.
You can't visit this beautiful part of Mexico without seeing at least one Mayan Ruin site! If you are in the Cancun/ Playa Del Carmen/ Tulum area you should go to Coba at least or better still visit Coba and Tulum on the same day. Coba is actually my favorite of all of the Mayan sites I've visited.
In this blog post, you will learn all of the best ways to visit Coba Ruins in Mexico. I have also outlined the different ways to get to Coba from Cancun, Playa del Carmen, and Tulum.
Quick Tip: I highly recommend booking all of your Mexico transportation with GuateGo. You can search for buses, shuttles, ferries, and Flights on their website. What I love most about them is their customer service. I know these guys personally from my time living in Guatemala and they look after their customers.

If anything happens and you get delayed and miss your bus, you can just call them and they are always there to help. If you book through them you will pay a little more than if you book in person at the bus station. But it's worth it for the ease and security. Click here to search for transportation in Mexico.
Do you need to book a Coba Ruins tour, or can you visit on your own without a guide?
I actually visited Coba Ruins from Tulum. The hardest part for me was getting there and back unless you have your own transport it can be tricky. But when you are actually at Coba a guide is going to give you a lot of great information, but it's not necessary to enjoy the experiences, in my opinion. If you do decide to do a tour, do a Tulum and Coba tour.
QUICK TIP: Book your tours, rental cars, and transfers through my local contact

I've been working with Turismo Channel in Playa del Carmen for years and they are who I send all my family and friends to when they visit the Riviera Maya. I really can recommend them enough for tours, private airport transfers, and rental cars. Vanessa and Oliver are personal friends of mine and I have 100% faith that you will have a wonderful time with them.

You can check out their tours by clicking here and using the following discount codes when booking online to save $$$ clairecaroff (car rental), claire10off (for 10% off group tours), claireprivate (for a discount on private tours).

You can also send her a WhatsApp message quoting the above codes to receive the discount.
So of all the Mayan ruins in Mexico why visit Coba?
Coba Ruins are believed to be one of the most important Mayan Ruins sites in the Yucatan Peninsula. It is also one of the quieter Mayan Ruin sites in Mexico and a lot of fun to explore. As much or it still isn't excavated you feel a bit like Indiana Jones discovering it in the jungle. But the best bit for me is that you can explore it on a bike.
Walking around you feel like you are really discovering something so many of the structures are still hidden by trees.
There are three Cenotes within a 10-minute drive of Coba: Choo Ha, Tamchaha and Multun-Ha. Once you have finished exploring the site you can hop in your car (if you have hired one) and drive to one of the pools to cool off.

As I already mentioned you can hire a bike or a bici taxi (tricycle taxi) so you don't have to walk.

Coba has a Mayan Pyramids that you can still climb!
Did You Get Travel Insurance Yet?

If 2020 taught us anything, it's that you need to be prepared for anything!

The Insurance companies I personally recommend are Hey Mondo, Passport Nomads, Safety Wing, and Travel Insurance Master

Hey Mondo is great if you are looking for a great value flexible policy. They offer single-trip cover, annual multi-trip cover, and long-term travel cover.

Passport Nomads provides the most comprehensive cover for Digital Nomads. If you find yourself in need of medical care you just contact them and they will pre-load your card with the funds to cover your treatment, meaning you won't need to pay out of pocket and then put in a claim later.

Safety Wing is great value with monthly cover starting at $39. It's super easy to use and it just renews each month. I currently use them as they offer me free cover for my son as part of my policy.

I also use Travel Insurance Master for short trips.

Read my full travel insurance post here where I go into detail about all 4 companies.
How to get to Coba Ruins
Coba isn't easy to get to unless you rent a car (read this blog post before you rent a car in Mexico) or can afford to splash out on a taxi. If you are on a budget like me then Coba Mayan ruins can be a little trickier to access than the other Mayan ruins in Mexico.
Rent a Car:
If you can this is the mode of transport I would highly recommend. There is so much to explore in the area and rental cars are pretty cheap. Even just renting a car for 24 hours you could see a lot. The roads are very easy to navigate and Coba is so easy to find you really can't go wrong. If it hadn't been for the fact I managed to lose my bank card in Guatemala this is what I would have done.
Rental Car charges are relatively cheap in Mexico and start from around $30 per day. I always rent cars from Vanessa in Playa del Carmen 9 times out of 10 the car rental places will scam or rip you off, read this before booking anything, or click here to ask Vanessa for a quote.
Public Transport:
From Cancun or Playa Del Carmen:
Option 1:
Take an ADO bus before 7:30 am from Cancun and change at Tulum or at 9:00 am from Playa Del Carmen. To get back, the bus leaves at 1 pm.
Option 2:
Take a colectivo from Cancun to Playa del Carmen where you will need to then take a second Colectivo from Playa del Carmen to Tulum (its a lot easier than it sounds).
When you arrive in Tulum take either another colectivo from Tulum to Coba or take the ADO bus at 10:10. The first colectivo leaves after 9 am or as soon as they have at least 3 people wanting to go to Coba.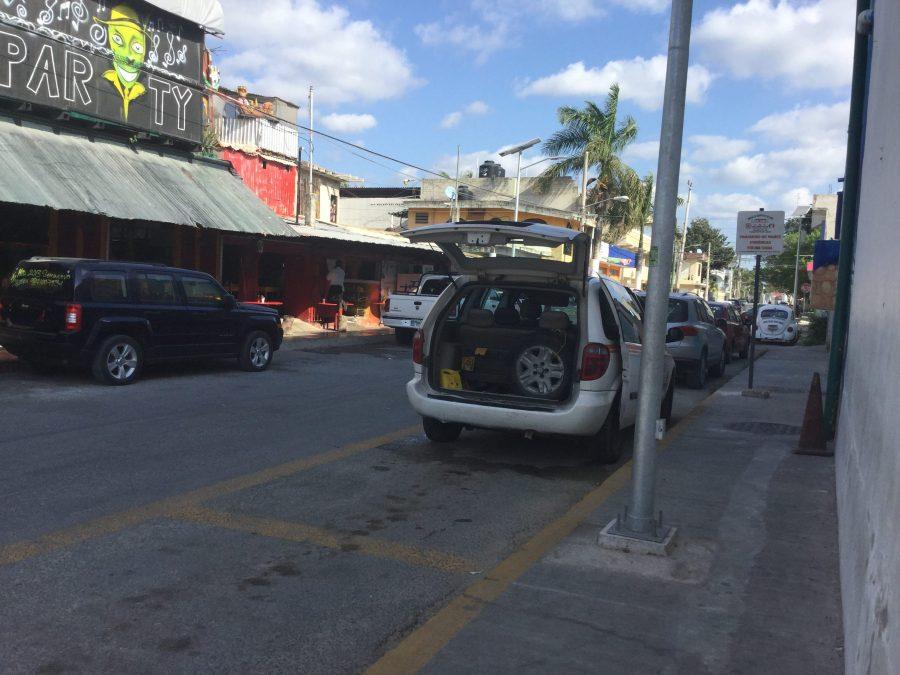 Getting back to Tulum from Coba Ruins can be tricky if you arrived by colectivo as there is no way of knowing when they will be there. I would advise getting the 1 pm ADO bus or taking a taxi back. Or if you are feeling brave you could hitchhike which is what I did…shush don't tell my Mum and Dad haha.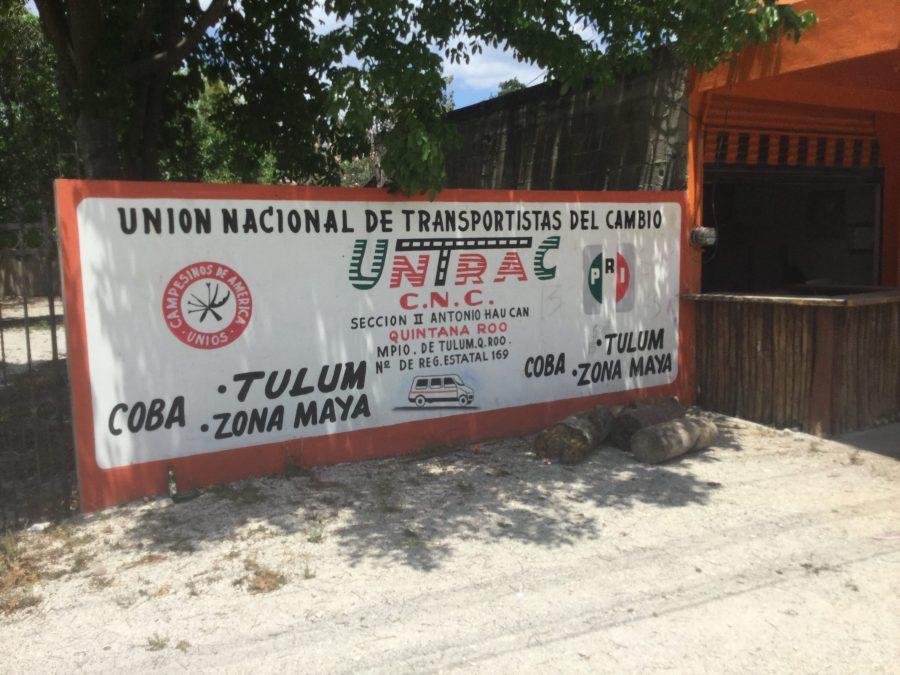 Option 3:
Take either a colectivo or the ADO bus to Tulum and then take a taxi to Coba for around 200 pesos.
How to get to Coba from Tulum:
The ADO bus leaves at 10:10 from its terminal and returns at 1 pm. You can also take a Colectivo which will pick you up a few blocks away on the same road. These start at 9 am as soon as there is a minimum of 3 people. To return, I would recommend the 1 pm or 3 pm ADO coach.
Finding the place where the Colectivo picks you up can be tricky so here are some images that show you the spot. The Coba Colectivo isn't a van it's a large car that looks more like a taxi. This completely threw me.
Book a Coba Ruins Tour
If you are staying in Playa Del Carmen or Cancun booking a tour to Coba could be your best option, as a tour company will take care of all of your transport to Coba Ruins. You can book a Coba Ruins tour through most hotels and tour agencies and they will normally include a stop at Tulum Ruins. So you actually end up doing a Tulum and Coba tour too as they are so close. I would highly recommend including a visit to Tulum Ruins if you get the chance.
Tulum Ruins is very different from Coba Ruins, it's one of the most stunning Mayan Ruins sites I have seen. A Tulum and Coba Tour will cost you around $100 USD from Cancun or Playa Del Carmen.
Interested in a Coba Ruins Tour?
After living in Playa del Carmen for over 3 years I know the best people to trust! Complete this form below including the date you want to go and someone from Tourismo Channel will get back to you within 24 hours. They are my top recommended tour company in The Riviera Maya. You can also combine the Coba tour with visiting other local sights, just ask for more information.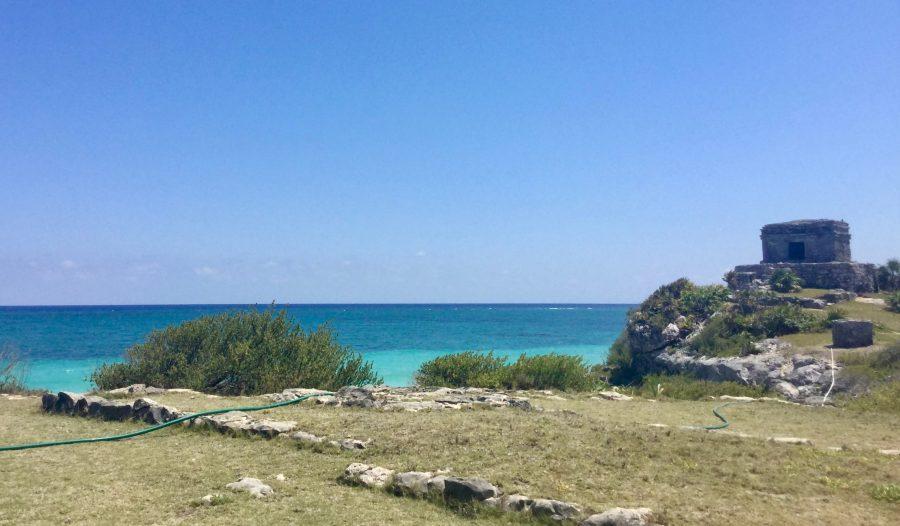 How to get around Coba Ruins in Mexico
You have three options when visiting the site:
1.) Rent a bike for 50 pesos
2.) Rent a bici taxi
3.) Walk
You will also have the option of hiring a guide to show you around the site when you arrive.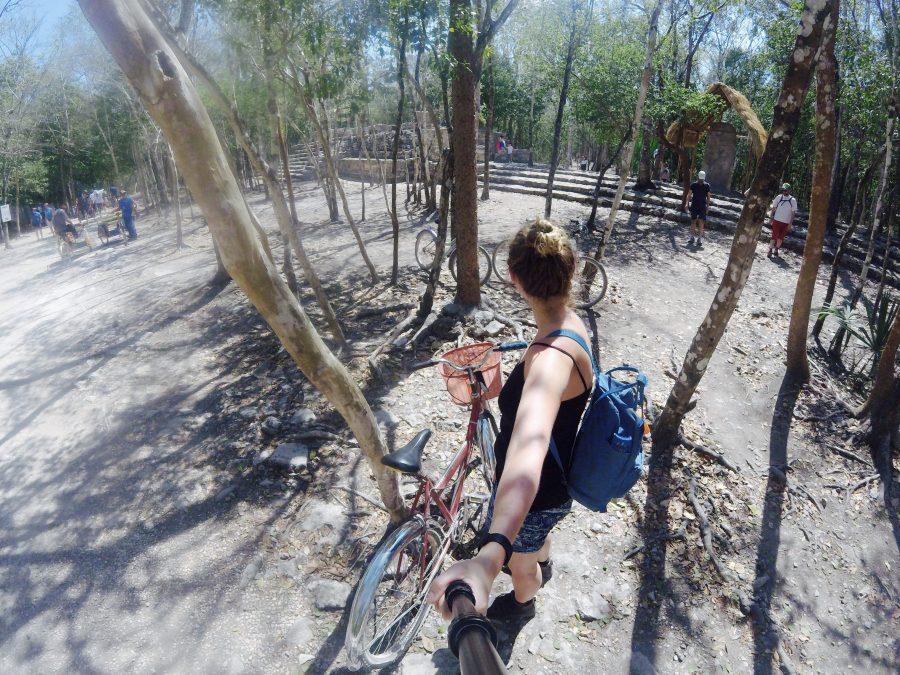 On a bike, it will take around 1.5 hours to cover the site and about 2.5 if you are on foot. The journey is mostly under the shade of the jungle and if you go early in the morning it is a very nice commute.
What to see and do in Coba Ruins
Inside the Coba Ruins, there are three main sites open to the public all connected by sacbéob (Mayan ceremonial "white roads"). It's a nice ride/ walk in between sites.
The three main areas in Coba Ruins are:
Conjunto Pinturas

Nohoch Mul structures (where the main pyramid is located)

Macanxoc Group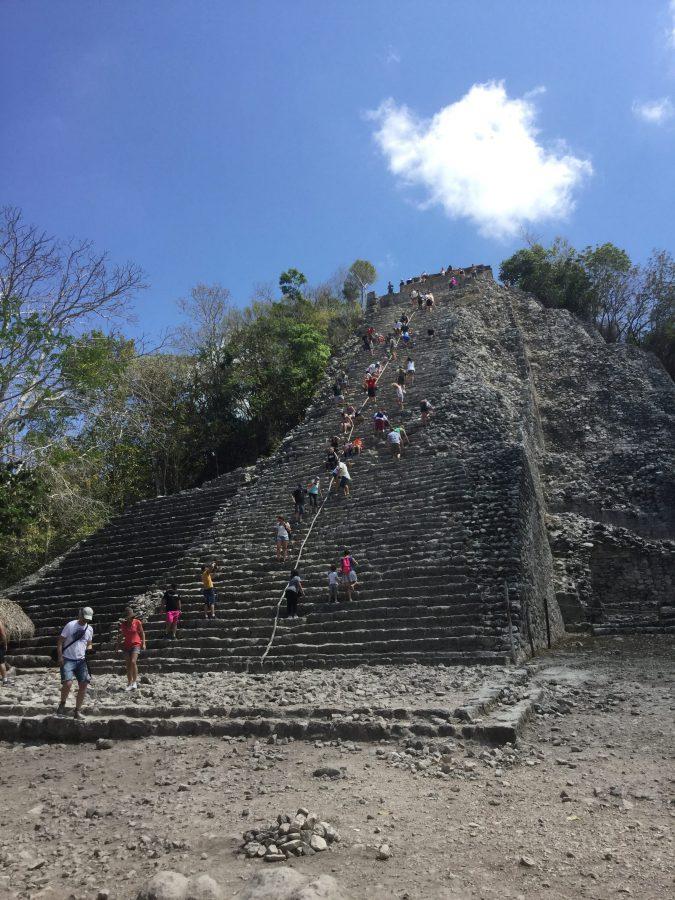 The highlight for me was getting to climb up the Coba Mayan Pyramid. Standing at 138 feet tall, the 120 steps to climb may not look that difficult but do issue caution and hold on to the rope in the middle. The view from the top over the jungle is magical!
Take a look at the video including exploring the Tulum and Coba Ruins sites.
Pin For Later!