Planning a visit to the Riviera Maya in Mexico? You can't visit this beautiful part of Mexico without seeing at least one Mayan Ruin site! If you are in the Cancun/ Playa Del Carmen/ Tulum area you should go to Coba at least or better still visit Coba and Tulum on the same day.
But the number one thing people want to know is if they need to book a Coba Ruins tour, or if they can visit on their own without a guide.
I actually visited Coba Ruins from Tulum. The hardest part for me was getting there and back unless you have your own transport it can be tricky. But when you are actually at Coba a guide is going to give you a lot of great information, but it's not necessary to enjoy the experiences, in my opinion. If you do decide to do a tour, do a Tulum and Coba tour.

In this post, I have outlined the different ways to get to Coba from Cancun, Playa del Carmen, and Tulum. I have also talked a little about different things to see and do in the site.
So of all the Mayan ruins in Mexico why visit Coba?
Coba Ruins are believed to be one of the most important Mayan Ruin sites in the Yucatan Peninsula. It is also one of the quieter Mayan Ruin sites in Mexico and a lot of fun to explore. As much or it still isn't excavated you feel a bit like Indiana Jones discovering it in the jungle. But the best bit for me is that you can explore it on a bike.
Walking around you feel like you are really discovering something so many of the structures are still hidden by trees.
There are three Cenotes within a 10-minute drive of Coba: Choo Ha, Tamchaha and Multun-Ha. Once you have finished exploring the site you can hop in your car (if you have hired one) and drive to one of the pools to cool off.

As I already mentioned you can hire a bike or a bici taxi (tricycle taxi) so you don't have to walk.

Coba has a Mayan Pyramids that you can still climb!

How to get to Coba Ruins
Coba isn't easy to get to unless you rent a car or can afford to splash out on a taxi. If you are on a budget like me then it can be a little trickier to access than the other Mayan Ruins in Mexico.
Rent a Car:
If you can this is the mode of transport I would highly recommend. There is so much to explore in the area and rental cars are pretty cheap. Even just renting a car for 24 hours you could see a lot. The roads are very easy to navigate and Coba is so easy to find you really can't go wrong. If it hadn't been for the fact I managed to lose my bank card in Guatemala this is what I would have done.
Rental Car charges are relatively cheap in Mexico and start from around $30 per day. Click here to check prices.
Public Transport:
From Cancun or Playa Del Carmen:
Option 1:
Take an ADO bus before 7:30 am from Cancun and change at Tulum or at 9:00 am from Playa Del Carmen. To get back, the bus leaves at 1 pm.
Option 2:
Take a colectivo from Cancun to Playa del Carmen where you will need to then take a second Colectivo from Playa del Carmen to Tulum (its a lot easier than it sounds).
When you arrive in Tulum take either another colectivo from Tulum to Coba or take the ADO bus at 10:10. The first colectivo leaves after 9 am or as soon as they have at least 3 people wanting to go to Coba.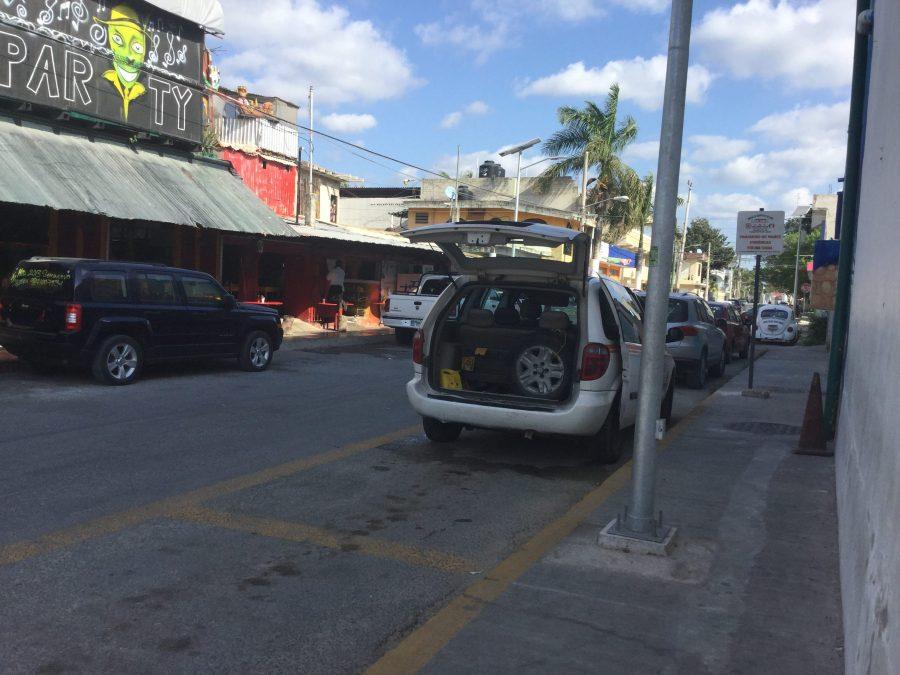 Getting back to Tulum from Coba Ruins can be tricky if you arrived by colectivo as there is no way of knowing when they will be there. I would advise getting the 1 pm ADO bus or taking a taxi back. Or if you are feeling brave you could hitchhike which is what I did…shush don't tell my Mum and Dad haha.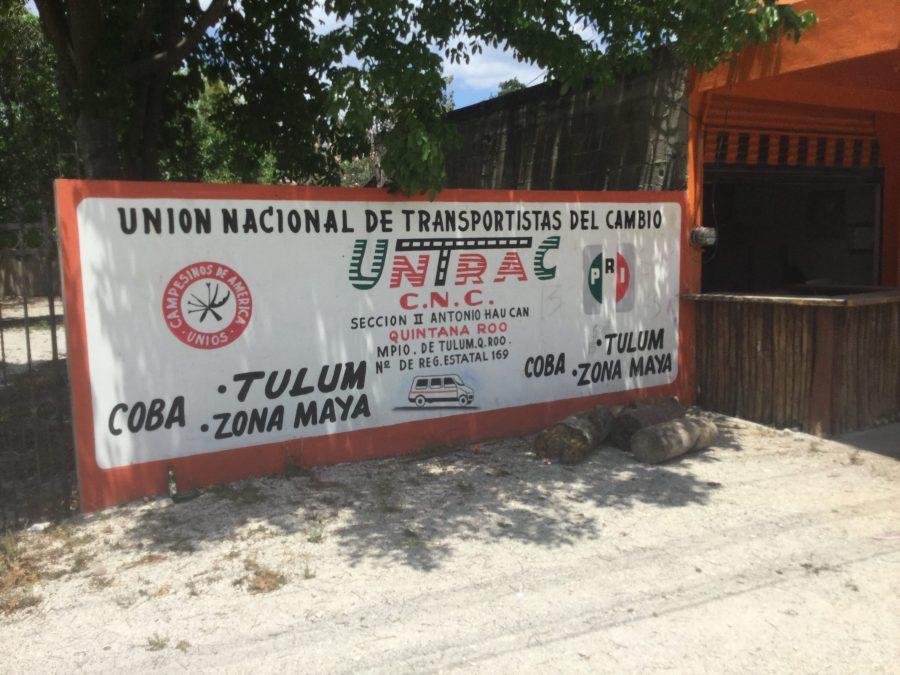 Option 3:
Take either a colectivo or the ADO bus to Tulum and then take a taxi to Coba for around 200 pesos.
How to get to Coba from Tulum:
The ADO bus leaves at 10:10 from its terminal and returns at 1 pm. You can also take a Colectivo which will pick you up a few blocks away on the same road. These start at 9 am as soon as there is a minimum of 3 people. To return, I would recommend the 1 pm or 3 pm ADO coach.
Finding the place where the Colectivo picks you up can be tricky so here are some images that show you the spot. The Coba Colectivo isn't a van it's a large car which looks more like a taxi. This completely threw me.
Book a Coba Ruins Tour
If you are staying in Playa Del Carmen or Cancun booking a tour to Coba could be your best option, as a tour company will take care of all of your transport to Coba Ruins. You can book a Coba Ruins tour through most hotels and tour agencies and they will normally include a stop at Tulum Ruins. So you actually end up doing a Tulum and Coba tour too as they are so close. I would highly recommend including a visit to Tulum Ruins if you get the chance.
Tulum Ruins is very different to Coba Ruins, it's one of the most stunning Mayan Ruins sites I have seen. A Tulum and Coba Tour will cost you around $100 USD from Cancun or Playa Del Carmen.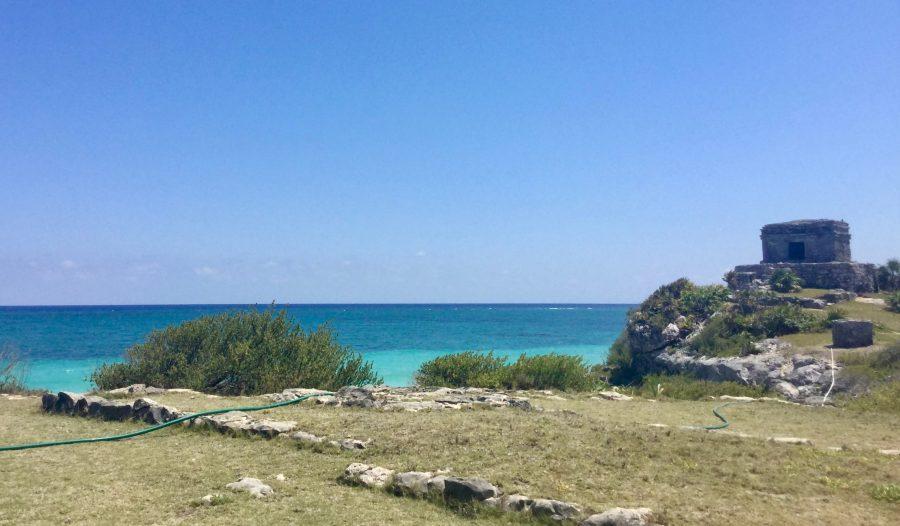 How to get around Coba Ruins in Mexico
You have three options when visiting the site:
1.) Rent a bike for 50 pesos
2.) Rent a bici taxi
3.) Walk
You will also have the option of hiring a guide to show you around the site when you arrive.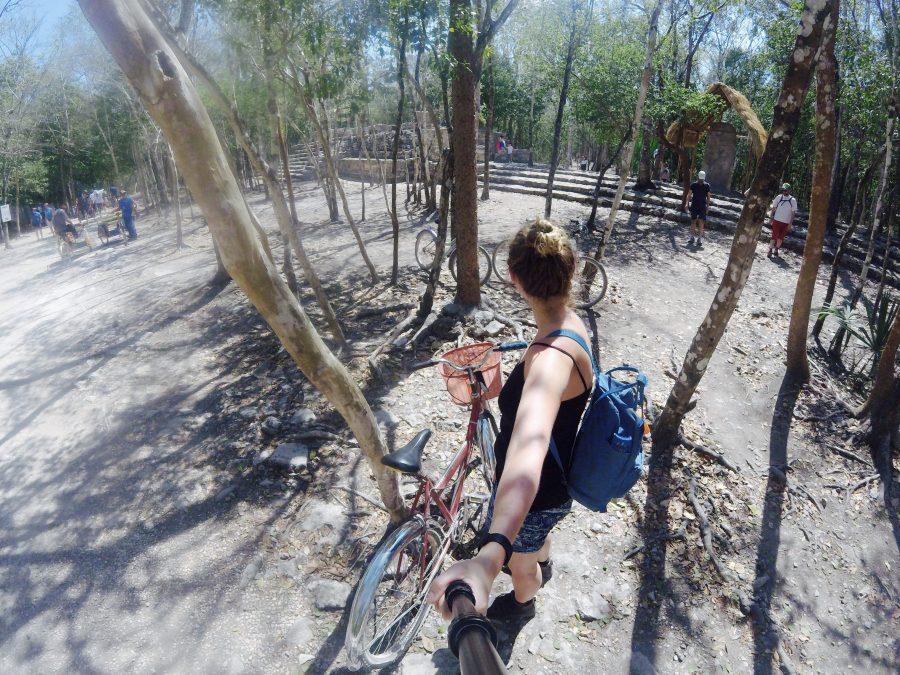 On a bike, it will take around 1.5 hours to cover the site and about 2.5 if you are on foot. The journey is mostly under the shade of the jungle and if you go early in the morning it is a very nice commute.
What to see and do in Coba Ruins
Inside the Coba Ruins, there are three main sites open to the public all connected by sacbéob (Mayan ceremonial "white roads"). It's a nice ride/ walk in between sites.
The three main areas in Coba Ruins are:
Conjunto Pinturas

Nohoch Mul structures (where the main pyramid is located)

Macanxoc Group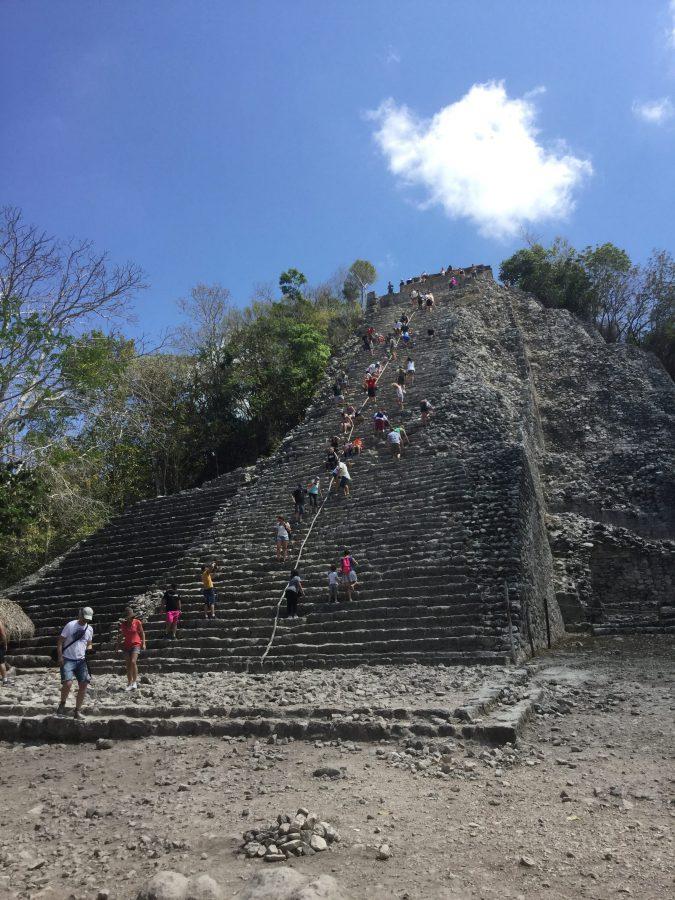 The highlight for me was getting to climb up the Coba Mayan Pyramid. Standing at 138 feet tall, the 120 steps to climb may not look that difficult but do issue caution and hold on to the rope in the middle. The view from the top over the jungle is magical!
Take a look at video including exploring the Tulum and Coba Ruins sites.
Need somewhere to stay in Tulum?
I wrote a whole post to help you decide the best area in Tulum to stay with my recommendations depending on your budget. I also wrote a guide to my top boutique hotels in Tulum here.
Or click to read my guides to accommodation in Playa del Carmen and Cancun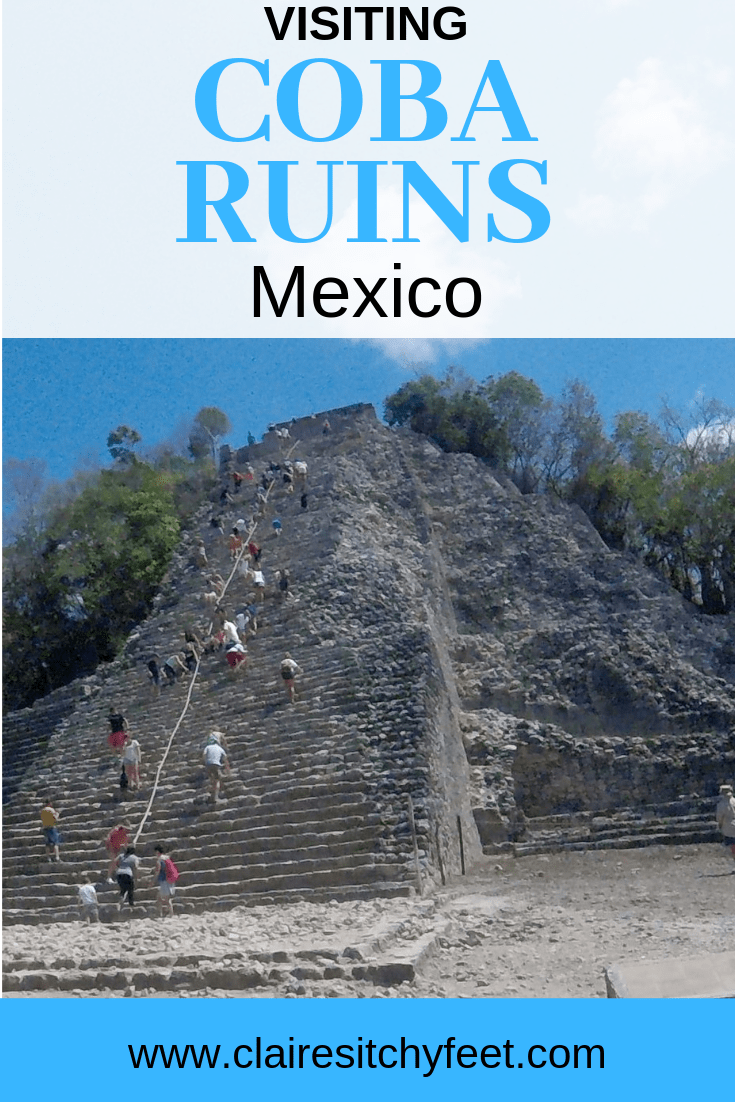 Looking for things to do in the Riviera Maya?
Check out these articles:
Akumal Glamping | Glamping in the Riviera Maya
Visiting Cenote Azul and Cenote Cristalino
The Complete Guide to Chichen Itza in Mexico
How to see the Mayan Ruins in Tulum
How to spend a weekend in Merida
Food Tour in Playa Del Carmen Review
Doing a cooking class in Tulum
Choosing a Scuba Diving Company in Playa Del Carmen
Scuba Diving in Puerto Morelos
Are You Traveling soon?
Be sure to check Skyscanner for the best flight deals.
I never travel anywhere without Travel Insurance. If you are looking for insurance be sure to check World Nomads first.
This post was proofread by Grammarly
Are you ready to book your trip?  To help you get the best deals and service here are the companies that I personally use to book all of my travel online. I always shop around before booking anything, but these are my tried and tested starting places.