Located on the southern coast of Cyprus, Limassol is one of the most reliable winter sun destinations in Europe, with approximately 320 days of sunshine every year. It's also home to some of the best food in Europe. What's not to love here?
The city itself feels very modern and luxurious thanks to its promenades and fancy visitors. But what is the best area in the city? And where are the best hotels in Limassol, Cyprus located? Read on to find out!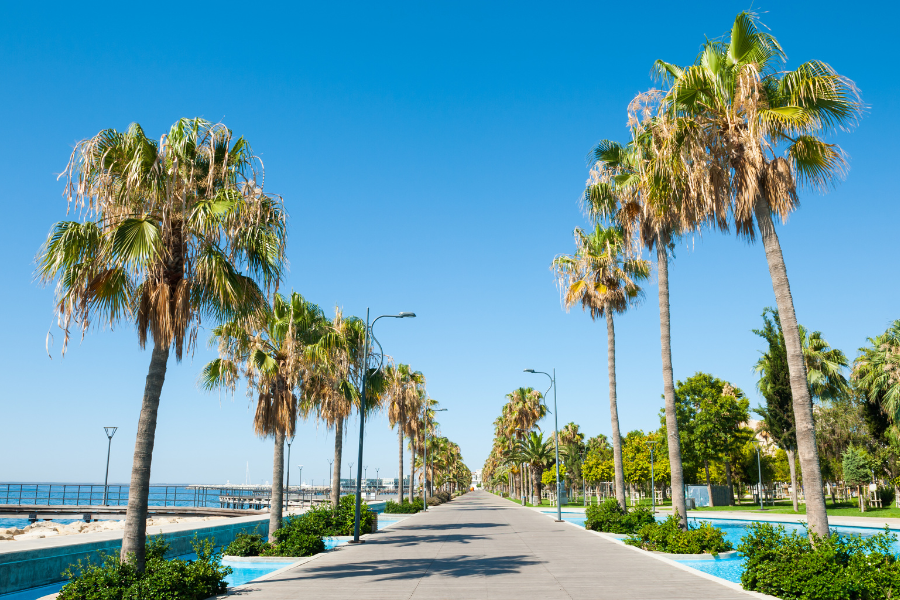 Did You Get Travel Insurance Yet?

If 2020 taught us anything, it's that you need to be prepared for anything!

The Insurance companies I personally recommend are Hey Mondo, Passport Nomads, Safety Wing, and Travel Insurance Master

Hey Mondo is great if you are looking for a great value flexible policy. They offer single-trip cover, annual multi-trip cover, and long-term travel cover.

Passport Nomads provides the most comprehensive cover for Digital Nomads. If you find yourself in need of medical care you just contact them and they will pre-load your card with the funds to cover your treatment, meaning you won't need to pay out of pocket and then put in a claim later.

Safety Wing is great value with monthly cover starting at $39. It's super easy to use and it just renews each month. I currently use them as they offer me free cover for my son as part of my policy.

I also use Travel Insurance Master for short trips.

Read my full travel insurance post here where I go into detail about all 4 companies.
The Best Limassol Areas To Stay
Old Town
Limassol's Old Town stretches from the Old Port via Agiou Andreou Street all the way to the castle near the old harbor and is often referred to as the heart of Limassol.
Unsurprisingly, this part of the city is mostly occupied by tourists who prefer to live close to cultural heritage sites and the buzzing city nightlife so, if you're traveling solo, this area is the perfect choice for you! If you're looking for something less hectic for your Cyprus Limassol holidays, you might want to consider other areas that are less touristy and noisy. This brings us to…
Marina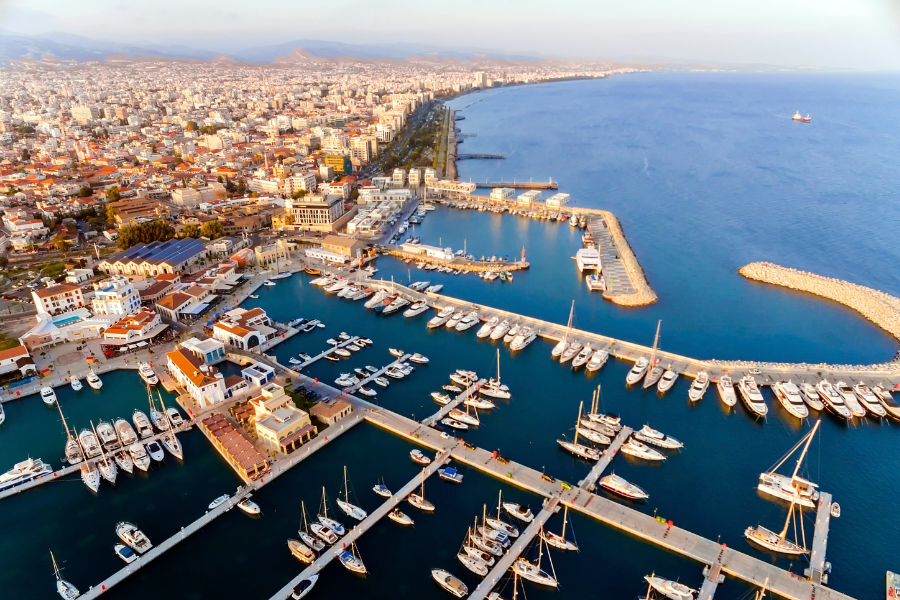 Limassol's marina, possibly the most beautiful marina in Cyprus, is a must-visit area for photographers and shopping lovers. The area offers a wide range of activities for all tourists, from families traveling with children to couples enjoying a romantic getaway in Limassol. The promenade is located right next to the marina, where you can enjoy the brilliant view of the sea and the harbor while enjoying delicious food and drinks at one of the nearby cafés or restaurants.
Germasogeia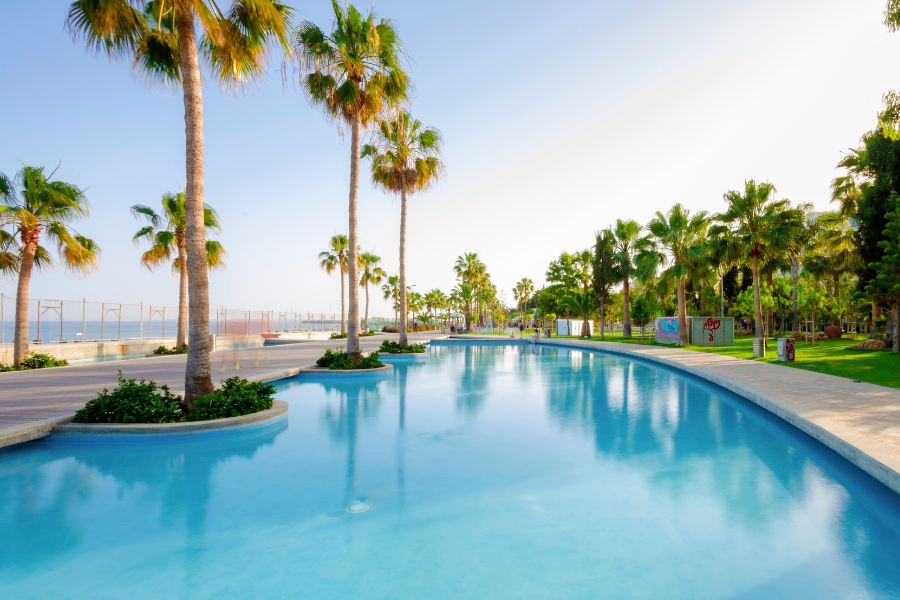 Germasogeia is probably the most convenient district to stay in Limassol as it's close to everything you might need. The seafront, trendy restaurants, cafés, and shops are all within arm's reach, and it's also very easy to get around here.
Germasogeia is also the perfect destination for nature lovers. Here, tourists can have a break from the busy life of Limassol and the crowd by enjoying a relaxing trip to the local reservoir with a beautiful view of the dam and the mountain range of Troodos.
Agios Tychon
Agios Tychonas undoubtedly has the best sandy beaches in Limassol, making it the best area to stay for beach lovers and those looking to unwind during their Cyprus Limassol holidays. The numerous cafes and restaurants offer a glimpse into the delicious traditional food and lively bar culture of Limassol. Apart from touristic luxuries, Agios Tychonas is also home to one of the ancient royal cities of Cyprus. So, if you're seeking a more cultural experience, then the ancient city of Amathus is a perfect destination for you.
The Best Hotel To Stay in Limassol, Cyprus
Which are the best hotels in Limassol, Cyprus? Well, of course, it depends on your taste, budget, style of travel, etc. But all in all, my top recommendation for you would be to stay at Amathus Beach Hotel, as it's got literally everything you might want from a vacation, from fancy spa treatments to possibly the most amazing balcony views on the city of Limassol. It's also a great fit for solo travelers, couples, and families alike.
The Best Boutique Hotels in Limassol, Cyprus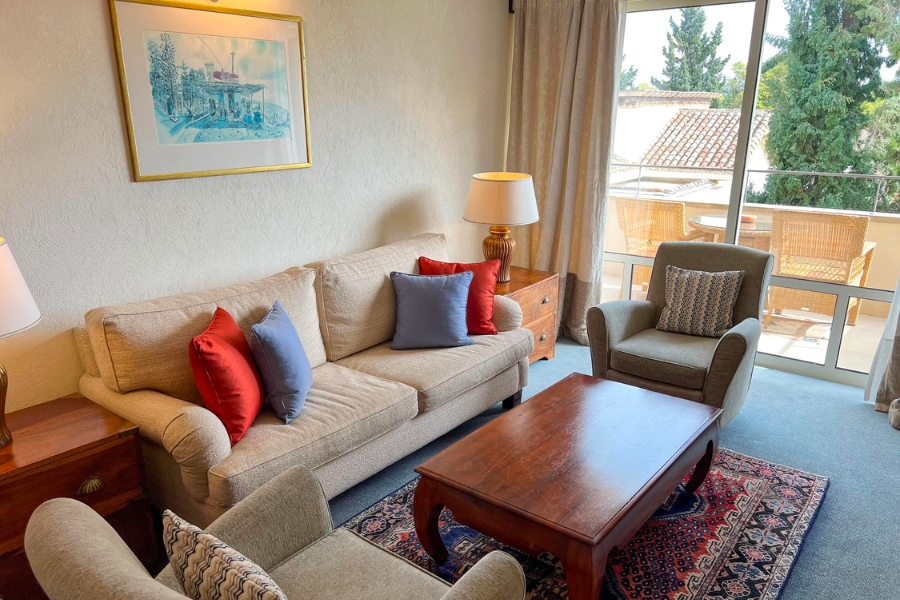 If you're looking for a luxurious beachfront getaway, check out Columbia Beach Resort. Located in the stunning Pissouri Bay Beach, this resort offers world-class service and amenities, including two swimming pools, three restaurants, and six bars. This traditional Cyprus village-inspired resort is one of the most charming and luxurious destinations you'll ever experience. Carlos and I were immediately taken with the stunning swimming pool, and with no shortage of relaxing spots to unwind, we found ourselves quickly at home. The resort's suites are truly a cut above, with no standard rooms in sight. During my visit, I had the opportunity to tour both a family and garden view suite, each one exuding a unique blend of spaciousness, comfort, luxury, and class. And when it's time to indulge in some self-care, the spa boasts an extensive treatment menu featuring heated and cold plunge pools, fitness and yoga studios, and the most relaxing massages. If you're considering a trip to Cyprus, Columbia beach resort is an absolute must-visit.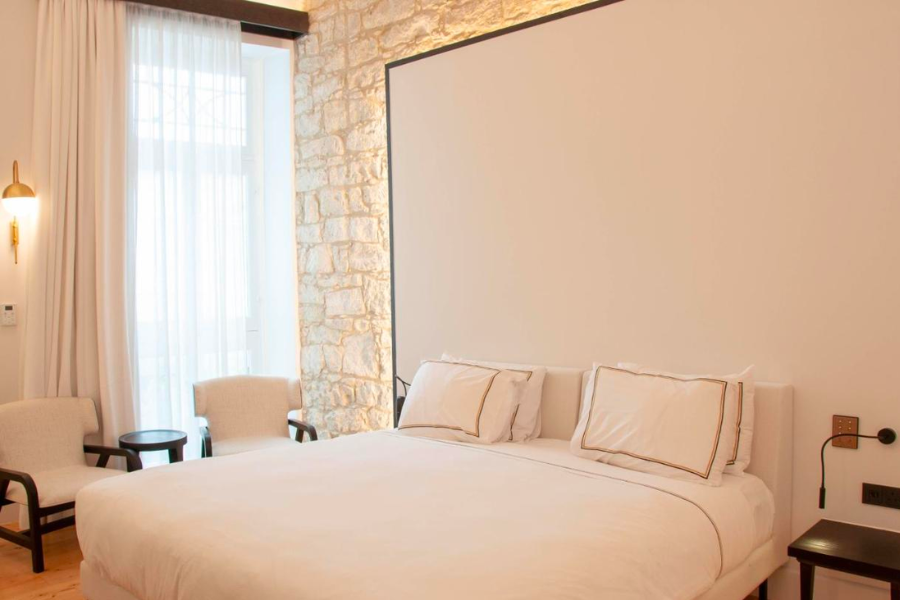 Sir Paul Hotel is a chic boutique hotel located right in the heart of Limassol's Old Town, and yet just a few steps away from the beach. It's located close to the promenade for walks along the water, as well as some of the best bars and restaurants in the city.
The rooms feature a minimalist decor and the majority of the units open out to a private balcony overlooking the seafront and the city of Limassol. One thing I found a little bit uncomfortable is the fact that the bathroom "door" is basically just a glass wall separating the bathroom from the bedroom. Other than that, this boutique hotel in Limassol was a great experience!
Located on a private beach, Londa is a very cool, contemporary hotel on the coast just outside Limassol. Some of the nearby area's landmarks include Amathus Ruins and Limassol Castle. Londa has a private beach, beachfront dining, and beach massages, this hotel is the perfect place to soak up some sun. You can also indulge in a body wrap and a body scrub at The Londa Spa and Club.
The Best Luxury Hotels in Limassol, Cyprus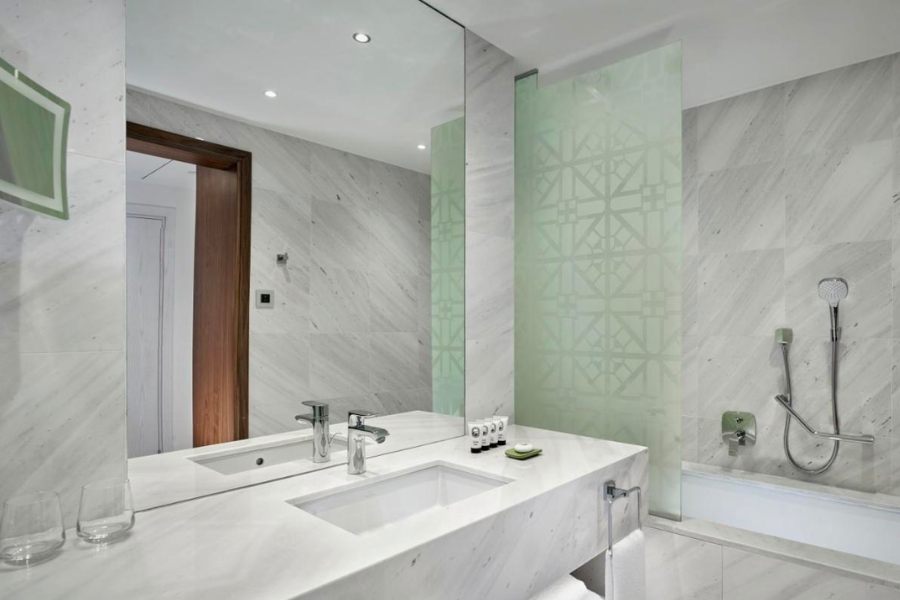 Located on the northern side of Limassol, Cyprus, Parklane is a luxurious resort with exceptional hotel facilities for families and couples alike. The property features 4 swimming pools (including an adults-only and a seawater pool), a spa and wellness center, and a bar, PLUS the place offers currency exchange on-site in case you're running low on euros.
The rooms are beautifully decorated with traditional elements and natural materials in earthy tones, and the rooms are always very clean. I loved everything about this place, so coming up with something that could be improved is not easy. If I had to mention one thing, it'd be the indoor pool water temperature, which was a little bit too low for my liking.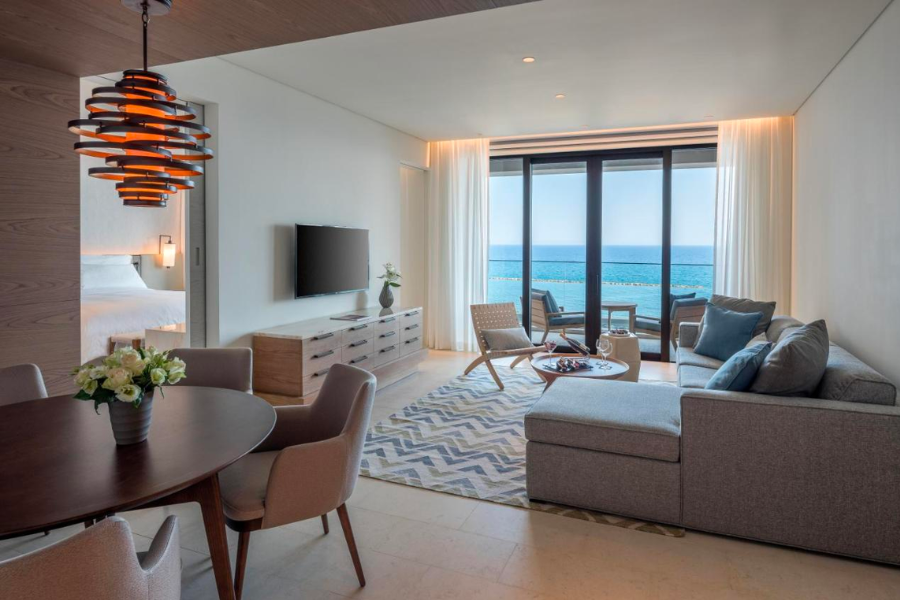 Located in the heart of Limassol, Amara offers beachfront accommodation 19 km from the Castle of Limassol and provides luxury facilities, such as a private beach area, an infinity-edge pool, a tennis court, and a signature spa center. Guests can dine in the main restaurant, which serves international and Cypriot specialties, at Matsuhisa Limassol Japanese -Peruvian specialty cuisine with signature dishes from the renowned Chef Nobu.
The only downside to this hotel is the number of beds next to the pool – it can be difficult to find one that's not occupied as there are many people around the pool at all times. Also, it's a little far from downtown Limassol but that's also the beauty of it.
The Best Budget Hotels in Limassol, Cyprus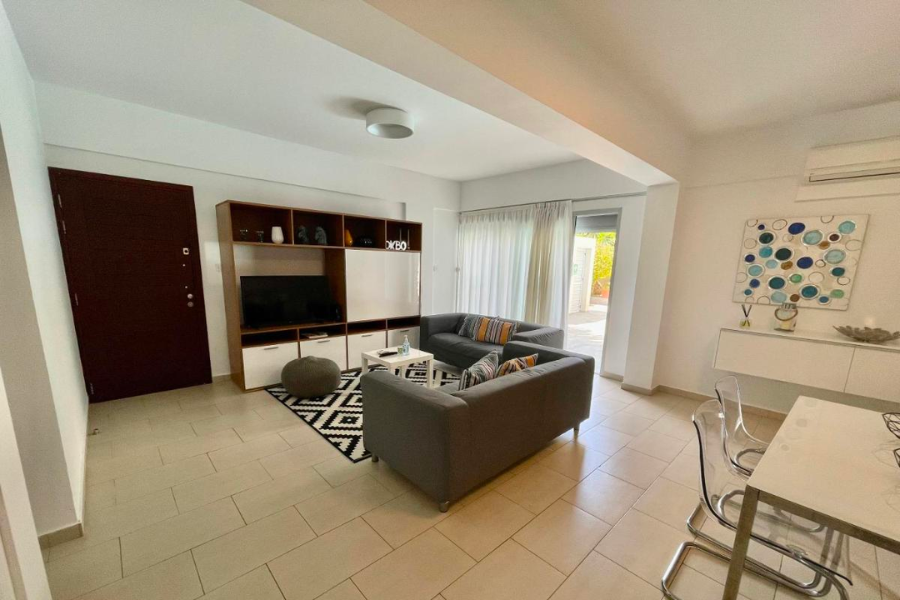 A two-bedroom apartment with a seasonal outdoor swimming pool, a fully equipped kitchen, and a spacious terrace with pool views. The owner of the place is very kind and helpful. The only downside is that the WiFi connection can be tricky sometimes, so make sure you have some data left, just in case!
The Best Family-Friendly Hotels in Limassol, Cyprus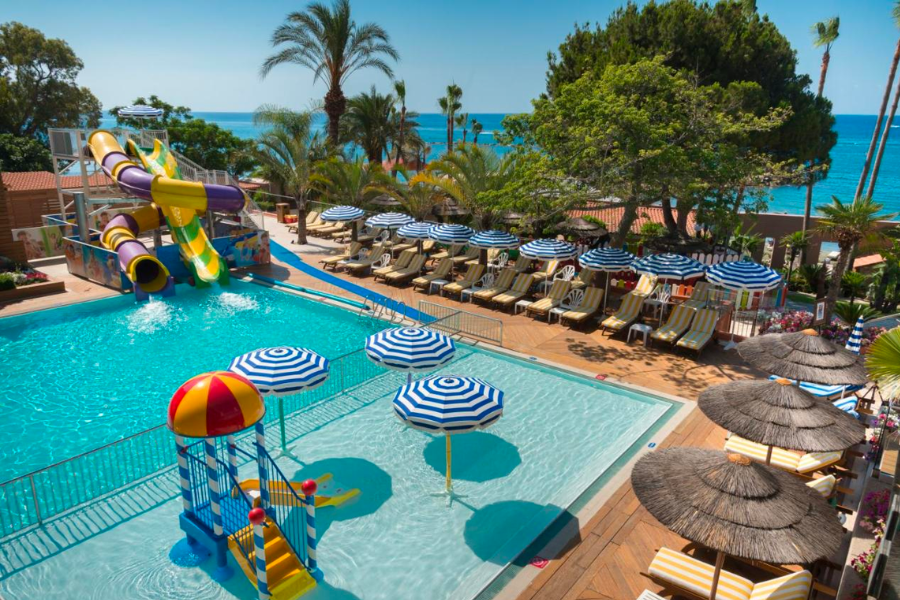 Sea views, luxury feels, and the breakfast of champions: welcome to Amathus Beach Hotel! The indoor and outdoor pools are all fantastic, and whenever you get tired of the water (even possible?), you can always opt for a rejuvenating massage or spa treatment. If you're in need of local currency, the property offers currency exchange on-site, too. Undoubtedly one of the best hotels I've ever stayed in – highly recommended!
The Best Apartments to Rent in Limassol, Cyprus
This family-owned apartment in Limassol has everything you might need during your vacation, and the owners of the place really go above and beyond to make your visit memorable. You can enjoy your breakfast on the balcony overlooking the main street of Lofou, which happens to be one of the most beautiful villages in Cyprus. The name Lofou comes from the location of the village (it's built on a hill). This is the perfect place for a couple on a romantic getaway or if you're traveling solo.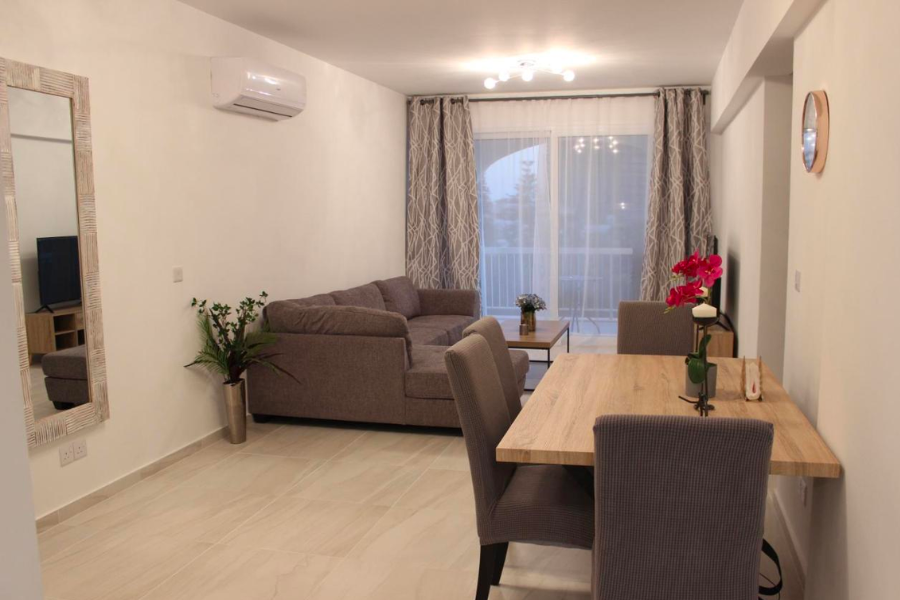 A great option if you're traveling with family. It comes with 3 bedrooms and 2 bathrooms, a fully equipped kitchen, and all necessities, including tea, coffee, shower gel, etc.
Located in the picturesque mountain village of Agridia, this is a beautifully designed, authentic Cyprian home with the most amazing balcony views over the village and the mountains. Nights can often get chilly up in the mountains, so make sure to light up the fireplace if you're traveling to Agridia during the winter.
Pin for later