Puerto Escondido is a small resort city of Oaxaca, Mexico's southeastern state. The city lies about 250 km south of Oaxaca City, 380 km southeast of Acapulco, and around 650 km southeast of Mexico City.
In this post, I will go through my top choices for the best hotels in Puerto Escondido to help you reach a decision on where to stay.
To make things easier, I will explain how the city is divided so you can get a better idea of the best area to stay in Puerto Escondido. Then I separated the Puerto Escondido hotels and hostels into categories.
So whether you are on a tight budget or are ready to flash the cash and stay in a luxury hotel, you will find recommendations of the best hotels in Puerto Escondido for every budget.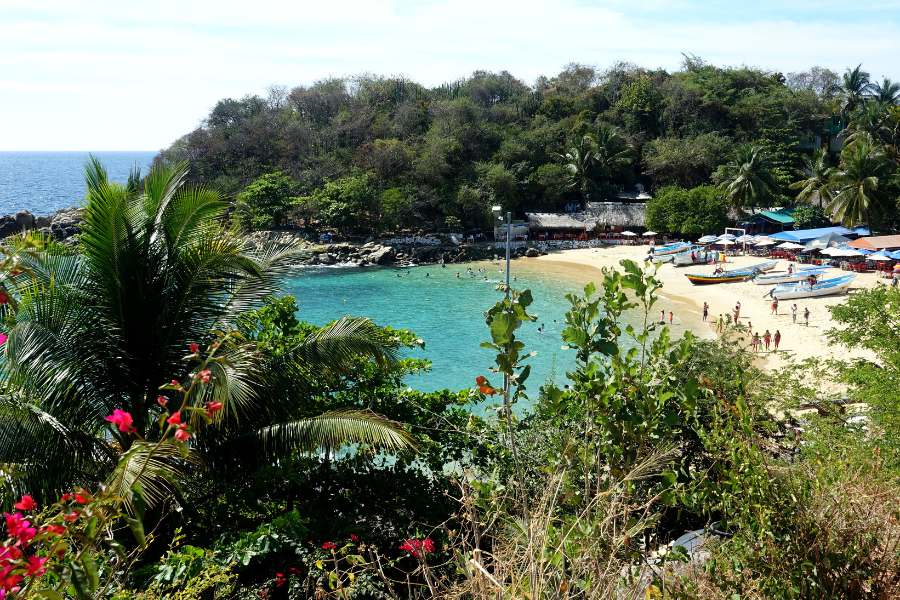 Did You Get Travel Insurance Yet?
If 2020 taught us anything, it's that you need to be prepared for anything! Travel insurance has always been high my list of things to get before I travel but now more than ever its at the top of my list.

I'm pretty sure we have all had travel plans messed up because of COVID and not all insurers covered this. So when looking for travel insurance it's important to check it covers travel disruption due to COVID-19, Hey Mondo, Passport Nomads, Safety Wing, and Travel Insurance Master all provide cover for this.

Hey Mondo is great if you are looking for a great value flexible policy. They offer single trip cover, annual multi trip cover, and long term travel cover. You even have the option to start the cover when you are already on your trip, although you won't be covered for the first 72 hours. For me my favourite feature is their app which offers you a 24/7 Dr chat and the ability to file a claim direct in the app.

Passport Nomads provides the most comprehensive cover for Digital Nomads. The game changer with them is that you have a red card and if you find yourself in need of medical care you just contact them and they will pre load your card with the funds to cover your treatment, meaning you won't need to pay out of pocket and then put in a claim later.

Safety Wing is great value with monthly cover starting at $39. It's super easy to use and it just renews each month. They have an excess of $250 and it's simple to make a claim through their website. I currently use them as they offer me free cover for my son as part of my policy and I like that it renews on a monthly basis, so I don't have to pay out a big lump sum up front.

I also use Travel Insurance Master for some short vacation type trips.

If you are doing shorter trips or an extended backpacking trip then Hey Mondo or Travel Insurance Master are the best option. If you are a digital nomad or planning travel of at least 6 months then go for Passport Nomads or SafetyWing.
The Best Areas And Neighborhoods To Stay In Puerto Escondido
Finding the best hotels in Puerto Escondido, Mexico really depends on your budget and personal interests.
I have divided the city into four areas to help you understand the difference between different areas in Puerto Escondido: The Town Center and Playa Principal, Rinconada and Playa Carrizalillo, Zicatela Beach, and La Punta.
According to this, the best areas and neighborhoods – in my opinion – to stay in Puerto Escondido are:
Playa Carrizalillo – Best Beach For Swimming
Zicatela Beach – Best Beach For Surfing And Nightlife
La Punta – Best Area For Island Vibes
1. RICONDADA / PLAYA CARRIZALILLO
My absolute favorite place to stay in Puerto Escondido is Playa Carrizalillo, the most beautiful beach and also the safest and best place to swim and to learn to surf in Puerto Escondido.
In Playa Carrizalillo you will find accommodations ranging from party hostels to luxury hotels not only in price but quality, too.
Just above the beach, the Rinconada and Bacocho area is still relatively close to the airport, bus station, and all the shops and restaurants in the center of Puerto Escondido. Playa Angelito and Playa Manzanillo can also be found nearby.
My Top Pick For The Best Hotel In Playa Carrizalillo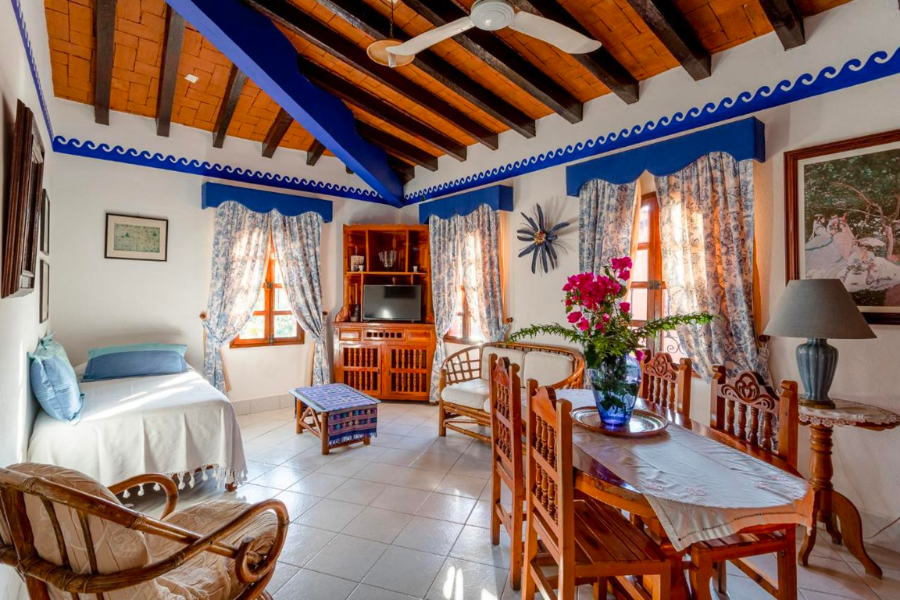 Located next to Playa Carrizalillo, La Hacienda is a beautiful colonial-style hotel owned by a Parisian interior designer, which clearly shows: the apartments are decorated with fresh flowers, carefully chosen antiques, and blue-and-white Mexican tiles, giving the place a luxurious yet cozy vibe.

2. ZICATELA BEACH
Zicatela IS the best place to surf in Mexico, there is no doubt about that! But be aware: Zicatela is not the place for swimmers or someone learning to surf as the waves are often too big. For swimming and surfing lessons, I would recommend Playa Carrizalillo instead.
Zicatela Beach is the best place to stay in Puerto Escondido for experienced surfers and for those who like to be close to the city's nightlife, which makes it a paradise for visitors looking to score a cheap party hostel in Puerto Escondido.
My Top Pick For The Best Hotel In Zicatela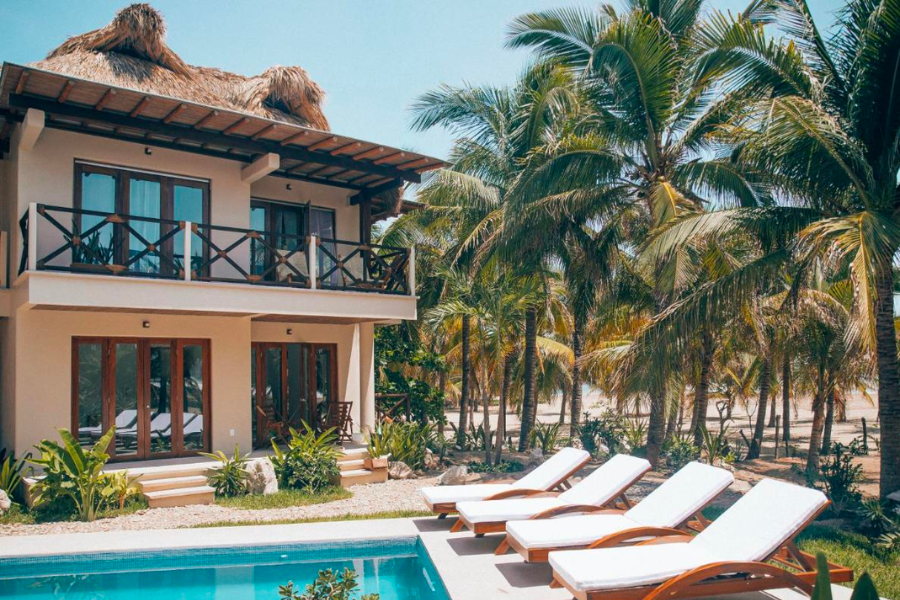 Close to several beaches in the area, Casa Kuaa is a cute and comfortable hotel with an ocean view and lovely staff. The photos really don't do it justice, so make sure you book a night or two there while staying in Puerto Escondido.
3. LA PUNTA
La Punta is a laid-back neighborhood located at the far southern end of Zicatela. Most beach bars, vegan cafes and yoga retreats can be found in La Punta, giving the area a very relaxing and tropical island vibe which I love very much.
La Punta is becoming more and more popular among travelers so if you are looking for a more laid-back type of fun while visiting Puerto Escondido, I would highly recommend staying in the La Punta area.
My Top Pick For The Best Hotel In La Punta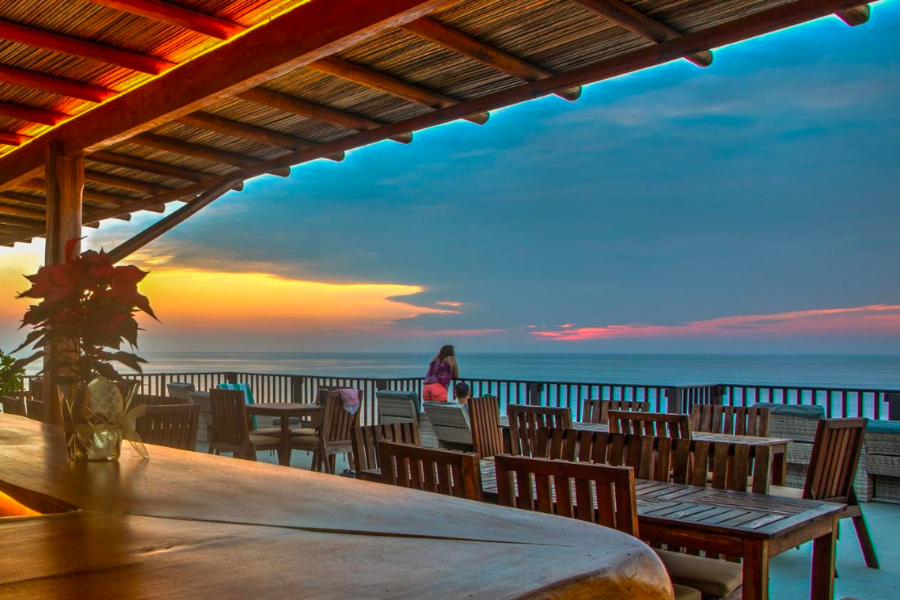 Punta Zicatela Hotel exceeded all my expectations: the rooms are super clean and the view from the hotel's balcony is just absolutely fantastic. They also have a shaded pool area and a rooftop bar where you can mingle with other guests if you feel like it.
The Best Luxury Hotels In Puerto Escondido
Casa Surya is a luxury holiday villa with one of the most memorable ocean views I have ever seen in my life, an outdoor swimming pool, a bar, and a terrace. They also offer free private parking and a free airport shuttle service for their guests.
Villas Carrizalillo is a beautiful, spacious property with direct access to one of the best beaches in the area. The hotel's staff went out of their way to make every one of us feel welcome here, so it really felt like a home away from home.
The Best Hotels In Puerto Escondido For Midrange Budgets
Casa de Olas is not only beautiful but the services they offer really make you feel like you are staying at a luxury retreat. You can treat yourself to a massage, attend a yoga class in the gym or just enjoy a drink or two on the hotel's rooftop terrace.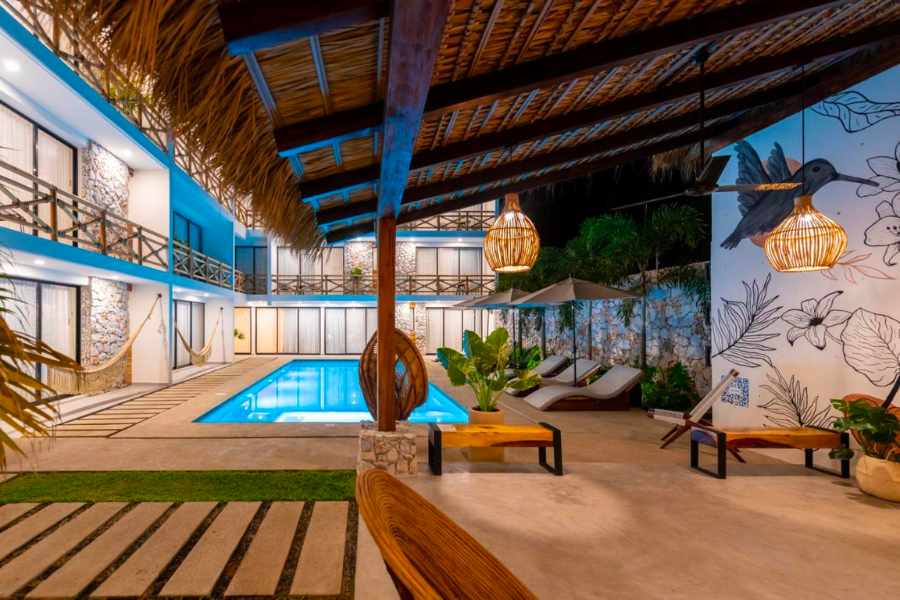 Located approximately 500 meters from Zicatela Beach, Casa Bicachi is an adults-only hotel featuring an outdoor swimming pool and a terrace with a view that is hard to forget. Believe me, I still can't.
The Best Hotels In Puerto Escondido For Couples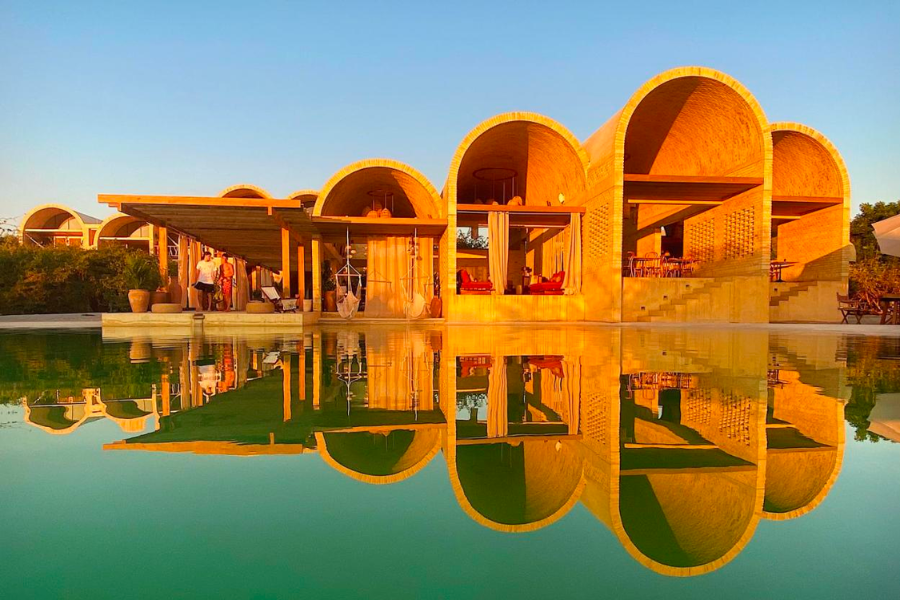 Hands down one of the most beautiful places I have ever stayed in! Casona Sforza is perfect for those who are looking for a quiet getaway from all the buzz of the city as the hotel is located outside of the city center in a secluded area, but still very close to Zicatela Beach.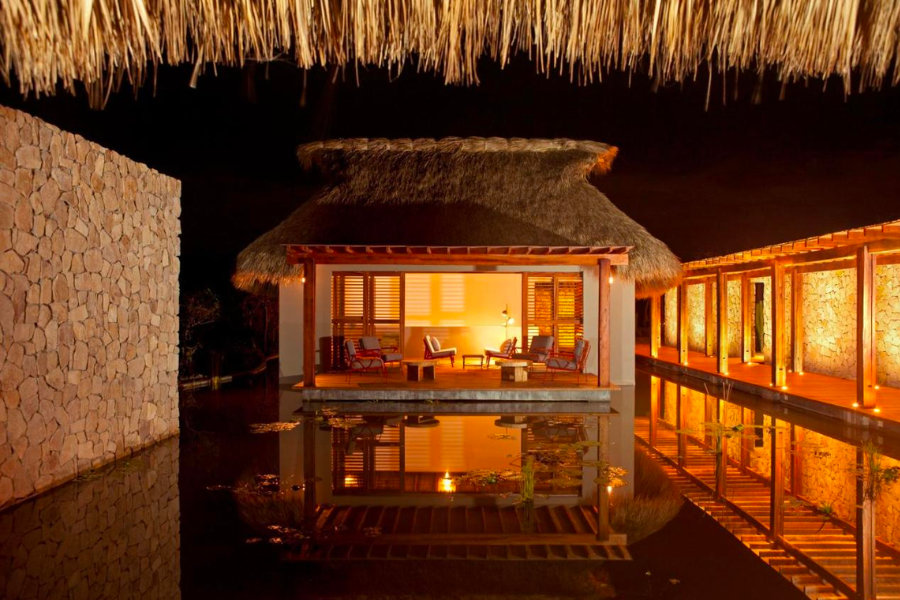 Hotel Escondido is an adults-only hotel located outside of Puerto Escondido in a peaceful and quiet area. The hotel staff is just incredible and they offer a great selection of cocktails and a superb a-la-carte menu to choose from.
The Best Hotels In Puerto Escondido For Solo Travelers
Casa Losodeli is an adults-only hotel and co-working space that comes with a brilliant wifi connection and a lovely pool. It is the perfect place for digital nomads with great vibes, enormous rooms, comfy beds, and a well-equipped kitchen. What's not to love here?
Located about 1 km away from La Punta Beach, Villa Bonobo is a co-living community with a friendly atmosphere that aims to bring people together so you can expect various kinds of events and activities offered by the hotel to help their guests socialize with one another.
The Best Hostels In Puerto Escondido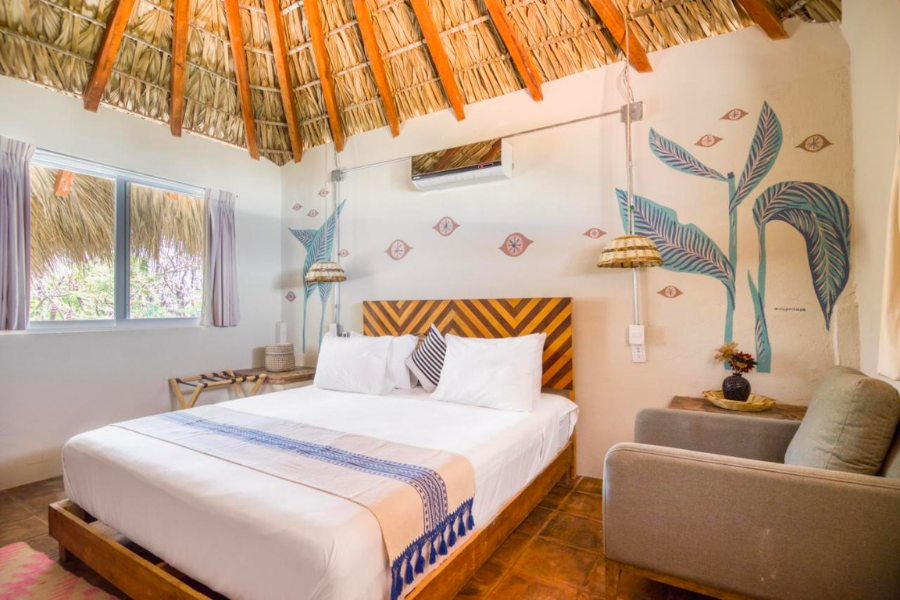 Located directly across from Zicatela Beach, Selina is a well-known hotspot for digital nomads traveling around Mexico, so expect friendly vibes and a laid-back atmosphere here. They offer spacious and comfortable co-working spaces and there is water to refill your water bottle everywhere around the hostel.
Casa Daikiri is a cute, budget-friendly place not very far from the beach with a friendly staff and a great wifi connection. The rooms are nicely decorated and if you need more privacy, you can opt for a private suite, which I would definitely recommend to do so.