Cartagena is well known as one of Colombia's best destinations. There are great beaches nearby, a ton of colonial charm, and there is some great nightlife. All of that makes for great day trips from Cartagena. There are also some great things to do nearby. Here you'll learn about the best day trips from Cartagena, Colombia. Just don't forget to check out some of the best boutique hotels in Cartagena too so that you can enjoy a relaxing evening after a fun day spent exploring Colombia.
Need a Colombia backpacking itinerary? Click here to read mine.
Did You Get Travel Insurance Yet?

The Insurance companies I recommend are Hey Mondo, Safety Wing, and Travel Insurance Master

Hey Mondo is great if you are looking for a great value flexible policy. They offer single-trip cover, annual multi-trip cover, and long-term travel cover. Safety Wing is great value, with monthly coverage starting at $39. It's super easy to use, and it just renews each month. I currently use them as they offer me free cover for my son as part of my policy. I also use Travel Insurance Master for short trips.

Read my full travel insurance post here, where I go into detail about all companies.
1. The Rosario Islands
While there are some great eco-lodges and cabins here, if your time is limited in Cartagena, it's best to visit the Rosario Islands on day trips rather than stay overnight in one of the Rosario Islands hotels. If you happen to be in a large group, doing a private boat rental is a ton of fun. You can choose to head to party spot Cholón or more relaxed beach spots like Agua Azul.
If you don't have the group to make a private boat rental popular, there are several good ways to do a day tour from Cartagena to the islands. The catamaran Bona Vida has a nice day trip, and there is also a pirate ship that does an island day trip from Cartagena. Finally, you could also opt to do a day pass at one of the hotels or beach clubs.
2. Visit the Mud Volcano and Pink Sea
For two of Cartagena's most unique and lesser-known attractions, consider booking a day tour from Cartagena to the Mud Volcano named the Vólcan del Totumo. This active mud volcano is located a little over an hour outside of Cartagena. It rises above the ground and opens into a mud-filled crater. Slide in to feel a strange consistency and get a massage. The mud is supposedly very good for your skin. And don't worry, the consistency of the mud means you can't sink below about shoulder level.
Depending on the time of year and weather, you can easily combine a visit to the mud volcano with a visit to the Pink Sea of Galerazamba. In the shallow waters off the coast of this small town, there is a sea salt mine. The salty environment is perfect for micro-algae which gives the water a pinkish color. It's absolutely gorgeous. If it has been raining or the salt has been recently harvested, the pink effect may not be visible, so it's best to double-check before planning a visit here. However, when it's in effect, doing these two activities together is an excellent day trip from Cartagena.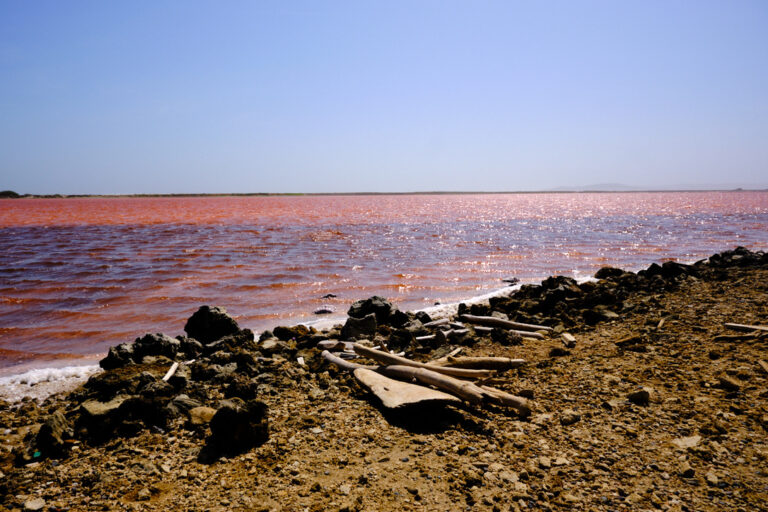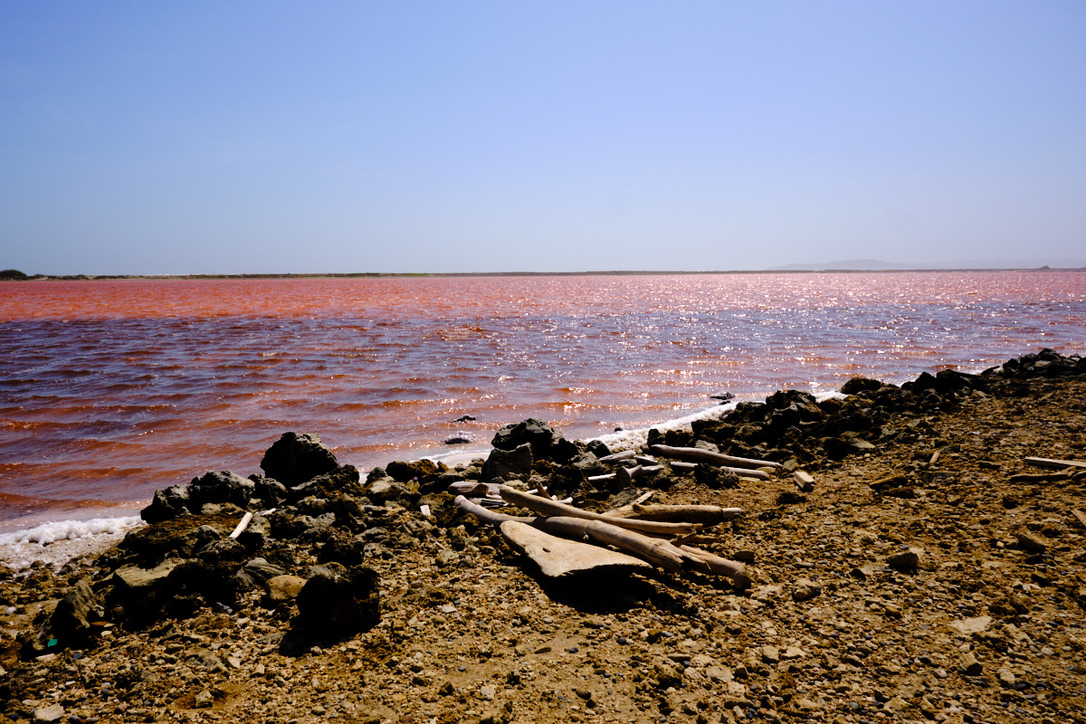 Need to book transportation in Colombia?
I highly recommend booking all of your Colombia transportation with GottoGo. You can search for buses, shuttles, ferries, and Flights on their website. What I love most about them is their customer service. I know these guys personally from my time living in Guatemala and they really do look after their customers. So if anything happens and you get delayed and miss your bus, you can just call them and they are always there to help.

If you book through them you will pay a little more than if you book in person at the bus station. But it's worth it for the ease and security in my opinion. Click here to search for transportation in Colombia.
3. Visit the Historical Afro-Colombian Town of Palenque
Palenque, or to be proper San Basilo del Palenque, is a unique place. This was one of many free black towns formed by run-away slaves in Colombia and the rest of Latin America and the Caribbean. They were known as palenques, or walled towns, as they fortified themselves from attack by the Spanish authorities.
San Basilo del Palenque earned quite a reputation for repelling Spanish attempts to suppress it and for leading raids against Cartagena to free more slaves. In fact, it earned the status as the first free town to be formally recognized by the Spanish crown in a peace treaty with the colonial authorities.
Besides this interesting history, what makes Palenque unique as a day trip from Cartagena is the fact that the people still maintain many African traditions. In fact, the language maintained by the elders here is the only officially recognized African-Spanish creole language. The town has also produced several famous boxers and singers and hosts an annual music festival. Anytime makes for a good time to take a day trip here and learn a bit more about its unique history and culture though.
4. Visit the Forts of Bocachica
Cartagena's Castillo San Felipe is one of its most famous sites. This massive fort was meant to be the city's last line of defense. For the true history buffs, a visit to the lesser-known forts at Bocachica, which were the city's first line of defense is a neat Cartagena day trip.
Located at the entrance to the bay, there are three forts here, two that guard the entrance to the bay itself and one atop a nearby hill that protected the other two from a land attack. These forts, though isolated, are very well preserved. The main one is the Castillo San Fernando and a visit here combines great with hanging out at the nearby Blue Apple Beach Club. The forts can be reached by taking small boats from the main docks just outside the Walled City of Cartagena.
5. Hang Out at the Beaches of Tierra Bomba
Bocachica is located on the far side of the island of Tierra Bomba. On the closer side of the island, facing Cartagena, there are several nice beach clubs that make for a great beach day, especially if you don't want to go all the way out to the farther Rosario Islands mentioned higher up.
You can get boats across to the island from behind the hospital in Bocagrande. You can also book a day pass at one of the popular beach clubs and hotels such as Palmarito Beach, Fenix Beach, and Amare Beach here ahead of time.
6. Beat the Crowds at Playa Blanca
Playa Blanca has long been a favorite Cartagena day trip. However, this once pristine beach has suffered from overcrowding and overbuilding. The crowds can be downright overwhelming now, and it is best avoided on the weekends or holidays.
However, the beach itself is still gorgeous. If you are willing to avoid the most crowded days and willing to walk down the beach to the lesser crowded end often referred to as Playa Tranquilla, it is still worth a visit and makes for a great day trip from Cartagena. For an added bonus look into a tour that will take you to see the bioluminescent plankton at night and take you back to Cartagena afterward. You can also check out the excellent Colombian National Aviary not far from the beach.
7. See the Pretty Nature in Montes de María
Not far from Palenque, the area known as Montes de María is very pretty. The agency Taroa Adventures offers a nice hiking tour and workshop on the famous gaita music that comes from this area near the town of San Jacinto.
Also near San Jacinto, there is a gorgeous sunflower field that is well worth a visit. The photos here are stunning! Still, a relatively unknown area, transportation here can be a bit tough to find but it is possible to get buses to San Jacinto from the Cartagena terminal.
Looking for a place to stay in Cartagena?
If you don't know what to pack for your trip to Colombia, take a look at this Colombia packing list I have prepared. Or if you are going to the Colombian Caribbean Coast, I got you covered as well!
Day Trips from Cartagena Conclusion
As you can probably tell, Cartagena is a great beach destination as there are 3 beach day trips from Cartagena mentioned here. However, you can also discover the hidden histories of Palenque and the fortifications at Bocachica, see a mud volcano and a pink sea, and even do some hiking on day trips from Cartagena.
About the Author
Adam McConnaughhay lived in Cartagena from 2011 to 2022 and writes about Cartagena and other destinations in Colombia at CartagenaExplorer.com.