Planning a trip to Isla Grande in Colombia? When traveling in Colombia, Cartagena is high on most travelers Colombia itineraries. And if you are spending time in Cartagena then you should really consider spending a few days on Isla Grande.
In this guide, I'm going to break down everything you need to know about visiting Isla Grande to ensure you have the best time there.
Did You Get Travel Insurance Yet?

If 2020 taught us anything, it's that you need to be prepared for anything!

The Insurance companies I personally recommend are Hey Mondo, Passport Nomads, Safety Wing, and Travel Insurance Master

Hey Mondo is great if you are looking for a great value flexible policy. They offer single-trip cover, annual multi-trip cover, and long-term travel cover.

Passport Nomads provides the most comprehensive cover for Digital Nomads. If you find yourself in need of medical care you just contact them and they will pre-load your card with the funds to cover your treatment, meaning you won't need to pay out of pocket and then put in a claim later.

Safety Wing is great value with monthly cover starting at $39. It's super easy to use and it just renews each month. I currently use them as they offer me free cover for my son as part of my policy.

I also use Travel Insurance Master for short trips.

Read my full travel insurance post here where I go into detail about all 4 companies.
Where is Isla Grande and why visit?
Isla Grande is located off the coast of Cartagena in Colombia. Although it can be a little challenging to get there it's totally worth it. Plus if you follow the advice in this guide and book your travel ahead of time it will make getting to Isla Grande a whole lot smoother!
So now you know where Isla Grande is, you might be wondering why you should go. Well, that's a pretty simple question to answer, the beaches! As much as I love Colombia, and trust me I do love Colombia, the beaches kinda suck. Even the beaches in Park Tyona aren't great. The ones that you can't swim in because the sea is too crazy.
Now many people decide to head to Playa Blanca in Isla Baru as it really is beautiful and it's accessible as a day trip. But speaking from personal experience, the afternoon I spent on that beach was a nightmare! I stayed overnight with a friend in an 'echo hotel' there and we sat on our suitcases waiting for the boat to get us the hell off that beach the next day. It may be beautiful but the harassment from beach sellers there is next level.
If you want to enjoy some beach time on beautiful white sand beaches the only place you can find that in Colombia is Isla Grande.
As well as relaxing on the beach, Isla Grande has some of the best snorkeling and scuba diving in Colombia. Thanks to it being a protected area nature thrives here and the biodiversity is something pretty special. If you're lucky you might even spot some whales and dolphins.
Getting to Isla Grande Colombia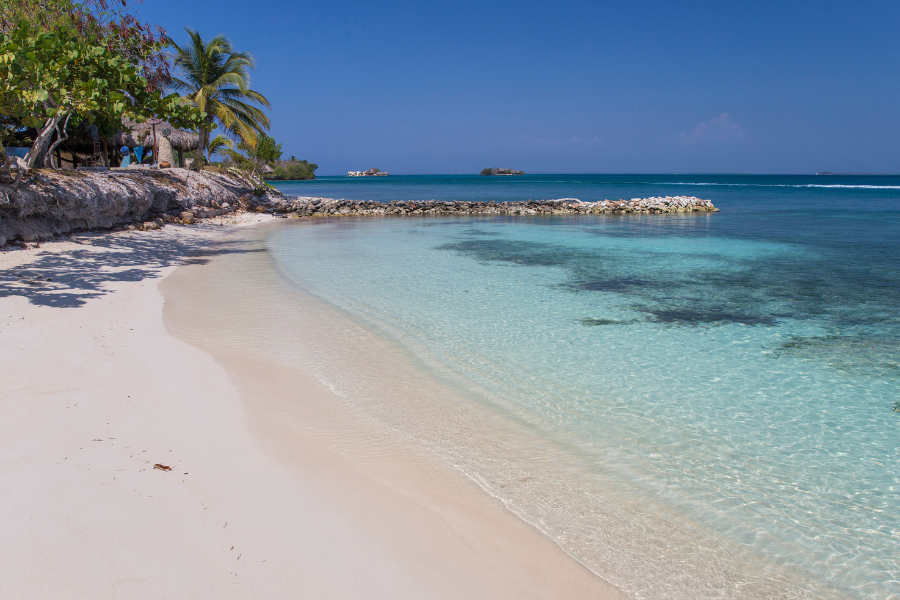 To get to Isla Grande in Colombia, you need to first travel to Cartagena, which is the nearest major city. From there, you can take a boat or a ferry from Cartagena to Isla Grande.
Most people will fly into Cartagena airport and then make their own way to the port. The easiest way to do this is by taxi. You can take a public bus but you will first need to buy and top up a travel card, so in all honesty, it's just easier to take a taxi! From the airport, a taxi to the port will cost you around $10-$15 USD and take around 10-15 minutes. From the city center, it's faster and cheaper.
From Muelle de la Bodeguita (the main port) you have a few options, you can negotiate with a local boat driver and get them to take you (best option if you are a group, or prefer a private ride and don't mind paying). For everyone else, I'd recommend booking a ferry.
I did the whole negotiating with a local boat driver thing and it wasn't easy!
The ferry from Cartagena to Isla Grande takes around 1 hour and costs between $15-20 USD. You can book it ahead of time on 123Go here.
If both of these options sound like too much hassle for you then you can also book a guided tour to Isla Grande. The tour will include all transportation and activities while there, some even include accommodation.
Things to do in Isla Grande Colombia
Although the most popular thing to do on Isla Grande is to chill on the beach. For those wanting a bit more action on their vacation wont be disappointed. Here are a few of the best things to do in Isla Grande.
Snorkeling and Scuba diving
This is my top thing to do as the Scuba diving in Isla Grande is pretty epic (well compared to Taganga which is the other popular scuba diving in Colombia spot.
Thanks to the crystal-clear waters surrounding the island that are teeming with marine life, scuba diving here will not disappoint. The most popular dive sites around Isla Grande are the San Sebastian, Cholón, and Barú wrecks, which are all located in the Rosario Islands National Park. Each of these sites offers a variety of depths and underwater environments for all levels of divers.
What can you expect to see? Colorful fish, sea turtles, rays, and even dolphins and whales. And if you're not already a certified scuba diver, it's not a bad place to learn, and a few of the dive centers on the island offer Open Water Certification.
Although it's warm all year round here thanks to the tropical climate, the best time to scuba dive in Isla Grande is from December to May when the waters are calm and visibility is high.
Relaxing on the white sandy beaches
I couldn't skip this one, as let's face it, relaxing on the white sandy beaches of Isla Grande is one of the main reasons why people visit this beautiful island off the coast of Colombia.
There are several beaches to choose from with Playa Libre being the most popular beach, known for its soft white sand and calm waters. Playa Blanca is also a great option, with its turquoise waters and stunning views of the surrounding islands.
Many of the beaches in Isla Grande have hammocks available for rent. So pack your book and be prepared to live the island life in a hammock!
Hiking to the highest point on the island
Board of the beach? Hiking to the highest point of Isla Grande is a great way to get some exercise while enjoying the beautiful scenery of the island. The highest point of Isla Grande is called "Pico de Loro," which means "Parrot's Peak" in Spanish.
If you decide to do this then it's important to start early before it gets too hot. The trail can be steep and challenging, so it's important to give yourself enough time to complete the hike before sunset. It's a well-marked trail, but it's still worth bringing a map or hiring a guide, especially if you aren't an experienced hiker.
You are also going to want to make sure you have some decent hiking sandals (like these). The trail can be rocky and uneven, so it's important to wear sturdy hiking shoes or sneakers with good traction. I found my feet got too hot in the weather wearing hiking boots but my hiking sandals were a godsend.
And of course, don't forget to bring plenty of water and some snacks to keep you going during the hike.
Kayaking and Paddleboarding
Kayaking and paddleboarding are great ways to explore the beautiful waters surrounding Isla Grande, Colombia.
You can rent equipment from several places on the island including Playa Libre and Playa Blanca. Many hotels also offer rental or will lend you paddleboards and Kayaks free of charge. Although you can do this by yourself, it's worth hiring a guide or doing a tour to make sure you see the best spots.
Be sure to bring lots of water and snacks and cover up from the sun with sunglasses, a hat, and a rashguard.
Visiting the natural pools of La Piscinita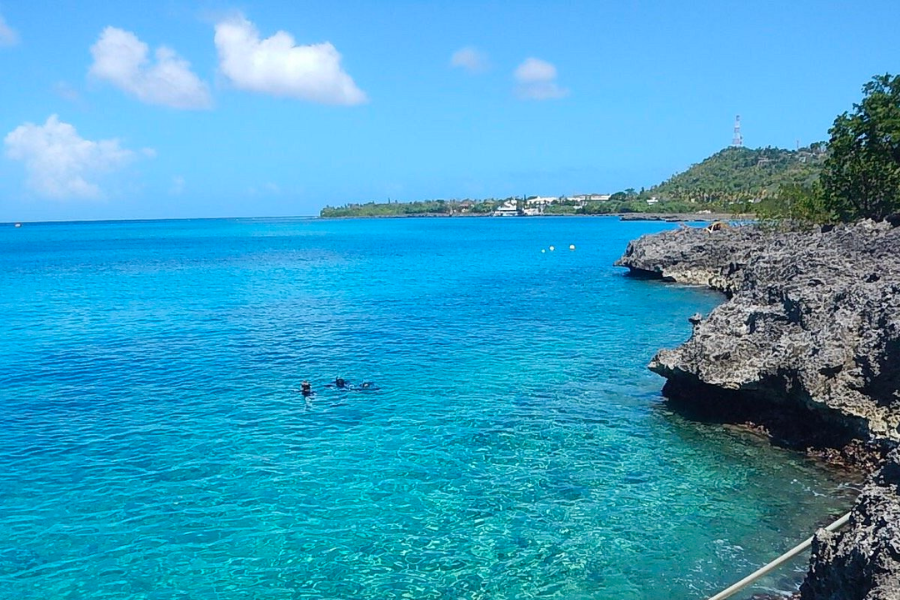 La Piscinita is a popular natural pool located on the western side of Isla Grande, Colombia. It's a great place to enjoy some snorkeling and beautiful scenery.
If you decide to come here then you will want to arrive early to beat the crowds and try to avoid visiting on weekends or during the holidays. You will be able to rent snorkeling gear there if you don't already have it.
As La Piscinta is a natural pool you need to ensure you are not wearing sunscreen or have a reef-safe one like this is you must wear it. It's always better to cover up with a UV rash guard though.
Taking a boat tour of the island and its surroundings
It goes without saying really that taking a boat tour of Isla Grande and its surroundings is a great way to explore the island and its natural beauty.
There are several tour operators on the island that offer boat tours. Do a little research to find the best tour for you depending on what you want to see on your tour. Many of them stop at La Piscinita, Playa Blanca, and other nearby islands.
Enjoying fresh seafood and local cuisine.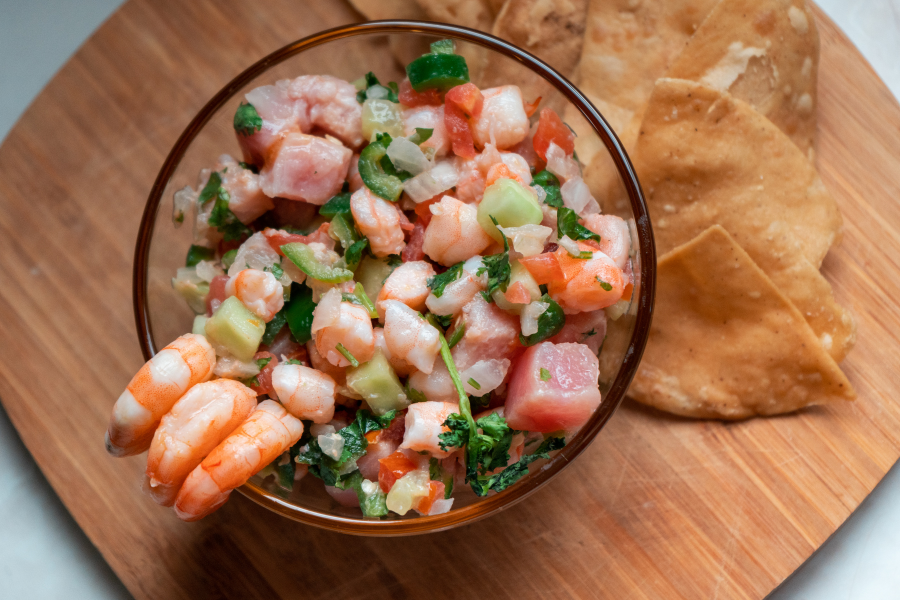 Of course one of the highlights of visiting Isla Grande, Colombia, is enjoying the delicious local cuisine. Some of the local specialties you may want to try include fried fish, coconut rice, and of course fresh ceviche.
Prices for food on the island can vary, so make sure to check the menu and prices before ordering. Some restaurants may have higher prices for tourists, so it's always good to ask around for recommendations.
It's also important to be aware that many restaurants on the island only accept cash, so make sure to have enough money with you!
This brings me nicely to my next point…FOOD!
What to Eat on Isla Grande Colombia
Isla Grande, Colombia offers a pretty unique culinary experience with delicious local cuisine that is influenced by Caribbean flavors. I can't lie to you. Colombia is one of the worst places for food (in my opinion) just behind Cuba. That does not however apply to anywhere in the Carribean coast of Colombial. Here I could quite happily live the rest of my life feasting on fried plantains, coconut rice, and fresh fish!
Seafood
As a coastal destination, Isla Grande is known for its fresh seafood. Some popular seafood dishes include fried fish, grilled fish, and seafood stews. Ceviche, a dish made with raw fish marinated in citrus juices, is also a popular choice.
Coconut Rice
A staple dish in Caribbean cuisine, coconut rice is made with rice cooked in coconut milk and is often served with beans, fried plantains, and fresh seafood.
Arepas
Arepas are a type of flatbread made with corn flour and often stuffed with cheese, meat, or other fillings. They are a popular snack or breakfast food on the island as they are throughout the whole of Colombia. The arepas in the Caribbean are by far my favorite!
Patacones
Ah, man I do love patacones! Patacones are twice-fried plantains that are served as a side dish or snack. Pretty much any dish you order will come with one of these on the plate.
Where to Stay on Isla Grande Colombia
The accommodation on Isla Grande varies greatly. From budget 'eco hotels' and hostels to luxury resorts where you stay and how much you pay is really going to depend on you. When I went as a backpacker I just wanted somewhere cheap and safe to sleep. These days I'm much more about comfort so I'd be looking for something completely different.
With regards to the best areas to stay on Isla Grande the following is a good guide to help your search.
Playa Libre: Playa Libre is located on the west side of the island and is a popular area for backpackers and budget travelers. There are several eco-friendly accommodations and hostels in this area.
Playa Blanca: Playa Blanca is located on the south side of the island and is known for its stunning white sandy beaches. This area is more secluded and peaceful, with a few upscale resorts and eco-lodges.
La Boquilla: La Boquilla is located on the north side of the island and is a quieter area with a few small hotels and guesthouses. This area is known for its calm waters, making it a great spot for snorkeling and paddleboarding.
Casa en el Agua: Casa en el Agua is a unique accommodation option located on a small island near Isla Grande. This floating hostel offers a truly unique and unforgettable experience. This is the one from the viral video that does the rounds every now and again.
Once you have decided where to stay you need to decide what kind of accommodation you want.
Hostels: There are several hostels on the island that offer budget-friendly accommodations for backpackers and budget travelers.
Some popular options include Hostal Marlin, Hostal La Cocotera, and La Casa de Felipe.
Eco-lodges: If you're looking for a more eco-friendly accommodation option, there are several eco-lodges on the island that offer a unique experience. Some popular eco-lodges include Eco-Hotel Casa de la Cocotera and Eco-Hotel Las Palmeras.
Bear in mind that some echo hotels have super basic facilities so do check out the reviews and ratings before booking anything.
Hotels: There are a few hotels on the island that offer comfortable accommodations and amenities. Some popular options include Hotel San Pedro de Majagua and Hotel Cocoliso Resort.
Glamping: Glamping, is becoming increasingly popular on Isla Grande. There are a few glamping options on the island, such as Glamping Cocotero and Glamping Isla Roots.
Private Rentals: For those looking for a more private and secluded experience, there are several private rentals available on the island that can be rented through VRBO. Here are a few of my favorite options.
Whatever you are looking for just make sure to book in advance, especially during peak travel season, to ensure availability. Isla Grande is popular with domestic as well as international
travelers so from December to January and over Easter, the island will be extremely busy with Colombians traveling during the holidays.
Conclusion
Isla Grande, Colombia is a beautiful and unique destination that offers a variety of activities, from hiking to kayaking to relaxing on white sandy beaches. With its stunning natural beauty and rich cultural heritage, Isla Grande is definitely worth visiting for any traveler looking for an off-the-beaten-path adventure in Colombia.