Not sure what to do in Cartagena? If you are wondering how to spend 1 day in Cartagena, don't worry, I've got you covered! In this article, I'm going to share with you my 1-day itinerary for Cartagena to help you make the most of your time.
In this article I'm going to cover:
What to do in Cartagena

Traveling around Cartagena

Best restaurants in Cartagena

Accommodation in Cartagena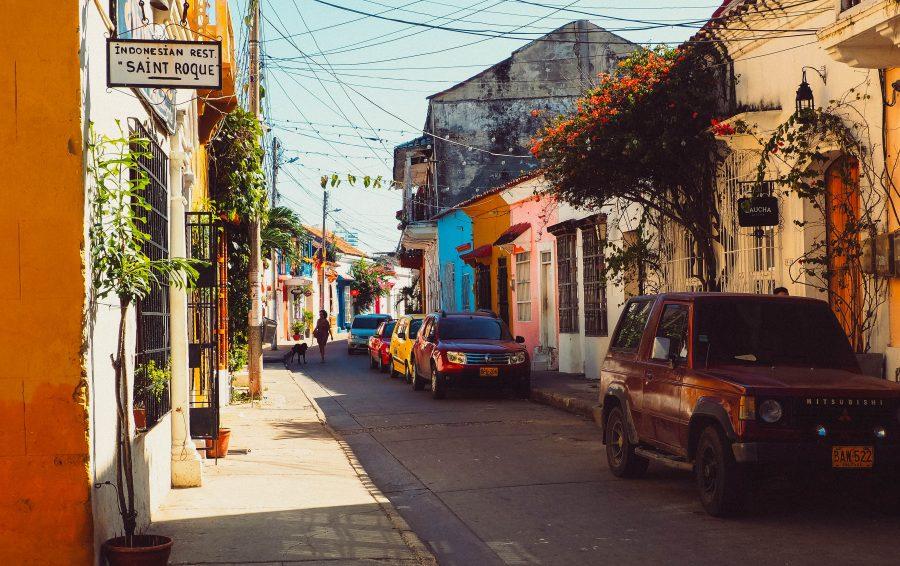 Things to do in Cartagena Colombia
Get up early and eat breakfast at Cafe Stepping Stone.
Then spend the rest of the morning wandering around the old walled city. Cartagena is a beautiful, colorful colonial city. The old city is situated within a wall and it is the perfect place to try and get lost!
Be sure to get yourself a coco frio or one of the artisan ice creams and sit in Parque Bolivia and do some people watching.
Leave the city walls for lunch at … It may not look like much but this place is always packed full of locals and Colombians as it is the top place to eat. The portions are huge and you can get a meal for around 15mil.
After Lunch
Take a walk to Castillo San Felipe de Barajas. This is the fort that looks down over Cartagena. Just look up, it's hard to miss! The entrance fee is 25mil COP and it is an impressive viewpoint from which to view the city.
Walk back towards the walled city and head to Cafe Del Mar to see the sunset. Get their early to make sure you get a good seat.
After sunset exit the walled city and cross the road, if you look to your left you will notice 4 or 5 different street vendors selling Ceviche. I ate there a few times and recommend it. The fish is fresh, it's full of locals and the price is great!
If you are lucky you may even catch some street performers around the Parque area. I was lucky enough to see a capoeira group.
Next head to Plaza de Trinidad. This is a lovely square outside of the walled city where you can eat some more street food, or find a nice restaurant if you are still hungry from your ceviche! It's a great place to drink a beer or just sit in the plaza and people watch. They often have street performers or salsa dancing until late in the evening. It is the perfect place to finish your day in Cartagena.
If you have longer than one day in Cartagena I would strongly recommend going to one of Cartagena's Beaches but be sure to do your research first as some of the beaches I really wouldn't recommend if you want to relax for the day!
Traveling around Cartagena
How to get from the Airport to Cartagena
From Cartagena airport, you will need to take a taxi (as you need a card for the public bus or so we were told by one of the airport staff). The cost of a taxi from the airport to Cartegenas historic center is just $10-15 MIL COP .
Once you are in the city unless you are staying quite far out you shouldn't need any other transport other than your legs!
To travel from Cartagena to Santa Marta
The best option when traveling from Cartagena to Santa Marta is to contact MarSol and arrange a door to door bus. They will pick you up from your hotel and drop you to a central address in Santa Marta, Taganga, Minca, Tayrona or Palomino. Depending on where you want to go to next. You can take the public bus but the price of the door to door is only a few mil more and much more convenient.
Hostel Cartagena de Indias
If you are looking for a nice hostel in the historic center than I recommend Casa Roma. It's clean and the staff are super helpful. The wifi is ok in the communal area but you can't get it in the rooms…unless you are lucky!
If you are looking for a room and decent wifi and don't mind staying a bit further away Casa 4 Cartagena is a 20-minute walk away from the historic center. The wifi was good enough for me to teach online and the price for a private room is really reasonable. They have a good kitchen for you to use and the owner speaks really good English (not common in Colombia). If you don't want to walk we paid 6-8mil for a taxi to take up to and from the center, however, it's a nice walk through a safe area.
Other Cartagena hostel's worth mentioning are:
Budget for Cartagena
Cartagena is the most expensive place I've visited so far in Colombia. That said in comparison to the UK and the USA it's still good value! Here is a breakdown of prices to give you an idea of a budget:
A bed in a mixed dorm in El Centro $30mil COP

Private room (budget outside El Centro) $30mil COP

Beer $4-9mil COP

Coffee $3-5mil COP

Breakfast $7-12Mil COP

Lunch $15-20mil COP

Dinner $15-50mil COP

Arapa $3-4mil COP

Ceviche $6-12mil COP (depending on size)
Are you traveling with a family? Then take a read of these family-friendly activities you can do in Cartagena.
I hope this is helpful if you are backpacking in Colombia be sure to check out my other guides!
Also, you can follow my 1-week, 2-week, and 3-week Itineraries for the Caribbean coast.
This post was proofread by Grammarly