Ready for an adventure and need an Israel itinerary to help you choose the best bits to explore? They you are in the right place as I've got just the thing… a super fun 7 day trip to Israel that is full of cool old places, tasty food, and pretty views.
Think about walking in places from old stories one day and trying yummy Middle Eastern dishes the next – that's what a backpacking Israel trip means.
Want to float like a cork in the Dead Sea or see lively markets full of color and aromas? Plan your trip to Israel ASAP, and since I believe in taking enough time to explore each destination, my Israel backpacking won't feel jam-packed.
So let's get to my 7 days in Israel itinerary and tick another awesome location off our list!
Did You Get Travel Insurance Yet?

The Insurance companies I recommend are Hey Mondo, Safety Wing, and Travel Insurance Master

Hey Mondo is great if you are looking for a great value flexible policy. They offer single-trip cover, annual multi-trip cover, and long-term travel cover. Safety Wing is great value, with monthly coverage starting at $39. It's super easy to use, and it just renews each month. I currently use them as they offer me free cover for my son as part of my policy. I also use Travel Insurance Master for short trips.

Read my full travel insurance post here, where I go into detail about all companies.
Map Of The 1 Week In Israel Route
Day 1: Arrival in Tel Aviv
When your wanderlust has directed you towards the kaleidoscopic Israel backpacking, know you're in for a fun-filled getaway. And what could be a better place to start your journey than Tel Aviv? Rightfully referred to as the "Miami of the Middle East," Tel Aviv gives off a fusion of culture and sun-soaked Mediterranean beaches. Also, the best time to travel to Israel is Spring or Fall, so plan your days accordingly, as you don't want the weather to treat you badly.
An Aroma-Filled Wake-Up Call
Imagine waking up as the aroma of freshly brewed coffee and the scent of Israeli breakfast waft through the air on your backpack Israel tour. To enjoy that, you must head to one of the city's numerous cafes to kick-start your day. It's hard to resist the allure of Shakshuka, a North African-inspired dish of eggs poached in a tomato-based sauce, or Sabich (my favorite), which is a delectable pita sandwich filled with fried eggplant and hard-boiled eggs.
Spend The Morning Exploring Tel Aviv's Beaches
Tel Aviv flaunts a 9-mile stretch of coastline that gives off such lively vibes that you won't want to get away from it. And while you're ticking off your 7 days in Israel itinerary, don't miss Gordon Beach, which brims with sun-seekers, swimmers, and surfers. Fancy a game of beach volleyball? The nets are ready. Looking for a more laid-back experience? Banana Beach is your haven.
Afternoon History Dive in Jaffa
An itinerary of Israel is quite incomplete if you don't visit the old city of Jaffa (Yafo in Hebrew), now a part of Tel Aviv. Walking along the narrow alleyways, you'll feel like absorbing the rich history this port city offers. Also, go to the Jaffa Flea Market or Shuk Hapishpishim, as it's a treasure trove if you are hunting for Israeli art.
An Evening at Carmel Market
As the sun begins to dip, make your way to Carmel Market (Shuk HaCarmel), the heartbeat of Tel Aviv's street food scene. Taste your way through the myriad of food stalls offering local delicacies. The Carmel Market is also a shopaholic's paradise for fresh produce, Israeli spices, traditional souvenirs, eclectic trinkets, and more.
Quick Tip: Book accommodation, tours, and transport ahead of time online to save money and stress.
Best Israel Tours: Click here to check out the top Israel tours
Best Israel Accommodation: Click here to check out the best accommodation in Israel
Best Israel Transport: Click here to book a bus, ferry, or train in Israel
Day 2: Tel Aviv to Jerusalem
Make Jerusalem your next spot on the itinerary for Israel after concluding your day in Tel Aviv. You'll see stories of faith, history, and humanity that have crisscrossed these lands for millennia.
Go From Tel Aviv to Jerusalem
Rise and shine with the Mediterranean sun in Tel Aviv, where a quick breakfast at a beachside café will awaken your senses and set the tone for our adventure. The easy accessibility of public transport makes our journey to Jerusalem hassle-free and enjoyable. It's just an hour's bus or train ride away, offering scenic views of Israel's diverse landscapes.
Go To The Western Wall
Once in Jerusalem on your Israel itinerary 7 days, our first stop is the Western Wall – an undeniable heartstring of Judaism and one of the holiest sites in the world. Slip your prayer into the cracks of the Wall or simply absorb the heartfelt energy of those around you.
Visit the Church of the Holy Sepulchre
A short walk away is the Church of the Holy Sepulchre, which is believed to be the site of Jesus' crucifixion, burial, and resurrection. Pause and appreciate the beautiful mosaics, observe the pilgrims anointing themselves with the holy oils, and feel the weight of centuries of devotion poured into this place.
Explore the Old City
I'd say dedicate the rest of your second day in backpacking Israel itinerary to the Old City of Jerusalem. In the Jewish Quarter, see the beautifully restored synagogues and the ancient Cardo, a Roman road now bustling with modern shops.
As dusk begins to settle, I find a rooftop café and sit with a steaming cup of mint tea to watch the sunset as it bathes the city in hues of gold and pin.
Day 3: Jerusalem
A day out of your itinerary for Israel isn't enough to cover all the gems of Jerusalem, so spend your 3rd day here as well.
Spend A Morning At the Yad Vashem Holocaust Memorial Museum
I always suggest starting the day with a visit to the Yad Vashem Holocaust Memorial Museum. Yes, it is a solemn experience, but it's also profoundly moving. On the western slopes of Mount Herzl, the museum pays homage to the six million Jews whose lives were stolen in the Holocaust. The museum's architecture, exhibits, and memorials ingeniously narrate a heart-wrenching tale of human resilience. The Hall of Names, in particular, is hauntingly beautiful.
Visit The Mount of Olives
Next on your itinerary in Israel, head to the Mount of Olives, a hill east of the Old City, to get a panoramic view of the city. Here, Jerusalem unfurls before your eyes to give glimpses of the Dome of the Rock's golden hue and the age-old walls of the Old City.
Spend An Afternoon At the Mahane Yehuda Market and Israel Museum
The Mahane Yehuda Market, also known as 'the Shuk,' is a sensory overload, teeming with shoppers, vendors, aromatic spices, and the most delectable local food you can find. Then, end your 3rd day from the itinerary for Israel with a visit to the Israel Museum, a treasure trove of art, archaeology, and Judaica. Housing over 500,000 artifacts, this museum is an absolute must-visit on your itinerary in Israel for any history or art enthusiast.
QUICK TIP: Book your tickets for museums, attractions, and tours with Abraham Travel

If you want to have a complete travel experience that includes tours, events, bars, and accommodations, check out Abraham Travel where you can enjoy many cultural experiences such as graffiti exhibitions, alternative book week, and many special projects!
Day 4: Dead Sea and Masada
The Dead Sea and Masada are a duo of destinations that expertly combine the magic of nature's extremities and the weight of history into a one-day from your Israel itinerary for 7 days. I often say if you want to touch the very pulse of Israel in just one day, these are the places to go.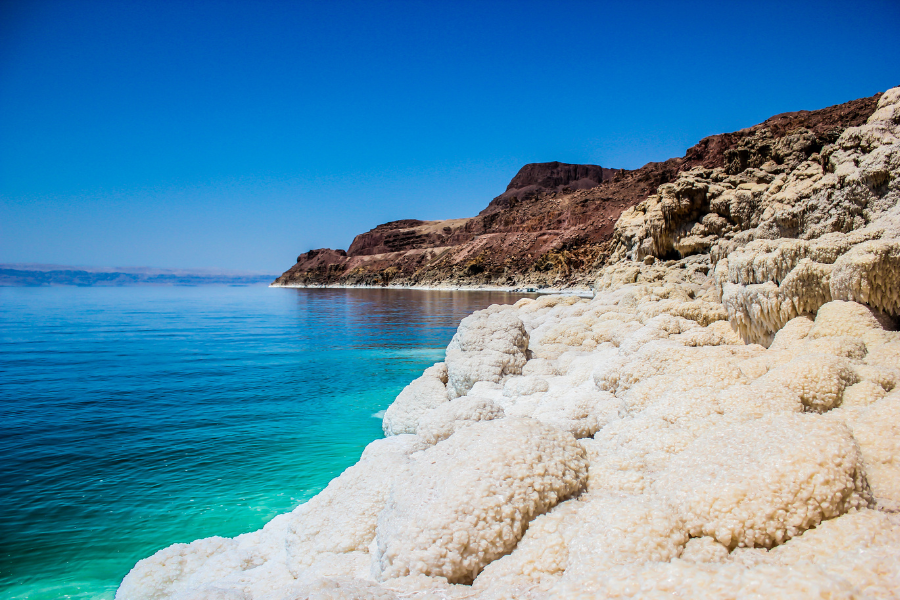 Float in the Dead Sea
Begin your 4th day of Israel backpacking by sinking into the soothing waters of the Dead Sea, except that sinking isn't quite on the cards. Being about ten times saltier than the regular sea, the Dead Sea makes you float effortlessly. I guarantee it's as therapeutic for the mind as it is for the body. Also, cover yourself with the mineral-rich mud found along the shores on your 7 days in Israel itinerary. This mud, touted for its healing properties, is like a natural spa treatment.
Journey to Masada
Sitting over an isolated rock plateau overlooking the Dead Sea, Masada reflects ancient kingdoms, bold rebels, and epic narratives. A quick cable car ride (or a challenging hike for the more adventurous) during backpacking in Israel takes you to the top.
Masada's historical narrative is laden with tales – it's what became the last Jewish stronghold against the Roman siege. You can almost hear the echoes of that fateful standoff as you tread the ancient paths of Roman camps. Add a guided tour of Masada to your itinerary for Israel if you want to learn all about it.
Day 5: Haifa and Akko
Next up on our itinerary for Israel, I've got an exciting day of exploration planned in Israel's stunning north.
Train Journey to Haifa
Haifa is a sensory feast on my itinerary for Israel, waiting to be discovered on the slopes of Mount Carmel and overlooking the azure Mediterranean Sea. This third-largest city in Israel and a UNESCO World Heritage site is wowed for its beauty.
Explore Bahai Gardens
Our first stop in Israel backpacking day in Haifa is the mesmerizing Bahai Gardens that grace the city with their pristine presence. These gardens feature 19 stunning terraces unfolding down the northern slope of Mount Carmel. My tip? Don't rush.
Take A Bus Ride to Akko
After a leisurely morning of Israel backpacking, we catch an afternoon bus to Akko (or Acre). Just a short ride from Haifa, Akko brims with layers of history, from the Crusader era to the Ottoman period. With its twisting alleys and stunning architecture, it's the perfect destination for our afternoon.
Discover Akko Crusader-era Fortifications
Upon reaching Akko, you'll find yourself stepping back in time. Our first port of call here is the impressive Crusader-era fortifications. The Hospitaller Fortress, now a part of the Knights' Halls complex, is particularly noteworthy as its cavernous halls and secret passageways speak volumes of Akko's medieval past.
Exploring the Akko City
Then pause to savor local delights – I highly recommend trying hummus and falafel from a street-side vendor. Remember to visit the marina too, for it offers a picturesque view of the sun setting over this ancient city.
Day 6: Galilee
Nothing can quite prepare you for the divine beauty and spiritual depth you see on a 10-day in Israel itinerary in the Galilee region.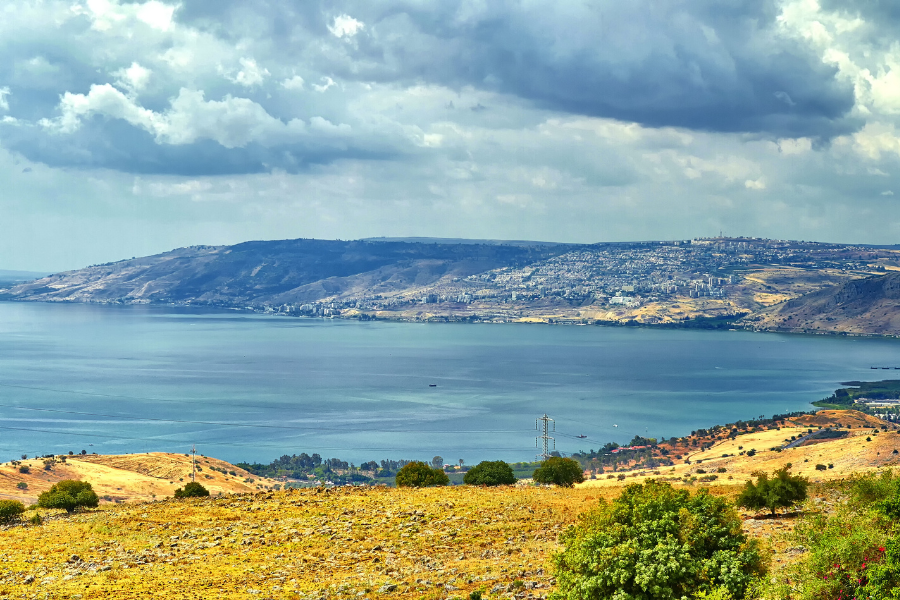 See The Blesses Mount of Beatitudes
Your 6th-day itinerary for Israel should start with a peaceful drive to the Mount of Beatitudes, the very spot believed to be where Jesus delivered the Sermon on the Mount. The ethereal allure of the octagonal church over the Sea of Galilee will leave you awestruck.
Take A Stroll Back in Time in Capernaum
Also known as the 'Town of Jesus', Capernaum holds the remnants of a synagogue where Jesus is said to have taught. Explore the archaeological remains of this 2,000-year-old town and tread the paths that may once have been familiar to Jesus himself.
End The Day With A Boat Ride On The Sea Of Galilee
Conclude this backpacking Israel day with a soothing boat ride on the Sea of Galilee as the sun sets, coloring the sky with hues of orange and purple.
Day 7: Departure
Your 7 days in Israel itinerary is coming to an end after we've seen many colors of life in this diverse city. So on your last day, awaken your culinary spirit with a morning cooking class with citrus and salt at the city's heart. Roam the vibrant Carmel Market for authentic souvenirs and indulge in Tel Aviv's trendy boutiques for a touch of contemporary fashion.
Say The Final Goodbye
As your magical day draws to a close, depart for the airport. Your heart, now filled with unforgettable experiences, carries a piece of Israel with it.
Israel Travel Guide Planning
👩‍⚕️ What is the best insurance to have while traveling?
I recommend using Heymondo for a great value policy. The app also offers you 24/7 Dr Chat. For Digital Nomads check out SafetyWing digital nomad insurance. I have also written a blog post covering all my recommended travel insurance here
✈️ Any flight recommendations?
WayAWay offers you cheap flights with cashback. You can use this code CLAIRE22 to get 10% off. Otherwise, Skyscanner or Expedia are my go-to flight searching platforms.
🎫 Where can I buy tickets for museums, attractions, and tours in Israel?
I recommend either Viator or GetYour Guide. They have a lot of options available! You can also check Abraham Travel for more information about tours, events, and bars.
🚗 Where can I book rental cars or private transportation?
I strongly recommend using RentalCars. They are available in more than 60.000 locations and customer service support in more than 40 languages.
📱What do you use for internet connection while traveling?
I'm a big fan of personal WiFi devices and they have saved my ass so many times when traveling. I wrote a full review of the top travel WiFi devices you can read here. I personally use GlocalMe as I can either pop in a physical sim card or use their local carrier.
With regards to my phone connection, I use e-sims while traveling, so rather than having to swap out my regular sim card I can download the app and buy a virtual sim card. I recommend using either Airhub or Alosim. Both have great coverage of multiple countries and are very easy to use.
🛏️ What is the best platform to use for booking accommodation?
The 3 best platforms that I normally use are Booking.com, Hotels.com, and Expedia. They offer great deals and multiple options. I always check all three to be sure of the best deals.
🛅 Do you have any luggage recommendations for traveling?
I do have a complete list of the best packing and luggage products that I recommend, you can check the list here. I'm currently traveling with this suitcase and this backpack.
Looking for somewhere to stay? Check out these options!
Luxury Hotel
Superior Apartments by Stay Eilat- Merkaz Ofir
Panda Resort & Spa-By Panda Hotels
Mid Hotel
Arbel Guest House Shavit Family
Budget Hotel
Keshet Yehonatan Country Lodging
Plan Your 7 Days In Israel Itinerary Now
What a dream to live, no? Israel is surely a welcoming place for globetrotters who want to see all colors of life. And having seen many chunks of this diverse planet, I can say Israel packs a punch of nature, hip life, food, and relaxing activities.
So plan your 7 or 10 days in Israel itinerary based on my recommendations, and I promise you won't miss out on anything in this country.
I'll wait to hear your amazing Israel travel tales!
Pin for later