Israel is a destination that holds a lot of historical and cultural significance. It's a country full of breathtaking landscapes, stunning architecture, and amazing food.
So, whether you're interested in exploring the history of the country or just looking for a beautiful vacation spot, Israel has something to offer everyone.
In this post, I've listed the top places to visit in Israel that you don't want to miss to help you plan the perfect Isreal itinerary.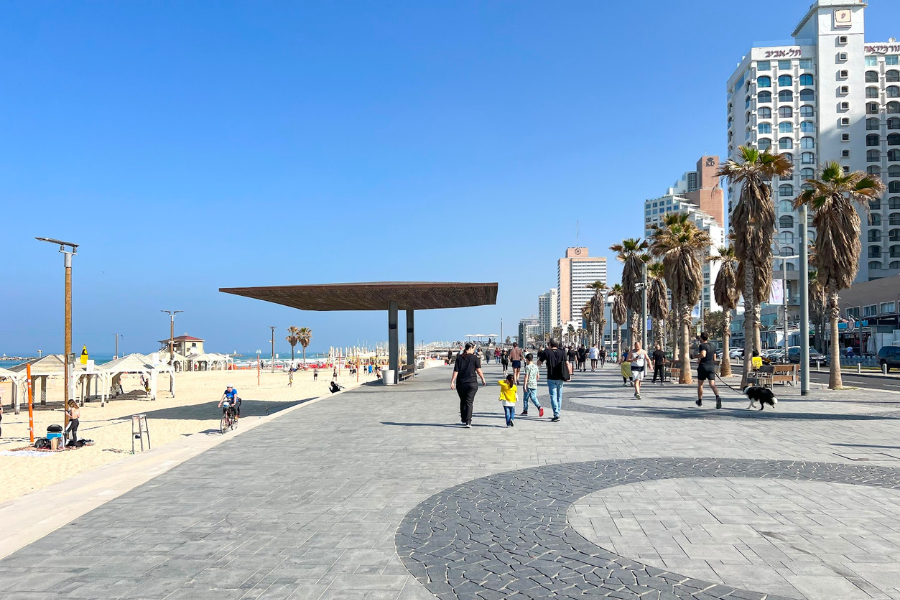 Did You Get Travel Insurance Yet?

If 2020 taught us anything, it's that you need to be prepared for anything!

The Insurance companies I personally recommend are Hey Mondo, Passport Nomads, Safety Wing, and Travel Insurance Master

Hey Mondo is great if you are looking for a great value flexible policy. They offer single-trip cover, annual multi-trip cover, and long-term travel cover.

Passport Nomads provides the most comprehensive cover for Digital Nomads. If you find yourself in need of medical care you just contact them and they will pre-load your card with the funds to cover your treatment, meaning you won't need to pay out of pocket and then put in a claim later.

Safety Wing is great value with monthly cover starting at $39. It's super easy to use and it just renews each month. I currently use them as they offer me free cover for my son as part of my policy.

I also use Travel Insurance Master for short trips.

Read my full travel insurance post here where I go into detail about all 4 companies.
Why Visit Israel?
Israel is a country that is rich in history, culture, and natural beauty. It is a place where ancient ruins stand alongside modern cities, and where the beauty of the Mediterranean Sea meets the rugged terrain of the desert. Whether you're interested in exploring the country's religious history, experiencing its vibrant nightlife, or simply soaking up its unique atmosphere, there's something for everyone in Israel.
But beyond its physical beauty, Israel is also a place where people from all over the world come together to share their traditions, cultures, and stories. It's a place where you can learn about different perspectives and ways of life, and where you can create memories that will last a lifetime. So if you're looking for a destination that is both inspiring and unforgettable, Israel is definitely worth a visit.
Israel surprised me more than any other country I've visited. I know my husband and some family members were very nervous about us traveling there with Charlie who had just turned 1 at the time. But I knew it was an important place for us to visit as a family and having several Israeli friends, some with young children it felt just as safe for us to travel there than it does to travel to New York City to visit my family there.
Jerusalem
Jerusalem is one of the most historically significant cities in the world and a must-visit destination for anyone traveling to Israel. It was the place we were more looking forward to visiting on our trip to Israel and it didn't disappoint. My only complaint about Jerusalem is that we didn't have enough time there!
The city is home to numerous sites that are sacred to Jews, Christians, and Muslims, making it a truly unique and diverse place to explore.
Whether you are religious or not Jerusalem is still one of the most fascinating cities in the world. The walled city itself is divided up into four quarters, including the Jewish quarter, Muslim quarter, Christian quarter, and Armenian quarter.
Each quarter offers a unique experience, from exploring the ancient alleyways and stunning architecture to visiting the holy sites that are central to each religion. Only 2 of the quarters are accessible all the time (Jewish and Christian).
The Armenian quarter is completely closed unless you are Armenian and the Muslim quarter is only accessible twice a day 5 days a week for 1 hour at a time except during holidays and religious festivals when it's completely closed to the general public.
While in the Old City, you can explore the ancient alleyways and marvel at the stunning architecture that has stood the test of time. Be sure to visit the Western Wall, which is one of the most sacred sites in Judaism, and the Muslim quarter, which is home to the Dome of the Rock, one of the most iconic landmarks in Jerusalem.
No visit to Jerusalem would be complete without visiting the Church of the Holy Sepulchre, which is believed to be the site of Jesus' crucifixion and resurrection.
Once you are done exploring the old city it's like to get your hiking shoes on and head up to the Mount of Olives, which offers stunning panoramic views of Jerusalem and the surrounding area.
Tour options to choose from in Jerusalem
If you're looking for a complete travel experience in Jerusalem, Abraham Travel has got you covered. They have daily tours, events, and bars, you'll have everything you need to make the most of your trip. Their tours cover Israel, Egypt, and the Philippines, ensuring you get the most out of your travels. With Abraham Travel, you can rest assured that your booking is 100% secure, and you're guaranteed the lowest price.
Where to stay in Jerusalem
Abraham Hostel
On my trip to Tel Aviv, I stayed in Abraham Hostel and I really can't recommend it enough. It truly blew away just how easy it was to stay there with the whole family. And if you read the word hostel and shuddered. Don't.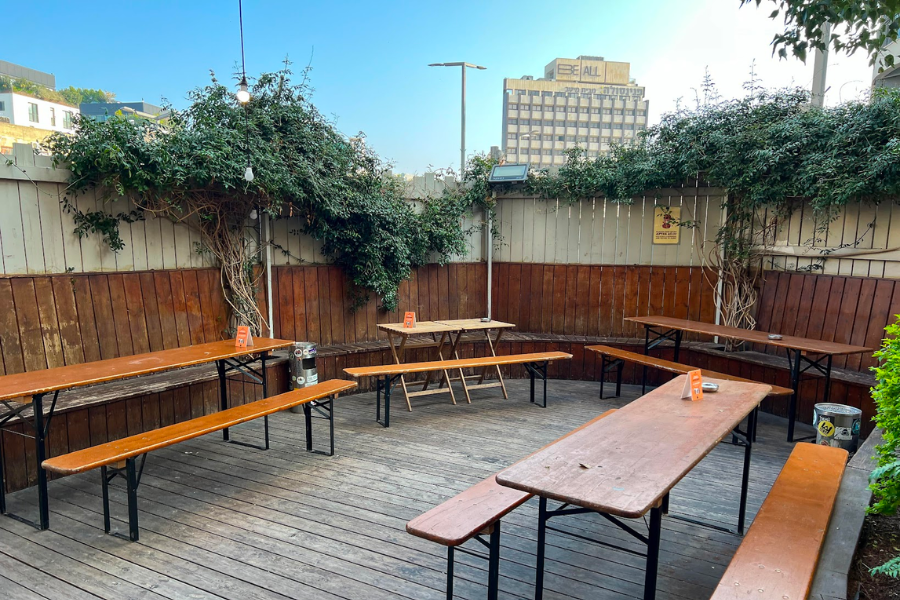 Abraham is well established as a bubbling cultural hub in all of the main cities and tourist destinations in Israel. With large hostels in Tel Aviv, Jerusalem, Nazareth, and Eilatyou could easily do an Abraham hostel tour of Israel (they do in fact offer there see here).
The locations are central, the staff is super helpful and friendly, and they have an entire program of events for you to join if you so wish, including a Shabbat dinner which we loved.
Tel Aviv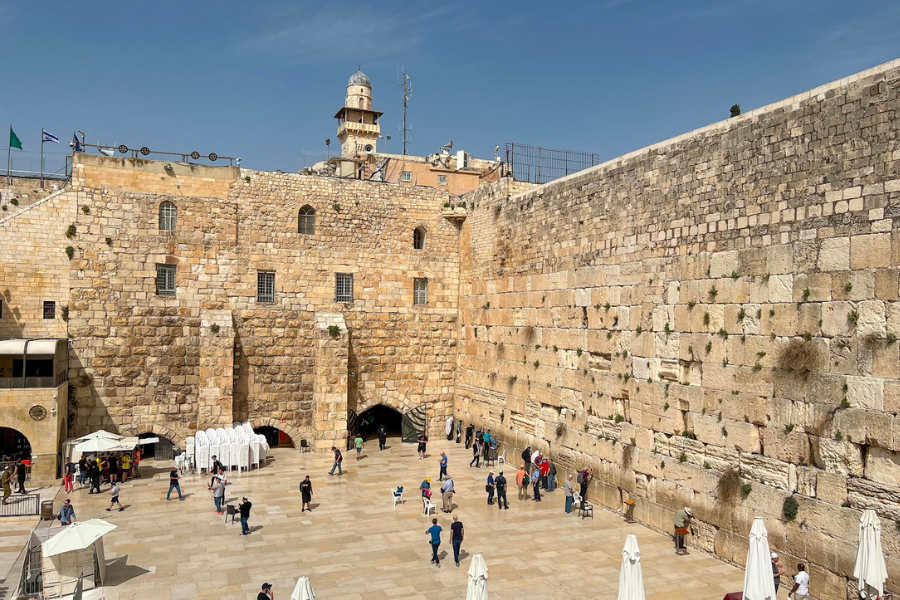 Tel Aviv, also known as the "White City," is a vibrant and modern metropolis situated on the Mediterranean coast of Israel. The city offers visitors a unique blend of culture, history, and entertainment, making it an ideal destination for any type of traveler. Whether you want to soak up the history and culture, relax on the beach, or indulge in some retail therapy, Tel Aviv has you covered.
One favorite part of Tel Aviv is the ancient port city of Jaffa, which is believed to be one of the oldest ports in the world. It is steeped in history and is home to a mix of art galleries, museums, restaurants, and boutiques. I must admit we didn't plan our visit so well and went on a super busy Saturday afternoon!
My advice is to try and get there mid-morning. Take a stroll through the narrow alleys of the old city, admire the stunning views of the sea, and take in the vibrant atmosphere of the flea market.
And of course, no visit to Tel Aviv is complete without a trip to the beach. The city boasts 13 kilometers of pristine coastline, dotted with clean and sandy beaches. Whether you want to swim, sunbathe, surf, or simply relax, there is a beach for everyone. Some of the most popular beaches include Hilton Beach, Frishman Beach, and Gordon Beach. In addition to the beaches, the Tel Aviv promenade offers stunning views of the sea and is perfect for a leisurely stroll or bike ride.
If you are looking for a fun activity to do solo, with friends, or family then I highly recommend taking a cooking class at Citrus and Salt cooking school. We had the best afternoon there cooking and eating!
Where to stay in Tel Aviv
Vital Hotel – Business Boutique Hotel
The Dead Sea
The Dead Sea, located at the lowest point on Earth, is known for its health benefits and therapeutic properties. The unique combination of minerals and salt in the water and mud is said to be beneficial for skin, joint, and respiratory conditions. Visitors can enjoy a variety of spa treatments and therapies using the natural resources of the Dead Sea, such as mud wraps and salt scrubs.
There are several resorts along the shores of the Dead Sea, offering a luxurious and relaxing experience for visitors. These resorts often have private beaches and swimming pools, as well as on-site spas and restaurants. Some of the most popular resorts include the Hilton Dead Sea Resort & Spa, the Kempinski Hotel Ishtar Dead Sea, and the Ein Gedi Spa.
For those interested in history and adventure, a visit to Masada National Park is a must. The ancient fortress on top of a mountain overlooking the Dead Sea is a UNESCO World Heritage Site and tells the story of Jewish rebels who held out against the Romans in the first century AD. Visitors can hike up the Snake Path to reach the top of the mountain or take a cable car for a more leisurely ride.
No trip to the Dead Sea is complete without experiencing the unique sensation of floating effortlessly in the buoyant waters. Visitors can take a dip in the sea and cover themselves in the mineral-rich mud, said to have healing properties for the skin. With breathtaking views of the surrounding desert landscape, the Dead Sea is a must-visit destination for anyone looking to relax, rejuvenate, and explore the rich history and culture of the region.
Where to stay in The Dead Sea
Kempinski Hotel Ishtar Dead Sea
Haifa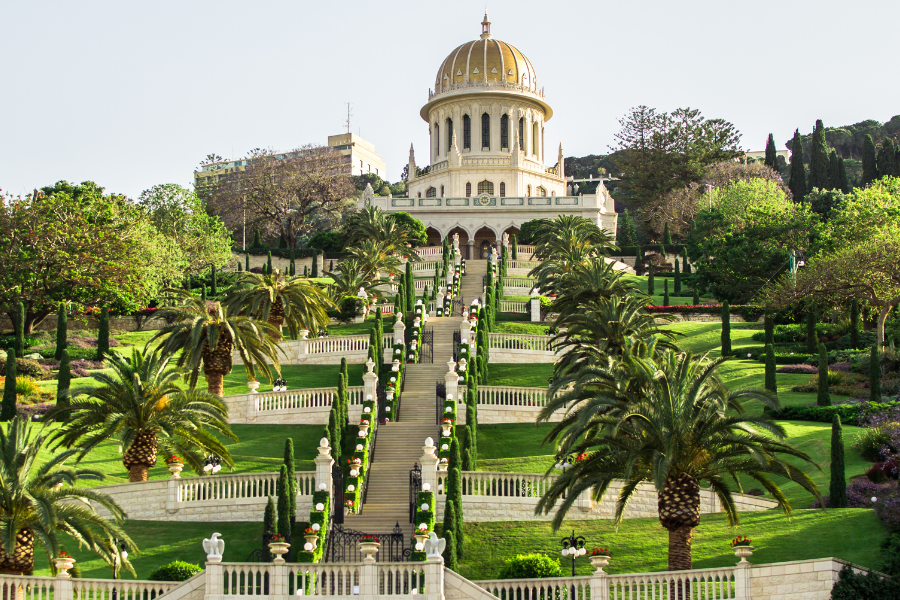 Haifa is the third-largest city in Israel and is known for its stunning Bahá'í Gardens, Stella Maris Monastery, and picturesque beaches. One of the main attractions in Haifa is the Bahá'í Gardens, a UNESCO World Heritage Site that includes 19 terraces of beautiful gardens with stunning views of the city and the Mediterranean Sea. The gardens are open to visitors daily and guided tours are available.
Stella Maris Monastery is located on Mount Carmel and is home to a beautiful church, stunning views of the sea, and a tranquil atmosphere. The monastery is also a great place to learn about the history of the region and its significance to different religious groups.
If you're looking to soak up some sun and enjoy some beach time, Haifa has several beautiful beaches to choose from. One of the most popular beaches in Haifa is Dado Beach, which is known for its clear blue water, soft sand, and stunning views of the Mediterranean Sea. Other popular beaches in Haifa include Bat Galim Beach and Hof HaCarmel Beach.
In addition to its natural beauty and historical sites, Haifa is also known for its delicious food and vibrant nightlife. The city is home to a bustling market where visitors can try a variety of local cuisine, including fresh seafood, exotic fruits, and traditional Middle Eastern dishes.
Where to stay in Haifa
Galilee
Galilee is a picturesque region in the north of Israel. The main attraction that draws visitors to Galilee is Nazareth, the childhood home of Jesus and the site of many important Christian pilgrimage sites. Visitors can explore the Basilica of the Annunciation, the Church of St. Joseph, and the Old City of Nazareth, with its winding streets, markets, and colorful bazaars.
Another major attraction is the Sea of Galilee, also known as Lake Kinneret, which is the largest freshwater lake in Israel. Visitors can enjoy swimming, boating, fishing, and other water activities, as well as explore the surrounding nature reserves.
The area is also home to several wineries, offering wine tasting and tours.
Where to stay in Galilee
Eilat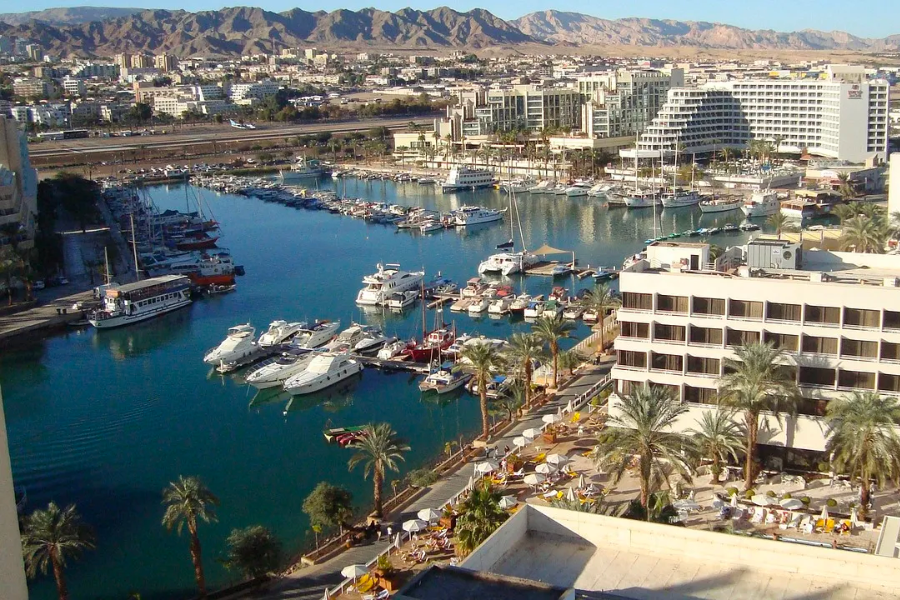 Eilat is a resort city situated in the southernmost part of Israel, bordering the Red Sea. It is famous for its crystal-clear water, white sand beaches, and abundance of marine life, making it a perfect destination for beachgoers and water sports enthusiasts.
The Red Sea beaches in Eilat are some of the best in the world, with calm waters and warm temperatures throughout the year. These beaches offer plenty of opportunities to relax and soak up the sun, as well as to take part in various water sports, including snorkeling, scuba diving, and parasailing.
One of the main attractions of Eilat is the coral reefs that are located just off the shore perfect for snorkeling or Scuba Diving. The coral reefs are home to a diverse range of marine life, including colorful fish, sea turtles, and dolphins.
For those looking for a unique experience, the Dolphin Reef is a must-visit attraction in Eilat. This natural lagoon is home to a group of bottlenose dolphins that visitors can swim and interact with within their natural habitat. Visitors can also learn about the biology and behavior of these intelligent creatures at the Dolphin Reef's educational center.
With its stunning beaches, coral reefs, and marine life, as well as its many other attractions, Eilat is a place that you won't want to miss during your visit to Israel.
Where to stay in Eliat
Masada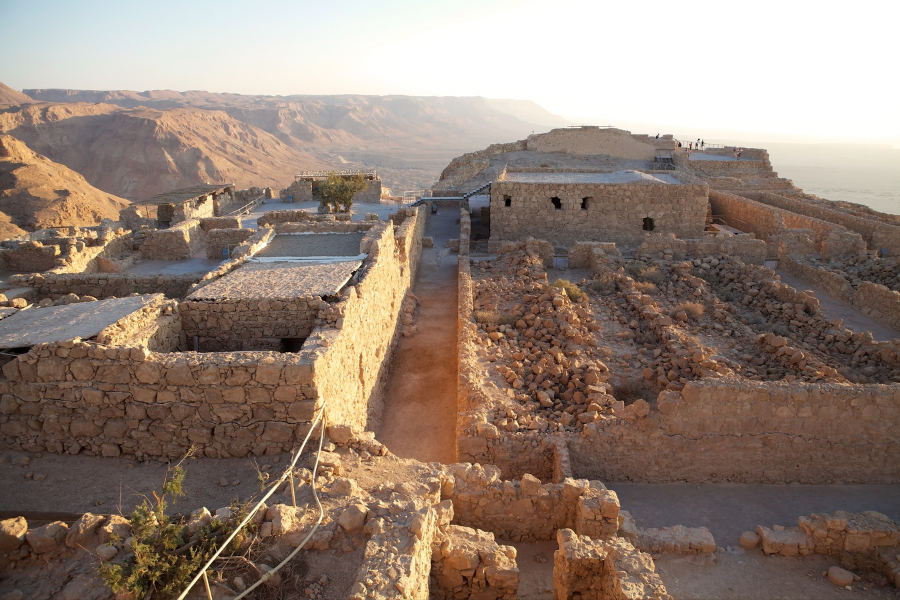 Masada is a UNESCO World Heritage Site and a must-visit destination for anyone traveling to Israel.
The ancient fortress is located on a plateau overlooking the Dead Sea and with a deep-rooted history and significance. Visitors can learn about the epic tale of the Masada siege that took place between 73-74 CE and see the ruins of the palaces, storerooms, and Roman-style bathhouses that were once a part of the fortress.
There are two ways to reach the top of Masada – the Snake Path and the cable car. The Snake Path is a challenging hike that takes around 45-60 minutes to climb, but the views along the way are breathtaking. For those who prefer a more relaxed ascent, the cable car is a great option.
Once at the top, you can explore the ancient ruins and learn about the story of Masada through the on-site museum and audio tour. Be sure to take in the stunning views of the surrounding landscape as well.
After exploring the ruins, be sure to check out Masada National Park. The park offers hiking trails and stunning desert landscapes that are perfect for a leisurely stroll or an adventurous hike.
Where to stay in Masada
Caesarea
Caesarea is a beautiful coastal city in northern Israel that offers a unique blend of ancient history and modern attractions.
The city was built by King Herod the Great in the first century BC and was once a major port city during the Roman period. Today, visitors can explore the impressive Roman Amphitheater and Hippodrome, which hosted various events including gladiator battles and chariot races. The Crusader City is also a must-see attraction, with its magnificent fortress and castle ruins dating back to the 12th century.
Caesarea National Park is another highlight of the city, with its beautiful beaches, nature trails, and ancient ruins. Visitors can take a leisurely stroll along the scenic coastal path or take a dip in the crystal clear waters of the Mediterranean Sea. The park also offers a variety of activities, including snorkeling, scuba diving, and boat tours.
Where to stay in Caesarea
Final Thoughts
As I'm sure you will agree after reading this post on the best places to visit in Israel. Israel is a country that is rich in history, culture, and natural beauty. From the ancient city of Jerusalem to the modern and vibrant city of Tel Aviv, there are plenty of places to visit and things to do. The Dead Sea, Galilee, Eilat, Masada, and Caesarea offer unique experiences that are not to be missed.
Exploring these places will not only be a memorable experience, but it will also give you a better understanding of the history and diversity of this fascinating country. Whether you're interested in history, religion, or nature, or simply want to relax on a beautiful beach, Israel has something for everyone.
Pin for later