If you are planning a trip to Colombia it wouldn't be complete without a trip to the Colombian Caribbean Coast. How long you spend there will depend on how much time you have to spare. To help make the most of your trip I have put together a 1 week, 2-week and 3-week itinerary. Keep reading for my 1-week itinerary for Colombia's Caribbean Coast.
Did You Get Travel Insurance Yet?
If 2020 taught us anything, it's that you need to be prepared for anything! Travel insurance has always been high my list of things to get before I travel but now more than ever its at the top of my list.

I'm pretty sure we have all had travel plans messed up because of COVID and not all insurers covered this. So when looking for travel insurance it's important to check it covers travel disruption due to COVID-19, Hey Mondo, Passport Nomads, Safety Wing, and Travel Insurance Master all provide cover for this.

Hey Mondo is great if you are looking for a great value flexible policy. They offer single trip cover, annual multi trip cover, and long term travel cover. You even have the option to start the cover when you are already on your trip, although you won't be covered for the first 72 hours. For me my favourite feature is their app which offers you a 24/7 Dr chat and the ability to file a claim direct in the app.

Passport Nomads provides the most comprehensive cover for Digital Nomads. The game changer with them is that you have a red card and if you find yourself in need of medical care you just contact them and they will pre load your card with the funds to cover your treatment, meaning you won't need to pay out of pocket and then put in a claim later.

Safety Wing is great value with monthly cover starting at $39. It's super easy to use and it just renews each month. They have an excess of $250 and it's simple to make a claim through their website. I currently use them as they offer me free cover for my son as part of my policy and I like that it renews on a monthly basis, so I don't have to pay out a big lump sum up front.

I also use Travel Insurance Master for some short vacation type trips.

If you are doing shorter trips or an extended backpacking trip then Hey Mondo or Travel Insurance Master are the best option. If you are a digital nomad or planning travel of at least 6 months then go for Passport Nomads or SafetyWing.
Day 1 Cartagena
I did like Cartagena, but 1 day here was enough for me. Plus, if you are planning on returning here to catch a flight or bus to your next place you will get an extra day in the end. There is so much to see and more to this coastline than touristy Cartagena!
Need to book transportation in Colombia?
I highly recommend booking all of your Colombia transportation with GuateGo. You can search for buses, shuttles, ferries, and Flights on their website. What I love most about them is their customer service. I know these guys personally from my time living in Guatemala and they really do look after their customers. So if anything happens and you get delayed and miss your bus, you can just call them and they are always there to help.

If you book through them you will pay a little more than if you book in person at the bus station. But it's worth it for the ease and security in my opinion. Click here to search for transportation in Colombia.
Day 2 Santa Marta
I really liked Santa Marta and it is the best place to buy anything you need for the best prices, just in case you forgot anything. There are also some great beaches, museums, and neighboring villages to explore.
Day 3 Taganga
I haven't written a full guide to Taganga as although I went there three times I don't feel like I got to know the place enough to write a full guide. I did write about it in my Santa Marta Guide though. Here are my accommodation recommendations.
Top Tip: If you only have 1 night I would book 2 nights either in Taganga or Santa Marta and then just hop on the bus to visit the one you aren't staying at. This saves you moving and they are really close anyway.
Day 4 – 5 Parque Tayrona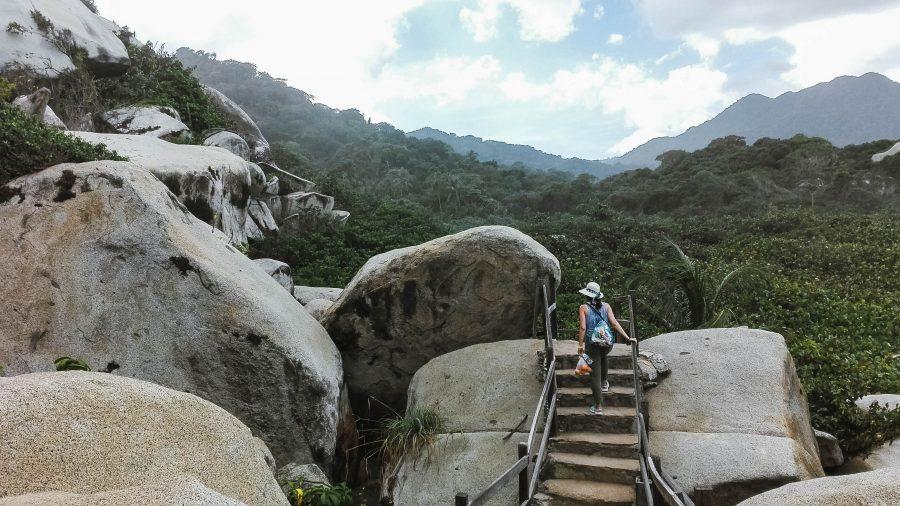 You can not visit the Caribbean coast and not visit Parque Tayrona. If you can I recommend staying 3 nights. Don't worry, if you can't cope with camping they do have eco pods available. Although they are on the expensive side so this may not be an option! If you want to save time you can also just go for the day. Either by bus or boat.
Day 6 Minca
I loved Minca! It's a lot cooler than the rest of the coast and it was wonderful to escape the heat of the beach for a night. There are coffee farms and waterfalls to explore so you will have plenty to do!
Day 7 Return to Cartagena or Santa Marta
I hope this is helpful if you are backpacking in Colombia be sure to check out my other guides! Also, you can follow my 2-week or 3-week Itineraries for the Caribbean coast.
If you need help getting to your next destination take a read of my Colombia transport guides:
How to get from Medellín to Cartagena
How to get from Bogotá to Medellín on the bus or plane
How to travel from Medellín to Santa Marta
How to get from El Dorado airport in Bogota to La Candelaria
Using Public Transport in Medellin
If you like this Northern Colombia Itinerary, save it in your Stipple trip planner where you will find destinations, things to do, and accommodation all in one place without juggling between several apps.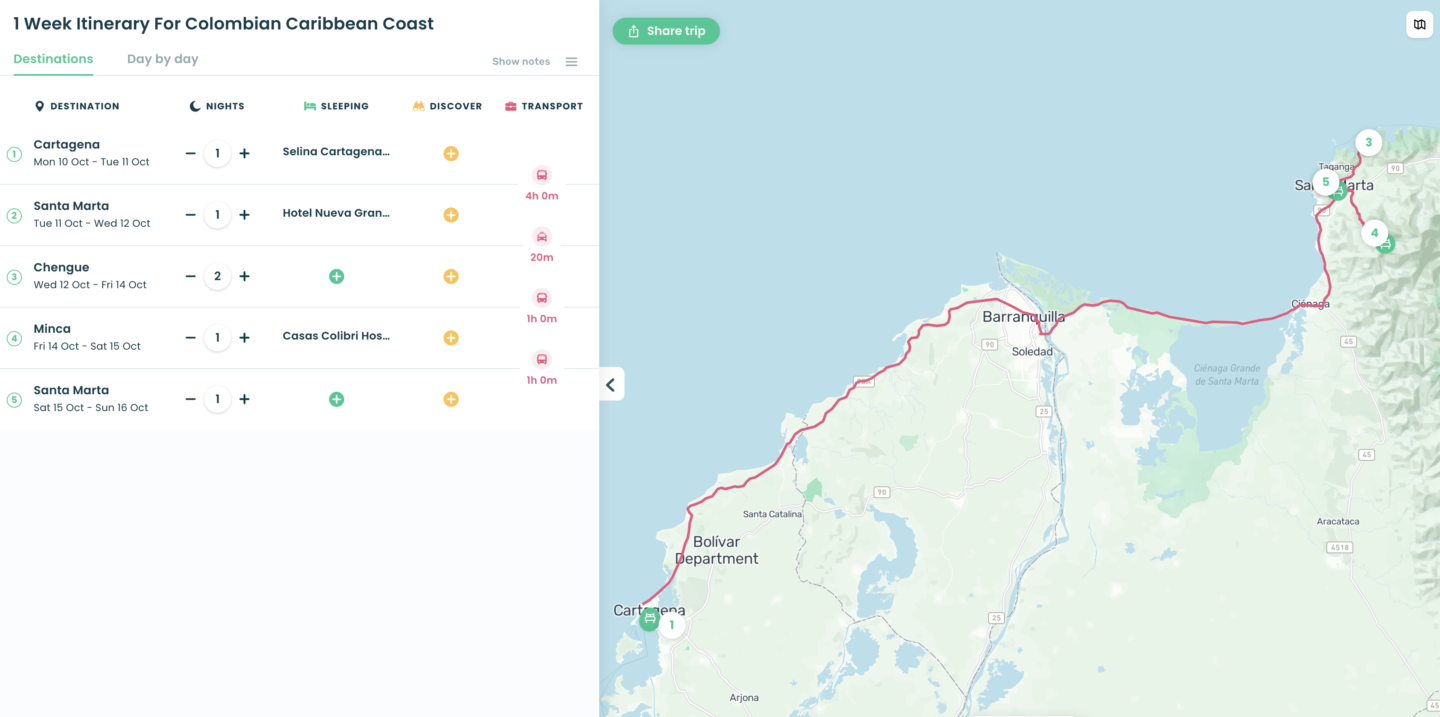 This post was proofread by Grammarly