Wondering where to stay in Puerto Vallarta? It's actually a pretty big city with some very distinct areas, so it's worth doing some research before you go booking any Puerto Vallarta hotels! It's also worth looking into cheap car rentals in Puerto Vallarta so that you can quickly and easily navigate the city.
Choosing to stay in the Marina Vallarta area for example is going to be a completely different experience from staying in the Romantic Zone.
Having lived in Nuevo Vallarta (just across the border in the state of Nayarit) for over a year I got to know Puerto Vallarta pretty well. In this post, I'm going to share with you my local knowledge not only about the best areas to stay in Puerto Vallarta, but also the best all-inclusive resorts, hotels, and of course budget accommodations in Puerto Vallarta that you can use as a home base from which to enjoy the best things to do in Puerto Vallarta.
If you just want to read about the best Puerto Vallarta hotels, then use the table of contents below to skip to the relevant section.
Did You Get Travel Insurance Yet?

The Insurance companies I recommend are Hey Mondo, Safety Wing, and Travel Insurance Master

Hey Mondo is great if you are looking for a great value flexible policy. They offer single-trip cover, annual multi-trip cover, and long-term travel cover. Safety Wing is great value, with monthly coverage starting at $39. It's super easy to use, and it just renews each month. I currently use them as they offer me free cover for my son as part of my policy. I also use Travel Insurance Master for short trips.

Read my full travel insurance post here, where I go into detail about all companies.
Where to Stay in Puerto Vallarta
Before you go choosing your Puerto Vallarta hotel, it's worth first figuring out the best places to stay in Puerto Vallarta, so you don't end up miles away from the things you like!
The Marina Puerto Vallarta
This place is the best description of a place for a vacation by yourself, with your partner, or with your family. There are activities for everybody.
You will find yachts, luxury boutiques, a golf club, fancy restaurants, and my favorite coffee shop in all of Vallarta, The Living room. It's actually a book shop/ coffee shop run by a lovely Canadian lady. One of the bonuses of staying in the marina area is being close to where all of the sailing trips leave. You are about 10-15 minutes from the Malecon, 5-10 minutes from the airport, and you have easy access to public transport to go into Vallarta or to hop over the border to Nayarit in case you wanted to visit Sayulita or one of the other small towns along the coast.
A word of warning though, be aware of the crocodiles.
Top pics for The Marina Puerto Vallarta hotels
San Trópico Petit Hotel & Peaceful Escape
Marriott Puerto Vallarta Resort & Spa
Puerto Vallarta Hotel Zone
By the name of this are you'll probably know what is it about already. But of course, is also about the beautiful beaches and great food. This area is where you will find many of the larger hotels (with the nicer beaches). It's obviously very touristic and so expect to pay a little more in the restaurants in this area.
Top pics for The Puerto Vallarta Hotel Zone
Fiesta Americana Puerto Vallarta All Inclusive & Spa
Villa del Palmar Beach Resort & Spa Puerto Vallarta
Puerto Vallarta Old Town
This area is a MUST, especially if it is your first time in Puerto Vallarta or you want a romantic getaway. It is the oldest part of the city, and it is so beautiful to wander around for hours. There are hotels in Puerto Vallarta for all budgets, which is really nice but if you are looking for a big resort, you won't find one here.
Top pics for hotels in Puerto Vallarta Old Town
Puerto Vallarta Zona Romantica
This is a small area that could be a little tough to understand on maps but once you get there, it will be so much clear. The best reference I could find was that it is a small area of the Old Town on the other side of Rio Cuale, but if you reach Playa de Los Muertos, you went too far.
It is a vivid area with lots of hotels, restaurants, and great nightlife. Of course, let's not forget that watching the sunset from almost everywhere close to the beach is nearly a life-changing experience by the beauty of it.
This is also the famous gay area in Puerto Vallarta, which really adds to the character and charm of the place. You will find rainbow flags hanging proudly, plenty of drag shows, and fun nighttime entertainment, as well as an abundance of LGTBQ+ bars, restaurants, and hotels in this area.
Top pics for Hotels in Puerto Vallarta Zona Romantica
La Iguana Vallarta LGBT Experience – Romantic Zone
Puerto Vallarta Conchas Chinas
This stunning beach is only a 15-minute walk from Zona Romantica, and it is worth every step to go there. It is the perfect place to lose track of time while you stare at the turquoise ocean water and eat seafood from any of the restaurants there.
Top pics for hotels in Puerto Vallarta Conchas Chinas
Grand Miramar All Luxury Suites & Residences
Luxury Hotels in Puerto Vallarta
Villa Divina Luxury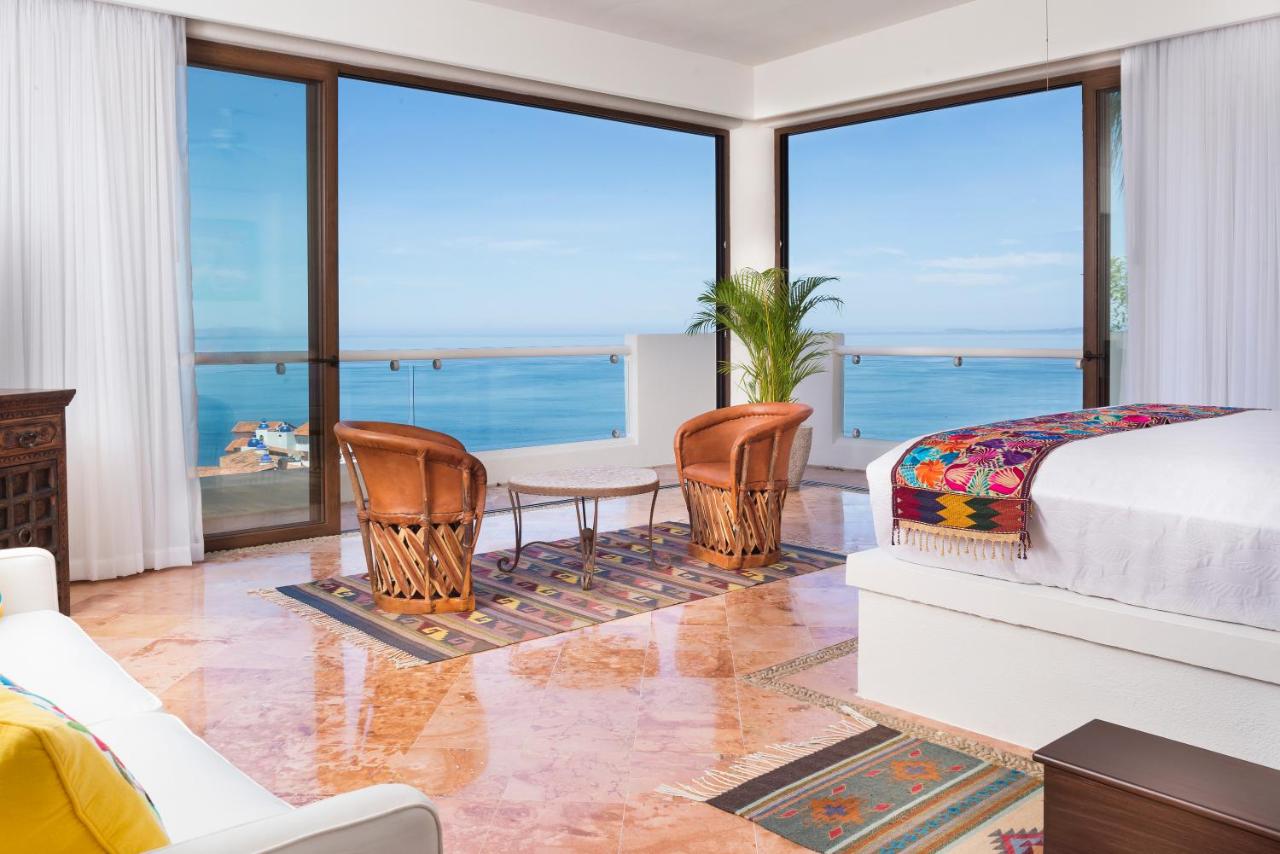 Nothing but good things to say about this hotel. It is gorgeous! The view and decoration are simply amazing. The top rooms have a view of the ocean, and the bottom rooms are in between the slushy vegetation.
In terms of location, it is not beachfront, but it is only 1 km away from the airport and 11 km away from the cruise dock, which makes it easy to access.
The food is another highlight, and it offers everything you can possibly ask for in terms of spoiling the guests.
Grand Miramar All Luxury Suites & Residences
Though this hotel is very close to the beach, it is hard to leave the comfort and beauty of the place.
If you are looking for a romantic place to go with your loved one, this place will exceed your expectations.
Other hotels worth mentioning:
Hotel Mio Vallarta – Adults Only
Boutique Hotels In Puerto Vallarta
Hotel Boutique Luxury Patio Azul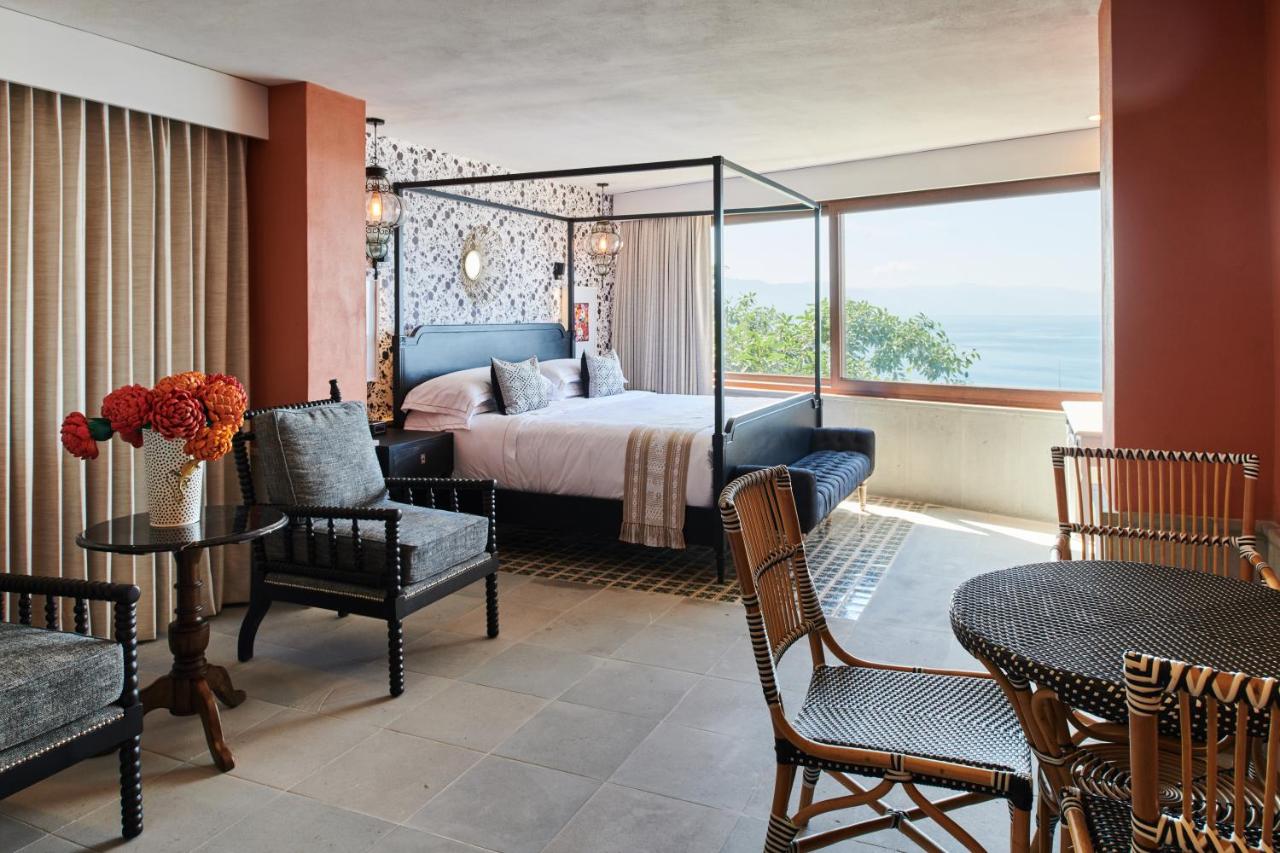 The level of detail put in the decoration of this place is insane. And it is at a very short distance from the beach so you can enjoy being pampered at the beautiful hotel and taking a walk to the beach to enjoy the sunset, sunrise or at any time really.
Villa Premiere Boutique Hotel & Romantic Getaway
This hotel offers everything, even cooking classes. It is right in front of a private beach, so if you are looking for ocean views, you can get them almost everywhere in this hotel.
It is definitely an adults-only place to relax and forget about everything.
All-Inclusive Resorts in Puerto Vallarta
There are a lot of incredible all-inclusive resorts in Puerto Vallarta and Nuevo Vallarta to choose from. Here are just a few of my top picks.
Velas Vallarta Suite Resort All-Inclusive
For all of you who are looking for the best all-inclusive Puerto Vallarta resort for a family vacation, this is your place!
It offers entertainment for adults and kids and it has access to the beach. You can play some tennis, do some snorkeling, and even horseback riding. And for the kids, there is a kid's club with all kinds of entertainment for the little ones.
Fiesta Americana Puerto Vallarta All Inclusive & Spa
In this hotel, there is no way you will run out of options in terms of what to eat since you will find nine in-house hotels. Yes, NINE!
If food is not a concern of yours, then there is also a golf court, and if you are traveling with children, there is a kids club for them. Or you could simply relax while watching the ocean from your window.
Mid-Range Hotels in Puerto Vallarta
Hotel Posada De Roger
This is a less fancy hotel than the previous ones, nonetheless, it is gorgeous and less expensive. It is perfect if you are traveling with the family.
It has a shared kitchen, comedy nights, and if you ask at the front desk for activities, they will offer a bunch of interesting and fun stuff to do around Puerto Vallarta.
City Plus Puerto Vallarta
This option is a mix of a business trip and a vacation. It has a modern style that sort of invites you to take your computer and get the job done, but at the same time, the pool area is so nice to have a cocktail and relax.
Budget Hostels in Puerto Vallarta
Casa MaCASA MARÍA MALECÓN
A picturesque spot right in the heart of Puerto Vallarta with private rooms, a shared kitchen, and a rooftop where you can chill on the hammocks.
Watch My Puerto Vallarta Vlog on Youtube