Traveling to Mexico and need to work out what to pack? Mexico is diverse and your Mexico packing list is really going to depend on where in Mexico you will be traveling to.
In this Mexico packing list, I've covered what you should pack depending on where you are traveling to. Mexico does have seasons. So if you are visiting during the winter you will need to take this into account. Even the Caribbean side where you find Cancun, Playa del Carmen and Tulum get chilly in the winter.
I have broken down the main tourist spots in Mexico including Mexico City, Chapas, Cancun, and Merida to give you a better idea of what to pack for Mexico.
Feel free to use the links below to skip to the relevant sections you need.
It's pretty impossible to tell you exactly what you should and shouldn't wear in Mexico. But what I can do if offer you some first-hand observations and share with you how I pack and dress in these particular areas that you will be traveling to.
In general, outside of the coastal areas of Mexico, you will find people dress more conservatively. This means that even though it can be super hot you may feel more comfortable dressing in lightweight trousers and tops than denim hotpants and a crop top. You will stand out a lot less doing this. In the coastal areas though it's totally normal to be wearing short shorts and a bikini top.
As someone who lives here, I wouldn't personally walk down the street in my shorts and a bikini top. However, it's very normal to see tourists dressed like this. They often just wander the streets in a bikini and cover-up. As I said, it's normal to see, but you will look like a tourist and us locals don't do this generally.
Also at the end of the day, dress how YOU feel comfortable, just because I choose not to wear hotpants and a crop top in Chapas doesn't mean you shouldn't if you are comfortable doing so.
What to wear in Cancun and Playa del Carmen
Normal rules don't really apply here in the Riviera Maya. You can pretty much wear what you want. Obviously, if you are planning to spend al your time in an all-inclusive resort in Cancun then you are going to need to pack lots of more formal outfits as you are expected to 'dress for dinner'.
But for everyone else, wear what you like! I pretty much live in denim hotpants and cute t-shirts or crop tops. In the evenings I generally wear dresses with shorts underneath for salsa dancing. But during the winter I will wear my jeans out in the evening.
Flip flops are a staple here and dressed up shoes are normally just a nicer pair of flip flops or some cute sandals. If you are planning on doing some activities then you might want to include some travel sneakers like these, which are perfect for hiking, horseback riding, and exploring Mayan ruins.
Pack for heat here! Cool cotton and quick-drying fabrics as it is very humid! Pack plenty of bikinis and coverups!
There are lots of mosquitos so do bring long cotton trousers to wear in the evenings to protect yourself a bit.
Outside of the resorts, there is no dress code here in the Riviera Maya. Anything goes on a night out here. If I'm with a group of friends we will all be dressed very differently. One in denim hotpants and a T with sneakers, one is a cute dress with make-up on, and another wearing jeans and heels. Wear whatever you like so long as you feel good!
If you don't want to look like a tourist and prefer to blend it, then don't wander down the street wearing just your bikini.
What to wear in Tulum
Tulum has slightly different rules than the rest of the Riviera Maya… should you choose to play by them of course!
Personally I don't really, but sometimes it's nice to play dress up. Tulum attracts a slightly different crowd (we like to call them the Tuluminati) and it has a much more boho-chic hippy vibe. I've put together a couple of Tulum style outfits so you can see what I'm talking about.
Of course, like I said you can dress how you want here but if you plan on going to the electronic beach parties then you might want to pack a couple of cute Tulum outfits.
What to wear in Mexico City (CDMX)
Mexico City is a world away from The Riviera Maya and like any big city in America, jeans rule! Even on sunny days, it's not so normal to wear short shorts here.
In Mexico City, most people will be wearing jeans and a T-shirt in the summer and a jumper in the winter. If you want to blend in packing a mix of jeans and trousers with a couple of cute dresses and a skirt. Sandles are ok in the summer, but cute sneakers are more normal in summer and winter.
Winters can get cooler so you will need to pack a coat and leggings to go under dresses to stay warm.
What to wear in Pueblos
In general, Mexico is pretty warm so you are going to want to pack cool, lightweight clothing that travels well. Pack a mix of colors, patterns and neutral clothing. Personally I always go for more colors in Mexico, it's just that kind of place.
Denim shorts are ok, but I personally prefer to wear my longer ones as it's a bit more conservative in most places compared to the beach towns.
In the small towns of Mexico, I tend to wear long cotton trousers, t-shirts, and longer denim shorts. In the evenings or when it's cooler then I'll brave my jeans!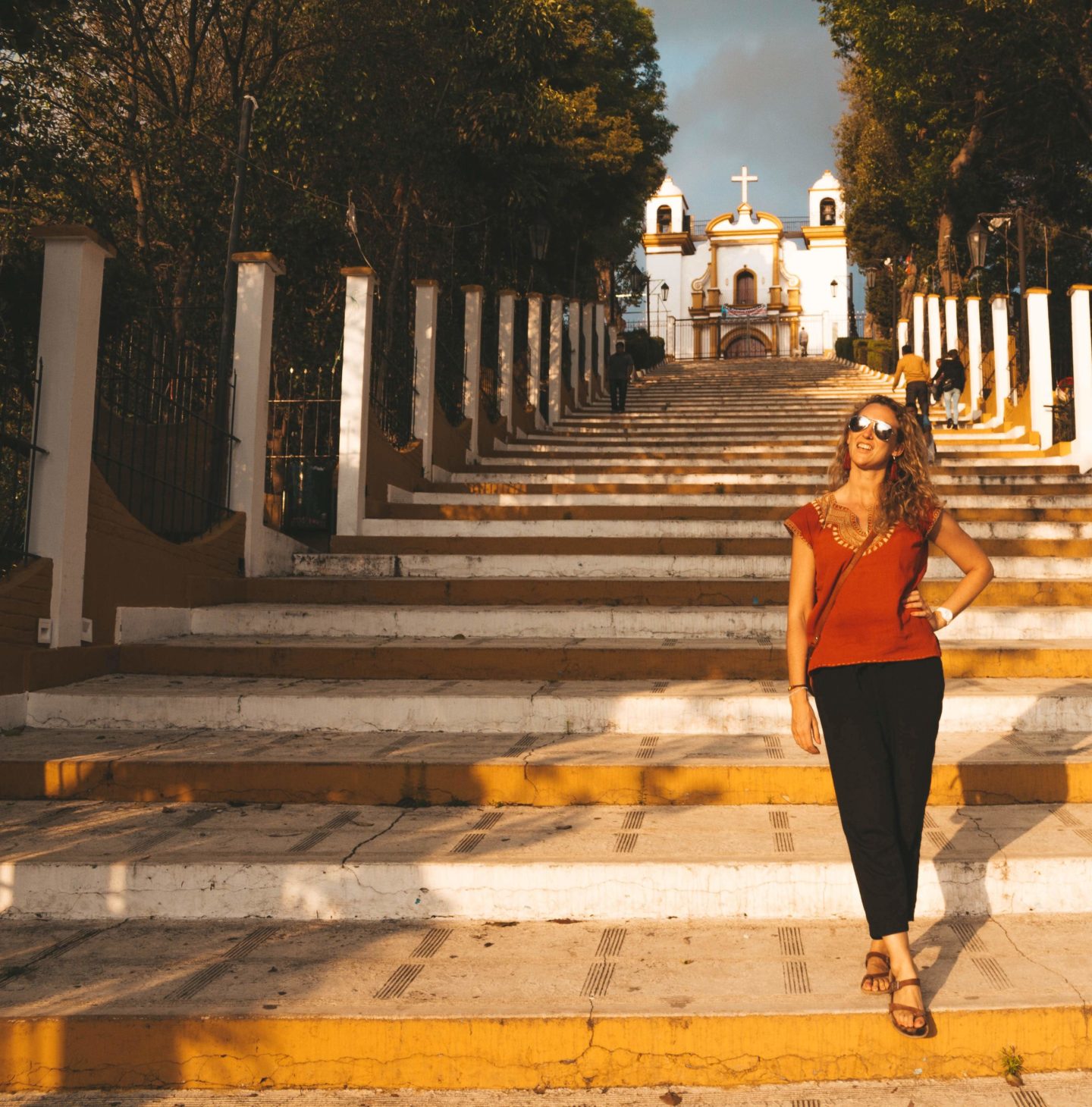 What To Wear In Beach Towns
In Mexican beach towns, you can pretty much wear the same as in the Riviera Maya. Anything goes!
That said some of them are more conservative away from the beach, so put on a beach coverup when you are wandering around the town.
What To Pack For Activities In Mexico
I wanted to add in a little extra info for you if you are planning to do some more adventurous things while in Mexico.
You will need some good hiking boots or quick-dry shoes like these. I would also strongly advise you to take a dry bag to protect all of your things from the water if you are heading to the coast. You are also going to need a lot of good bug spray and quick-drying clothing.
There is great surf in Mexico, check out my surfing packing list for the extra things you should pack for surfing.
I have also written many guides on scuba diving in Mexico as well as this scuba diving packing list so you know what extras to pack.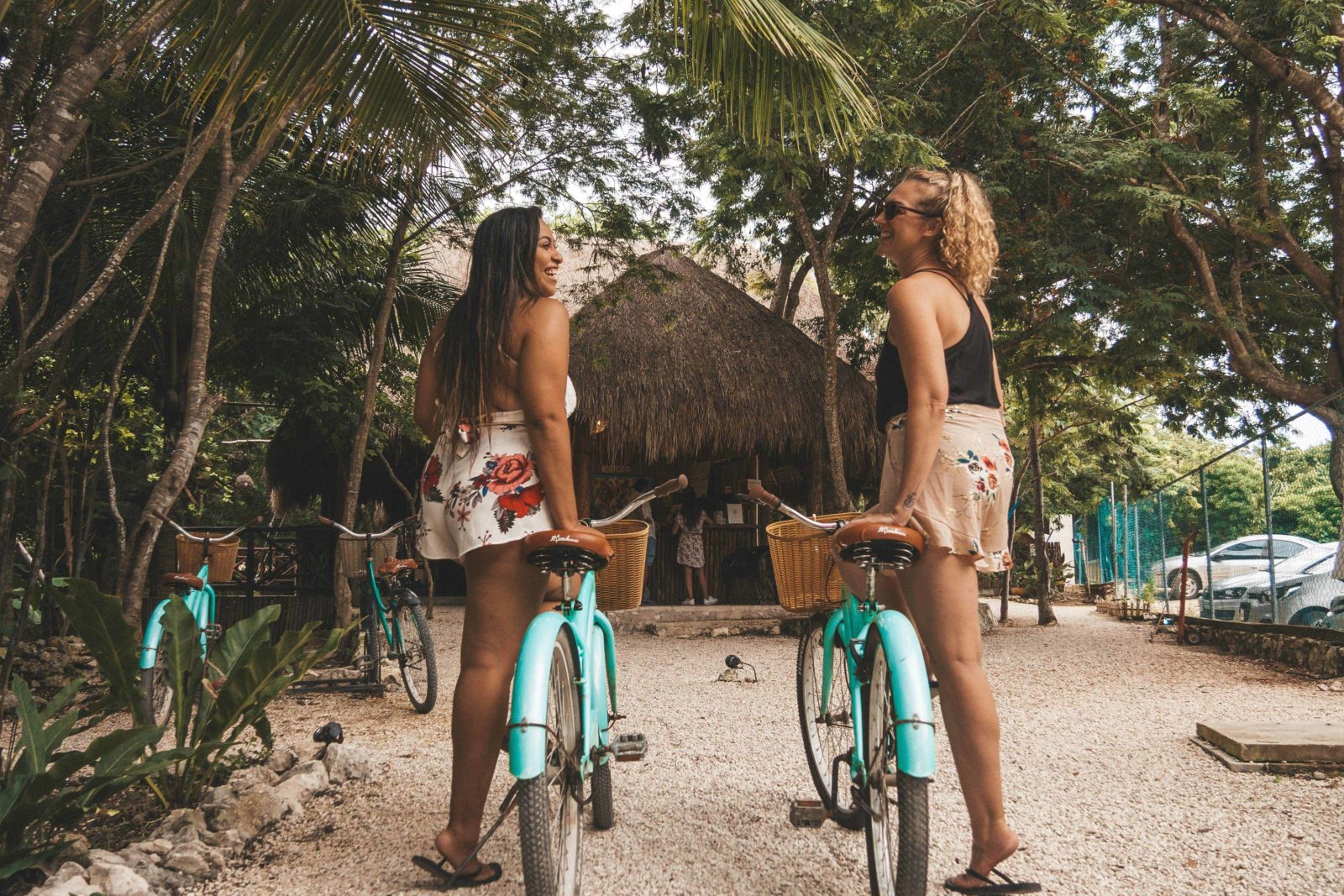 Travel Insurance
First things first, you are going to need some solid insurance. If you don't believe me then read this. I personally use SafetyWing Digital Nomads Insurance which is an ongoing policy that just renews each month. But before that, I used World Nomads who are the company I would highly recommend if you are backpacking. Both also cover COVID 19 now which is great news for safe travel during the pandemic!
If you just need basic insurance for a shorter vacation then I'd recommend doing a search on Travel Insurance Master.
Sunglasses
Does anyone actually leave home without sunglasses? I personally always travel with 2 pairs. One for day to day use that I normally just throw in my bag. Then a second pair that are a bit nicer which I wear when I want to take some nice pics for the gram. I always get my sunglasses from Blenders, Glassesshop, or Knockaround as they are good quality, have UV protection, and are really reasonably priced.
Reusable Water Bottle
Having a good reusable water bottle is essential. If you are still a little worried then get a water bottle with a filter like this for peace of mind. For a bottle with extra tech this one is self-cleaning via UVC light, is USB rechargeable, and turns any water into drinkable freshwater. It is also vacuum insulated to keep your water cold for up to 12 hours.
Hand Sanitizer
Let's face it, 2020 changed the way we travel, and there is no going back. Hand sanitizer is something you can no longer travel without and I'm obsessed with this hand sanitizer holder my friend designed. You can buy them in a pack of 2 and the bottles come with it so you can top them up. Not only are they super practical so they clip on o your purse, or luggage but you can also clip your mask on there too, save throwing it into your backpack! It's vegan leather and you can choose the cute florals (which I have) or a brown and black combo.
Bug Spray
I suggest getting an eco-friendly one for your body and then getting something a little more aggressive like this to spray on your clothing.
Vaccines
You may need to prove you have had any specific vaccines and for some places, you may need malaria pills. There are many vaccines that are strongly advised for travel depending on your location. So a few months before you travel to speak to a medical professional and make sure you were immunized with all of the suggested vaccines.
Please never take medical advice like this from a blogger! Go see a medical professional…
It's totally up to you if you prefer a backpack or a suitcase. Personally, when traveling in Mexico I opt for a suitcase these days, but if you are planning on doing a lot of bus travel and planning on visiting some of the smaller pueblos or beach towns, then you might want to opt for a backpack instead.
For example, Holbox is somewhere that I would never travel to with a suitcase as the roads are terrible and even worse when it rains. My things are much safer on my back, and you can't pull a suitcase there anyway.
If you plan on covering a lot of ground then I would personally suggest a 60L backpack and a small daypack that can easily be packed when traveling.
I've added images and links for the luggage I have tried and tested in Mexico below.
If security is a concern for you then I highly recommend getting in Pacsafe backpack for added security and peace of mind. I also wrote this blog post on the best digital nomad backpacks and this one about carry on luggage, just in case they are useful to you. The KnackPack is great for digital nomads with specific space for your tech and all your essentials.
You are also going to need some packing cubes to help keep all of your things organized (and squeeze in a few extra items of clothing). Plus a good laundry bag, toiletry bag, and of course a shopping bag. Alternatively, get a backpack with built-in packing sections like this one. It hangs like a mini wardrobe too which can be helpful instead of using hotel storage. It's what I'm personally traveling with these days.
Other Useful Things to Pack for Mexico
Over the years backpacking the world I've got packing down to a fine art and I have some essential items in my backpack that you might not think of. So here are some things you are going to need that you might not think of!
Laundry Soap and a Nail Brush – Unless you want to be doing laundry every few days, it's best to just wash out your underwater in the shower each night. To do this I always travel with a bar of laundry soap and a nail brush. It also comes in handy to clean off marks and stains from clothes you are washing.
A Travel Washing Line – I love mine, it's so handy and takes up no room at all.
A Sewing Kit – When you are traveling sometimes you need to make-do-and-mend.
Mini First Aid Kit – Goes without saying really! I also add in some extras like activated charcoal and other useful pharmaceuticals.
Carabiner clips – So useful for attaching things to your backpack!
Head torch – Equally as useful for camping as it is for reading in bed, or trying to find your way home in the dark.
Ear Plugs – If you are planning on staying in hostels you are going to need these!
A Whistle – I know many people worry about safety and want to protect themselves. I like to carry a whistle just in case I need to pull attention. It might not be as effective as pepper spray, but as that is illegal to fly with too many countries, this is a good alternative.
A Door Stop – Worried about safety in your room at night? Use the doorstop to block the door from the inside and make it harder for someone to enter the room.
Silk Sleeping Bag Liner – Another thing that doesn't take up so much room, but will give you a lot of peace of mind if you need it. Sometimes you might either find yourself chilly or just not wanting to sleep in the bedsheets. So hopping inside a sleeping bag liner helps you get a good night's sleep, wherever you are…
Umbrella – If you are traveling somewhere tropical it's likely to rain, but still be hot. Having an umbrella in your bag will keep you dry without making you feel like you will collapse from heat exhaustion!
A padlock – I recommend getting one of these locks so you don't need to worry about keys. They are TSA approved so you can use them to lock your luggage when flying as well as using it to lock your locker at the hostel.
USD – I always keep an emergency $50 USD hidden somewhere, just in case. USD is the most widely accepted currency, but you will need to ensure the notes are clean and crisp. Many places won't accept them if they are marked at all.
Quick-dry towel – I have 2, a large one and a small hand size one that I keep clipped to my backpack.
A sarong – I never travel anywhere without at lease 2 sarongs. I use them to replace my towel, hang over my bed in a hostel for privacy. Wrap around my hair when it's wet, sunbathe on… I could go on and on. I even make a dress out of mine when I'm at the beach.
A scarf – Another multi-use item that doesn't take up much room. Scarfs are great for covering shoulders from the sun, or when entering churches. It will also help keep you warm, and they look cute!
Yoga Mat – I never travel without my yoga mat. I wrote a whole post to help you choose the best travel yoga mat here.
Spice Bag – If you are planning to do some cooking then I recommend making a spice bag so you don't end up wasting lots of money or herbs and spices, or eating bland food for the whole of your trip. I put my spices into ziplock bags and then keep them in one of these clear bags.
Ziplock Bags – I know, I know, more plastic. But they do come in really handy when traveling and you can wash and reuse them so you aren't throwing them away.
Coffee Flask – Great for keeping hot drinks hot and cold drinks cold. It also saves you having to use disposable cups when you buy a takeaway coffee.
Aeropress – I do love my coffee, so traveling without my Aeropress is not an option haha. This is also another great portable coffeemaker/ mug if you aren't a fan of the Aeropress.
Clothing to Pack for Mexico
You can see my full Mexico packing list here on Amazon, and you can also download my free Mexico packing list here. So I'm going to try and keep this section brief.
For the beach towns and cities – It's hot and humid, so pack accordingly. Shorts, lightweight dresses, sandals, etc. Oh and don't forget your swimwear!
For Mexico City – Jeans and comfy shoes. Make sure you have a rain jacket and warm layers if you travel there in the winter as it can get chilly.
For the pueblos – You will need cool clothing for the summer, and layers for the winter. Pack clothing suitable for hiking and horseback riding like these leggings and this t-shirt. Hiking boots are great if you plan of hiking, but I got by with these travel shoes (which I'm obsessed with). You will need a coat here, something like this one.
If you are planning on doing some scuba diving then check out this essential diving gear to pack list.
For salsa dancing I recommend these shoes as they are lightweight, go with everything, and they look cute,
Toiletries to Pack for Mexico
You can very all of the travel toiletries I recommend here on this Amazon list. Many things you can actually buy in Mexico easily, so I wouldn't stress too much about buying a lot of toiletries to travel with. But there are some things that are harder to get hold of and expensive in Mexico, so I always try and travel with my own.
Technology to take to Mexico
Where would we be without the trusty Lonely Planet Mexico book?!? It really is the best all-around guide to Mexico. The only issue I ever have with these books is that often the information can be outdated, but if you want to really explore Mexico, not just the tourist trail version of Mexico then get this book on your Kindle. It's oftern free if you have a kindle unlimited subscription.
It's all about the food here in Mexico. Especially in Oaxaca, thought of as the culinary heart of Mexico. This Mexican cookbook is the first true introduction to Oaxacan cuisine by a native family, each dish articulates their story, from Oaxaca to the streets of Los Angeles and beyond.
The book showcases Mexican "soul food" serving up 140 authentic, yet accessible recipes using some of the purest pre-Hispanic and indigenous ingredients available.
As much as I don't want to perpetuate Mexico's reputation as a county full of cartels, drugs, and danger. It can't really be ignored, and I know many people are interested in learning more. So I've included Midnight in Mexico on my list of books to read. It's a true crime book written by a Mexican-American journalist and migration lawyer. It's about as close to the truth as you can get. Being. journalist here in Mexico is one of the most dangerous arrears you can have. But Corchado is known for never shying away from the truth reporting on government corruption, murders, and the drug cartels of Mexico. In 2007, Corchado received a tip that he could be their next target, he had twenty-four hours to find out if the threat was true…
Are you even alive if you don't know who Frida Kahlo is? If you are a Friday fan then this is the perfect fictional accompaniment to your Mexican vacation. Especially if you will be visiting Mexico City.
Using several of Frida's notebooks as inspiration acclaimed Mexican novelist F. G. Haghenbeck was inspired to write this touching fictional account of her life. Through the book, you are taken on a magical ride through this imagined life of Freida
An old, but a goodie! This one is for all of you lovers of romance novels! It's described as:
"A novel of passion, food, and magic, Like Water For Chocolate is a romantic, poignant tale, touched with moments of magic, graphic earthiness, bittersweet wit – and recipes."
Forbidden love, family obligations, and seduction by food… what more could you ask for in a novel!