Tucked in between Colombia and Peru, Ecuador is one of the smallest countries in South America and yet the one with the most biodiversity per square kilometer. Ecuador and Galapagos are must-visit places and this itinerary covers both since Ecuador is easily one of the best South American countries to visit.
Its peculiar location, right on the Equator, and it's unique geography that includes the Andes Mountains, the Amazon rainforest and the Galapagos Islands, all so climatically diverse, make it one extraordinary place to explore.
In my journey through South America, which hasn't ended yet, I have spent 3 months in Ecuador, the maximum time allowed to tourists as 2 weeks in Ecuador just wasn't enough for me, but if it's all the time you have you can still see a lot.
I wanted to make the most of my time there and explore as much as I could, including the Galapagos Islands, an unmissable place to visit.
Unfortunately, even so, I wasn't able to see it all and I can't wait to go back and explore more.
A Map of My Ecuador Backpacking Route
2 Week Ecuador Backpacking Itinerary
In this post, I will offer a suggested 14 day backpacking Ecuador itinerary where I've included all the places I have loved the most during my journey.
I will also include alternative options to part of the 2 week Ecuador itinerary just to offer you a broader spectrum of choice.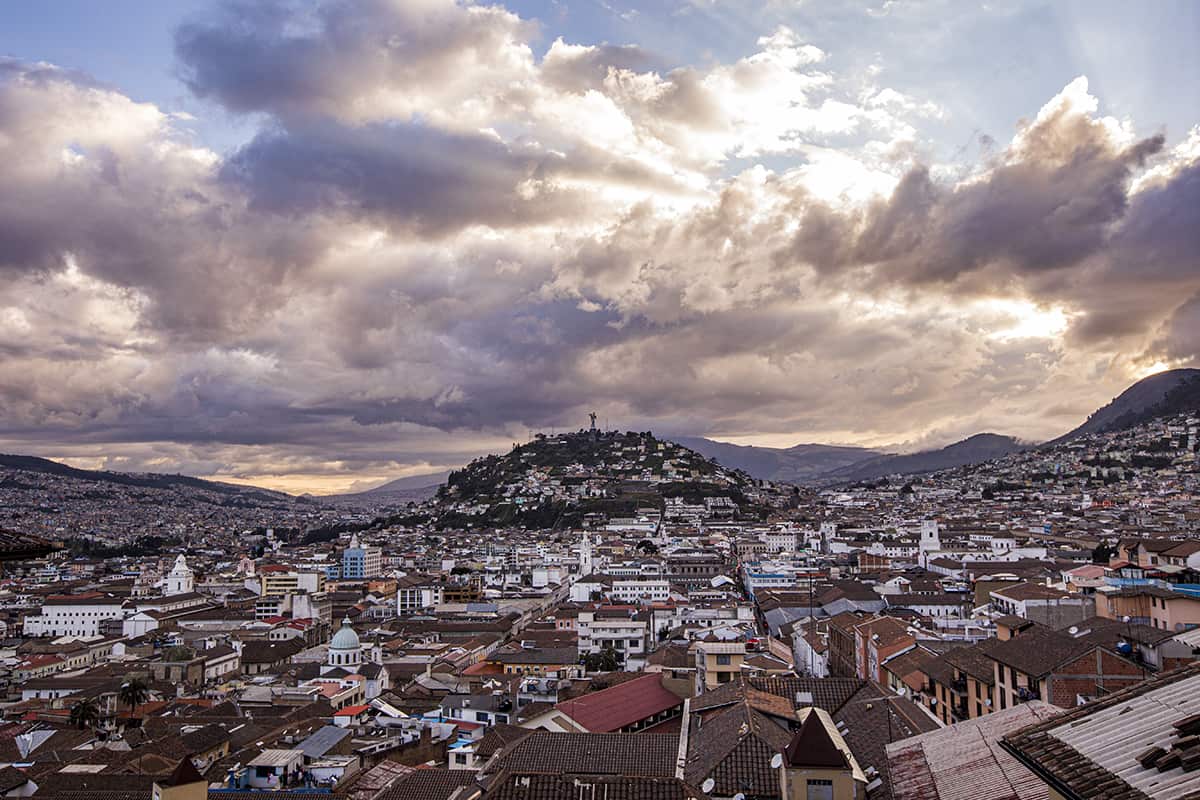 Day 1 – 3 Visit Quito
Most people start their two weeks in Ecuador in Quito, so presuming your international flight is landing in Quito I would book a hotel in the heart of the city (La Floresta neighborhood preferable) and acclimatize with 2800 mt. altitude as not everybody is used to such an altitude.
Depending on what time you get there, just take it easy and walk around the beautiful city or take a rest and leave exploring for the following day.
I would join a free walking tour, there are plenty and for different areas and normally the guides are local students passionate about their own city and will give you lots of great insights and tips.
I joined two tours, one in La Floresta, the colorful hipster neighborhood, and one in the historical center.
Both of them were free and the guides very informative. You are invited to leave a tip for their service.
After the tour, you will know more about the city and would have become a little more familiar with the local culture. Also, you will realize how to stay alert and keep your belongings in a safe place.
Quito is not dangerous but it can become, especially in the historical centre.
On the third day, I will either venture out by bus to see the Middle of the world monument and museum, which is where exactly the imaginary line would be.
Spoiler alert: I read that they made the wrong calculation and the information it's not really accurate, but still…
It's a 30-minute bus from the city on the way to Otavalo.
Or you can stay in Quito and take a Uber to el Teleferico, a 40 minutes cable car that gets you at 4000 mt where on a clear day you can have a spectacular view of the city. From there you can walk around and take a swing in one of those typical swings that you will find around Ecuador, to fling yourself into space, typical Instapicture.
I explain Quito inside out in my very long and detailed post on the things to do in Quito
Day 4 – 6 take a bus to Mindo
At only 2 hours bus drive from Quito, Mindo is a completely different world. With a separate microclimate, you will enter into a thick cloud forest, with tropical trees, lots of water, and beautiful birds. Here in Mindo bird lovers find their paradise.
The highlight of Mindo is the waterfall sanctuary that you can reach both by a short spectacular cable car ride and then a beautiful easy walk.
Of course, it rained when I was there and I was soaking wet, but it's part of the adventure and it's so hot you don't even mind.
The cute little town offers any sort of accommodation from hostel to nice lodges, some of them have arranged their backyard as a bird sanctuary, laying out fruits and flowers to attract birds in the morning, especially hummingbirds. It's amazing to watch.
If your hotel doesn't have one, they will be able to address you where you can appreciate this morning show. With a 5 USD fee only you can secure your entrance.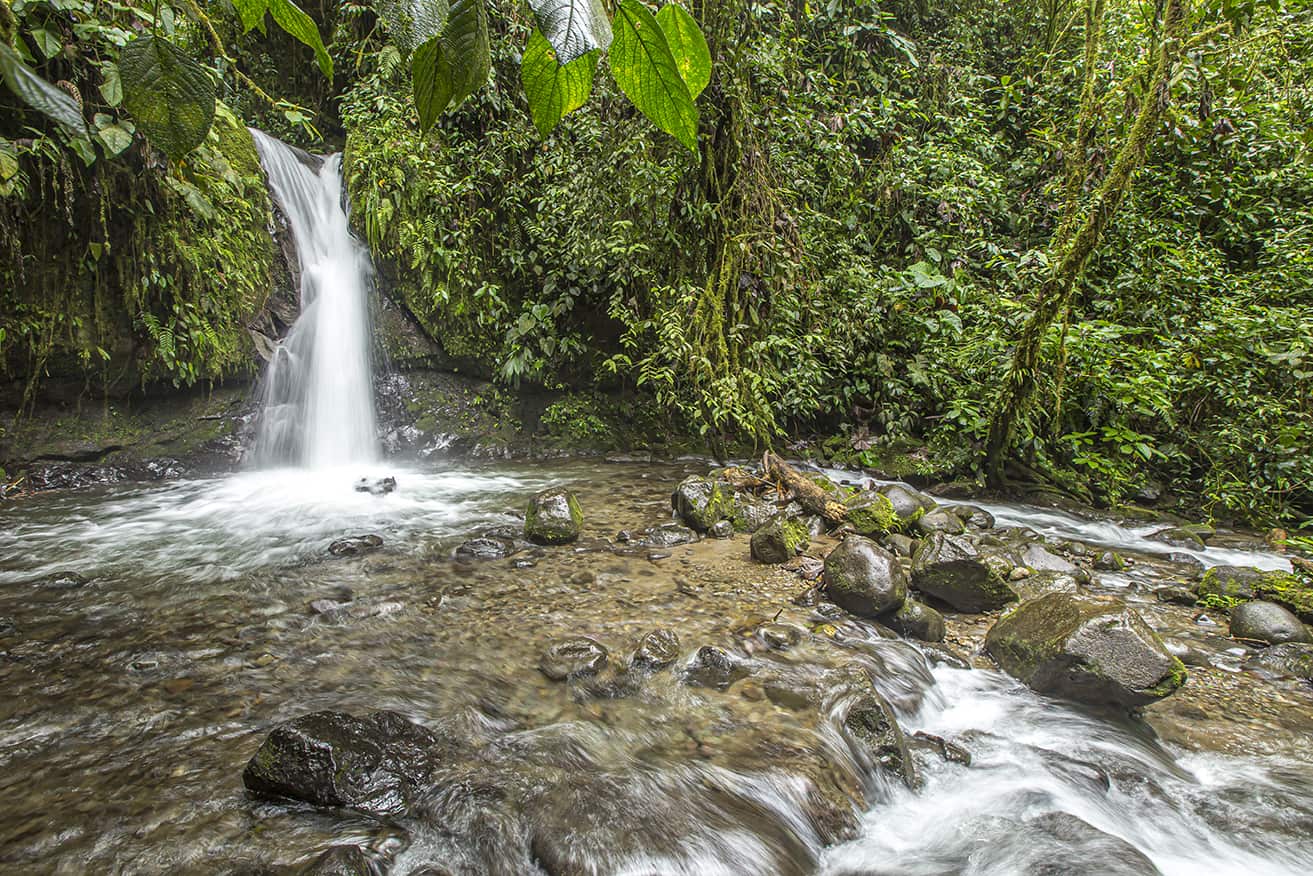 Alternative option
If you are more into markets, you can definitely skip Mindo and go to Otavalo instead. It's also a 2 hours bus drive from Quito but in a different direction.
To be honest, although Otavalo's colorful popular market is worth the trip, I have appreciated even more all the spectacular tours that you can do from there. I speak in detail about it in my post, Otavalo Beyond the Market.
One of the highlights of Otavalo was for me my hike around Cuicocha lake, a long but easy hike around the crater of a volcano, with spectacular views.
If you choose Otavalo instead of Mindo, you will want to stay at least 2 full days and do a couple of tours.
Mind that although the market is always there, the big event, when you will find stands all over the city, is on Saturday.
Day 8 Fly from Quito to Santa Cruz, Galapagos
There is a lot to see in the mainland in Ecuador, but since you are there, why not visit the land that inspired Darwin's theory on the origin of the species?
We all think that visiting the Galapagos island is a privilege for the few wealthy ones, but it's completely false. With a little planning and some travel hacks, we can travel to this spectacular and still preserved location with a modest budget.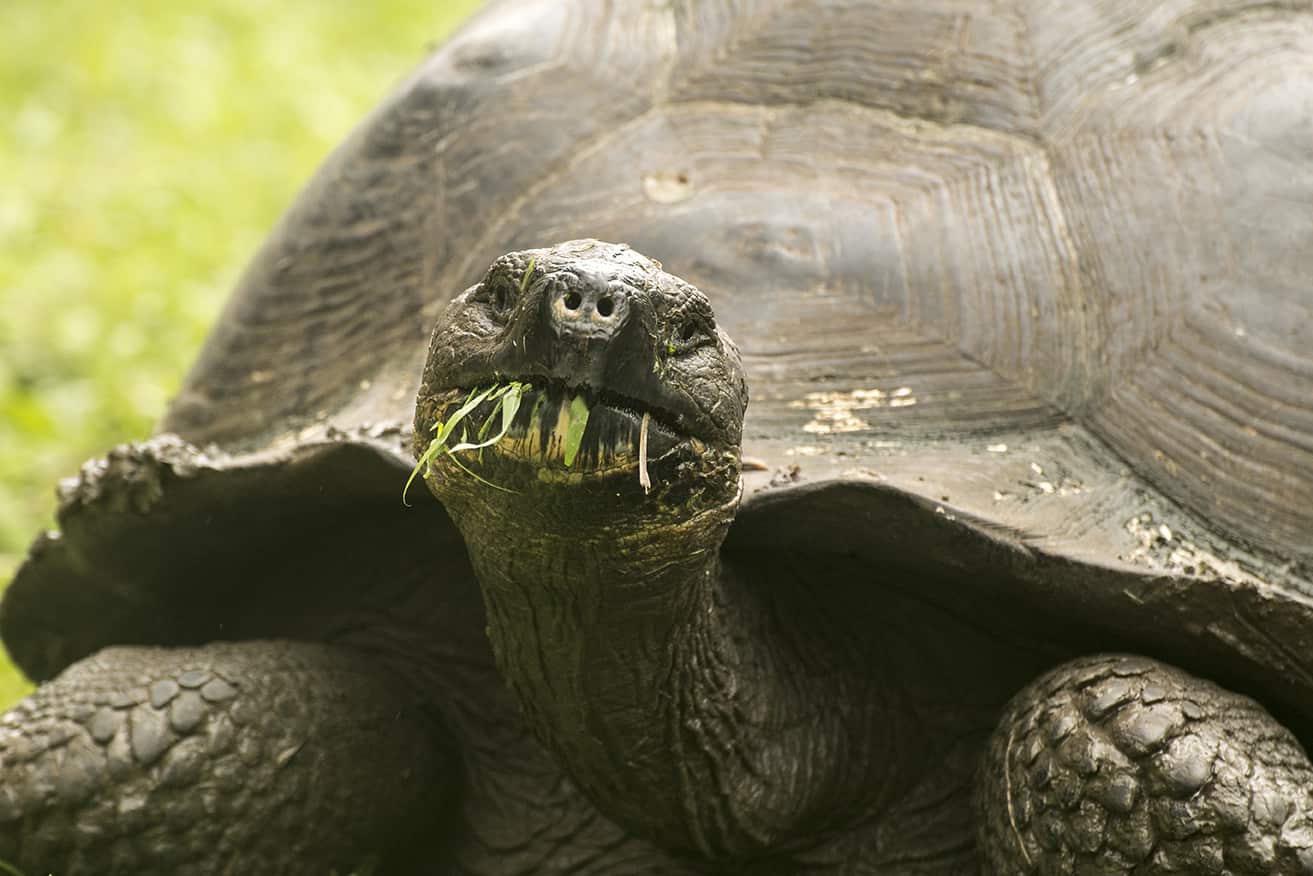 A week in the Galapo will allow you to see the highlights of at least two islands without breaking the bank.
Arriving in Santa Cruz on day 8th of your 14 days itinerary, you would want to spend at least 3 full days and here below I am sharing a list of the things you could do.
Tour of Bartolome' island – 200 USD – expensive but worth it. I even saw two penguins while snorkeling.
Spend the day in Tortuga Bay.
It's a lovely 2 km walk from town to the spectacular huge beach. As soon as you get there you will see the area that skilled surfers love the most where the ocean is stronger, while on the other side, it looks like a lagoon where locals and tourists alike enjoy some beach time. It's not uncommon to see baby sharks or stingrays close to the shore late in the afternoon, while the funny blue-footed boobies dive into the water to fish for their dinner.
Other free activities that you can do in Santa Cruz are:
Snorkel at Las Grietas and then relax in Playa Alemanes
Explore the highlands and visit the Giant Tortoise walking around freely
Get to know the Conservancy project in the Charles Darwin Research foundation and relax in one of its 2 beaches.
Bask in the sun at El Garrapatero Beach
Relax in the Laguna de Las Ninfeas
Watch the baby sharks from the pier
Familiarize with the funny sea lions
Santa Cruz is the main island and from here you can also find lots of other boat tours to the close by islands and snorkeling sites besides amazing diving.
Day 11th – San Cristobal Island
Although it's very difficult for me to pick one, I dare say that San Cristobal is my favorite island overall.
It's probably because of the wealth of the sea lions population that seems to be taking over the island.
You can find them everywhere with their funny sound and cute little face looking at you with their sarcastic grin.
Although in San Cristobal there are many activities that don't require any fee, I wouldn't miss the 360 boat tour (180 USD), which is a trip around the island.
You will snorkel with sharks, bask on pristine beaches, see the blue-footed boobies from a close distance, snorkel around the leon dormido ( kicker rock) where you might get a chance to see hammerhead sharks besides sea lions and turtles.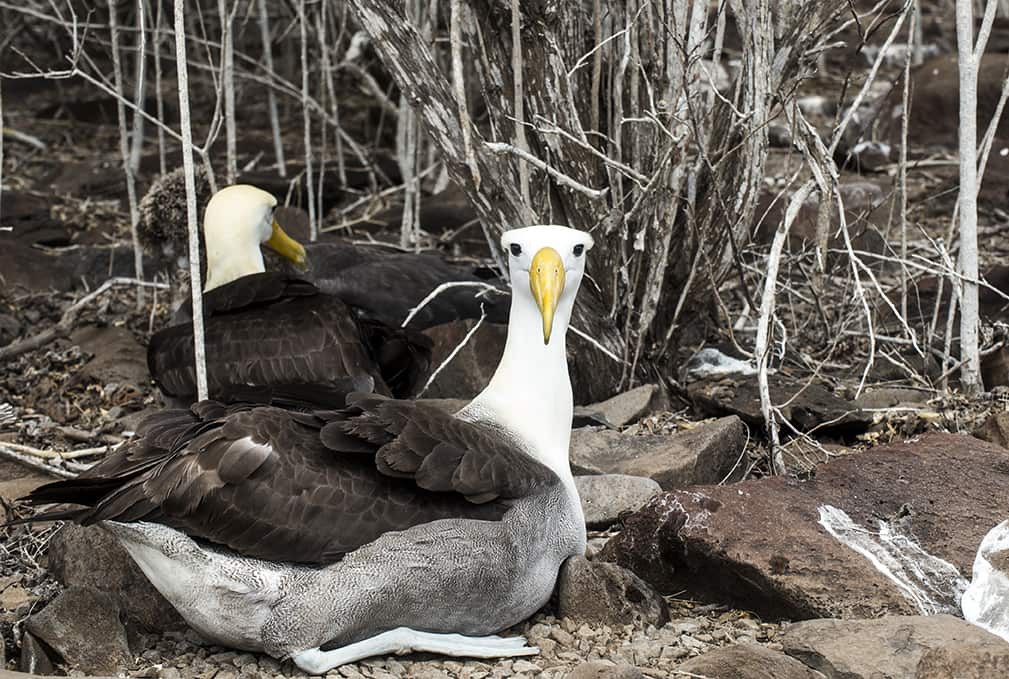 Among the free activities that you can do in San Cristobal my favorite was:
Playa Punta Carola, for the best sunset spot and many playful sea lions
Snorkel at La Tijeretas and hike to the Cerro Tijeretas above the bay
Snorkeling and enjoy the sun at La Loberia beach
If you love diving instead, that's where you can dive with the hammerhead shark, I was tempted but I didn't have enough time. One more reason to go back.
Day 14th Fly from San Cristobal to Guayaquil or Quito to fly back home

Important things to know When Traveling to Ecuador
VISAS
Depending on the country of origin there are different immigration rules, but in general as tourists, we can only spend 3 months per year in Ecuador of which only 60 days in the Galapagos. If you need more time you can go directly to the immigration office in Quito and ask for an extension. They might grant it for a fee.
GALAPAGOS
To enter the Galapagos you will have to book your accommodation in advance and present proof of your reservation, travel insurance, and return ticket. There is also a 20 USD government tax fee to pay before check-in and $100 environmental fee you pay once you get on the island.
SAFETY
Ecuador is a relatively safe country but it's always good to be careful and observe some commonsense rules, among which: don't show off your iPhone or other fancy stuff.
Some isolated areas in Quito around the historical center should be avoided
The historical center is not very safe at night.
Galapagos islands are supersafe although in Santa Cruz they are starting to experience some episodes of petty theft. So just be careful.
MONEY
The national currency is the US dollar However, 100$ bills are normally not accepted. In fact, the cash machine will only give you $20. Credit cards are generally accepted but they would always charge a commission which can be pretty high, up to 16%.
UBER or TAXI
You will read everywhere that Uber is illegal and dangerous in Ecuador. It is illegal technically, but it's not dangerous. I have tried both taxi and Uber and I found Uber cars much cleaner and drivers are much more professional and nice people. Maybe I was lucky, but I would still use Uber.
Of course, the list of things to do and explore in Ecuador doesn't end here. One year is not enough to discover the beauties of this wondrous diverse country, but this Ecuador 2 week itinerary would be a great start.
If you like this Ecuador Itinerary, save it in your Stipple trip planner where you will find destinations, things to do, and accommodation all in one place without juggling between several apps.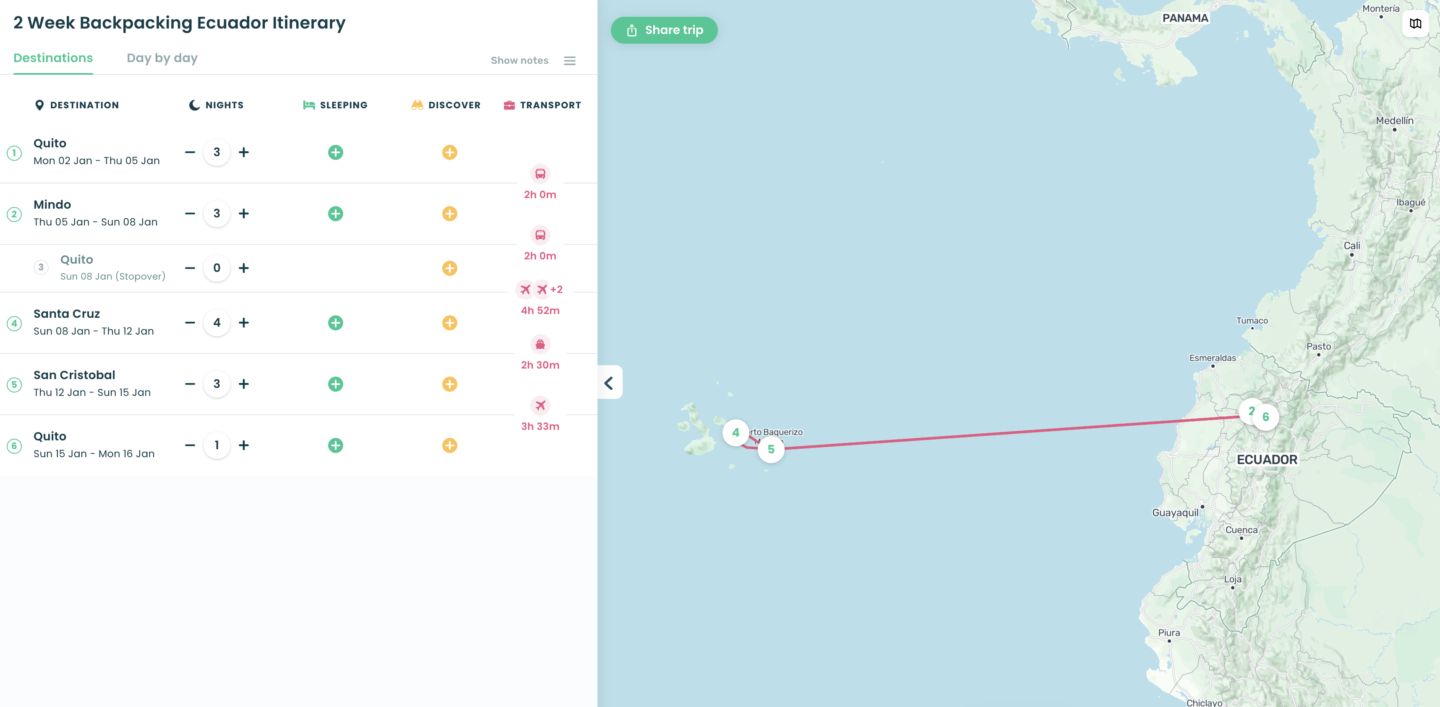 Author Bio
A resolute solo traveler and multimedia artist in the making on an endless journey through Latin America and wherever the road will take her. Vegan when she can, in love with this planet, and always ready for an adventure. She enjoys working on her blog and digital art from cute cafes all over the world (when social distancing wasn't a thing).