Looking for the best Bail yoga teacher training school? In this blog post, I've reviewed. the top Bali yoga training courses to help you choose the best option for you.
So you have been bitten by the Yoga bug and decided it's time to do your Yoga training in Bali! Well first of all, before you go any further I suggest you take a read of this post I wrote about choosing a yoga teacher training. There is a lot to consider before booking any Bali yoga training. Doing my yoga teacher training in Mexico was truly life-changing, so I know all too well just how important this is to you.
I wanted to put this post together on the best yoga teacher training Bali, as I know alongside doing yoga in India, Bali is one of the top yoga destinations in the world. You can find some of the best yoga teachers in Bali, which is what makes it such a hot spot for yoga.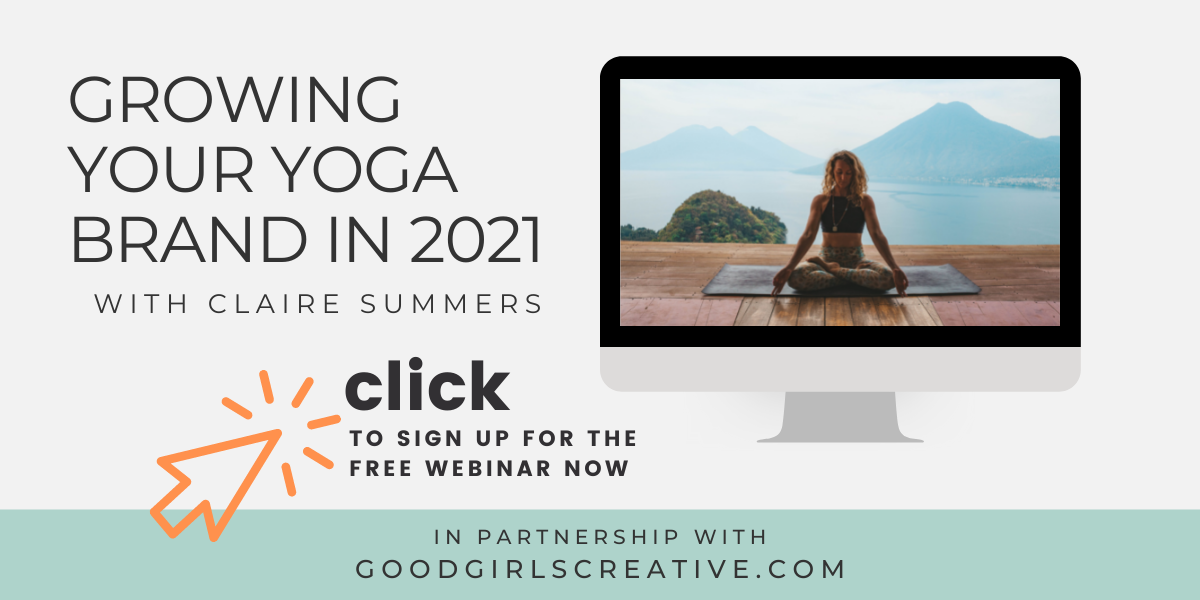 Not 100% sure about Bali yoga teacher training? I also have guides to retreats in Bali, Guatemala, India, Costa Rica, Thailand, Mexico, and Colombia. Or maybe consider doing an online YTT. I also wrote about the best travel yoga mats and the best yoga bras in case you need some help choosing!
So without further ado, here are my recommendations for your yoga instructor course Bali.
Bali Yoga Training
This list is in no particular order, each of these Bali yoga courses is different and will appeal to different people depending on the kind of yoga teacher training you are interested in doing.
Did You Get Travel Insurance Yet?

If 2020 taught us anything, it's that you need to be prepared for anything!

The Insurance companies I personally recommend are Hey Mondo, Passport Nomads, Safety Wing, and Travel Insurance Master

Hey Mondo is great if you are looking for a great value flexible policy. They offer single-trip cover, annual multi-trip cover, and long-term travel cover.

Passport Nomads provides the most comprehensive cover for Digital Nomads. If you find yourself in need of medical care you just contact them and they will pre-load your card with the funds to cover your treatment, meaning you won't need to pay out of pocket and then put in a claim later.

Safety Wing is great value with monthly cover starting at $39. It's super easy to use and it just renews each month. I currently use them as they offer me free cover for my son as part of my policy.

I also use Travel Insurance Master for short trips.

Read my full travel insurance post here where I go into detail about all 4 companies.
All Yoga Training Bali
All Yoga Bali is an established Yoga School that has guided over 2000 students from across the world since 2009. Overlooking the ocean on the beautiful island of Nusa Lembongan in Bali, not only do students of All Yoga get an immersive Yoga experience but they truly live and breathe the beach and yoga lifestyle that Bali has to offer.
The course explores the Ashtanga Vinyasa method as a foundation. As the foundation is being established, the students will delve into popular styles such as Vinyasa, Rocket Yoga, and Yin yoga! The international teaching team of world-class trainers will deliver a comprehensive curriculum focusing on the skills to become a great yoga teacher. Special guest teachers will offer masterclasses on the Philosophy of Yoga, Functional Anatomy, the Business of Yoga, and meditation techniques.
Highlights of All Yoga Training
Immersive 23 days of training
13 years of experience running yoga training
Small group sizes of 20 students max. for a personal guidance
The only beachfront shala overlooking the ocean in Bali
Continued support after training and further training opportunities
Special Offers
Free accommodation for the first 10 sign ups
USD 700 discount with our early bird price
Extra USD 150 off when coming with a friend
Union Yoga School Bali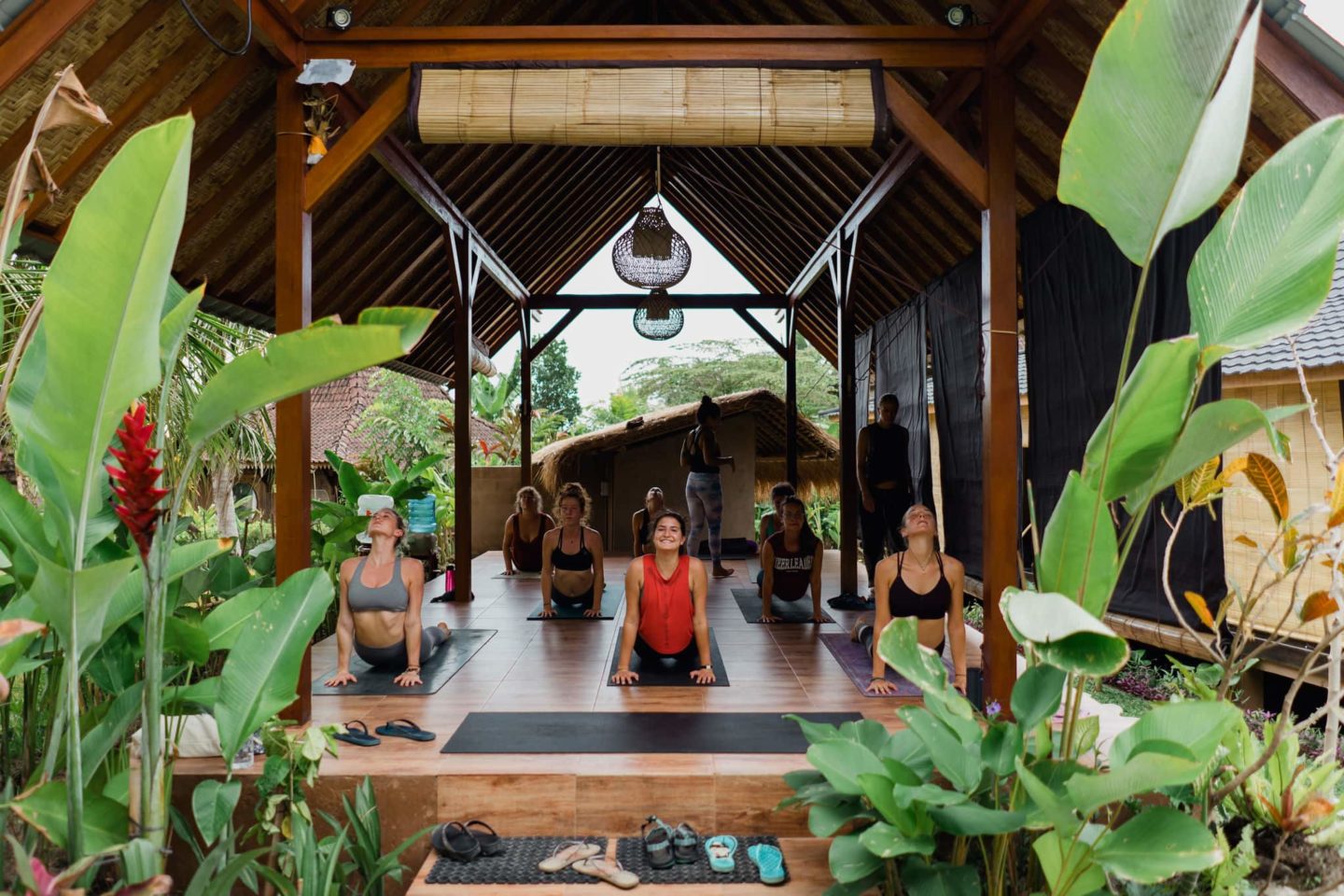 Price: From $1,983 USD
Location: Ubud
Duration: 23 days
Union Yoga school Bali are offering yoga teacher training that included Hatha, Vinyassa, Yin, and Ashtanga styles of yoga. This is a great course if you want a more general yoga teacher training that will allow you to teach a variety of different styles.
The yoga training takes place in Ubud over 22 days (200 hours) and includes daily asana practice, spiritual teachings, and vegetarian meals.
Highlights Of This Yoga Teacher Training in Ubud Bali
Introduction to Yoga philosophy and yogic lifestyle
Alignment and Adjustment Theory of all basic poses
Anatomy and physiology and application to yoga practice
Daily asana practice, meditation, and breathing techniques
Teaching methodology, techniques, and Vinyasa sequence structure
Eligibility to register with Yoga Alliance upon the completion of this course
22 nights accommodation in the ricefields of Ubud
Daily vegetarian meals
Bali Yoga School yoga instructor training Bali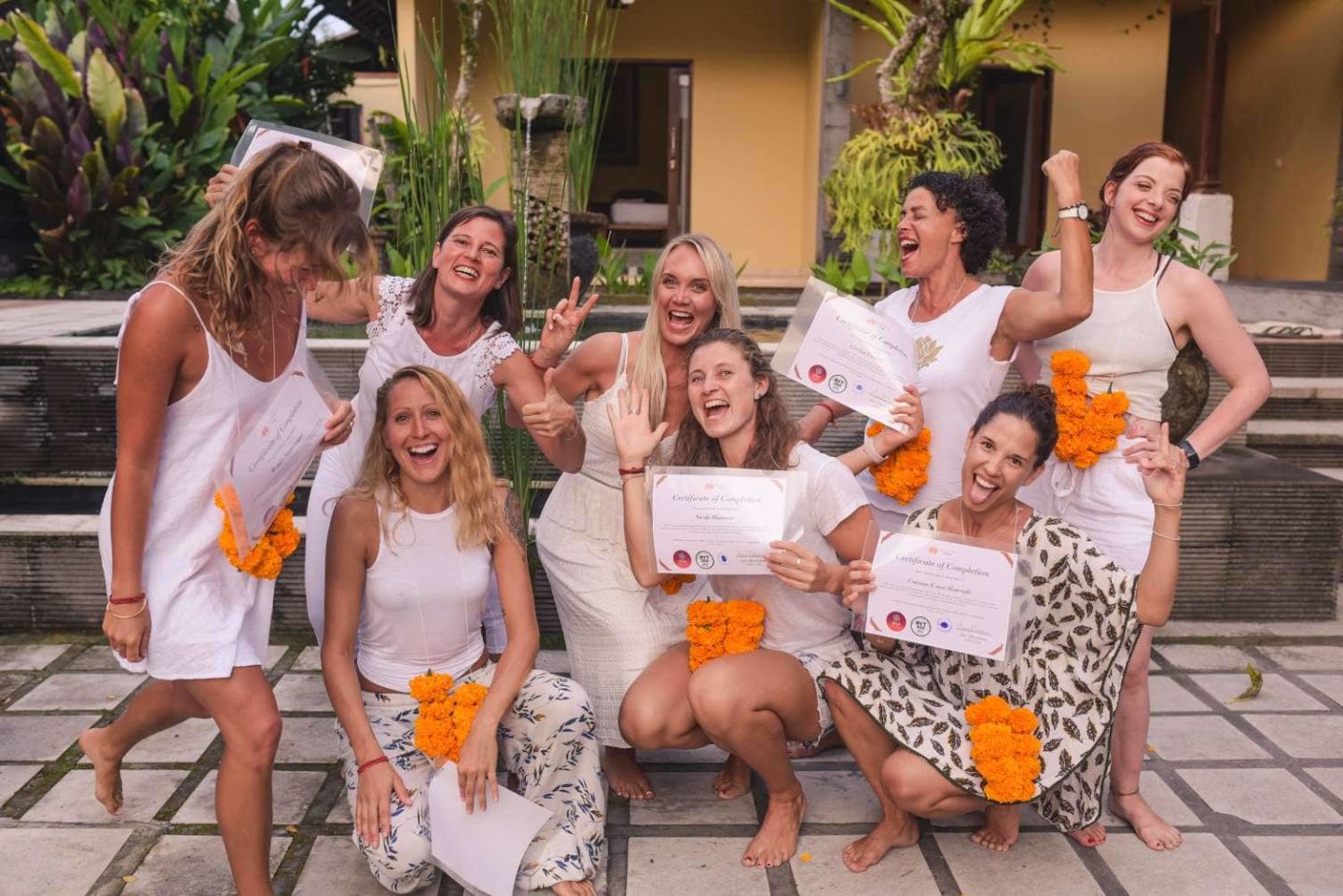 Price: From $2,200 USD
Location: Ubud
Duration: 23 nights
Bali Yoga School is another yoga teacher training in Bali that is offering a comprehensive teacher training in a multitude of styles. In this 200-hour yoga teacher training Bali, they will cover both Vinyasa and Ashtanga styles of yoga as well as covering more general yoga spiritual teachings and mantras, and chanting. Meals are provided and the 200-hour teacher training in Bali takes place in Ubud over 27 days.
Highlights of the Bali Yoga Training
All yoga sessions
Weekend excursions
Kirtan nights and movie night
3 times daily nutritious vegetarian meals and teas
Yoga mats and material for all activities
One Full-body ayurvedic massage
23 nights accommodation
Course material
Free internet
Aayaa yoga teaching course Bali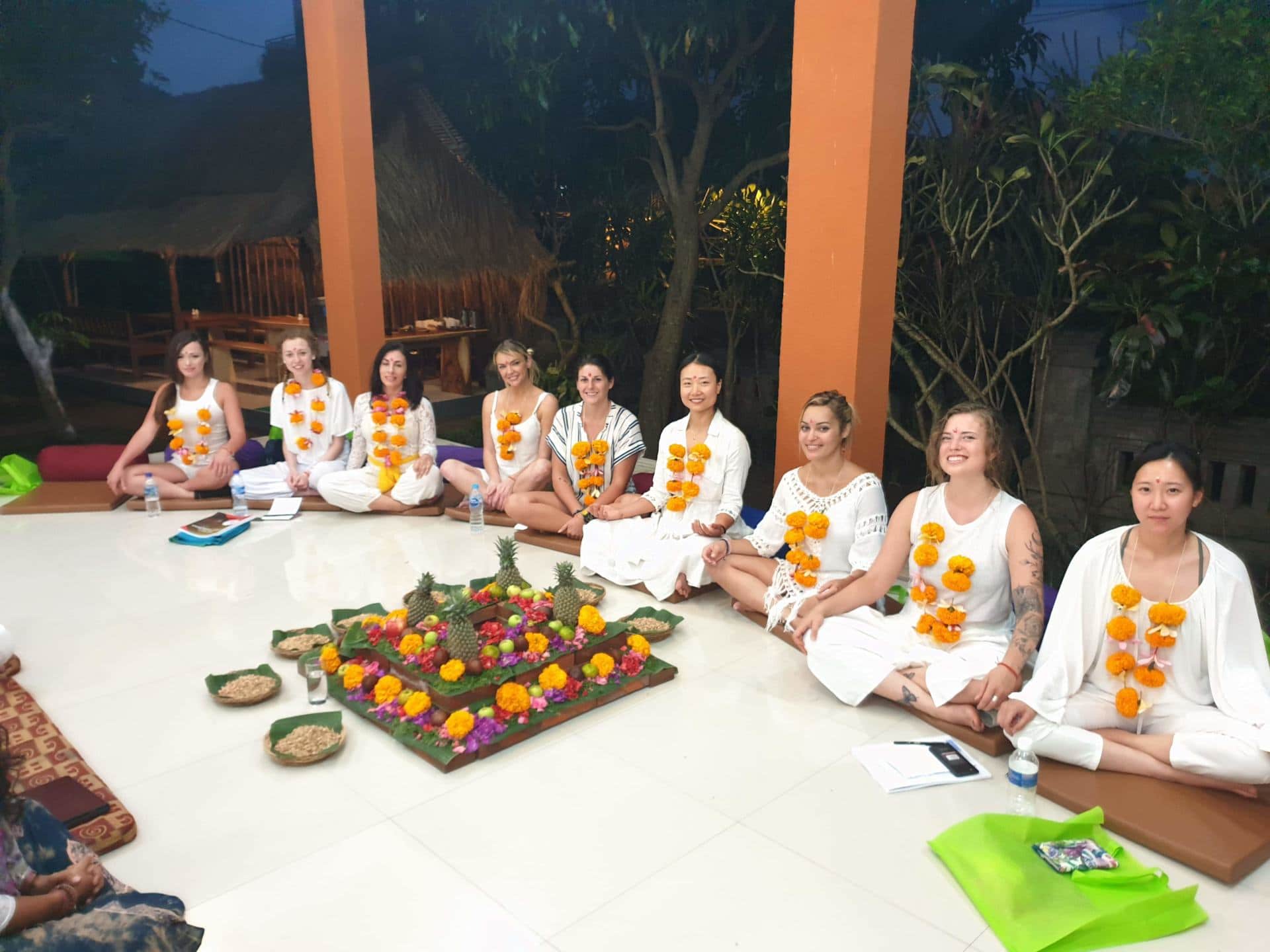 Price: From $1,344 USD
Location: Ubud
Duration: 24 nights
Aayaa Yoga is an up-and-coming school, offering a very reasonable yoga teaching course in Ubud Bali. So, if you are looking for a Bali yoga teacher training on a budget, this is a great option. I love the look of this course as they really focus on Ayurveda, which was a big part of my yoga teacher training.
The course covers a lot of different styles of yoga including Hatha, Vinyasa, Yin, Kriya, Aerial, and Ashtanga. They also teach the principles of meditation and Ayurveda plus Philosophy, anatomy, and physiology. It looks like a pretty amazing course and they are really packing a lot into those 20 days!
Highlights Of This Bali Yoga Teacher Training
20 days of practice
Teaching methodology class
Meditation and Ayurveda sessions
Philosophy, anatomy, and physiology
Daily breakfast, lunch, and dinner
23 nights accommodation
Airport pick up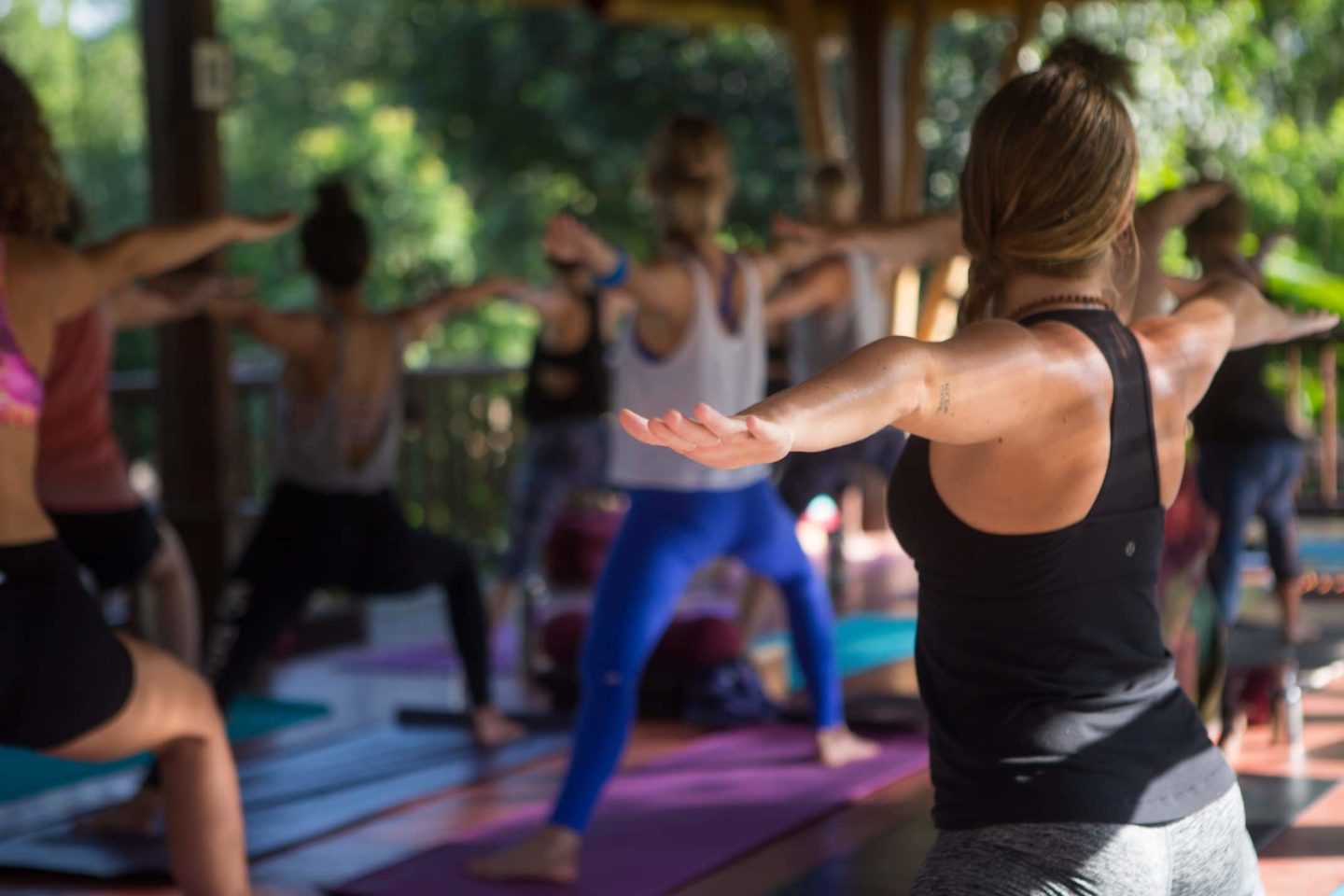 Price: From $1,435 USD
Location: Ubud
Duration: 23 nights
As much as the multi-style yoga courses seem great, it's a lot of different elements they are cramming into what you will soon realize is a very short space of time
This 200-hour multi-style yoga teacher training course is the ideal combination of theory and practice which includes various yoga styles, such as Hatha yoga, Vinyasa yoga, Yin yoga, Ashtanga yoga, Aerial yoga, meditation, Bhakti yoga, and the Ancient Ayurvedic Healing Sciences.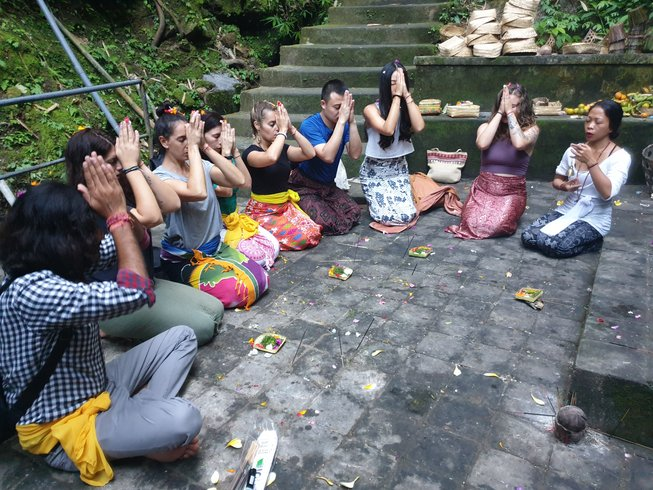 Highlights of this Bali Yoga Training Course
20 days of practice
Teaching methodology class
Meditation and Ayurveda sessions
Philosophy, anatomy, and physiology
Daily breakfast, lunch, and dinner
23 nights accommodation
Airport pick up
Yoga Bliss Yoga School Bali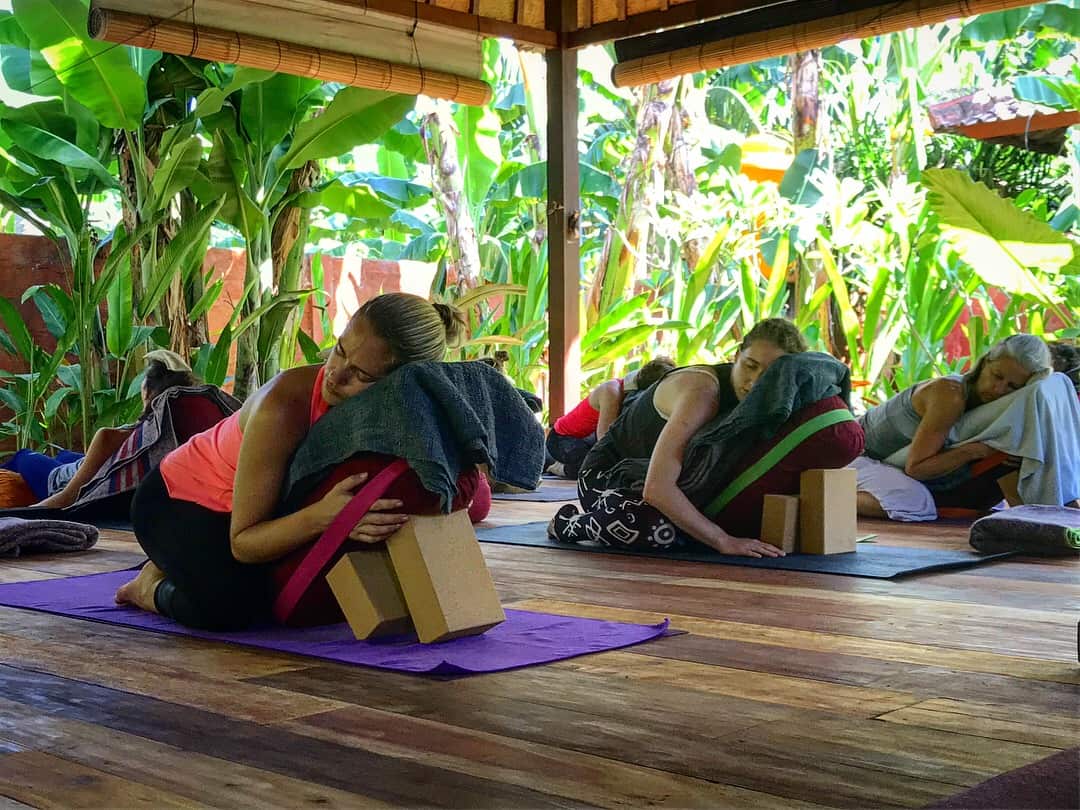 Price: From $2,678 USD
Location: Nusa Lembonga
Duration: 21 days
This is one of the few yoga teacher training courses not in Ubud! The course takes place in a place called Nusa Lembonga. Not only will you deepen your yoga practice and be confident in teaching a 90-minute class by the end of the training. But you will also receive some Balinese pampering and go on a snorkeling trip, work hard and play hard!
The course covers Power, Vinyasa, Yin, Restorative, Ashtanga, and Yin Yang styles of yoga over 21 days.
Bali Yoga Teacher Training Course Highlights
Daily yoga asana classes, meditation, and pranayama
200-hour Yoga Teacher Certification to register with Yoga Alliance
Tools for creating your own sequences for both a Yang and Yin style class
Teaching methodology and techniques, as well as the business of Yoga
1 snorkeling excursion to encounter marine life
Daily breakfast, lunch, dinner, and drinks
1 Balinese massage at a spa center
21 nights accommodation
Pin Me!