If you know me personally then you will know I am NOT a fan of cold weather. However, there is one thing that can pull me back to Europe in the winter… the European Christmas markets! But with so many Christmas markets to choose from, which is the best European Christmas market in 2022 to visit?
In this blog, I've asked my fellow bloggers to share with you their favorite European Christmas Markets in 2022 so you can decide which ones to visit and explore.
Did You Get Travel Insurance Yet?

If 2020 taught us anything, it's that you need to be prepared for anything!

The Insurance companies I personally recommend are Hey Mondo, Passport Nomads, Safety Wing, and Travel Insurance Master

Hey Mondo is great if you are looking for a great value flexible policy. They offer single-trip cover, annual multi-trip cover, and long-term travel cover.

Passport Nomads provides the most comprehensive cover for Digital Nomads. If you find yourself in need of medical care you just contact them and they will pre-load your card with the funds to cover your treatment, meaning you won't need to pay out of pocket and then put in a claim later.

Safety Wing is great value with monthly cover starting at $39. It's super easy to use and it just renews each month. I currently use them as they offer me free cover for my son as part of my policy.

I also use Travel Insurance Master for short trips.

Read my full travel insurance post here where I go into detail about all 4 companies.
Luxembourg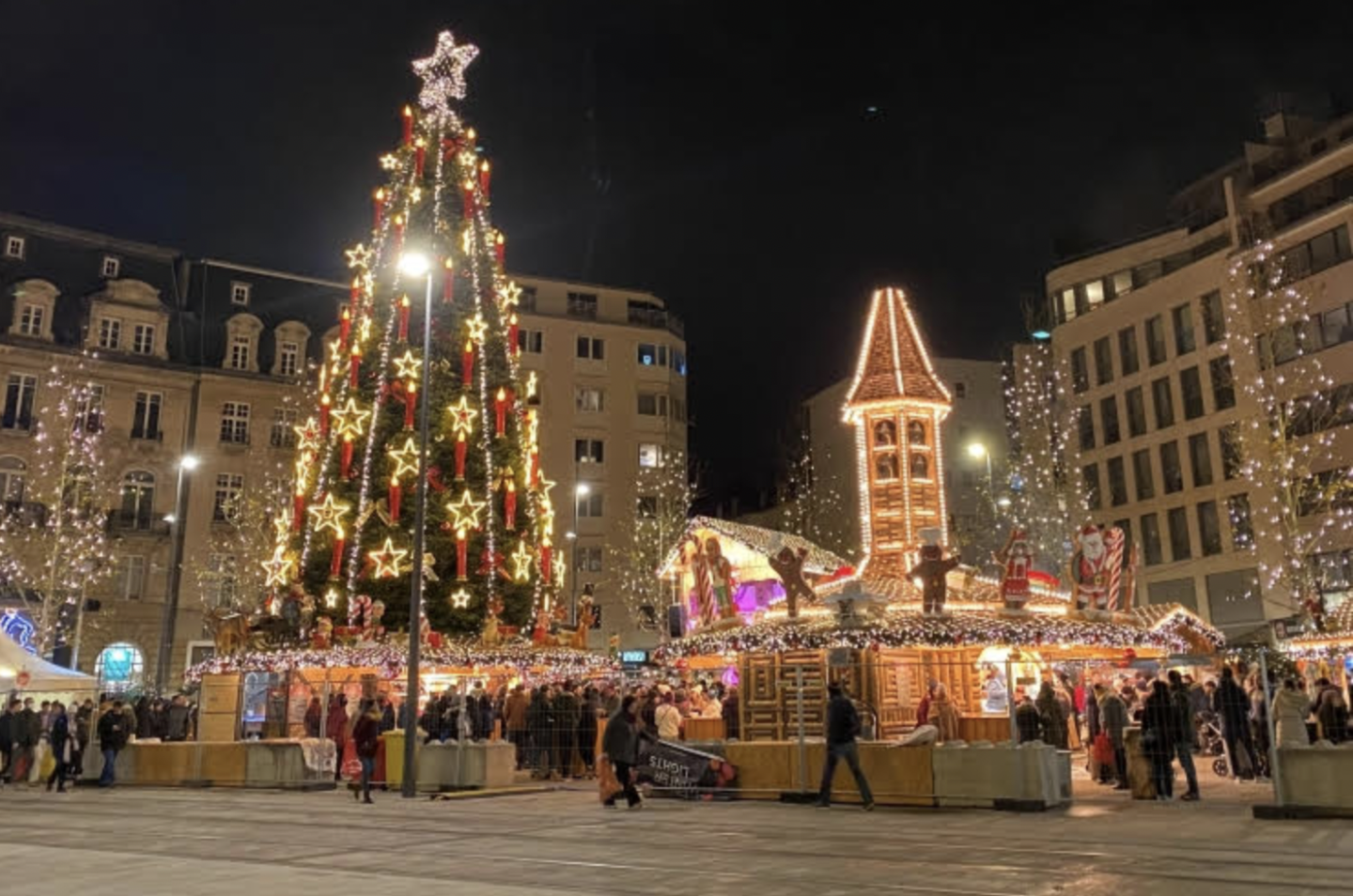 Luxembourg is a small country, but its approach to Christmas Markets has big energy. There's a variety of markets with gorgeous lights, fairground rides, gifts and crafts, lots of warming comfort food, and plenty of vin chaud!
The Luxembourg Christmas Markets, collectively known as Winter Lights, are spread throughout Luxembourg City and each site has a slightly different appeal:
There's a festive ice rink, Winterlights On Ice, at Kinnekswiss Park, if you like to get your skates on at Christmastime.
Lëtzebuerger Chrëschtmaart at Place d'Armes has a food & drink focus that appeals to adults. There's vin chaud and beer and a wide variety of hot food, including delicious Gromperekichelcher – crispy potato pancakes
Wantermaart at Place De La Constitution is probably the flagship market, as the bright lights can be seen across the Pétrusse Gorge. It has a spectacular fairground including a Ferris wheel. There are also some great food and gifts available here
Especially for kids, there's a twinkly playground: WinterKids at Cour De L'Ancien Athenee
There are also markets outside of the city center, including Place De Paris, where the Niklosmaart market has rides and a variety of wurst sausages.
There are also lots of illuminations around the city – the whole place feels sparkly and alive.
There's no entry cost to the Christmas Markets, but you will have to pay a deposit on the glasses that vin chaud is served in, which you will get back when you return the glass. And it's super easy to move between the markets because all public transport in Luxembourg is free!
submitted by Martha from May Cause Wanderlust
Hotel Recommendations
Luxury Hotel
DoubleTree by Hilton Luxembourg
Mid-Budget
Backpacker Hotel
Gothenburg
One of the best places for a winter break is Sweden's second-largest city.
Gothenburg, is home to three of the most popular Christmas markets, including Haga, which is great for foodies, Kronhuset which is the most traditional market and Liseberg theme park which hosts the largest and most popular Christmas market.
During winter, Liseberg turns into a winter wonderland and is decorated with over 5 million Christmas lights (sustainably powered by a wind turbine). There are also more than 80 market stalls, rollercoasters, carousels, a festive ice skating show, and Santa's workshop.
You can buy festive home decor, gifts, and of course plenty of food!
Some of the best and most festive Swedish favorites that you have to try include glogg, a sweet mulled wine, Pepparkaka, a thin and crispy gingerbread biscuit, and the full 4 course Christmas buffet dinner. This must be pre-booked at Liseberg but it includes cured salmon, saffron buns, pickled herring, and a traditional Gottebord for dessert.
Another festive must-do activity is to listen to the unique Christmas tree choir. Local performers arrange themselves on a platform in the shape of a Christmas tree and sing festive favorites. Their location moves around the city so check before heading out, and prepare to be in the mood for Christmas!
submitted by Roshni from The Wanderlust Within
Hotel Recommendations
Luxury Hotel
Mid-Budget
Backpacker Hotel
Oslo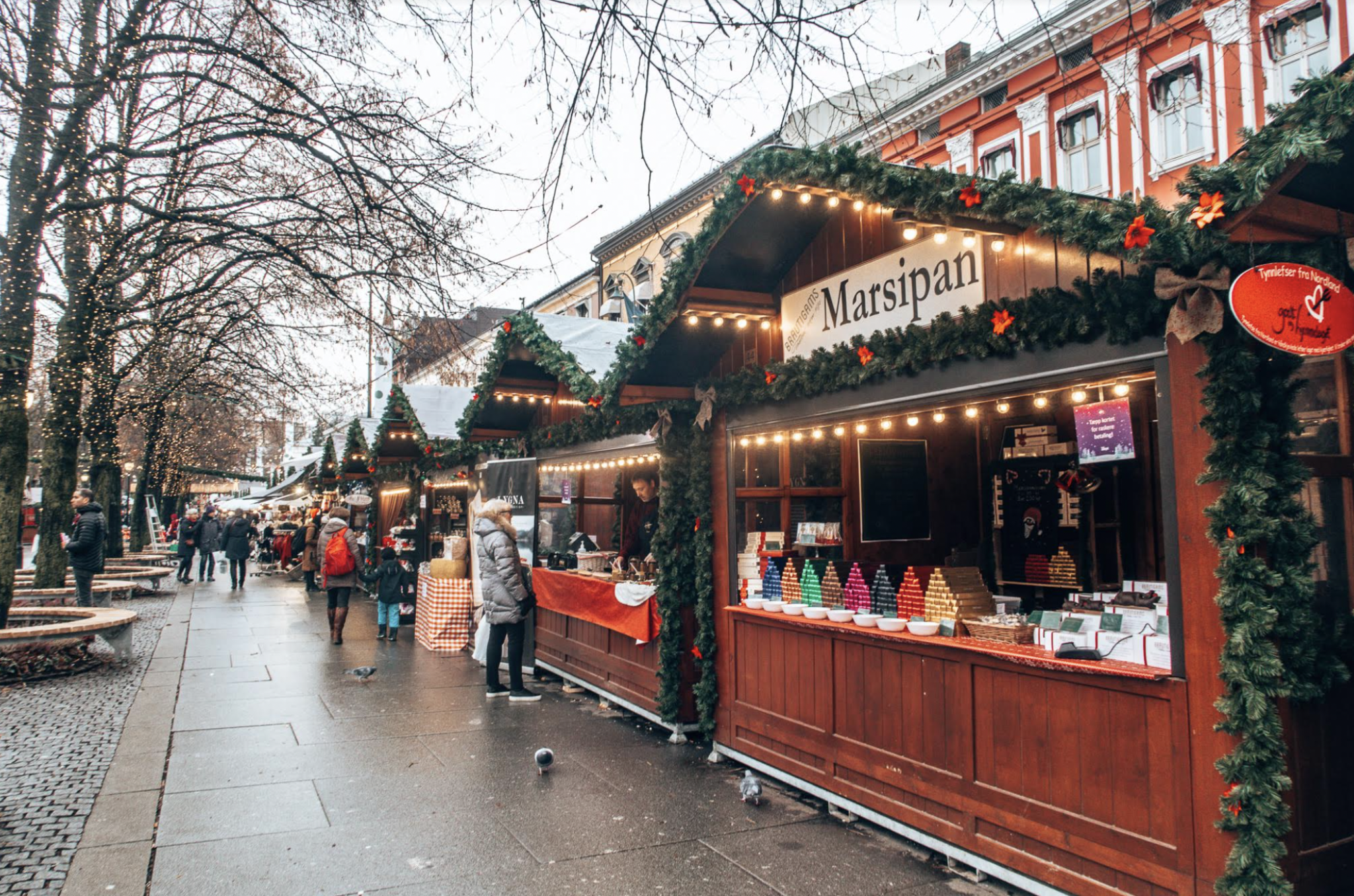 Oslo during Christmas can make for quite a romantic destination. With colorful lights lining the streets, white snow blanketing the city, festive events, and local traditions, there is so much to marvel at and celebrate! The highlight, however, is the main Christmas market known as Jul i Vinterland, aka Christmas in Winterland.
It's located in a bustling tourist spot by Karl Johan's Gate opposite the Royal Palace, so you can always explore the palace first before spending the afternoon wandering through the market.
Food is, of course, the highlight here. You can find anything from traditional Norwegian foods and cakes to classic glazed apples for a sweet treat. There are also stalls selling mulled wine, which can be especially nice to drink on a cold day.
You won't be short of souvenirs to shop for either! There are many decorated wooden kiosks displaying handmade glassware, Viking jewelry, and other unique handicrafts. Exploring these works can be fun in itself. The market has a charming and intimate atmosphere that will make you want to stay here all day.
Not to mention that it's perfect for both adults and children, thanks to the array of activities on offer. From an ice skating rink and a huge Ferris wheel to Santa's house and various exciting workshops.
Finally, the cheery air is enhanced by the throng of plays and musical performances throughout the day! Oh, and make sure to take a photo in the stunning Christmas light tunnel. It makes for a truly enchanting and mesmerizing backdrop for your selfie.
submitted by Bradley from Dream Big Travel
Hotel Recommendations
Luxury Hotel
Mid-Budget
Backpacker Hotel
Nuremberg
Nuremberg is one of the most well-known Christmas markets in Germany and Europe. This classic Christmas market is held every year from the end of November, throughout December up to the 24th of December. The Christkind, a young lady chosen as the Christ child, announces the opening of the market on the Friday before the first advent Sunday.
The Christmas market is set up on the main market square, called Hautmarkt, in the northern parts of the old town between the Frauenkirche and the Schöner Brunnen. It's also better known as the Christkindlesmarkt in German.
Visitors can enjoy the rustic stalls and colorful goodies anytime between 10 am and 9 pm and access is free of charge. Look out for Lebkuchen cookies, which are German-spiced gingerbread. Nuremberg is known for its Elisenlebkuchen, large spiced Lebkuchen prepared with dried candied fruit and nuts and baked on a large paper-thin wafer.
Enjoy roasted chestnuts, candied roasted almonds, and a cup of spiced hot mulled wine. Some more south German foods to try on your stay include Lebkuchen hearts, Steckerlfisch (fish on a stick), Bretzel (Pretzel), Nuremberg Bratwurst sausage in a bun, and Sauerkraut and Sauerbraten roast.
Stock up on some authentic German gifts for your family and friends back home and simply enjoy the warming and welcoming atmosphere of the Nuremberg market. This authentic market will most definitely get everyone instantly into the Christmas mood.
The city of Nuremberg has also a lot more to offer, discover all the things to see in Nuremberg and plan a memorable trip to this medieval city in southern Germany.
Submitted by Paul D'Souza from Paulmarina
Hotel Recommendations
Luxury Hotel
Mid-Budget
Backpacker Hotel
Eco Smart Apartments Nürnberg Süd
Wroclaw
Wroclaw Christmas Market is recognized as one of the most beautiful Christmas markets in Poland and Europe in general. It will be taking place from 18th November to 31st December. As a Pole myself, I'll tell you all about it and why you cannot miss it!
What makes Wrocław Christmas Market worth visiting?
Wrocław is an incredible city famous among tourists from all around the world and its Christmas market is just straight from the fairytale. Located on the main square called "Rynek Market Square" and surrounded by rainbow-colored buildings, Wrocław Christmas Market holds a truly Christmassy vibe astonishing to all its visitors.
There are many different things you can do at the Market, but probably the most important one is getting something hot to eat and drink – trust me, the options are endless and most of the stalls offer traditional Polish specialties (such as grilled cheese with cranberry)!
In other stalls, you will also find lovely things such as handmade cosmetics, soaps, traditional wines and beverages, woolen winter essentials (caps, gloves, and scarves) as well as ceramics and jewelry. The list goes on, and I'm sure each year is a bit different so you might actually get surprised about what you find!
My experience at Wrocław Christmas Market
Wrocław Christmas Market is great to visit both during the day and in the evening, but you certainly wouldn't want to miss it once the day gets darker. The vibes are truly enchanting and breathtaking with all the colorful Christmas lights on!
The first thing that everyone visiting Wrocław Christmas Market should try is a hot, mulled wine – the queues might be long, but you will be served by lovely ladies wearing traditional Polish dresses which is a captivating experience itself! You will also get a quirky mug in a winter-shoe shape which you can either keep to yourself or return (as you pay a deposit beforehand).
Overall, Wrocław Christmas Market is truly a wonderful one. There is no entry fee and everything is pretty budget-friendly so it's really accessible for everyone to attend!
Isabella from Isabellaworld.com
Hotel Recommendations
Luxury Hotel
Mid-Budget
Backpacker Hotel
Zurich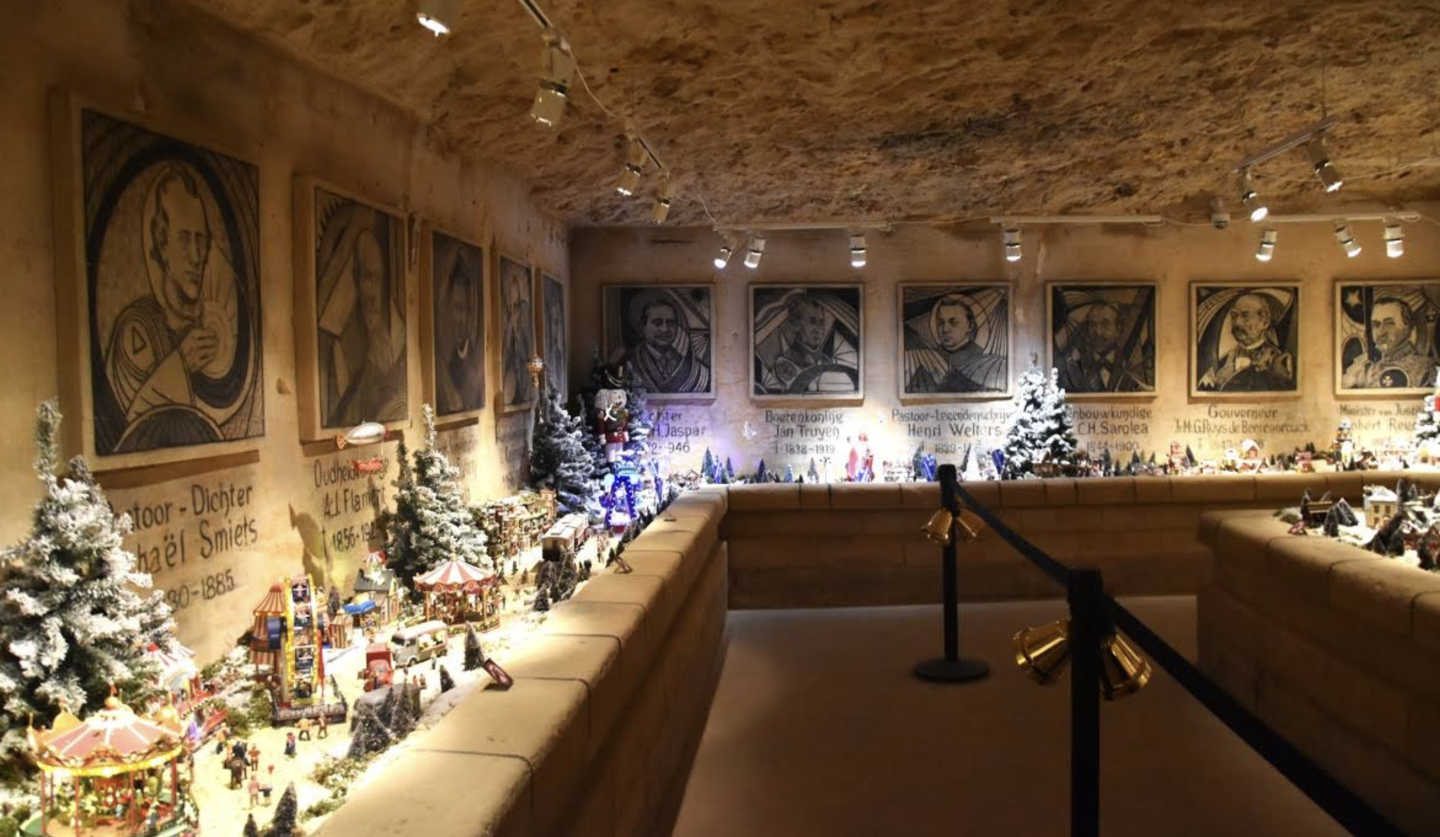 Zurich's Christmas is the quintessential traditional holiday, complete with glistening Christmas trees, mulled wine, fairy lights, festive feasts, decadent chocolate treats, and the sound of Christmas carols filling the air. Zurich has an astonishing four significant Christmas markets along with a few smaller ones.
Located in the Old Town Niederdorf is the first Christmas market in Zurich. The market offers a wide variety of sights and activities. Enjoying traditional Swiss cuisine, taking in live music performances, visiting Santa Claus' grotto, participating in craft workshops, shopping for handmade gifts, and much more are all options. The typical Christmas goodies are available for visitors, and the festive atmosphere is open to everyone. You can peruse the 150 booths filled with unique goods crafted with love by skilled craftspeople.
One of the most beautiful Christmas markets in Switzerland is the Christkindlimarkt, which is held in Zurich's main train station. The Christkindlimarkt's biggest attraction is the 50 feet tall Swarovski Christmas Tree, which is covered with 7,000 shimmering Swarovski crystals. Most of these Christmas markets are located close to one another. So you can explore these places on foot.
From late November to New Year's Eve, you can enjoy the celebrations and the Zurich Christmas Market all across the city. Werdmühleplatz is the place to go if you want to feel merry but prefer your Christmas markets to be smaller in scale. This cozy celebration is centered around a sizable Christmas tree and is close to the River Limmat. One of Zurich's main Christmas attractions—a Singing Christmas Tree that attracts choirs from across the nation for performances—and a sweet small cluster of Christmas Market stalls can be found at Werdmühleplatz.
Trijit Mallick from Budget Travel Buff
Hotel Recommendations
Luxury Hotel
Mid Budget
Backpacker Hotel
Valkenburg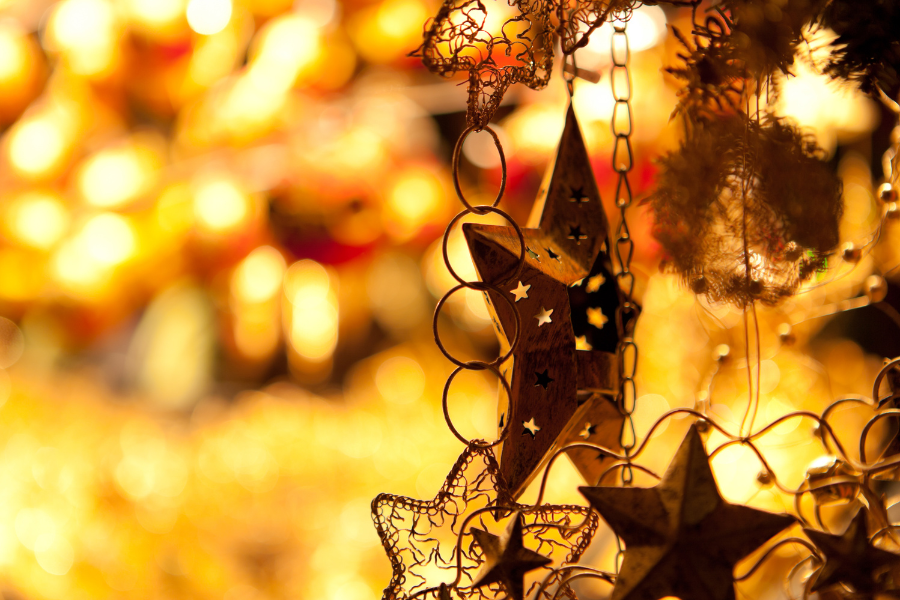 Valkenburg is a small town all the way to the South of the Netherlands. It's near Maastricht and close to the border with Belgium. The Christmas markets in Valkenburg are held in caves, making them very unique. The caves came to be when the marl was removed from quarries in this area. This resulted in a series of caves with corridors. The caves can be visited year-round, but in November and December, Christmas markets and events are held here.
There are 4 caves with Christmas events, and two with Christmas markets inside. It's so special to walk among the decorated caves. The Christmas market in Fluweelengrot (velvet cave) is the largest indoor Christmas event in the Netherlands. Entrance costs €8.50 per person. The one in Gemeente grot (municipality cave) is the oldest underground Christmas market in Europe. Entrance costs €8.50 per person. Both caves have lots of stalls lined up in the corridors. They sell food, Christmas items, and trinkets. In between the stalls, Christmas decorations are set up.
The other 2 caves also host Christmas events. Mergelrijk was my favorite with the 25-meter-long Christmas story in miniature on display. It was so magical to see. Entrance costs €17.50 per person. Wilhelmina grot is part of Winter Wonderland, which is a mountain with a small cave in it. There's a cable lift going up the mountain. On top are a small Christmas market, a 30-meter-high Christmas tree, a toboggan run, and a bobsled ride. It's all very festive. Entrance costs €7.75 per person.
At last, there's Santa's Village, a Christmas market on a square. Entry is free of charge. A unique souvenir would be a candleholder or nativity scene made from marl.
Hotel Recommendations
Luxury Hotel
Mid Budget
Backpacker Hotel
Hamburg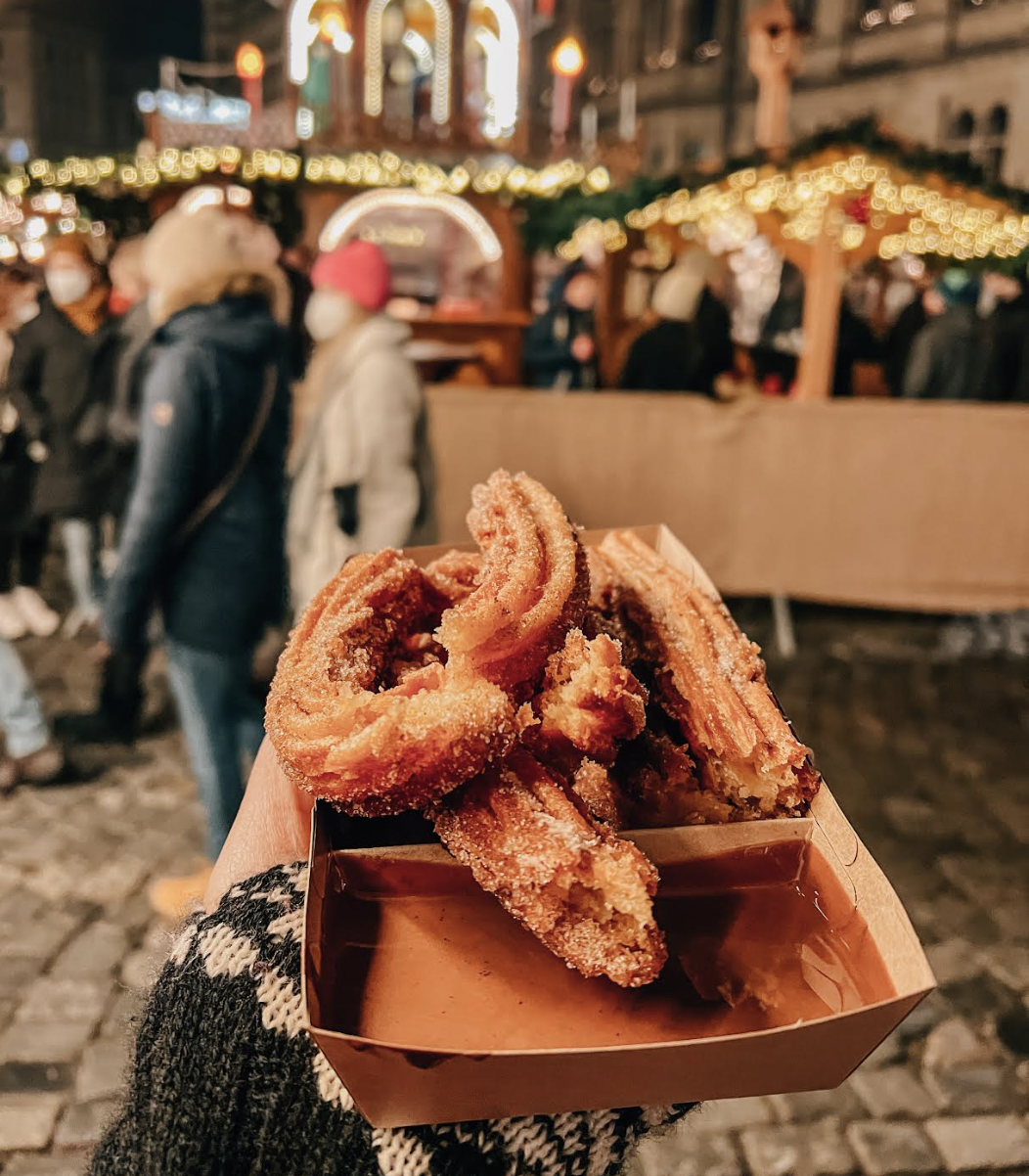 Hamburg is one of the biggest cities in Germany and known as the gate to Germany since it's a major port city. Quite naturally, come Christmas time, the city goes all out with many Christmas markets spread all across Hamburg.
The main Weihnachtsmarkt or Christmas market in Hamburg is held in front of the Hamburg Rathaus (town hall) in the city center. The area is right in the heart of Hamburg, has lots of shopping stores all around, and is a good starting point to see the top sights in Hamburg once you've been to the Christmas market.
This part of the city is also well-connected by public transportation so it's a very convenient location. Apart from a large, well-lighted Christmas tree, the main market in Hamburg has plenty of food and Glühwein stalls in addition to stalls selling candy, toys, souvenirs, and other goodies. The most interesting thing here is a giant sleigh carrying Santa that's suspended in the air that flies around in front of the town hall. It's a truly spectacular and unique sight to see!
Hamburg also has a Winterwald or winter forest located at Gerhart-Hauptmann-Platz which is also a very nicely decorated Christmas market. The Weisser Zauber Christmas Market which is held on the promenade of the Alster lake – a large artificial lake in Hamburg is also unmissable and unique due to its all-white decor. With white tents, soft white light, and giant white snowflakes used all around as decor, this is truly one of the more unique Christmas market experiences in Germany.
In addition to these main Christmas markets, there are many more markets that are spread around Hamburg. It's important to note that all these markets are free to visit.
Soujanya Rai from The Spicy Journey
Hotel Recommendations
Luxury Hotel
Mid budget
Backpacker Hotel
Hallstatt, Austria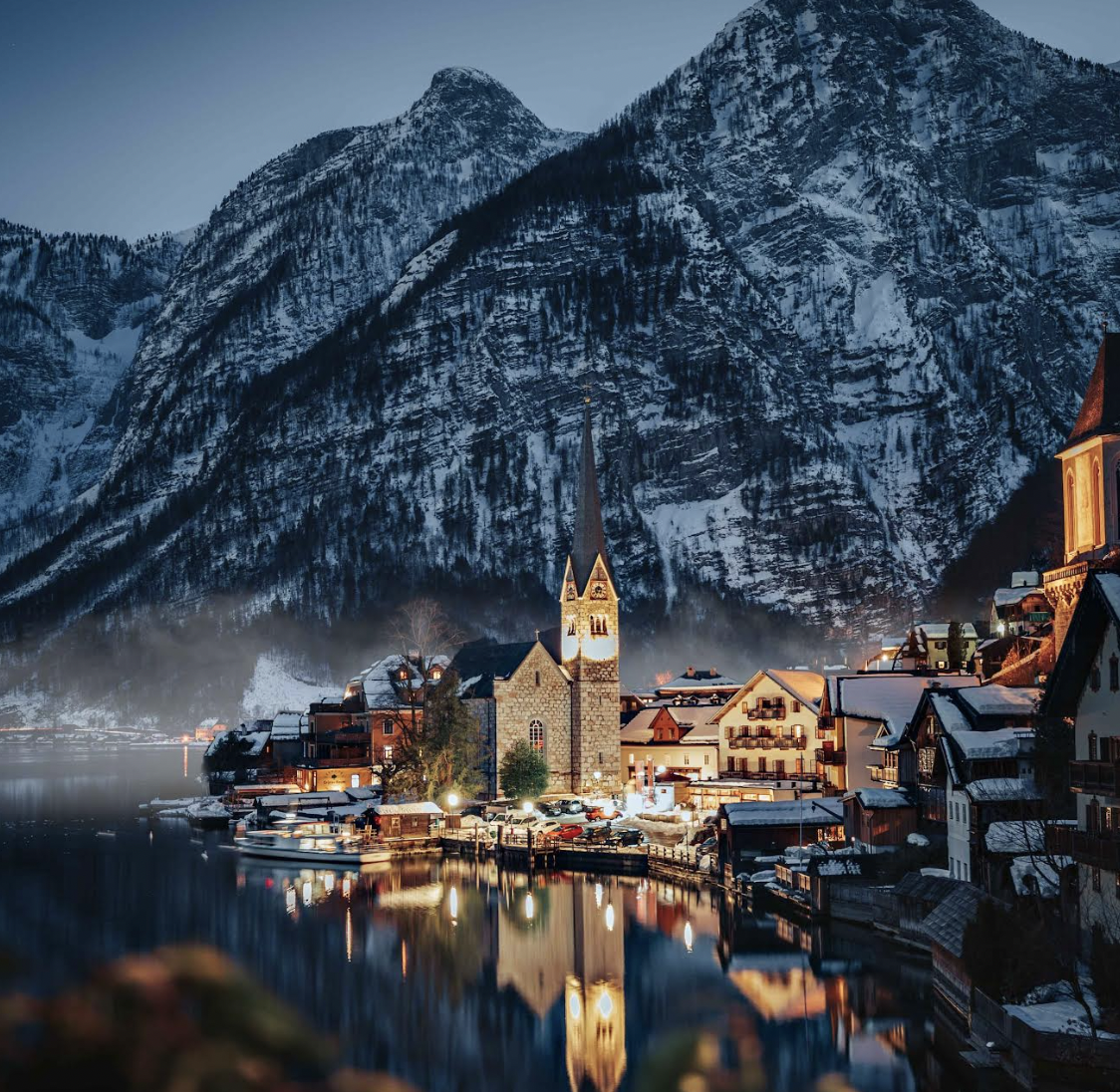 Hallstatt, Austria feels like a fairytale village, thanks to its gingerbread buildings and location perched on the shores of a turquoise lake in the Alps. But, come Christmas, Hallstatt truly comes alive, with icicles hanging from the rafters, the snow-capped Alps, and plenty of Christmas cheer.
In fact, one of the best things to do in Hallstatt during the holidays is to explore its Christmas market, which takes place each year on December 8th. Stroll around the Old Town to see the Bavarian-style buildings lit up with twinkling lights and peruse the festive stalls, offering Christmas goodies like knit mittens, handmade toys, and, of course, Hallstatt's famed Christmas cookies. If you get chilly, grab a mug of gluhwein to warm you up and soak in the cheery vibes around you.
Hallstatt's Christmas market is known for being particularly family-friendly, with several activities specifically planned for children to enjoy.
One of the most beloved activities in the area actually occurs before the Christmas market, during the first weekend of the Advent calendar. Every year, the children of the neighboring town of Obertraun stand along the shores of Lake Hallstatt, candles in hand, and wait for Saint Nicholas to glide across the lake in his wooden boat. Once he sails ashore, he hands out small treats, like nuts, apples, and oranges, and recites a Christmas poem to the awed children. As soon as he arrives, he'll slip back into his boat and disappear into the night, until the following Christmas season.
Jessica from uprootedtraveler
Hotel Recommendations
Luxury Hotel
Mid Budget
Backpacker Hotel
Colmar
The Colmar Christmas market is one of the absolute best markets in Europe, thanks to the multiple charming markets set up around this truly adorable village.
So what makes Colmar so special?
This town is right on the edge of France and Germany and has changed hands between the two countries several times over its history. Thus, the city sees a lot of German influence, with Bavarian-style half-timbered beams on all the buildings around town, and foods like sauerkraut, creamy potatoes, and flammkuchen served in the markets and in the restaurants around town. Colmar has many, many Christmas trees set up in all the markets throughout the town, there are decorations and lights on buildings everywhere, and the charming Petite Venise area of town, which features a canal and colorful houses, is just picture perfect.
As for the Christmas markets themselves, you'll find 6 official markets in Colmar, with some different theming throughout. There is a market with religious pictures on each stand, a market about the "culture of the region," and a "toy" themed market, where each stand had a toy picture on the top and several little rides were set up.
There's also an indoor handicraft market, a gourmet food market with stands of different gourmet foods to try, and a nativity market, where a nativity and several live animals were present in the market.
Gingerbread, or "pain d'epices" in French, is very popular in this region, and you'll see a lot of gingerbread being sold at the Colmar Christmas market.
You can also find an ice skating rink, a mini roller coaster, and a carousel bar at Place Rapp.
We loved all the markets at Colmar, but the "religious" market at Place des Dominicans, or Petite Venise market were probably our favorites!
There's no entry cost to visit and peruse the market, and you can hit up all the markets during the daytime hours and then swing back around again at night to see the lights.
The Colmar market is truly one of the most adorable and enchanting markets I've ever visited and definitely deserves a spot on your Christmas market tour!
Stephanie of The Unknown Enthusiast
Hotel Recommendations
Luxury Hotel
Mid Budget
Backpacker Hotel
Ibis Colmar Est – Hotel Restaurant en Alsace
London
A wide variety of Christmas markets are available in London from Covent Garden to Hyde Park Winter Wonderland and many more. So, if you are looking for festive things to do in London in winter, a visit to one of them will offer you a magical experience.
For a Bavarian vibe, head to Hyde Park which offers amazing activities for everyone. Enjoy ice skating on London's largest outdoor ice rink or soak in the views from the 70-meter-high wheel. While adrenaline seekers can try the white-knuckle ride. Genuine German cuisine and live music in the middle of London are a fun way to spend Christmas in the UK.
Winter Wonderland's Christmas markets are brimming with handcrafted ornaments, so get some unique souvenirs during your visit. You may also get a variety of Christmas presents at Apple Market in Covent Garden. Everything from jewelry to antiques will surprise your most demanding friends and family.
If you want to enjoy the 1920s, visit Leicester Square. Incredible shows in one of London's top location is a great way to spend a winter evening in the city. Although admission to Leicester Square is free, you will need a reservation for Santa's Grotto and theatre shows.
Most of the markets in London are free to visit, however, there might be additional fees for some attractions. During the off-peak time, you can explore Winter Wonderland without many other tourists and for completely free. In turn, Covent Garden is open for free to everyone during the day and night, and admiring one of the biggest Christmas trees in London is a popular winter attraction in the capital.
Paulina from the UK Every Day
Hotel Recommendations
Luxury Hotel
Leonardo Royal London St Paul's
Mid Budget
Backpacker Hotel
Notting Hill Serviced Apartments
Reykjavik, Iceland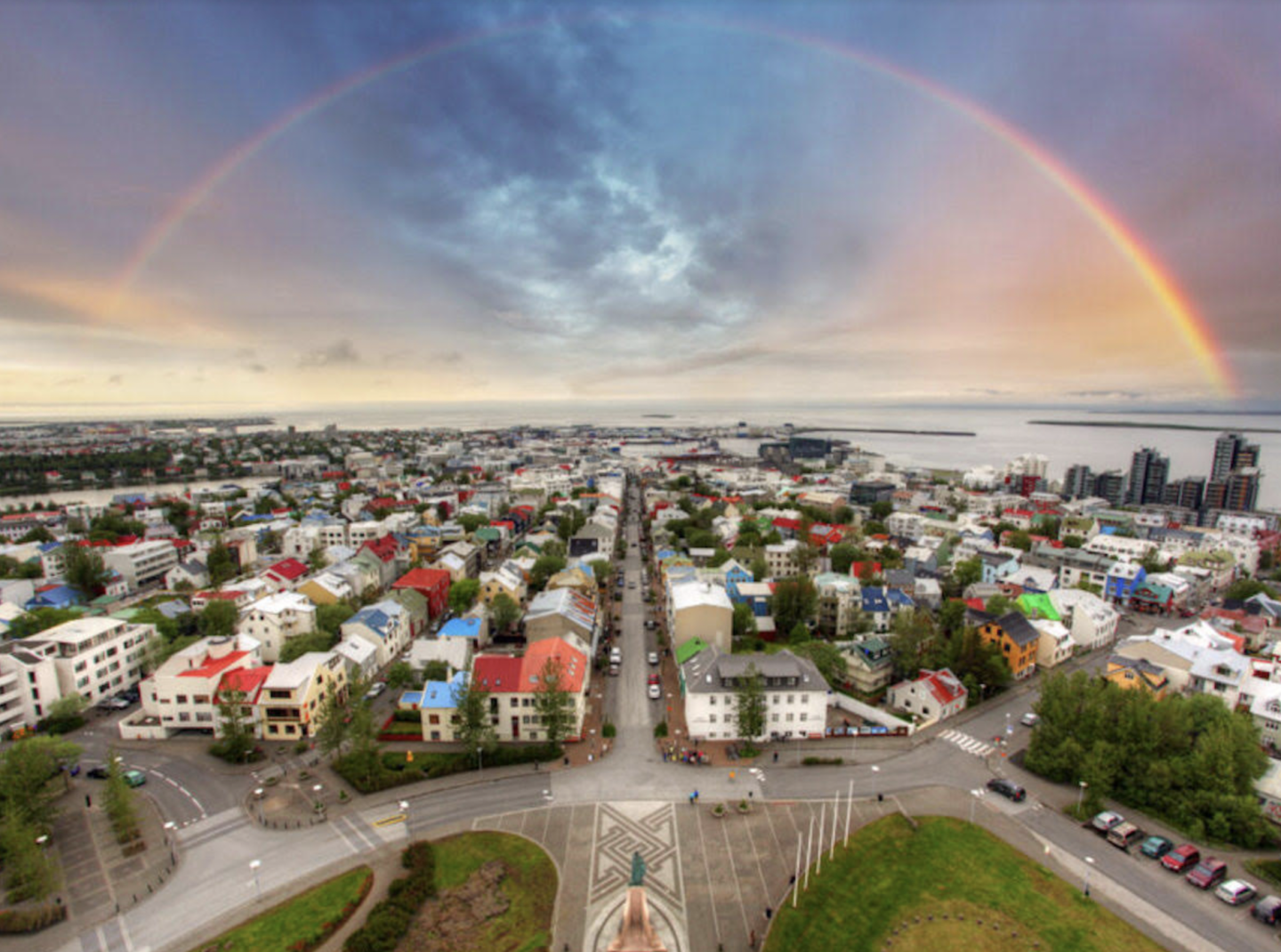 If you're looking for some of the best Christmas markets in Europe then you cannot afford to miss Reykjavik, Iceland.
After all, this vibrant capital city is home to four unique markets that will help you get into the spirit of the season.
So, begin with a visit to Yule Town at Ingólfstorg. Here you can admire vibrant lights and incredible decor before going skating on the giant ice rink here. In fact, it's right in the center of the market and as you twirl around you see tons of local vendors selling local crafts, incredible food, fun gifts, and more.
But, if you're a foodie at heart then run, don't walk, to Hlemmur Mathöll Food Hall and enjoy food from Brauð & Co bakery, Micro Roast Te & Kaffi café, SKÁL! restaurant, Ísleifur Heppni ice cream parlor, and more. This is also a great place to drink mulled wine which isn't readily available in other places.
Next, drive just 15-minutes down the road to Hafnarfjörður. Because once you're here you'll discover The Christmas Village. In fact, it's open every weekend in December and is a place where you can walk through the cozy lanes and take in quaint chalets selling local food. You can also listen to traditional music and go on horse-drawn carriage rides too.
Finally, head out to Heiðmörk and enjoy the Christmas Market there since it has a more local feel to it. See, this is where residents go to get their Christmas trees. Therefore, it's an ideal place to sit around a roaring fire and listen to Christmas-inspired tales before shopping for local products this December in Iceland.
Victoria of Iceland Trippers
Hotel recommendations
Luxury Hotel
Reykjavik Residence Apartment Hotel
Mid Budget
Backpacker Hotel
Berlin
If you're looking for some of the best Christmas markets in Europe, look no further than Berlin, Germany. With dozens of markets to choose from, there's something for everyone in this vibrant city.
From traditional markets selling Christmas ornaments and decorations to exciting markets with colorful lights and festive fairground rides, these markets will get you into the holiday spirit!
The Gendarmenmarkt Christmas market is a favorite among locals and visitors. This beautiful market is located in the heart of Berlin and is considered one of the city's most elegant. With its stunning backdrop of the Konzerthaus and French and German cathedrals, it's no wonder this market is so popular.
At the Gendarmenmarkt, there are over 60 stalls selling everything from handmade jewelry to Christmas tree decorations. You'll also find a wide variety of food and drink, including traditional German specialties like Lebkuchen (gingerbread) and Glühwein (mulled wine).
The market is open each year from the end of November through December 31. Admission to the market is just €1, with free entry between 11 AM and 2 PM.
For an exciting Christmas market experience, head to the Christmas Market on Alexanderplatz. This large market is one of the busiest in Berlin, featuring more than 100 stalls, fair rides, an ice rink, and the centerpiece Christmas Pyramid – a brightly-lit pyramid with stalls selling food and drink at the bottom and spectacular views at the top.
Admission to the Alexanderplatz Christmas Market is free, with extra fees for special attractions like the ice rink and fair rides.
Other popular Berlin Christmas markets include one at the beautiful Charlottenburg Palace and Winter World on Potsdamer Platz.
If you're visiting the German capital during the holiday season, make sure to add a visit to a Christmas market (or two!) to your Berlin itinerary.
Sydney from A World in Reach
Hotel Recommendations
Luxury Hotel
Mid Budget
Backpacker Hotel
Gdansk
One of the best Christmas markets in Europe is the Gdansk Christmas Market. This Christmas market is one of the lesser-known markets in Europe which only adds to its allure. During the Christmas season, people from all over the world come to Europe to enjoy the many Christmas Markets scattered around. As a result, the top places often have super high accommodation costs and crowded markets. However, the Gdansk Christmas market is not like this.
The main draw to the Gdansk Christmas market is that you can enjoy it with not too many other people and really soak in the beauty and Christmas spirit. There is no entrance fee either!
Heading to Gdansk, Poland is ideal to save some money before the expensive Christmas season as Poland is one of the cheapest countries in Europe. Hotels, restaurants, and attractions are all super budget-friendly so you can enjoy your time without breaking the bank.
The Gdansk Christmas Market is home to a Santa village, elf parades, many food stands, hot chocolate, local crafts, Christmas ornaments, and more. It has a quaint and local charm to it that is super special too. This Christmas market is also located right in the old town so you can walk into the city center after and enjoy the main hub of excitement.
The market starts towards the end of November and ends just before Christmas. Get planning your adventure to Gdansk and enjoy one of the best Christmas markets in Europe.
Sam from Sam Sees World
Hotel Recommendations
Luxury Hotel
Mid Budget
Backpacker Hotel
Dresden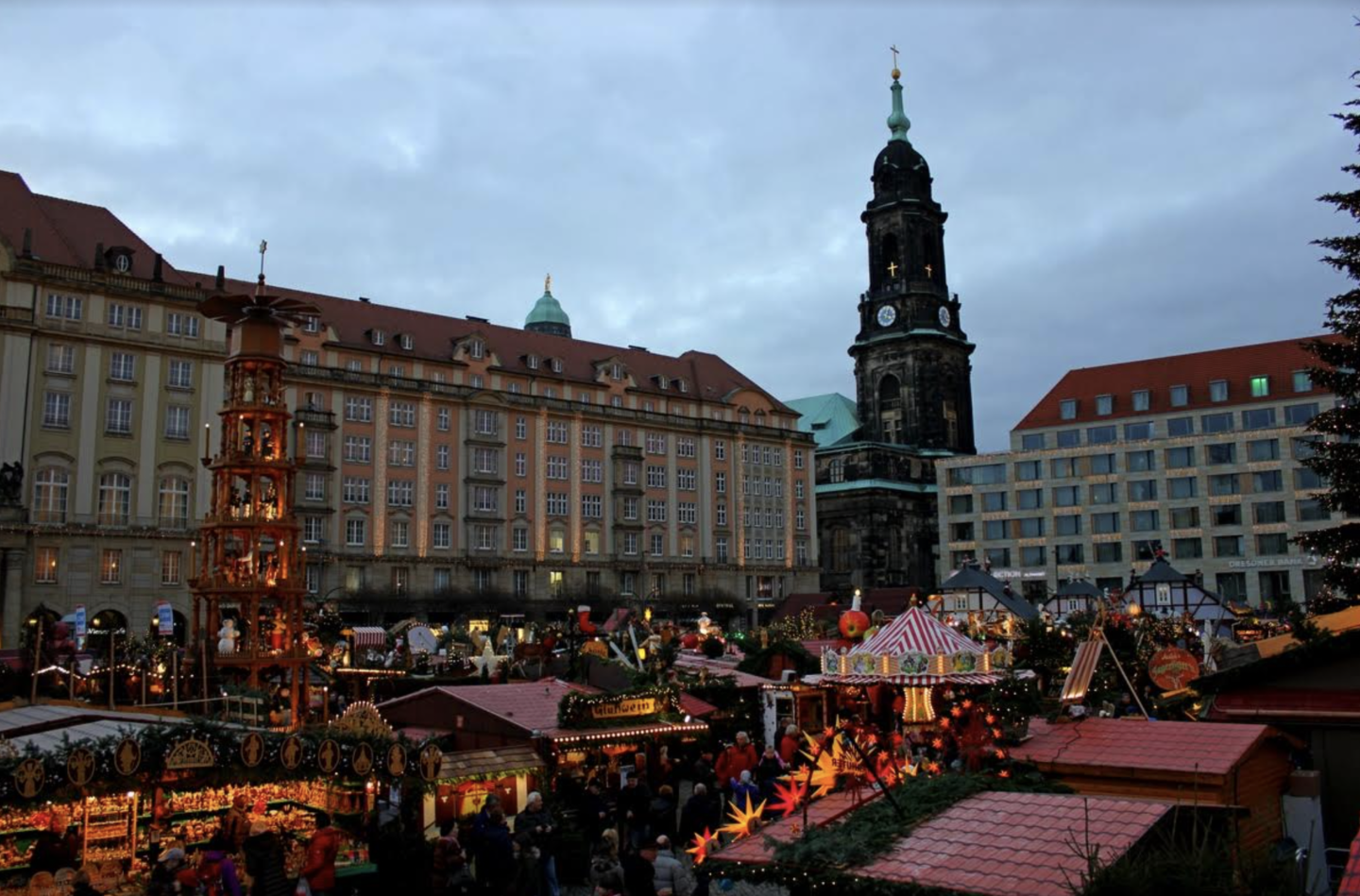 Europe has lots of wonderful Christmas markets, especially in Germany. But the Christmas market in Dresden is really special. The main Christmas market is called the Striezelmarkt. Dating back to 1434, it's considered to be the oldest Christmas market in the world.
Dresden's Striezelmarkt is held in the Altmarkt, which is the old market square in Dresden's old town. It's a large square, so there's plenty of space for all the stalls to be set up. They're organized in rows, and you can wander up and down each row to see the whole thing. You can feel the tradition and festive vibes when you're here.
At any Christmas market, you should drink a mug of mulled wine. But while in Dresden, be sure to try Stollen. You'll find this bread, similar to fruitcake, throughout Germany, but it originally comes from Dresden. Other things to try at the Dresden Christmas market include candied almonds, German sausages, stewed cabbage.
The Dresden Christmas market is also known for its impressive Erzebirge pyramid. This is a tall wooden structure seen at most Christmas markets. But the one in Dresden stands at 14.62 meters (almost 48 feet) earning it the title of the world's tallest.
Dresden is located south of Berlin. You can easily get from Berlin to Dresden by train in about two hours. The Dresden Striezelmarkt has no entry fee. It's wonderful any time of day, but there's something really magical about a Christmas market once the sun has gone down. And if you have time, check out some of the city's other Christmas markets, like the ones near Frauenkirche, Stallhof, and Dresden Castle.
Ali from Berlin Travel Tips.
Hotel Recommendations
Luxury Hotel
Mid Budget
Backpacker Hotel
Salzburg, Austria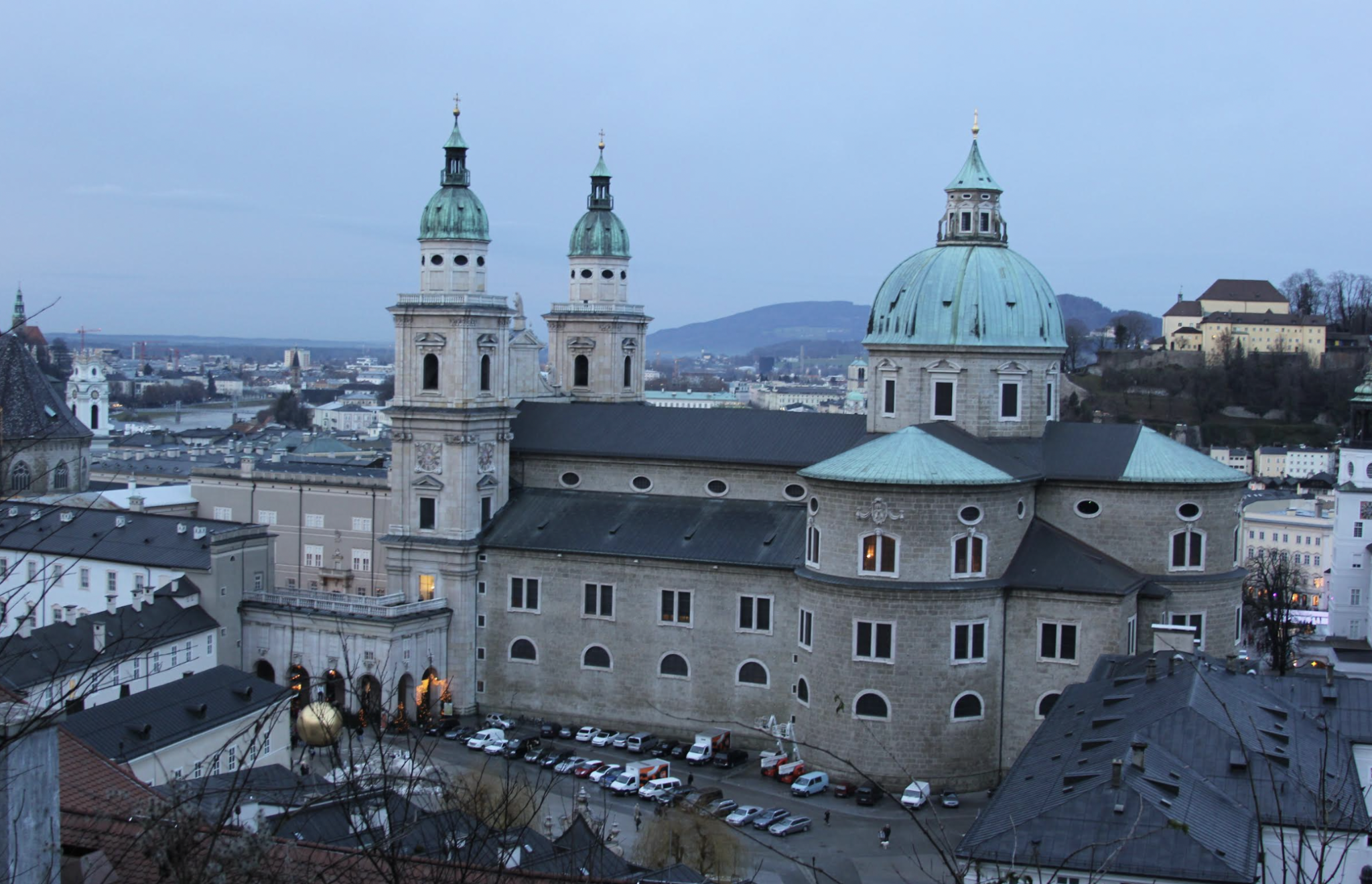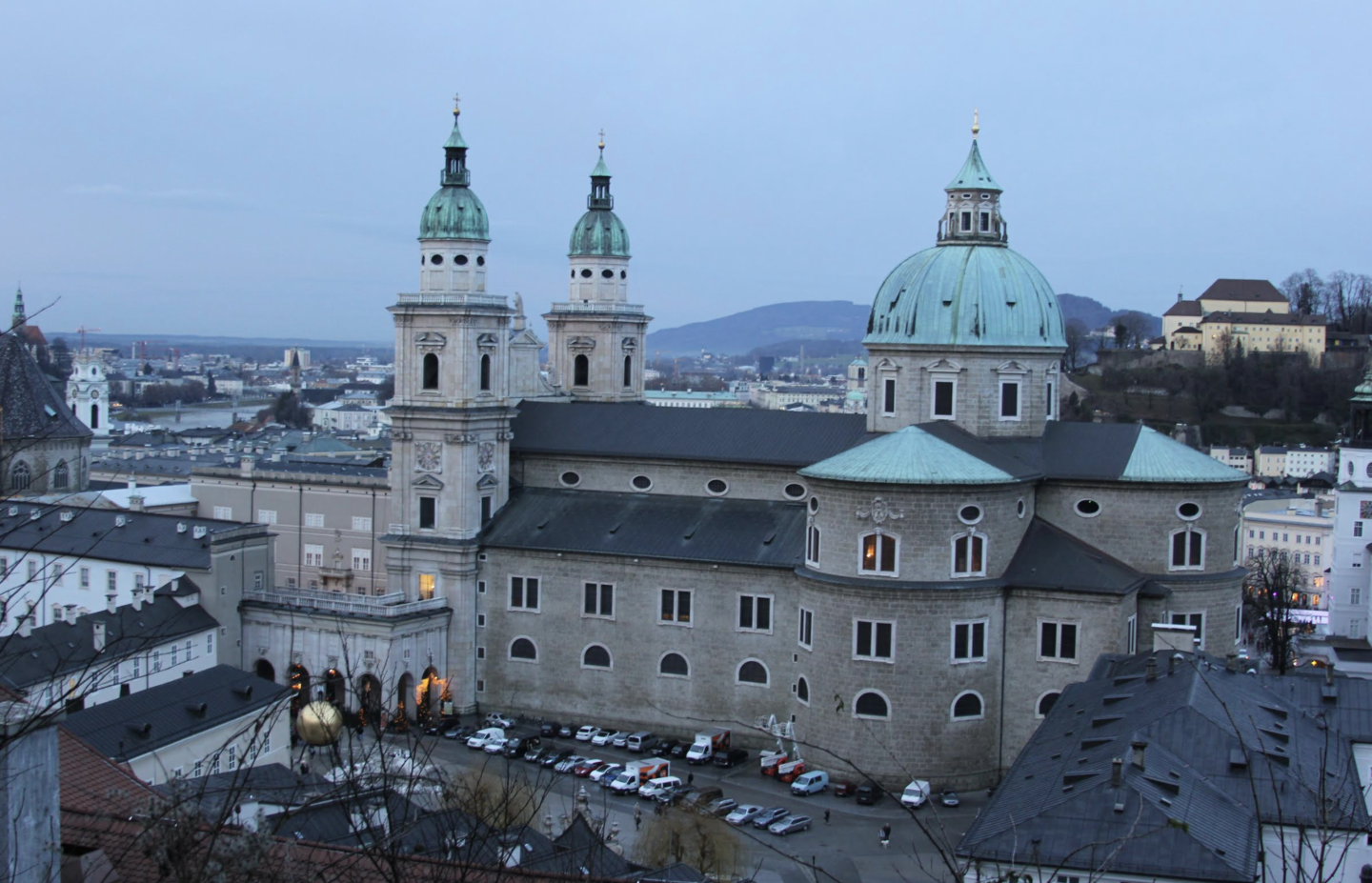 If you are looking to explore some of the best Christmas Market in Europe, you will need to add Salzburg in Austria on top of your bucket list. The Christmas Markets in Salzburg begin at the end of November and stays open until after Christmas day.
One of the most popular and also, my favorite Christmas market in Salzburg is the Damplatz. While you are visiting, you will need to try the delicacies such as fried sausages and goulash soup and have a mug (or a couple) of Glühwein, known as hot, spiced wine. Also, buy some local handcraft, the most popular items are Christmas Ornaments, wood carving, decor, snow globes, wool items, and much more. You can also find other options to visit smaller Markets, such as the Advent Magic Heilbrunn and the Market on Mirabell Square.
Salzburg during Christmas time is a magical place to visit, besides all the amazing Christmas Markets here you will also have the opportunity to see the birthplace of Mozart, with a fairy-tale feel, nestled in the foothills of the Alps, with a perfect blend of incredible history, rich culture, and several Sound of Music sites to explore and enjoy as a day trip or as a vacation destination. From charming streets and cozy cafes to visiting the iconic highlights including castles, and baroque historical buildings. All the charm of Salzburg adds to make the Christmas markets here one of the most incredible in Austria.
The good news is that you won't need a car or public transportation to explore Salzburg, as the city is very compact and you can explore on foot. But I recommend you choose accommodation in the city center. A good hotel to stay in and very well located in the Austria Trend Hotel Europe Salzburg, only 100 meters from Salzburg's main train station and a 10-minute walk to the Mirabell Gardens. If your hotel is outside the town center, there is a trolley and bus system that serves the city.
Paula from Paula Pins the Planet
Hotel Recommendations
Luxury Hotel
Mid Budget
Das Jedermann Boutiquehotel mit Stadtgarten
Backpacker Hotel