Are you looking for the best way to get from Cancun to Tulum? In this blog post, I'm going to cover all of the possible ways you can travel from Cancun to Tulum. As well as covering all of the ways to travel from Cancun airport to Tulum, I will also share with you how to get from Cancun city center to Tulum and vise versa.
There are many different ways of getting from Cancun Airport to Tulum, or Tulum to Cancun airport, and in this blog post, I'm going to go into detail of exactly how to do this depending on your budget and desired comfort level.
Transportation from Cancun airport to Tulum
Is there an airport in Tulum?
Sadly there is no airport in Tulum. The closest airport to Tulum is Cancun international airport. But don't worry it is very easy to travel from Cancun to Tulum. If you want to get cheap flights you can also check on WayAWay to get 5% cashback on flights.
Is there Uber in Cancun?
Please be aware that Uber does not operate in The Riviera Maya and you will not be able to book a taxi as the only taxis allowed to pick-up from Cancun airport are the designated airport taxis. Returning to Cancun airport from Tulum is a little different as you will have no issue booking a local taxi or hiring a driver, more on this later!
Take a private or Shared shuttle from Cancun airport to Tulum
If you are not on a backpacker's tight budget, it's your first time in Mexico, and you speak no Spanish then I highly recommend booking on one of the private Cancun to Tulum shuttles. It's going to be the fastest and easiest option for you, I fully recommend checking out the prices for shared and private shuttles with GuateGo.
If you book a Cancun airport to Tulum private shuttle someone will be there to greet you from the airport and deliver you right to your hotel door. If you are traveling in a couple or small group this is actually going to be one of the most economical options. Prices of Cancun airport to Tulum shuttles start from around $60 one way. You will pay more for a taxi from the airport and are far more likely to get ripped off by the taxi driver.
In previous years, it was not possible to book a shared shuttle from Cancun Airport to Tulum but now GuateGo is also offering this service. The bus will be waiting for you at Terminal 2 at Cancun Airport and will drop you off at your hotel in Tulum town, or if you are staying farther than that, you will need to take a taxi. You should book your spot 24 t 48 hours before to ensure your spot will be saved, and there is a minimum of two people. If you are traveling solo, you have the option of paying for both spots. Check out more information here.
Looking for a tour company in the Riviera Maya that won't rip you off? Speak to my friend Vanessa at Turismo Channel for the best prices on tours, excursions, and rental cars. If you tell her that Claire's Itch Feet sent you she will give you a special discounted price on anything you buy through her. Send her a WhatsApp in English or Spanish. She can even arainge transportation from the airport to your hotel or appartment.
Did You Get Travel Insurance Yet?
If 2020 taught us anything, it's that you need to be prepared for anything! Travel insurance has always been high my list of things to get before I travel but now more than ever its at the top of my list.

I'm pretty sure we have all had travel plans messed up because of COVID and not all insurers covered this. So when looking for travel insurance it's important to check it covers travel disruption due to COVID-19, Hey Mondo, Passport Nomads, Safety Wing, and Travel Insurance Master all provide cover for this.

Hey Mondo is great if you are looking for a great value flexible policy. They offer single trip cover, annual multi trip cover, and long term travel cover. You even have the option to start the cover when you are already on your trip, although you won't be covered for the first 72 hours. For me my favourite feature is their app which offers you a 24/7 Dr chat and the ability to file a claim direct in the app.

Passport Nomads provides the most comprehensive cover for Digital Nomads. The game changer with them is that you have a red card and if you find yourself in need of medical care you just contact them and they will pre load your card with the funds to cover your treatment, meaning you won't need to pay out of pocket and then put in a claim later.

Safety Wing is great value with monthly cover starting at $39. It's super easy to use and it just renews each month. They have an excess of $250 and it's simple to make a claim through their website. I currently use them as they offer me free cover for my son as part of my policy and I like that it renews on a monthly basis, so I don't have to pay out a big lump sum up front.

I also use Travel Insurance Master for some short vacation type trips.

If you are doing shorter trips or an extended backpacking trip then Hey Mondo or Travel Insurance Master are the best option. If you are a digital nomad or planning travel of at least 6 months then go for Passport Nomads or SafetyWing.
Book an airport transfer Cancun to Tulum through your hotel
If you are staying in one of the big resorts in Tulum, there the likelihood is that you will have a transfer from Cancun airport to Tulum already included. If this is the case then for you the best way to get from Cancun to Tulum is by checking with your hotel and giving them your flight details so they can make arrangements for your Cancun airport to Tulum transfer.
Take the ADO bus from Cancun airport to Tulum
If you are on a budget and traveling solo then taking the ADO bus is a cheap, safe, and convenient option. The ADO Cancun airport busses stop at all of the terminals but there is only one main bus station where you can pay by card and that is in Terminal 2. All of the other terminals are cash only, although they will accept USD. The cost may vary depending on who you book it with, I can recommend GuateGo which is not the cheapest one but they are a very reliable company that won't leave you hanging. Click here to check the prices of ADO buses from Cancun airport to Tulum with GuateGo.
The bus will drop you off in Tulum town where you will likely need to get a taxi to your accommodation if you are staying on the beach or at the other end of Tulum Town. Expect to pay about $70-$100 pesos, depending on how 'fresh off the boat' you look.
The ADO buses are all well maintained, have wifi, and normally play very loud films. Bring some earplugs and a blanket as the bus is almost always freezing! The journey normally takes just over 2 hours.
The buses between Cancun airport and Tulum are far less frequent than between Cancun and Playa del Carmen. So if you don't mind changing the bus in Playa del Carmen then that is an option.
As of January 2020, these are the timings of the buses between Cancun Airport and Playa del Carmen:
10:55 am
12:25 pm
2:25 pm
4:55 pm
8:00 pm
9:45 pm
The timing will differ slightly depending on which terminal you are at as the bus will visit each terminal in turn before departing the airport to Tulum. Buses to Playa del Carmen depart every 30 minutes.
If you decide to take the bus from Cancun to Tulum via Playa del Carmen it's worth knowing that the bus station is right on the main strip in Playa (La Quinta) so if you have some time you can get some food and take a break from the traveling before moving on. If you want to save yourself a few pesos then you could also take a colectivo from Playa del Carmen to Tulum, click the link for full details on how to do this.
Getting the ADO bus from Tulum to Cancun Airport
To get from Tulum to Cancun airport simply check the times of the bus the day before. You can do that in person or with GuateGo as the ADO website is a NIGHTMARE!) and buy your ticket in advance if possible. The bus to Cancun airport will stop at all terminals, just keep an eye out for your terminal as they often don't announce it very loudly!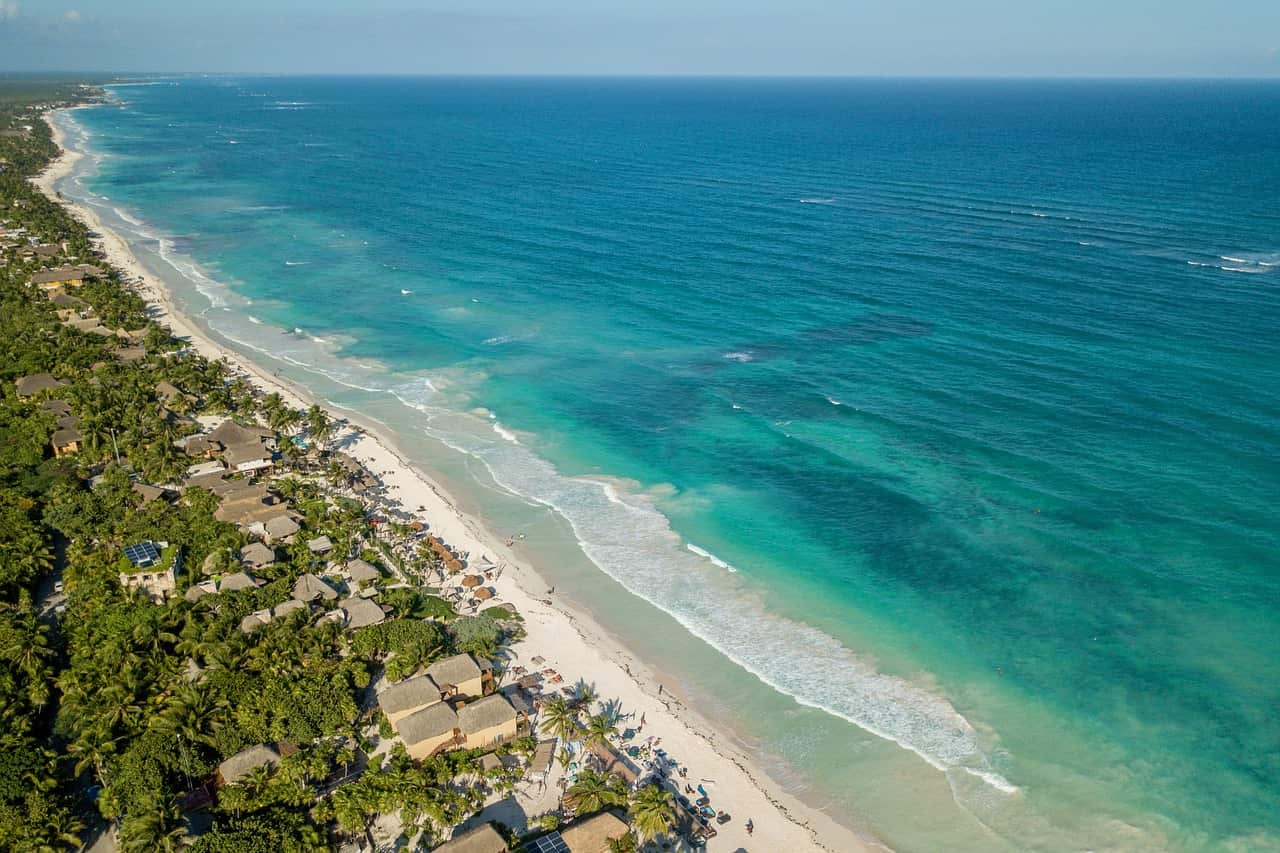 Rent a car at Cancun airport and drive to Tulum
If you are planning on doing some exploring while staying in Tulum then I highly recommend renting a car from Cancun airport. The drive to Tulum is very easy to navigate as it's just one long road. It's safe, just watch out for crazy drivers!
Renting a car in The Riviera Maya is a great idea, especially if you are staying in Tulum as everywhere is very spaced out and it's difficult to get to many places like Coba and some of the off the beaten track cenotes without a car.
Take a taxi from Cancun airport to Tulum
This is quite possibly the worst form of transportation from Cancun airport to Tulum and I would only recommend taking a taxi from Cancun airport to Tulum as a last resort. They are going to want to charge you anything from $2000 pesos up. This is more expensive than a private shuttle… If you have pesos, good haggling skills, and speak Spanish, you may be able to get them down to $1500 pesos, I have been offered this rate in the past as I'm a local. But I wouldn't count on getting them down this low.
Taking a taxi from Tulum to Cancun airport on the way back is a different story. It should cost around $800 pesos. Ask around in town for the number of a reliable driver.
Word of Warning About the Taxi Drivers
The taxi drivers in Cancun airport are notorious for trying to trick people into getting a taxi. So, word of warning, never believe anything the taxi drivers might tell you. If they tell you the rental car place is closed, or the busses aren't running, or anything that would make you have to use a taxi, chances are they are lying. They will do anything to get you in their car. So, whatever they tell you, pay no attention and see it for your own eyes before believing their stories.
They also like to change the prices, add on extra charges, do whatever they can to get as much money out of you as they can. Not all of them of course. Most of them are honest people just making a living, but please if you use a taxi do so with caution and always agree on a firm price BEFORE you get in.
Take a colectivo from cancun airport to Tulum
If you want to travel from central Cancun to Tulum it is also possible on a shared shuttle, known as a colectivo. Unfortunately, there is no direct colectivo from Cancun to Tulum. You would need to travel from Cancun to Playa del Carmen and then take a second shuttle to Tulum. I wrote a detailed guide on how to get from Playa del Carmen to Tulum you can read here.
If you wanted to take a colectivo from Cancun Airport to Tulum you would need to first take the ADO bus from the airport to Cancun, then exit the bus station and cross the road to where you will see a row of while minibusses with a few guys shouting Playa del Carmen. Get on there and travel to Playa del Carmen. Once you arrive ask the driver as you are leaving where the bus to Tulum is and take that. In all honesty, it will take you a long time, you would need to change buses 3 times, and it won't even save you much money. So if I were you I'd just take the ADO bus from Cancun to Tulum. Far easier!
Need somewhere to stay in Tulum?
I wrote a whole post to help you decide the best area in Tulum to stay with my recommendations depending on your budget. I also wrote a guide to the top boutique hotels in Tulum, Where to stay in Tulum, and The Best Hostels in Tulum Mexico.
But if you are too lazy to read the full post, here are my top Airbnb picks!
Studio near Tulum Town with Rooftop Pool
Feng Shui Apartment with shared pool in Tulum Town
Boho-chic Apartment with private rooftop pool in between Tulum beach and town
Traveling in the Riviera Maya? Click to read my guides to accommodation in Playa del Carmen, and Cancun