Wondering where to go in Mexico and need a Mexico Itinerary? In this post, I'm sharing with you my Mexico backpacking route. I've lived and traveled extensively in Mexico and although all of the information in this post is great for anyone traveling or backpacking in Mexico, it does contain a lot of information specifically for Solo female travel Mexico.
So, if you are planning a trip to Mexico here on my blog you are going to find everything you need to backpack Mexico.
Here are some epic Mexican quotes to get you excited about your trip.
Did You Get Travel Insurance Yet?

The Insurance companies I recommend are Hey Mondo, Safety Wing, and Travel Insurance Master

Hey Mondo is great if you are looking for a great value flexible policy. They offer single-trip cover, annual multi-trip cover, and long-term travel cover. Safety Wing is great value, with monthly coverage starting at $39. It's super easy to use, and it just renews each month. I currently use them as they offer me free cover for my son as part of my policy. I also use Travel Insurance Master for short trips.

Read my full travel insurance post here, where I go into detail about all companies.
Getting Around Mexico
Traveling around Mexico is actually pretty easy. As there isn't a cross-country train service the two options are, bus or plane. The buses in Mexico are pretty cheap, very reliable, and easy to use. But it is a large country and so the journeys can be long. If you are pushed for time I recommend making some of the longer journeys by plane rather than by bus. I've made recommendations below, but just take a look at the map above and you can see the distances.
To help you decide where to go in Mexico, on the 4 week Mexico Itinerary I've tried to add in some stops between places so you could quite easily do this whole route by bus if you wanted to. That said you might prefer the comfort of flying. Flights are generally reasonable, so long as you book in advance.
I have extensive travel guides detailing the best ways to travel in Mexico:
The Best Way To Get From Cancun Airport To Tulum
How to get from Cancun airport to Playa Del Carmen
How To Get From Playa del Carmen To Tulum
How To Get To Cozumel – Cancun To Cozumel
How to get from Tikal in Guatemala to Tulum in Mexico
How To Get To Isla Holbox Mexico
Quick Tip: I highly recommend booking all of your Mexico transportation with GottoGo. You can search for buses, shuttles, ferries, and Flights on their website. What I love most about them is their customer service. I know these guys personally from my time living in Guatemala and they look after their customers.

If anything happens and you get delayed and miss your bus, you can just call them and they are always there to help. If you book through them you will pay a little more than if you book in person at the bus station. But it's worth it for the ease and security. Click here to search for transportation in Mexico.
The Best Backpack Route Mexico
Ok so here it is, what you have all been waiting for my Mexico travel route to help you figure out where to go in Mexico.
As most people fly into Mexico City I'm going to start there. But you could also do this in reverse and fly into Cancun airport. Likewise, if you are traveling overland you can either cross the border from Belize up to Chetumal in Mexico. If you do this then I'd start in Bacalar and then work your way around Yucatan before flying from Cancun to Chiapas, then continue the route from there. Or if you cross the border from Guatemala then you will arrive at San Cristobal de las Casas first. From there you can pick up the route and go either way.
Chapala
Veracruz
Palenque
Yes, there are areas I've skipped, but you can easily add them to your Mexico backpacking itinerary if you have more time. For some recommendations of the best places to visit in Mexico check out this blog post. The same goes for removing things if you have less time. This Mexico backpacking route is suitable for solo female travelers, I'm not advising you to go anywhere unsafe.
This Mexico travel route starts in Mexico City and ends in Cancun and I have it marked in on the map above in this direction. In this, I have included the best tourist places in Mexico as well as some Mexico points of interest that you should try and visit if you can. Of course, it goes without saying that there are many incredible places to visit that aren't considered tourist destinations in Mexico. So if at all possible try and leave some time in your schedule to get off the beaten track a little and explore some new places.
Quick Tip: Book accommodation, tours, and transport ahead of time online to save money and stress.
Best Mexico Tours: Click here to check out the top Mexico tours
Best Mexico Accommodation: Click here to check out the best accommodation in Mexico
Best Mexico Transport: Click here to book a bus, ferry, or train in Mexico
Mexico Adventure Travel Musts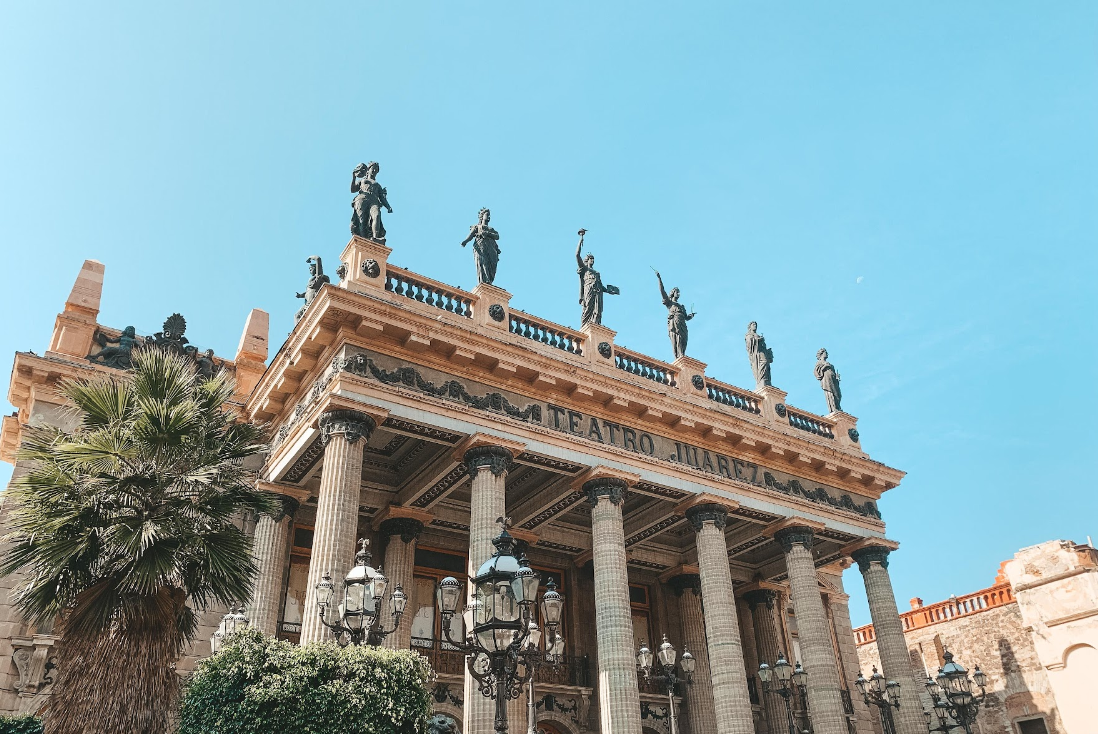 If you are looking for some adventure highlights in Mexico there are a few things you should think about doing. The number one thing I would recommend doing is Scuba Diving. There are so many incredible diving adventures to have in Mexico that I wrote a whole blog post about them that you can read here.
Another must-do while backpacking in Mexico is exploring some of the ancient ruins. Everyone knows about the world wonder that is Chichen Itza. But the Riviera Maya is teeming with ruins. You have Tulum, Coba, Ek Balam, and some off-the-beaten-track ruins. Then you also have Aztec ruins just outside of Mexico City Teotihuacan to be explored. Check out this hot air balloon tour over Teotihuacan. You can even check out the Calakmul Ruins hidden deep in the jungle too.
Some other Mexico highlights include:
QUICK TIP: Book your tours, rental cars, and transfers through my local contacts

I've been working with Living Dreams Mexico for years and they are who I send all my family and friends to when they visit the Riviera Maya. I really can recommend them enough for private tours and experiences. They have solid 5* reviews on Trip Advisor and Google from almost 4000 reviewers! You can view all their tours here.

If you're looking for private airport transfers and rental cars then Vanessa and Oliver from Turismo Channel are personal friends of mine and I can 100% recommend them to make an inquiry click here and complete the form. Someone will be in touch within 24 hours.
Where To Go In Mexico | Mexico Trip Itineraries
It's really hard to give you a one-size-fits-all best places to visit in Mexico travel itinerary, but I'm going to try. Of course, the more time you have the more places you can explore. My advice would be if you have more time to stop off at some of the smaller pueblos in between the main 'tourist' cities and pueblos. Less is more in Mexico so don't try and cram in too much. Instead, take your time to get to know a place by staying a little longer.
On this where to go in Mexico trip itinerary, I've included the most popular places people visit and linked to more detailed helpful guides if I have them. This is not only a backpack route Mexico but will also suit other types of travelers too as it includes all of the main tourist attractions you will not want to miss while in Mexico. PS read these travel tips for Mexico before you plan anything.
Recommended Mexican Tour Companies

These are companies I 100% recommend booking activities within Mexico.

Where Sidewalks End – One of my favorite Mexican based. companies offering boutique travel experiences you won't find anywhere else.

Turismo Channel – If you are traveling to Playa del Carmen then I recommend booking through my friend Vanessa at Turismo Channel. You can check out their tours by clicking here and us code claire10off for 10% off group toursYou can also send her a WhatsApp message quoting the code to receive the discount.
One Month in Mexico
If you have one month in Mexico, this is the route I would recommend you take time to see as much of Mexico as you can.
Mexico itinerary for 1 month:
Mexico City (3 nights) – 3 nights is the minimum I would personally recommend staying in Mexico City. If you can spare an extra day, then stay for 4. I wrote a full accommodation guide to help you decide where to stay in Mexico City. But wherever you stay, I use Uber to get pretty much everywhere as it is so cheap. Things I'd recommend are visiting Tenochtitlán and going to the Lucha Libre wrestling! If you want, you can also figure out how to visit Las Grutas de Tolantango from here too!
Guanajuato (1 night) – From Mexico City take a bus to Guanajuato which is about a 6-hour bus ride, or a short flight away. Here you can enjoy the colonial architecture and soak up your first taste of a Mexican pueblo. To make the most of your time here I'd recommend doing this tour from Guanajuato City to San Miguel de Allende.
Guadalajara (1 night) – Take another flight or the bus is just over 3 hours to Guadalajara. I'd suggest exploring Guadalajara and then head down to Lake Chapala, this can also be done as a day trip easily if you don't want to move around so much. Tequila is also a short day trip if you have time. You can take the Tequila express train from Guadalajara and back in a day.
Chapala (1 night) – From Guadalajara, you can easily take a bus, or rent a car and drive to Lake Chapala. Spend at least 1 day here, more if you can as there are other places around the lake to explore. I love neighboring Ajijic oh and try to visit the Thermal Spa. If you spend the night in Chapala I highly recommend staying in Villa 1927 Arthotel Boutique right on the lake.
Puerto Vallarta (2 nights) – Time to hit the beach! The flight here from Guadalajara/ Chapala is 50 minutes and the bus is just under 6 hours, so it's all going to depend on time. Puerto Vallarta is a popular Mexican coastal town, but not as 'gringoed' as the Riviera Maya. It's also a super nice drive if you want to rent a car. If you drive on the northern road you can hit up Sayulita and anywhere else in Nayarit first. Or if you go on the southern road then go to PV first and head to Nayarit after.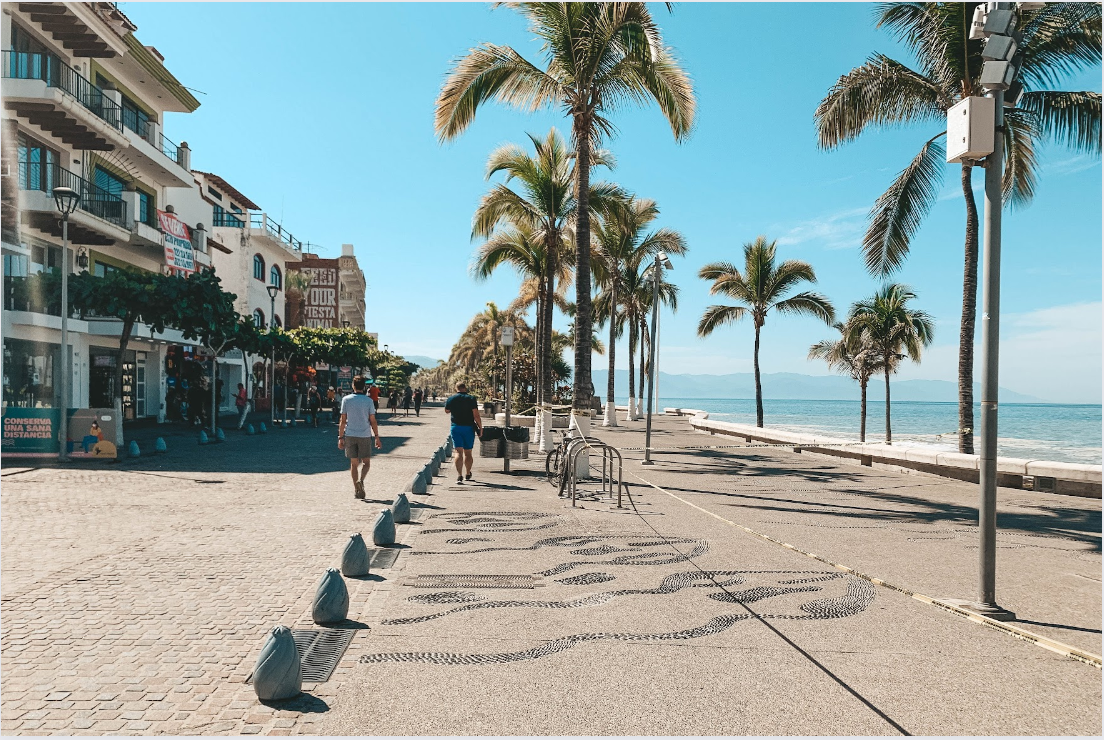 Sayulita: From Puerto Vallarta, if you have time I would also strongly recommend paying a visit to Sayulita. You can read all about how to get to Sayulita here. There are so many things to do in Sayulita you can easily stay here a few days or weeks if you have the time. Number 1 thing to do of course is surfing! Wondering where to stay in Sayulita, don't there are many amazing properties, you will be spoilt for choice! You can book a surf trip in Mexico with Thermal
Oaxaca (2 nights) – You are going to need to fly this leg of the journey unless you don't mind a 20-hour bus ride! But you can't skip Oaxaca. If for nothing else, this is where you are going to be eating some of the best Mexican food. Plus Oaxaca city is beautiful and full of brightly colored colonial buildings. If you have some more time then head to the beach town of Puerto Escondido for some chilled beach and surf town. I'd strongly recommend trying to fit in at least 2 nights here if you can!
Veracruz (2 nights) – To get here by bus it's likely to take 6 hours, or you can fly but as there are no direct flights it will take you just as long. Like most places on this list, you are going to want more than 2 days here, but if it's all you have then it will do. In Veracruz, you will find mountains, volcanoes, Magic Towns, rivers, the ocean, forests, amazing waterfalls, archeological sites, and a lot of good seafood! I have so many friends from here and all they talk about is how amazing the food is!
San Cristobal de las Casas (2 nights) – Oh how I love San Cris if it didn't get so cold here during the winter and there was a beach close I'd move there in a flash! Ok so to travel here by bus from Veracruz will take about 8 hours. So if you need to save time then skip Veracruz and just come directly from Oaxaca. But whatever you do, don't skip San Cris. There is a lot to do here and you could easily spend a week or more here hiking, chasing waterfalls, and shopping for textiles and precious gems at rock bottom prices.
Palenque (1 night) – I've added in a stop at Palenque to break up the long-ass bus journey from San Cris to Campeche (if you want to take the bus. If you are planning on flying, then just fly direct from Tuxtla airport (just outside San Cris) to Merida and skip Palenque and Campeche. If however, you are interested in learning more about Mayan Culture then I recommend visiting Palenque. It's about a 7-hour bus ride, or you can fly direct on a small plane here.
Campeche (1 night) – The bus ride from Palenque to Campeche takes just under 6 hours on a direct bus. Campeche is often forgotten about by visitors to Yucatan. Most people skip over it in favor of Merida. But if you can I'd recommend stopping here for at least a night. UNESCO named it as a model of a colonial baroque city planning. Not only is it a World Heritage Site because of its beautiful colonial architecture, but it also has 17 archaeological sites including Calakmul, which is the largest Mayan city that has been discovered.
If you like this Ultimate Mexico backpacking itinerary, save it in your Stipple trip planner where you will find destinations, things to do, and accommodation all in one place without juggling between several apps.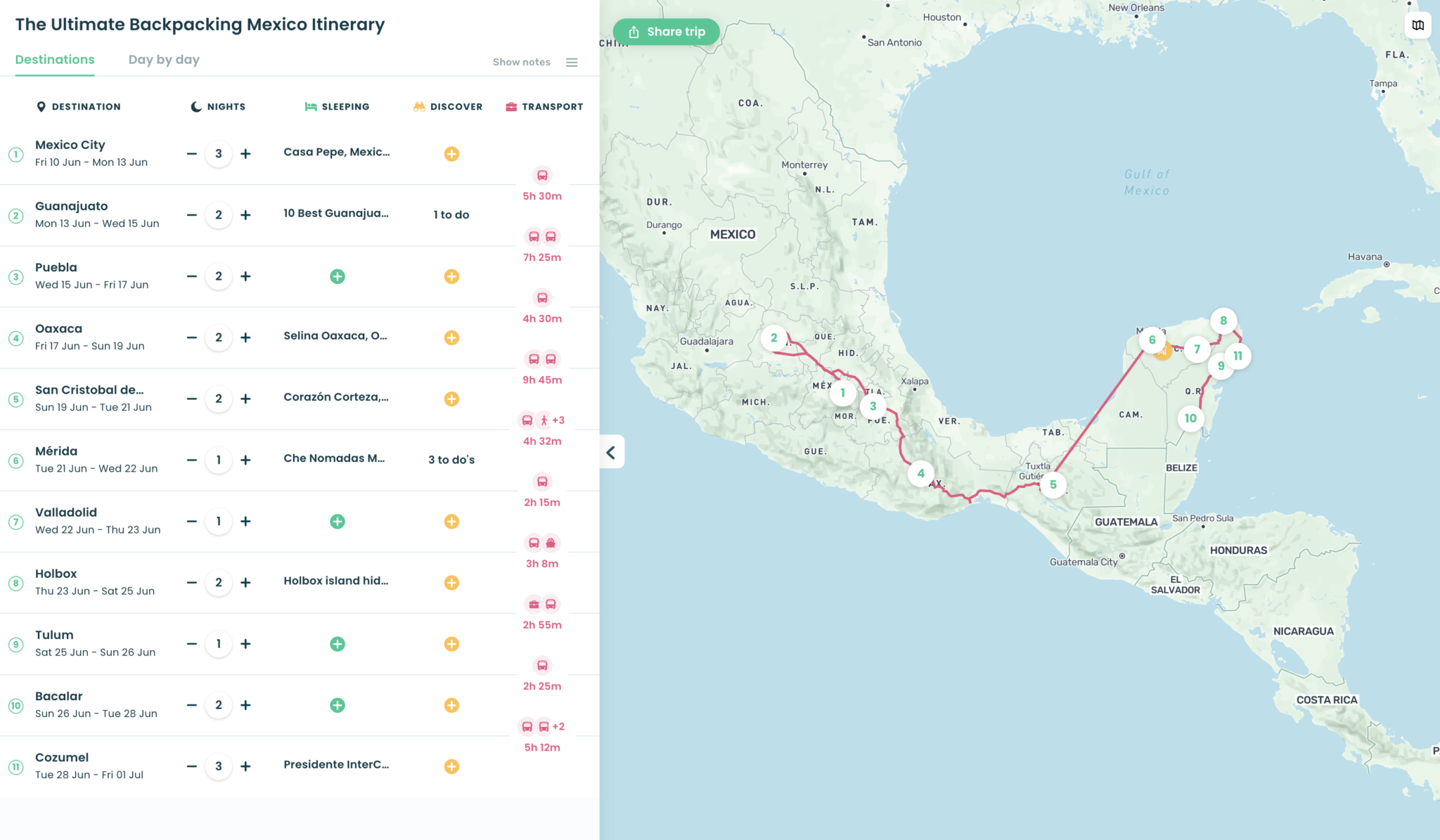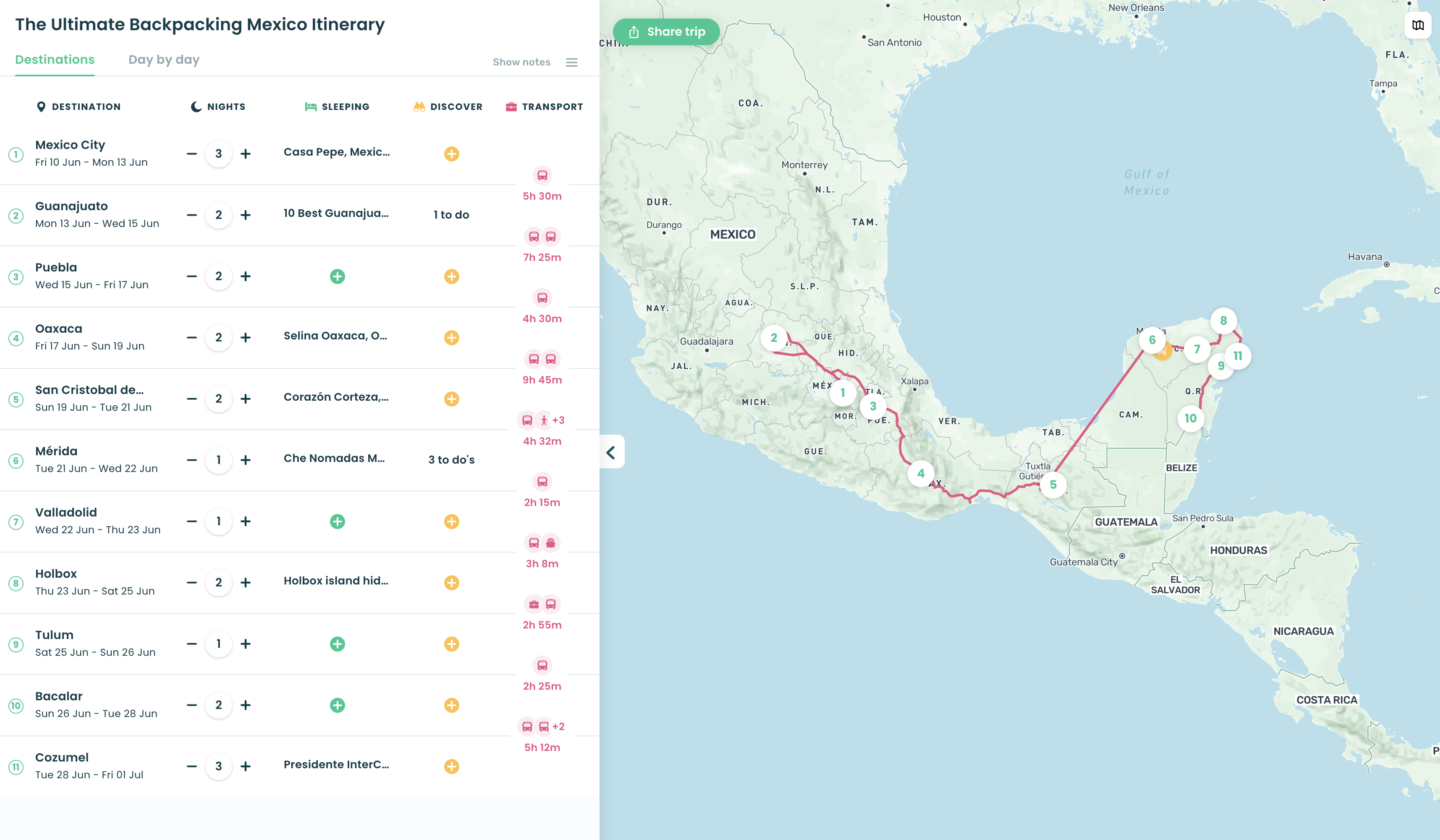 Merida (2 nights) – Merida is the capital of Yucatan and it is brimming with culture! It can get very hot in the summer months, so be sure to book accommodations with AC if you can. As well as exploring the city from here you can easily access Chichen Itza. So you could save time by skipping Valladolid and spending a night at Chichen Itza and just see Chichen as a day tour. Then you can head directly to Holbox, or to Playa del Carmen by bus.
Chichen Itza (1 night) – If you have the time I recommend spending the night at Chichen Itza to see the light show! Then get up early the next morning and explore during the daylight before all of the tour buses turn up! Or if you really want to save time then you can fly to Chichen Itza with Fly Cozumel.
Valladolid (1 night) – This is a place you can skip if you need to make up time. But it's a nice little pueblo that can help to break up the journey if you have time. Buses run directly here from Merida, and Colectivos run from Chichen Itza. Both are frequent and the journey is short.
Isla Holbox (2 nights) – To get to Holbox from Merida or Valladolid is a direct bus to Chiquila and from there you will need to take a boat out to the Island. Click here for a full breakdown of how to get to Isla Holbox. Holbox is where I go on vacation. If I need a weekend away from work and need to go somewhere I can completely relax and get offline, I come to Holbox. Be warned you will not get hardly any signal here, and wifi is inconsistent at best. But it's about as close to paradise as you can get. Want to do some activities while on the island? Take a read of my guide to Holbox here.
Playa del Carmen (2 nights) – Yes, I know I may be biased as I lived here for a few years. But once you arrive in the Riviera Maya, Playa really is the best place to base yourself. It's cheaper and easier to navigate than Tulum and Cancun and you can walk pretty much everywhere. Plus it's easy to take colectivos to Cancun, Puerto Morelos, Tulum, and even to Bacalar (although I'd recommend taking the bus). Plus it's just a short ferry ride to Cozumel. You can take a bus or colectivo direct from Chiquila to get here. There is so much to see and do 2 days can easily become 2 months… or in my case 3 years haha.
Tulum (1 night) – One night is enough to check out Tulum. Arrive early and visit the Tulum ruins then spend the rest of the day exploring Tulum, or just chill on the beach. If you can spare a few extra days head to Coba ruins and go diving in some Cenotes. If you have time I'd also highly recommend trying to do a tour of Sian Ka'an. It's not cheap but so worth it! You can either take an ADO bus here from Playa or hop in a colectivo.
Bacalar (2 nights) – It's going to take you the best part of a day to get here from Tulum, but it will be worth it for the view. Bacalar is beautiful and here you can chill for a couple of nights and reflect on the amazing time you have had exploring Mexico! You can take an ADO bus from Tulum, or a colectivo. Personally, I'd choose the bus for comfort unless you are on a very tight budget.
Cancun/ Isla Mujeres (1 night) – Time to start making your way back to the airport! It will take you most of the day to get from Bacalar to Cancun. You can either stay at a hotel close to the airport or if you have more time skip Cancun and stay in Isla Mujeres… This won't work if you have a morning flight. but if you have an afternoon or evening flight I'd recommend it so you can check out one of the most beautiful beaches in the world!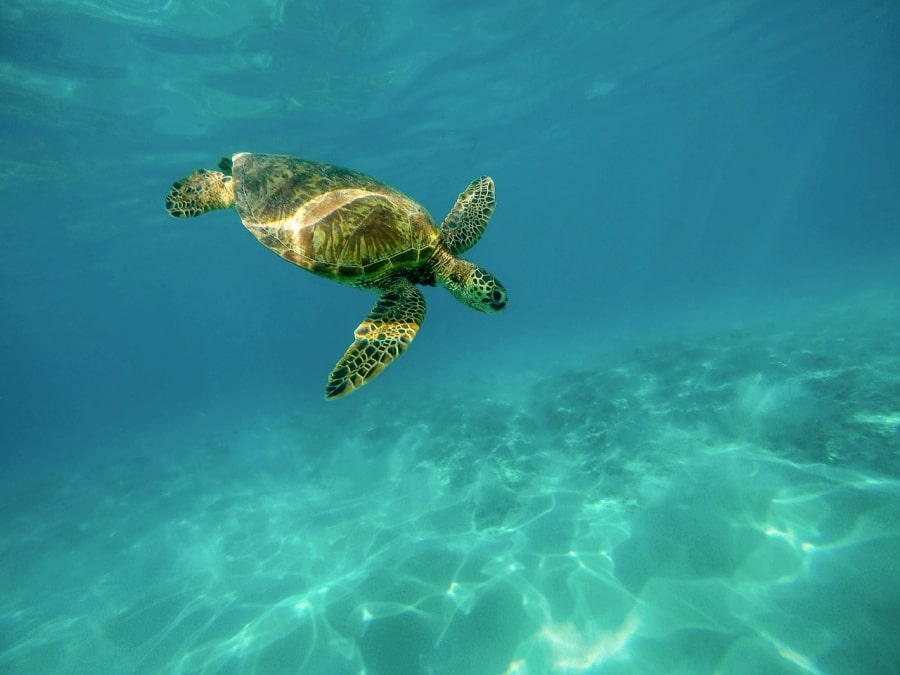 Three Weeks in Mexico
Only have three weeks in Mexico? No problem. You won't be able to see the whole of Mexico during this time, but with this itinerary, you can make the most of your 3 weeks in Mexico.
Mexico itinerary for 3 weeks
Two Weeks in Mexico
Got two weeks in Mexico? Then use this Mexico itinerary to help you make the most of your short vacation. I'm not going to lie, 2 weeks in Mexico is nowhere near enough time, but you can see a few of the most popular places and get a feel of the Country. You will need to fly between some places if you want to make the most of your time. But in some places, you can catch a bus and it won't take longer than half a day.
Mexico two week itinerary:
Two Weeks in Yucatan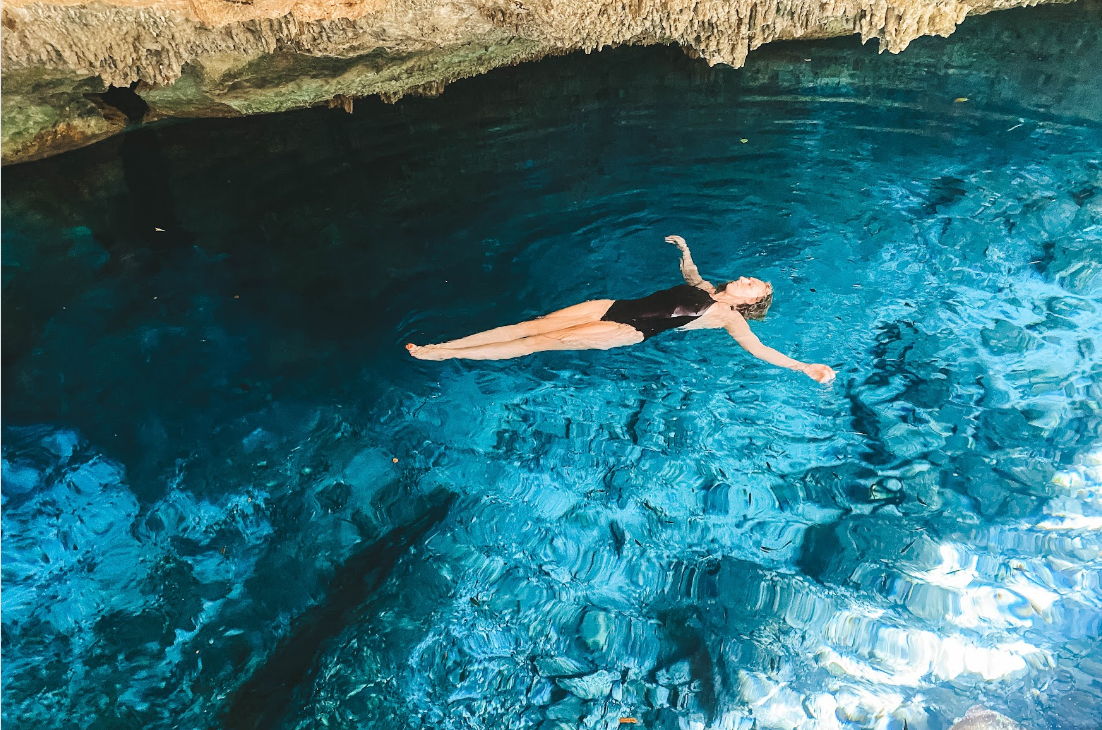 I've created this 2-week road trip itinerary for Yucatan as in reality 2 weeks in Mexico just isn't a lot of time. Personally, I'd visit half as many places as I've added to this list. But if you do only have 2 weeks and want to fit in as much as you can, then this is what I would recommend doing.
Yucatan 2 week itinerary:
A week in Mexico
1 week in Mexico is really not enough time. But if it's all the time you have, then it's all the time you have. You can make the most of your time by flying from place to place, otherwise, you will be wasting 3 days on a bus. I'd strongly recommend only packing hand luggage as the budget Mexican airlines like to charge a lot of money for baggage!
See my Ultimate Mexico packing list on Amazon!
Although you could easily spend 7 days in any one of these places If you want to cover as much ground as possible in your 7 days in Mexico then with this you will be able to visit 3 very different places in Mexico to give you a real feel for just how diverse and wonderful a country Mexico really is.
Backpack Mexico itinerary for 1 week:
On this Mexican itinerary, you will fly into Mexico City and then fly out of Cancun. If you are backpacking and coming up from Guatemala then I recommend taking a bus from Guatemala to San Cristobal and then heading to Oaxaca for a night or 2 before traveling to Cancun.
I've not specified where you should visit in the Riviera Maya, because that really is up to you. Personally, I would choose Playa del Carmen and Tulum over Cancun. But then there is also Holbox, Isla Mujeres, and Cozumel to choose from. If you want to explore, choose Playa del Carmen as it's pretty central. If you just want to crash on a beach for a few days, choose Holbox or Isla Mujeres.
The Best Hostels in Mexico
I've listed all of the best hostels in Mexico here on this page. However, I do also have more detailed accommodation guides for Mexico City, Cancun, Playa del Carmen, Cozumel, Holbox, and Tulum.
Other Important Things to Consider When Backpacking in Mexico
There are some other common questions people ask about when traveling to Mexico so I've tried to answer them as best I can here.
If you are wondering what to pack I have some great packing guides you can read:
The Ultimate Packing List For Mexico
Other than that there isn't much you really need. Most countries can enter Mexico on a tourist 'visa' which is good for 180 days. After 180 days, you will need to leave the country. If you want to return you will need to stay away for at least 3 days before re-entering. If you enter overland then make sure you tell them you will be in Mexico for longer than a week and make sure you pay the fee for the full 1890 day visa. If you don't they will only give you 7 days to transit. If you fly into Mexico the cost is covered as part of your ticket, so you don't need to worry.
Quick Tip: View my full Mexico packing guide here including a downloadable checklist. And check out my Mexico Essentials shopping list here.
Mexico Travel Guide Planning
🧳 Any recommendations on what I should pack for Mexico?
Yes! I have created a whole packing guide to Mexico which you can read here and you can also check out my packing list for Mexico on Amazon here.
🚗 Where can I book bus or private transportation while I'm in Mexico?
I strongly recommend using GottoGo. You can book almost all transport in the major Mexican tourist destinations through them online. They don't just cover buses they also cover shuttles, ferries, and private drivers.
🎫 Where can I buy tickets for museums, attractions, and tours in Mexico?
First and foremost check out all of the amazing Mexico tours Where Sidewalks End has. They are a small local company and they have some really special experiences.
For everything else I recommend either Viator or GetYour Guide.
If you are traveling to Cancun you can use GoCity and save up to 55% of the initial cost of entrance tickets to various museums, tours, and attractions!
If you are traveling to Playa del Carmen then I recommend booking through my friend Vanessa at Turismo Channel. You can check out their tours by clicking here and using the following discount codes for the best prices clairecaroff (car rental), claire10off (for 10% off group tours), claireprivate (for a discount on private tours). You can also send her a WhatsApp message quoting the above codes to receive the discount.
👩‍⚕️ What is the best insurance to have while traveling?
I recommend using Heymondo for a great value policy. The app also offers you 24/7 Dr Chat. For Digital Nomads check out SafetyWing digital nomad insurance.
I have also written a blog post covering all my recommended travel insurance here
✈️ Any flight recommendations?
WayAWay offers you cheap flights with cashback. You can use this code CLAIRE22 to get 10% off. Otherwise Skyscanner or Expedia are my go-to flight searching platforms.
📱What do you use for internet connection while traveling?
I'm a big fan of personal WiFi devices and they have saved my ass so many times when traveling. I wrote a full review of the top travel WiFi devices you can read here. I personally use GlocalMe as I can either pop in a physical sim card or use their local carrier.
With regards to my phone connection, I use e-sims while traveling, so rather than having to swap out my regular sim card I can download the app and buy a virtual sim card. I recommend using eitherAirhub or Alosim. Both have great coverage of multiple countries and are very easy to use.
🛏️ What is the best platform to use for booking accommodation?
The 3 best platforms that I normally use are Booking.com, Hotels.com, and Expedia They offer great deals and multiple options. I always check all three to be sure of the best deals.
🛅 Do you have any luggage recommendations for traveling?
I do have a complete list of the best packing and luggage products that I recommend, you can check the list here. I'm currently traveling with this suitcase and this backpack.
Solo Female Travel Mexico
Looking for solo travel Mexico information? I personally traveled to Mexico solo and had no issues at all. I'm not denying that there are some safety issues you need to take seriously, however, if you are planning a trip to Mexico alone I have a few guides you can read that will help you get prepared.
See my Ultimate Mexico packing list on Amazon!
Is it safe to travel to Mexico alone? Absolutely! Do you need to be prepared? YES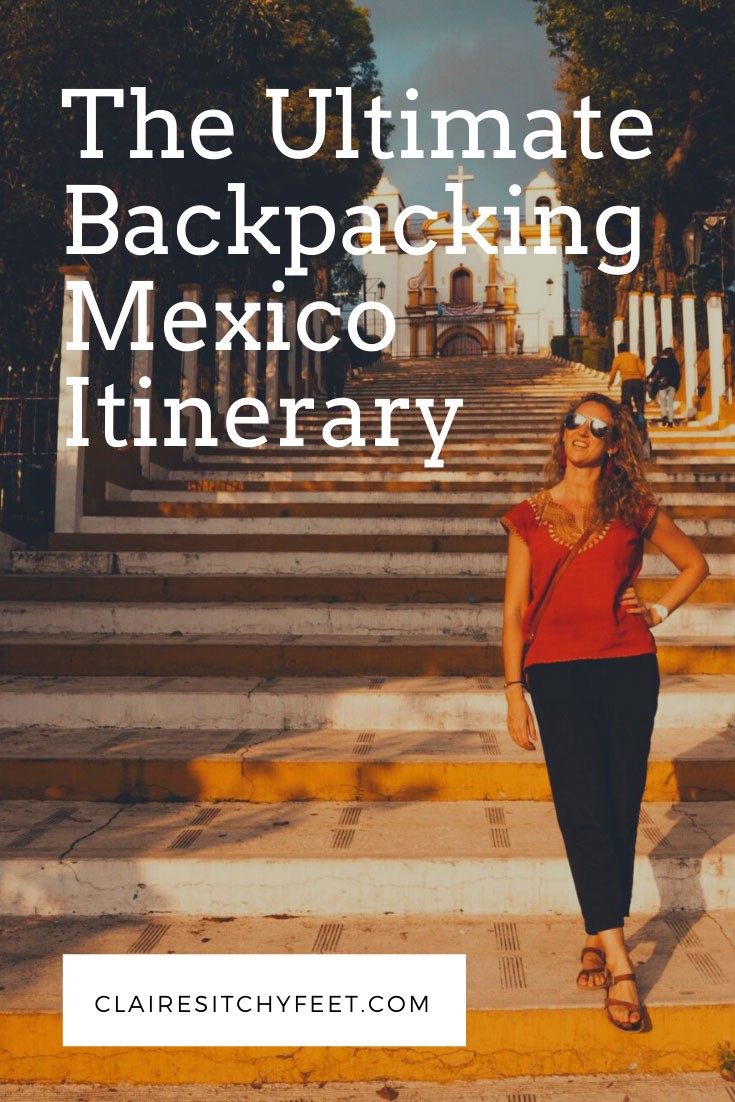 Final Thoughts
And that's it! My where to go in Mexico ultimate Mexico backpacking route! I hope it has been of use to you as you prepare for backpacking in Mexico. Feel free to reach out if you have any specific questions that I don't answer on this Mexico blog!