In this post, you will find the perfect Budapest 2 day itinerary according to guest blogger Jacob from Travel Lemming. Here's what he had to say.
After a year of deliberation, I decided to pull the trigger. I started working online, left college, bought a one-way ticket to Europe, and figured things out along the way.
When most people think about a trip to Europe, they picture the Eiffel Tower, Big Ben, or The Colosseum.
While those sites are stunning and a must-see while you're across the pond, they're far from all that Europe has to offer.
In fact, I enjoyed my time in Eastern Europe more than Italy and The Netherlands — the cities are rich in history, boasting beautiful architecture, have terrific sights to see, and are insanely cheap.
Budapest is one of my favorite European cities, and after spending 5 weeks there living and working as a digital nomad, I'd like to share my experience with you!
There's a lot to love about the city, and some mistakes to avoid while you're there. After reading this 2 day Budapest itinerary, you'll be fully equipped to have a blast in the city.
Where to Stay In Budapest
Budapest is actually two cities merged together, once separated by the Danube River, which runs through the center of Budapest.
Buda has an older feel to it, is full of hills, and is a lot calmer than Pest. It is home to the great Buda Castle, Fisherman's Bastion, and The Citadella (more on that later).
On the other side of the river — unlike Buda — Pest is flat, compact, and full of restaurants, bars, and people. It's the hustling, bustling part of the city where you'll never run out of things to do.
Since Buda is more expensive and spread out, I definitely got a feeling of "higher class" on that side of the River. Pest is far more congested and full of bustling people. There was also a noticeably higher homeless population on the Pest side.
Budapest is split into 23 districts, as depicted below (Wikipedia):
I was staying in District VIII, but if I could do it again, I'd definitely stay in either district V (city center), or somewhere else on the Buda side close to the river.
If you want to stay near the center of the action, District V is for you. Otherwise, stay on the Buda side, but know that most restaurants and shops will close in the evening.
You may have to pay a bit more, but rent is cheap either way. In addition, you'll enjoy the more peaceful and high-class side of the city, and you'll only be a short bus ride away from the action.
Here are a few Budapest accommodation recommendations:
Backpacker Budget: Big Fish Budapest or Maverick Student Lodge
Mid: BDPST City Center Hostel Rooms
Hotel: Bohem Art Hotel
Things to See in Budapest
Now I'm going to talk about some of the coolest things to see and do in Budapest.
Unlike traditional tourists who try to see everything they can in a 2-day itinerary, I was living there so my attitude was "eh, I'll get to it later".
I didn't actually do everything there is while I was there, because I was living and working in Budapest as a digital nomad.
For example, I visited a small bathhouse in Budapest (one of the thing's the city is known for) but didn't go to the Gellért Baths, which is supposed to be a really cool spot.
I'd definitely recommend you check it out when you visit!
Honestly, it's hard to get to know the city in just 2 days as there's so much to offer, but I'd recommend knocking most of these off your list while you're there:
Parliament Building
The Parliament Building stands along The Danube River, directly across from Buda Castle. The huge structure is an amazing work of art. I was amazed by the sheer beauty of this building (it's even better in person). But the Hungarian guys I befriended during my time there hated the building. They said it's a zoo for all of their terrible politicians (apparently Hungarians don't like their parliament too much).
Anyway, you're not reading this to talk politics — back to the itinerary.
The Parliament Building is near the center of Budapest, and is a short walk away from the next sight on our list, St. Stephen's Basilica.
St. Stephen's Basilica
St. Stephen's Basilica is located directly across the street from the coworking space where I used to work.
You can step inside to see the beautiful architecture or enjoy its beauty from the outside as you walk through the streets surrounding the Basilica that are lined with shops and restaurants. The Basilica is in the center of Budapest and is right next to a small chimney cake stand, which I frequented more often than I'm proud of (more on that below in the food section).
Budapest Eye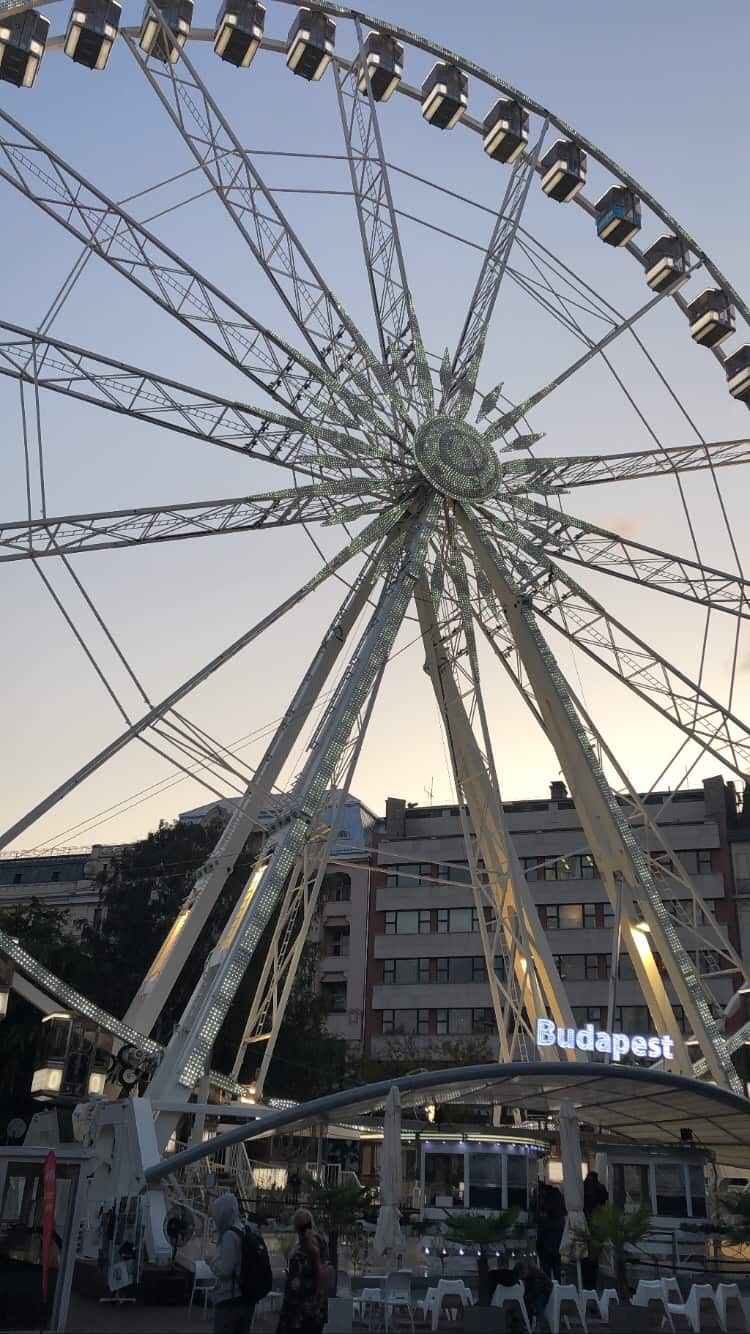 The Budapest Eye is located just a few minutes away from St. Stephen's on foot and is a ton of fun. It's right next to The Ritz Carlton Hotel and a bunch of awesome places to shop and go out at night.
I went up to the top of The Eye at night time and saw a spectacular view of the city, although I gotta say it wasn't anywhere as nice as the view from The Citadella.
Buda Castle
This spot is probably my favorite in Budapest. What's cooler than gazing over an awesome city from an even more awesome castle?
It's right next to the next spot on our list, Fisherman's Bastion, so I kinda lump them together in my mind as one spot.
Here you can see me gazing across The Danube River on my way up the stairs to the top of Buda Castle. The view is amazing, even before you're on top of the castle.
You can walk around the castle and enjoy spectacular views of both Buda and Pest, all while enjoying a delicious ice cream cone.
Buda Castle is on top of a pretty big hill which you can walk up, but if that's not your thing there are also cable cars that'll take you to the top for only a few dollars.
Fisherman's Bastion
Just a few minutes walk from Buda Castle (also on the Buda side) is Fisherman's Bastion, another awesome architectural masterpiece. You can see the whole city from atop the hill which Fisherman's Bastion is constructed, or marvel at the sheer beauty of the building.
As you can see, this church is magnificent, and just like Buda Castle, there's a spectacular view of Buda below.
Citadella at night
Going to the Citadella at night with my friends was easily my favorite thing to do.
After about 15 minutes of walking up a steep incline, you reach the top of the hill where the Citadella lives.
It was constructed after the Hungarian War of Independence (which didn't go so well for them). In the event of any future uprisings, it was a good place to build a fort with a strategic view of both Buda and Pest.
You can learn more about its rich history, but as far as I was concerned, this place had a spectacular view! The Citadella has a 360-degree view of both Buda and Pest. It looks great during the day, but even better at night. I used to gaze off the mountain at the millions of twinkling lights all around, pondering how lucky I was having the opportunity to be there in the first place. It's easily one of the most spectacular views I've ever seen in my life, and if you're visiting Budapest, you should see it too.
Unfortunately, there's no easy way to the top, so if you're a bit older or have a hard time hiking up steep hills, it may not be the best idea for you.
The Danube River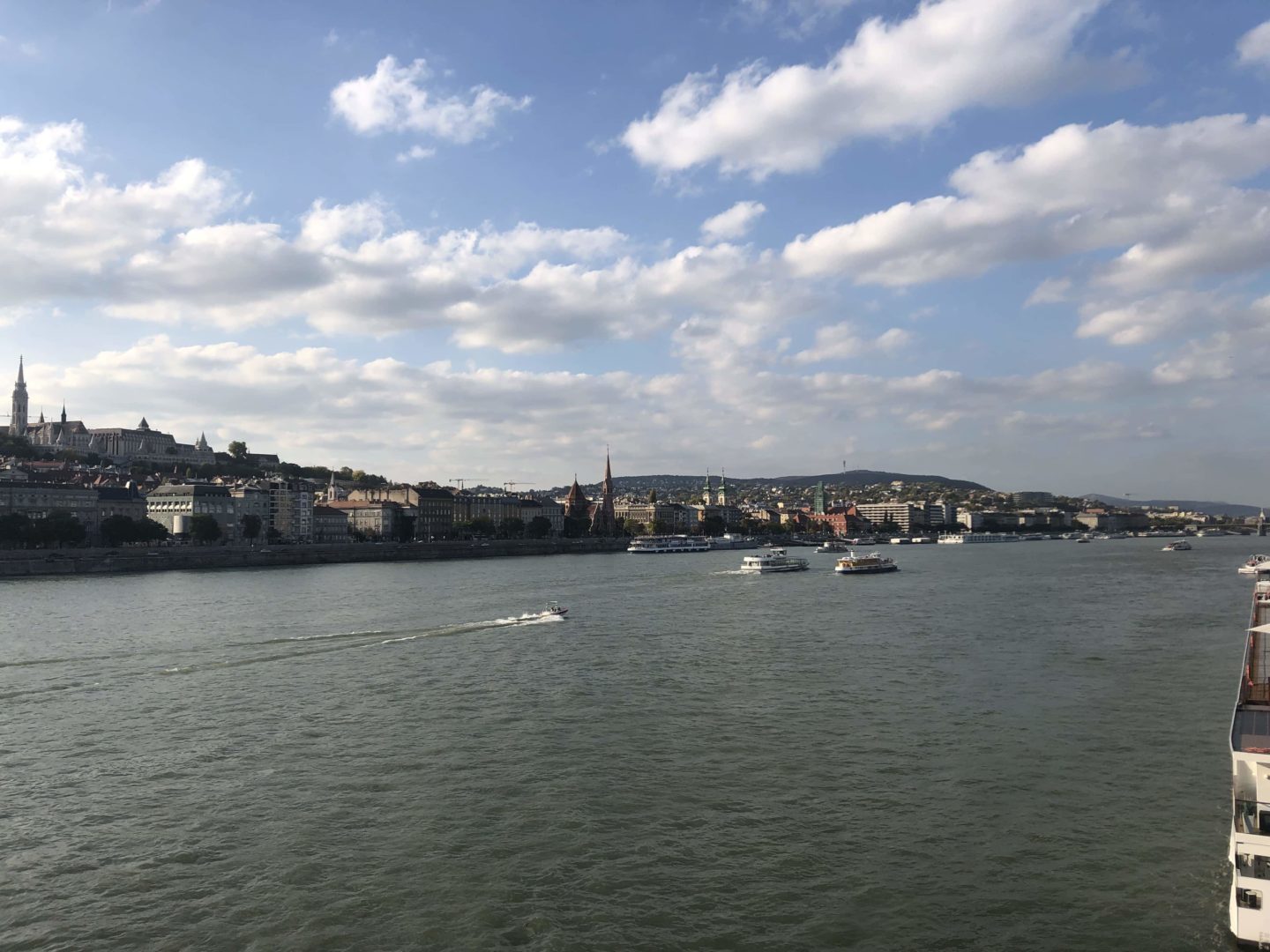 If you're in the mood for a stroll, walking alongside The Danube River is incredibly relaxing. The river is always bustling with boats and people walking along either side of it.
You'll see a lot of the most famous sites in the capital along the way, not to mention some beautiful bridges. I'd highly recommend walking across one of Budapest's eight bridges.
While I was there one of the locals that I met took me out on his Saba 50 Catamaran, an awesome sailboat that took us down the river. If you're not as fortunate to meet a nice local with a boat during the time there, you can always pay for a Budapest boat tour.
Heroes' Square
Heroes' Square is another awesome spot to visit in Budapest. It's a bit farther out from the center of the city (probably a 15-minute bus ride) but is well worth the journey.
The statues there are remarkable, and it's right next to a huge park in Budapest with (you guessed it) another castle and a large pond.
I was actually living right next to Heroes square and passed it on my way to a local cafe where I often used to work.
Nightlife in Budapest
If you want to go out for a night of fun, Budapest has you covered — from bars and night clubs to Spa Parties, this city has it all.
If you want to stay in a good area for nightlife, Budapest's 7th district is considered the nightlife district, but there are plenty of places to go out in the 6th district too. The 8th district is great for those on a budget.
By the way, you definitely can't go wrong in any district near the city center – Budapest is full of bars and clubs.
Ruin Bar – Szimpla Kert
One of the most famous bars in Budapest is Szimpla, a ruin bar.
The guy who owned the coworking space I worked at grew up in Budapest — he said he used to hang out and drink there with his buddies 20 years ago before it became a huge tourist attraction. A ruin bar is just a pub that's in an old building left in poor condition, with random stuff pretty much everywhere. People used to drink in those bars before they became a popular tourist attraction, and as more people began visiting Budapest, ruin bars caught on as a signature part of the city.
Szimpla is an awesome spot to visit once, but I found myself going to lesser-known spots more often to avoid all of the other tourists. However, Szimpla is located next to an awesome outdoor food market where you can get delicious chimney cake and Lángos, a delicious and traditional Hungarian food. It makes for a great snack after a night of drinking.
Budapest is insanely cheap since considering what it has to offer, but the locals would scold me when I bought food in the center of the city.
In my mind, paying $4-6 for a meal was a bargain, but they were used to paying less than $1 outside of the city. For them, I was getting ripped off, but I'd be paying two or three times that much back home.
Spa Parties
Budapest is well known for its bathhouses due to the warm springs below the city. The most popular spa party goes down at Szechenyi Spa & Baths on most Saturdays and looks absolutely insane in advertisements.
However, I was told by a local bartender that they're overpriced and a tourist trap, so I never ventured in myself. A big factor in deciding not to go was that I was on a work trip, and I'm not a huge party person myself. Lastly, I hate falling victim to overtourism and prefer to take the road less traveled.
But if that floats your boat, by all means, go crazy!
Some Things I Didn't Like About Budapest
Although I loved my time in Budapest overall, there were a few things I didn't like about the city.
Homelessness
For one, there's a terrible homeless population there. Pest especially has a problem with it, but I definitely saw my fair share of characters high on god knows what stumbling around on the Buda side too (but less often).
Of course, any big city is going to have a problem with the homeless, but I'd say it's especially bad in Budapest when compared to a city like Krakow, Poland.
Pest is a Bit Filthy in Some Areas
Because of the large homeless population, they pee in the streets… pretty often. In fact, the district I was staying in near the city center is called "the piss district". When I first arrived in the city, I noticed the sidewalks looked like they had water trails on them. I'd first thought it was from gutters atop the buildings or something. But after asking the locals about it, they replied: "Nah man, that's just piss from the homeless".
I felt like every street, alley, and subway station had a homeless person begging or passed out next to a bottle of booze. It's quite a sad scene. I hate to say it but you definitely get used to it after a while, making sure to step over any suspicious liquid on the sidewalk…
Crime in Budapest
The locals warned me to watch my pockets in more populated areas, saying that some criminals will walk up to you with a hot knife and cut open your pocket to steal its contents. To be fair, this never happened to me, but it's something to be cautious of. But again, this is an issue you'll have to deal with in just about any large city.
Use common sense, and you'll be fine.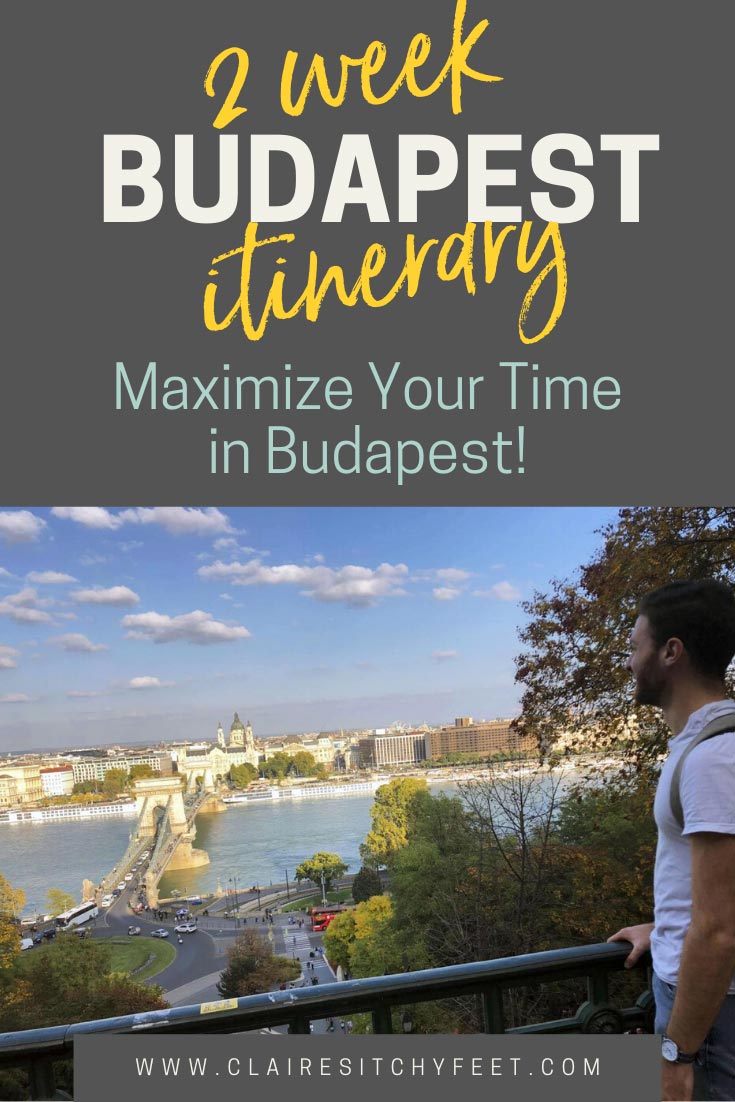 Conclusion
Budapest has a lot to offer for all sorts of travelers. Unlike Bali and Thailand — often referred to as 'the freshman dorms of being a digital nomad' — Budapest attracts tourists from all over the world.
Whether you like history, architecture, spectacular views, delicious food, amazing nightlife, peaceful parks, and more, Budapest has got it all for an incredibly low price.
I'd highly recommend adding Budapest to the top of your list!
Jacob from overtourism
Are you ready to book your trip?  To help you get the best deals and service here are the companies that I personally use to book all of my travel online. I always shop around before booking anything, but these are my tried and tested starting places.