Wondering how to become a digital nomad? After 3 spending almost 6 years on the road as a digital nomad, I feel like I've learned a thing or two about what not to do.
Becoming a digital nomad isn't always an easy road. Most of these things I had to learn the hard way. Transitioning to this lifestyle can be a bumpy road and a very steep learning curve. So in the spirit of sharing, I decided to put together this list of some things to know before becoming a digital nomad in the hope that you don't have to make the same mistakes as me.
This is a list of 24 digital nomad tips and things I wish I'd been told to help me figure out how to become a digital nomad before becoming a digital nomad.
Did You Get Travel Insurance Yet?

The Insurance companies I recommend are Hey Mondo, Safety Wing, and Travel Insurance Master

Hey Mondo is great if you are looking for a great value flexible policy. They offer single-trip cover, annual multi-trip cover, and long-term travel cover. Safety Wing is great value, with monthly coverage starting at $39. It's super easy to use, and it just renews each month. I currently use them as they offer me free cover for my son as part of my policy. I also use Travel Insurance Master for short trips.

Read my full travel insurance post here, where I go into detail about all companies.
Have multiple sources of income
This is at the top of the list of how to become a digital nomad because unless you are working remotely (doing a full-time salaried job employed by a company with benefits) then you are freelance and therefore have little to no guarantees that your income isn't going to change.
As a freelancer, there have been months when I've had little to no notice that a company is no longer in need of my services. As I'm not employed they can, and will do this. The only way to ensure that this doesn't completely screw you up is by making sure that you have multiple sources of income.
So if one of those income streams is taken away you don't have to call in a loan from the Bank of Mum and Dad…
Currently, my income comes from ad revenue, affiliate marketing, book sales, short-term real estate rentals, and website maintenance. If one of these income streams vanished overnight I'd feel it. But it wouldn't cripple me.
Of course, I only started doing this after losing a big client and having to live off bread and eggs for a month… You live and learn as they say!
Always carry cash and have multiple sources of money
Again, learned this one the hard way. How to be a digital nomad? Always, always have cash (at least $100 USD in clean unmarked notes) and have as many bank cards, credit cards, and prepaid travel cards as you can get. Right now I have the following:
2 US debit cards
1 UK debit card
1 Mexican debit card
1 UK credit card
1 PayPal card
That's a total of 7 cards some are from banks, others from the places where clients pay money to me. Why so many? Because when I first left home I only had 1 bank card and I lost it. I had 3 weeks with no bank card and no way of accessing my money. I had to rely on my parents sending me money via Western Union (yes I did pay them back) until I could get a replacement sent out. I can't even begin to tell you how stressful this situation was. I've also helped out friends in a similar situation. It's one of the downsides to being a digital nomad, and also a freelancer.
PayPal is a nightmare, when it works it's great, but not only do they like taking 5% of your income they can also freeze your money if they like and it can take forever to sort it out. I now predominantly use Transferwise which is much more cost-effective and they have excellent customer service. You can hold accounts in multiple currencies and they have a card you can use to pay in any currency.
One of the worst things that can happen to you when you are living a nomadic life is to find yourself in a foreign country without a way to get money. You can prevent this by having multiple ways of accessing money and not keeping all of your cards in the same place! Split everything up, including your cash!
Don't commit to 3 months in an Airbnb you have never seen
Another thing I learned the hard way when figuring out how to become a digital nomad is to never, I repeat never, commit to 3 months in an Airbnb or an apartment that you have not seen. Unless you have a personal recommendation from someone you trust.
Here's the thing, you may get a great deal, the pictures may look amazing, and it may have a ton of glowing 5* reviews. But things can be very different once you are there. The one thing I've learned after 3 years of solo travel is that location is everything.
When I moved to Bogota I read online a load of blog posts by travel bloggers who had probably only spent a weekend in Bogota that the best place to stay was La Candelaria. So when I found a cute-looking place in La Candelaria that was within my budget I negotiated a deal with the owner where I paid the first month and then I'd stay for 2 extra months and pay her in cash for a cheaper price. But when I got there things were very different!
The cute apartment was a cold damp loft with no natural light and a noisy tin roof. But that wasn't the worst of it, it was in the worst area with high crime and there was a drug dealer living opposite. This meant there were people outside my door 24/7 buying drugs.
More often than not I would have to do a loop of the block to avoid opening my door at night when there were shady-looking people hanging around in the street. It was a total nightmare I was committed to for 3 months! I stuck it out for 2 months before crying to the landlady telling her I could no longer stay and luckily she took pity on me and let me off the hook.
Lesson learned, never again! Always go there in person before committing, ideally go at night too, and listen to your gut!
Keep rent low
I don't know about you, but one of the reasons I wanted to become a digital nomad was that I wanted to have a better quality of life. Back in the UK all of my money went on rent and bills. So becoming nomadic a bit thing for me was cutting down on my monthly outgoings so I could spend less on boring bills and more on living life and having experiences.
It may be tempting to blow a load of money on accommodation but try and keep it to a maximum of ⅓ of your projected monthly income. In general, I easily found accommodation for between $200-400 USD a month which is a very small percentage of my monthly income.
These days as I am traveling with my family we have very different needs (and a much larger budget). But when you are still in the early days of figuring out how to be a nomad then it's going to be important to keep the accommodation budget as low as you can.
Learn the language
Even if you just learn the basics, knowing the language of the country you are going to be living in temporarily will really help you settle in faster. There are lots of ways you can learn if you don't have the time or money for lessons. Just downloading Duolingo helps. I have written a few posts about learning a language abroad which you can read here and here.
Make sure you have professionally drawn up contracts
Finding Pamala from Law for Nomads changed my life. I'm not even being dramatic. Okay maybe I am a little, but she really is an incredible woman and a badass legal advisor for nomads. She has helped me out of several slightly murky situations and she drew up a template contract for me to send clients which has made my life so much easier. She even helped advise me on setting up an LLC and how to form a business in The Republic of Georgia.
If you are a Freelancer then you need a Pamela in your life.
Pack only what you need or are able to carry
how to become a digital nomad 101… perfect packing light!
I'm an over-packer. I travel with some things I don't need. But they make me happy, and after 3 years I know it's important for me to feel at home wherever I am and my bag of crystals, fairy lights, and hair straighteners do that.
That said you probably don't need everything in your bag. So when packing ask yourself 3 questions:
Do I need this? I mean really need it.
If not does it need to be in your bag because it brings you joy?
Can I carry this on my back?
Unless you can answer a hard yes to these questions, take it out of your bag!
You don't need all those shoes
You may think you need 6 pairs of shoes, but you don't. When I'm traveling I have 2 pairs. Some sandals, and my waterproof sneakers (which are good for exploring a new place, hiking, and sports). If I know I'm going to be doing some serious hiking I'll take my hiking boots, as I bought these ones, and they look cute with a dress too.
I wear the shoes that are the bulkiest to travel in, so my shoes don't take up much room. If I have flip flops I clip them to my backpack. But normally I just buy a new pair wherever I'm traveling too.
Shoes take up room and they are heavy. So be tough when deciding which ones to take.
Ziplock bags
I know I shouldn't advocate for the use of plastic. BUT if you buy the good ones they will last forever as you can just wash them out. Having a stash of Ziplock bags is a must for me as I use them for everything from storing food, to protecting my backpack from leaking suncream.
Make a spice bag
Now we're getting into the serious how to be a digital nomad stuff… When you have to move into a new apartment every couple of months you never know what you are going to get in the kitchen. Sometimes there will be a cupboard full of condiments, herbs, and spices. And sometimes there will be nothing at all.
So you have a few options. Cook bland AF food, eat out, and spend a fortune buying new herbs and spices every time to arrive in a new place. Or travel with a spice kit!
So what is this I hear you ask? Basically, I have a small clear toiletry bag which I fill full of different herbs and spices, including salt and pepper. I keep them either in the plastic bag they came in, or I use the ziplock bags. I have everything I need in there to jazz up any meal. It saves me money, and best of all saves me from having to eat boring bland food!
Get a menstrual cup
There are so many reasons to switch to a menstrual cup if you haven't already. But a big one is that tampons aren't available everywhere. And even buying sanitary towels in some countries can be a drama that I personally just don't need in my lift. Menstrual cups are better for the environment, less messy, and just generally more convenient. Plus just think of the money you will save in the long run.
You may need to try out a few to begin with as they are all slightly different.
Always carry a headlamp
It's one of those things I'm always so glad I have. Here are just a few of the things I use it for:
Reading in bed if I'm in a dorm
Power outages so I can keep working (this has happened more times than you could believe
Finding your way home at night
Going to outside toilets at retreat centers
Reading on busses
It won't take up much room and you will be glad you brought it! I have this one as it has rechargeable batteries and it's waterproof.
Invest in quality luggage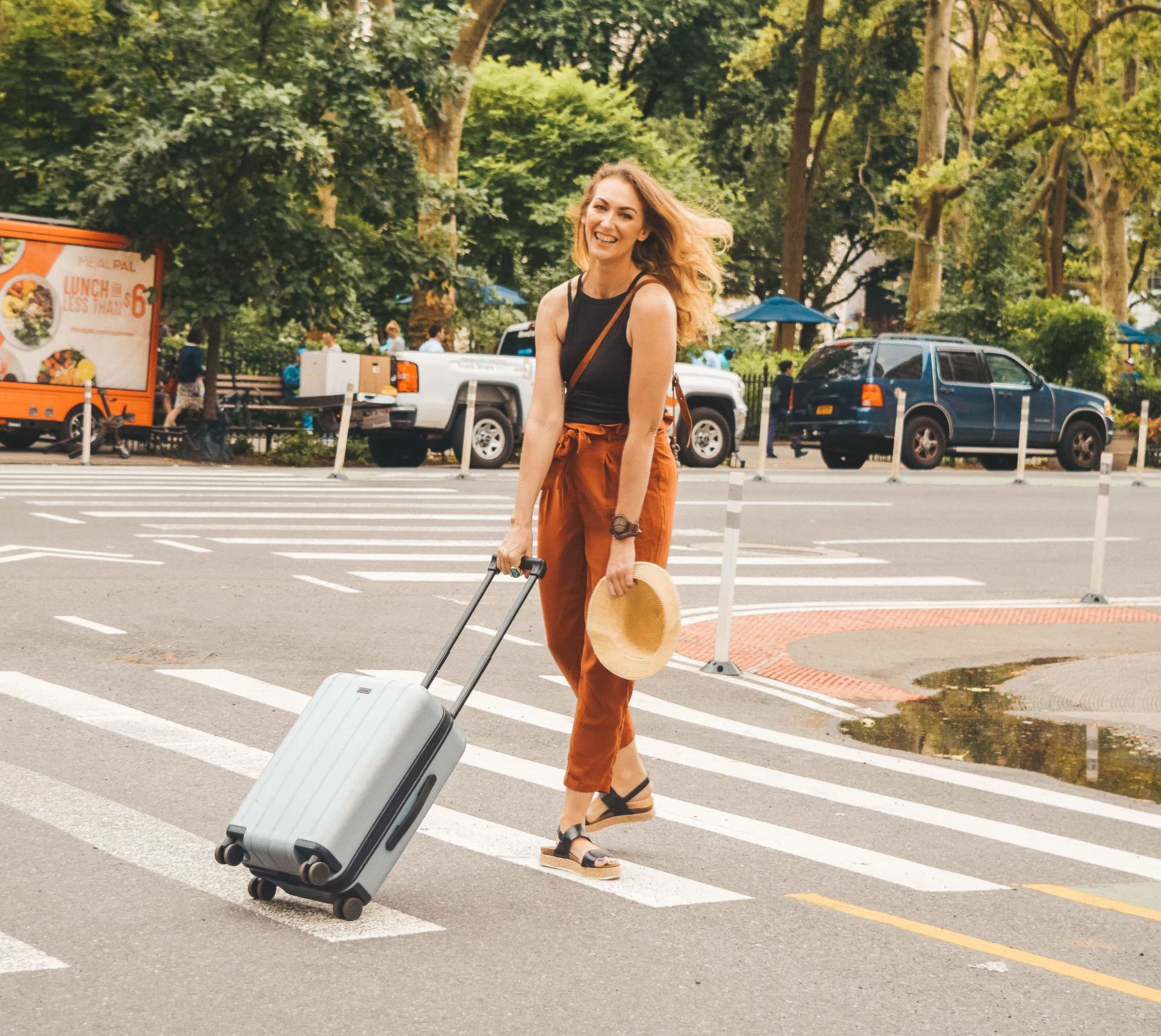 You are quite literally going to be carrying around your life as a digital nomad. Your entire wardrobe and your office. So making sure that all of your worldly possessions are safe, and not breaking your back is important.
I started out using a 65 ltr backpack plus a day bag (and my yoga matt). That was fine for a while, I'm pretty strong so carrying 20kg was ok for me. But as time went on and I started gathering more equipment that I needed for my job, mostly my camera stuff, I needed a better setup as it was just too much weight to carry.
So these days I have a great digital nomad backpack, a hand luggage suitcase, and a backpacker-style backpack. Plus a Kanken backpack that I fold up and just use when I don't want to carry my bulky backpack.
Now that's not to say I take all these bags at the same time. I have a home base where I spend time in between trips. So I tend to travel for 2-3 months with just my small digital nomad backpack (or my mobile office as I like to call it) and my hand luggage suitcase.
On most airlines, I can bring both onto the plane with me. I love the suitcase as it is lockable so I can put all of my cameras, laptop, and expensive things in and they're safely locked away! Plus it seriously saves my back!
Talk to Taxi Drivers
Always talk to your taxi, tuk-tuk, or Uber drivers! If you are learning the language these guys are the best for getting in some practice, but also because they are the people who know the area the best. Most will be all too happy to give you some great tips on things to see and do, as well as places to eat.
If you find a good driver be sure to get their contact details so you can call them when you need to get somewhere. This is a good safety tip too.
Join local nomad Facebook groups
The key to settling into life in a new place fast is connecting with other people who have been there and done it. You are going to find these people on Facebook.
Before you arrive do a quick search for digital nomads and then the place name. Have a scroll through and see what's what. Then ask any question in the group. In general things I search the groups for are accommodation finding tips/ leads, networking/ fun events, meet-ups, scams, etc. I also look for hairdressers and other services I might need in there.
Co-working spaces for networking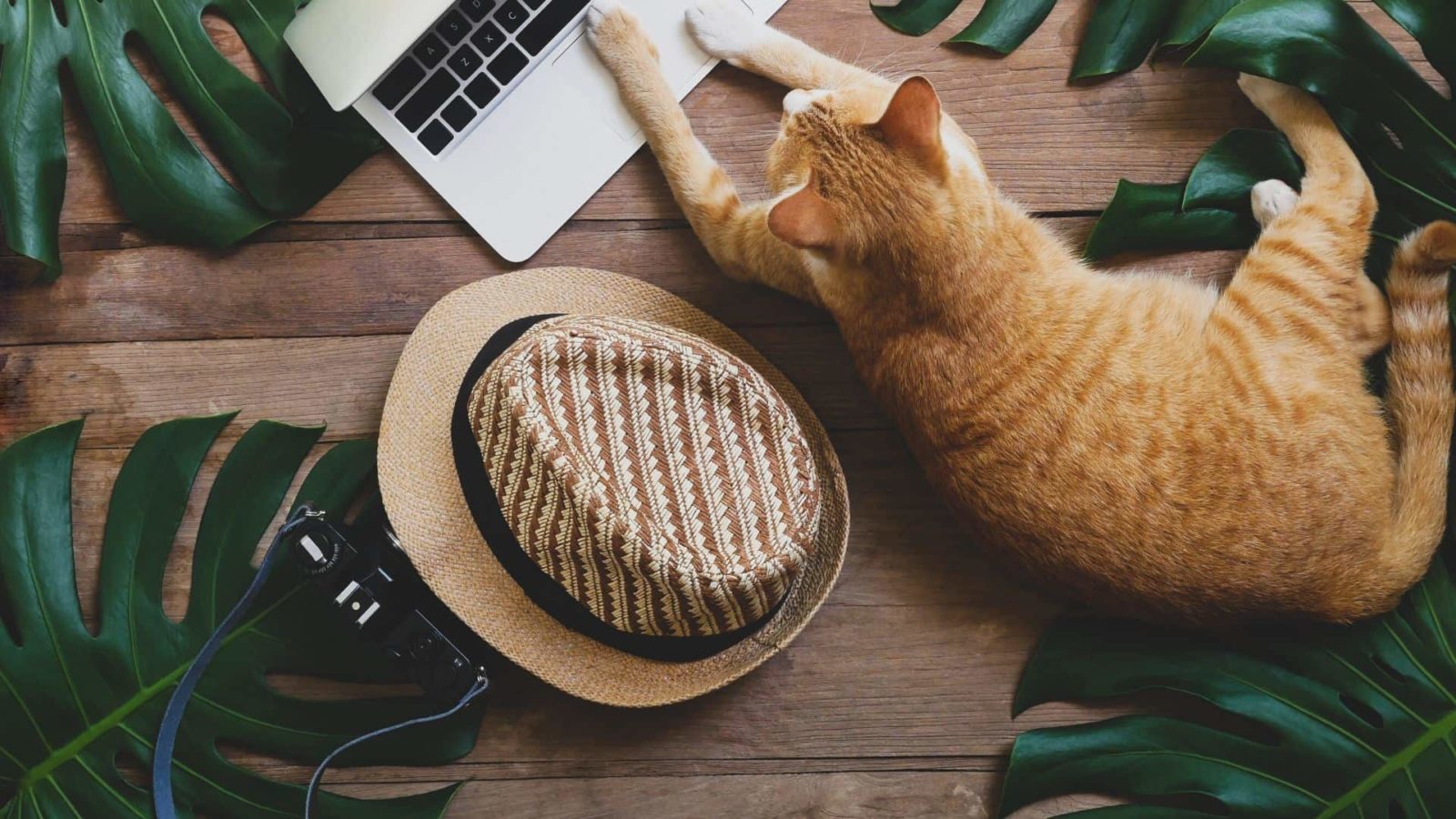 Another great place to find other digital nomads is in the coworking spaces. Most will have a free day so you can try it out. And almost all of them will host regular training, workshops, and networking/ social events. It's always a good idea to follow them on social media and at least take advantage of the free trial.
Go Slow
Now this is the key to how to be a digital nomad and not get burned out. Spend more time in fewer places. It's the first thing I learned. Being constantly on the go and rushing through places is not only exhausting but you will also be missing out on so much. One of the best things about this lifestyle is getting to live in different places and getting to experience the local culture and the way of life in that place. If you move too fast you will burn out and regret it later.
Also moving slower can be much more economical as rent will be cheaper if you stay for longer than a month.
Be Flexible with where you're going next
The more flexible you can be, the better deals you will find. If you don't mind where you go then you will be able to find some great deals on flights. I am a big fan of Skyscanner's 'Anywhere' search button. Just pick the month you want to travel and then search everywhere and wait to be inspired!
Alternatively, if you are in Europe traveling by bus or train can be really economical if you book in advance.
Learn to make the most of your travel time
I know I can't work well on a bus, so if I have the option I will always choose to travel by train as I know on a train I can get a lot of work done, especially if I have my Skyroam Wireless device, or the train has wifi. If I'm on a plane I'll always try and avoid airlines that I know don't give you much space so I can work while I'm up in the air.
If I know I have a long day of travel I plan what I'm going to do the day before. If I need to work offline then I download everything I need onto my laptop and make sure all of the tasks I want to do are travel-friendly and in my Click Up list.
I also download a few things from Netflix onto my Kindle Fire or phone and download a book on my Kindle as my reward for working. Or if for whatever reason I'm unable to work at least I'll have something to do!
Always check your immigration stamp
Before crossing a border make sure you know how long is the maximum you can stay for and then when they give you your stamp check it right away so you can flag up issues with the staff there and then. If there is an issue and you don't do this it can be a total nightmare.
For example, if you cross the land border entering Mexico you will only be given a 7-day transit visa unless you ask and pay for the 90-day one. This trips up so many people! Always check.
Make sure your technology does what you need it to
You need to make sure that all of the technology you have is of the best quality and it does the job. Making sure you have a good laptop for a digital nomad is number 1. If possible having a backup, even if that's an iPad with a keyboard will give you a lot of peace of mind.
As well as a laptop I advise you to invest in some good noise-canceling headphones with a built-in mic so you can take online meetings. If you are teaching online I also suggest getting an external camera. Another thing I don't travel without is my Wireless device as a backup if the wifi goes down. An unlocked smartphone, I have this one and swear by is as the camera is so good and it's cheap enough for me not to cry if it gets stolen. Anything else I can live without, but these things are essential!
Get a travel-friendly ergonomic setup for your computer
I still can't believe it took me over 2 years to do this. That's 2 whole years of having a stiff neck… when you are spending so much time on your computer you need to make it as easy on yourself physically as you can. I have 3 different setups depending on where I'm working.
If I'm working from bed at my home base then I have one of these handy bed tables.
If I'm traveling super, super light, or just doing a quick job and don't want to carry anything extra with me I have one of these.
It is attached to the bottom of my laptop so it doesn't take up any space and does the job.
But if I'm at a coffee shop, working from an apartment or a coworking space then I have a much more professional setup. I have this laptop stand, a keyboard, and a mouse.
All are travel-friendly and take up very little room in my bag, and they don't weigh hardly anything. It took me 2 mins to set up and it didn't even cost very much. Trust me this investment is worth it, and your neck will thank you!
Never go anywhere without Insurance
I shouldn't even have to explain the importance of having good healthcare insurance for digital nomads. But I do in this post if you need some reasons why you shouldn't travel without it. If you need a recommendation I personally use SafetyWing as they are specifically for Digital Nomads and it's just $37 per 4 weeks. I've used Heymondo in the past, and for certain trips, where it's more like a vacation they are who I use. But in general, I'm all about SafetyWing these days.
Invest in a VPN
Like insurance, having a solid VPN – A virtual private network is essential that you need for your job. You can't guarantee your privacy when using public or shared networks, so to ensure the safety of both your and your client's sensitive information this is something you really should have. Plus you can use it to pretend you are in the USA and watch HULU. I personally use Safer VPN as it has the best track record as far as VPNs go and you can get a great deal if you pay for 3 years at a time.

Always have enough in savings for a flight home
This is important. Always know you can get home if you need to. Having enough money to book a flight back will give you a lot of peace of mind. Hopefully, you will never need it. but just knowing it's there and you can use it if you need to is comforting.
So that's it, that's my list of things I wish I'd known before becoming a digital nomad. I'm almost positive I've missed things off here. But that covers the main things I can think of right now. If you want more advice about how to be a nomad I wrote a whole book on the subject that you can buy on Amazon here.