Need a 3 week Thailand Itinerary? If you are planning a trip to Thailand, you are probably overwhelmed with trying to decide where to go and what to see. Three weeks is a short amount of time to cover such an incredible country. To help you out keep reading for my guide on how to see Thailand in 3 weeks.
Here Is My 3 Week Thailand Itinerary
Did You Get Travel Insurance Yet?

If 2020 taught us anything, it's that you need to be prepared for anything!

The Insurance companies I personally recommend are Hey Mondo, Passport Nomads, Safety Wing, and Travel Insurance Master

Hey Mondo is great if you are looking for a great value flexible policy. They offer single-trip cover, annual multi-trip cover, and long-term travel cover.

Passport Nomads provides the most comprehensive cover for Digital Nomads. If you find yourself in need of medical care you just contact them and they will pre-load your card with the funds to cover your treatment, meaning you won't need to pay out of pocket and then put in a claim later.

Safety Wing is great value with monthly cover starting at $39. It's super easy to use and it just renews each month. I currently use them as they offer me free cover for my son as part of my policy.

I also use Travel Insurance Master for short trips.

Read my full travel insurance post here where I go into detail about all 4 companies.
Day 1 & 2 Bangkok
Bangkok is crazy and if you are a first-timer to Thailand it can be pretty overwhelming! My advice would be to spend a day or so here and then move on. Make sure you have a few days to return at the end of your trip to really explore the city. I found I was too jet-lagged and a little culture shocked to really appreciate it. I have written a post on Bangkok you can read by clicking here. I also wrote a super detailed Bangkok itinerary that you can check out here.
Recommended Place to Stay In Bangkok:
The Yard – I really cannot recommend this place enough. It is fantastic and the people who run it as so incredible. Trust me and book in there, you will be sad to leave and eager to return! Make sure you pre-book your accommodation, the last thing you will want to do when you arrive is be hunting around for somewhere to stay.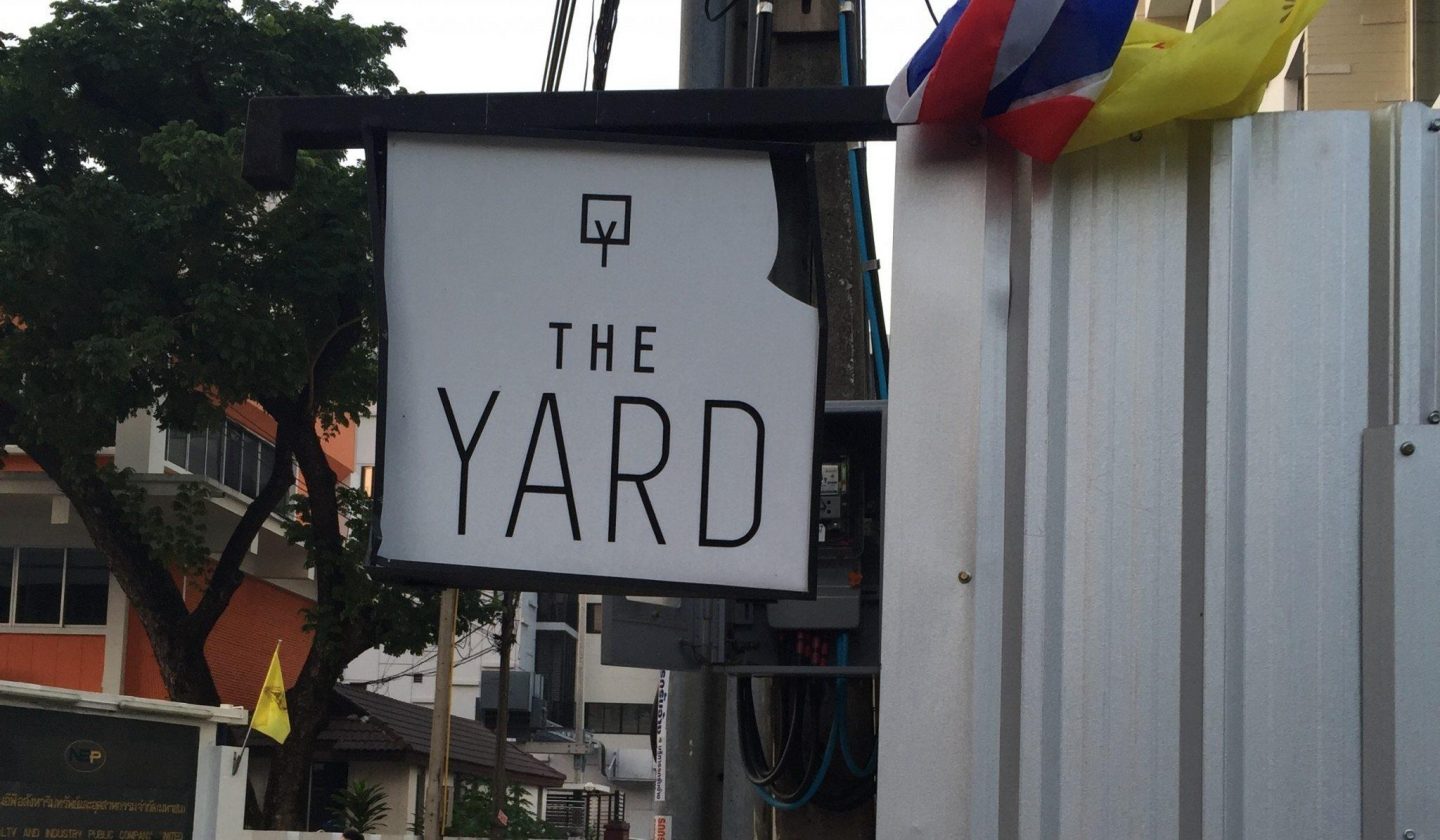 Getting from Bangkok Airport to Bangkok
We decided to get a taxi as we were too tired to even attempt public transport. Getting a taxi is easy, you go up to the correct level, get a ticket and head to the bay number on the ticket. They will tell you how much it will cost before you travel. If you decide to stay at The Yard then you can get the sky train, there is one change and it is a 5-10 min walk from the station.
Day 3 – Ayutthaya
You don't need more than a day in Ayutthaya to explore the temples. I would recommend traveling there around lunchtime give yourself a few hours to explore the temples on a bike (cost 40 tbt), eat some dinner and then get the night sleeper train to Chiang Mai.
If you aren't planning on staying the night in Ayutthaya you will need to store your bags somewhere. You will have three options.
Where to Store Your Bags in Ayutthaya:
Take your bag with you (no thanks)
Pay for a hotel in Ayutthaya for the day so you can leave it there, take a nap and have a shower before the night train
Pay a few tbt to store it at the train station in Ayutthaya
We choose to store our backpacks at the train station in Ayutthaya and had no issues with baggage security, but do make sure it's locked up.
Traveling to Thailand and Want a Great Guidebook?
I highly recommend investing in 1 (or all) of these books.
Getting to Ayutthaya from Bangkok
To get from Bangkok to Ayutthaya you have a few options;
Take the train
Take the bus
Take a taxi
You can now book all of your transport in Thailand online (yay). Read this post for more information about booking transport in South East Asia.
We were hung-over (cheers Koh San Road) and tried so we ended up getting a taxi for 1000 tbt which we were happy to pay the state we were in! I wrote a full post about how to get from Bangkok to Ayuttaya here.
Day 4 – 6 Chiang Mai in Northern Thailand
From Ayutthaya you should head to Chiang Mai on one of the Sleeper Trains – it's cheap and what an experience!
Fresh off the sleeper train we dropped our bags off at our hostel and explored the city on bikes. We then spent 2 days hiking up and down a mountain! There are so many options for outdoor activities to do in the Chiang Mai area from hiking to white water rafting among Elephants and everything in between!
I feel like Chiang Mai passed us by. Having heard so many amazing things about it, sadly we didn't really experience any of them. I didn't have time to go to Pai, and I wasn't blown away by any of the places we stayed at. So my recommendation would be to stay for 4-6 days here and don't worry about pre-booking your accommodation.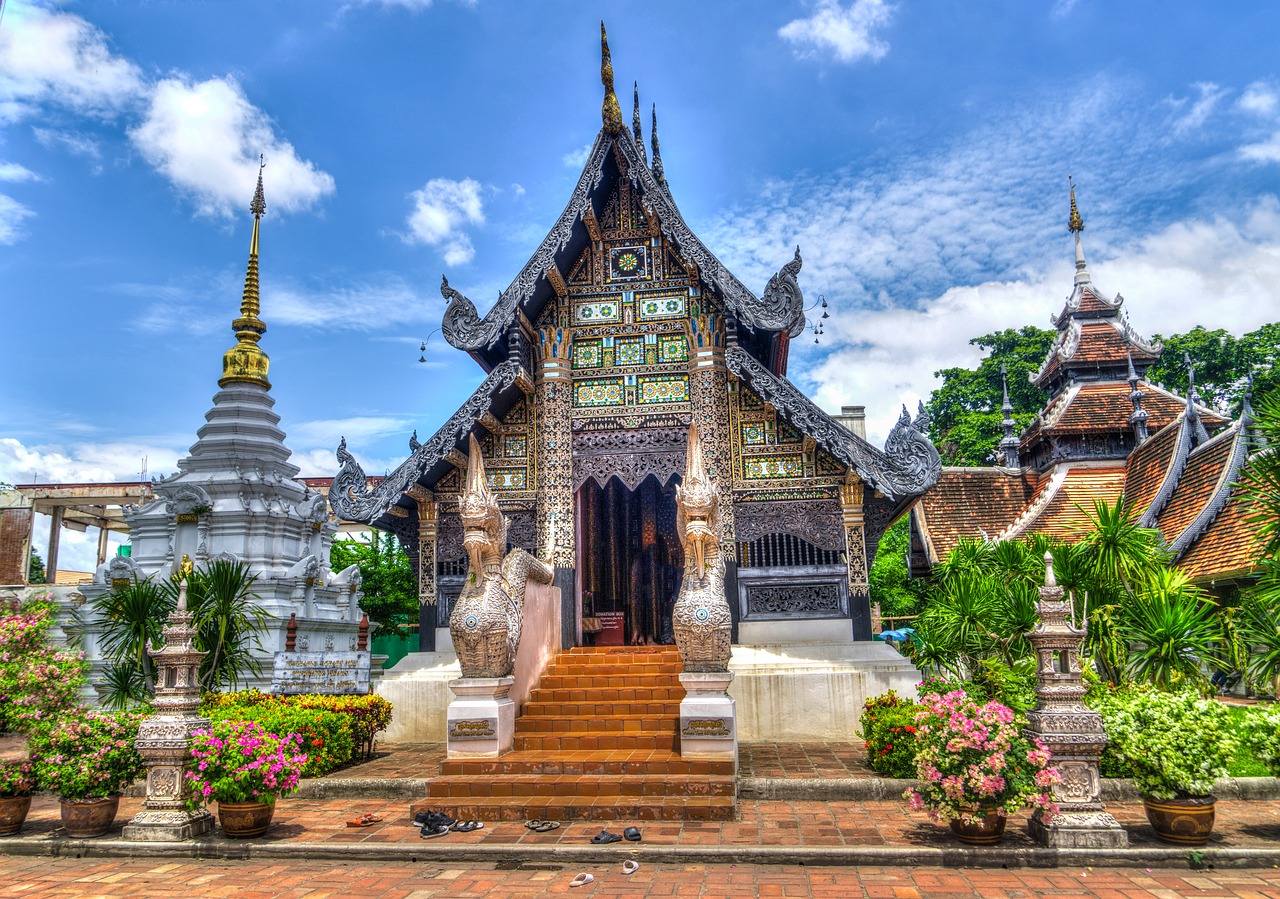 Arriving into Chiang Mai from Ayuttaya
You will arrive into Chiang Mai early in the morning to a crowd of Tuk Tuk and taxi drivers shouting 'where are you going'. Check your bags into left luggage, grab a map from the tourist info desk at the station. Then walk to the closest café for some breakfast to plan your next move. This way you will let the crowds die down. Once refreshed you can then head into town find a nice place to stay and go back later to get your bags. Make sure you do a cookery class, visit Pai and do some shopping at the market.
Make sure you do a cookery class in Chiang Mai, visit Pai, and do some shopping at the market! I didn't and I still regret it!
Recommended Places to Stay in Chiang Mai
I actually don't have one! We stayed in two places and they were ok but I wouldn't recommend either one. Both were pretty far out-of-town and the staff weren't particularly helpful
Getting to Chiang Mai
From Bangkok, you can travel by day train, night train, bus or you can fly from Bangkok airport to Chiang Mai airport with Air Asia or Thai Airways. The flights are very cheap especially if you book in advance so you might even like to treat yourself to an upgrade and fly business class with Thai Airways!
Need Transport in Thailand?
I'm a big fan of using BookAway.com when booking transportation in Thailand. I wrote a whole blog post about using them that you can read here. It makes the whole booking process so much easier, plus they have 24/7 support in case you need it!
Day 7 – Phuket (or Krabi)
This was a transit day for us as we were just stopping off before heading out to the islands, but there are a lot of things to do in Phuket if you can take more time here. We paid for a fancy hotel suite and lazed by the pool all day recovering from our mountain trek and early morning flight.
Recommended Place to Stay In Phuket
We stayed at The Village Resort and Spa in Karon Beach. It cost us 3276 tbt for two of us for one night (expensive in Thailand terms). However, it was so worth it and the only time we really splashed out on accommodation all trip. It had a pool bar, a breakfast buffet and the biggest bed I have ever seen…it felt like we were on honeymoon!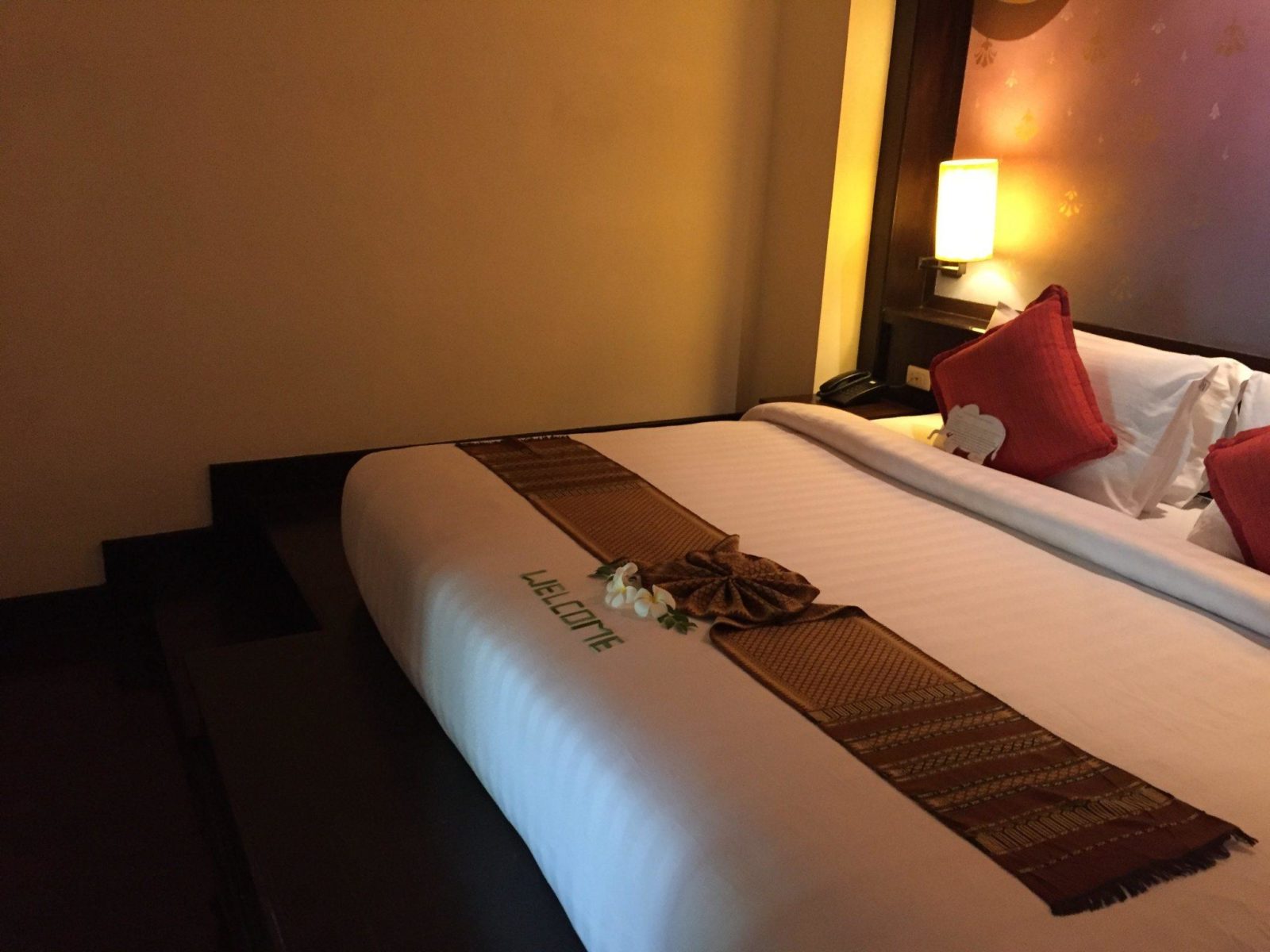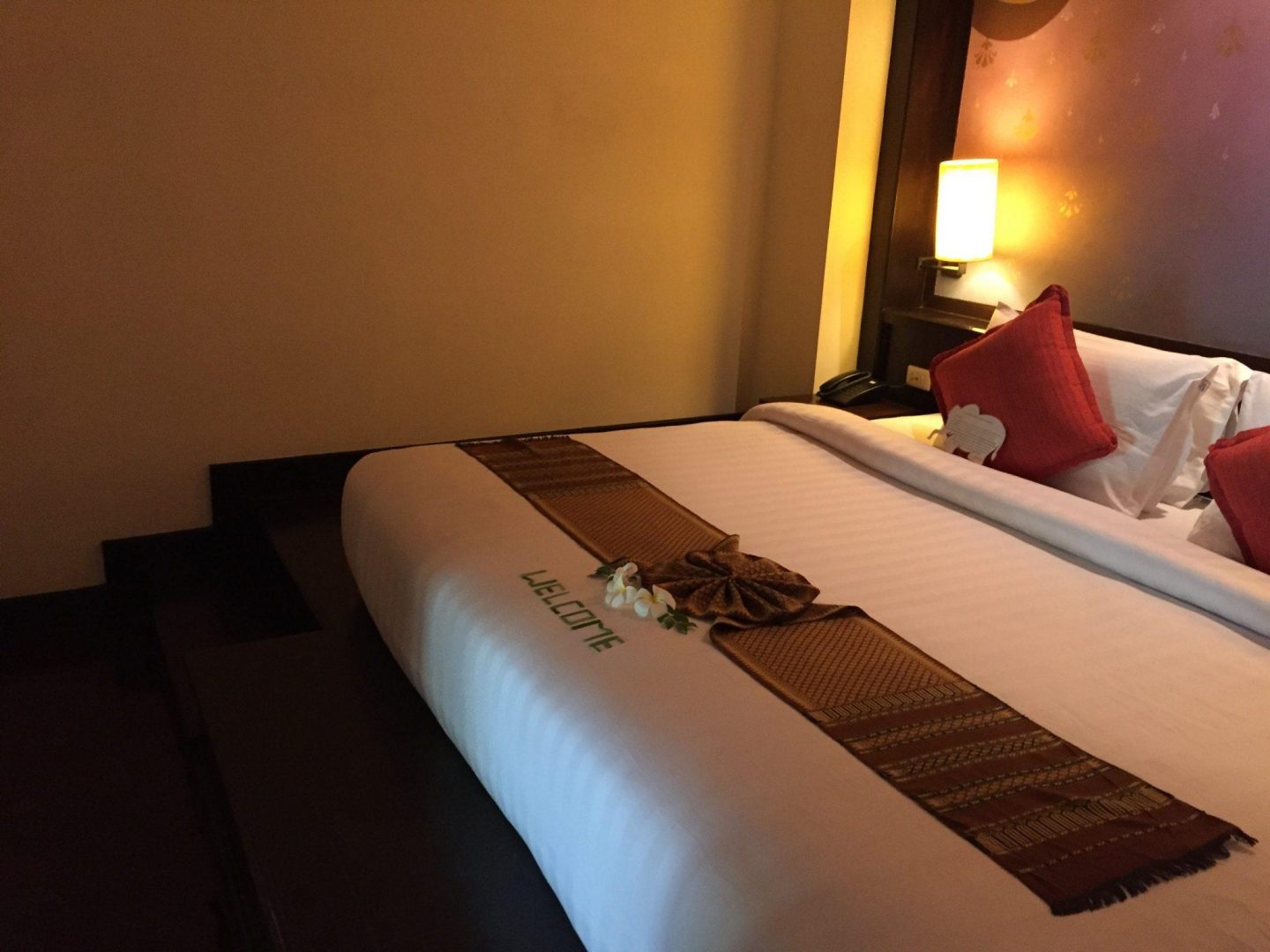 Getting to Phuket from Chiang Mai
We flew from Chiang Mai to Phuket with Air Asia.
I would recommend NOT getting an early morning flight, we had a lot of trouble finding a taxi to pick us up at 4:30 am for a 6 am flight! Pay a little extra to fly in the afternoon.
You should also book your flight before you get to Thailand. The earlier you book the cheaper. This does mean you have to fix the date you are leaving but it will save you a whole day of travel on a train or bus! I think my flight was about £30.
If you aren't bothered about seeing Phuket then fly to Krabi and give it a miss.
Top Tip: If you need transfers between airports and boats then make sure you pre-book a car. You can do this online or via a travel agent and it will save you a few hundred tbt.
Day 8 – 10 Koh Yao Noi
If you want a time out head to one (or both) of the Koh Yao islands. We spend 3 nights at an amazing Yoga Retreat but you could just as easily stay at any of the resorts there. Hire a bike or scooter, explore the island and take a boat trip or two.
Recommended Accommodation in Koh Yao Noi
Island Yoga – you get accommodation, breakfast (the best one I had in Thailand hands down!), morning Thai Chi and 2 yoga classes a day, the rest of the day and evening are yours to explore the island and hang out with your fellow travelers. I wish we could have stayed longer.
Getting to Koh Yo Noi from Phuket
From Phuket, you need to go to Bang Rong Pier. From there you can get either a long-boat or a speed boat to the Koh Yao Islands.
Day 11-14 Ko Jum and Koh Lanta
I actually spent 2 days on Ko Jum, if I had the chance again I would spend a day and night on Jum and then 3 days on Koh Lanta.
Hire scooters, explore the islands, and some of the best beaches in Thailand and fill up on the amazing food. You can also do lots of boat trips from here and if you aren't fussed about Krabi stay on Jum or Lanta longer and do the trips from there.
We hardly spent any time in Krabi as we just used it as a base to do the trips to Phi Phi, Maya bay, kayaking, and the 4 islands all of which you can do from Jum or Lanta.
Recommended Accommodation in Ko Jum
I stayed at Jungle Hill Beach bungalow and it was great, basic accommodation with a nice place to eat and stunning views. The beach was pretty rocky but we just walked a bit down the road and used the next beach along. Ko Jum is pretty small so there isn't much accommodation to choose from. We didn't make it to Koh Lanta but I really wish I has as I have heard so many things about it.
Getting to Ko Jum from Koh Yo Noi
The only way to get to Ko Jum from Koh yo Noi is Via Krabi. Unless you want to hire a private boat (very expensive). I traveled from Koh Yao Noi to Krabi, from the pier take a taxi to the pier where the 11 am boat goes to Koh Jum and Koh Lanta. Keep your wits about you though as our driver tried to drive us to Koh Lanta!
Make sure you buy a return ticket or if you are planning on going to Koh Lanta from Jum. If you don't have your ticket it will cost you double to buy it on the boat (I found this out the hard way!). There is only one boat a day so don't be late! You can find more information here.
Days 15-16 Krabi Town
I wouldn't recommend staying here for more than 2 days if you do all the trips from Jum or Lanta. We stayed pretty central and enjoyed eating at the night markets but we didn't spend much time in the days there as we were out visiting Phi Phi or the Islands. If you do have more time you should head over to Railay Beach, I've heard nothing but good things about it. In all honesty, I didn't fully explore Krabi at all and I really regret that because there are so many things to do in Krabi. So do a little research and maybe extend your stay here a little.
Recommended Accommodation in Krabi
In Krabi Town, we stayed at Baifern Mansion and although it's pretty basic the Wifi was good and the staff was really helpful in organizing all of our trips and onward travel which took all the stress out of it for us. We were also able to check in early and then let us check out late. If you prefer to arrange all of your own transport though I recommend booking through bookaway.com.
Getting from Koh Jum to Krabi
To get back to Krabi you will need to get a ferry and then grab a taxi or a transfer from the pier into town. Book your onward travel to Koh Samui asap as coaches fill up. There is also a night ferry (which we wanted to get but it was sold out) and you can fly. To be honest the coach was fine only took a few hours.
Make sure you book with Lomprayah and if you have booked your accommodation already pay the extra for a transfer to your accommodation when you get there.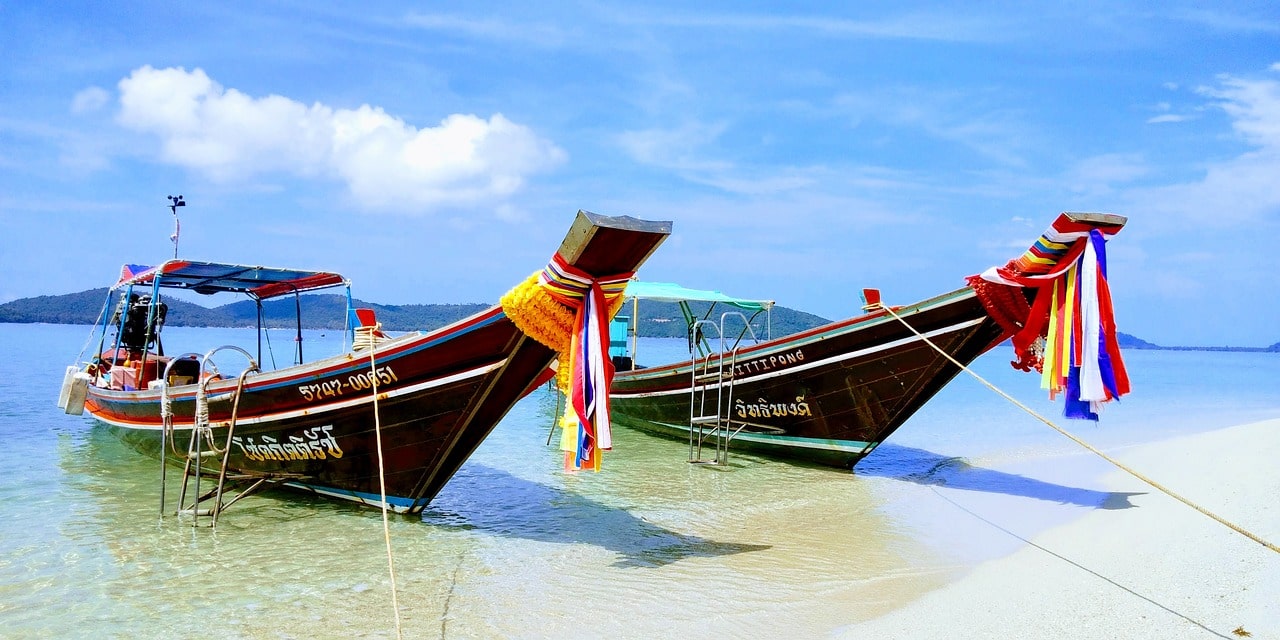 Days 17-19 Koh Samui, Koh Phangan and Koh Tao
When visiting these islands it really depends on what you are looking for. If you want to party Koh Samui and Koh Phangan if you aren't too bothered and just want to relax I would do a night in Koh Samui, staying in fisherman's village. Travel to Koh Phangan early the next morning stay for 1-2 nights and then do 1-2 nights in Koh Tao. Looking for things to do on Koh Samui? Check out this great list of the 10 best things to do on Koh Samui
Where to Stay on Koh Samui
On Koh Samui, I would recommend staying in Fisherman's Village. Every Friday they have a walking street, there are plenty of restaurants to choose from, and the beach is small but nice and clean.
Where to Stay on Koh Phangan
I would pre-book somewhere oh Koh Phangan or at least know what area you are going to before you get there. Transport around the island isn't cheap and if you are going to spend a few days here I would recommend hiring a scooter or a car as it's really expensive to get taxis everywhere and impossible to walk. So choose which beach you want to go to and head there! If I could do it again I would stay close to the northwest or northeast beaches.
Where to Stay on Koh Tao
We didn't make it to Koh Tao and I really regretted it but there just wasn't the time. If I could do it again I would skip Koh Samui and Koh Phangan and head straight there.
Traveling from Krabi to Koh Samui, Koh Phangan, and Koh Tao
There are many daily ferries run by different operators throughout the day. You can book through one of the travel agents who will also organize your transfers from where you are staying to the pier. As I've said travel around the islands is easiest on a scooter but if you don't fancy that hire a car (preferably a 4 wheel drive as some of the roads are pretty rough and ready).
Days 20-21 Back to Bangkok
By the time you make it back to Bangkok, you may feel completely different about it. I know I did anyway. We stayed at The Yard and I didn't want to leave. I only had an overnight stay which I really regretted. In hindsight, I wish I could have had a few days there to explore the city with a new understanding and outlook on Thailand I had gained over the weeks traveling around and lack of jet lag. I think I would have had a totally different experience. Plus staying in The Yard in Bangkok really helped!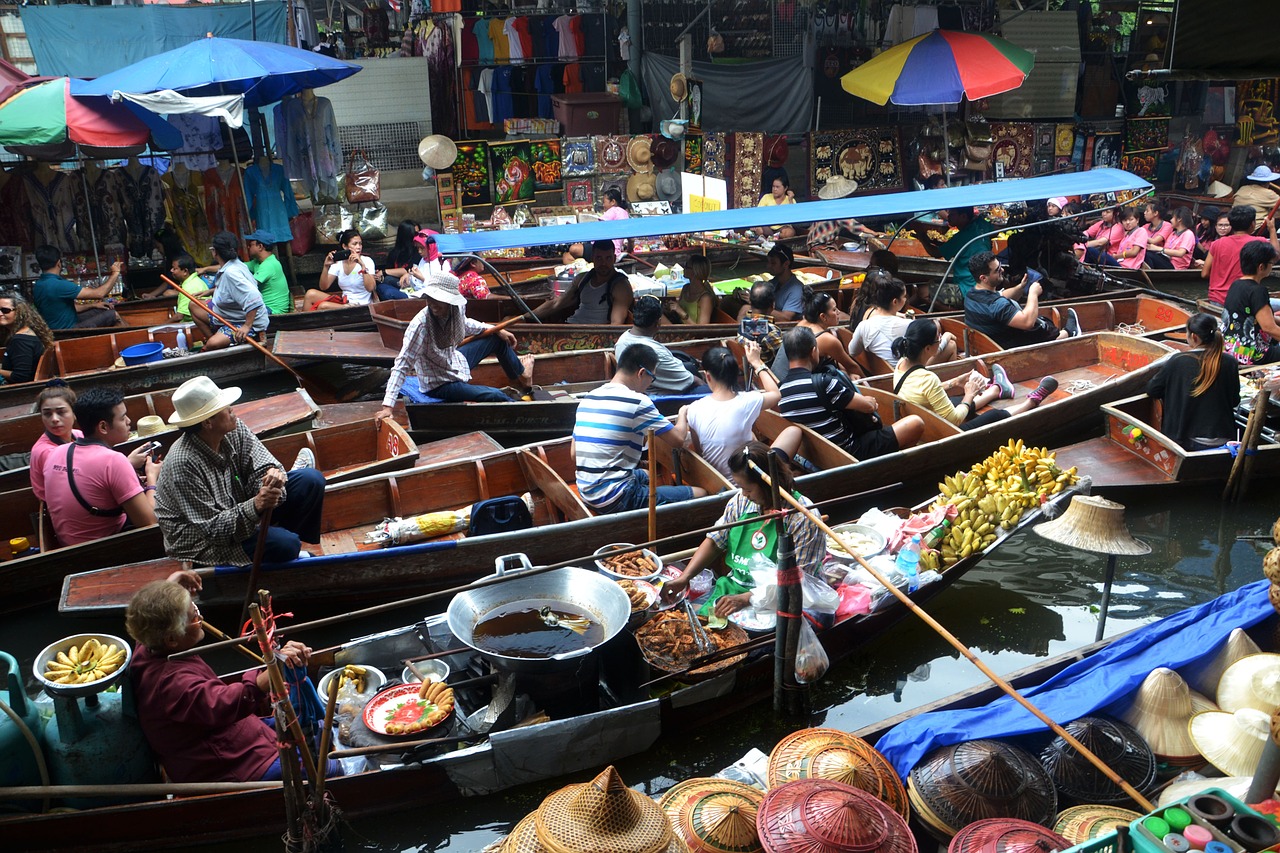 Eating in Bangkok
I wrote a whole post on that (How to Eat in Thailand for under £5 a day) but if you are looking for a more comprehensive guide to some of the best meals that you need to try in Thailand then you really need to check out Travel Moments post on their favorite Thai dishes to try.
Getting From Koh Phanang to Bangkok
To get from the islands back to Bangkok you will need to either get a ferry and a bus, ferry and train or ferry and night bus/ train.
We chose the ferry and bus as it fitted in with our schedule best. This is really easy to book either online or through an agent. The cost should be the same either way.
Final Thoughts
I really hope this 3 week Thailand Itinerary has been helpful in planning your trip to Thailand. In all honesty, three weeks just isn't enough time, three months would have been great! But if you are looking for a Thailand backpacking route to cover as much of Thailand in 3 weeks as you can this is it. If only I'd had the time there are some incredible islands further down south. Snorkeling in Koh Kraden is at the top of my list for next time!
Oh and just to let you know that Thailand has introduced the eVisa on Arrival. This new system makes the visa application process much smoother and allows a better entry experience.
If you like this 3 Week Thailand Itinerary, save it in your Stipple trip planner where you will find destinations, things to do, and accommodation all in one place without juggling between several apps.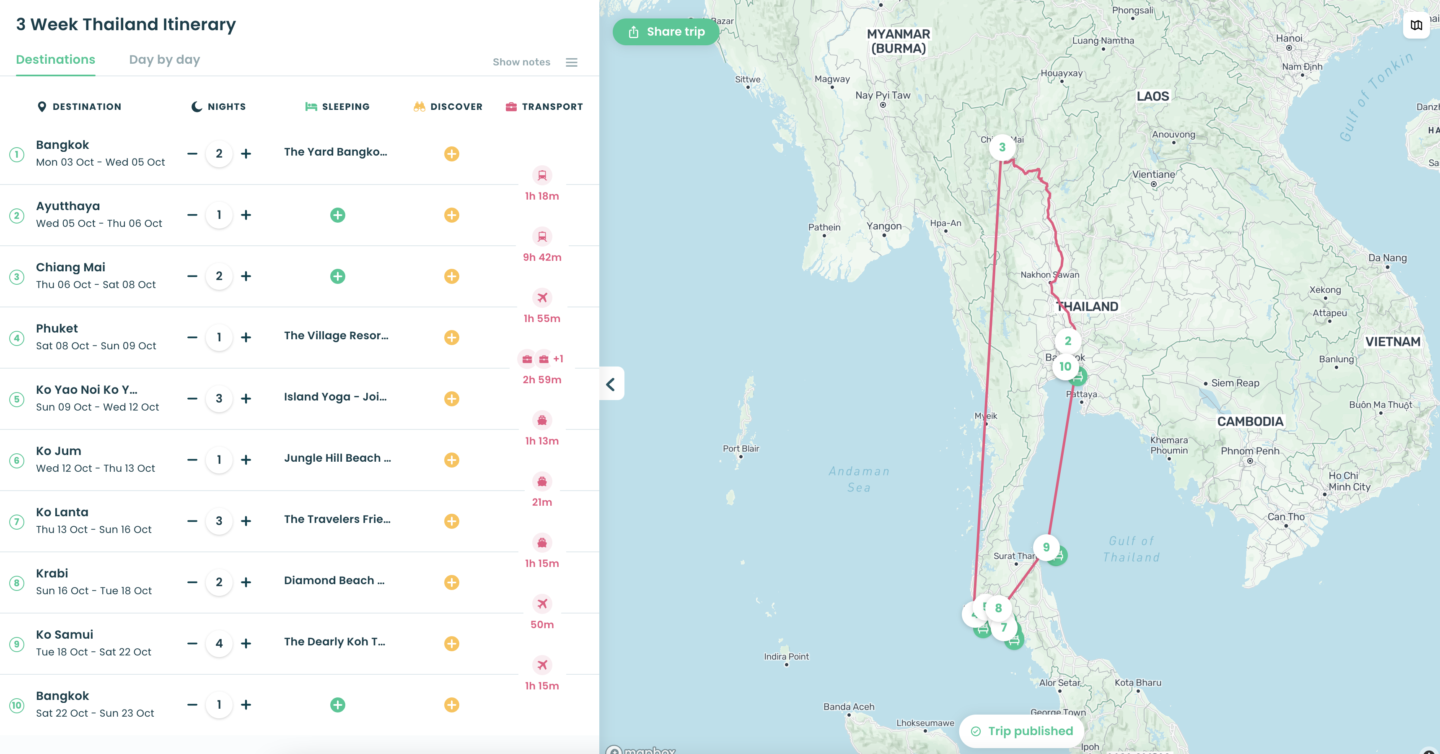 If You Have 2 Weeks in Thailand Then Here Are Some Suggestions:
If you want to party head straight from Bangkok to Koh Samui, Koh Phangan, and Koh Tao.
If you want more of a cultural experience then spend more time in Bangkok, Chiang Mai and other places in the north.
If you want beautiful beaches and relaxation stick to the southern islands.
Wherever you go I'm 100% confident you will fall in love with Thailand just like I did. If you need a 2 week Thailand Itinerary or even a 1 week Thailand Itinerary then just cut out some places.
Whatever you decide I really hope your 3 weeks in Thailand are incredible!
Are you heading to Vietnam next? Take a read of this article all about backpacking Vietnam Or maybe your going to Cambodia? Here are 10 awesome places to visit? … you're welcome!