Want to do the Pacaya volcano hike in Guatemala? If you are planning a trip to Guatemala then don't just settle for a day hike to Pacaya, why not do an overnight camping trip to Volcan Pacaya instead!
Guatemala has three active volcanos, two of which are in the Antigua area making them really accessible. It's pretty hard to miss all the volcanoes in Guatemala, especially if you arrive by plane into Guatemala City. If you are interested in hiking Acatenango and Fuego take a read of this.
In my humble opinion, you can't visit Guatemala and NOT climb a volcano! There are several to choose from of varying levels of difficulty.
The most popular volcano hike in Guatemala is the Pacaya volcano hike.
Volcan Pacaya rises to an elevation of 8,370ft. / 2,552m Payaya may be one of the smaller volcanoes but it is still active and although it hasn't erupted since 2014, the night I was there I saw plenty of lava flowing and some small eruptions.
If climbing Acatenango isn't your idea of fun and you prefer an easier hike, you have children with you, or you are on a mission to climb all the volcanoes that you can in Guatemala, here's everything you need to know about the volcan Pacaya tours from Antigua.
Did You Get Travel Insurance Yet?
If 2020 taught us anything, it's that you need to be prepared for anything! Travel insurance has always been high my list of things to get before I travel but now more than ever its at the top of my list.

I'm pretty sure we have all had travel plans messed up because of COVID and not all insurers covered this. So when looking for travel insurance it's important to check it covers travel disruption due to COVID-19, Hey Mondo, Passport Nomads, Safety Wing, and Travel Insurance Master all provide cover for this.

Hey Mondo is great if you are looking for a great value flexible policy. They offer single trip cover, annual multi trip cover, and long term travel cover. You even have the option to start the cover when you are already on your trip, although you won't be covered for the first 72 hours. For me my favourite feature is their app which offers you a 24/7 Dr chat and the ability to file a claim direct in the app.

Passport Nomads provides the most comprehensive cover for Digital Nomads. The game changer with them is that you have a red card and if you find yourself in need of medical care you just contact them and they will pre load your card with the funds to cover your treatment, meaning you won't need to pay out of pocket and then put in a claim later.

Safety Wing is great value with monthly cover starting at $39. It's super easy to use and it just renews each month. They have an excess of $250 and it's simple to make a claim through their website. I currently use them as they offer me free cover for my son as part of my policy and I like that it renews on a monthly basis, so I don't have to pay out a big lump sum up front.

I also use Travel Insurance Master for some short vacation type trips.

If you are doing shorter trips or an extended backpacking trip then Hey Mondo or Travel Insurance Master are the best option. If you are a digital nomad or planning travel of at least 6 months then go for Passport Nomads or SafetyWing.
You have 3 options when booking Pacaya volcano hike:
Daytime hike to Pacaya – leave early (6 hours)
Daytime hike to Pacaya – leave in the afternoon (6 hours)
Overnight camping trip to Pacaya – leave in the afternoon get back the following morning
How to choose from all the different Pacaya volcano tours
When choosing a tour company I have compiled a whole article detailing what to look out for, read it here. What I would say is you get what you pay for. There are plenty of companies offering very cheap volcan Pacaya tours. I have heard many stories though about people paying the tour operator and then having to pay a fee to get onto the volcano. Whoever you go with check the entrance fee is included.
There are two companies I personally recommend hiking Pacaya with. Heart of Travel, click here to learn more. And OX Expeditions.

If you decide to hike Pacaya volcano as an overnight tour I would be even more careful about who I booked through as it can get very cold overnight at high altitude so you need to make sure the company has the correct equipment. I decided to do the overnight trip, mostly because I'm a sucker for a good sunset and sunrise photograph and on the overnight trip you get both, plus I love camping.
I took my trip with OX Expeditions based in Antigua. Leaving at 1 pm from their hostel Base Camp it's a hours drive to the park entrance. Here you can get any last minute food and drink, use the bathroom and get yourself a walking stick for 5Q.
The Backpack
As this is an overnight Pacaya tour I had to carry a 50lt backpack with my gear, part of a tent, sleeping bag, 4 liters of water and my food, oh and some wine! It was a little on the heavy side but totally manageable (although I'm 5ft8 and like lifting heavy things). If you know that you don't want to carry your backpack, or you aren't in good shape, you can also arrange a porter for your bag. In fact you can even get a horse to ride on to the camp. Its 100Q for a porter/ horse so it's worth making sure you keep some extra money on you just in case.
The Pacaya volcano hike
The hike itself took us about 45 minutes. The first 20 minutes was the worst for me. It's a really nice walk and Jose our guide stopped a few time on the way up to talk to us about the local area and the environment.
Camping on Volcan Pacaya
When we arrived at the camp on Volcan Pacaya we dropped our bags, Jose set up our camp and then we walked up to watch the sun setting.
We were all pretty surprised to see lava flowing! It's been years since this has happened so we were really lucky!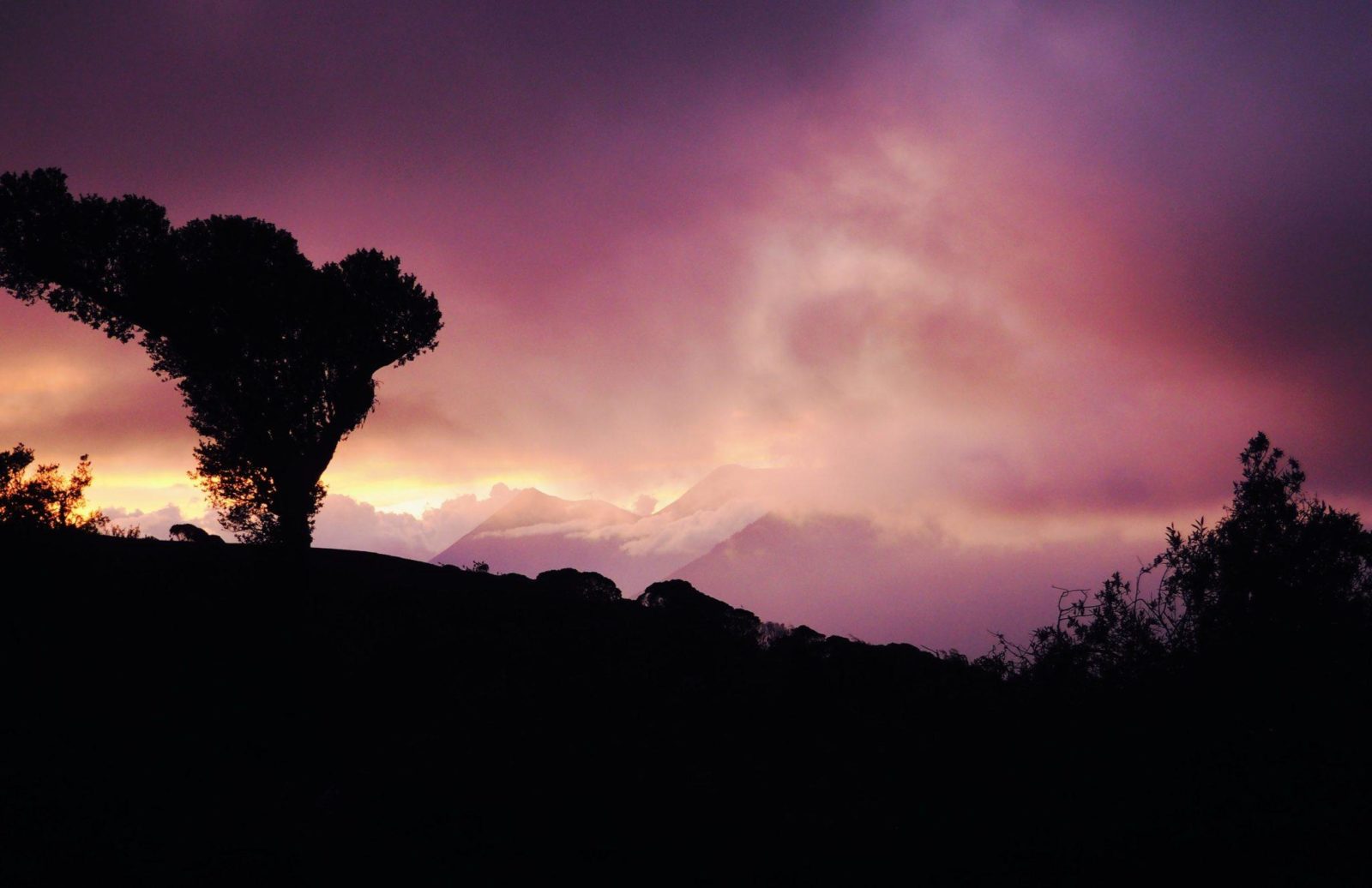 We then look a pretty easy walk down to the "hot spots" to roast marshmallows, and drink a few beers!
Once we arrived back at our camp Jose got to work cooking a hot dinner for us all, and the local guide Carlos started a fire. I've heard lots of mixed reviews on food from different people taking other Pacaya volcano hike tours saying there wasn't enough food etc. I had a huge tub of rice and sauce which was delicious and way too much for me to eat…lucky for the dog who had been following us around though as she got to finish it!
We all sat around the campfire talking, drinking wine and watching the lava. Fuego the other active volcano in the area was also rather active that night so from where we were sat we could hear them both! Sorry, no pictures as the visibility weren't good enough.
Camping on Volcan Pacaya
Turns out it's pretty difficult to sleep on an active volcano. I was warm enough in my sleeping bag, but trying to sleep in between two noisy volcanos, without any earplugs, was never going to end well. Not that I'm complaining, it's not every day I get kept awake by erupting volcanos after all! Payaya doesn't have a camp toilet just to warn you. So unless you want to bring a luggable loo with you are going to have to get used to peeing in the bushes.
Hike Pacaya volcano summit
Wake up call was at 4:30, getting out of the nice warm tent to hike to the summit was pretty grim. For me, this was the most difficult part of the tour. It's dark and you are hiking up the volcanic rock which is loose and it's steep. It's about an hour to the top, although halfway through it may not feel like it, it's 100% worth it.
I must say that I probably made hiking Pacaya volcano more difficult by not checking the batteries in my head torch, so I had to keep shouting for someone to shine a light on me when I got to a tricky part, when we had almost reached the top I remembered I had my phone torch….sometimes I amaze myself.
Despite the cold, early start and lack of headtorch the view from the summit was incredible! We sat there and watched Pacaya erupt for a good 20 minutes before I was time to head down a bit to see the sunrise. I didn't realize at the time how lucky we were to see this. Sadly the clouds kept coming in and none of my pictures turned out…so if you want to see it you will just have to book a tour and see it for yourself.
I took a few ok images on the way back down, but to be honest there were so many clouds none of them were that wonderful. Although the clouds did make the mountains look like little islands in a sea of clouds. If you think it's tricky hiking up the black stuff, wait until you come back down! I fell over so many times I had to put my gloves on to protect my hands. It was a lot of fun running down, though.
Here are my top reasons you should do an overnight Pacaya volcano hike:
If you are looking for a fun volcano camping experience on a volcano that isn't too physically challenging, this is the tour for you.
If you are with a group of friends and want a night away from partying in Antigua, but the thought of climbing Acatenango makes you reach for a bottle of tequila.
You really like marshmallows
You want to beat the crowds. The volcano Pacaya hike is the most popular because it's the easiest. That means there are a lot of people hiking up and down every day. Doing the overnight tour we hardly saw anyone. So if you don't like people in your pictures, or just in general, the best thing about the overnight tour is you are on your way up when everyone else is leaving.
You're a little bit bonkers and decide to do the OX Expeditions "Trident" tour. This is only to be attempted if you are in excellent physical condition. Basically, you hike and camp on Acatenango, hike to Fuego from Acatenango, come down and maybe grab a quick shower and then off you go hiking Pacaya and camp there for the night.
Final Thoughts
The only companies I recommend for booking transport and tours in Guatemala (other than OX Expeditions) are Heart of Travel and GuateGo. GuateGo is a Guatemalan owned company that has painstakingly brought together all of the transport and tour options in one easy-to-use website. You can book transport in Guatemala with them here and Guatemalan tours with them here. If you want to learn more about Heart of Travel click here.