If you are planning a trip to Guatemala you need to hike a volcano(or two). Depending on your level of fitness you may decide to opt for the easy option and hike Pacaya. If you want something a bit more challenging you should hike Acatenango. But if you are a bit nuts and want to really push yourself mentally and physically then you want to do the aptly named Double Whammy and go hiking Acetenango and Fuego with OX Expeditions. 

This hike involves: 
Hiking Acatenango

Setting up camp 

Descending Acatenango to hike to up Fuegos Knife ridge

Hiking down and then up again to camp for the night
Think this sounds tough? It is!
A few stats about Fuego and Acatenango:
Elevation
Volcan Acatenango (13,044ft / 3,976m)
Volcan Fuego (12,342ft / 3,763m)
Last major eruption
Volcan Acatenango (1972)
Volcan Fuego (February 2015)
Choosing a tour company
Having spent a lot of time in Antigua, and having spoken to a lot of people about their Acatenango experiences, the only tour company I would recommend is OX Expeditions. Yes, they are more expensive, and yes they did give me this tour free. BUT you get what you pay for and believe me you do not want to find yourself in a bad situation up a volcano with a below standard tour company. 6 people died up there recently and it could have been prevented. OX guides are trained to handle an emergency situation, they have the correct equipment and will make sure you do too, but best of all the food it good…
Honestly, it's the number one complaint about other tour companies, that and people getting lost!
Things to know before booking your tour
If you aren't in good physical shape you have 2 options, hit the gym and get in shape or don't do this tour.

However, if your fitness is at an average level you should do Acatenango, it will be hard but not impossible. You can always decide once you are at the camp if you would like to go to Fuego or not.

As you reach Fuegos Knife ridge the sun will be setting. This means you are going to be hiking back in the dark… Take a headlamp, and check the batteries!

If you do the overnight tour you will need to take camping gear and communal food in your backpack. If you know you will struggle to carry it then you can get a porter. The cost is 200Q each way per bag.

It may be tough, but come on how many times do you get to stand on an active volcano while it's erupting!
A little bit of context…(feel free to skip this bit)
I had been living and working in the hostel that operates this tour for 2 months before doing this. Although I didn't mean to stay that long, I was having a good time and thanks to a sprained ankle (which I re-sprained 2 weeks later) I was slightly incapacitated and also unable to do the hike. So I decided to sit and wait it out until I felt ok to go. Unable to do any training other than some situps I spent most of my days working on my laptop, eating burritos and drinking cheap beer…Not exactly good training!
Now I'm just sitting minding my own business when one of the guides Miguel starts his 5 pm pre-trip meeting (this is done the night before the tour to ensure everyone is mentally and physically prepared for the hike). He casually says I should come with them, I decide my ankle isn't too bad and say OK. Then he tells me they are going to Fuego too…and I think HOLY SHIT why did I eat all those burritos. After a little bit of persuasion by the clients and the guide, I decide it's now or never and start getting my bag ready for the 6 am start!
Here's the outline of the day
You will meet at 6 am to collect your food piece of tent, sleeping bag and roll mat. If you don't have a backpack they will lend you one. This normally takes 20-30 minutes. Then you will load the van up and drive to a cafe for breakfast.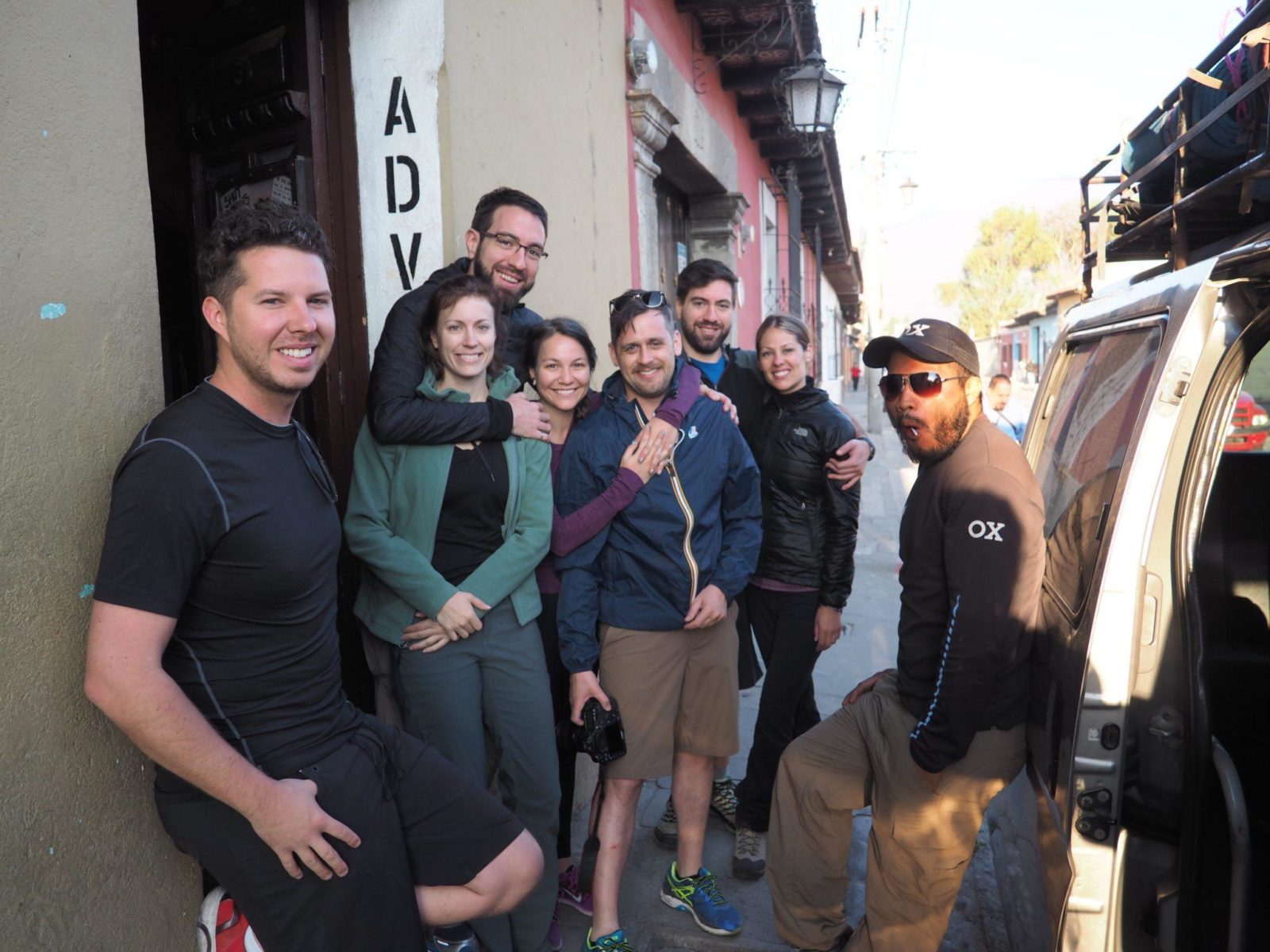 The drive to Acatenango is around 1 hour. When you arrive you will have one last chance to buy water (or beer) and use the bathroom. They also sell gloves and walking sticks, but OX provides these for you to lend for free.

Getting to the trail head
Then the fun begins! In my personal experience, and ask anyone who has done this hike and they will tell you the same, the first hour is the worst. If you can get through the first hour you will do fine. You can have a high level of fitness but with a negative attitude, you will struggle. On this hike, you need to stay mentally positive.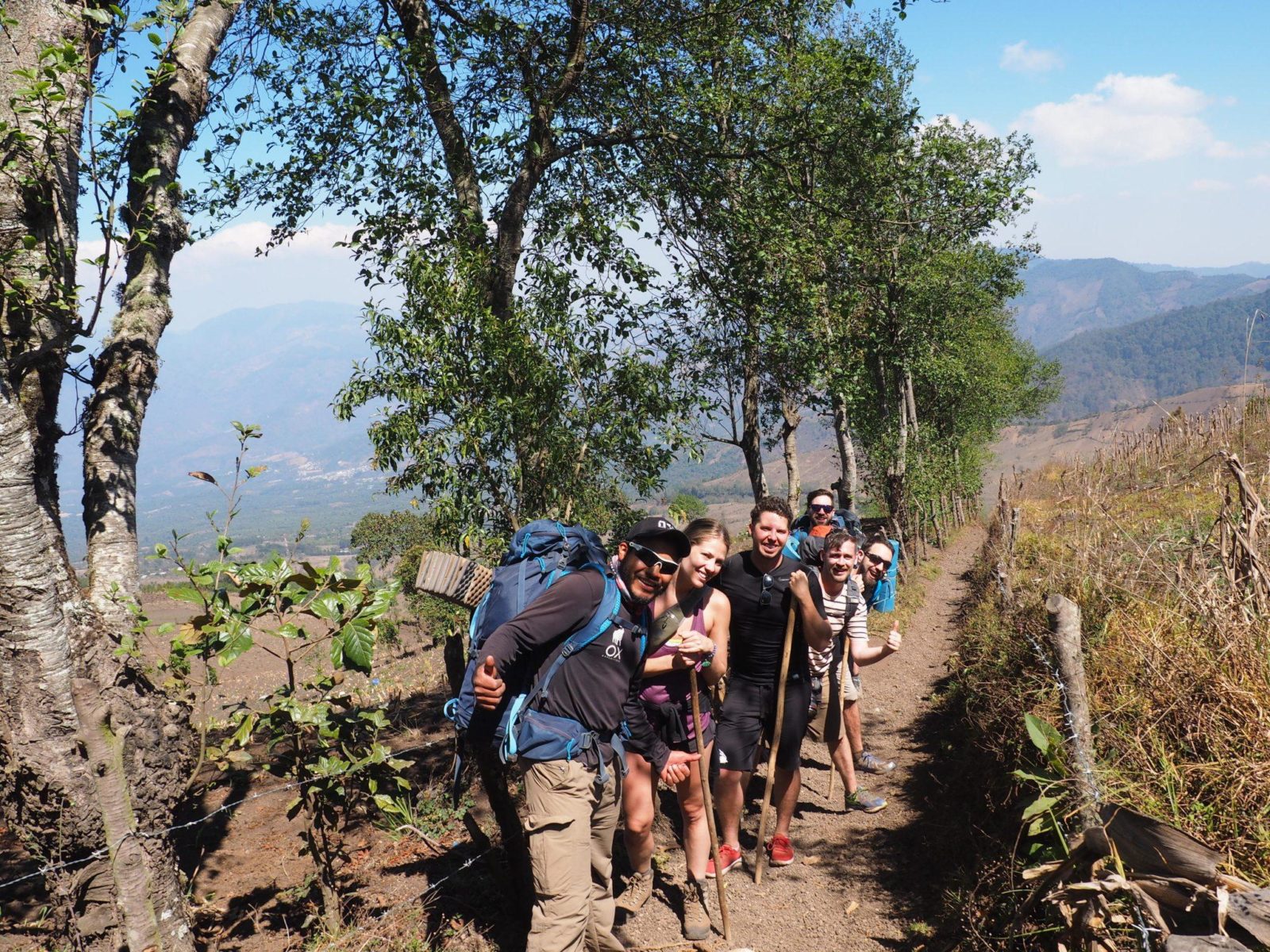 Lucky for me I was with a great group who had me laughing all the way! Honestly, at points, they were singing. I could hardly breathe and they were singing!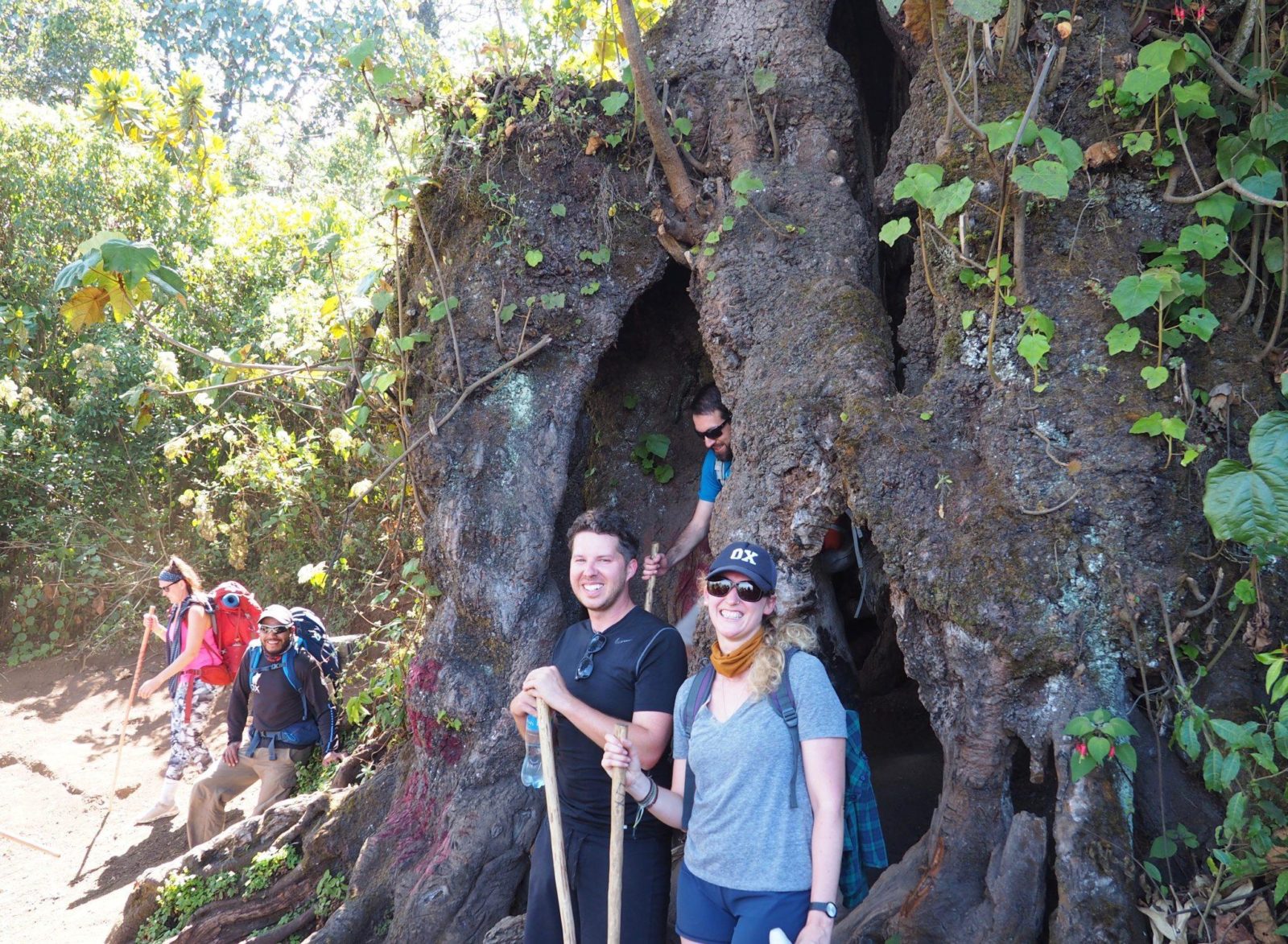 After the first hour, which is just uphill, you start the switchback section. 
This is also they section where there is a coffee shop! OK, maybe coffee shop is a bit of an overstretch…. Best 5Q I spent!
Throughout this whole first section it never felt too much, Miguel our OX Pro Guide knew exactly when to stop. Every Time I started to flag or think I could just do with a minute to catch my breath, he would stop. No one lagged behind and everyone was in good spirits.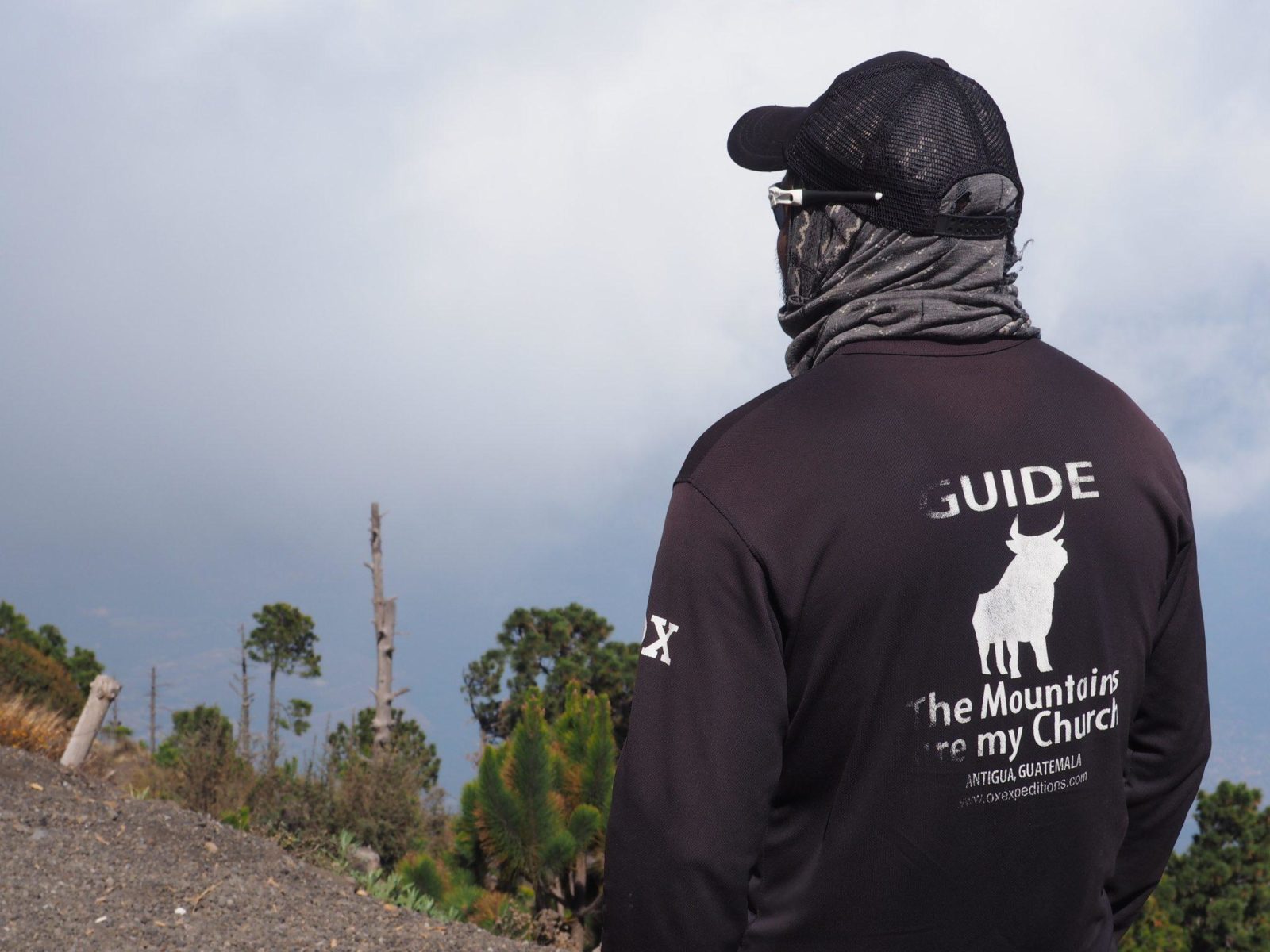 The end of this section is the lunch spot and we were all pretty excited about lunch! Not only does this signal the end of the most difficult part (of Acatenango) but also because they give you a full hour to eat, digest and rest. NAP TIME!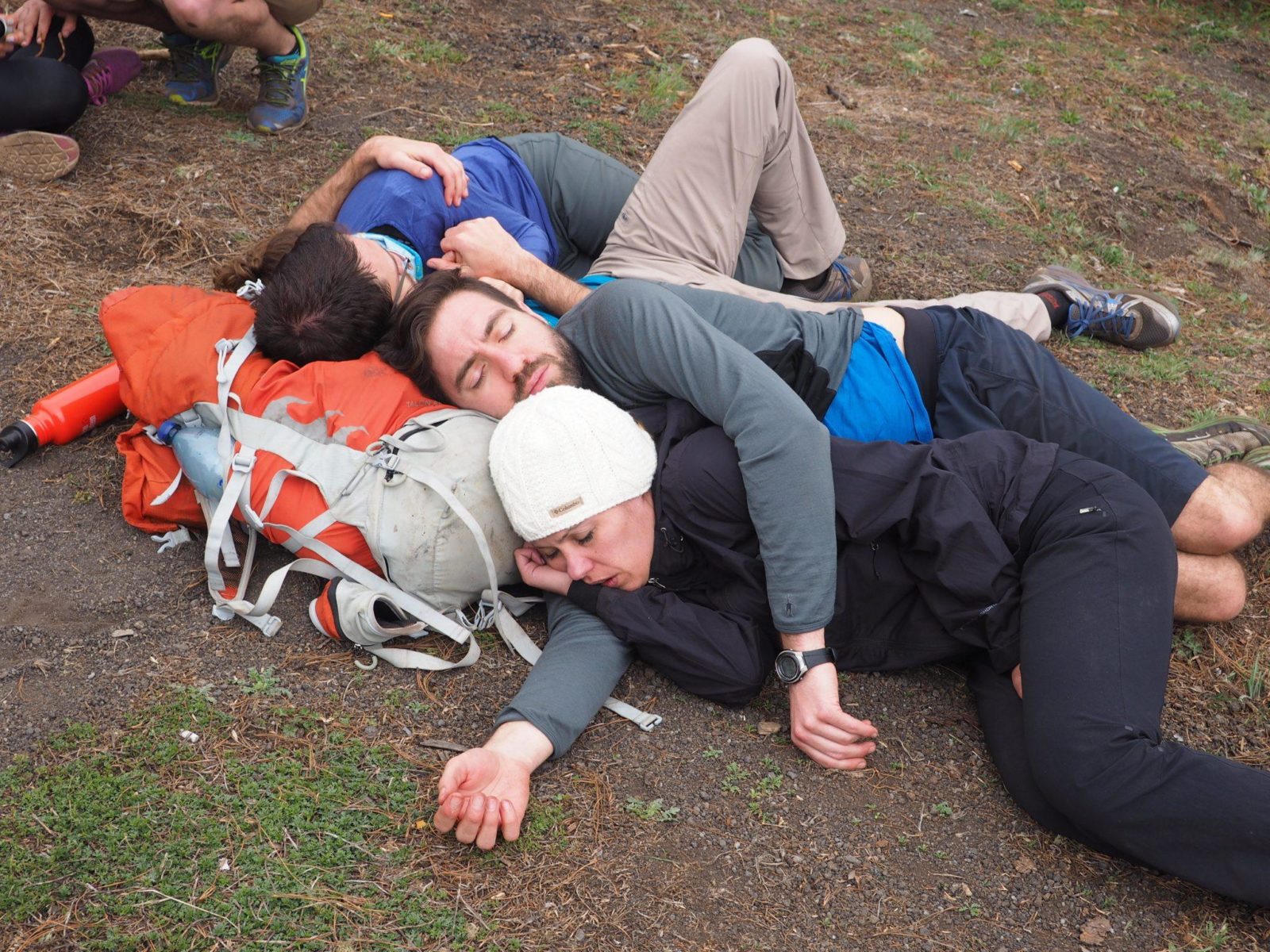 The next section is the most enjoyable as you are basically hiking around the volcano so it's up and down and a pretty pleasant walk.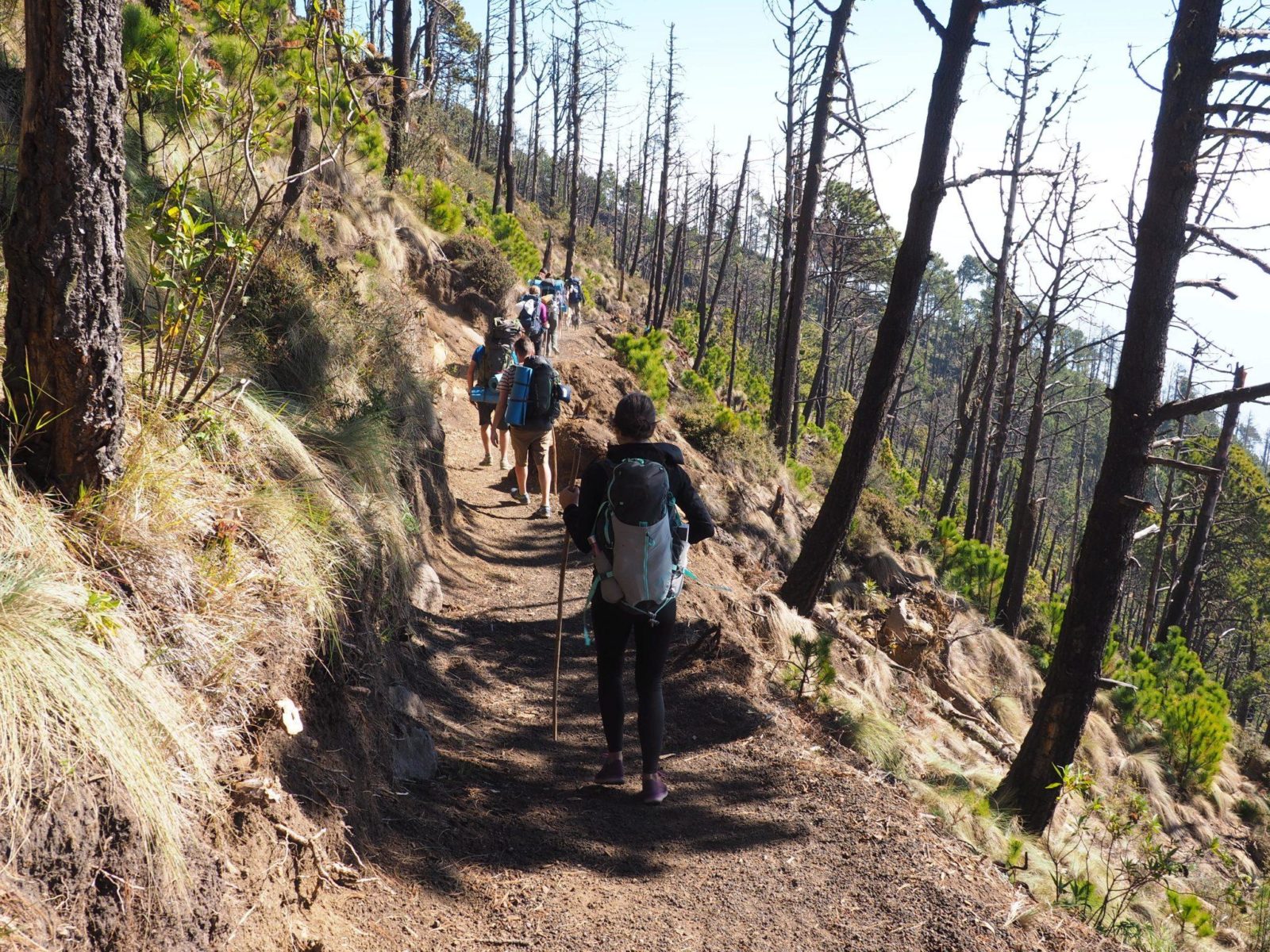 We finally arrived at the camp around 3 pm to be told we had an hour to rest while Miguel pitched the tents and then we would leave for Fuego.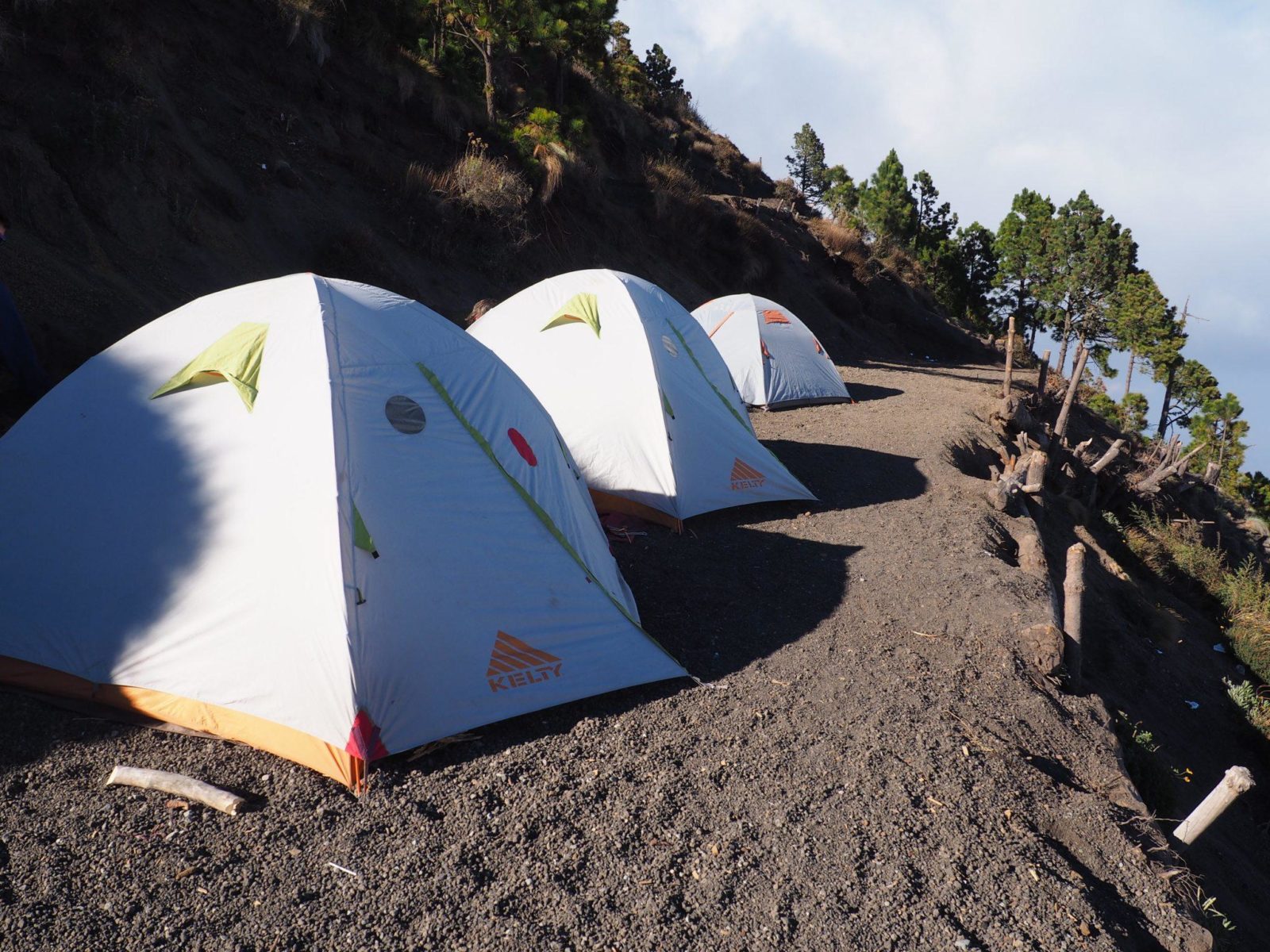 Going to Fuego
I actually didn't think I would make it to Fuego. Mostly because of my ankle, but also because I didn't think I would be fit enough. I had told everyone I would just do Acatenango and then stay behind to pitch the tents. To be honest I really surprised myself as I didn't struggle physically with this hike (apart from a little ankle pain) and I actually felt pretty good at camp so I decided I was going to go.
The decent
About 5 minutes in I decided it was a stupid idea and I should have stayed behind! This was the start of the mental game I played in my head the whole way there and back. Acatenango is hard, but Fuego is an ass kicker! Just imagine for a moment hiking for 6 hours to go up a volcano. Then you start hiking down that volcano so you can climb another one.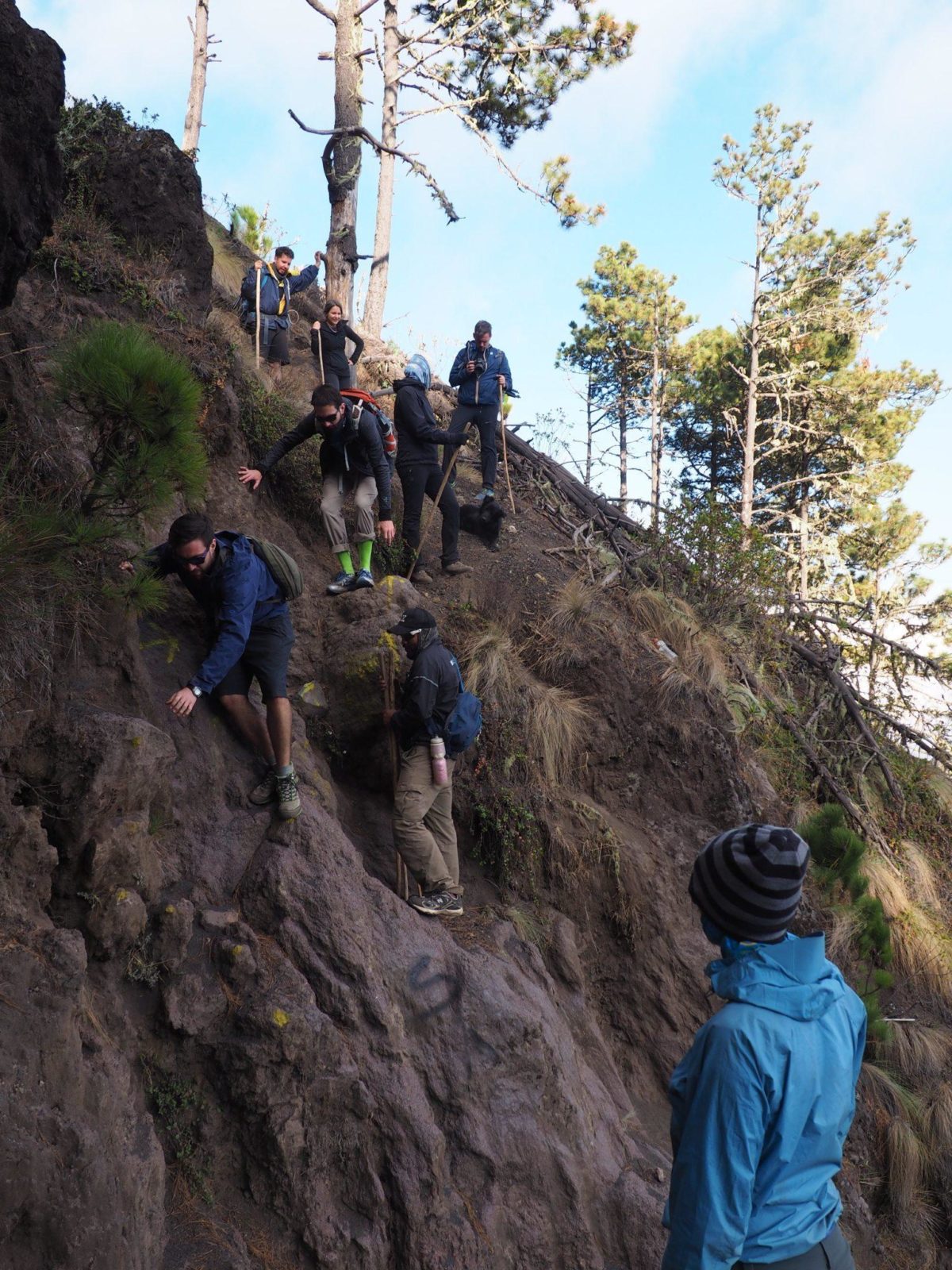 The whole hour and a half it takes you to hike down you are thinking in your head F@#K I have to hike back up this tonight IN THE DARK. When we got to the part when I was scaling rock face my panic started to set in. But the whole time outwardly I was a vision of calm, in spite of my internal monologue going crazy wondering what would happen if I just slept right there for the night…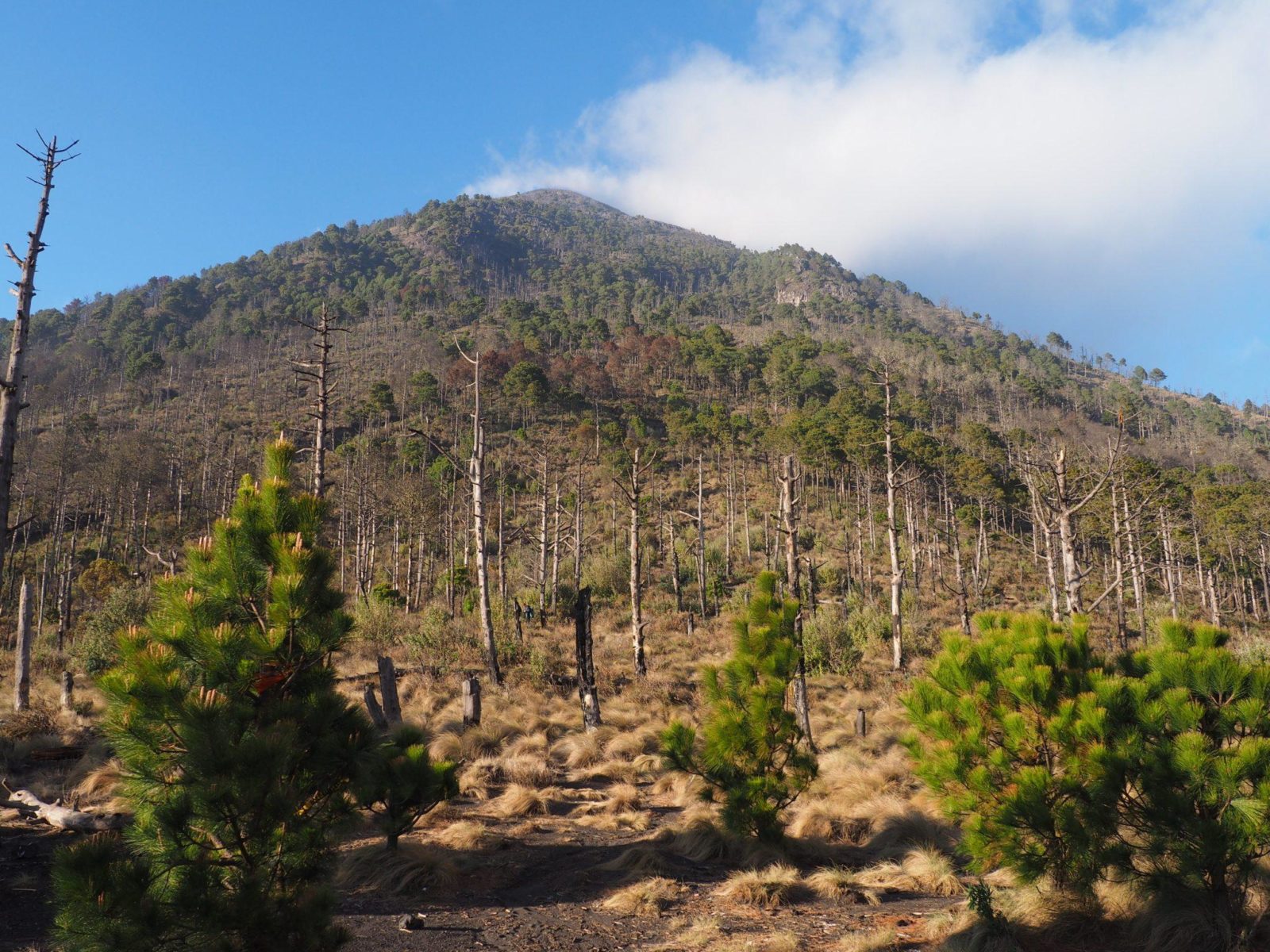 I think the lowest moment was when we reached the base of Fuego and looked up. My first though was "that's steep, I might have to just sleep here tonight.". But of course, I just put my head down and kept putting one foot in front of the other. This part of the hike was for me 75% a mental challenge and 25% a physical one…until the last section before you reach Fuego's knife ridge.
That section kicked my arse and it was the only time I started to fall behind. Lucky for me Miguel and Michael one of the others who was struggling a bit kept me going.
What a feeling it was to reach the top!
Then the moment that Fuego erupted WHILE WE WERE ON IT was just something else! Everyone was jumping up and down screaming. It was a pretty special moment. Although the worrier in me couldn't help having a little panic about getting back in the dark. So when everyone decided it was time to leave before it got too dark I was a little relieved.
Getting Back to Camp
Although it's a difficult trail, guided by Miguel, we all helped each other down and then back up to camp stopping along the way to watch the explosions!
It actually wasn't as difficult as I had thought it was. At the point when my body really started to slow down, I looked up and saw camp! It was 9 pm when we got back…that's almost 10 hours of hiking!
I can't even begin to describe to you how amazing it was to put on some warm clothes and sit round a campfire eating a huge bowl of pasta and drinking a glass of wine watching Fuego erupt about every 20 minutes! Sadly my photos aren't great but Michael kindly let me use a few of his. Thank you, Michael! (be sure to give him a follow on Instagram!
The Morning After
The next morning the plan was to get up just before 4 am and then hike the 1.5 hours uphill to the summit of Acatenango. I knew in my mind before I even went to bed that I probably wouldn't be getting up! My ankle was feeling pretty tired as was the rest of my body! Knowing I would have the chance to do this again I decided not to push through and to stay and rest. The hike to the summit is like walking up a sand dune for an hour and a half and the hardest part of the whole tour. So I took some sunrise on Acatenango selfies instead…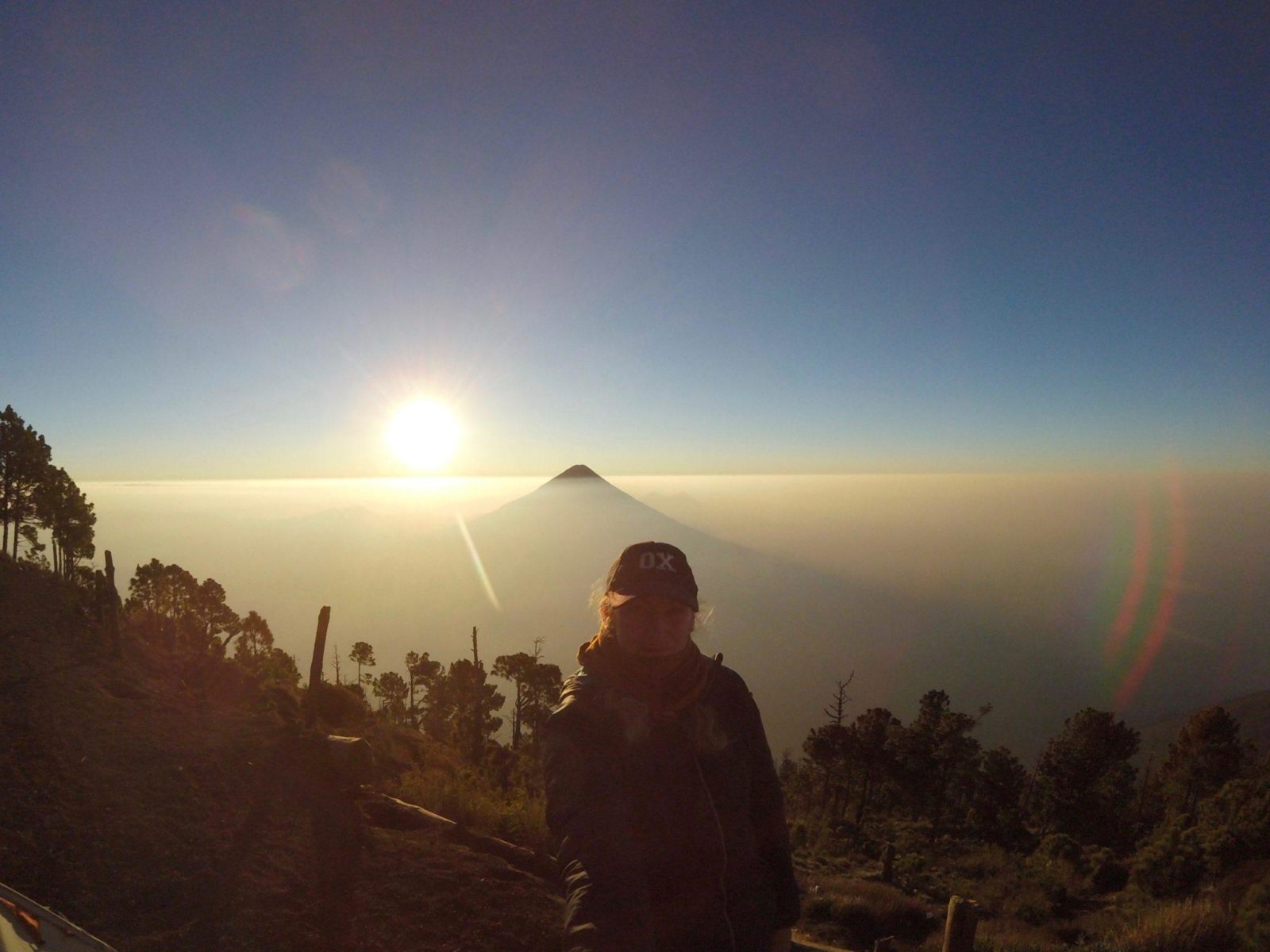 I'm still happy with my decision to stay behind and I got to sit alone and watch the sunrise which was actually really peaceful and beautiful.
After breakfast, it was time to pack up the camp and start the descent! It takes 2.5 hours on average to hike down Acatenango. The whole way down I kept thinking, how the hell did I hike up this!?
Filthy and exhausted but very happy we all made it down in one piece!
What you need to pack for hiking Acatenango and Fuego
If you go with OX they have a pre-trip meeting to go through everything you need and what you don't have they will lend you or tell you where to buy it. But that doesn't help your packing! So here is a list of some things I would recommend you bring:
55ltr hiking backpack – make sure it has a waistband and a place to hold your water bottle for easy access

Hiking boots, sneakers are ok but if they don't have good grip going down will be tough!

Synthetic clothing – You are going to sweat, cotton takes a lot longer to dry and will make you cold with the winds up there. I wore shorts and a top up, I put on long leggings for Fuego and then long hiking trousers the following morning.

Warm clothes – fleece top and bottoms/ thermals/ a down jacket/ jogging bottoms are all good choices. Also, make sure you have extra socks!

Cap, woolly hat, gloves and a head wrap/ mask/ neck warmer will keep you warm and also keep you from inhaling all of the dust

Walking poles – only if you have them. OX do lend them to people, but if you have them then bring them.

Snacks and water! Bring lots of good snacks to nibble on the way you will need the energy.

Electrolyte powder – I'm so glad I brought these!

Baby wipes and tissues

Bin bag – I always wrap my stuff in a bin bag to waterproof. Then you can use the bag to collect rubbish on the way back down.

Blister pads- just in case

Headlamp – trust me you will need this so much in Guatemala!

Would I do it again?
Absolutely! In fact, I'm already planning to do it again soon. Well the Aacatenango part, not so sure about Fuego! As I didn't go to the summit this time or carry my bag up I need to go again to do it properly without a busted ankle! But in all honesty, I really enjoyed the challenge so I think I would go again anyway!
If you need a cheap flight to Guatemala check Skyscanner first! Or download their App here, and don't forget your insurance!