Known for its miles of golden beaches and towering high-rises, the Gold Coast of Australia is gorgeous—this guide to the best places to visit in Gold Coast, Australia is all you need for an incredible trip.
On the city's western side, you'll find the Hinterland area, comprised of stunning Gondwana Rainforest, mountain villages, and Lamington National Park. Whether you dream of relaxing on beaches, exploring enchanting forests, dining in classy restaurants, or dancing the night away, you won't be disappointed! Let's dive into this Gold Coast guide to the top places to visit in Gold Coast, Australia.
What to Pack When You Visit Gold Coast, Australia
Before packing your bags, know how long you plan to stay and what activities you'll be doing. For instance, if you enjoy hitting the beach and shopping on the Gold Coast, you'll probably live in cute swimmers and sarongs with shorts and singlets to throw on top. However, if you want to explore the Gold Coast Hinterland area, you should activewear and walking shoes for the chilly rainforest climate.
Don't overlook the Gold Coast nightlife either—if you plan to go out on the town at night, save room in your suitcase for some classy dresses and heels. While the Gold Coast weather is sub-tropical and warm most of the year, check conditions beforehand to know what to expect.
Visit Gold Coast Packing Recommendations:
Activewear: Pack layers to account for different kinds of weather.
Various shoes: Don't forget flip-flops.
Turkish beach towel: There are some lovely designs, and Turkish towels are lighter and more compact than traditional beach towels.
Refillable water bottle: The Gold Coast can get hot and humid, so staying hydrated is essential. There are bubblers and drinking stations throughout the city where you can refill your bottle, making rehydration inexpensive and eco-friendly.
Sunscreen and a broad-brim hat: Sun protection is crucial in Australia. Your skin may not feel warm, but you could still be burning. I speak from experience as I once went kayaking for three hours on an overcast day without applying sunscreen and burnt my legs so badly I couldn't leave the house for almost a week. It was so painful and looked like I was burnt with boiling water, so please don't overlook sun safety!
Sunglasses: Pack good ones because you'll encounter water glare at most of the top places to visit Gold Coast.
Beach bag: Make sure it's large enough for all your essentials.
Makeup and toiletries: Hygiene is important!
Necessary prescription medications: Fill your prescription before traveling so you have plenty of spare medication in case of an emergency.
A camera: You'll take many photos of the picturesque Gold Coast, so leave some space on your memory card.
Tech devices: Chargers are also essential, but make sure they're compatible with Australian plugs—purchase adapters before traveling overseas.
Your Body Wand: Because holidays are meant to be as relaxing as possible! 😉
Best Places to Visit Near Gold Coast, Australia
There are many fun things and beautiful places to go on the Gold Coast. I'll focus on Gold Coast highlights since there's so much to see!
Best Places to See Gold Coast Ocean Views
The Gold Coast has over 31 enticing miles to enjoy, but the most popular (and safest) beaches are Surfers Paradise, Burleigh, Coolangatta, Kirra, and Mermaid Beach.
Places to Go Gold Coast Shopping
There are a few large shopping centers along the Gold Coast of Australia. Australia Fair is located across from the Broadwater, Pacific Fair is close to the Casino, and Harbour Town is an open-air outlet mall.
Visit each mall's information desk and request the tourist books of coupons. Some stores will discount in-store purchases, while restaurants may offer deals like a free drink with the purchase of a meal.
Historic Places to Visit in Gold Coast, Australia
Take a stroll down the beautiful Esplanade and Cavill Avenues. Both are famous sights in the Gold Coast area of Australia and feature historic landmarks and buildings.
Kid-Friendly Gold Coast Places to Visit
A Gold Coast guide would be incomplete without highlighting the incredible local amusement parks that are fun for the whole family:
Dreamworld: The best place to visit in Gold Coast, Australia for thrill-seekers with many rollercoasters, rides, souvenir shops, food outlets, and Tiger Island, where you can get up close and personal with the jungle's most fearsome predator.
White Water World: A small but mighty water park with insane water rides located next to Dreamworld.
Warner Bros. Movie World: Everything is themed around Warner Brothers creations like Looney Tunes. There are stunt car shows, 4D movies, souvenir shops, and exciting rides.
Wet'n'Wild: A large and entertaining water park with some of Australia's biggest and most extreme water slides.
Adventurous Places to Go On the Gold Coast
I can't speak highly enough of the calming effects the beautiful Gondwana Rainforests can have on a person. Tamborine Mountain is about 45 minutes from Surfers Paradise Beach and is the best place to visit in Gold Coast, Australia for a rugged adventure. The roads are steep and bendy in certain places, so I recommend booking a group tour group to get the most from your experience. Enjoy the amazing Australian landscape of waterfalls, cave-dwelling, glow worms, rainforest skywalks, wine tastings, and Devonshire Tea.
Gold Coast Guide to Top Nightlife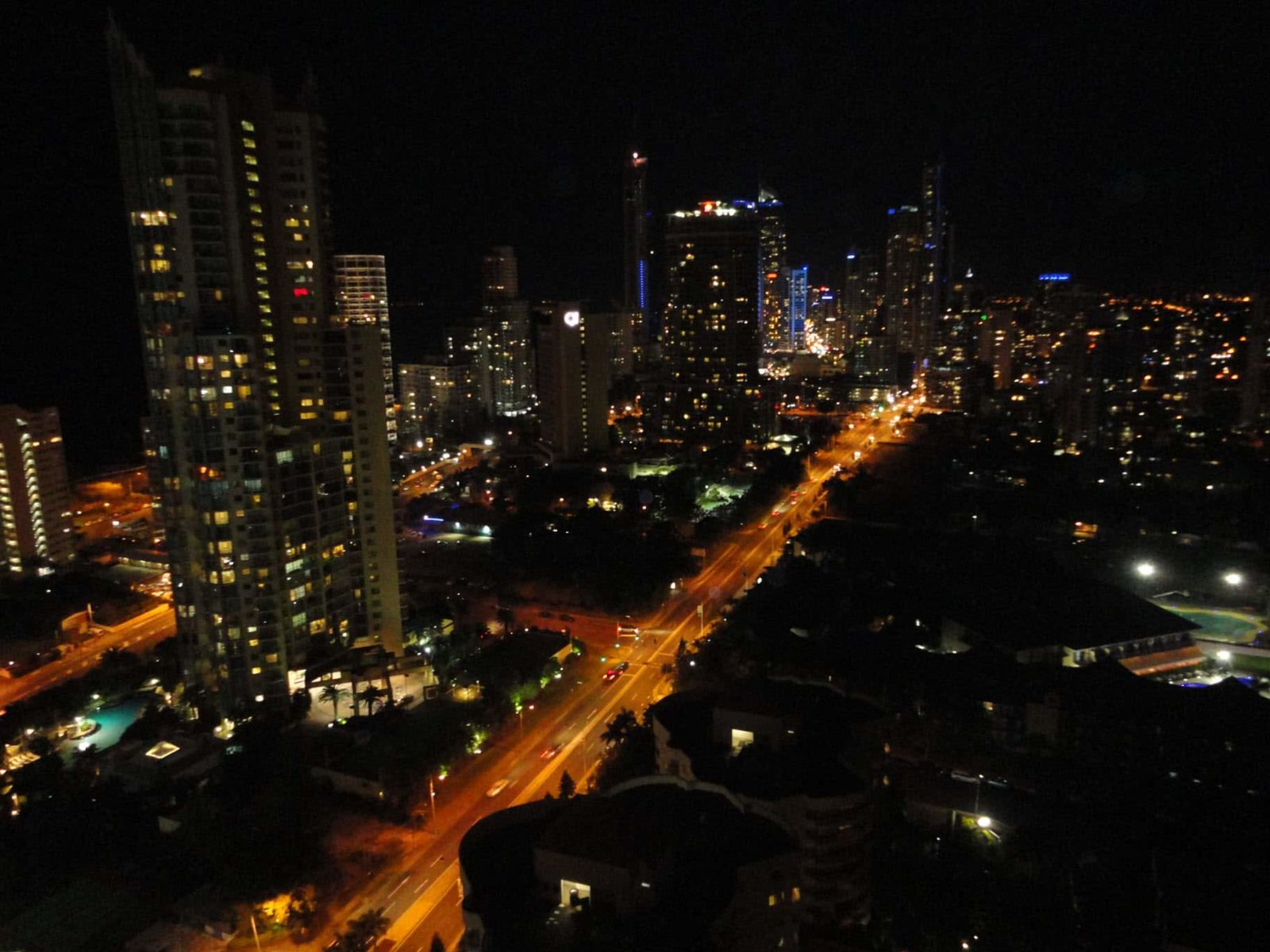 There's always a lot going on throughout the Gold Coast, so there's no shortage of fun after-dark activities.
Star Casino in Broadbeach: Offers live concerts and shows, casual and upscale dining, hotels with views, an alluring spa, and a world-class casino floor. There are plenty of restaurants at the Star Casino, from takeaway fish and chips to fine dining and everything in between.
Surfers Paradise Beachfront Night Markets: Hosted from 4:00 to 9:00 p.m. on Wednesday, Friday, and Sunday nights. The markets are usually well-lit and full of activity.
Nightclubs: The most popular options have good security and are close to each other, so bar-hopping is relatively safe and easy. Top Gold Coast nightclubs include Melbas on the Park, Love Nightlife, Platinum Nightclub, and Elsewhere Bar.
Q1 Building: This is Australia's highest external building climb that you can do at night—the experience is exhilarating, and the views are well worth it! If you're not up to the challenge, take the fast elevator and sip a glass of champagne while enjoying views of the ethereal lights from the comfort of the Skypoint Observation Deck.
Nocturnal Rainforest and Glow Worm Tour: An exciting off-road adventure to watch the rainforest come to life at night and see caves full of glow worms. The tour ends with dessert and a hot drink at a mountain restaurant before the 45-minute drive back to the central Gold Coast. This tour also offers free pick up and drop off to many central hotels.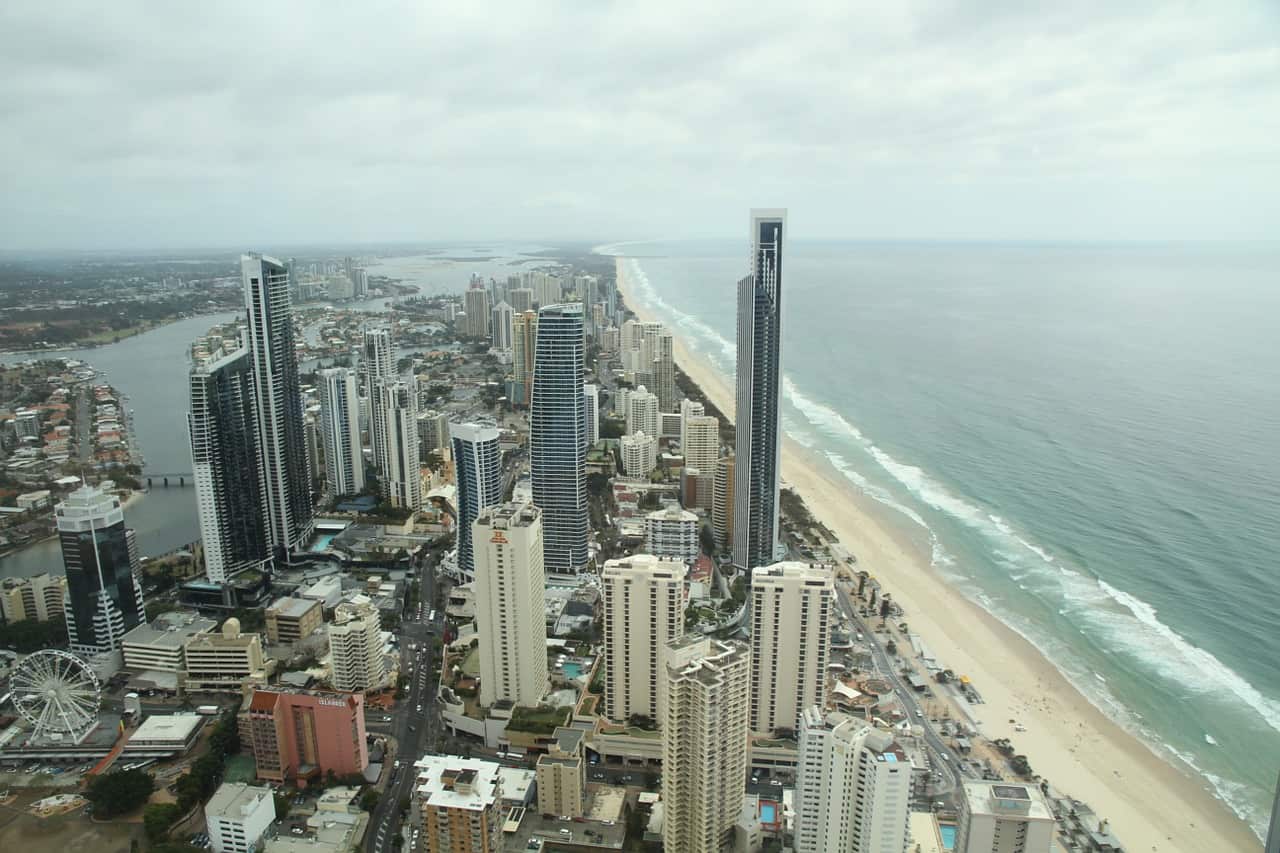 Getting to Surfers Paradise from the Airport
The Gold Coast Airport is located in the southernmost suburb, Coolangatta. Since the Gold Coast stretches for 43 miles (from Coolangatta to Beenleigh), I consider Surfers Paradise the central hub for activities and public transportation.
There are a few options to get to Surfers Paradise from the Gold Coast Airport:
If you're confident driving, rental cars are available for hire directly from the airport—confirm the agency's insurance charges and policies first. There's also a 45-minute long bus to Surfers Paradise.
A taxi area in front of the airport has a constant supply of cars waiting to transport you throughout the Gold Coast. I've never had issues with Gold Coast taxis, though I'm very cautious and always sit in the backseat.
You can also use the Uber or Ola rideshare services to get to Surfers Paradise from the airport.
Gold Coast Guide to Public Transportation
The public transportation throughout the Gold Coast is impressive, featuring an integrated bus, train, and tram network called TransLink. The best and cheapest way to get around on the Gold Coast is by picking up a 'Go Card' from any tram, train, or busway station fare machine for cheaper fares and convenient top-ups. For more information, visit Translink.
The light rail tram is excellent for safely hitting the beaches, sightseeing, and getting from one attraction to another for a reasonable price. For anything off the light rail tram line, I recommend taking a taxi. The bus schedules can be challenging to decipher, and there's no one available onsite to assist. In my experience, Gold Coast buses also tend to run late due to the unpredictable traffic.
While the Gold Coast's public transportation is generally safe, you should always use caution and common sense. For example, avoid getting into a tram car if there's a group of intoxicated or rowdy people. Don't walk alone early in the morning or after dark, especially through parks or isolated stretches of land.
Where to Stay When You Visit Gold Coast, Australia
There are many budget-friendly and mid-range accommodations throughout the Gold Coast, including hostels, motels, and hotels.
Mid-Range Gold Coast Hotels:
Luxury Gold Coast Hotels:
Gold Coast Safety Tips
Australia is typically a safe travel destination, but there are some crucial tips for staying as safe as possible.
Always swim between the red and yellow flags on the beaches. Lifeguards patrol the area daily to find the safest swimming space. If you get caught in a riptide or swamped by a wave and require assistance, try to remain calm and wave your hand to get the lifeguard watchtower's attention.
Don't walk alone in isolated areas at night—have your taxi drop you at the door of your accommodations. Be aware that Cavill Avenue is notorious for drunken behavior. While there are frequent police patrols, I don't recommend hanging out after midnight.
Like most major cities, there are opportunist thieves on the Gold Coast, so don't leave your valuables on the beach unattended while swimming, and always lock your vehicle and hotel room. Be wary and alert of your surroundings—if something doesn't feel right, trust your gut and seek help immediately.
The emergency phone number in Australia is 000. Dial it to reach emergency services like police, firefighters, and an ambulance.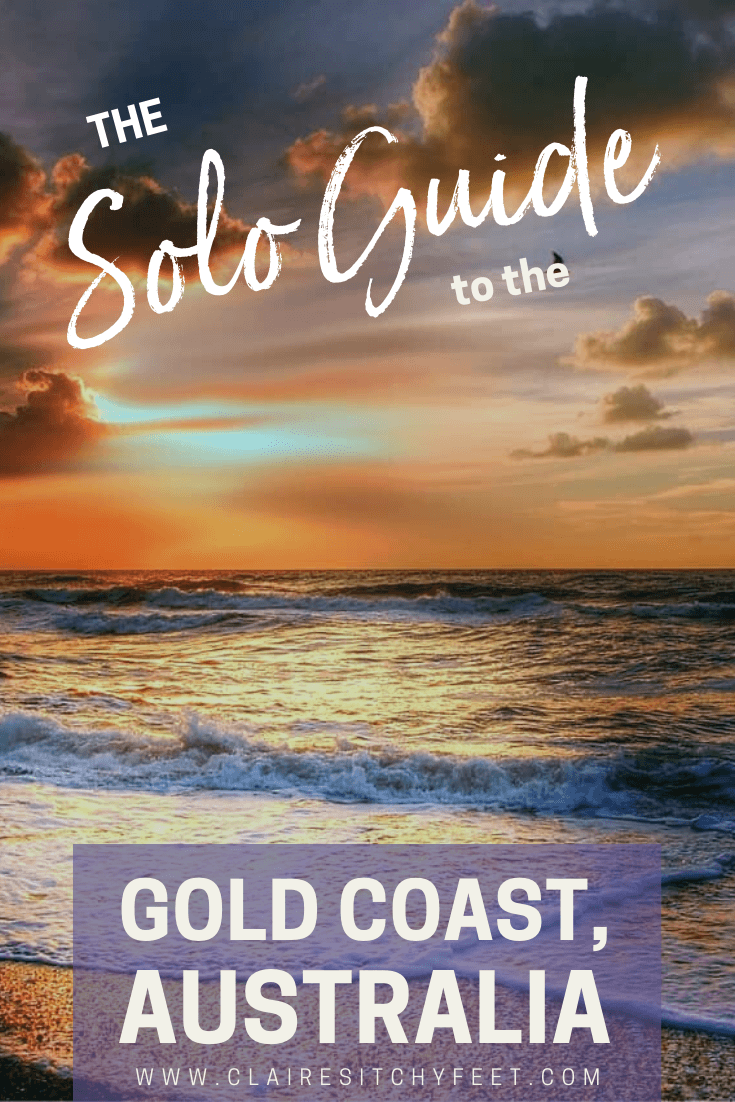 Best Places to Visit in Gold Coast, Australia: Final Thoughts
The Australian Gold Coast is a safe and beautiful place to explore that balances the convenience of a big city with the charm of a quaint village. I recommend spending at least a week, but preferably two, adventuring through the Gold Coast area of Australia. Hopefully, this Gold Coast Places to Visit guide will help you find the best places to see Gold Coast views and fun places to visit near Gold Coast, Australia during your trip.
If you're a big fan of beaches, Australia has many more great beach holiday spots to visit.

About MumsDelivery
Silvia and partner Mark have run MumsDelivery, a trusted resource for Australian parents, for over ten years, providing travel tips, parenting advice, and family-centered product reviews. Although most of her travel these days is with her partner and kids in tow, Silvia arrived in Australia as a solo traveler from Brazil after an 11-year stopover in Italy!
You can follow MumsDelivery on Social Media: Instagram | Twitter | Facebook