Are you planning a trip to Jordan? Jordan is a popular destination for many tourists as there's a lot of history to experience in this magical country. Starting in Petra, an area that may have been inhabited as early as 9,000 years ago, to Aqaba's modern luxury resorts by the Red Sea, there's no shortage of things to do in Jordan. Here are 9 essential Jordan travel tips to help make the most of your time there.
Personally, I'm a history buff and love traveling to see remnants of the past and earlier cultures. If you're into modern time traveling like me, then you'll love Jordan! Conversely, if you're more into relaxing travel or glamping, there are options for that too!
But, considering you're reading this I think it's safe to assume you've got your eyes set on visiting. So, I'll stop hyping one of my favorite travel destinations and focus on travel tips for when you get there!
#1 Plan Ahead
Jordan is a small country, but there is still a lot that you can do on your trip. Having that in mind, I have to give the tip I give for every trip you'll take, which is to plan ahead! Some people who read this may have 2 weeks in Jordan, while some may have as little as 2 days. Regardless of the time you have traveling around Jordan, it helps to have some outline of a plan to ensure no travel time is wasted.
I recommend listing off your "must-see" sites and to find a route between them that is the most efficient. After, find out the estimated visiting time to see the entire site to get an idea of how much time to spend at each one. Sometimes you may have to cut a destination out or may have extra time to see more, either way, a plan will make sure no time is lost!
#2 What to pack?
Obviously, when planning a trip to Jordan you want to pack for how long you'll be there, the weather for that time of year, and any accessories you may need. What you wear and how many clothes you'll need will depend on your preference. This means the number of outfits you bring is up to you, but what kind will depend on the weather and activities. Most people visit Jordan during the spring, summer, or even fall. However, if you do find yourself there in the winter, it can get cold so prepare for low temperatures!
Your clothing should also match your activities. If you're hiking, I recommend some solid boots or even running shoes if it's only light hiking. Likewise, bring a bathing suit if you'll be spending some time at the Red Sea!
Regardless of the time of year, there are a few essentials everyone will need. For starters, sunscreen is a must, a reliable wallet/bag to hide personal items, and a few water containers/snacks!
#3 Learn A Little Arabic
During our trip to Jordan, we came across countless Jordanians that were happy to practice their English. However, we always received a better welcome when we tried to communicate in Arabic. It's their culture and everyone we met was glad to share it, showing an interest in learning the language will only make your time in Jordan easier.
You might not be able to learn the entire language, and no one expects you too. All it takes is learning the basic phrases and how to ask for help.
#4 Getting Around
A lot of public transportation is limited, but there are bus options between the major sites. Personally, I recommend renting a car and making the trip yourself, just be cautious driving around as the rules of the road are different. The country is small though and driving from Aqaba in the south, to Amman in the north will only take around 5 hours max.
If we ever go back to Jordan, I'll still be renting a car. It's so convenient to have the freedom to go where you want when you want.
#5 Get the Jordan Pass
We almost didn't get this and I'm glad we changed our minds. The Jordan Pass is vastly different from most tourism passes you'll find in other countries. It had every destination we planned to see and since we were staying for more than 4 days, the fees for the visa were waived!
If you're wondering about the numbers, the price of the lowest package is roughly $99. The fee at the time of writing this for a Jordan Visa is $56.50. So, if you're staying more than 4 days and plan to see sites that would cost you $42.50 altogether to enter, then the Jordan Pass will be a money saver!
#6 Things To Do In Jordan
Jordan is a part of the cradle of civilization. This means there is a ton of things to do in Jordan, history to experience, and so much to see. Considering all that you can do while visiting, it helps to narrow down some of the most intriguing places to visit during your trip to Jordan.
When deciding what to do in Jordan, in my opinion, Petra is one of the countries' most visited attractions for a reason. The site is more than just the Treasury (the most popular structure). It's an entire city that used to occupy the region and has ruins scattered throughout the canyons.
On top of doing a Jordan petra tour, Wadi Rum is a must-see. Famous for Lawrence's house, Wadi Rum is also the filming location for numerous modern movies including The Martian. The landscape of this area is a spectacular sight and no picture I took could do it justice.
There are many other places to visit in Jordan but these are the things you shouldn't miss!
#7 Best Time to Visit Jordan
If you are wondering when the best time to visit Jordan is it's good to know that Jordan has hot summers and cold winters. While the summer is a common time to visit, I recommend going during Spring or Fall to avoid some of the tourist rush and climate. Regardless of when you go, it's best to still be prepared for changing weather, as some nights in the summer can get chilly.
#8 Eating locally
There are fast food options all around the country, but the local cuisine is wonderful and shouldn't be turned down. Many people I've talked to wouldn't be up to trying some of the Middle Eastern cuisines. I have a very picky palate and I loved the local food we came across in this country.
#9 Dress accordingly
Most of the country dress conservatively. But wearing hiking clothes at outdoor places like Petra and Wadi Rum is acceptable. Likewise, if you're in Aqaba or a similar resort area that's more westernized, a bikini or pair of shorts is perfectly fine.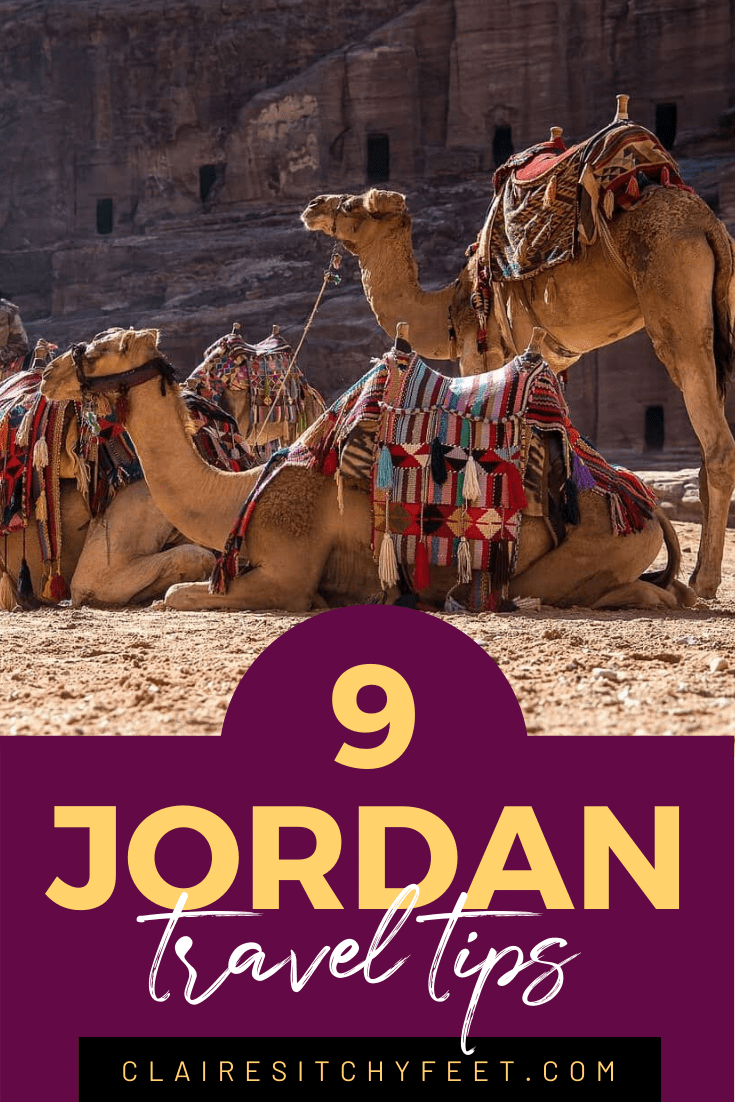 Have Fun in Jordan!
Hopefully, these Jordan travel tips help you during your trip to this phenomenal country. After visiting most of Europe, plenty of countries in the Middle East, and other remote areas of this beautiful planet, Jordan is still one of my favorite trips I've gone on. I have a strong feeling that you'll love Jordan just as much as I did!
Casey LaClair is a 27-year-old travel enthusiast. Having a career in Satellite Communications and pursuing a degree in Computer Science, most of his time is spent hunkered over a keyboard. This love of technology, mixed with a desire to travel, led him to create Viraflare to spread his joy of travel and help others find their way on the road.