Sunny Lisboa has become the darling of western Europe in recent years. It's no surprise really considering how many unique things to do in Lisbon there are. But this influx is thanks in large part to massive exposure brought on by winning several World Travel Awards including being named the leading European city break destination for 2019 as well as hosting an array of world-class events such as the annual WebSummit tech conference and the Eurovision song contest.
All this attention and accolade has resulted in everyone getting in on the secret, Lisbon is gorgeous and will no doubt capture your heart from the get-go!
And for good reason too, Lisbon is a beautiful city, almost year-round sunshine, friendly, warm and hospitable people and with so much to see, do and explore too, it's no wonder the city is top of many would-be visitor's bucket lists.
If you are planning a visit to Portugal any time soon, then this solo guide to Lisbon is perfect for you, outlining all the essential information you may need to make your stay perfect and an unforgettable one.
Top Unique Things To Do In Lisbon Solo
Foodie – Visit TimeOut Market
Indulgence in some foodie joy at the popular TimeOut Market situated in Cais do Sodre. Here you'll be able to savor a range of Portuguese and other cuisines ranging from simple street-style food, traditional Portuguese dishes, modern interpretations of Portuguese classics to all sorts of other types of worldly delights that will have you in foodie heaven in no time!

Enjoy Drinks with a view (think sunset)
Lisbon is a city blessed with hills. As much as this may at times seem like a curse, especially when you're headed uphill after a long day out sightseeing, it's also a blessing in that Lisbon offers up some truly breath-taking views from almost every angle possible.
So, head out to one of the many rooftop bars (Topo Chiado, Park, Skybar, H10 Duque de Loulé Hotel or Lost In), or to one of the viewpoints ('Miradouros' in Portuguese) such as the Miradouro da Graça, the Miradouro da Santa Catarina, Portas de Sol or the Miradouro de São Pedro de Alcantara to name but a few. Sit back, grab a drink and marvel at the sweeping views out over the city.
Explore the older neighborhoods of Alfama, Castelo, and Mouraria
For unique things to do in Lisbon why not explore the older parts?! Some of the oldest neighborhoods, Alfama, Castelo and Mouraria, are an absolute pleasure to wander through and explore. Get lost in the narrow alleyways and streets. Surrounding the Sao Jorge Castle in the neighborhood of Castelo, you may even bump into a couple of peacocks that live in the castle grounds.
Then whilst here, be sure to enjoy a Fado show and dinner. Fado is the traditional melancholic music of Portugal and tells the stories of its culture and history. It's hauntingly beautiful and well worth experiencing.
Take a day trip to magical Sintra or Cascais
If you have a couple of days to spend in Lisbon, then planning some Lisbon day trips is a must. Lisbon to Sintra or Cascais should be top of your list. Both are under an hour away by train and well worth a visit. My favorite Lisbon day trip is to magical Sintra, a small-town set at the foot of a mountain that once used to be the summertime royal residence when Portugal still had a monarchy. Today, Sintra is a UNESCO World Heritage site with castles, palaces and noble estates scattered all around.
Pena Palace and Quinta da Regaleira are two of my absolute favorites to see.
Cascais, on the other hand, is set along a gorgeous coastline that is often referred to as the Portuguese Riviera. Head on over to explore the town center as well as the many golden beaches and savor some fresh seafood and a glass of Vinho Verde (green sparkling wine) in the Portuguese sun.
Explore the sights in Belem
Indulge in a bit of sightseeing by heading out of the neighborhood of Belem. To get here, you will have to take the train, tram or bus. Once there, definitely check out the impressive Jerónimos Monastery, the Torre de Belem (Belem Tower) and the Padrão dos Descobrimentos.
Then if you don't mind the queues, head over to the world-famous Pasteis de Belem pastry shop to try out the delicious Pasteis de Nata (egg custard tarts), the jewel in Portugal's pastry dessert crown!
Enjoy sightseeing in downtown Lisbon
Lastly, be adventurous and explore all that Lisbon's downtown has to offer. Walk down from Parque Eduardo, along Avenida Liberdade, through Rossio Square, and down the Rua Augusta shopping street. Head through the Rua Augusta Arch and onto the Praca do Comercio square down by the riverfront.
Other significant attractions include the Santa Justa Elevator, the Sao Roque church, the Se Cathedral and the Carmo Convent and church ruins to name but a few. If you are pressed for time, then you may want to opt for a Hop on Hop off city sightseeing bus that visits and stops along with all the major attractions and sights too.

Things To Do In Lisbon At Night
Visiting Lisbon and wanting to experience a fun night out? Well, there are plenty of things to do in Lisbon at night. Lisbon's nightlife scene is definitely hip and happening with lots of clubs, bars, shows, events and much more taking place every night.
For the ultimate party experience, head out to the party neighborhood of Bairro Alto, a maze of the bar and club-lined streets. Or go to the infamous pink street which hosts a range of quirky bars and clubs such as the popular Pensão Amor. After more of a dance club experience? In that case, a club like Lux Fragile is definitely to place to go.
More specifically, for solo travelers in Lisbon wanting to connect with other fellow travelers and make new friends along the way, be sure to download the Meetup app. There are regular weekly Meetups happening all across the city where you can socialize and network with locals, ex-pats and travelers alike.
If you're a Digital Nomad, then you'll be very happy to know that there is a thriving and very active digital nomad community in Lisbon. There's a weekly Digital Nomad's meetup as well as regular events hosted by different start-ups, hostels, and co-working spaces.
Facebook Events is another fantastic resource to scout for any upcoming events happening in and around the city that may include music events, shows, art gallery exhibitions and plenty more.
How To Get From The Airport To Lisbon
Situated in under 10 kilometers from Lisbon's downtown, getting from the Humberto Delgado International Airport to the city center should be no hassle at all.
There are a number of different modes of transport available, all of which should take under 30 minutes and be fairly inexpensive to make use of.
First and foremost, the airport is connected to Lisbon's metro system on the Red Line that travels into the city and connects onwards with other lines within the network. A single journey will currently set you back a mere €1.34, plus an initial €0.50 to purchase a re-chargeable 'Zapping' card.
Secondly, you may opt to make use of the various cab-hailing services that do operate in Lisbon. These include Uber, Kapten or Bolt. I would highly recommend that you check rates on all 3 to ensure you get the best fare as they do fluctuate. Given that Lisbon is so compact and the airport located not too far out, making use of a cab service works out surprisingly cheap.
These ride-hailing companies are very popular in Lisbon, especially since many travelers and locals alike feel that the more 'traditional' taxis sometimes take visitors on longer detours in order to escalate prices. As such, I much rather prefer using these operators, thus knowing ahead of time exactly what my fare will be, with no nasty shocks or surprise at the end of the ride.
Then, there is also the option of using the Aerobus service that connects Lisbon Airport to different parts of the city and operates between the hours of 08:00 am to 21:00 pm at a cost of €3.60 one-way or €5.40 return.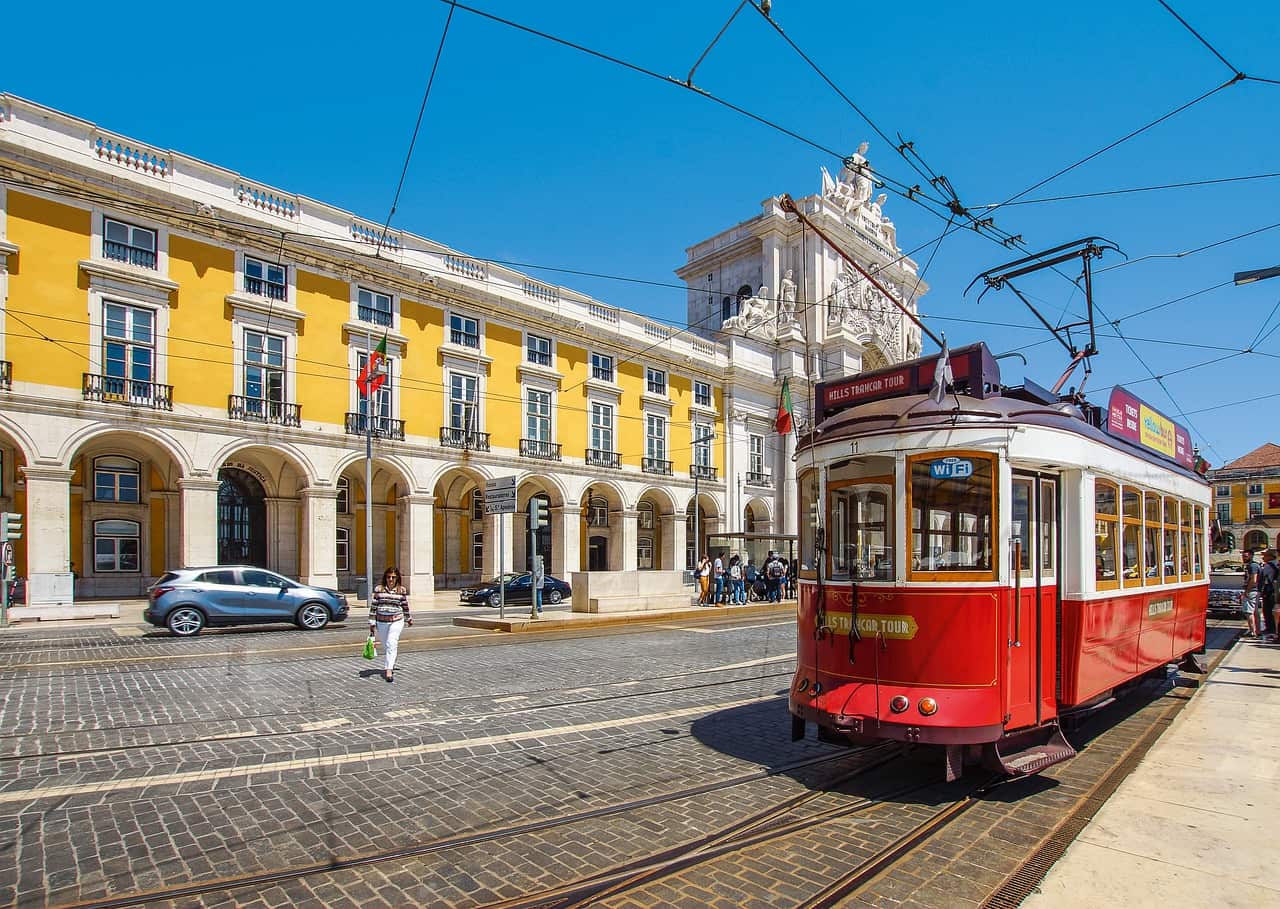 Getting Around – Using Public Trasport In Lisbon
Lisbon is a very compact city. In fact, if you're staying in what is regarded as central Lisbon (areas such as Baixa, Chiado or down Avenida Liberdade), then you can quite easily get around Lisbon on foot.
In saying this, Lisbon does have fantastic public transport with a great metro system, buses, trams and elevators that you can use to get around more freely.
When making use of these you can purchase a Zapping card, which is a rechargeable travel card whereby you can load a set value (example – €3, €5, €10) and then make use of the metro at a cost of €1.34 per journey.
Alternatively, you can also purchase a 24-hour metro pass costing €6.40, allowing you to travel on buses, trams and the metro for that period.
If you plan on making use of public transport in Lisbon a lot during your stay and anticipate doing loads of sightseeing, then check out the Lisbon Card that offers a 24, 48 or 72-Hour Pass. Starting from €20 and upwards in price, it will give you access to transport on the metro, buses, and trams, as well as the CP (Comboios de Portugal), trains from Lisbon's Cais, do Sodre to Cascais as well as Lisbon's Rossio station to Sintra.
Ideal if you are planning day trips from Lisbon to these two destinations. Not only that, but you will also get free entry into selected museums and attractions as well as discounts and special offers at others.
Have you only got a limited amount of time in Lisbon? If that's the case, then I would highly recommend that you consider purchasing a Hop on Hop off city sightseeing bus pass. This is a great way to get to see all the relevant highlights of Lisbon in a short amount of time.
Also, ever-popular in Lisbon is the Tuk Tuk city tours. Another cool way of getting around, especially in the oldest neighborhood of Alfama. Lisbon is known as the city of 7 hills and Alfama's hilly and narrow alleyways may be daunting for some. So, whizzing around on a Tuk Tuk city tour may be a fun and unique way of getting your sightseeing fix too.
Want to try a more active and different approach? Then rent one of the many bicycles or electric scooters dotted around the city. Lime and Hive scooters, as well as Uber's e-bicycles, are just a few on offer.
Lastly, as already mentioned, making use of cab-hailing services is pretty inexpensive considering Lisbon's size. And this may very well be another alternative option to make getting around the city that much easier.
Best Places To Stay In Lisbon Portugal
When considering places to stay in Lisbon, a couple of areas stand out above the rest.
Firstly, the trendy neighborhoods of Chiado and Principe Real are both great choices with lots of hip restaurants, bars and things to see and do too.
Downtown Baixa is slightly quieter, depending on the street you are in, but still very centrally located. From here you can easily get around many of the major tourist attractions too.
For me though, the tree-lined avenue of Avenida Liberdade is my absolute favorite. It's only slightly away from the more touristy downtown area but still easy to reach on foot. It is regarded as one of the most expensive stretches of real estate in Lisbon with designer outlets lining the avenue. But you can still find many good hotel options at great prices here.
One thing to keep in mind when choosing where to stay in Lisbon, are the hills that I've already spoken of. Certain areas of Lisbon are incredibly hilly and may pose a problem to travelers with mobility issues. Areas such as Anjos, Graça and even the older neighborhood of Alfama can get quite steep in certain parts. Not very pleasant when lugging your suitcase up a steep cobbled hill!
Either way, there are tons of good quality accommodation on offer in Lisbon and with the overall prices fairly cheap compared to other European neighbors, Lisbon is great value for money.
Recommended accommodation for budget travelers:
Recommended accommodation for mid-range travelers:
Nest House Lisbon Hostel (Private Room)
Recommended accommodation for luxury travelers: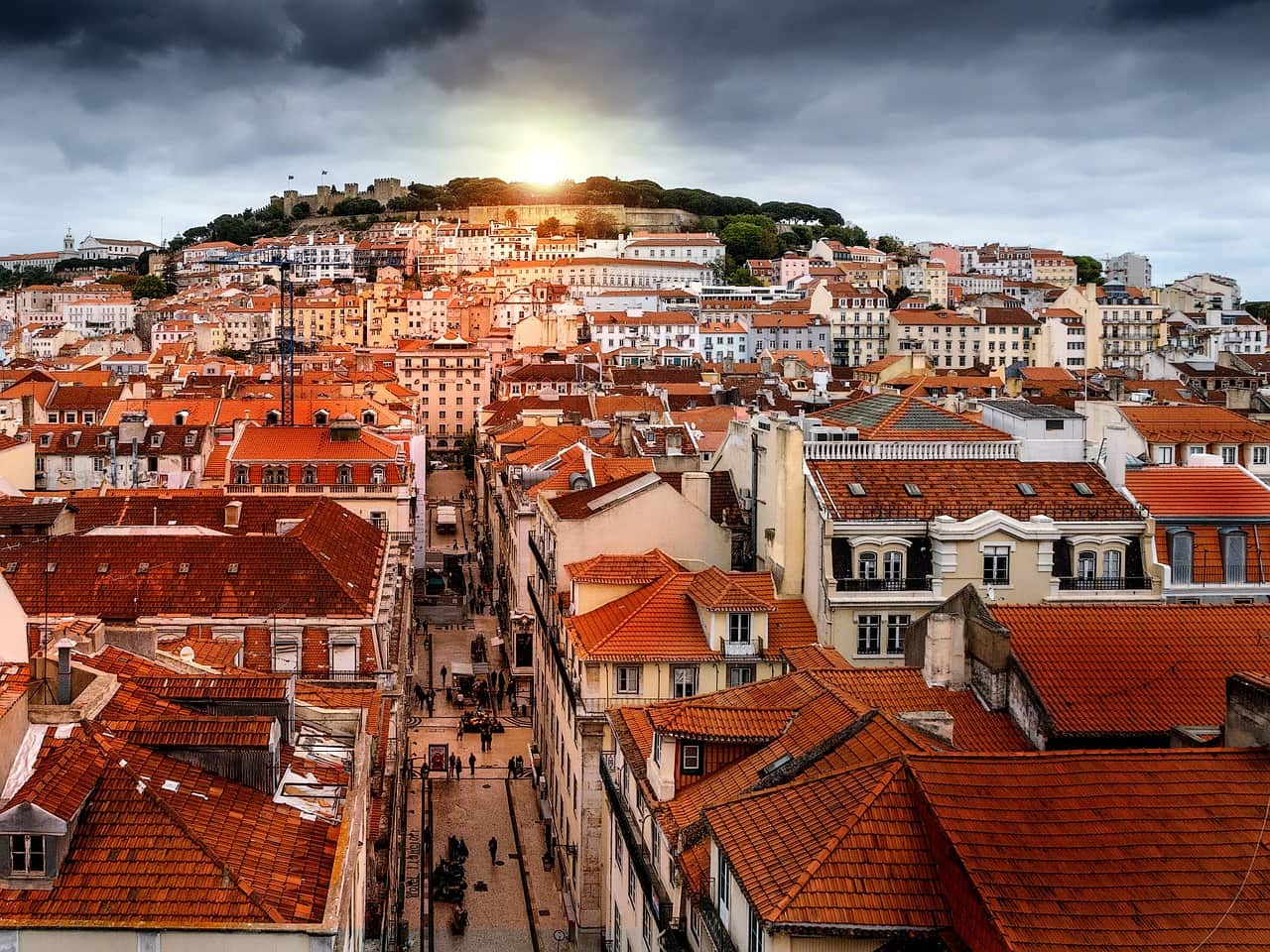 Safety Tips For Solo Travelers in Lisbon
Portugal has been ranked as one of the safest countries in the world, meaning safety should generally not be an issue at all when visiting.
Naturally speaking, all cities, including Lisbon, will have areas to avoid or pockets of petty crime. But these incidents are few and far between.
Areas such as Intendente, Martim Moniz or even certain sections around Cais do Sodre has been known to be a tad sketchy late at night and I would advise to take caution, especially if you're walking alone after dark.
Unfortunately, a very annoying trend has been in operation for years, that being, the fake 'drug dealers' trying to sell their goods to tourists, especially in very touristy areas. These guys are total scammers and likely selling an array of fake drugs of herbs to unsuspecting tourists. They are pretty harmless and simply ignoring them and walking away is usually the best approach.
Due to the high levels of safety, the Police do take incidents of crime very seriously. You will often spot the public police out and about at night in areas such as Bairro Alto (the party district).
If you do happen to be a victim of crime whilst visiting or suddenly fall seriously ill, the national emergency number to call is 112. This is a single emergency number used in Portugal and connects you to the Police as well as Ambulance and other emergency services.

Final Thoughts
Lisbon is without a doubt a truly spectacular city and place to visit. With so much to see and do, stunning views, a vibrant nightlife, gorgeous architecture and not to mention the friendly and welcoming people, you will no doubt leave a piece of your heart behind heading back home after a visit here.
Author Bio:
Born and raised in South Africa, Marco, together with his partner moved to sunny Lisbon over 2 years ago. Discovering his own Portuguese heritage, Marco has set out to blog and share his passion for traveling through and exploring both Portugal and Spain, through his blog Travel-Boo.