Lisbon, Portugal has become the darling of Western Europe in recent years, which is no surprise given all the fun and unusual things to do in Lisbon. Lisbon became significantly more famous for winning several World Travel Awards, being named the leading European city break destination for 2019, and hosting world-class events like the Eurovision Song Contest.
All this attention and accolades have resulted in everyone getting in on the secret that Lisbon is gorgeous and will immediately capture your heart. Lisbon is beautiful, with almost year-round sunshine, friendly people, and unique sights.
If you're planning a trip to Portugal, this solo guide to unusual things to do in Lisbon by guest writer Marco is perfect—it outlines essential information for an unforgettable stay.
Top Things to Do in Lisbon Portugal
1. Visit TimeOut Market
Indulge in some foodie joy at the famous TimeOut Market in Cais do Sodre. Here, you'll find many dishes, from simple street-style foods to traditional Portuguese cuisine and modern interpretations of Portuguese classics. You'll be in foodie heaven as soon as you step through the doors of TimeOut Market.

2. Enjoy Drinks with a Sunset View
Lisbon is full of hills, which is a blessing, considering the city offers breathtaking views from almost every angle. Visit one of the many rooftop bars (Topo Chiado, Park, Skybar, H10 Duque de Loulé Hotel) or viewpoints ("miradouros" in Portuguese) such as Miradouro da Graça, Miradouro da Santa Catarina, Portas de Sol or Miradouro de São Pedro de Alcantara. Sit back, grab a drink, and marvel at the sweeping views of Lisbon. Stay for the sunset, and the rooftop becomes one of the top things to do in Lisbon at night.
3. Explore the Historic Neighborhoods of Alfama, Castelo, and Mouraria
Searching for unusual things to do in Lisbon? Explore some of the city's oldest neighborhoods, including Alfama, Castelo, and Mouraria. They're beautiful areas to wander through and explore—get lost in the narrow alleyways and streets. Surrounding the Sao Jorge Castle in the neighborhood of Castelo, you may even bump into a couple of peacocks that roam the castle grounds!
While there, be sure to enjoy a Fado show and dinner. Fado is a traditional melancholic style of music unique to Portugal, telling stories of the country's culture and history. This music is hauntingly beautiful and well worth experiencing.
4. Take a Day Trip to Sintra or Cascais
If you have a couple of days to spend in Lisbon, you must plan some Lisbon day trips. Journeying from Lisbon to Sintra or Cascais should be at the top of your list, as both are under an hour away by train.
My favorite Lisbon day trip is to magical Sintra, a small town set at the base of a mountain that was once a summertime residence for royals. Today, Sintra is a UNESCO World Heritage Site filled with castles, palaces, and noble estates. Pena Palace and Quinta da Regaleira are two of my favorite things to do in Lisbon Portugal.
Cascais is located along a gorgeous coastline often called the Portuguese Riviera. Explore the city center and local beaches while saving fresh seafood and Vinho Verde (green sparkling wine) under the Portuguese sun.
5. Explore the Belem Sights
Travel to Belem to indulge in a bit of sightseeing. You must take the train, tram, or bus to reach Belem. Once there, check out the impressive Jerónimos Monastery, the Torre de Belem (Belem Tower), and the Padrão dos Descobrimentos.
If you don't mind the queues, I recommend visiting the world-famous Pasteis de Belem pastry shop to try out the delicious Pasteis de Nata (egg custard tarts).
5. Sightsee in Downtown Lisbon
Last up on this guide to the best things to do in Lisbon during the day is to check out downtown Lisbon. Stroll along Parque Eduardo, Avenida Liberdade, Rossio Square, and down the Rua Augusta shopping street. Head through the Rua Augusta Arch and onto the Praca do Comercio square by the riverfront.
Other significant attractions in downtown Lisbon include the Santa Justa Elevator, the Sao Roque church, the Se Cathedral, and the Carmo Convent and church ruins. If you're pressed for time, opt for a hop-on, hop-off city sightseeing bus that visits significant attractions.

Best Things to Do in Lisbon at Night
Are you visiting Lisbon and want to experience a fun night out on the town? Thankfully, there are plenty of fun things to do in Lisbon at night. Lisbon's nightlife scene is hip and happening, with many clubs, bars, shows, and events occurring every night.
For the ultimate party experience, head out to the party neighborhood of Bairro Alto, a maze of bar and club-lined streets. Or, go to the infamous Pink Street, home to a range of quirky bars and clubs, such as the famous Pensão Amor. Are you searching for more of a dance club experience? Lux Fragile is the Lisbon place to go.
Solo travelers to Lisbon who want to connect with fellow travelers and make new friends should download the Meetup app. There are regular Meetups throughout the city to socialize and network with locals, ex-pats, and fellow travelers.
Those who work remotely will be happy to know there's a thriving digital nomad community in Lisbon. Local start-ups, hostels, and co-working spaces host weekly digital nomad meetups and regular events.
Facebook Events is another fantastic resource for scouting upcoming events in and around the city, ranging from music events and shows to art gallery exhibitions.
How to Get From the Airport to Downtown Lisbon
Situated less than 10 kilometers from Lisbon's downtown, Humberto Delgado International Airport is easily accessible from the Lisbon city center. There are several transportation methods that should take under 30 minutes and be pretty inexpensive.
The airport is connected to Lisbon's metro system via the Red Line, which travels into the city and connects with other in-network lines. A journey costs €1.34 plus an initial €0.50 to purchase a rechargeable 'Zapping' card.
You can also opt for a cab-hailing service like Uber, Kapten, or Bolt. I recommend checking rates on all three to ensure you get the best fare possible. Since Lisbon is so compact and the airport is nearby, cab services can be surprisingly cheap. These ride-hailing companies are very popular in Lisbon since "traditional" taxis sometimes take long detours to raise fares. I prefer using these ride-share companies since I know the exact price of my journey ahead of time.
Another option is the Aerobus service that connects Lisbon Airport to different parts of the city and operates between 8:00 a.m. and 9:00 p.m. A one-way ticket costs €3.60, while roundtrip is €5.40.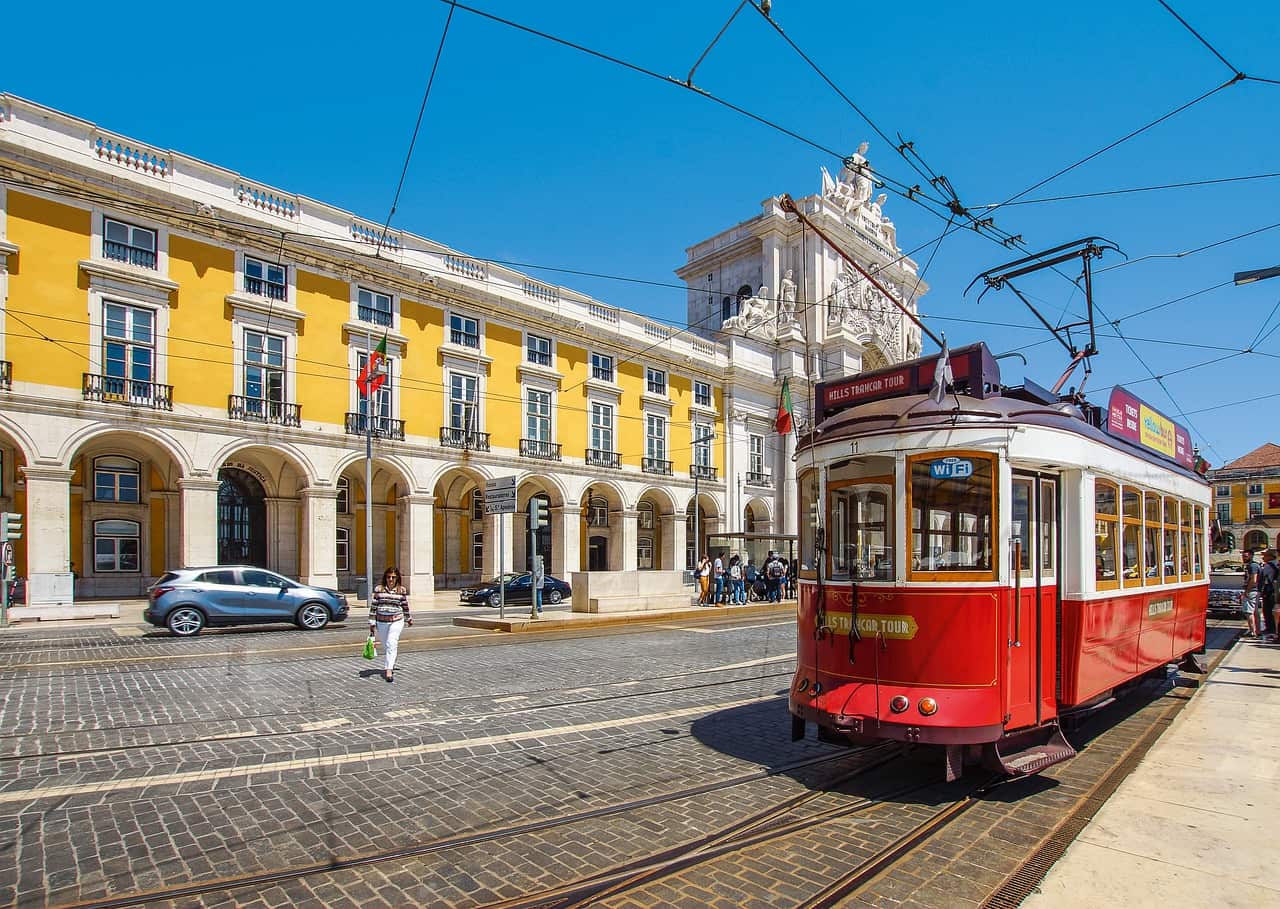 Navigating Lisbon
Lisbon is a small city, so if you stay in areas such as Baixa, Chiado, or along Avenida Liberdade, you can quickly get around Lisbon on foot. However, Lisbon does offer a fantastic public transportation system with a metro, buses, and trams.
When using these, I suggest purchasing a Zapping card, a rechargeable travel card that lets you pre-load set amounts of money to use the metro for €1.34 a ride. Alternatively, you can purchase a 24-hour metro pass for €6.40, allowing you to use buses, trams, and the metro.
If you plan on using a lot of public transport in Lisbon to sightsee, consider purchasing a Lisbon Card, which offers a 24, 48, or 72-hour Pass. Starting at €20, the card gives you access to the metro, buses, trams, and the CP (Comboios de Portugal).
Only have a limited amount of time in Lisbon? I would recommend purchasing a hop-on hop-off city sightseeing bus pass. This is a great way to get to see the top things to do in Lisbon Portugal in a short amount of time.
Tuk Tuk city tours are also popular in Lisbon, especially in the oldest neighborhood of Alfama. Lisbon is known as the City of 7 Hills, and Alfama's narrow alleyways may be daunting. Whizzing around on a Tuk Tuk city tour is a fun and unique way of getting your sightseeing fix.
Rent one of the many bicycles or electric scooters scattered throughout the city for a different approach. Lime and Hive scooters, as well as Uber e-bicycles, are some of the best options.
Lastly, cab-hailing services are relatively inexpensive, given Lisbon's small size. This is another solid option to take the stress out of navigating Lisbon.
Best Places to Stay in Lisbon
When considering places to stay in Lisbon, a couple of areas stand out above the rest.
Firstly, the trendy neighborhoods of Chiado and Principe Real are excellent choices, with many hip restaurants, bars, and unusual things to see and do.
Downtown Baixa is slightly quieter, depending on your street, but it is still conveniently located near the city's heart. You can easily access the best things to do in Lisbon from here.
The tree-lined avenue of Avenida Liberdade is my absolute favorite—it's slightly further from the touristy downtown area but still easy to explore on foot. Regarded as one of Lisbon's most expensive real estate stretches, Avenida Liberdade is home to an impressive selection of luxury stores. Still, there are many budget-friendly accommodations in this area.
Certain areas of Lisbon are incredibly hilly and may pose a problem for travelers with mobility issues. Areas such as Anjos, Graça, and even the older neighborhood of Alfama can get quite steep in certain parts—not very pleasant when lugging your suitcase up a steep cobbled hill.
Either way, many high-quality accommodations in Lisbon are available for reasonable prices.
Recommended accommodations for budget travelers:
Recommended accommodations for mid-range travelers:
Nest House Lisbon Hostel (Private Room)
Recommended accommodations for luxury travelers: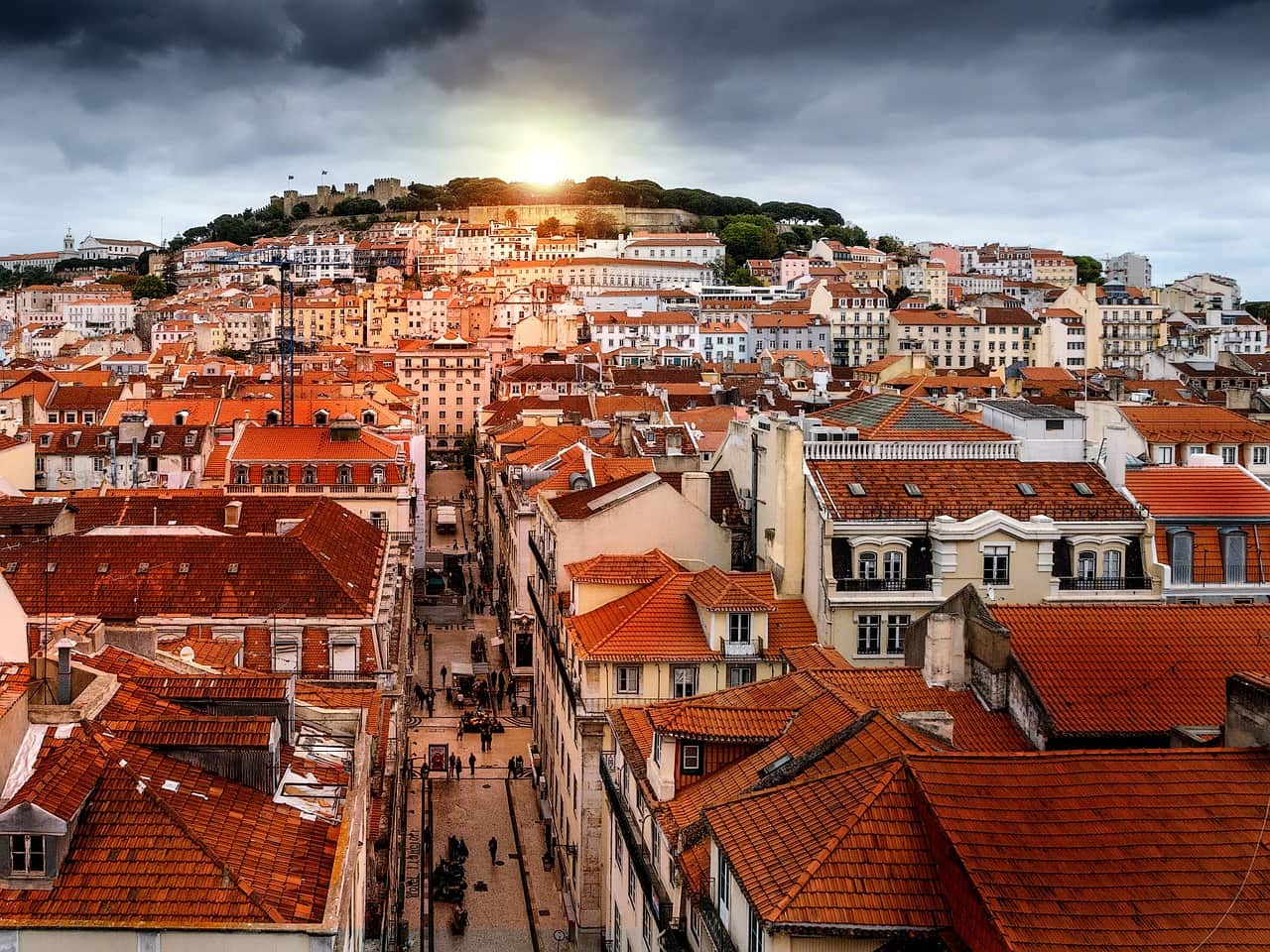 Safety Tips for Lisbon Solo Travelers
Portugal is considered one of the safest countries in the world, though there are some areas where petty crimes like pickpocketing are more common. Portions of Intendente, Martim Moniz, and Cais do Sodre are not recommended to visit late at night, so exercise caution, especially if walking alone after dark.
A recent trend of fake drug dealers trying to sell goods to tourists has popped up recently in touristy areas. These scammers sell an array of counterfeit drugs and herbs to unsuspecting tourists. I recommend ignoring them and simply walking away.
The Lisbon police take crime incidents very seriously, and you'll often see officers out and about at night in areas like Bairro Alto. If you're the victim of a crime or fall seriously ill, Portugal's national emergency number is 112. This connects you to the police, the ambulance, and other emergency services.

Unusual Things to Do in Lisbon Portugal Final Thoughts
Lisbon is, without a doubt, a spectacular city and travel destination. With so many unique things to do in Lisbon, ranging from stunning viewpoints, vibrant nightlife, gorgeous architecture, and friendly locals, this city will surely capture a piece of your heart.
Author Bio
Born and raised in South Africa, Marco and his partner moved to sunny Lisbon two years ago. Discovering his Portuguese heritage, Marco has set out to blog and share his passion for traveling through and exploring both Portugal and Spain through his blog Travel-Boo.