One of the hardest parts when living out of a backpack is often deciding what you should pack! As much as I'd love to say I've got the art of packing light down to a fine art, I haven't. But after 3 years on the road as a digital nomad, although I do pack on the light side, there are some things that may seem unnecessary to pack, but I won't hit the road without it! There are just some must-have travel items I have to pack.
Must Have Travel Items
For me, I won't go anywhere without my Tropicfeel shoes. Generally, I only ever pack one pair of shoes with supportive shoe inserts and some sandals when traveling. So I need something multifunctional that is going to be good for long days of exploring new cities, hiking volcanos, jungle treks, and of course salsa dancing! In all honesty, I never thought I'd be able to find a shoe that would completely meet my needs until of course I was sent a pair of these shoes to try out! Now they are my go-to travel shoes.
I know I'm not alone with this so I asked some of my favorite travel bloggers "what is the one thing you can't travel without" and here is what they came up with.
Clothing Travelers Can't Travel Without
A Rain Jacket
The one thing I never travel without is my rain jacket. It's the first thing that goes into my suitcase when I'm packing. I love that it's lightweight yet durable at the same time. Obviously, a rain jacket will protect you from the rain. However, rain jackets also provide many other benefits. They also protect you from the wind.
For example, I watched a beautiful sunset in Santorini on top of a hill and it was very windy. My husband didn't bring a rain jacket and he was getting pushed around by the cold wind. I felt warmer because I had mine on. It also adds an extra layer of warmth. It was cold in Kazakhstan when we visited and I was still feeling cold even with my heavier winter jacket on. I put my rain jacket on underneath my bigger jacket as an extra layer and I felt warmer.
Rain jackets also protect you from splashes if you're traveling on a boat. My rain jacket was especially helpful when I was on a whale-watching tour in South Africa. The water was cold, but my rain jacket protected me from the splashes. Lastly, rain jackets make for great pillows on a flight.
Disha Smith from Disha Discovers
A Sarong
The one thing I can't travel without is my favorite sarong. Now nearly thirty years old, my beloved cotton sarong – which I bought on my very first backpacking adventure – is tatty, patched and faded. But over the years it has become a comfort item evoking many wonderful travel memories. I have used my sarong as a pillow on the Trans Siberian Railway, as a blanket on long overnight bus journeys in Argentina, as a beach towel on the glorious beaches of Samoa and as a skirt or shawl to visit temples in Nepal and mosques in Indonesia. Just looking at my threadbare blue sarong conjures up images of places visited and experiences enjoyed.
On a practical note, my lightweight sarong is easy to wash, takes no time to dry and rolls up small in my hand luggage. In addition to its multiple practical personal uses, I have used it as a screen and curtains in hostels and have tied it to trees and vehicles to provide much-needed shade!
Furthermore, my trusty sarong has given me comfort on difficult travel days when illness has struck such as catching malaria in Botswana and typhoid in Samoa. My sarong has become a talisman for me and I won't be leaving home without it anytime soon!
Sinead Camplin Map Made Memories
A Heavy Cashmere Shawl
I never like being cold. So to fend off that possibility when I travel, I always bring my beloved black, heavy cashmere shawl/scarf. I bought it long ago and have taken it on almost every trip since. A few times I substituted in a similar, but patterned, light cashmere scarf from China. At home, I take my scarf along with me on short jaunts into San Francisco, where the weather can change on a dime. It is usually just enough to keep me warm until I get home.
When I leave on a flight from the San Francisco area, it is often very cold in the morning. So I start with wrapping it around me as a shawl or neck scarf as part of my "going there" outfit. It is easy to remove and put in my carry-on should it warm up. Often the air circulating on the airplane is cold, so I pull it out again as needed.
When I don't need it around my shoulders, I often just fold it up and use it as a neck rest. When I'm "there," I additionally have used it to keep me warm in bed. I have been in situations where there weren't enough covers or when the air conditioning has gone mad, and then I just wrap it around my shoulders and am good to go. One time I lost it in Santiago, Chile. I felt desperate. I retraced my footsteps and was so relieved when I reunited with it through a hotel concierge. My black cashmere scarf makes me feel all warm and fuzzy and secure, sort of like my cat.
Carole Terwilliger Meyers from Berkeley and Beyond
A Chic Hat

Straw sun hats with adorable messages took Instagram by storm in recent years and it's safe to say hats are having a comeback. And so they should because they can be incredibly chic and elevate an outfit in the blink of an eye.
I love packing a hat because they are incredibly practical, especially when visiting a city in the scorching heat. This can hold particularly true when trying to check all the bucket-list-worthy things to do in Venice (or Barcelona or Athens or any other city in the south of Europe, as a matter of fact!).
Another added bonus is that they don't have to take luggage space. You can simply wear your hat when getting on the plane and find a place for it later on in the overhead compartment as you would for a jacket.
Ultimately, I love hats best because they simply look SO chic in photos. And who doesn't want to have amazing photos to remember their summer trips by, am I right?
Laura from Travelers Universe
Sunglasses
The one thing I cannot travel without are my sunglasses – I prefer a good quality pair that is also polarized.
For me, sunglasses are more than just a fashion statement or accessory. Although I confess they are both of those things as well. They can complete an outfit and look very cute in pictures – definitely solves the issue of having your eyes closed in the picture. And they are perfect for holding your hair back and keeping it out of your face.
But most importantly, my sunglasses protect my eyes from the harmful UV rays. Because even on a cloudy day the sun can be harmful to the eyes.
I especially make sure to have my sunglasses if traveling to tropical places like the Dry Tortugas where there is lots of white sand and ocean water. Or if going to the dessert or where there is snow. The sun reflects off these surfaces and could cause many harmful eye conditions including cancer and blindness. So I always make sure to protect my eyes with a good pair of sunglasses. I always get my sunglasses from Blenders, Glassesshop, or Knockaround as they are good quality, have UV protection, and are really reasonably priced.
Aside from eye protection, my sunglasses help to keep me looking young. I am over 40 and need all the help I can get. A good pair of sunglasses will prevent squinting and therefore prevent crow's-feet.
Plus if I am looking tired from jetlag I can simply hide behind them.
Joella Doobrow from RovingJo
Must Pack Essentials
A Fast Drying Towel

The one thing that I can't travel without is a fast-drying towel. There are two main reasons why this item is important while traveling. The first and perhaps the more obvious reason is that it allows you to dry off after taking a shower. Although you might get lucky and have access to free towels within your accommodations, odds are if you're staying in hostels that you won't be provided with one.
The second reason is that you'll need a towel for beach use, both to dry off after swimming and to sit down in the sand. If you go to the beach with no towel then you'll have to sit directly on the ground and will likely get sand in your clothes. On the other hand, you can easily claim a spot on any beach by setting down a towel in the sand and you won't have to worry about sandy clothes, which would be a nightmare for any traveler.
Whereas any towel will do the trick, I prefer a fast drying microfiber towel while traveling. These can be purchased on Amazon and they're perfect for backpackers or anyone who will be traveling for more than a few days. Another benefit to bringing one of these towels with you is the fact that they're extremely compact and will hardly take up any space in your bag.
Michael Ryan Anderson from Passport Explored
Ear Plugs

If you're a light sleeper like me, you may be able to fall asleep almost anywhere when you're tired enough but you are woken by the slightest noise. Not getting enough sleep can be a real challenge when you're traveling. Not only does it make you more susceptible to getting sick but it's hard to enjoy a trip when you're exhausted. And you don't always make the best decisions when you're sleep-deprived, especially important for solo travelers.
The best way I have found to get restful sleep through the night no matter where I am is with my handy Hearos earplugs. They have been especially helpful when I stay in busy cities. Sometimes when you're right downtown it can be really noisy, and you really don't know what it will be like until you're there.
I stayed in La Candelaria in Bogotá last year traveling solo. It was wintertime and cold, but an impressive number of people were out partying all night long. And my hotel was right in the heart of it! But, with my earplugs, I was able to get a good night's sleep so I could tackle the city during the day. Bogotá is not a city you want to travel solo in when you are half asleep.
The great thing about earplugs is they are small and compact and are sure to fit in any bag. Even the most minimalist travelers can bring a pair along without fear of running out of space or dealing with baggage weight allowances. You may not always need them but when you do, there is no better option!
From Sam at My Flying Leap
Must Pack Toiletries
A Menstrual Cup
It might not be the most glamorous item to spring to mind when you consider travel necessities but every girl has to consider how they will manage their period on the road.
I have had various levels of success when buying tampons and pads abroad… Some pads were chunky and left me looking like I was wearing a diaper and tampons were all but impossible to find in some countries! That time of the month quickly became a nightmare to manage whilst traveling.
Packing my own period supplies from home was burdensome too. When you only travel with a carry-on, a few packs of tampons quickly eat up valuable backpack space. Deciding there must be an easier way, I began to look for reusable alternatives and stumbled across the menstrual cup.
This silicone cup has become my period aid of choice and has made my monthlies easier to manage alongside my nomadic lifestyle. Not only is the menstrual cup a greener alternative to tampons and pads but it also small and light which helps with packing.
Unlike tampons, there are no leaks with a menstrual cup so I have complete peace of mind when I am traveling, no matter what I am doing. I would recommend it to any female traveler!
Sheree Hooker from Winging the World
Chapsticks

In today's fast-paced, technologically driven climate, it might come as a surprise to hear that the one thing I can't travel without is my Chapstick (or a couple of Chapsticks). I grew up inseparable from my lip balm.
The need to keep my lips hydrated and adequately moisturized cannot be overemphasized. After living in Alaska for several years and frequently traveling across different time zones and climates, it's safe to say that this $2 goodness has been a lifesaver.
Louisa Moje from Island Revel
Solid Shampoo and Conditioner
I'm a big believer in packing light when I travel. No matter how short or long the trip is, 99% of the time I can make it work with only carry on sized luggage. That means having to reduce the amount of liquids I travel with in order to comply with the strict liquids rules. Awhile back, I decided to try solid shampoo and conditioner as a way to have fewer liquids and more room for the liquids that can't be replaced by solids. I tried several different brands of solid shampoo, from big international brands to locally made ones, and eventually, I found one I love.
By far, my favorite solid shampoo and conditioner is made by Ethique, and this is definitely something I can't travel without now. I have oily hair, and this solid shampoo does an even better job of cleaning my hair than my old liquid shampoo. And I love the conditioner, it makes my hair so soft. Ethique doesn't crumble as easily as some of the other brands I've tried. The conditioner is much easier to use than any other brand I've tried.
These are so good, I've completely switched to using them all the time, not only when I travel. The conditioner bars come in two different types, one for normal to oily hair, and one for normal to dry hair. And there are quite a few options for the shampoo, so you can pick the one that's best for your hair type.
Tip: I feel like the bars are a bit too big, so I cut them with a non-serrated knife.
Ali Garland from Travel Made Simple
Lotion

There is one thing that I can't travel without. You may think it is silly, but it is so useful. Can you guess? It is lotion! Lotion is essential to add to your travel bag. Actually, I would consider even putting it in your carry on bag and make it as easily accessible as possible.
Flying on an airplane can really dry your skin out and no one wants wrinkles when they are older right? Whether you are traveling to a warm destination or a cold destination you will want lotion. Both cold and hot temperatures can dry your skin out as well. Have I convinced you yet? Lotion is essential!
I recommend that you actually bring two separate lotions. One for the morning that contains sunscreen and one for the evening that is more of a moisturizer. Aveeno is the perfect lotion because they offer both of these options and they are reasonably priced. You don't need anything fancy, just make sure to moisturize to prevent those wrinkles. Also, Aveeno sells mini lotion travel bottles which makes it even easier.
Chelsey from Explore with me
Bamboo toothbrush

One of the absolute must-haves when traveling for me is a bamboo toothbrush. We all bring a toothbrush when abroad, that's for sure, but how many of us put a thought into what kind of toothbrush we use? I switched from a plastic to a bamboo one a couple of years ago and I would never go back!
Plastic toothbrushes are not recyclable because of some small particles they are made of. According to statistics, the average person would replace around 300 toothbrushes in their lifetime – this is thousands of toothbrushes tossed away every year, which remain in our landfills for decades.
On the other hand, getting a bamboo toothbrush is such an easy switch, which makes a huge difference in the long run. Bamboo toothbrushes are not only biodegradable (apart from the bristles in some cases), but they are also antibacterial. On top of that, bamboo is the fastest growing plant on earth, and it does not require any fertilizers or pesticides to grow, which makes the production even more environmentally-friendly.
You can purchase them in different sizes and colors, and even get a bamboo case to keep them in while traveling. I am so obsessed with these eco-friendly toothbrushes that I had to buy some for my whole family for Christmas. Consider making this switch as well!
Lyubomira from bulgarianonthego.blog
Wet Wipes

No matter if it's a trip down the road or a full-on globetrotting adventure, I find that one of the most versatile tools for any traveler is a pack of wet wipes. They come in handy before, during and after a meal for disinfecting, mopping and cleaning respectively. If you're traveling remote destinations with limited clean water, they make a handy waterless shower tool for dirt removal. And if you've ever visited a secluded bathroom without TP, they're great for wiping… the toilet seat.
I have used them as a trash bag for fruit peels and nutshells, wiping open wounds on hikes and cleaning my phone after it fell in the dirt. Here's a tip that you may not know. Apparently airlines don't clean the tray tables frequently due to quick turnaround times between landing and take off. So you may be eating off of the previous passenger's mess and spillage. In this case, purchasing a disinfectant wet wipe like the ones from Dettol, Lysol or Clorox comes in handy to clean the grime and germs off the tray.
Bring a plastic ziplock packet along with you so that you have a place to discard your used wet wipes on your travels, especially in nature like when we visited Singapore's last kampong Pulau Ubin. This way they don't get chucked in the forest or sea or thrown in your backpack with the dirt you've just cleaned spreading everywhere.
Callan Wienburg Once in a Lifetime
Hand Sanitizer
I always like to have a small bottle of hand sanitizer in the pocket of my jacket or bag when I'm traveling. Having it there, and easily accessible, hopefully, means I can avoid contracting illnesses and infections carried on the surfaces of objects that I touch. I squeeze a few drops onto my hands intermittently then rub it in. I want to enjoy my time on the road; not spend time vomiting, sniffling or lying in bed poorly.
Door handles, grips on public transport systems and even the seatback trays on planes and trains are touched by numerous people between being cleaned. Though it's repulsive to dwell upon the details, some of those individuals cough and sneeze into their hands. Others fail to employ satisfactory sanitary practices after using the toilet. A good hand sanitizer kills 99.9 percent of bacteria and viruses, helping to minimize the risk of coming down with an illness.
To be honest, I don't have a favored brand. I have a well-used 50ml bottle that I refill from a one-liter pump-action sanitizer that I keep in my kitchen. I bought that in a supermarket; it keeps the cost low and minimizes my plastic wastage.
Despite using my hand sanitizer frequently, I still wash my hands with soap and water intermittently, especially prior to meals
Stuart Forster of Go Eat Do
Luggage You Can't Travel Without
Kanken Backpack

I take my yellow fjallraven kanken everywhere I travel. It's light, bright, beautiful and functional. I've taken it on every trip ever since I got it as a gift about a decade ago. With time it looks well used and continues to be in great condition.
My backpack was my only companion on my first solo trip last year. It was just the two of us since the time we arrived at the airport until we got back. It held everything very comfortably including my huge SLR camera, tripod, laptop, accessories, clothes, toiletries, you name it. I couldn't believe it could fit everything I needed to travel for a whole week in the Colorado Rockies.
On most flights, I have my laptop, chargers, headphones, snacks, jacket, a book, and some miscellaneous items in my backpack. But when we're on road trips, it becomes a mini suitcase that lies flat and opens up. We organize all the snacks and they're easily accessible when needed. We zip it up and there's no clutter in the car.
My backpack is perfect for holding all the things I travel with. It's lightweight and well padded so it's super comfortable to carry for long durations. I can't imagine a trip without it.
I have also recently discovered the KnackPack. It is great for digital nomads with specific space for your tech and all your essentials and comes in very chic digital nomad styles.
Jyoti and Nirmal From Story At Every Corner
Basecamp Backpack

I wish I was one of those women who travel with only a cute handbag or stylish, compact shoulder tote. Alas, as a travel writer and a mom I need a bag with room. So more often than not I resort to carrying a backpack when I'm on the road.
My favorite backpacks have three pockets. The deep pocket holds a hoody or two, my camera, some snacks, and a book. The slim middle pocket is for my laptop, extra cords, chargers and batteries. The ample front pocket keeps essentials like my wallet, passport, phone and an extra pen handy. I like a side pocket for a water bottle so I don't have to risk it leaking on hoody or laptop. And a second side pocket is handy for stowing a small umbrella.
I love Basecamp's Ironside backpack because it gives my laptop some protective padding without being too bulky or heavy. And it has additional pockets both inside and out. The small outside pockets are ideal for items that get lost in the bigger pouches, like sunglasses, lipstick or a hotel key. I also like that it comes in muted colors and fabrics that look a bit more adult and less like they belong to a college student.
On some trips though, I know I won't always want to schlep the backpack at night, say if we're going to a nice restaurant or to a show. For those trips, I put wallet, phone, key, and lipstick in a small "satellite purse" that I can grab out of the backpack for lighter evening travel.
Eileen Gunn, FamiliesGo!
Carryon Suitcase
I put off making the move to a suitcase for the longest time, I loved my backpack and wasn't ready to give it up. The more I was traveling through, the more expensive equipment I seemed t be collecting. So I decided I needed a solid carryon suitcase that could protect all of my equipment and that had a built-in lock so if I needed to leave it in a luggage room I could at least lock it up. The Chester is one carry-on suitcase worth the investment.
Claire
Packing Cubes

The one thing I can't travel without are packing cubes. Whether I'm backpacking, going away for a weekend with hand luggage only or taking checked-in luggage on a longer trip. People often mistake packing cubes as space savers, though compression bags or vacuum bags do a better job of that.
However, they leave clothes wrinkled and aren't easy to pack and unpack. Packing cubes are primarily used to keep you organized, but they can save space if you decide to stick to a rule if your items don't fit in the cube they don't get packed. I use different colors or size cubes for different clothing types and always ensure I roll my clothing items to fit more in and minimize ironing.
Packing cubes are also handy for separating clean clothes from dirty ones and they help with organizing so I can find items easily and cut down on rummaging through my belongings. Features to look out for when purchasing packing cubes are a range of sizes, clear PVC or a mesh window so you can see what's inside, and light and durable products that will last a lifetime like the Eagle Creek Pack it cubes.
Alternatively, get a backpack with built-in packing sections like this one. It hangs like a mini wardrobe too which can be helpful instead of using hotel storage.
Roshni from The Wanderlust Within
Scrubba Wash Bag

Whenever we travel, there are 2 main questions we ask ourselves when we pack: Are we being as eco-friendly as possible? And are we packing too much? Luckily, the Scrubba wash bag helps us answer these two asks in the best way possible.
This compact bag helps us do laundry while we're traveling. Basically, you fill it with water, add a few drops of your favorite biodegradable detergent, and your dirty clothes. You seal it up and scrub. Then rinse your clothes and hang them to dry. Voila! The best thing is that this bag also doubles as a drybag for when we go scuba diving!
The Scrubba bag helps us pack less because we can easily do small loads of laundry when we're on the road. By packing less, we're traveling lighter, which already helps us reduce our environmental footprint. Then, it helps us stay sustainable by using smaller amounts of water than a load of laundry would. Plus, because we bring our own eco-friendly and biodegradable detergent, there aren't a ton of chemicals being dumped into waterways as would be the case if we got our laundry done.
This little bag is compact but packs a big punch when it comes to being practical and eco-friendly on the road. We just can't travel without it!
Carine & Derek from We Did It Our Way
Water And Coffee On The Road
Filtered Water Bottle

The one thing I can't travel without is my water bottle.
When I learned about filtered water bottles a few years ago, I was amazed that I had never heard of them before! They're a completely genius invention. And, if you have a weak or nervous stomach like me, they're an absolute must-have when traveling.
There are several different kinds of filtered water bottles but they essentially all do the same thing: ensure that you have clean and safe drinking water, no matter where you are.
If you're an adventure traveler who likes to go to very exotic locations where the drinking water isn't likely safe or palatable, a filtered water bottle is the perfect travel must-have. All you need to do is fill up the bottle with whatever water is available and let the filter in the bottle do its work. You can then drink the water knowing that it's safe for you and tastes great.
If you're a traveler who frequents locations where the drinking water is safe for locals, but your dodgy tummy may protest, a filtered water bottle is also your best travel friend.
I really love the peace of mind that traveling with a filtered water bottle brings me. I never have to worry about the water I use for any reason, whether it's for drinking or brushing my teeth. I always know that the water is safe because I have personally ensured that the water is being filtered through a bottle I know works for me.
For a bottle with extra tech this one is self-cleaning via UVC light, is USB rechargeable, and turns any water into drinkable freshwater. It is also vacuum insulated to keep your water cold for up to 12 hours.
Lesley Christensen Freedom56travel.com
Steripen Adventurer

As someone who spends her time exploring a lot of remote destinations across South America, the Steripen Adventurer has become my ultimate go-to travel item. It started out as a way of both saving me money: buying plastic bottles of water each day over a year-long period really starts to add up. But soon it became even more.
As the impact of single-use plastic has become an issue of which we're globally more aware, the Steripen began to be a way that I could reduce my own reliance on plastic when I travel. Not only does it turn any tap water into sterilized, drinkable water in just over a minute, but it means that regardless of wherever I am, whether in a city or out on a trail, I always have water.
What's more, it's light, the batteries last forever and it's super easy to use. I bought mine around four years ago and it's still going strong. I must have saved myself hundreds of pounds by no longer having to buy water, hours of my time spent searching for somewhere to buy bottled water, and plenty of environmental guilt. It's the most reliable water sterilizer or filter that I've tried – and I've pretty much tried them all!
Steph Dyson from Worldly Adventurer
Travel Coffee Press

The one item that I can't travel without is my trusty, and now well-worn, travel coffee press. It's the first travel accessory I throw into my bag.
One of the challenges when staying in all types of accommodation while traveling is that having access to fresh coffee at any time of the day is sometimes impossible.
And more specifically, as a confirmed caffeine addict, I can't start my day of exploring without consuming a quality cup of coffee, or two.
But packing my coffee press, a bag of quality coffee, and a small travel kettle, all I need is access to clean water to ensure that my morning ritual is not compromised, regardless of where I find myself waking up.
One of the benefits of using a solid travel coffee press is the ability to seal the lid, meaning that I can also take fresh coffee out with me for the day.
And made from stainless steel, the travel coffee press is extremely sturdy, which makes it perfect to throw in my travel bag.
Markus from The Roaming Fork
Aeropress Coffee Maker

The one thing I can't travel without is my Aeropress coffee maker. Being a self-proclaimed coffee addict and coffee snob having good coffee while on the road is very important to me. While traveling through cities it is pretty easy to find a good coffee, you're not so lucky in smaller towns.
Since discovering the Aeropress coffee maker I can now guarantee a good cup of coffee no matter where I am. I just need to have access to boiling water. The Aeropress is perfect for travelers as it is compact and light. It's really affordable and costs under $30 which includes filters, stirrer, and scoop. Considering a cup of coffee is around $5 depending on where you are traveling this is also a massive cost-saver.
If I am traveling for shorter periods of time I will buy my beans ahead of time and grind them before leaving. For longer trips, I keep an eye out for a place to buy ground beans on the road. If you want an even better cup of coffee, you can travel with your own grinder to ensure freshness with every cup. There are some compact hand-grinders on the market, but I choose not to use these as the time it takes to grind enough beans for two people is quite long.
Erin from Curiously Erin
Must Pack Technology
A Kindle or E-reader
I love reading books . I read about 100 books every year, and most of them I read during my travels as usually, I have plenty of time waiting for a plane at the airport, traveling by train or relaxing after a long and intense day. Taking paper books with me, especially on a long trip, is quite problematic and not very handy. I usually travel only with one backpack, thus I do my best to minimize the luggage to be able to travel as light as possible.
This is why Kindle is the perfect solution for me. I bought it 8 years ago and it is still working perfectly! Kindle is small, light, comfortable and houses thousands of books. I use the paperwhite version which I strongly recommend if you read a lot as it doesn't strain your eyes that much. Also, I don't have to bring paper guides with me because we always have them all in my e-book reader. Additionally, I love its battery life. It can last for weeks before it needs charging. If you love reading as I do, Kindle or any other e-book reader is a must!
Marta and Milosz from Backpackers WRO
Headphones

The one thing I can't travel is my headphones – specifically my over-ear noise-canceling headphones. Headphones are an absolute must for watching the films I've downloaded or listening to my favorite travel podcasts on a long journey.
I normally use a set of in-ear headphones that block a bit of noise and are really small and light to travel with. I tend to travel with just hand luggage so the size and weight of everything I take with me is really important to me. But the in-ear headphones don't block everything, and after sitting in front of a particularly annoying non-stop chatter on a recent flight, I vowed to only ever bring my "proper" headphones (and made my partner promise to force me to pack them if I ever wavered).
The headphones I use are a pair of AKG NC60C wireless Bluetooth noise-canceling headphones. They're definitely bigger and bulkier than my little in-ears, but they fold flat into a soft foamy travel case which also has a pocket for their USB charging cable and a cable that means you can carry on using them even when the battery's flat. The noise-canceling is pretty good (be gone, annoying plane-seat-neighbors!) and they're light, comfortable to wear and look classy.
They've come in very useful a couple of times, most notably when I stayed in a hotel in Cyprus which happened to be on the local car club's favorite street for cruising and showing off how well their cars could backfire. With my noise-canceling headphones and a white noise app, I slept like a baby. Headphones are definitely my travel must-have.
Helen from Helen on Her Holidays
GPS
We've been doing a lot of hiking and long-distance walking all over the world and always thought it would be awesome to have a GPS watch that can show us distances, times, walking speed, elevations, maps, and other statistics. A year ago we finally got a Garmin Fenix 5 my husband bought it for me for Valentine's Day. One year later I can't imagine myself traveling without my watch, I always make sure to pack it.
It gives so much information and is very useful not only for hiking but for any outdoor and fitness activity: swimming, surfing, cycling or just walking around a city. At the end of every day, I can see how active I was, how much I walked, how many calories I spent, etc.
The Garmin watch is a great help for writing blog posts on hiking or cycling, we don't need to memorize or write down any data like daily distances, times, elevations, etc. All we have to do is to connect the watch to a phone or a laptop and synchronize it with the Garmin app, it uploads all the information and keeps it online, we can go back to it any time. Using the watch is like carrying a tiny computer on your wrist that gives you a lot of information on your daily activities.
Campbell & Alya/Stingy Nomads
An External Hard Drive

While traveling, you have very limited space to bring all your things but there are some things I just can't travel without, like my external hard drive.
If you work online and travel like I do, or if you just love taking a lot of photos, you know that things can take up A LOT of memory space on your computer!
Photos are irreplaceable since you literally can't go back to that moment in time, it's worth it to invest in an external hard drive to have a backup of your photos.
While you can store your photos on your computer, when you have tens of thousands of photos, your computer memory will quickly be used up and run very slowly.
This is why I always travel with my external hard drive to store all of my travel photos while I'm traveling long-term. I have a 1TB Harddrive and it's really slim and compact, so it barely takes up any space at all while traveling.
If you're only storing your images on your memory card or computer, consider getting an external hard drive to keep all of your images on. It's a great backup in case your memory card gets corrupted, lost, or breaks.
Naomi from Eat Love Explore
A VPN
If there's one thing I always pack when I travel it's my virtual private network – my VPN. Living a life on the road means that I ALWAYS use internet banking, I move money around using apps on my phone, I pay my credit card online, I book 99% of my accommodations using online sites. I also usually do all of these things while connected to free public WiFi. A VPN isn't just something I can't travel without it's something I WON'T travel without as it protects my personal data when I'm sending information online.
Personal data security aside – I picked the best VPN for travel to allow me to spoof my location – pretend that my laptop is somewhere else, which is a requirement if you're traveling to somewhere that doesn't allow access to certain sites. Facebook in China is the easiest example, but Turkey also blocks booking.com and Wikipedia.
Taking that a step further, if you're a Netflix user or a BBC fan these sites often won't let you access their content if you're OUTSIDE of their viewing area. With a VPN you can be within that viewing area, wherever you are in the world.
So those 3 reasons alone are why my VPN stays firmly in my travel list of things to take along, however, the last reason – location spoofing – has also saved me thousands of dollars in cheaper airfares in the last few years – so it pays for itself as well!
Sarah Carter from ASocialNomad.
Binoculars
I love nature and will travel anywhere for wildlife. This is why I can't leave home without the best travel binoculars for our safari, game viewing, or whale watching adventures. Getting a proper pair of high-quality binoculars really changed everything.
On our first trip to South Africa, we were surprised by how close the animals get to your vehicle. Nevertheless, we used our binoculars to see great detail (down to the wiry skin of the elephants!). They were also invaluable in spotting wildlife that was far from the vehicle, like lions laying low in the tall grass. Without the help of our binoculars, we would have missed a lot of rare wildlife sightings.
Living in Argentina has also presented us with a wealth of nature-focused destinations. We have used our travel binoculars whale watching, to spot elephant seals from afar and to see caiman and deer in the wetlands.
If you're a hiker, I recommend always packing a lightweight pair of binoculars for the trail. Some are so tiny they fit effortlessly in your breast pocket. You never know what you'll want to see, from bird watching, animals or just a little further up the trail.
With smartphones and strong zooms dominating the market today, you may not have considered packing binoculars. I hope this changes your mind because I'll never leave mine at home again.
Erin from Sol Salute
Random Things Travelers Can't Travel Without
Juggling Sticks
Whilst some people can't travel without their favorite book, camera or maybe a lucky charm, ours is slightly different. Sure, we love having our camera with us but it's our juggling sticks that we couldn't go traveling without!
Not sure what they are?
Juggling sticks are 3 sticks, two thin ones for your hands and a heavier one you throw around with the other sticks. Since we picked them up about 5 years ago, I can honestly say, it's one of the most addictive things ever.
Why are they so good for traveling? They're super lightweight and easy to carry but are the ultimate way to pass the time and keep a hobby whilst you're on the road. It's actually pretty good exercise too – a very fun way to stay energetic.
After having practiced for a number of years, now we fire juggle and actually use it as a way to busk on the road. You'll be amazed how impressed people are once there's fire involved, pretty generous too. Altogether a great way to fund our travels and the first thing on the travel packing list!
Josh and Sarah from Veggie Vagabonds
My Dog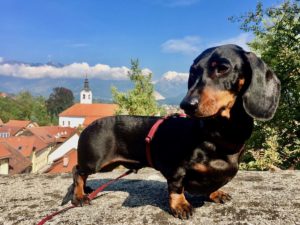 Whenever I'm traveling, I always try to take along my dog, Schnitzel, a 7-year-old Miniature Dachshund and a great travel companion! I firstly traveled extensively with Schnitzel when my husband and I relocated from Australia to Europe for a couple of years, and of course, we couldn't leave him behind.
We traveled all around Europe with Schnitzel, ticking off 33 countries, from Norway to the Greek Islands. During that time he explored countless old towns, climbed some mountains and even got permission to go inside some museums. We also spent a few months together in the USA, before returning home to Australia.
Traveling with a dog does slightly complicate your travel plans. My biggest recommendation is to plan ahead, as not all accommodation allows dogs. You also need to choose the best form of transport and find out which attractions do and don't allow dogs.
Crossing country borders can also complicate matters, although the European Union makes things a lot easier, with no prep required to cross most borders, as long as your dog already has a rabies vaccine and an EU pet passport.
Not many countries still have quarantine, although unfortunately, my home country of Australia still does and is one of the most difficult countries to visit with a pet. When we head overseas on shorter trips without him, I really miss him and count down the days until we're reunited.
If you're interested in traveling with a dog, I recommend looking into doing a road trip close to home, or else traveling in Europe, with its many dog-friendly countries.
Shandos from Cleaver Travelnuity
Something Sentimental
I'm all about minimalist packing and traveling as light as possible, but there are certain things that I will never remove from my packing list, no matter how impractical they may seem. We all own something that has sentimental value to us for personal reasons, and you shouldn't feel bad about bringing your sentimental item along with you on your trip.
In my case, it's actually three items. They are small stuffed animals (plush toys) that I've been carrying around for years, and each one has a story behind it. My husband and I don't have human children or even companion animals, so these little guys are like kids to us and come on all of our adventures.
The oldest is Hoppy, a kangaroo that my mother-in-law gave us in Australia in 2003. Then came Guca, a traveling Roma who I picked up at a trumpet music festival in Serbia in 2004. And the baby of the family is Herbie, a little hedgehog that was given to my husband in Turin, Italy in 2006.
In your case, your sentimental item could be a piece of jewelry, a printed photograph, or anything that reminds you of home or of a loved one. If it will bring you comfort and joy while you're traveling, then you should take it with you. Of course, you'll need to be extra careful to make sure that it doesn't get lost or stolen. Once, I accidentally left my little travel companions behind in a guesthouse in Malawi, and I cried for days. Happily, though, we were reunited.
Wendy Werneth The Nomadic Vegan
In Case of Emergency
multi-purpose medicine kit
There is nothing worse than falling ill while you are traveling. If you are traveling in Europe, it is a little better as there is decent healthcare in Europe. However, if you are in places such as Latin America or Southeast Asia, then finding the proper health services might be difficult. That is exactly why I always carry a multi-purpose medicine kit when I travel.
A multi-purpose medicine kit is usually a small box with about 6 or more different types of medications inside. Headaches, fever, food poisoning, nausea, most of the illnesses you could encounter while traveling is usually covered by the medicines. They are portable and can usually just fit in your daypack while you are traveling.
It is difficult to predict when you will get sick while traveling. Even for people that typically don't get sick at home, visiting a different country can have an impact on their immune system. When I was traveling in Mexico, I took a "vomit van" (only found out the name after the ride) from Oaxaca to a village up in the mountains called San Jose del Pacifico. The winding roads up the mountain had me on the edge of puking. But thank you to the multi-purpose medicine kit I had on me, I was feeling better after one motion-sickness pill!
Sean from LivingOutLau
Travel Insurance
I always make it a point to purchase a suitable travel insurance policy whenever I am traveling anywhere especially abroad. It not only acts as a safety net and saves you from unforeseen medical expenses but also aids in case of any travel-related mishaps in a foreign land; for example – loss of passports, checked-in luggage or flight delays/cancelation due to bad weather or unforeseen emergency evacuation. Some of its benefits also include cashless hospitalization and consultation for outdoor patients.
There are quite a few types of insurance policies that you can choose from, depending upon single entry or multiple entries in a country. A few countries have made travel insurance a must and can reject your Visa if proper travel insurance documents are missing. To enjoy the vacation to the fullest without any worries, travel insurance is a must!
Anwesha Guha from Going Places With Anwesha