Did someone say Akumal Glamping in Mexico? Okay, full disclosure, I love camping. Like, I owned a huge tent and went as many weekends as I could in the Summer and backpacked for most of the last two years with a tent, love camping. So the idea of 2 nights at Akumal Natura Glamping in the Mexican Jungle was a bit of a dream come true. Of all of the types of tourism out there, ecotourism is the future!
I was invited to Akumal Natura Glamping as their guest. However, as always, my opinions all my own.
QUICK TIP: Book your tours, rental cars, and transfers through my local contact

I've been working with Turismo Channel in Playa del Carmen for years and they are who I send all my family and friends to when they visit the Riviera Maya. I really can recommend them enough for tours, private airport transfers, and rental cars. Vanessa and Oliver are personal friends of mine and I have 100% faith that you will have a wonderful time with them.

You can check out their tours by clicking here and using the following discount codes when booking online to save $$$ clairecaroff (car rental), claire10off (for 10% off group tours), claireprivate (for a discount on private tours).

You can also send her a WhatsApp message quoting the above codes to receive the discount.
Where is Akumal Mexico anyway?
If you are wondering 'Where is Akumal?' you aren't alone. Most people new to the Riviera Maya don't know where Akumal is either! Akumal is situated between Playa Del Carmen and Tulum. It is effortless to get to from Tulum, Playa Del Carmen, and Cancun and it is best known for Akumal Monkey Sanctuary and the Akumal Bay Turtles. But more about that a bit later!
Quick Tip: I highly recommend booking all of your Mexico transportation with GuateGo. You can search for buses, shuttles, ferries, and Flights on their website. What I love most about them is their customer service. I know these guys personally from my time living in Guatemala and they look after their customers.

If anything happens and you get delayed and miss your bus, you can just call them and they are always there to help. If you book through them you will pay a little more than if you book in person at the bus station. But it's worth it for the ease and security. Click here to search for transportation in Mexico.
Akumal vs Tulum
If you are looking to get a bit more connected with the earth while in the Riviera Maya area most people think of Tulum. If you don't know much about Tulum, it is Mexicos version of Ubud in Bali but smaller. Tulum is full of vegan food, yoga, temazcas, and Mayan Ceremonies. So if you are wondering if you should visit Akumal or Tulum, it depends on what you want.
Tulum is bigger, there are more people, and although in some places you are close to the Mexican Jungle, you are also close to busy roads and street lights. Akumal, on the other hand, is quieter and more remote. You are completely in the jungle, yet only a few minutes walk from the pueblo where you can buy everything you need or catch a local bus to one of bigger towns.
So it comes down to:
Akumal = fewer distractions and fully immersed in the jungle
Tulum = in a town with more things to do and less connected to nature
Did You Get Travel Insurance Yet?

If 2020 taught us anything, it's that you need to be prepared for anything!

The Insurance companies I personally recommend are Hey Mondo, Passport Nomads, Safety Wing, and Travel Insurance Master

Hey Mondo is great if you are looking for a great value flexible policy. They offer single-trip cover, annual multi-trip cover, and long-term travel cover.

Passport Nomads provides the most comprehensive cover for Digital Nomads. If you find yourself in need of medical care you just contact them and they will pre-load your card with the funds to cover your treatment, meaning you won't need to pay out of pocket and then put in a claim later.

Safety Wing is great value with monthly cover starting at $39. It's super easy to use and it just renews each month. I currently use them as they offer me free cover for my son as part of my policy.

I also use Travel Insurance Master for short trips.

Read my full travel insurance post here where I go into detail about all 4 companies.
Glamping in the Riviera Maya. What is Glamping?
Glad you asked! Glamping has all of the good stuff about camping like being close to nature and getting to sleep in a tent without having to put up the tent or pee in a bush. Basically, it's camping for the glamorous. Haha.
No, but really, it's just an incredible concept that brings you closer to nature without having to travel with a load of camping gear or have the stress of pitching tents or sleeping on a deflating air mattress. I'm one of the crazy people that loves this stuff and was a little unsure if the whole glamping thing was for me. Then I arrived at Akumal Natura Glamping in Mexico, and I was completely won over!
Why stay at Akumal Glamping?
There are many places to stay in Akumal, but none of them are like Akumal Natura Glamping! Glamping en Mexico is something everyone should experience. To be able to take a short ride on a bus from my base in Playa del Carmen to the Mexican Jungle and sleep in a beautiful tent on an incredibly comfortable bed is a pretty unique experience. Oh, and did I mention they have running water, wifi, and daily yoga classes.
I know you may be thinking why would you ever need wifi in the jungle. Well, I did. I work a lot and as a writer, it can be difficult for me to settle and just write without feeling pulled in a million directions.
Taking two days away from home where I could swim in a private cenote, fall asleep with the sounds of the jungle and wake up to a beautiful restorative Yoga class in a jungle shala was exactly what I needed. But I also needed to work for a few hours each day.
With the glamping experience, I had the best of both worlds. I got to feel more connected to the earth, without having to fully disconnect from work. That said if you did want to fully disconnect you totally can, just don't hook up to the wifi!
The more I have traveled the more aware I have become of my own impact on the environment and to focus more on ecotourism. I am a much more conscious traveler because of the things I have seen and heard. I worry a lot about what will happen if/ when our natural resources run out. It's a pretty terrifying idea but seeing the work done by places like Akumal Natura Glamping are doing looking after the bees and rescuing and rehabilitating animals makes me feel better about the whole thing.
What is included in your stay at Akumal Glamping
I was impressed by not only the facilities in the camp itself but also all of the extras you get as a guest.
The tents are spaced out enough to feel private. You have your own little places out front where you can sit and contemplate life.
Inside the tent itself, you have a choice of twin beds or a huge queen-size bed. All beds come with a bug net, or as I like to call it, a 'princess net.'
The tents have great ventilation and a fan. We kept the 'windows' closed at night, so we weren't woken up too early and had no issues sleeping.
Towels, soap, water, and extra blankets are all provided in the tents. They all have electricity and running water. The water is not hot, but it was the perfect temperature for showering in the jungle. However, hot water is provided every morning if you want it and so you can have a warm wash if you prefer.
The Jungle Glamping Campsite is pretty unique too. There are three private Cenotes on site. One open, one closed and one semi-closed. The only one you can swim in right now is the open one as they are still doing work on the other two to make them safe.
Top Tip: The best time to swim in the cenote is 9am as the light is shining right in and the water looks like saphire! Save yourself some money on a fishspa and take a seat on the steps. The little fish in the Cenote will be quick to get to work cleaning your feet!
I'm such a cenote junky so getting this beautiful Cenote all to myself was a real treat. If you have ever tried to take a photo in a cenote without a crowd of people in your shot, you know what I'm talking about!
There is a restaurant, chillout area (with a big hanging bed), and free bike rental from the 24-hour reception.
Breakfast in the restaurant is included but lunch and evening meals are not. The food is excellent and reasonably priced. We both ate pasta and it was cooked perfectly. They cater to both vegetarians and meat eaters.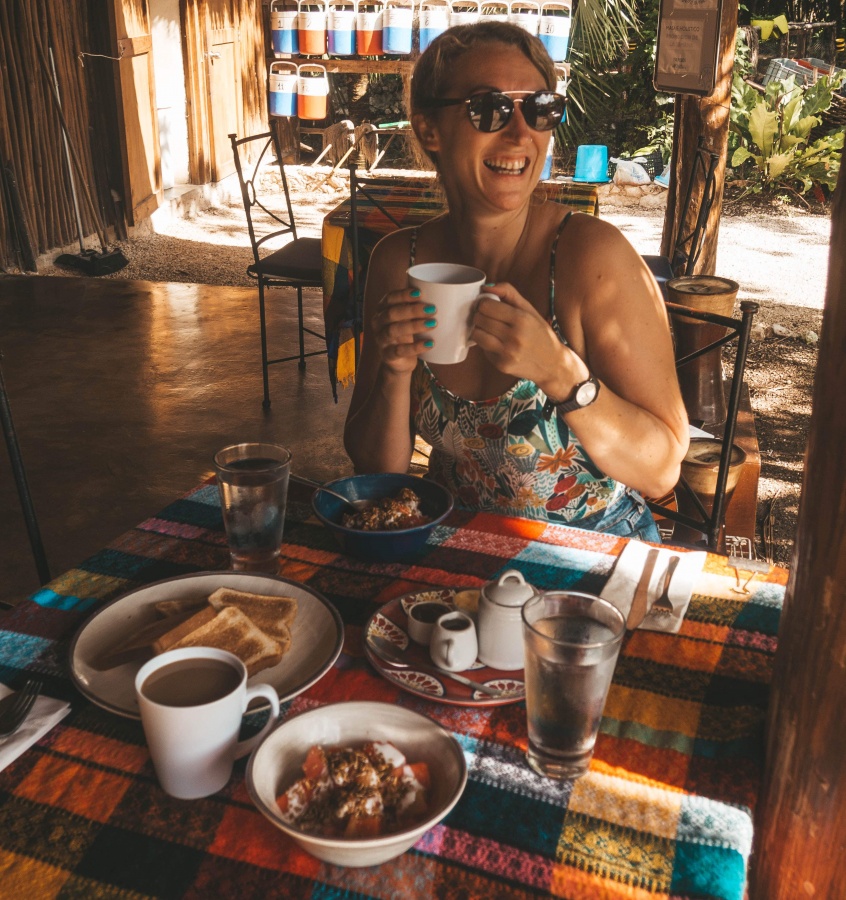 Having bike rental included made me happy as this is often not the case. This is the first place I've visited where I have 1. Had bike rental included and 2. The bikes have been well maintained. Seriously the last place I stayed at I had to pay for the rental and the bike was in such bad shape I fell off the thing and busted my knee open! You will want to use the bikes to go to the beach or into the town as it is too hot to walk most of the time.
But the best part for me was the daily Yoga Classes. They were given by local teachers who have beautiful spiritual practices. The class was very basic as it is aimed at people who don't have a yoga practice. That said as a yoga teacher with my own practice I loved both classes I took. They were slow, grounding and meditative. Exactly what I needed early in the morning.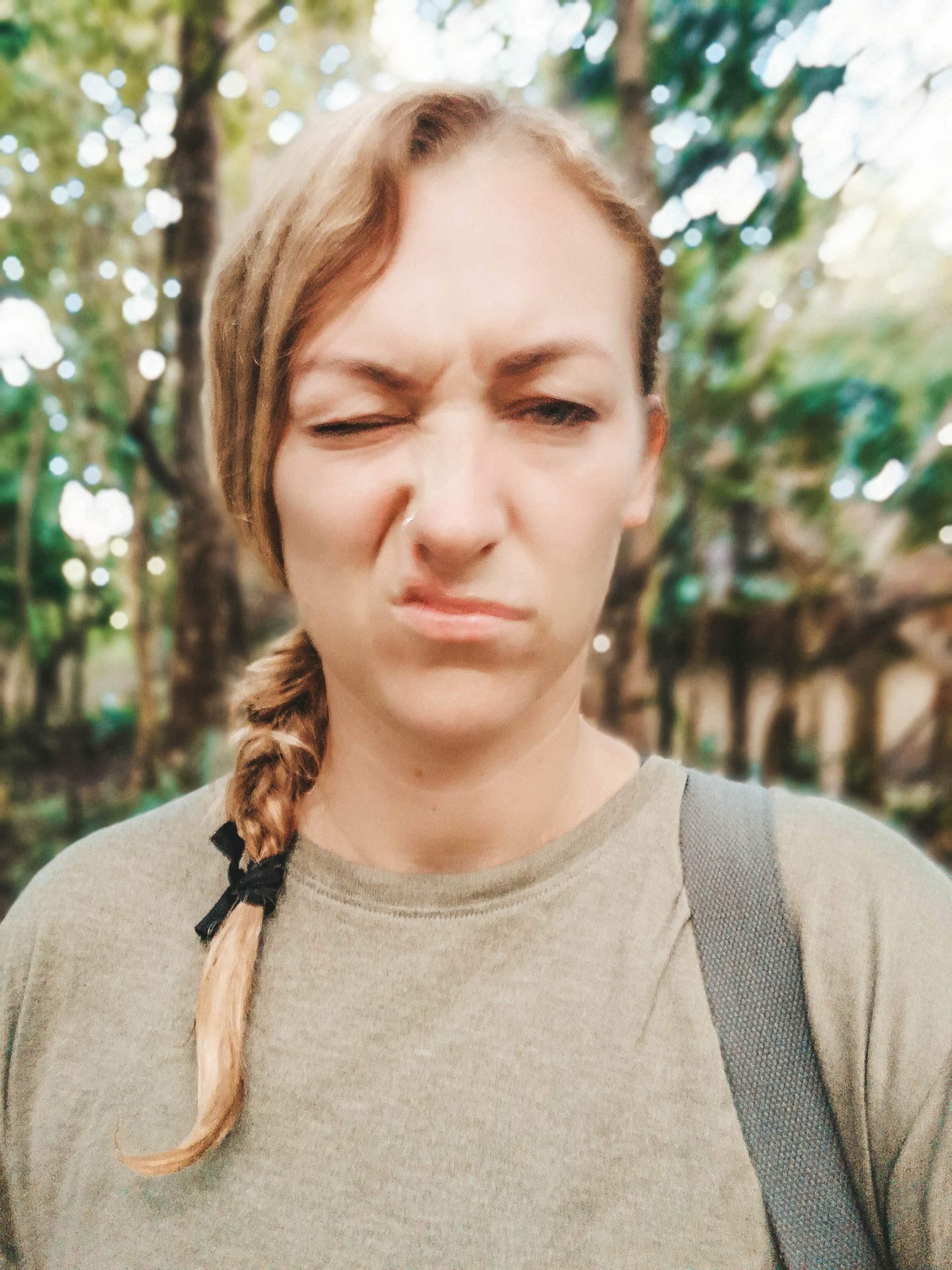 After the 8 am class the shala is free for your use all day. So naturally, I made the most of this by practicing in the evening and doing a little yoga photoshoot with my partner in crime Karina.
Are there bugs?
You're in the jungle; you are going to see bugs. If you can't cope with that go and book a room at one of the resorts on the top floor. I did get a few mosquito bites, which was to be expected but because of the new around the beds I felt well protected and had no bugs sharing a bed with me. This is something I've probably become more conscious of since the whole scorpion in my bed in Guatemala thing.
Akumal Animal Sanctuary (Akumal Natura Rescue)
What I didn't realize though was that as well as all of the above you get a tour of Akumal Natura Rescue was included too! Learning about the work they do there at this "UMA" (Unit for the Management and Conservation of Wildlife) center was an incredible bonus.
The rescue center focuses on "the three R's" (rehabilitation, reproduction, and reintegration). Where possible the animals are rehabilitated and then released back into the wild. Sadly for many of the animals there, this is not possible mostly as their behavior has been so affected by their human contact they would not survive. Each animal has its own management plan to manage it's rehabilitation.
Funny story: I nearly refused to go to the Akumal animal sanctuary as I'm very funny about anything involving animals. If I feel like an animal is being mistreated in any way I avoid. The night before the tour Karina and I were talking with this cute German/ Mexican couple in Spanish. They were telling us about the Monkeys in the center.

My Spanish is good enough that I understand most things but often small details or tenses I miss. So I thought I heard them say they the monkey poses for pictures and smokes in the present tense. I was outraged. Anyway turns out I completely miss heard the important fact that this was in the past and the monkey was rescued from the circus who make him do these things.

In fact, at the sanctuary, they weened him off the cigarets which was a very long process. All of the animals here have been rescued, some from the circus or inappropriate homes. Others from airports! As well as the rescued monkeys there are birds, hogs (which they breed and release), snakes and a crocodile! I can safely report everything I saw and experienced here made me comfortable that the animals were all in a good place and well looked after. Many cannot ever be released into the wild again due to injury which is sad, but I'm glad they have found a good home here in the jungle.
Cenote Tumben-Ha
Another bonus of the rescue center is that it also has a pretty special cenote you can swim in, Cenote Tumben-Ha (meaning water of life). This was my first time swimming in a covered cenote and it was beautifully illuminated and full of stalactites and stalagmites.
If you want to visit an animal sanctuary in Akumal or see monkeys in the Riviera Maya, then I suggest visiting here. You don't have to be a guest at Akumal Natura Glamping to go. It is open to the public for a small fee, just contact then here to make a reservation.
Mayan Massage Treatments
I've saved the best for last! Akumal Natura Glamping has its own therapist Adrián who offers the most incredible Mayan massage and sound healing. I won't give away the details but what I will say it is one of the best treatments I've had and I was so chilled out after I was glowing.
Akumal Natura Glamping Booking
You can book directly with the company here on their website or through Booking.com.
Things to do in Akumal
If you only have two days, you might be happy just hanging at the campsite, but there are plenty of things to do in the Akumal area most of them involving the Akumal beach turtles. If you want to experience snorkeling in Mexico while in The Riviera Maya then Akumal is a great place to do this. You may not find that many fish but in Akumal, you get to do some turtle snorkeling. There aren't many places in the world where you can swim for free with Turtles! On Akumal public beach if you walk down a little, you can enter the water and swim with turtles.
If it sounds too good to be true, it is a little. Although Akumal public beach is just that, public. There are also many people who want your money! I have written all about the beach and swimming with turtles for free which you can read about here.
How to get to Akumal
Akumal is very easy to get to by Colectivo, taxi or Rental Car. One of the things I loved about Akumal Glamping is how close it is to the main Pueblo. This makes driving or taking public transport here so easy!
Cancun to Akumal
It is around 100 kilometers from Cancun to Akumal, and it will take around an hour and a half in a car. It's an easy drive or rides in a Colectivo.
Playa Del Carmen to Akumal
It is just under 40 kilometers to get from Playa to Akumal, and it should take around 40 minutes in a car, a bit longer by Colectivo.
Tulum to Akumal
It is just under 40 kilometers to get from Playa to Akumal, and it should take around 40 minutes in a car, a bit longer by Colectivo.
Traveling to Akumal by car:
Just get on the main highway heading from Cancun to Tulum. If you are in Tulum head towards Cancun. If you are in Cancun or Playa Del Carmen head towards Tulum. When you see signs for Akumal turn off and drive up through the town. When you get to the top of the town where the main road ends follow the dirt road slightly to the left side of you. You will see signs for Akumal Naura Glamping, so you can't miss it. You will find the camp on your right side and ample parking there.
Traveling to Akumal by Colectivo:
From Cancun take a collective from Cancun to Playa Del Carmen from close to the ADO station (just across the bridge). When you arrive in Playa, you will need to change onto a second Colectivo to Tulum. If you are in Playa Del Carmen just head to Calle 2 and take a colectivo to Tulum. Let the driver know when you get on that you want to go to Akumal. There will be others on the Colectivo stopping there too so just listen out for the driver saying Akumal.
From Tulum take a Colectivo to Playa Del Carmen. You will find the colectivos parked up by Subway just passed the Ado station but on the opposite side of the road. Make sure you let the driver know you want to go to Akumal.
When you arrive in Akumal town just walk up the hill to the top of the town. Once you get to the end look for the sign for Akumal Natura Glamping and walk for about 10 minutes. It is on your right.
Traveling to Akumal by Taxi:
I would not recommend getting a taxi as they are so expensive. Even to just ride from the pueblo to the camp they will try and charge you 80 pesos! Don't pay it. If you take a taxi from Cancun, Playa, or Tulum book in advance and fix the price before leaving.
To get back from Akumal to Playa del Carmen, Tulum or Cancun just do the reverse! If you are going back to Tulum you can take the colectivo from the town just before you get to the end of the town. If you want to go to Playa or Cancun then you will need to walk down to the main highway and cross the road (there is a footbridge). You will see the colectivo stop, just wait there.
Final Thoughts on Glamping in Akumal
Honestly, Akumal Natura Glamping was like the gift that keeps on giving. In a world where you get charged a price and then arrive to be told about a million and one hidden extras to stay somewhere and be genuinely surprised at just how much is included. And then to not be charging me for every glass of water I drink, or bike I use was a breath of fresh air. You get so much here, and the owner Anthony is a wonderful human with a beautiful vision.
My only regret was not being able to stay longer. Two days was not quite long enough, 3-4 days (or longer) would be perfect. If you are a fan of Glamping you will find plenty of incredible options all over Mexico like Camp Cecil Glamping in Baja California.
If you are looking for all kinds of excursions and car rentals in Riviera Maya, take a look at what my friends from Turismo Channel have! You can check out their tours by clicking here and using the following discount codes for the best prices clairecaroff (car rental), claire10off (for 10% off group tours), claireprivate (for a discount on private tours).
Looking for things to do in the Riviera Maya?
Check out these articles:
Visiting Cenote Azul and Cenote Cristalino
The Complete Guide to Chichen Itza in Mexico
How to see the Mayan Ruins in Tulum
How to spend a weekend in Merida
Doing a cooking class in Tulum
Choosing a Scuba Diving Company in Playa Del Carmen
Scuba Diving in Puerto Morelos
This post was proofread by Grammarly