There is so much to see and do in Lisbon, Portugal I could go on forever but let's start with how to spend 5 days in Lisbon. Depending on your plans, maybe you're arriving specifically to visit Lisbon or maybe you're taking advantage of Air Portugal's Stopover Program. If you're not familiar with the stopover program, Air Portugal (TAP) offers flights that include up to 5 days in Lisbon or Porto. So you could add on a bonus trip at the beginning or end of your vacation. It's a great opportunity to get a taste of Portugal and I enjoy flying with TAP regardless so make sure to check them out the next time you're looking for flights.
Did You Get Travel Insurance Yet?

If 2020 taught us anything, it's that you need to be prepared for anything!

The Insurance companies I personally recommend are Hey Mondo, Passport Nomads, Safety Wing, and Travel Insurance Master

Hey Mondo is great if you are looking for a great value flexible policy. They offer single-trip cover, annual multi-trip cover, and long-term travel cover.

Passport Nomads provides the most comprehensive cover for Digital Nomads. If you find yourself in need of medical care you just contact them and they will pre-load your card with the funds to cover your treatment, meaning you won't need to pay out of pocket and then put in a claim later.

Safety Wing is great value with monthly cover starting at $39. It's super easy to use and it just renews each month. I currently use them as they offer me free cover for my son as part of my policy.

I also use Travel Insurance Master for short trips.

Read my full travel insurance post here where I go into detail about all 4 companies.
Landing in Lisbon, Portugal
The Humberto Delgado Airport is a very nice airport and not a bad place to spend a couple hours if you've got a short layover. There are a ton of shops and restaurants to check out. Something to keep in mind is knowing which terminal you need to be in. If you're an American returning home, you have to go through another passport checkpoint to get to where your gates are located. It's not necessarily far from the main area but you should make sure to allot enough time in case the lines are long. However, we aren't hanging out in the airport…we're heading to Lisbon!
How to Get From Lisbon Airport to the City Center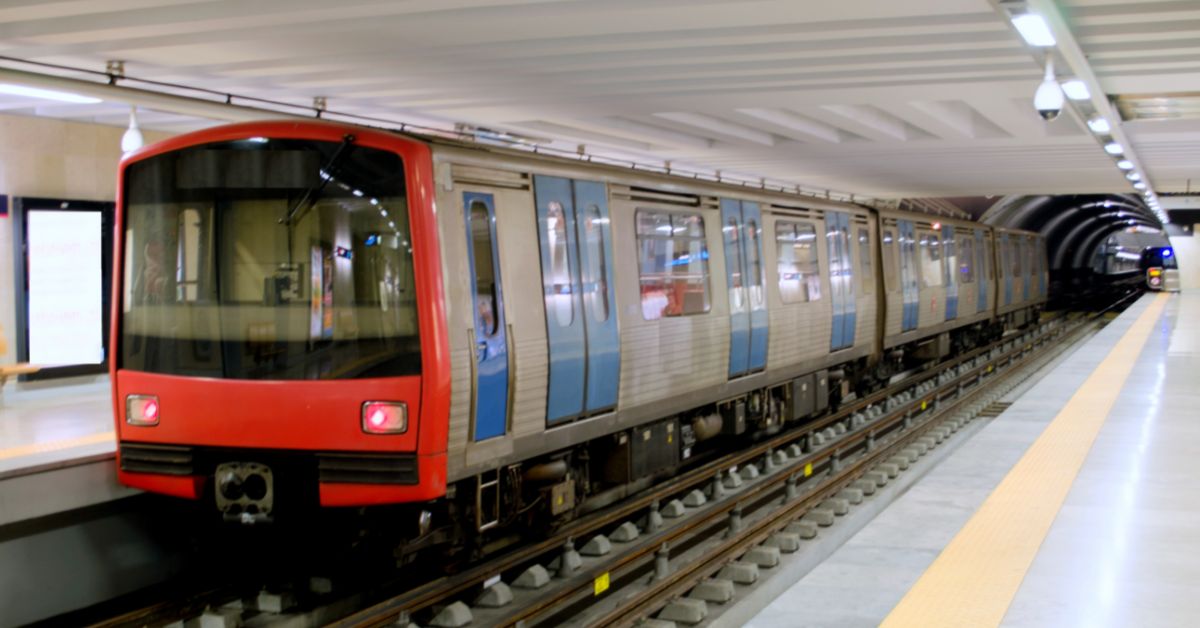 There are a few ways to get from Lisbon airport to the city. I find the quickest and most cost efficient is using the Lisbon Metro.
Follow the signs to exit the airport. The Metro entrance is directly across from the airport doors. The ticket kiosks inside are pretty easy to use. In the bottom corner is a little UK flag that you can press for English. The last time I was there, there was also an attendant helping people but even if there isn't, it's very easy to purchase a ticket.
I would do one of the 24hr package deals as you can use these all over the city for various forms of transportation not just the metro. This includes the trams, funiculars and the Santa Justa Lift (more on that later).
Once you get your ticket, you'll need to swipe it at the turnstile to get in and AGAIN to get out. You have to swipe both ways.
You won't see maps as you're making your way to the platform because there is only the one train leaving the airport which makes it a little less confusing for your first time.
My recommendation is to take the red line (airport train) to Alameda, switch to the green line going towards Cais do Sodre, and, get off at Rossio.
Best Area to Stay In Lisbon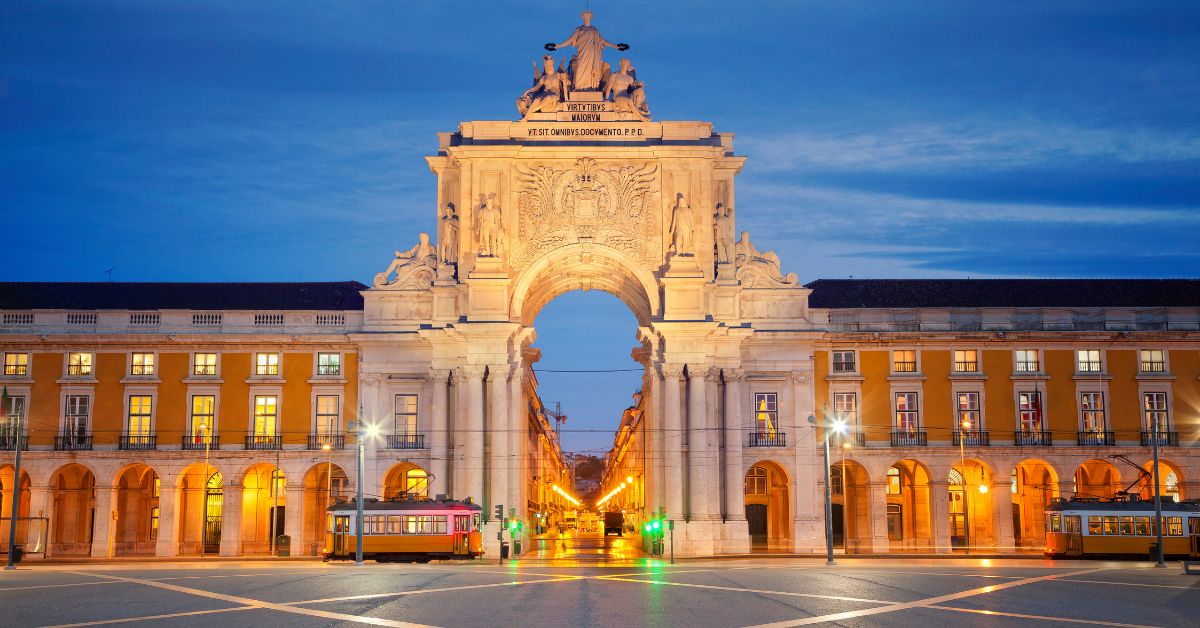 In my opinion, the Baixa neighborhood is the best area to stay in Lisbon for easy access to everything you're going to want to do and see. This is where you'll end up when you get off the metro at the Rossio Station. I would highly recommend staying at The Hotel Portugal, Hotel Mundial or Hotel Lis Baixa. Gorgeous facilities and the staff are so wonderful and welcoming. Extremely affordable and they have awesome restaurant options.
Other nice hotels in Old Town:
Now that you're settled in your hotel, let's get your 5 days in Lisbon started!
Lisbon Itinerary 5 Days
Day 1:
More than likely you've just arrived so let's get acquainted with Lisbon! If you've just arrived, you're probably exhausted and will need to call it an early night. Before you head to bed, here are a few fun things to do before giving in to the jet lag:
Day 2: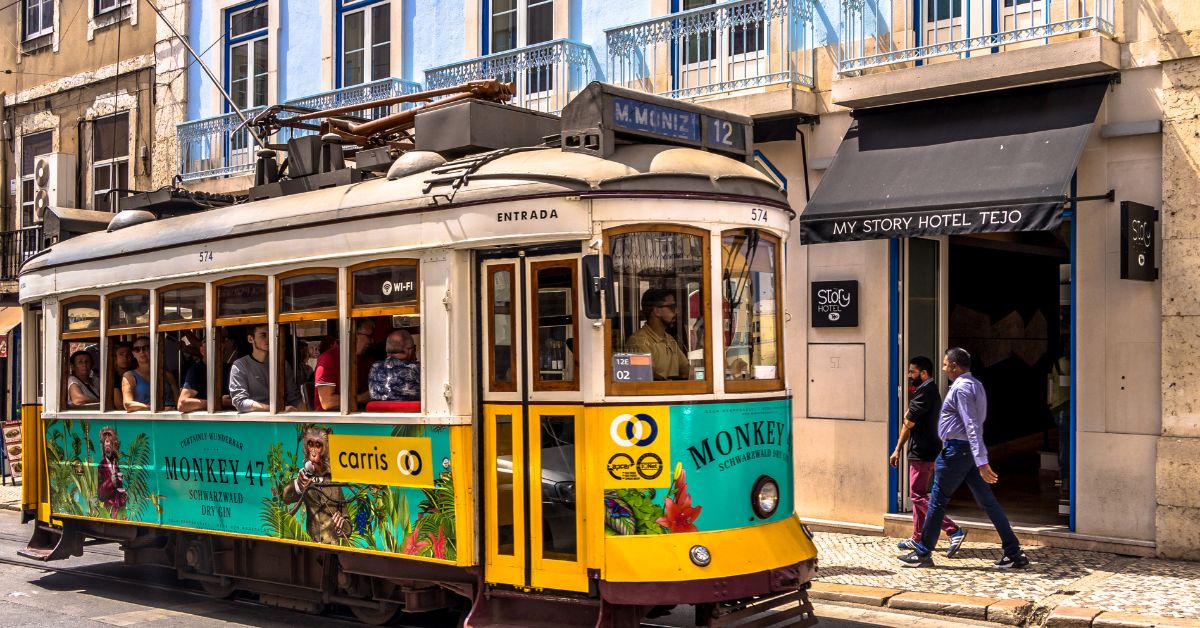 After waking up and having breakfast in your beautiful hotel, you'll be heading out to the tram stop in Praca Figueira to take one of the iconic Lisbon trams, 12E, up to a couple beautiful viewpoints and through Lisbon's lovely neighborhoods.
While riding in one of these trams is practically a "must do" they also make for convenient transportation as you can hop on and off at their many stops whenever you see anything you want to check. Just make sure you have one of those metro card packages we talked about above.
Getting off at Sao Tome, you can walk over to St. George's Castle or walk down towards Lg. Portas Sol to check out several gorgeous viewpoints. There is another tram stop at Lg. Portas Sol where you can get back on when you're done taking in the scenery.
If you ride the tram the whole way back around to Praca Figueira, stop somewhere for yummy lunch before heading over to the Santa Justa Lift. You can ride the lift with your metro card and check out the Carmo Convent.
Walking over to the Chiado neighborhood, you can see Praca Luis de Camoes and then head down R. do Alecrim to check out the Instagram famous "Pink Street". After you're done taking all your pictures, pop over to Time Out Market. This place is just incredible. There are a ton of restaurants, all of which are four or five stars, and shopping. My recommendation is to get a little something from a bunch of different places so you can try a lot of things.
Grab a tram back to your hotel, 15E towards Praca Figueira will get you there or walk off dinner!
The form you have selected does not exist.
Day 3:
We're getting out of town today to Sintra where you will find stunning UNESCO World Heritage sites.
To get to Sintra, you could hire a tour that will take care of the transportation and guiding for you, or you could look for other ways to get there since it is only 30 minutes away in car from Lisbon.
Another way is by train. This route is a very busy route since lots of people commute. Because of that, you can't pre-book tickets, but you can get plenty of free seats at the ticket office. Also, make sure that you arrive to the train station with enough time since some times the queues could be long.
Here are some of the points of interest in Sintra:
Day 4: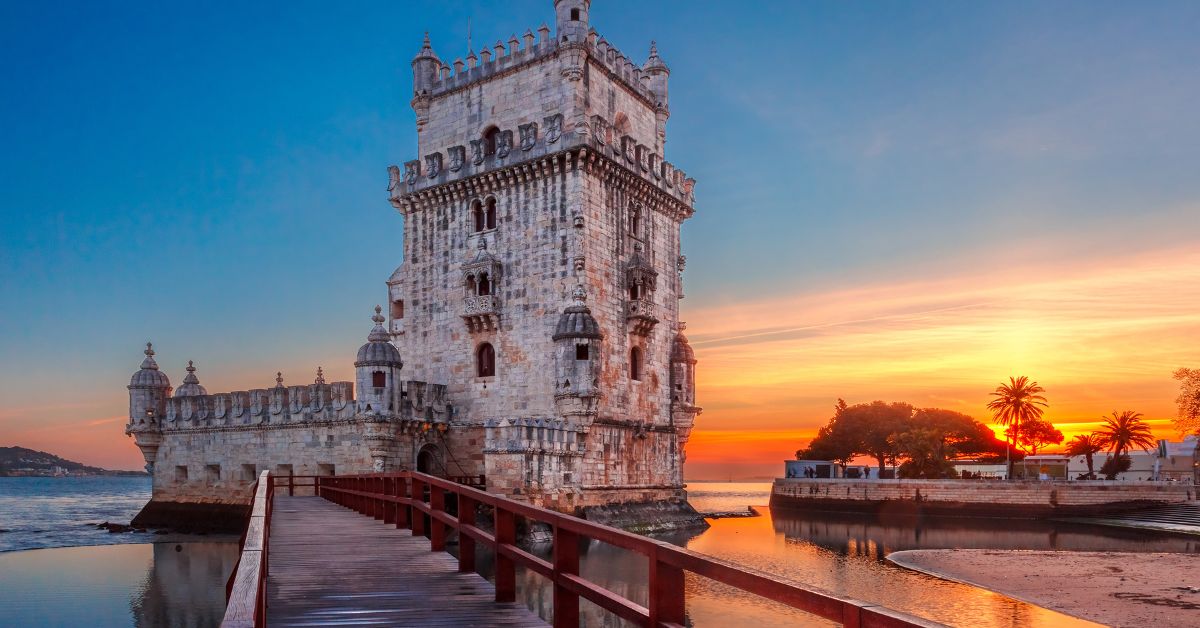 Go to gorgeous Belem today. Using the Praca da Figueira tram stop, at the top of R. dos Douradores, take the 15E tram the whole way to Belem. If you got one of those metro card packages we talked about then you're all set to ride wherever you want to go.
Despite what I just said about riding the tram to Belem, stay on one more stop after the actual Belem stop and get off at Jeronimos Monastery. This UNESCO World Heritage site is the burial place of Vasco da Gama. Grab lunch at Pasteis de Belem. Their pastel de nata is maybe the best ever.
After lunch you can walk over to see the Monument to the Discoveries AND the incredible Belem Tower. Absolutely breathtaking! After a long day, get back on the tram to Lisbon. Depending on how you feel, you can hop off at Time Out Market again to try a couple more places before going back to the hotel for the night. If you're feeling up for staying out a little longer, check out Café Luso for a live Fado performance.
Day 5:
I highly recommend take a day tour to visit both places, Évora and the Megaliths of the Cromeleque dos Almendres.
Evora is a most see city if you are in Lisbon. The architecture and history of this place will keep you busy and amazed.
Megaliths of the Cromeleque dos Almendres is a site with numerous stone formations from the Neolithic period. The most interesting one is the Almendres Cromlech (Cromeleque dos Almendres). The entire monument was constructed over a long period with the first stone laid on 6,000bc, and was in continual use until 3,000bc. One of the big mysteries of this site are the patterns and diagrams of unknown meaning.
Leaving Lisbon, Portugal:
Sadly, your time in Lisbon is coming to a close. Depending on your flight times, maybe get in a few last minute stops to take in as much as you can before leaving. Pop over to the Fantastic World of Portuguese Sardines for a crazy circus themed canned fish experience. They make great souvenirs or gifts for people back home. Maybe one last shot of Ginja before getting on the metro back to the airport? No matter what you decide to do before leaving, when you do eventually get back on the metro just reverse the directions from above and you'll be back at the airport in no time.
If you're heading back to the United States, remember to give yourself enough time to get through passport control into the other terminal. After that there's nothing to do but wait for your flight and start dreaming up your next Portuguese vacation!
LIKE IT? PIN IT!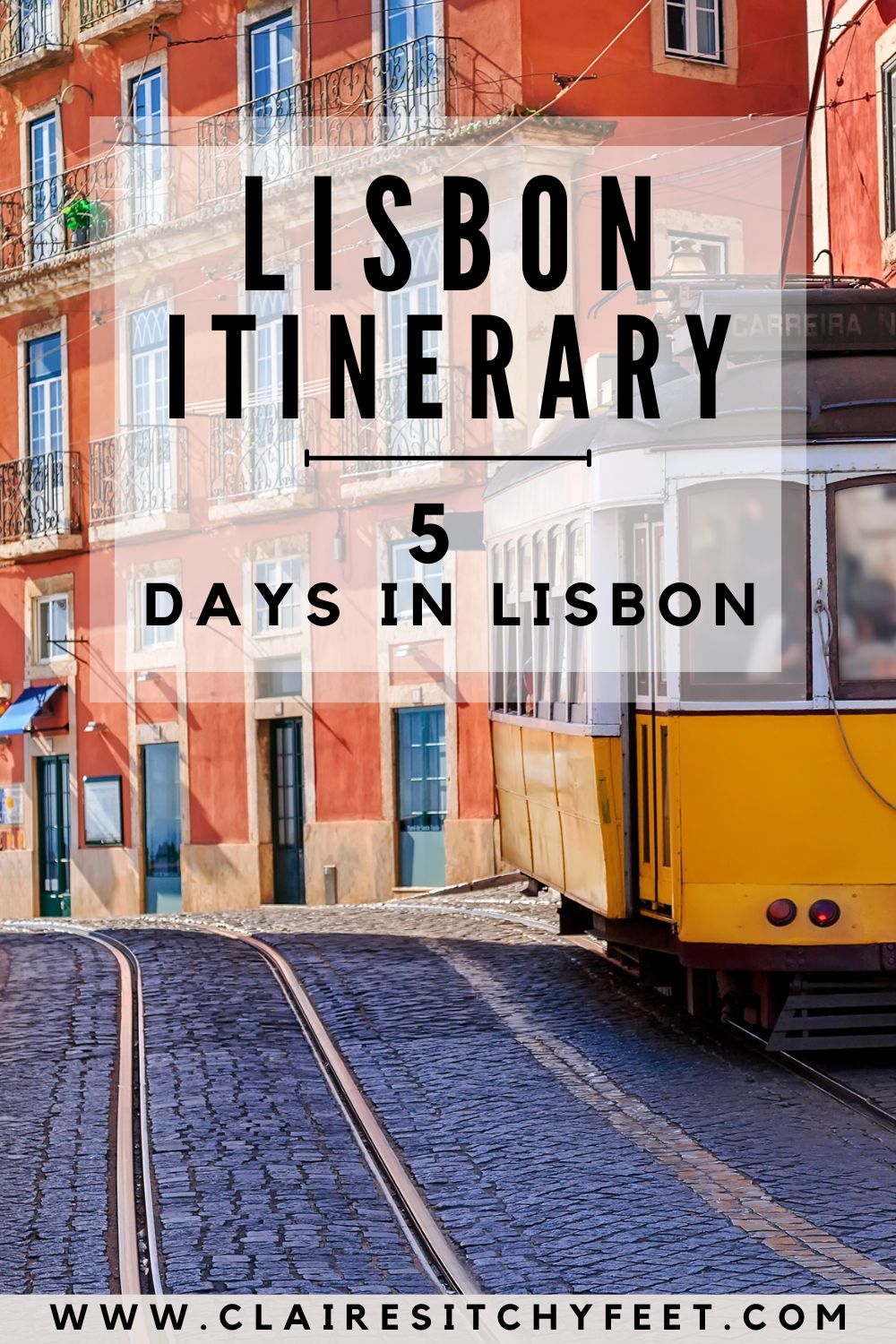 ---
Author's Bio:
Jessy Hamel is the travel blogger behind Brighter Things Planning. She's been traveling solo and taking small groups throughout Europe for over five years. When she's not looking for the airport lounge or trying to find the best seafood ever, she calls Lancaster, PA home. She writes and resides there with her boyfriend and two pit bull mixes.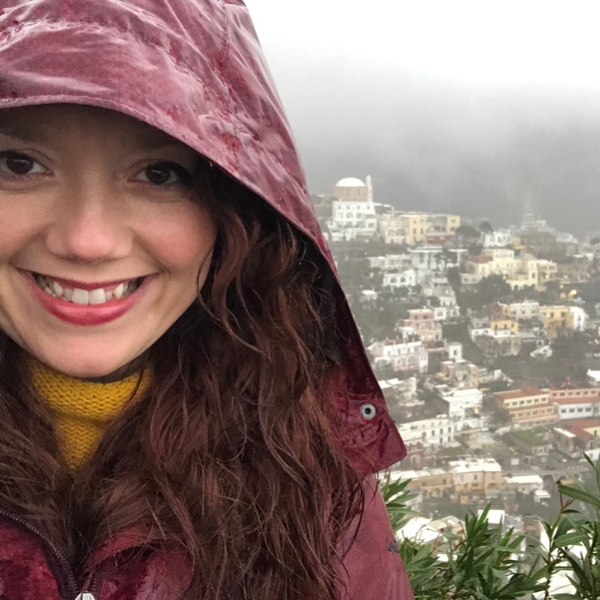 ---