Looking for the top Playa del Carmen excursions to take in 2023? Playa del Carmen is becoming one of the top destinations in the world to visit, especially as the world begins recovering from the craziness of 2020… In this blog post, I've included some of my favorite places to visit on a day trip from Playa del Carmen. Having lived there for just over 3 years, I know what I'm talking about.
Just here for the referral?
I work closely with 2 tour operators in Playa del Carmen. Both companies are run by local people that I know and trust. These are the guys I refer my own family and friends to. So if you are just here for a recommendation of who to book your Playa del carmen excursions with then I recommend either Vanessa from Turismo Channel.
If you are looking for all kinds of excursions and car rentals in Riviera Maya, take a look at what my friends from Turismo Channel have! You can check out their tours by clicking here and using the following discount codes for the best prices clairecaroff (car rental), claire10off (for 10% off group tours), claireprivate (for a discount on private tours).
and Living Dreams Mexico who offer more luxury private tours in Playa del Carmen. Please tell them you were referred by me to ensure you get the very best deal.
Ok, now we've got that over with, on with the blog post.
Playa del Carmen is located on the Caribbean coast of Mexico and is well known for its natural beauty and adventure activities. Think diving with bull sharks, climbing Mayan ruins, swimming in cenotes, and observing dolphins in the wild. There are so many choices of Playa del Carmen excursions where you can roam around the city and the amazing sites close by. If you are looking to know more about the Mayan Culture, there are many day trips from Playa del Carmen that will give you a much deeper understanding of it such as Chichen Itza and Tulum Ruins – both of which are fun things to do in Playa del Carmen with kids in the area.
Did You Get Travel Insurance Yet?
If 2020 taught us anything, it's that you need to be prepared for anything! Travel insurance has always been high my list of things to get before I travel but now more than ever its at the top of my list.

I'm pretty sure we have all had travel plans messed up because of COVID and not all insurers covered this. So when looking for travel insurance it's important to check it covers travel disruption due to COVID-19, Hey Mondo, Passport Nomads, Safety Wing, and Travel Insurance Master all provide cover for this.

Hey Mondo is great if you are looking for a great value flexible policy. They offer single trip cover, annual multi trip cover, and long term travel cover. You even have the option to start the cover when you are already on your trip, although you won't be covered for the first 72 hours. For me my favourite feature is their app which offers you a 24/7 Dr chat and the ability to file a claim direct in the app.

Passport Nomads provides the most comprehensive cover for Digital Nomads. The game changer with them is that you have a red card and if you find yourself in need of medical care you just contact them and they will pre load your card with the funds to cover your treatment, meaning you won't need to pay out of pocket and then put in a claim later.

Safety Wing is great value with monthly cover starting at $39. It's super easy to use and it just renews each month. They have an excess of $250 and it's simple to make a claim through their website. I currently use them as they offer me free cover for my son as part of my policy and I like that it renews on a monthly basis, so I don't have to pay out a big lump sum up front.

I also use Travel Insurance Master for some short vacation type trips.

If you are doing shorter trips or an extended backpacking trip then Hey Mondo or Travel Insurance Master are the best option. If you are a digital nomad or planning travel of at least 6 months then go for Passport Nomads or SafetyWing.
The Best Excursions From Playa del Carmen
Relax In Tulum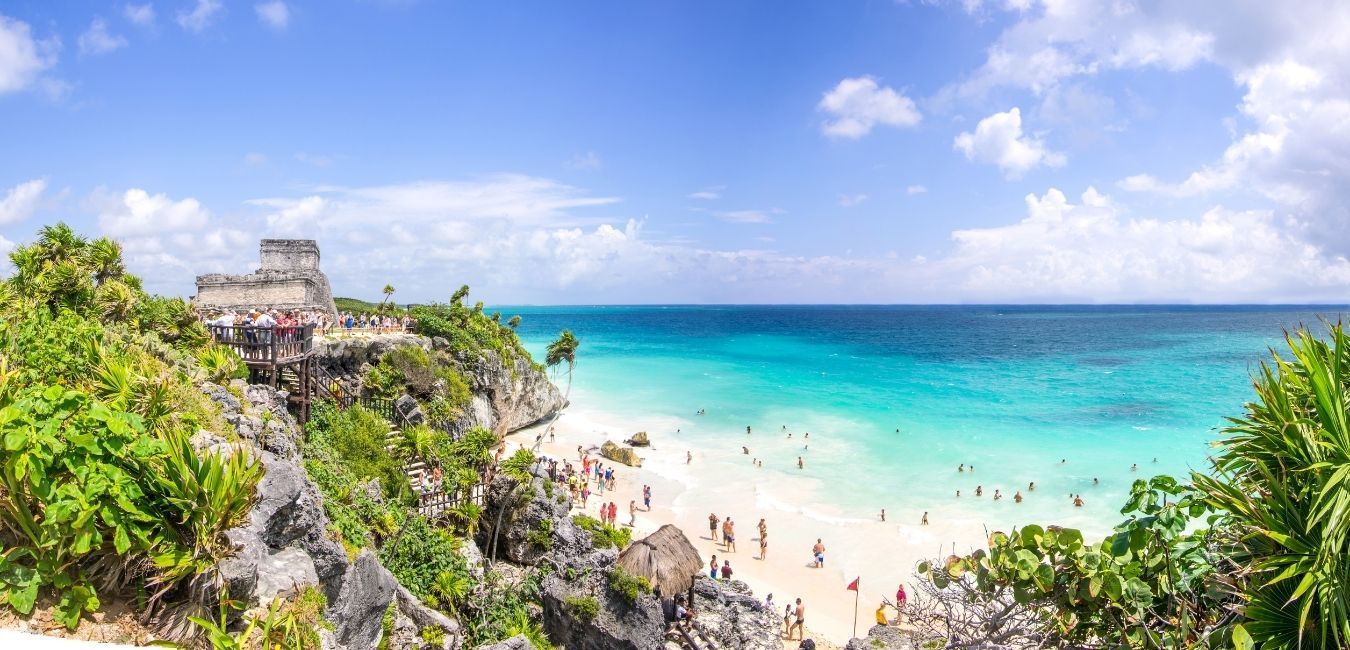 Tulum is about an hour from Playa del Carmen and it is super easy to get to (read this for detailed directions of how to get to Tulum from Playa) either by bus, taxi, renting a car, or on a tour.
Tulum is one of the most well know 'bohemian' escapes in the world right now. It's not wrong that in 2023 everyone is visiting Tulum. Since the world shut down more people have been arriving here than ever. While it's not somewhere I personally want to spend a lot of time, I do love visiting Tulum on day trips.
Some of the top things to do in Tulum include:
I could go on and on!
Need to book transportation in Mexico?
I highly recommend booking all of your Mexico transportation with GuateGo. You can search for buses, shuttles, ferries, and Flights on their website. What I love most about them is their customer service. I know these guys personally from my time living in Guatemala and they really do look after their customers. So if anything happens and you get delayed and miss your bus, you can just call them and they are always there to help.

If you book through them you will pay a little more than if you book in person at the bus station. But it's worth it for the ease and security in my opinion. Click here to search for transportation in Mexico.
If you are interested in doing a Tulum tour from Playa del Carmen then get in touch with Vanessa from Turismo channel by filling out this form below.
Explore Cozumel
Taking a Cozumel day trip from Playa del Carmen may be the easiest out of all the options because you just need to take a ferry to the island (click here to read about how to get to Cozumel).
Things to know about Cozumel, it's a big cruise ship destination, so normally it's packed with cruise ship tourists. However, as the ships still aren't sailing it's nice and quiet over there right now. Making it even more appealing! It's a small island but the main center is very developed, you will find everything from Rolex to Starbucks on the main road here.
If you go to Cozumel here are some of the top things I'd recommend doing:
Taking a trip to El Cielo (Book this through Vanessa she can arrange transport from Playa for you too)
Go on the glass bottom boat
SUP
Rent a car and do a lap of the Island
Surfing
Visit the Mayan Ruins
Chill out at one of the beach clubs
I actually wrote a full guide to Cozumel you can read here. And if you decide to spend the night here, check out these Cozumel accommodations.
Learn about the Mayan Culture at Chichen Itza
It is a bit of a drive, but visiting Chichen Itza is normally at the top of many people's day trips from Playa del Carmen list. Well, it is one of the new 7 wonders of the world after all. I've already written a very in-depth blog post about how to visit Chichen Itza that you can read here. I go through how to get there yourself, as well as some recommendations if you want to do the whole tour thing.
The site of Chichen Itza is almost 10 kilometers and will take around 2-3 hours to explore. I also recommend going to Chichen Itza at night to watch the light show during the summer months. I wrote about how to do that here. The only downside is the whole thing is only in Spanish, so if you don't speak Spanish you will struggle.
For a private tour of Chichen Itza complete the form below and someone will be in touch within 24 hours
Visit Some Cenotes
There is nothing better than cooling off on a hot day in one of the cenotes close to Playa del Carmen. I'm not going to lie, there are a LOT of cenotes close to Playa del Carmen, so it really can feel very overwhelming when trying to pick one to visit.
The way I see it, you have a few options for cenotes.
Do it yourself
Book a driver
If you want to go with option 1 and do it yourself then take a read of this post about getting to 2 cenotes close to Playa. You can rent a car and drive yourself there, or you can very easily take a colectivo. I cover all options in the blog post.
For option 2, Vanessa my friend has an amazing tour that takes you to 5 different cenotes, plus Xpu Ha beach (one of my top beaches in Playa del Carmen). She has other tours too, but that one is my favorite. You really will be spoilt for choice with cenote tours from Playa del Carmen.
Another option. which I have also done when I had family here, was to just book a private driver for the day and ask him to take you to a few cenotes. They almost always know the good ones to visit that aren't full of people!
To enquire about booking a private driver or a cenote tour with Tourismo channel fill out the form below, or send Vanessa a WhatApp.
Isla Mujeres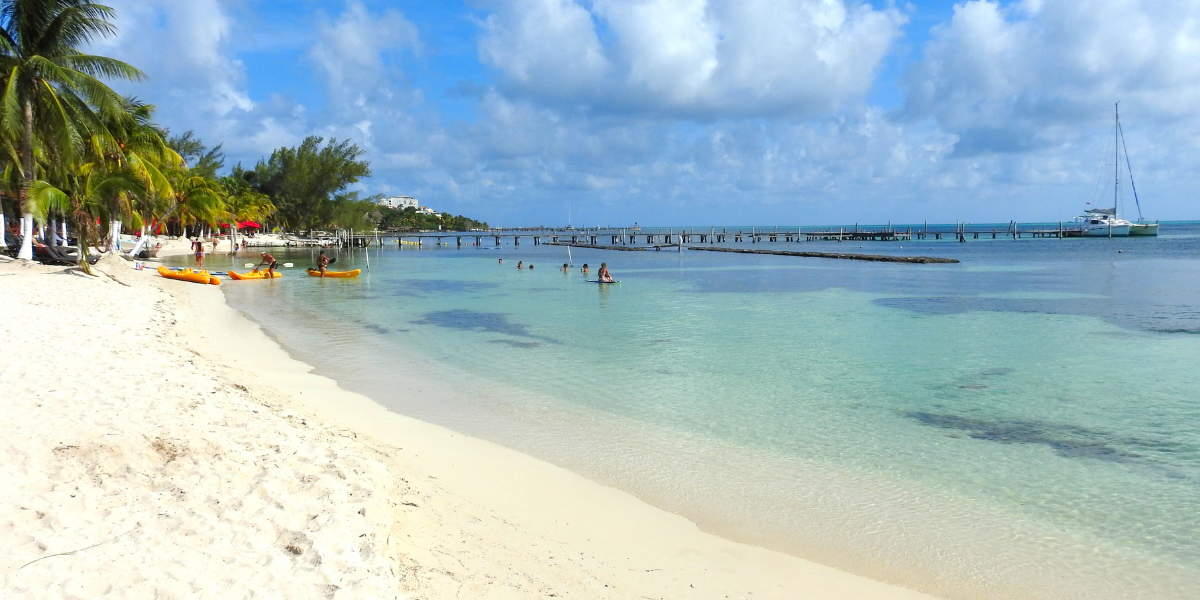 Another of my personal favorite days out from Playa del Carmen is to take a catamaran tour to Isla Mujeres. Yes, you can take a bus and then the ferry to Isla Mujeres from Playa del Carmen. But where's the fun in that? Honestly, these boat trips are probably one of the few super touristy things that the locals partake in too. I used to do it with friends every few months.
You get picked up in Playa and taken to Cancun by road. Then you hop on the catamaran and it's all drinking, sunning yourself, and relaxing. Once you arrive in Isla Mujeres there is normally a snorkeling tour followed by some time on Playa Norte (officially one of the most beautiful beaches in the world). After that, you get taken to this restaurant where you get a buffet lunch (not terrible), and then it's home time.
I know it might not sound that special, but if you are with a few friends it can be a lot of fun. Plus Isla Mujeres is so beautiful, you really must see it at least once.
You can book a tour to Isla Mujeres from Playa del Carmen with Vanessa by sending her a WhatsApp message or filling out the form below. Make sure you tell her I referred you for the best deals 😉
Bacalar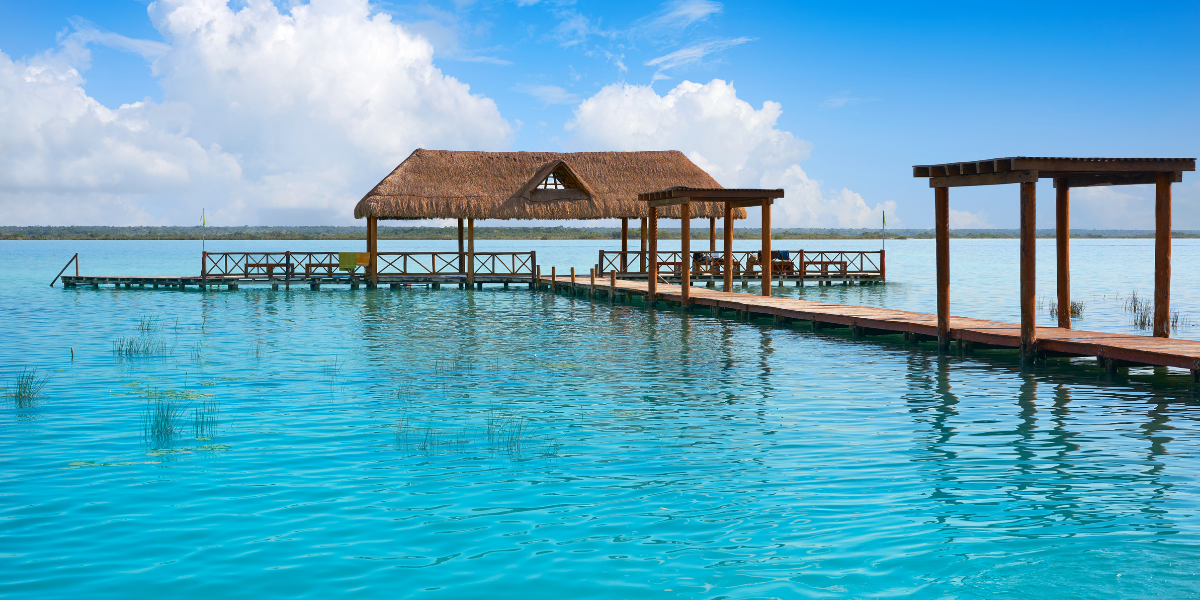 Oh Bacalar, one day I will get to visit you I promise. Can you believe I lived in Playa del Carmen for 3 years and didn't get the chance to visit?!? Fingers crossed I'll be there in April though so I can come back and edit this then.
What you need to know about Bacalar is that it is a fair distance from Playa del Carmen but it is doable on a day tour if you are short on time. Otherwise, you can take a colectivo, ADO bus, or rent a car and drive down there for a few days. Either way, the lake isn't what it once was and you need to take a tour of the lake to go down to the bit that is still beautiful. The main area where most people stay is still very brown and murky.
That's why I'm only going on a day tour in April, that way I can do there, do the tour and come back all in one day!
Interested in doing this tour to Bacalar in a day? Send Vanessa a WhatsApp or fill out the form below.
Happy traveling!