Firstly, congratulations for even knowing to Google Huasteca Potosina in the first place. I've lived in Mexico for over 3 years and I only randomly found out about this amazing place through a friend who invited me to join her. There are a few reasons why I don't think La Huasteca Potosina gets the attention other places do. But the main one is because it's a little tricky to get to. So many of the best places are right? In this complete guide to visiting Huasteca Potosina San Luis Potosi, you will learn everything you need to know to plan an epic adventure here.
P.S. If you are going to go to Huasteca Potosina then consider making a stop in Grutas Tolantongo too.
Did You Get Travel Insurance Yet?
If 2020 taught us anything, it's that you need to be prepared for anything! Travel insurance has always been high my list of things to get before I travel but now more than ever its at the top of my list.

I'm pretty sure we have all had travel plans messed up because of COVID and not all insurers covered this. So when looking for travel insurance it's important to check it covers travel disruption due to COVID-19, Hey Mondo, Passport Nomads, Safety Wing, and Travel Insurance Master all provide cover for this.

Hey Mondo is great if you are looking for a great value flexible policy. They offer single trip cover, annual multi trip cover, and long term travel cover. You even have the option to start the cover when you are already on your trip, although you won't be covered for the first 72 hours. For me my favourite feature is their app which offers you a 24/7 Dr chat and the ability to file a claim direct in the app.

Passport Nomads provides the most comprehensive cover for Digital Nomads. The game changer with them is that you have a red card and if you find yourself in need of medical care you just contact them and they will pre load your card with the funds to cover your treatment, meaning you won't need to pay out of pocket and then put in a claim later.

Safety Wing is great value with monthly cover starting at $39. It's super easy to use and it just renews each month. They have an excess of $250 and it's simple to make a claim through their website. I currently use them as they offer me free cover for my son as part of my policy and I like that it renews on a monthly basis, so I don't have to pay out a big lump sum up front.

I also use Travel Insurance Master for some short vacation type trips.

If you are doing shorter trips or an extended backpacking trip then Hey Mondo or Travel Insurance Master are the best option. If you are a digital nomad or planning travel of at least 6 months then go for Passport Nomads or SafetyWing.
Where is Huasteca Potosina?
I actually thought that Huasteca Potosina was a place in San Luis Potosi. But I was wrong. La Huasteca Potosina is actually a large region in Mexico that is spread over 7 states! Many people (like me) think it's just in San Luis Potosi because this is where the majority of the most visited waterfalls are. I'm all about the San Luis Potosi waterfalls!
San Luis Potosi is the name of both the state and the capital city within the state, which added to my geographical confusion! The actual city you need to make your way to if you want to go chasing the most beautiful waterfalls in Mexico is Ciudad Valle. This is the central 'jumping off' place to base yourself.
La Huasteca Potosina Map
On this La Huasteca Potosina map, I've added the top natural sites to visit including the most popular La Huasteca Potosina waterfalls and the location of the main cities. It's useful for you to see the distance between things if you decide to visit these places on your own in a rental car.
Why Visit Huasteca Potosina?
Wondering why you should visit Huasteca Potosina? Simple answer, the Huasteca Potosina waterfalls! Although I was surprised to learn that the majority of people visiting the area actually come to see the Edward James surrealist garden, with the waterfalls coming in second place! I haven't listed out all of the waterfalls in SLP but my friend Alyssa did, you can read her post on the best waterfalls in Huasteca Mexico here.
La Huasteca Potosina Mexico is a place for outdoor enthusiasts, adventure seekers, and anyone who just wants to get off the grid and into nature for a while. I've traveled a lot in Mexico, and I can honestly say it's one of the most beautiful places I've ever been in the world. Not just in Mexico.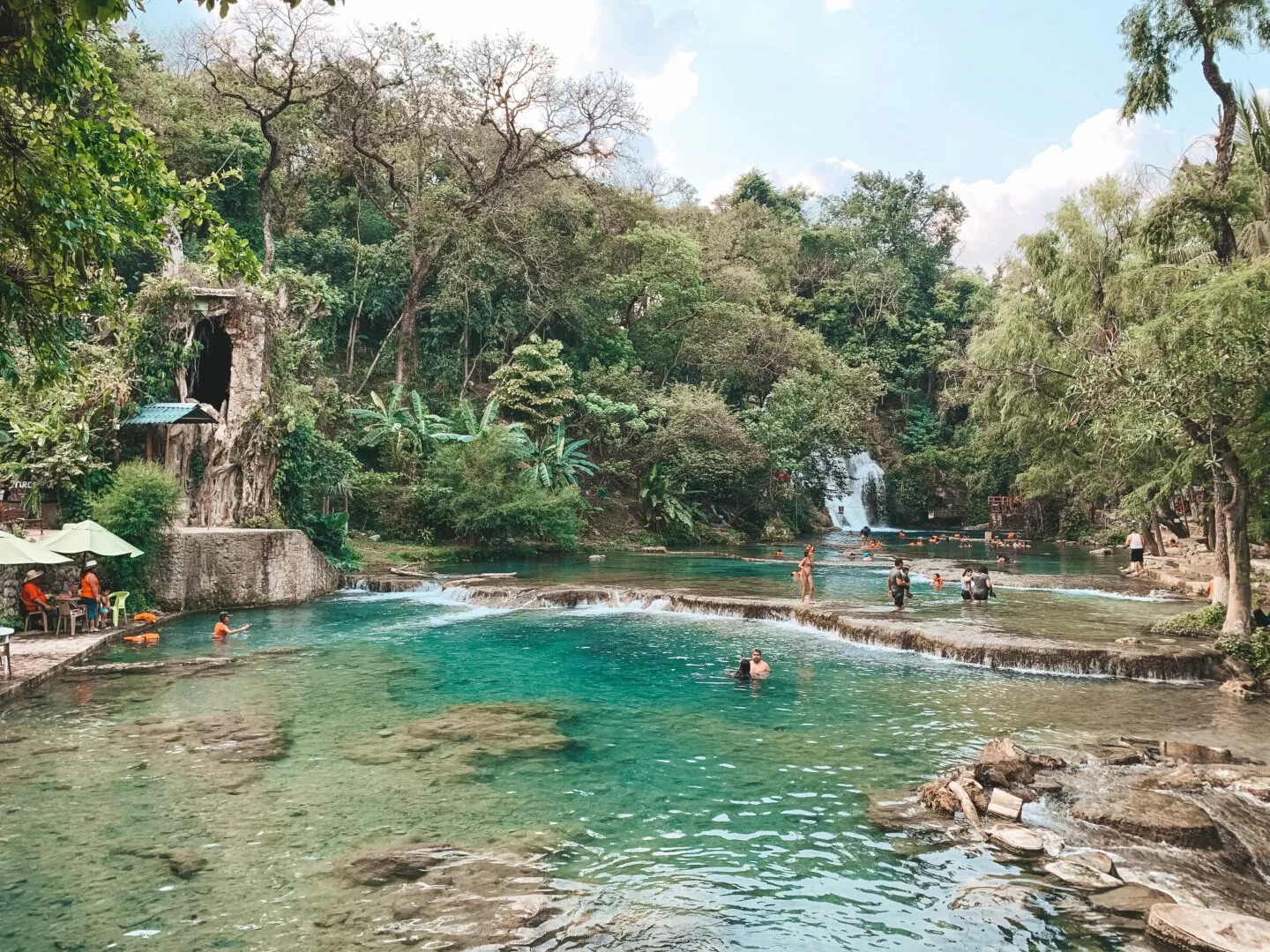 As well as going to see the waterfalls you have an abundance of activities including:
Jumping down waterfalls
Rappelling down waterfalls
Zip Lining over waterfalls
Riding bikes on zip lines over waterfalls (True story. I was scared)
Rafting down waterfalls
You get the picture!
Of course, if you aren't into all of the adrenaline-pumping stuff there are plenty of calmer activities to be found… but this is an adventure travel blog so I did not do any of them!
When Is the Best Time to Visit Huasteca Potosina?
Sadly I did not pick the best time to visit Huasteca Potosina. I went during the dry season, it was hot, dry, and the Tamul waterfalls were closed. The Tamul waterfalls are the ones you will have seen in all the pictures. It was the main reason we wanted to go, but because of dry season there was no water so we couldn't go.
My advice is to visit between November and February. If you go in November the rainy season has just ended so everything is green, lush, there is plenty of water, and it's not too hot. December will be busy with families on vacation and then by the time March comes and you hit Semana Santa it will be crazy busy and the dry heat will be coming back.
Should You Go It Alone Or Book One Of The Huasteca Potosina Tours
So here's the tricky part. This is going to be a difficult thing to do completely solo. If you can rally a group of you then you can totally rent a car, download this Google Map and see everything on your own. But if you are traveling solo, I honestly wouldn't recommend it.
As there were 4 of us we had planned to do it alone, hence the map. But honestly, it was going to be a lot of driving and the signal out there is terrible so I was a little concerned about getting lost. The roads also aren't the best.
So we ended up booking a 3-day tour with Huasteca.com who also had accommodation and meals were included. This was the best option for us as we wanted to really enjoy our time there and not have to worry about driving or having to cook/ find places to eat etc.
Now if you are on a backpacker's budget, maybe this isn't the best option for you so I'd suggest going somewhere in the middle. You can make your own way to Ciudad Valles and then book on some tours or find a local guide who can drive you around to the places if you don't want to do a full-day tour.
Which Tour Company Should You Book Your Huasteca Potosina Tours With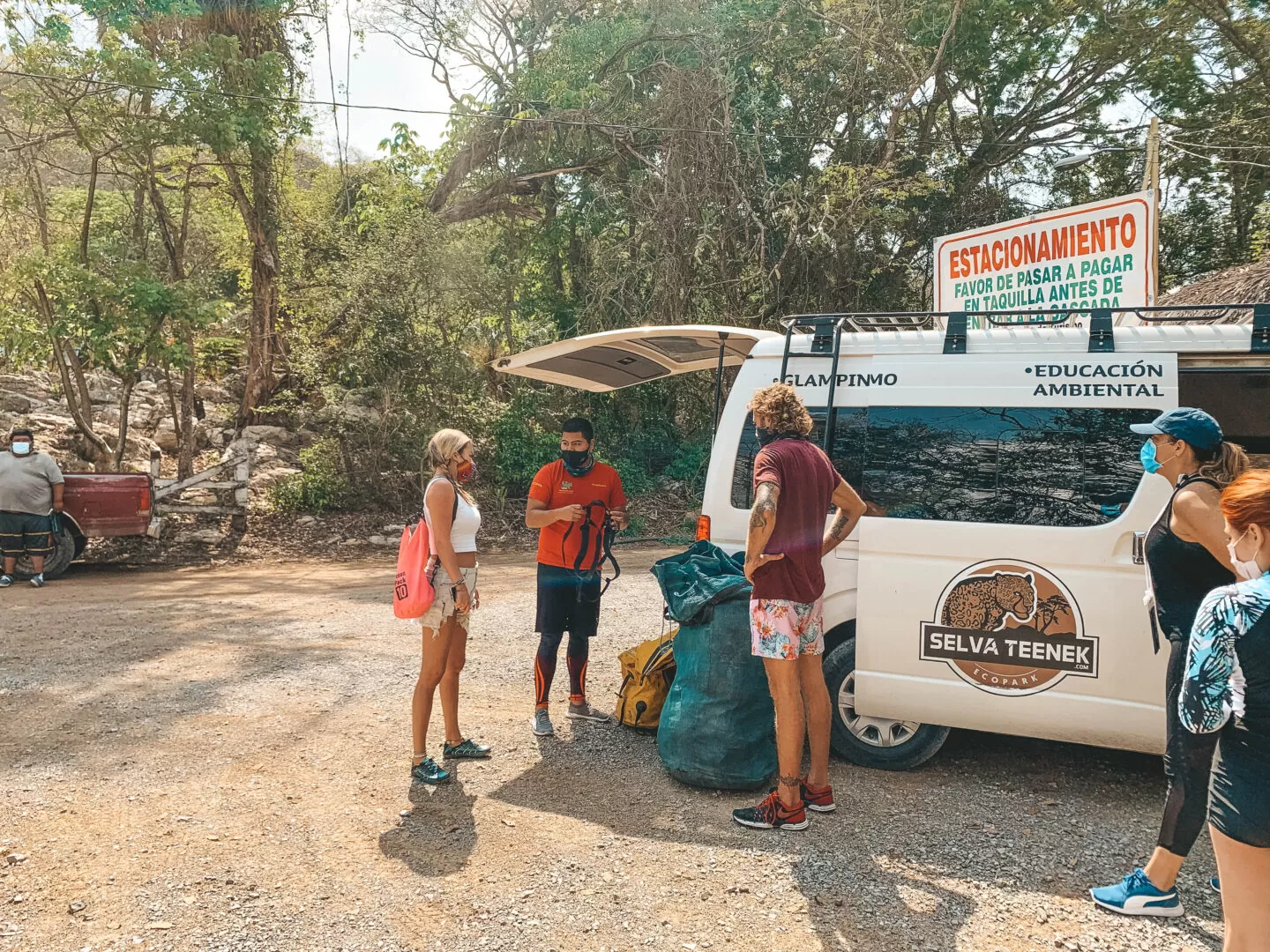 As I already mentioned we did an all-inclusive tour with huasteca.com and I can't recommend them enough. The company also owns Selva Teenek which is an animal sanctuary in the jungle. They have 8 Cabanas that you can rent, some glamping tents, a restaurant, AND they rescue animals. They have several big cats on-site that you can see (if you're lucky). The profit goes back into the rescue center to help keep it going as they do not get government support for the work they do.
The tour guides we had one spoke some English and the other way bilingual. This isn't so common here. So if your Spanish isn't the best that I'd strongly recommend Huasteca, just make sure you let them know when booking you don't speak Spanish. But also, you really should consider taking some online Spanish classes before you arrive in Mexico.
Huasteca is one of the most established companies in the area, their service was great, and I love how dedicated they are to giving back to the community, which is why they are the company I recommend.
You can view everything they have to offer on their webpage, or if you want to enquire about booking a tour with them then fill out the form below.
How to get to Huasteca Potosina
Oh, the fun we had trying to figure out how to get to Huasteca Potosina. First things first, remember that you're in Mexico and it's not always easy to find up-to-date information about things like bus times online. So if you are planning to travel there by bus then you're going to need to be a little flexible and don't try to plan it too much.
There is an airport in San Luis Potosi, but it's still 5 hours from Ciudad Valle. There is a smaller airport closer to Ciudad Valle, Tamuín National Airport. From there it's just 1.5 hours in a car or a bus ride. There is also a very small airport even closer, but it's currently closed due to C***D.
In my opinion, the best way to get to Ciudad Valle is to fly into Mexico City and then take the night bus from the Mexico North Bus Terminal to Ciudad Valle. It leaves at 10 pm at night and you will arrive early in the morning.
Alternatively, you can take a bus from Mexico North Bus Terminal to San Luis Potosi and then from there take the next bus to Ciudad Valle. Good luck finding any information about the times of these buses though! We looked and looked and only found one bus that left at 4 am. I know for a fact there are more buses though as a guy I was speaking to in the bus station took a bus at 11 pm at night from SLP to Ciudad Valle. It can be done, you're just going to have to arrive and then ask for the next bus and hope you don't have to wait too long!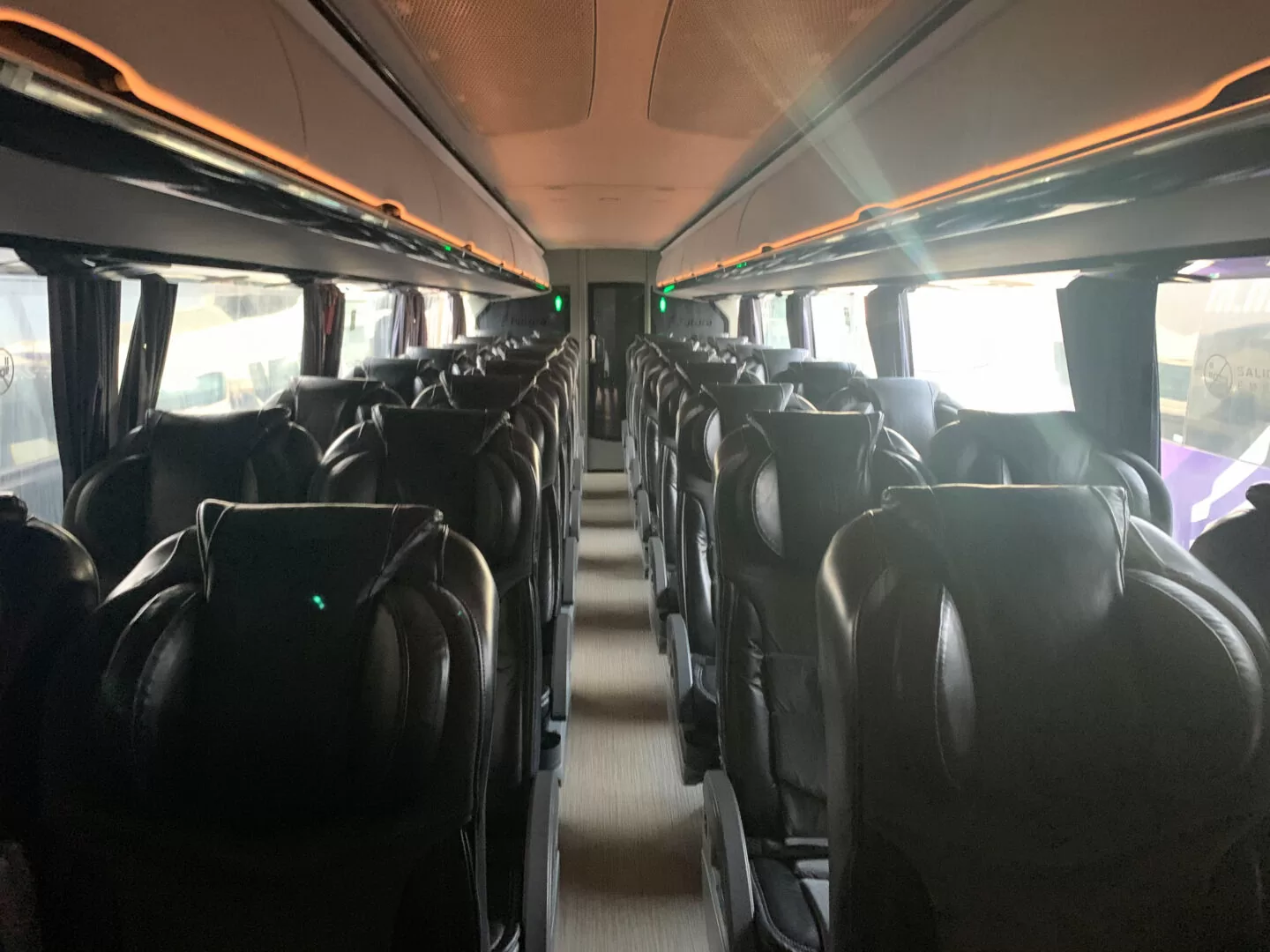 You can also take a bus to San Luis Potosi from Guadalajara and pretty much any other city in Mexico! The buses are generally pretty decent and all have power sockets and reclining seats so you can sleep.
Or you can do what we did and rent a car and drive. Take the toll roads as they are much better maintained and it will be a lot faster. It's also safer. In general, the roads were very good and I would feel comfortable driving them. The only issues we actually had were exiting and entering San Luis Potosi which was a nightmare! But once we were on the highway it was smooth sailing.
Be warned though, renting a car in Mexico is a tricky business and it's very easy to get scammed. Don't believe the prices you see online and DON'T book the online insurance. The company you rent from will not let you take the car without you paying for their insurance, so if you book it online you'll end up paying twice.
We rented a car for 5 days and it cost us just under $200 USD, plus $ for gas and $ for tolls. We only used the car to drive from San Luis Potosi to Ciudad Valles and back again. If you are planning on driving to all of the waterfalls yourself you will need to budget more for gas and tolls.
How Many Days Do You Need In Huasteca Potosina
We were just there for 4 days and that felt like a good amount of time. I think 5 days would be perfect and anything less than 4 would not be enough.
But it also depends on what you want to do. This was our schedule over the 4 days.
Having one extra day would have meant we could have visited Tamul (if it was open) and done the rafting.
The Best Things To Do In Huasteca Potosina
I'm just going to list out my top things to do in Huasteca Potosina Mexico and share pictures with links so you can see for yourself!
Visit Tamul Waterfall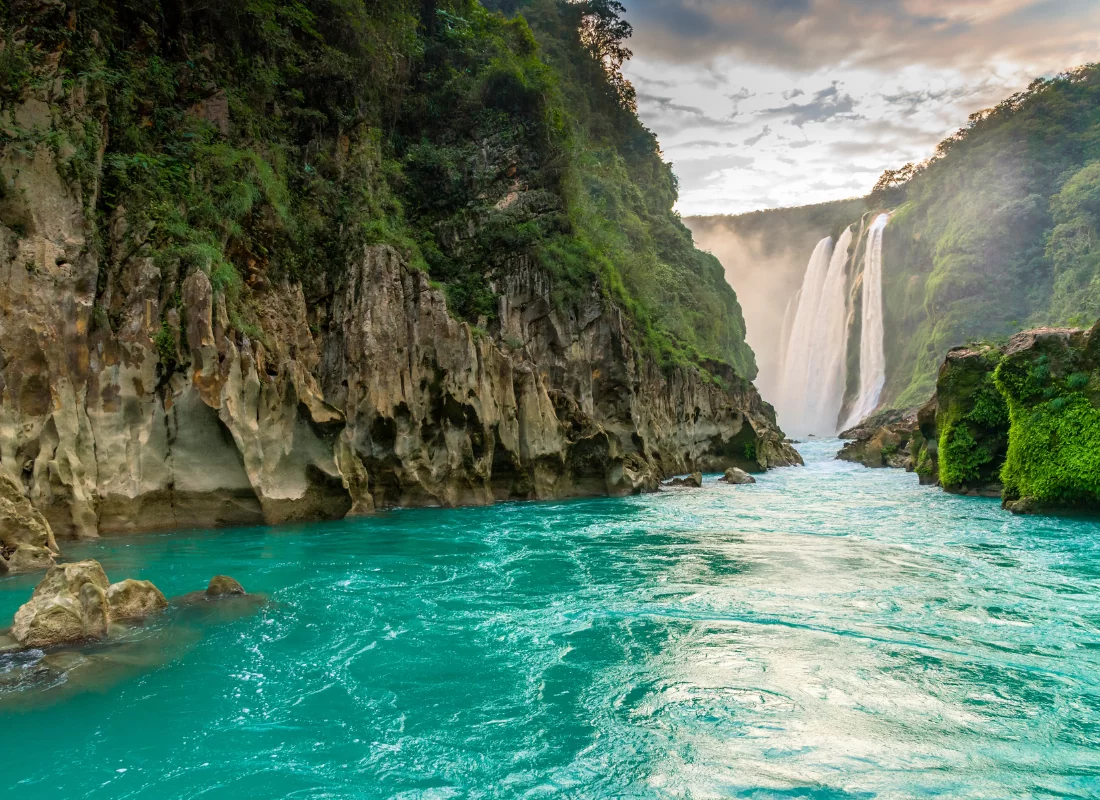 Go ziplining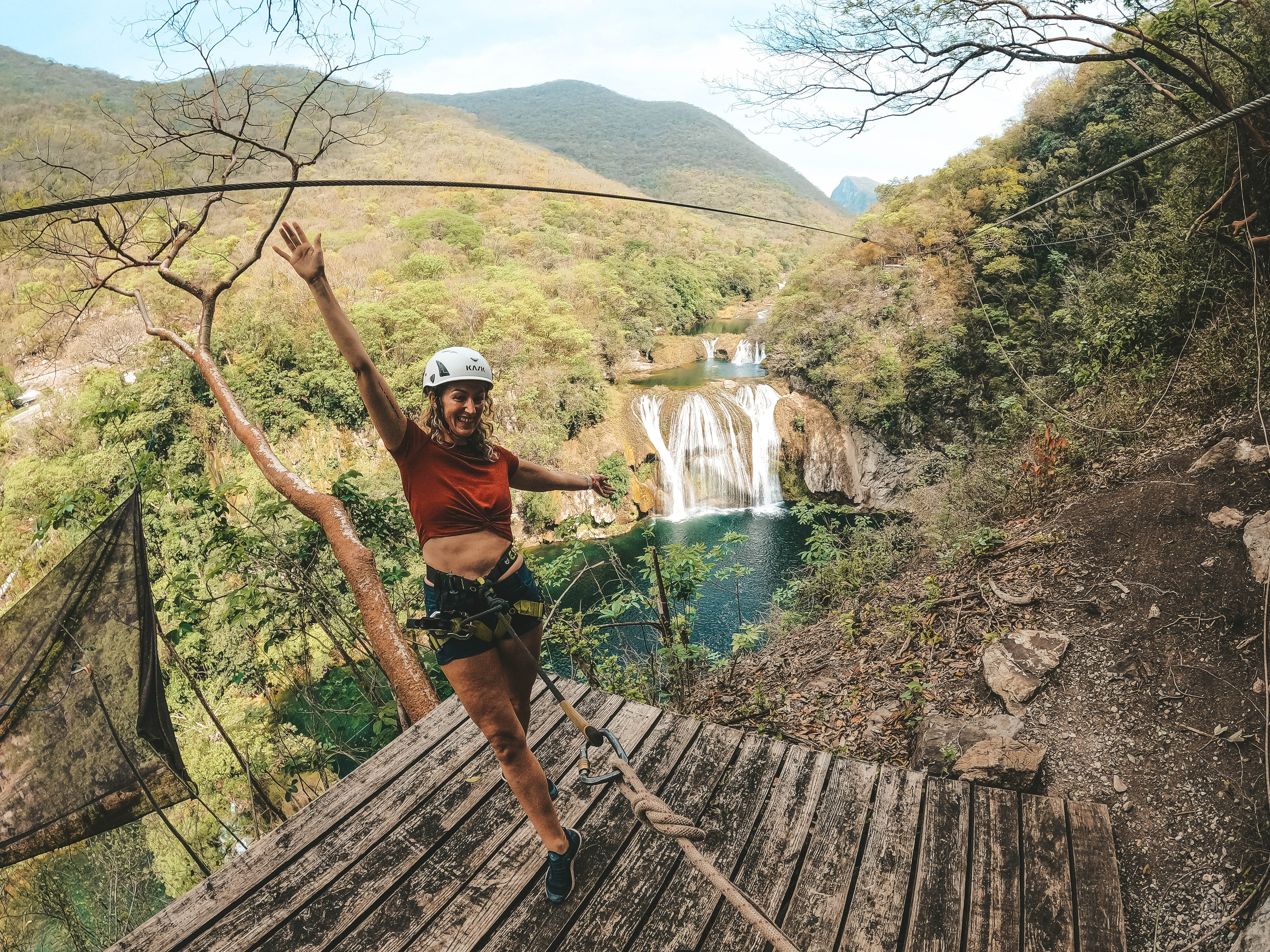 Walk the most terrifying suspension bridge EVER
Ride a bike over a waterfall at Huasteca Potosina on a zip line (yes really)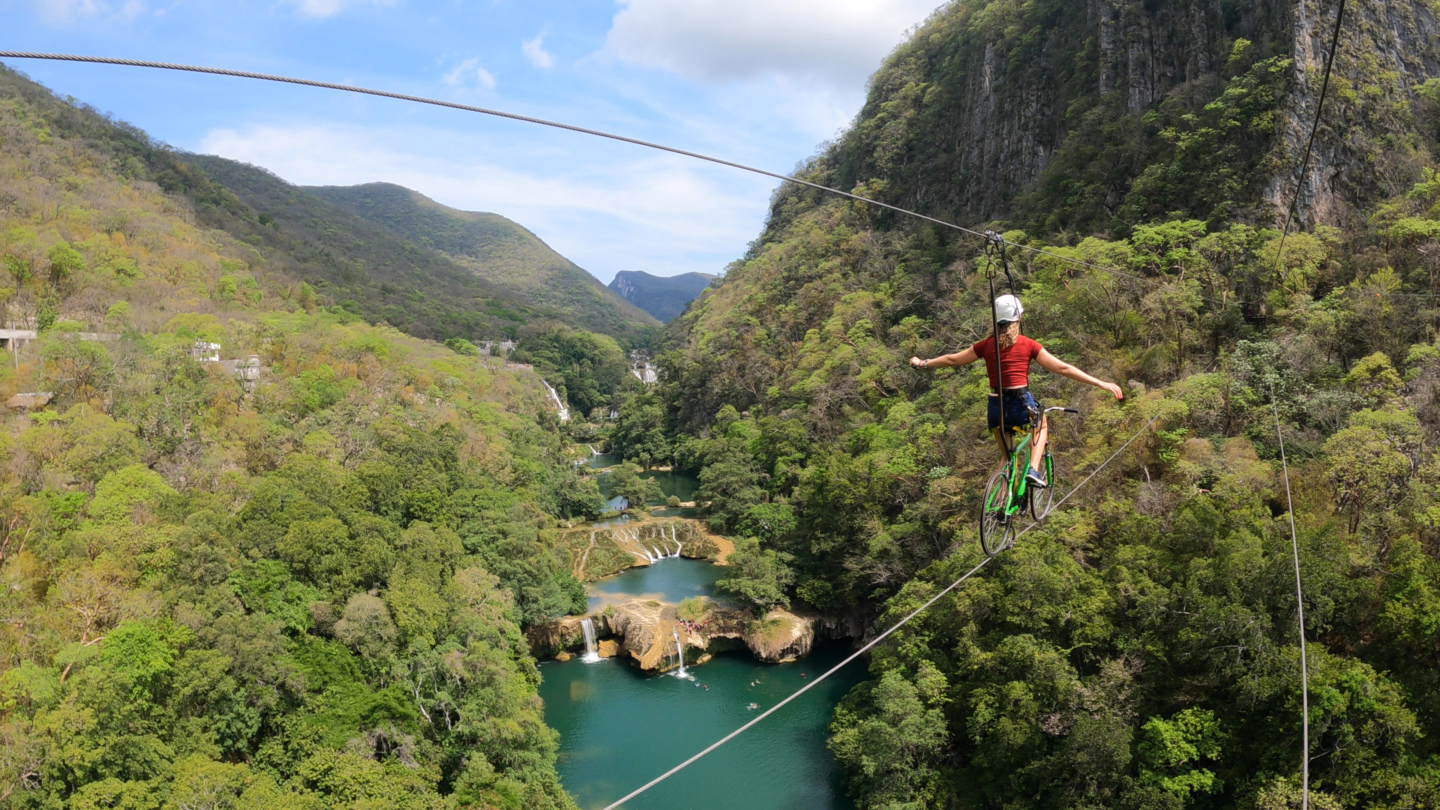 Visit Tamasopo park
Visit the Edward James surrealist garden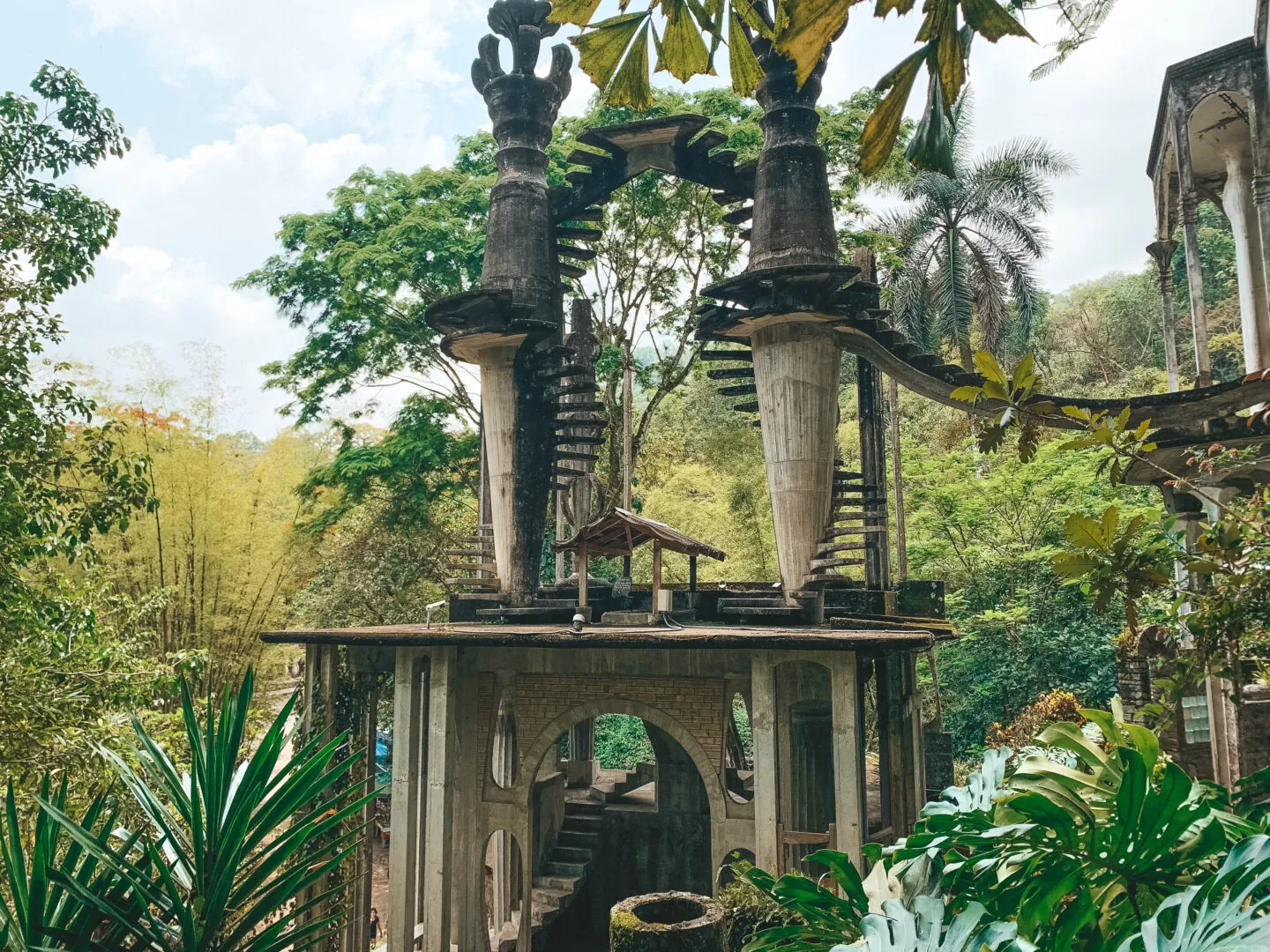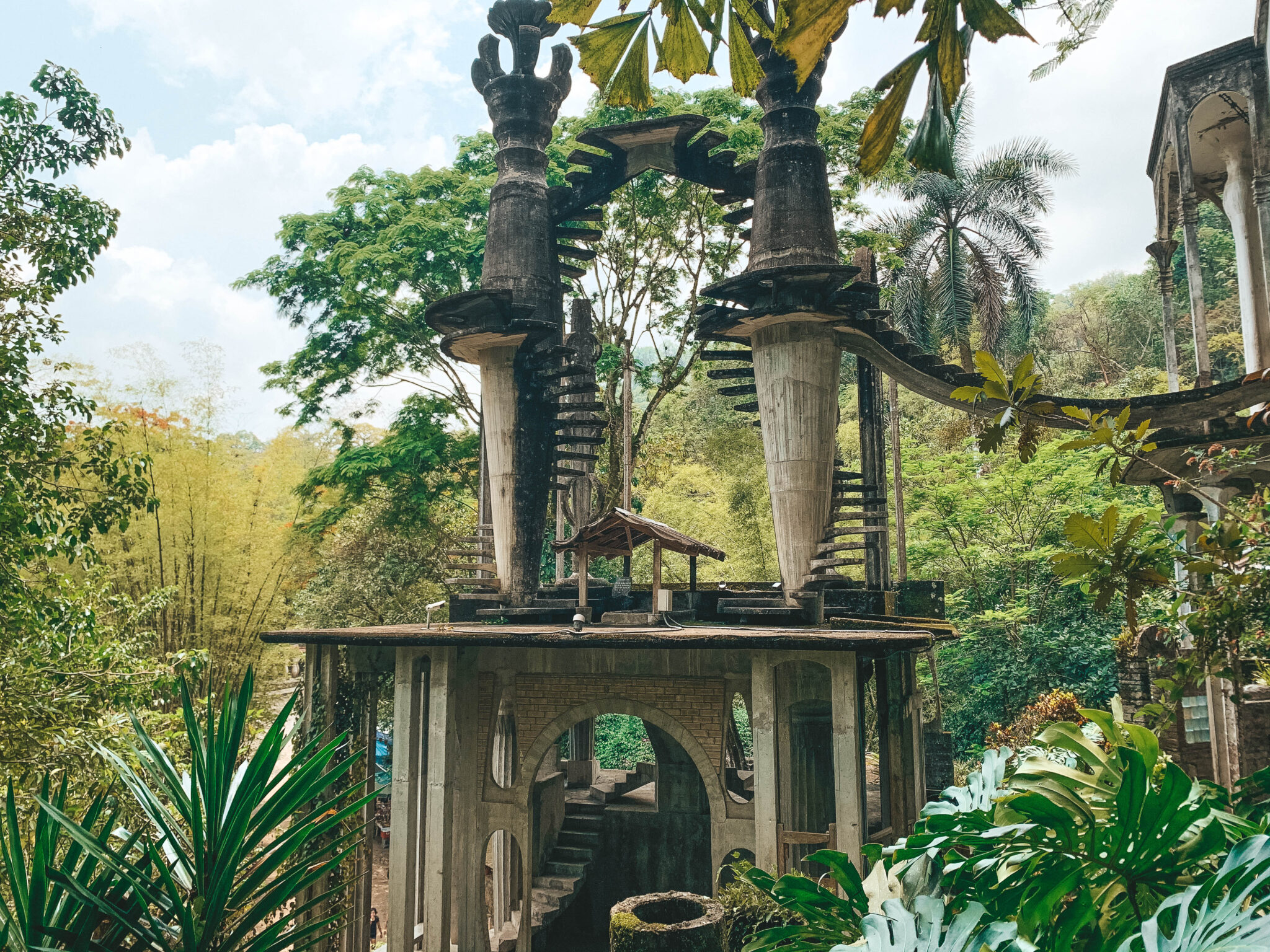 Go rappelling
Waterfall jumping at Huasteca Potosina
Learn about the animals in the wildlife sanctuary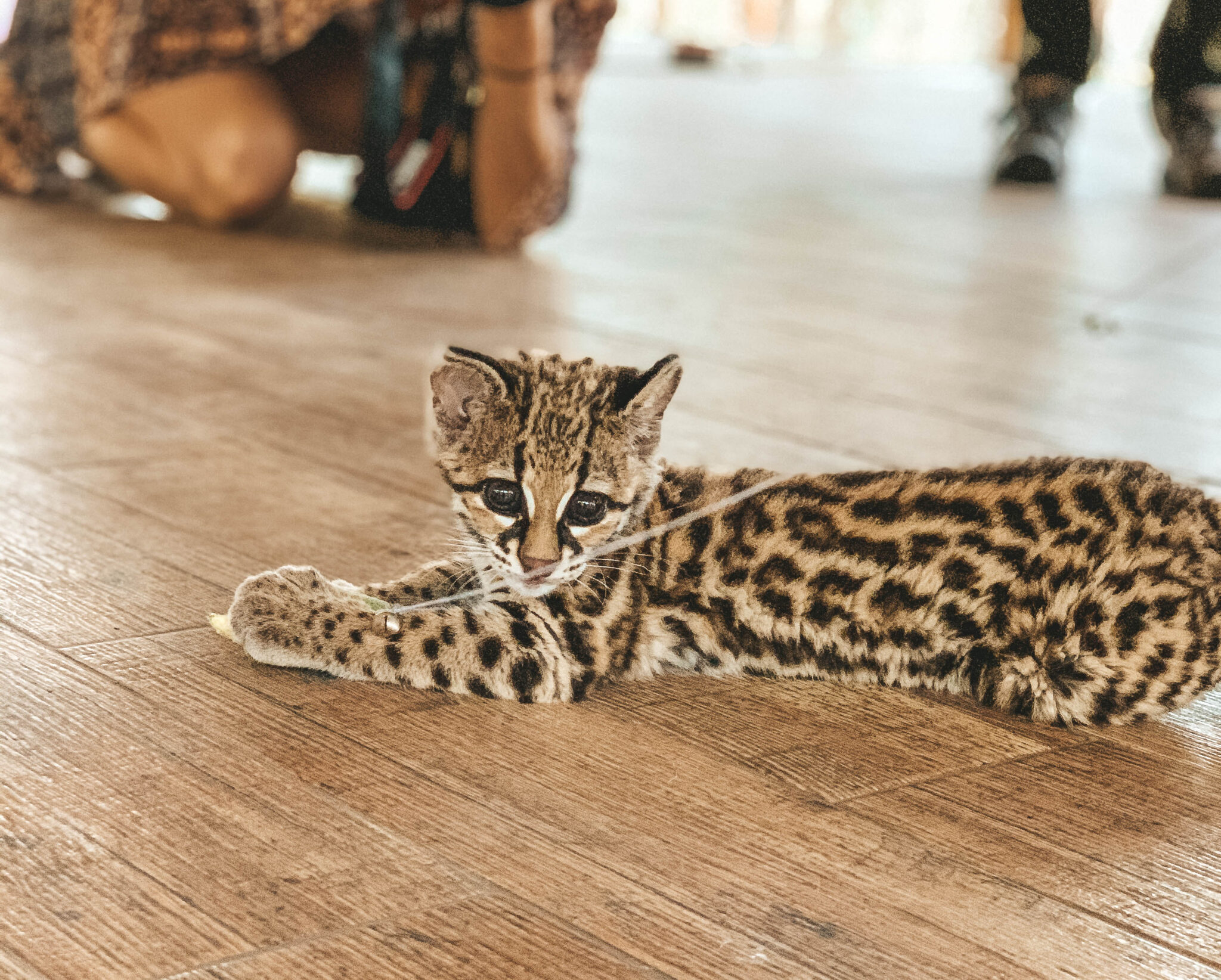 Go white water rafting
Where To Stay When Visiting Huasteca Potosina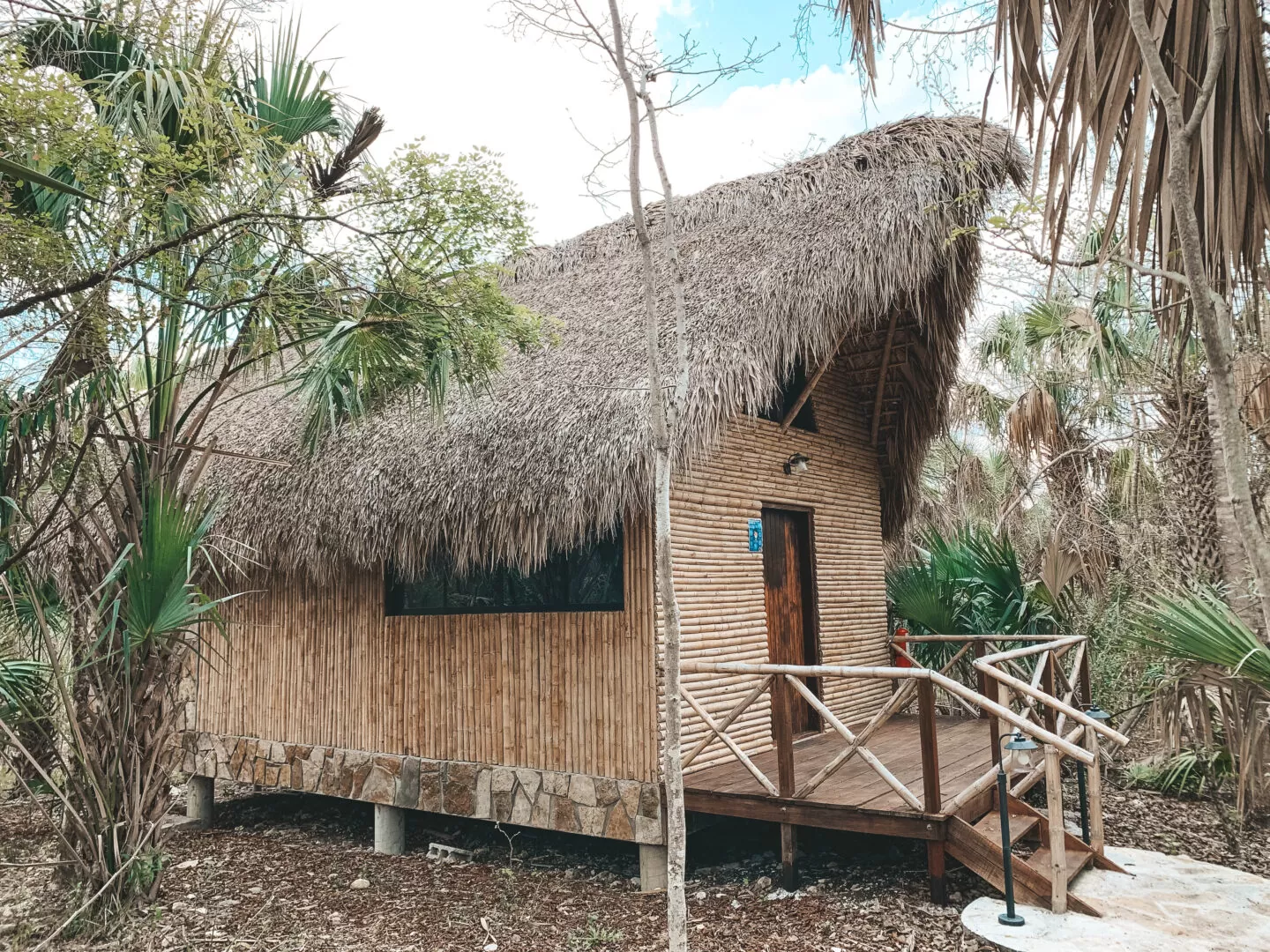 I loved our stay at Selva Teenek and can't recommend it enough. I was a little concerned the first night about bugs (I know I know, I've become too domesticated thanks to the Rona haha) and also about the heat of staying in the jungle. But I was very surprised. The cabanas were spotless, had AC and fans. And there were no bugs in my bed!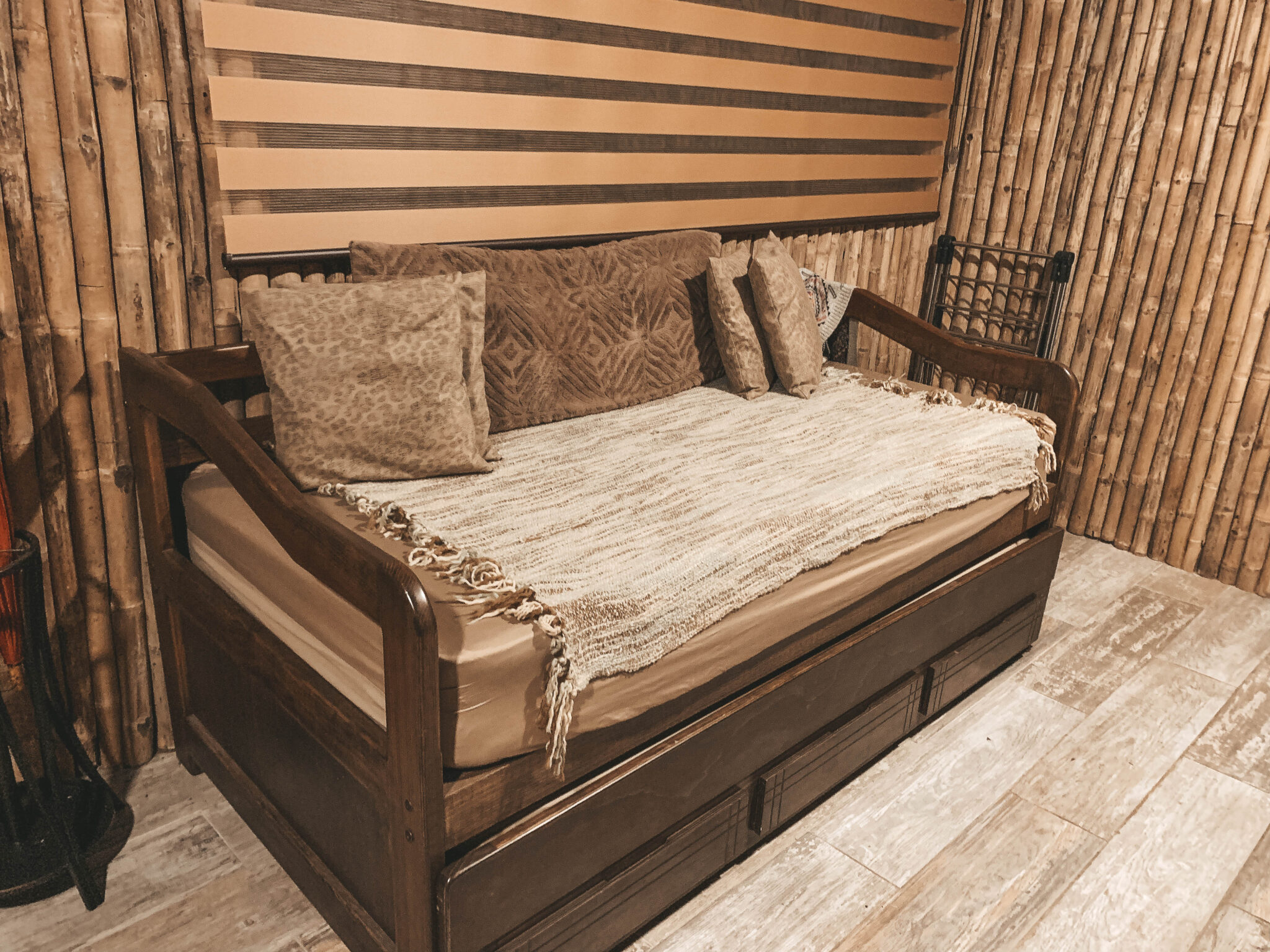 I was also a big fan of the outdoor bathroom.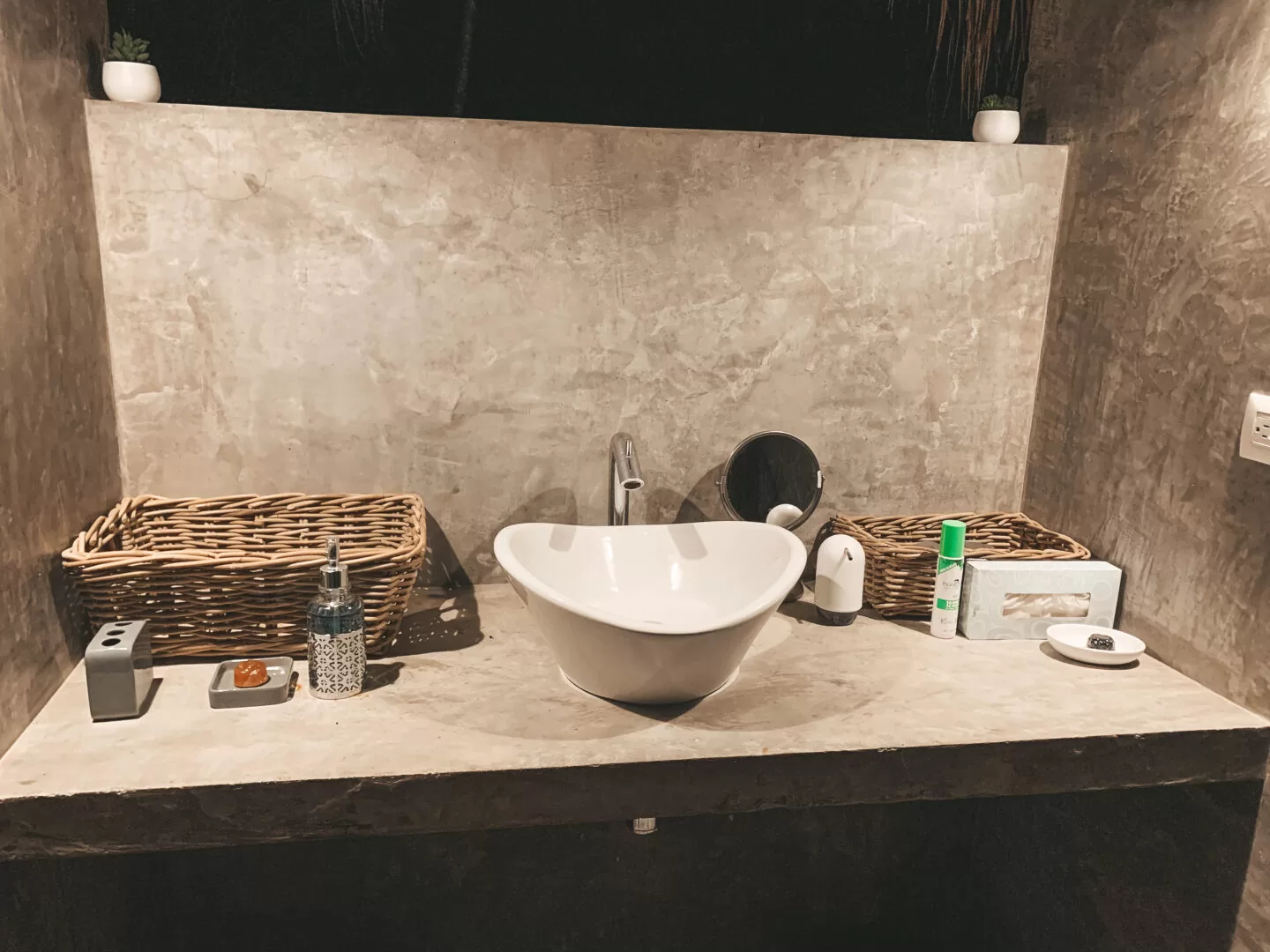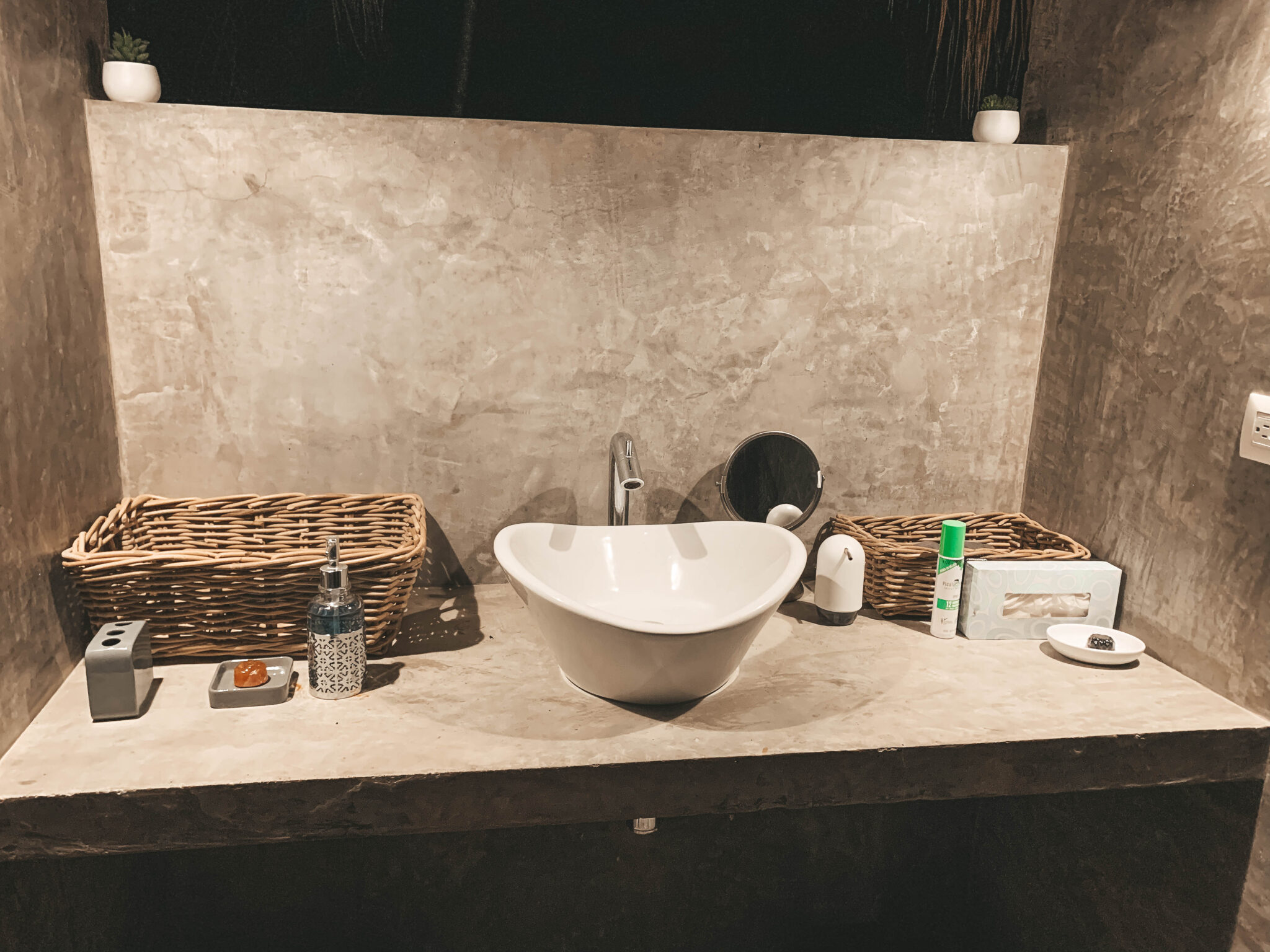 And the food and service from the staff were incredible.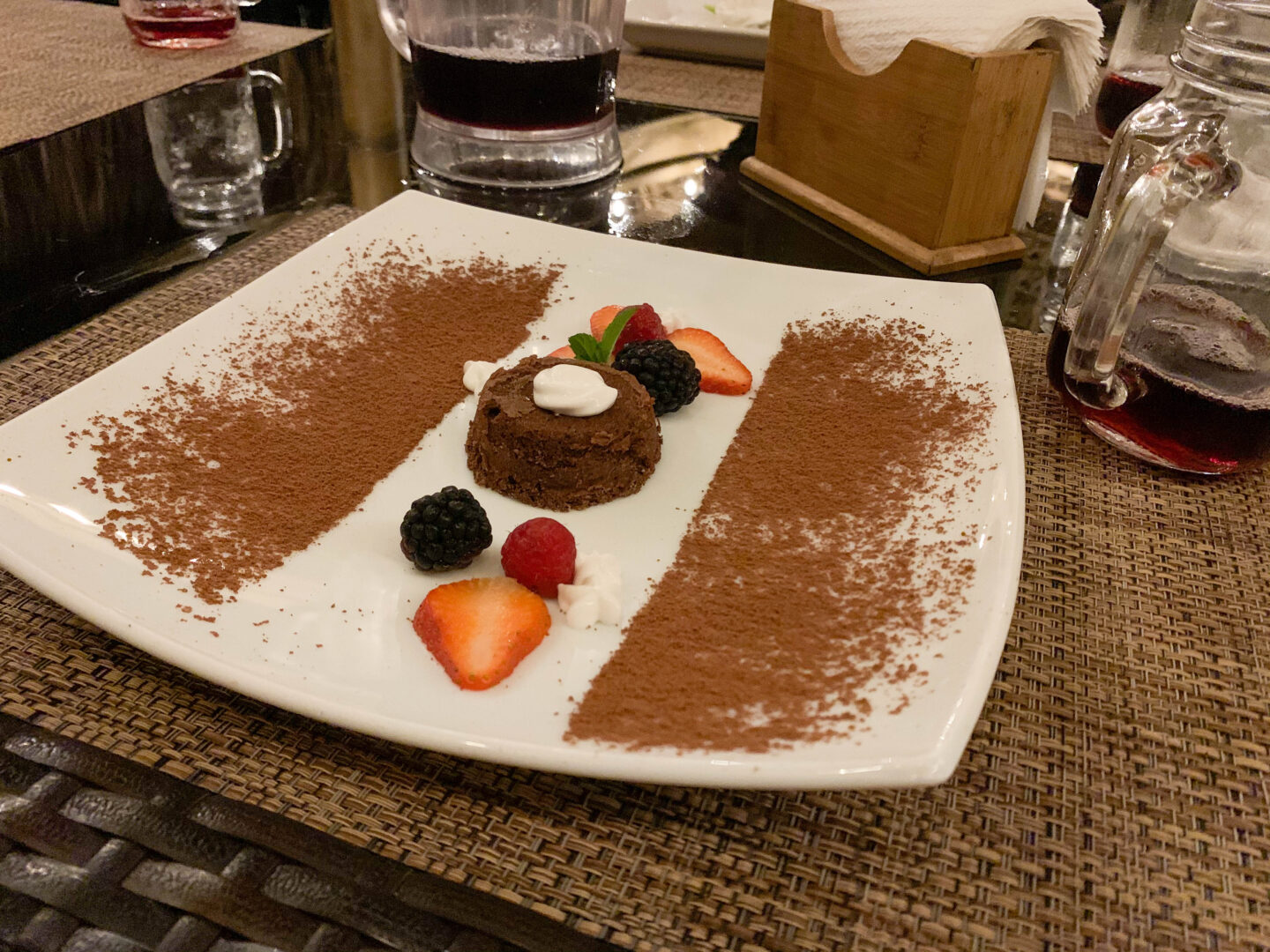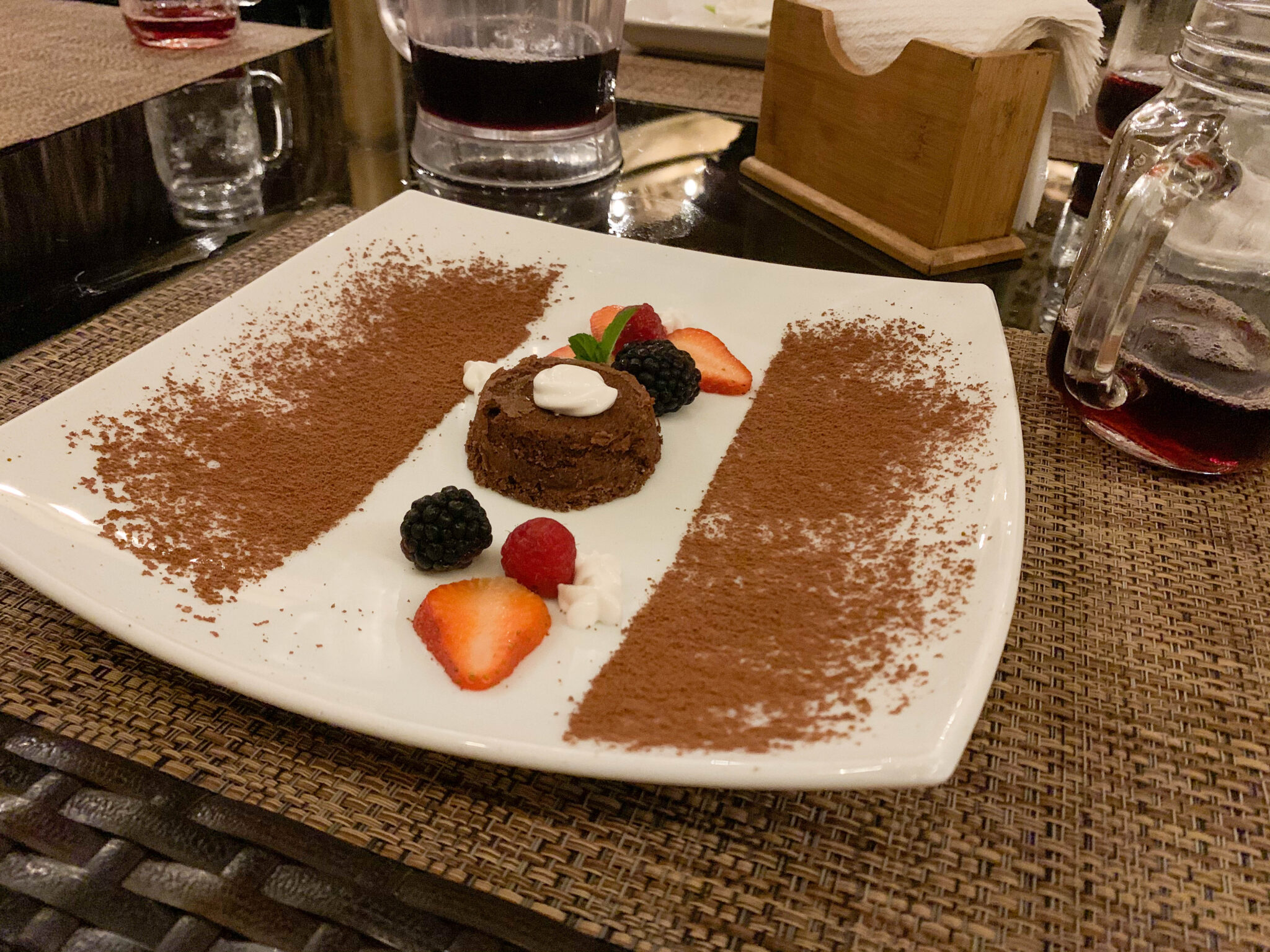 Your stay includes breakfast and dinner, and a day tour, plus a nighttime feeding tour of the sanctuary!
If staying in a cabana is a little out of your budget they also have Glamping tents which looked really nice.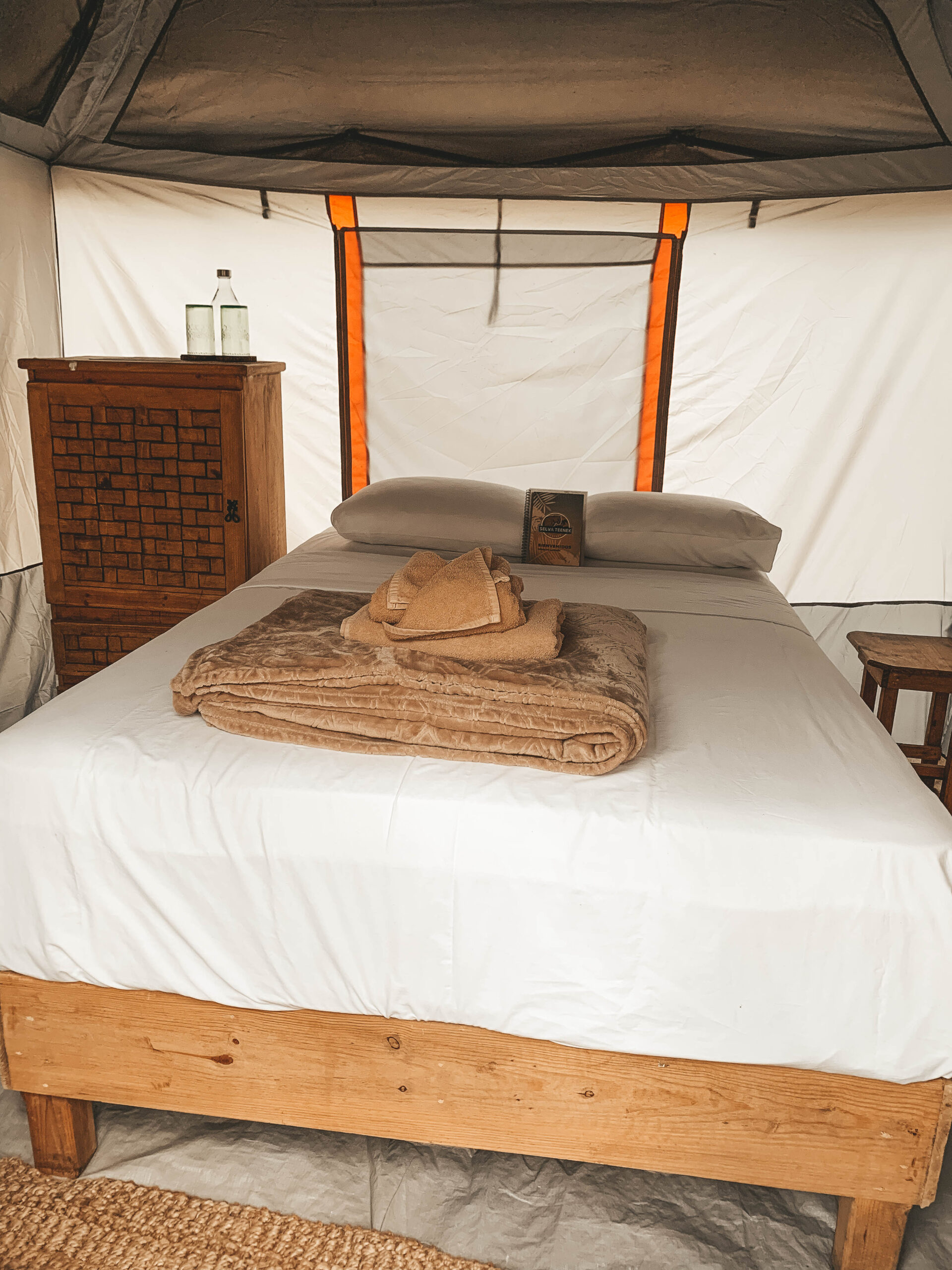 I liked staying with them as it was less traveling thanks to us being close to a lot of the waterfall activities. Plus, ANIMALS!
The only letdown was the wifi which didn't work at all. Luckily, I had my Keepgo which I always carry for a backup, just in case!
If you want something close by that's a bit more budget-friendly my friend Alyssa stayed close by in Oasis Huesteca because Selva Teenek isn't pet-friendly (on account of the wild animals). The wifi there was good, but it was very basic and no food is included. You are going to have to break out your Spanish skills if you want to book a stay there though as the only way to book it through WhatsApp. Click the link above to check out their Facebook page.
Alternatively, you will need to stay in Ciudad Valles. Here you can also find some hostel options. I've listed a few of my top accommodation pics for Ciudad Valles depending on your budget.
Best Hotels and Hostels in Ciudad Valle
Hotels:
Hostels:
What To Pack For Huasteca Potosina
It's a tricky business packing for Huasteca Potosina. Most of the activities are going to involve you getting wet, so you want to stick to quick-drying things and you will need a good pair of shoes that dry quickly like these.
Lightweight clothing to wear in the heat but cover from bugs
Snacks
Cute outfits for photo ops
Drivers license (if you plan on driving)
Pin For Later!