Ever since a friend told me about a magical tour they took in the Riviera Maya I knew I needed to tour Sian Ka'an for myself. So I did what any good adventure travel blogger would do, I did a lot of research on Sian Ka'an biosphere tours, but mostly so I could figure out how to get there without doing an organized tour of Sian Ka'an. I just wanted to go on my own, mostly to save money.
Sadly my research hit a wall as it just seemed way too complicated to get there solo, and at the time I wasn't sure if it was really worth the money for a guided tour. So I put my tour of Sian Ka'an on the back burner. But I never stopped thinking about it.
If you are looking for all kinds of excursions and car rentals in Riviera Maya, take a look at what my friends from Turismo Channel have! You can check out their tours by clicking here and using the following discount codes for the best prices clairecaroff (car rental), claire10off (for 10% off group tours), claireprivate (for a discount on private tours). You can also send her a WhatsApp message quoting the codes above if you need more information.
If you want to visit Sian Ka'an in Mexico then you have 3 options:
Book an organized tour
Take a colectivo to Punta Allen, stay overnight and do one of the community tours to Sian Ka'an
Hire a jeep and drive yourself
In this post, I'm going to cover everything you need to know about Sian Ka'an so you can decide which option is best for you.
Did You Get Travel Insurance Yet?

The Insurance companies I recommend are Hey Mondo, Safety Wing, and Travel Insurance Master

Hey Mondo is great if you are looking for a great value flexible policy. They offer single-trip cover, annual multi-trip cover, and long-term travel cover. Safety Wing is great value, with monthly coverage starting at $39. It's super easy to use, and it just renews each month. I currently use them as they offer me free cover for my son as part of my policy. I also use Travel Insurance Master for short trips.

Read my full travel insurance post here, where I go into detail about all companies.
Sian Ka'an River Float
This is post is mostly about visiting the actual reserve, not just doing the river float from Muyil.
If you want to do the Sian Ka'an river float from Muyil it's super easy! Just drive or bus to the ruins, walk through the jungle and you will see the boats. The price is fixed ie non-negotiable. the boat will take you to the start of the float and pick you up at the end. You need 3-4 hours max for this.
Why visit Sian Ka'an Biosphere Reserves Mexico
If you don't know much about the biosphere close to Tulum then take a look at this video I made with Kay Tours Mexico to see what it's all about. But know this, it's the best place in the Riviera Maya to see wildlife where it should be, in the wild.
For nature lovers, Sian Ka'an is a Riviera Maya excursion you really shouldn't miss.
What is a Biosphere Reserve?
Sian Ka'an is a biosphere reserve Mexico, but what exactly is a biosphere reserve anyway?
In short, a biosphere reserve is a label given to an ecosystem of unusual scientific and natural interest by UNESCO. This label is important as it helps to protect the site and its fragile ecosystem from things that could damage it, like fishing, pollution, over-tourism, etc.
The reason that Sian Ka'an is a Biosphere Reserve is because it is such a complex environment and a unique place of natural beauty in Mexico. Thanks to the preservation it is still home to dolphins, manatees, turtles, and a lot of birds. It makes a trip to Sian Ka'an pretty special if you are an animal lover.
Where is Sian Ka'an Biosphere Reserve
So now hopefully I've convinced you to visit Sian Ka'an you might be wondering where it is, so here's a map.
Sian Ka'an, Quintana Roo, is just south of Tulum. This is why it's often referred to as the Tulum nature reserve, but this isn't strictly true as Sian Ka'an National Park is past Tulum.
But you do need to pass through Tulum to get there. Most of Sian Ka'an is protected land and not inhabited, so if you want to stay there you will need to visit Punta Allen which is a small town within the Biosphere.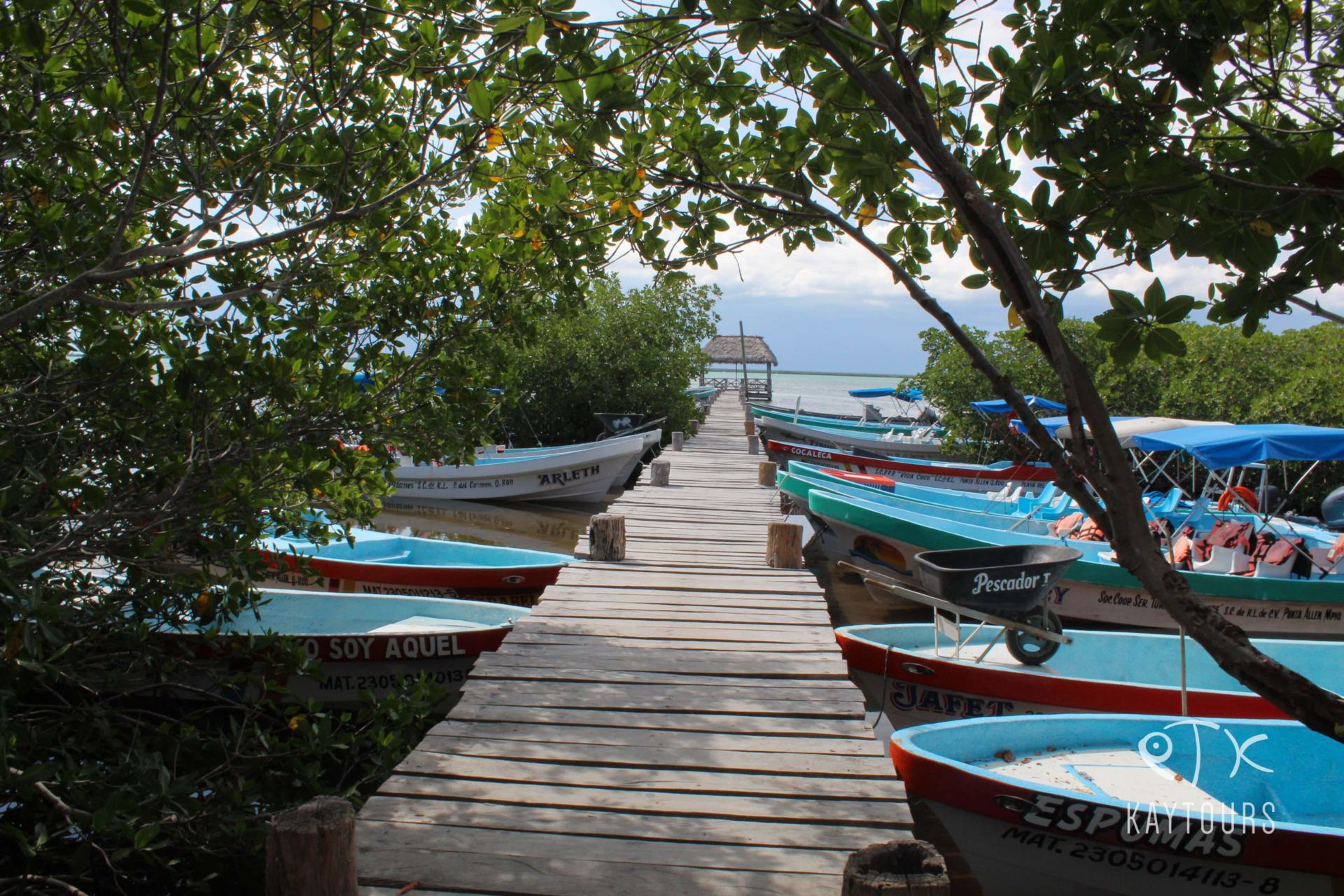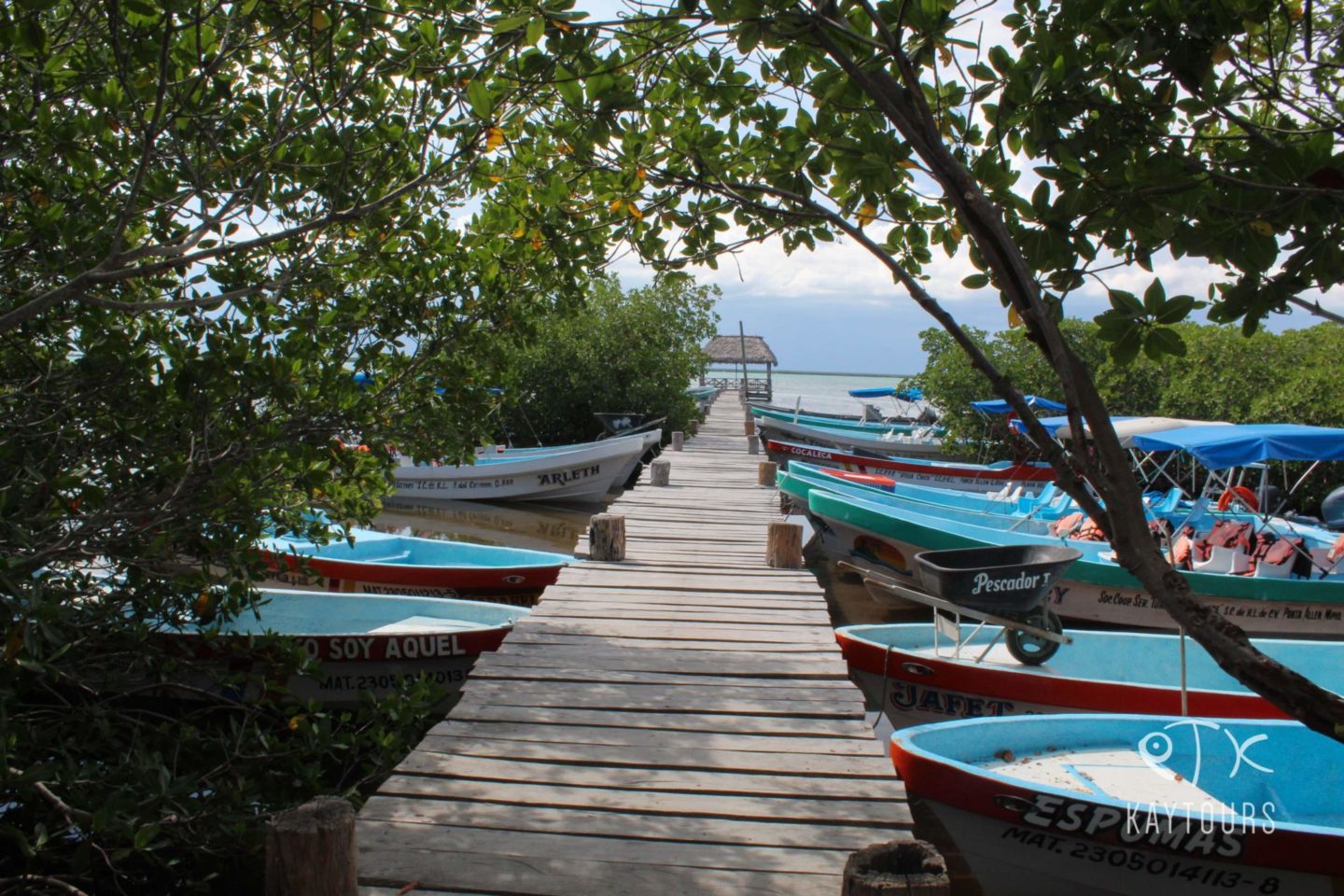 How to Get to Sian Ka'an Biosphere Reserve
Now for the tricky part, how to get to Sian Ka'an. As I mentioned above there are three ways to get to Sian Ka'an. Two are tricky one is easy… I chose the easy option haha.
Option 1 – Take the bus to Sian Ka'an
Firstly it's not really a bus, it's actually a colectivo from Tulum to Punta Allen in Sian Ka'an. You catch it close to the ADO station in Tulum and unless you are planning on staying over in Punta Allen for a night or two I really wouldn't recommend this option. I also would absolutely not recommend this option during the rainy season as the road between Tulum and Punta Allen is extremely unreliable and often gets totally washed out.
So, unless you fancy spending hours of your life squished in a collective that has broken down, or is unable to pass a washed-out road, give this a miss. especially right now in 2021 transport by collective to here is much more restricted than ever.
However, if you really want to go to Punta Allen and are on a backpackers budget then this might be your only option. From Punta Allen, you will be able to book a Sian Ka'an boat tour for the next day so you can see the reserve.
Option 2 – Rent a car and drive to Sian Ka'an
Now I have this as an option, as I know some crazy people might think it is a good idea to rent a car and drive to Sian Ka'an. I am here to tell you it is a terrible idea, just for the record, but I will still tell you how to do this. Because you're an adult and if you really want to do it who am I to stop you.
Firstly don't just rent any old car, get a 4×4. For 8 months of the year, the road to Sian Ka'an is extremely unreliable and you never know what kind of condition it will be in until you get there. And secondly, do not tell the rental car company where you are going. Why? Because they know how bad the road is and that it's very likely you will either get the car filthy driving through the mud, or you will have a flat tire.
Before you rent the car, please read the small print and make sure they have no clause in the contract telling you that you can't go off-road in the car. Driving to Sian Ka'an is considered going off-road, so you will be breaking your contract going there.
Drive slow, take your time, and make sure you have a spare tire and know how to change it!
Don't rent a car until you have read this post, some of the biggest scammers in Playa del Carmen are the car rental companies!
Need to rent a car in Playa del Carmen?
Whenever I'm in Playa or Tulum I always rent a car through Turismo Channel as they include everything in the quoted price. Car rental companies in Mexico are notoriously tricky to deal with and 9 times out of 10 they will quote you a low price but then when you get there they add on all kinds of insurance and won't give the car to you unless you pay up. It can also take weeks or even months to refund your deposit. I wrote a whole blog post you can read here for more information. If you want to get a quote to rent a car with Turismo channel click here to complete the form.
Option 3 – Book one of the biosphere tours to the reserva Sian Ka'an
And your final, and most sensible option is to do a Sian Ka'an excursion with a reputable tour company like Living Dreams Mexico and Turismo Channel. They are the only company I personally recommend doing this tour with. The service is 5* and the guides are extremely knowledgeable about the wildlife you will see there.
Interested in a Sian Ka'an Tour?
Complete the form below and someone will get back to you with the tour details within 24 hours.
QUICK TIP: Book your tours, rental cars, and transfers through my local contacts

I've been working with Living Dreams Mexico for years and they are who I send all my family and friends to when they visit the Riviera Maya. I really can recommend them enough for private tours and experiences. They have solid 5* reviews on Trip Advisor and Google from almost 4000 reviewers! You can view all their tours here.

If you're looking for private airport transfers and rental cars then Vanessa and Oliver from Turismo Channel are personal friends of mine and I can 100% recommend them to make an inquiry click here and complete the form. Someone will be in touch within 24 hours.
If you do decide to visit Sian Ka'an without a tour then you will need to get yourself to Punta Allen. Sian Ka'an boat tours only go from Punta Allen, so you must go here and speak to the boat captains directly to organize your boat tour. If you don't do the Sian Ka'an boat tour, there really isn't much point in visiting.
Now here is the sticking point, and why I realized booking a tour was actually the best option.
Community tours Sian Ka'an have fixed prices for renting a boat for the tour, there is no negotiation, and the price is per boat, not per person. What this means is that as a solo traveler in Mexico I would need to pay $300 to do the tour, unless I can find some friends to go with me. The maximum number of people you can have on the boat is 6, So unless you have 5 friends with whom you can split the cost, by the time you add it all up it's cheaper to just book an organized tour.
The tour companies are the only ones who can get a special rate with the captains so actually most of the time it is cheaper to just book a spot on a tour than take the public bus and organize the tour yourself. Plus way more comfortable.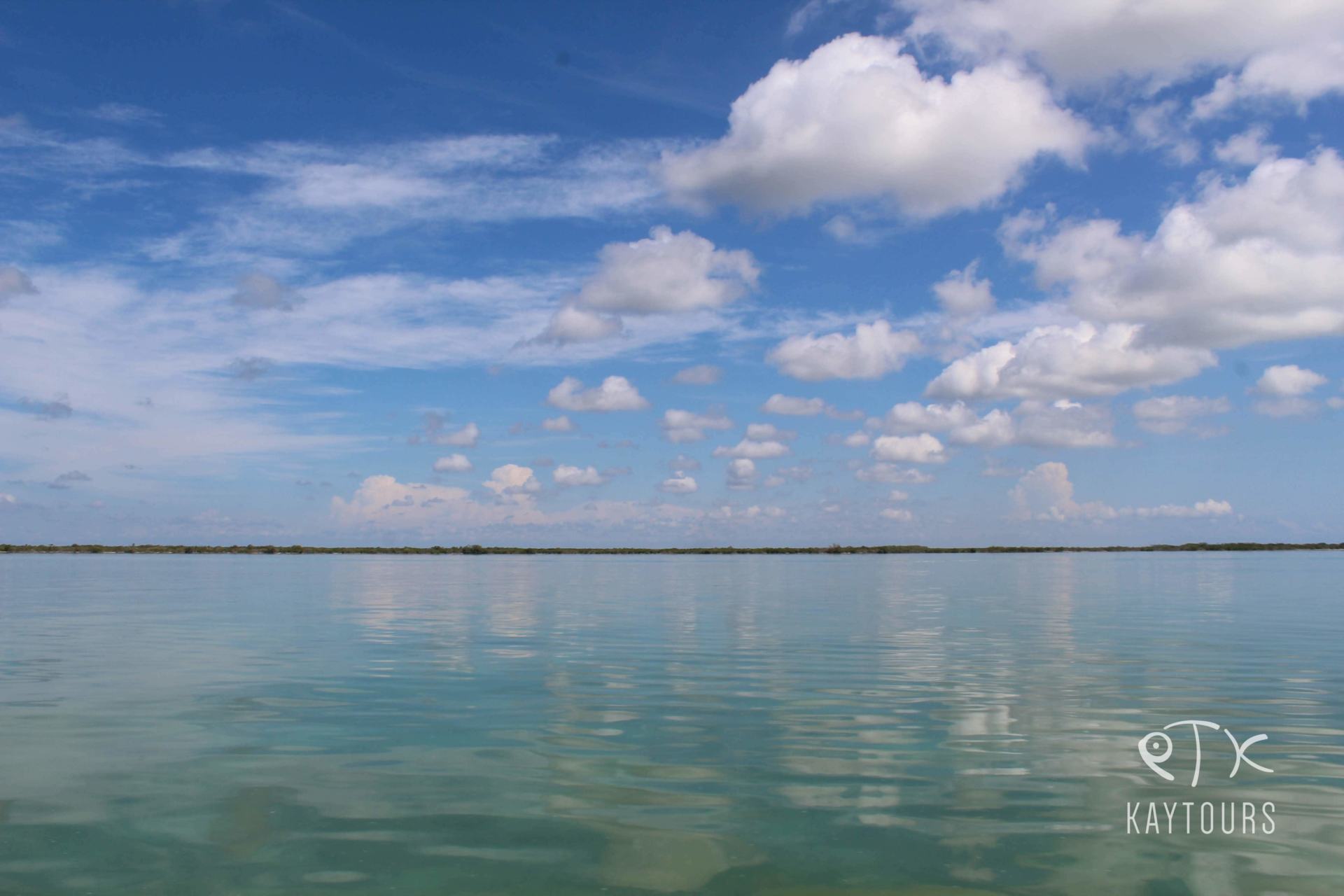 But, if you do have a small group and want to stay over in Punta Allen I would recommend getting there in the afternoon, then booking the tour for the next morning because you have a better chance of seeing dolphins and other wildlife in the morning. Then spend the afternoon and evening chilling in Punta Alen.
So what is there to do in Punta Allen? Well there are only 4 restaurants and they have no electricity from 2 pm until 7 pm each day, then again from 2 am until 7 am, so you will need to bring a book! There really isn't a lot to do there, but it would be a cool experience to spend a night there for sure.
Looking for a place to stay in Punta Allen?
There aren't a lot of options, but there three places are where I would recommend staying are:
Booking a Sian Ka'an Tour
Okay so now I've told you all the reasons why I decided to book a Sian Ka'an tour, and why I think you should too. Here is everything you need to know about Sian Ka'an tours and my recommendation on who to book with.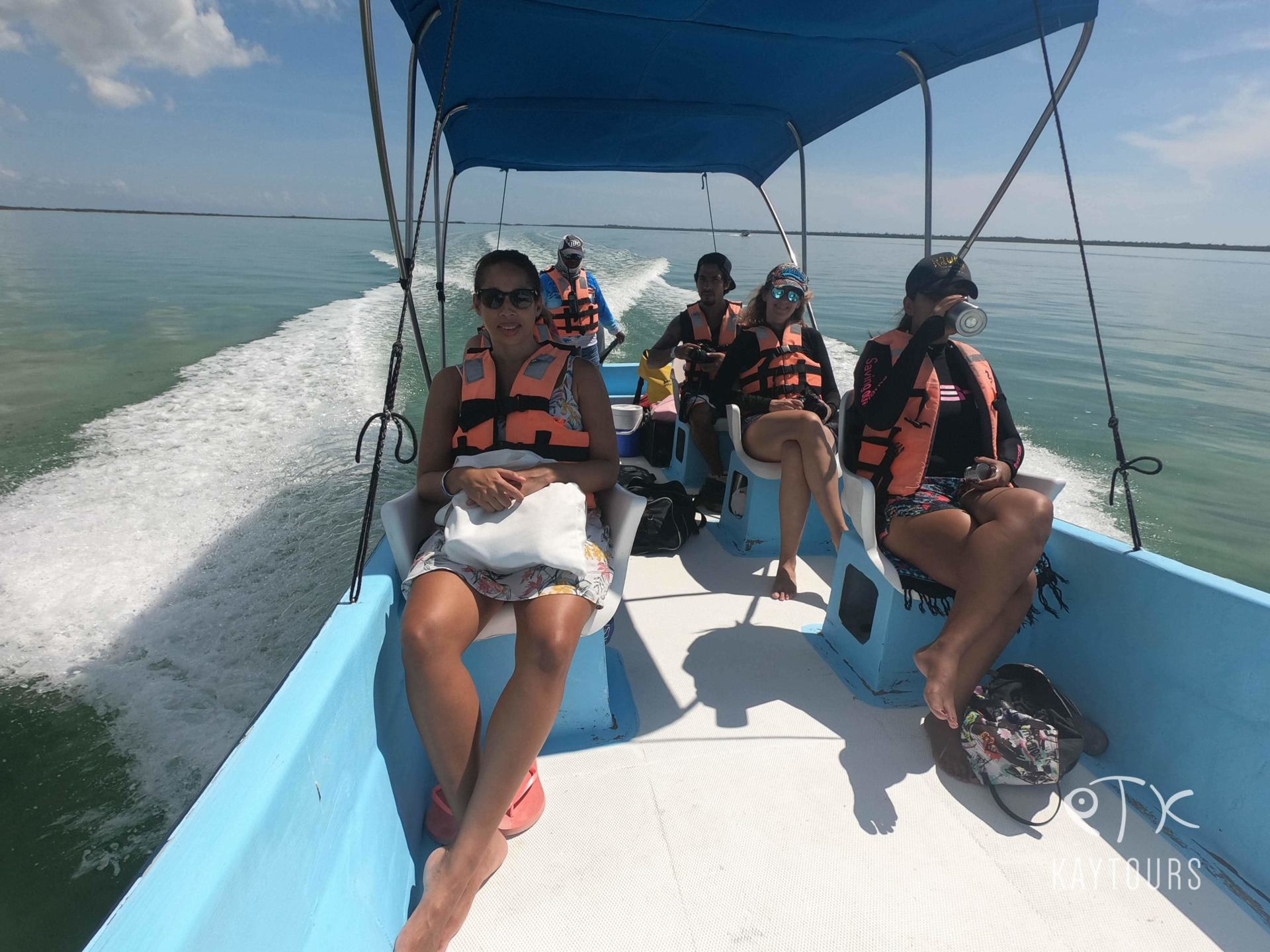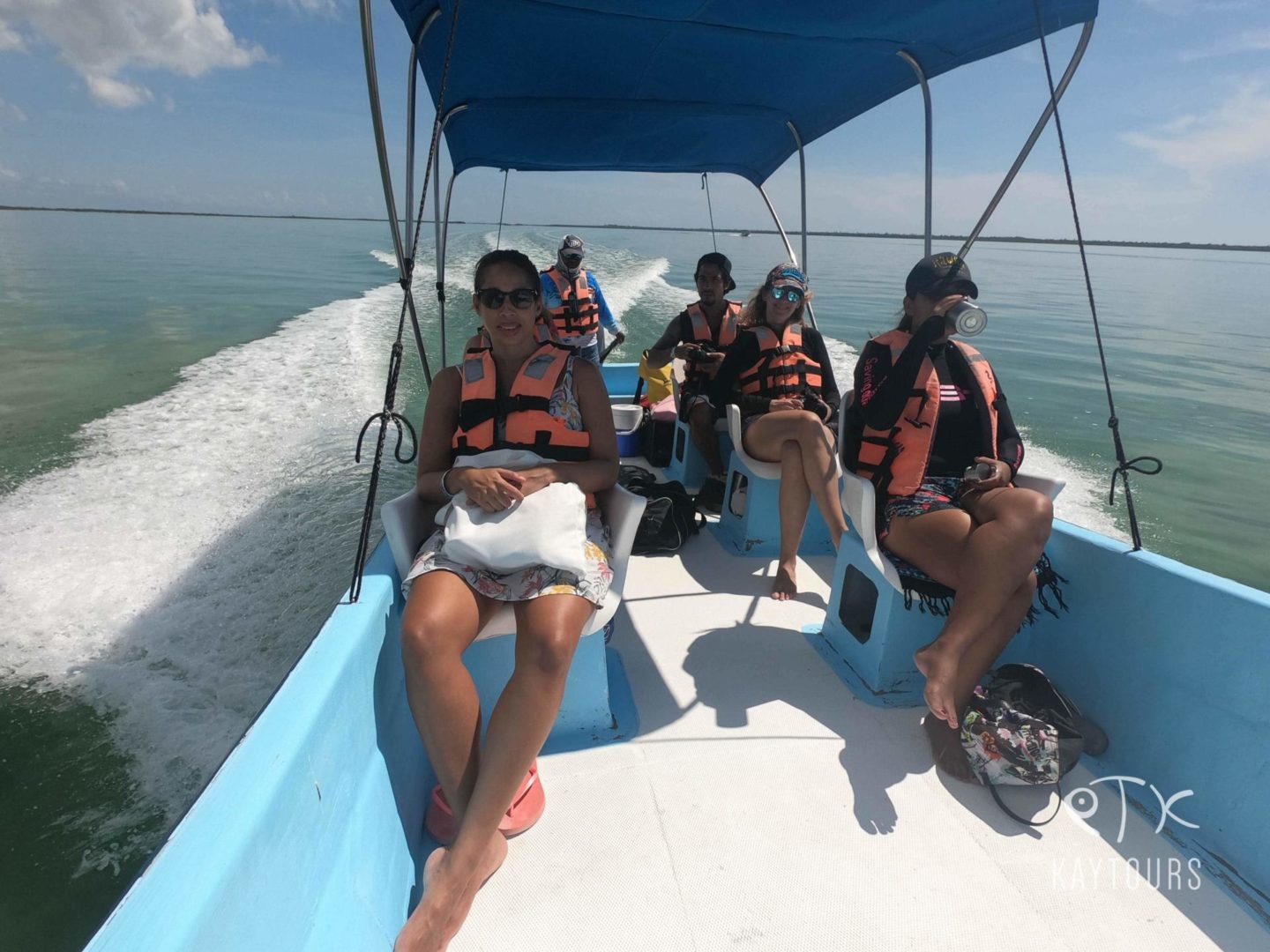 I pretty much do all of my Riviera Maya tours with Living Dreams Mexico, why? Because they are the best tour operators in Playa del Carmen where I live and after doing a tour with them you will understand why it's hard to book with anyone else. Of course, there are other companies you can book with, but this is a small group tour and so there really isn't much in the pricing between companies.
Living Dreams have now merged with Kay Tours as of 2021 same company and same amazing service
I was picked up bright and early and welcomed with some fruit and a cup of hot fresh coffee. We were then driven to Sian Ka'an in a well-maintained air-conditioned minibus by a driver and tour guide who knows the road well in case of any issues.
We were met by our boat captain and taken straight out of the tour, which was magical. Seriously. Watching the dolphins swimming in the wild like that was just incredible. They were swimming so close!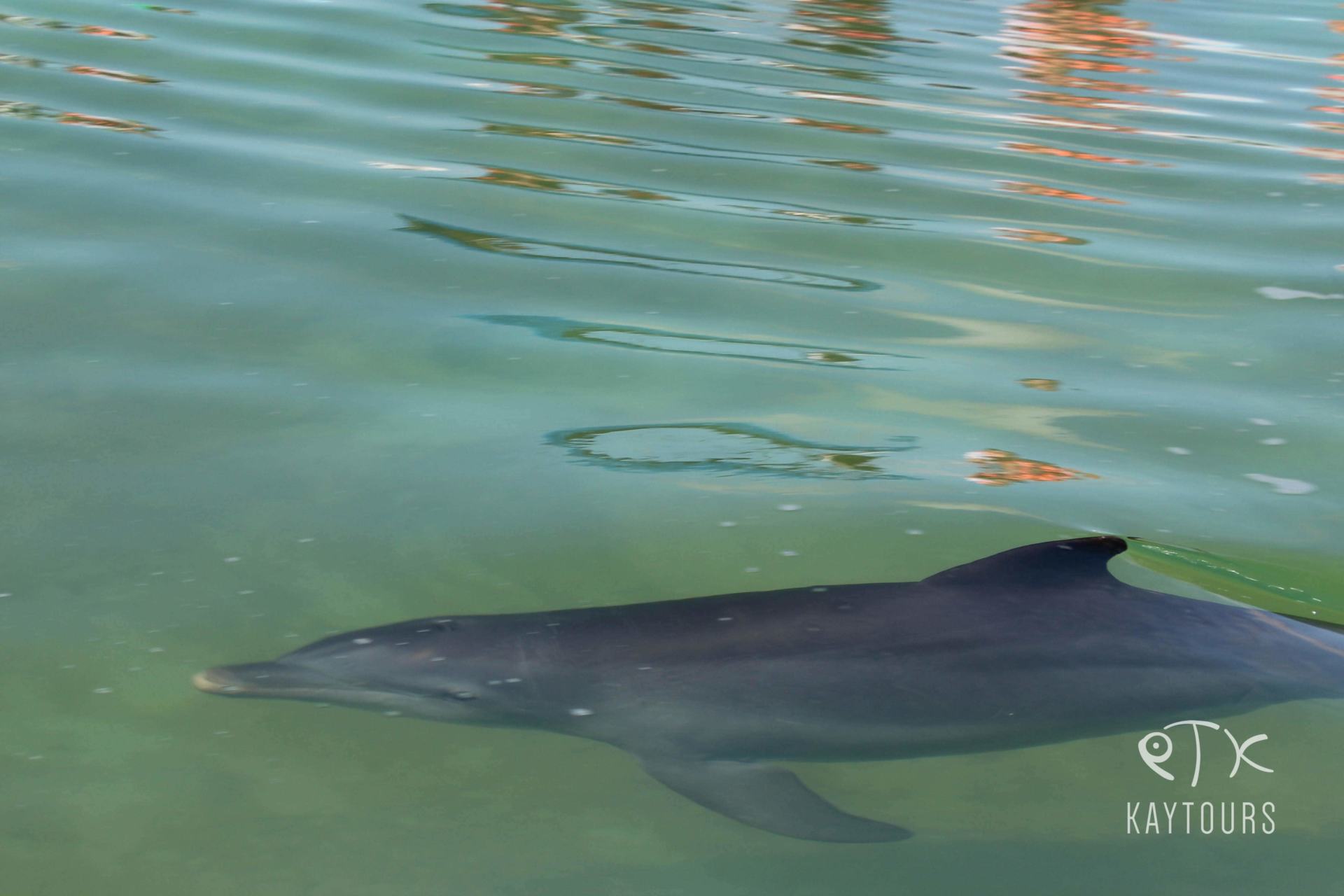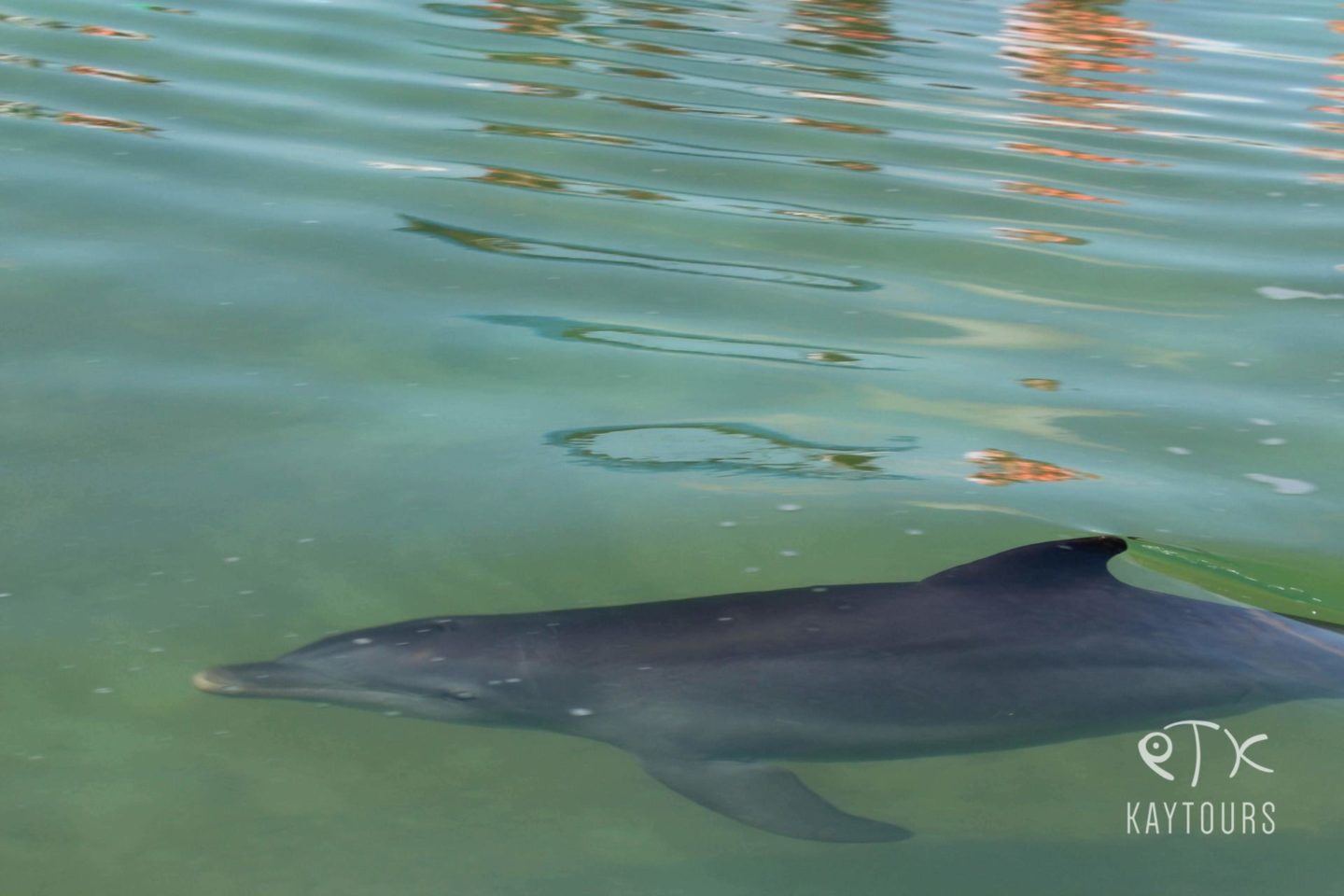 Then we saw a lot of birds on Bird Island before we were allowed to do some snorkeling on the reef, where we saw a nurse shark, bloody amazing!!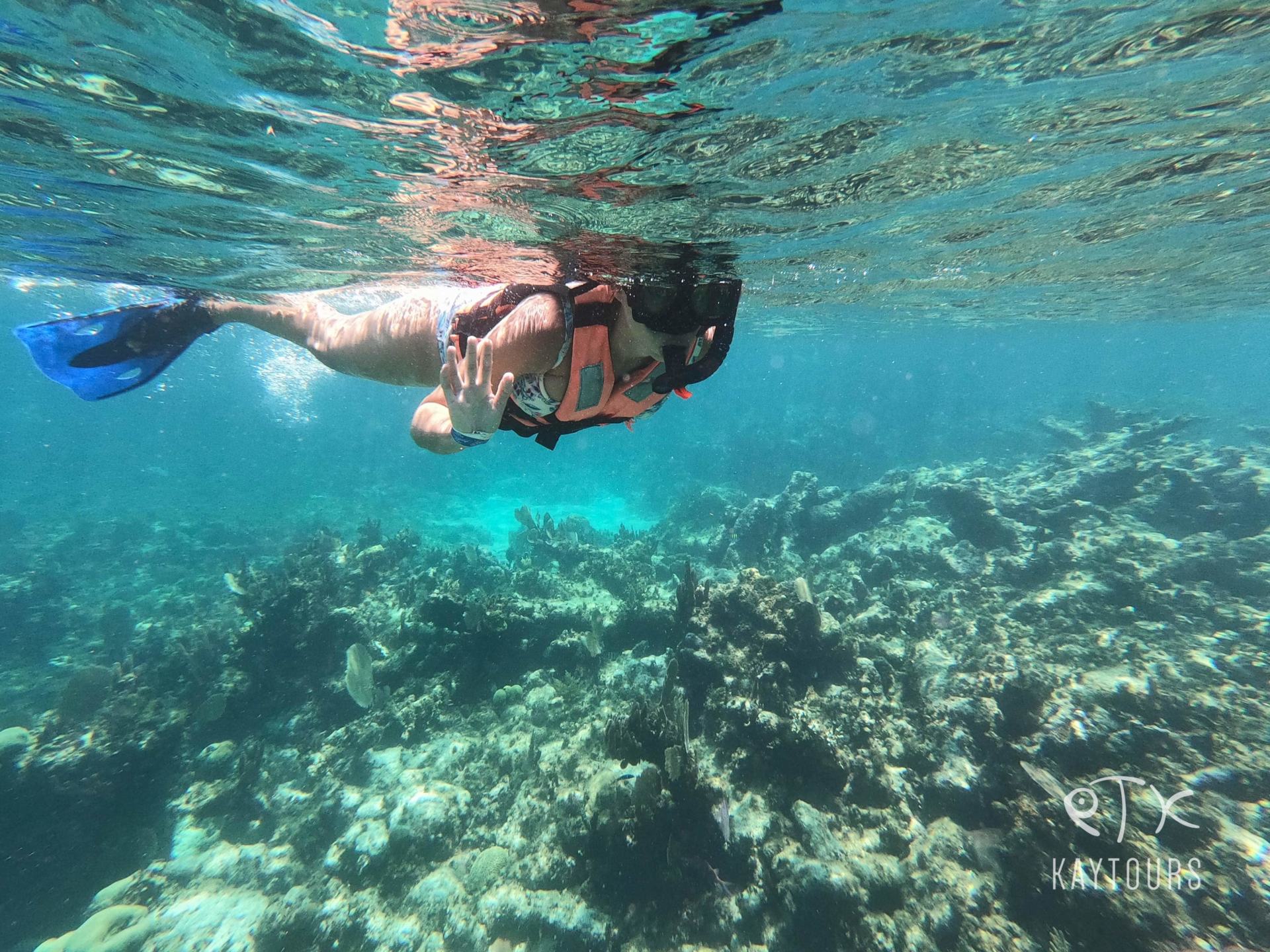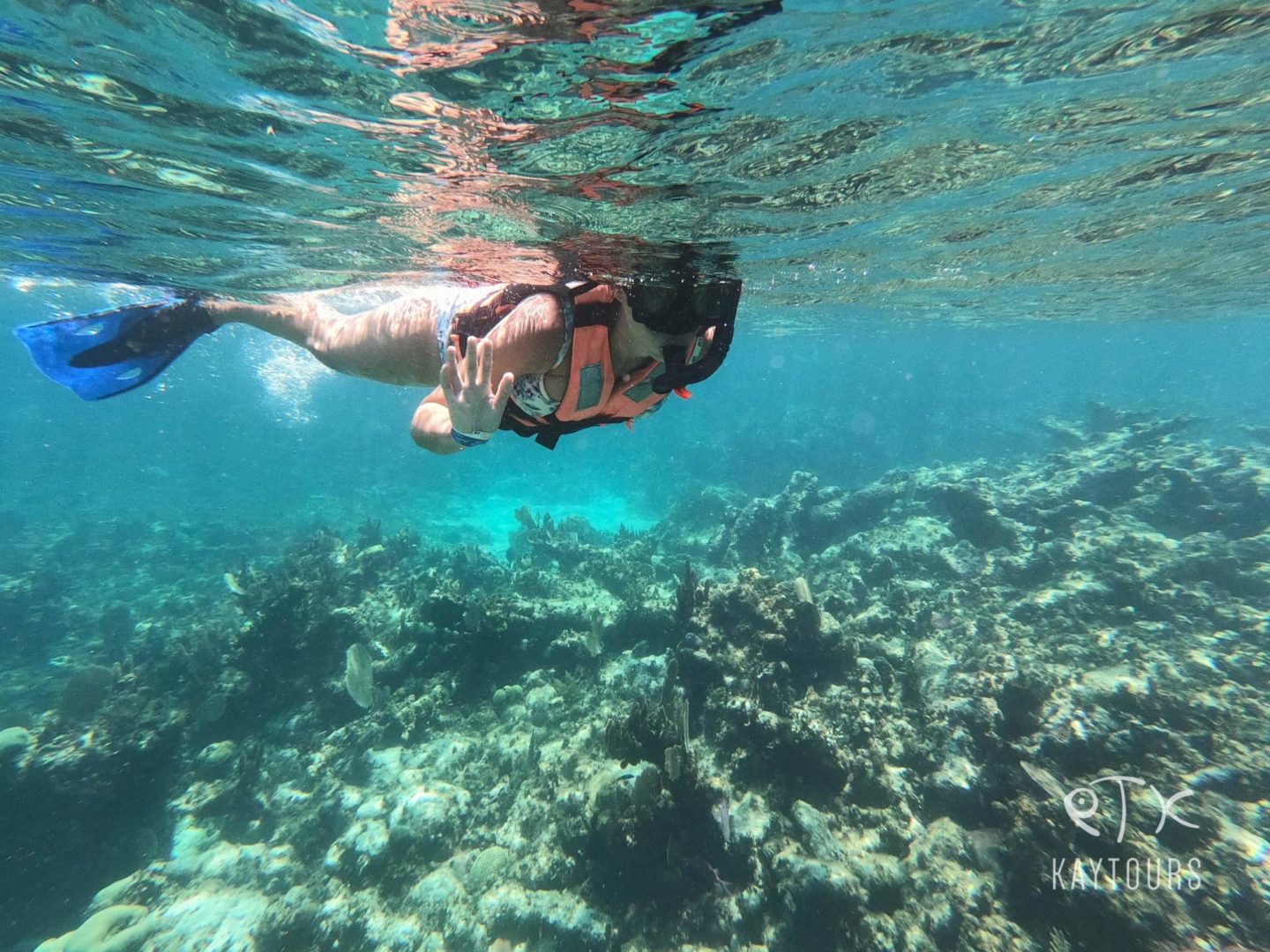 After snorkeling, we were taken by boat to Punta Allen for lunch before returning to our transport. It really was a magical day and as far as I'm concerned it's worth every dime!
Final Thoughts
My final thought is if you are thinking about visiting Sian Ka'an, do it, visit Sian Ka'an. Don't wait for a year like I did. I really hope this post has been useful to you. Please share it with others and help spread the word about this hidden gem in the Riviera Maya!
I was invited on this tour by Living Dreams Mexico along with two of my good friends Viva La Travelista and Tofu Traveler. However, my opinions are 100% my own and I have received no money in exchange for this post.