Looking for the best Tulum boutique hotels? I've never been a fan of the big chains of hotels or resorts. I find them a little impersonal and lifeless. So the concept of a boutique hotel, where you get the quality and service of a 5-star chain resort while still keeping a feeling of intimacy and personality is much more appealing to me.
Lucky for me (and you) Tulum is full of Mexico boutique hotels on the beachfront that are close to some of the best cenotes in Tulum. The only problem is deciding which of the fabulous Tulum boutique hotels you should stay in, especially if it's your first time visiting Tulum!
Did You Get Travel Insurance Yet?

The Insurance companies I recommend are Hey Mondo, Safety Wing, and Travel Insurance Master

Hey Mondo is great if you are looking for a great value flexible policy. They offer single-trip cover, annual multi-trip cover, and long-term travel cover. Safety Wing is great value, with monthly coverage starting at $39. It's super easy to use, and it just renews each month. I currently use them as they offer me free cover for my son as part of my policy. I also use Travel Insurance Master for short trips.

Read my full travel insurance post here, where I go into detail about all companies.
Where is Tulum
If you are wondering where Tulum is, it is situated in Mexico along the Riviera Maya in the Yucatan Peninsula. It is around 130 kilometers from Cancun and takes about one hour and a half in a car to get to Tulum. The closest international airport is in Cancun, there is no airport in Tulum. But it's very easy to get from Cancun airport to Tulum, read this.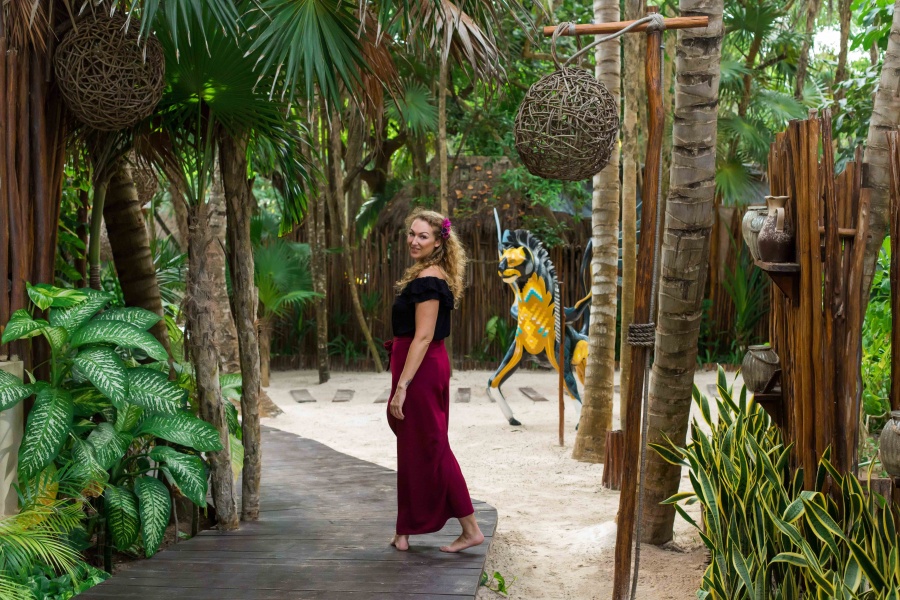 Why stay in Tulum
If you are trying to decide on your next vacation destination Tulum is an easy choice. Close to Cancun International Airport Tulum is the Mexican Bali. With yoga studios and vegan restaurants on every corner, it is a yogis Mexican dream.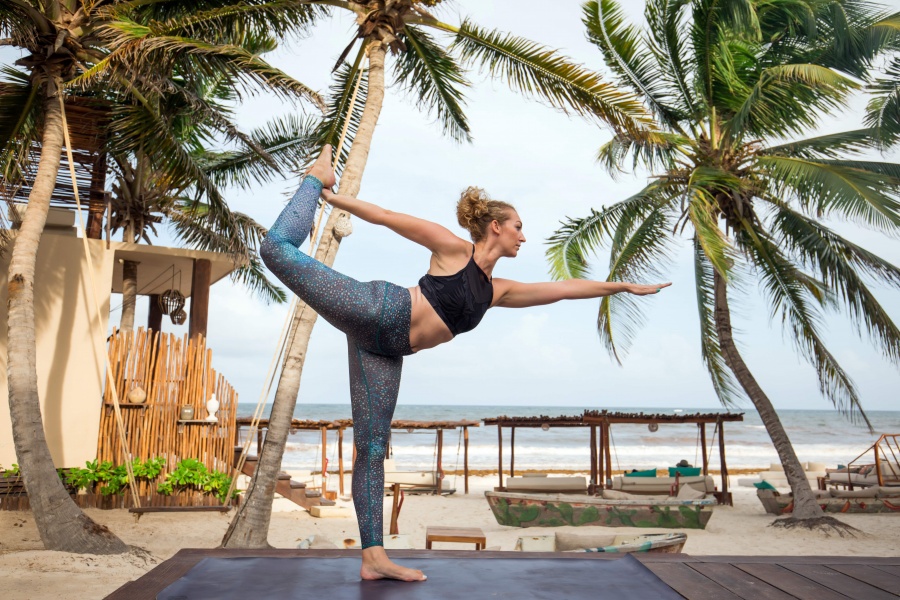 Not into Yoga? No problem. It is also a bit of a foodie mecca with some of the most delicious international cuisine in Mexico. I actually had the best Thai food outside of Thailand here at Mezzanine.
Or maybe you just want a little escape from life and to spend a week or two relaxing in one of Tulum's beachfront hotels? Well, you will find that and more here in Tulum.
Quick Tip: Book accommodation, tours, and transport ahead of time online to save money and stress.

Best Tulum Tours: Click here to check out the top Tulum tours
Best Tulum Accommodation: Click here to check out the best accommodation in Tulum
Best Tulum Transport: Click here to book a bus, ferry, or train in Tulum
The Best Boutique Hotels in Tulum
If you are looking for the best Mexico boutique hotel in Tulum for me there is no contest. La Zebra wins every time. I was lucky enough to spend some time there recently and I did not want to leave!
So what makes La Zebra so special? Well, firstly the rooms are to die for. With a huge bed I didn't want to get out of, a double shower, and a complimentary bottle of Mescal I was in heaven. Even though I was with my friend Citlali so the double shower wouldn't get used haha.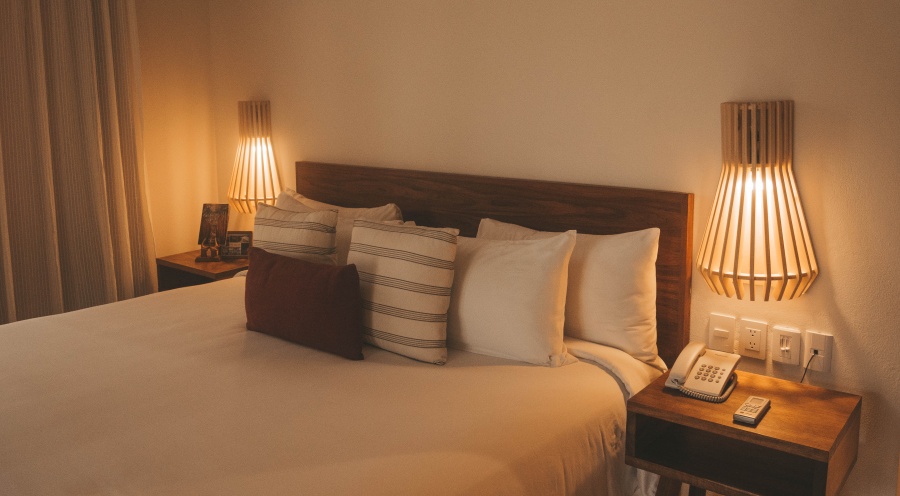 Also, did I mention the drip coffee… YAS.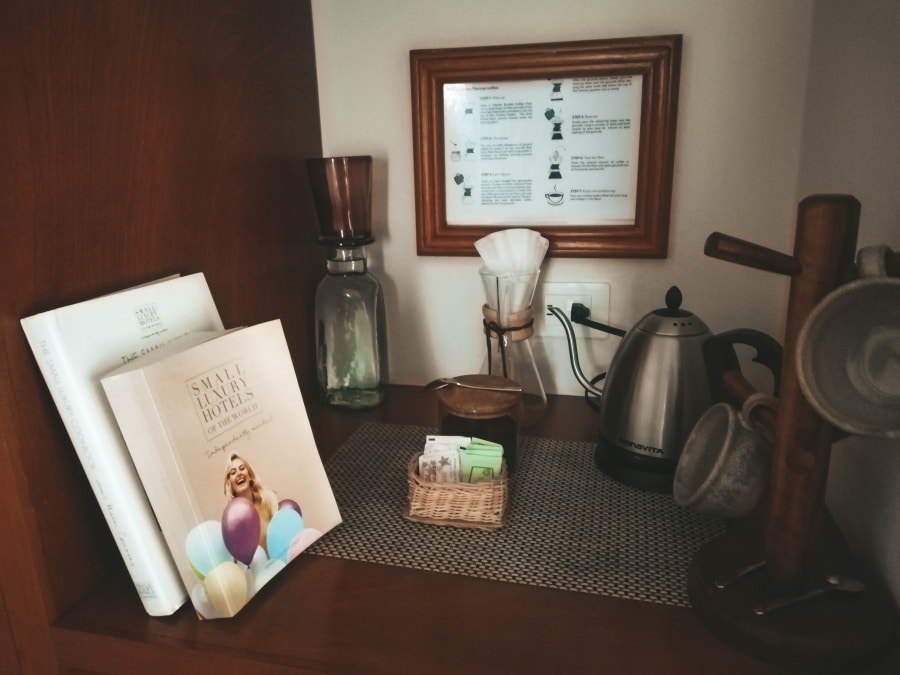 It was the small details that really made La Zebra perfect for me. The fresh lemonade on arrival, the small notes on all of the items in the room tell you how to use things and let you know they are complimentary for your stay.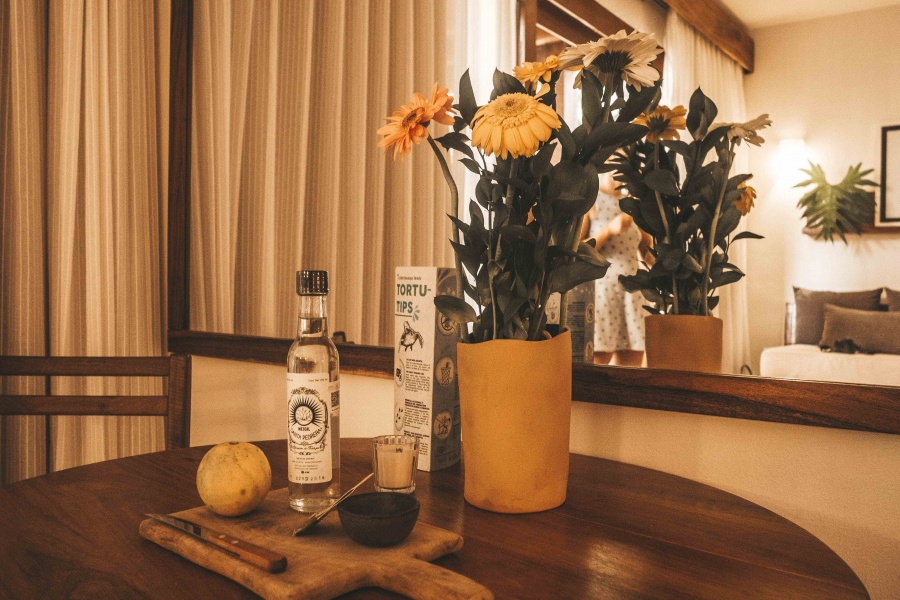 My favorite thing about the room though, was the private plunge pool. Not all Tulum boutique hotels have this, this is special. Waking up in the morning, brewing a coffee, and being able to walk out of my room onto the beach balcony and take a dip in my private plunge pool… life doesn't get much better than this my friends. If you are going to stay in Tulum you need Tulum beach accommodation. And you need a private plunge pool…
Outside of the room, you don't need your shoes (or flip-flops) as the entire hotel is on the beach. So you can completely relax and wander barefoot in the sand. It's a small hotel so you don't have to walk far to get to the restaurant and bar area (and the sea).
La Zebra offers authentic Mexican dishes with a spectacular view. On Tuesday nights you can book a place at the chef's table to experience some exclusive service and exciting Mexican cuisine. This is one for all the foodies out there.
The bar at La Zebra is one of my favorite places to hang out in the evenings even when I'm not staying at the hotel. They have several themed nights during the week, including my favorite salsa night. Every Sunday they have a free class followed by an evening of dancing to a local salsa band. If you are in Tulum on a Sunday, don't miss this!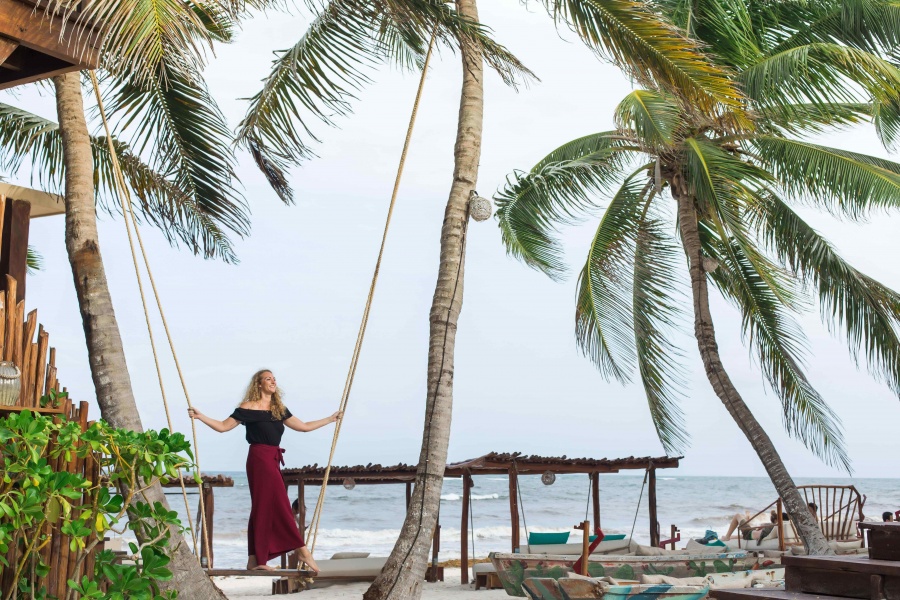 There are so many things to do in Tulum, from Scuba Diving to exploring the Mayan Ruines. Hotel Zebra Tulum will help you to plan out your time in Tulum and organize everything for you. Now that's service.
Yes, there are other Tulum boutique hotels, but as far as I'm concerned Zebra Hotel Tulum wins every time.
Oh, and did I mention it is a Tulum Spa hotel? Yes, they have a spa! My only regret was that I wasn't able to stay longer and experience a treatment day here.
Quick Tip: View my full Mexico packing guide here including a downloadable checklist. And check out my Mexico Essentials shopping list here.
Where to stay in Tulum on the Beach
Hotel Zebra Tulum is a popular choice though and so it isn't always easy to get a room, especially in peak season. So here are my other choices, some of the best Mexico boutique hotels in Tulum. Here is my list of the best Tulum beachfront hotels. All of the hotels on this list are Tulum Boutique hotels on the beach:
See above…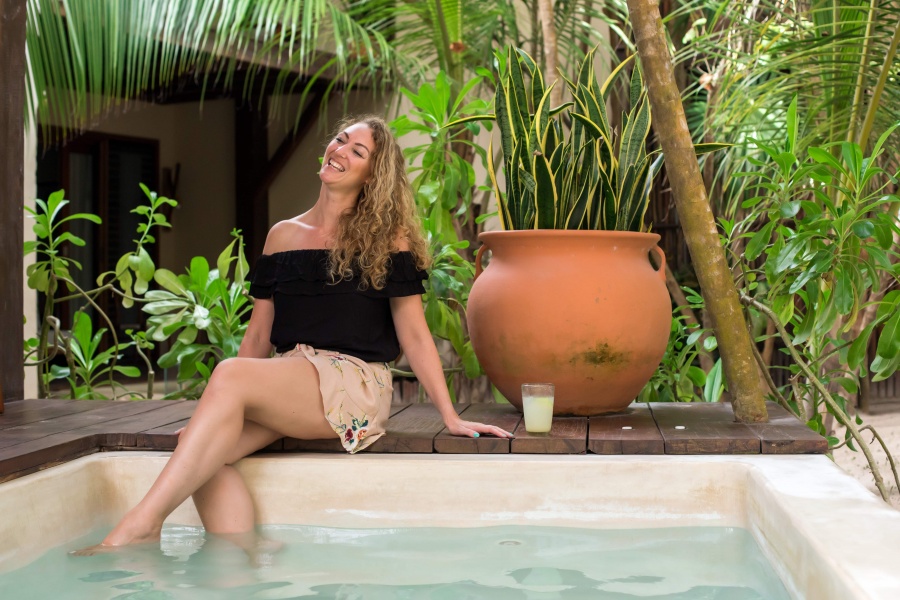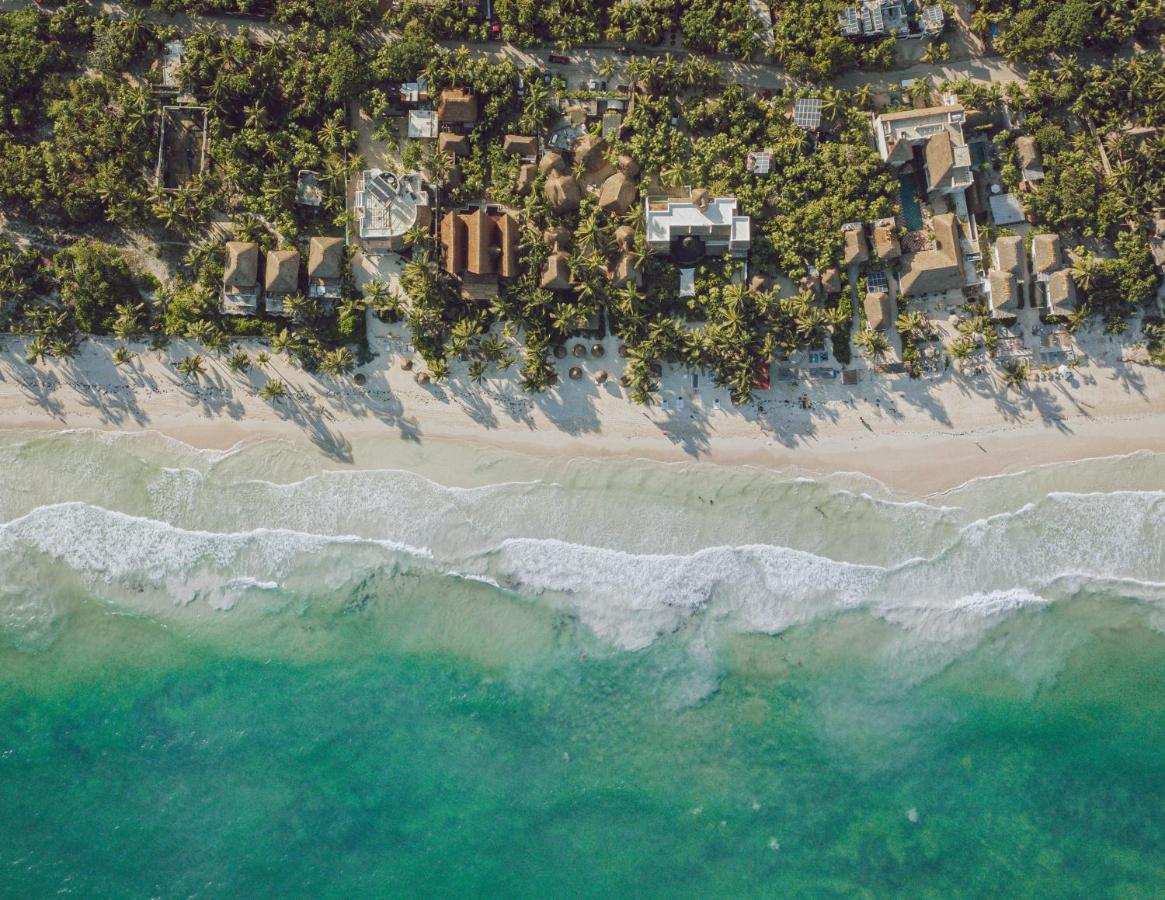 If you're on the hunt for a boutique hotel in Tulum that truly captures the essence of a serene, authentically Mexican retreat, Encantada Tulum is my top pick. This gem nestled at the southern end of Tulum's Hotel Zone recently stole my heart.
What sets Encantada Tulum apart? Picture this: waking up in a beautifully crafted room, where simplicity meets elegance. With no TVs to distract, it's a digital detox dream. Each room boasts a private furnished terrace, perfect for sipping morning coffee while soaking in the tranquil vibes. But what really got me was their dedication to local culture. Their restaurant serves up mouth-watering regional dishes that had me savoring every bite. And let's not forget the local craft brews – a true taste of Mexico!
In Encantada Tulum, it's not just about luxury; it's about an immersive experience that connects you with the heart of Tulum. From the eco-friendly approach to the vibrant local art and music, every aspect is thoughtfully curated. It's a place where you can truly unplug, unwind, and embrace the laid-back charm of Tulum.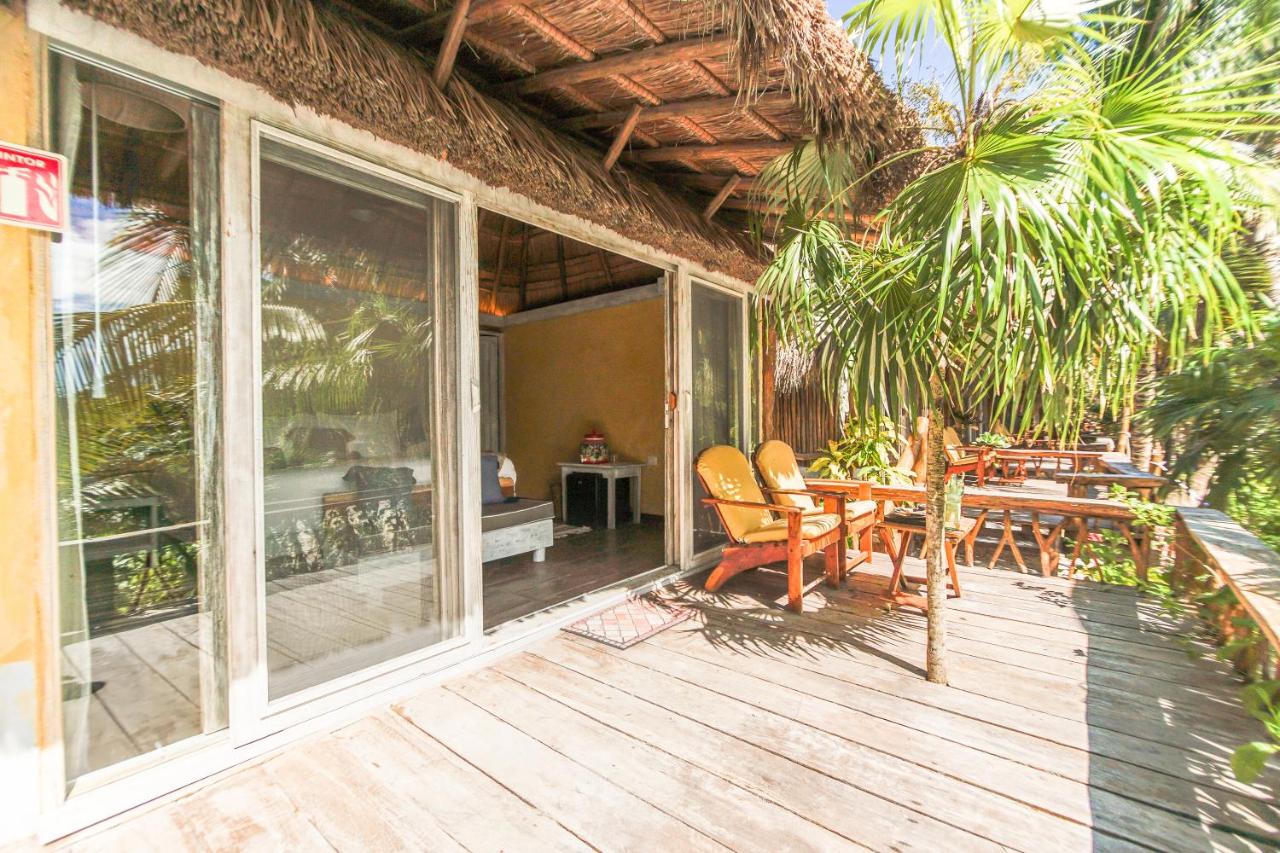 On my latest Tulum adventure, I discovered a hidden gem that truly captures the spirit of this magical place: Villa Pescadores. Nestled near Tulum's Mayan ruins, this boutique haven is a delightful blend of rustic charm and laid-back luxury.
Villa Pescadores is all about embracing the authentic Tulum experience. The bungalows, once humble fishermen's huts, are now transformed into chic, rustic-chic retreats. Each one comes with thatched roofs, wood floors, and private bathrooms, offering a cozy yet elegant beachside sanctuary. Picture yourself lounging on your own hammock, the ocean breeze gently swaying you into a state of bliss.
What I absolutely adore about Villa Pescadores is its unpretentious charm. It's a place where barefoot elegance meets the serene beauty of Tulum's beaches. The restaurant is a culinary delight, serving up fresh, local flavors that tantalize your taste buds. And the beach bar? It's the perfect spot to unwind with a cocktail as the sun sets over the Caribbean.
In Villa Pescadores, you're not just booking a room; you're immersing yourself in the soulful rhythm of Tulum. It's a place where time slows down, and life's simple pleasures shine brightest.
QUICK TIP: Book your tours, rental cars, and transfers through my local contacts

I've been working with Living Dreams Mexico for years and they are who I send all my family and friends to when they visit the Riviera Maya. I really can recommend them enough for private tours and experiences. They have solid 5* reviews on Trip Advisor and Google from almost 4000 reviewers! You can view all their tours here.

If you're looking for private airport transfers and rental cars then Vanessa and Oliver from Turismo Channel are personal friends of mine and I can 100% recommend them to make an inquiry click here and complete the form. Someone will be in touch within 24 hours.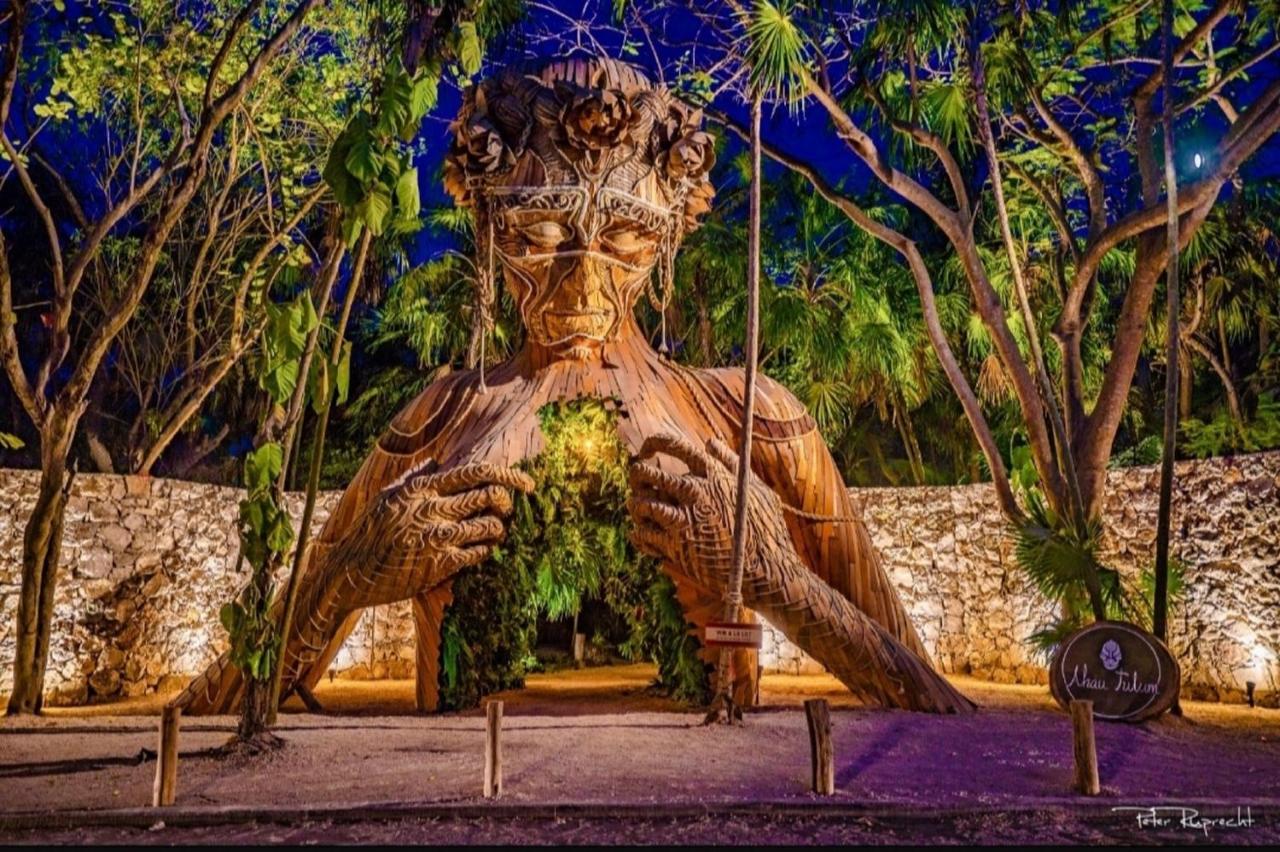 Ahau Tulum is not just a hotel; it's a sanctuary where the soul of Tulum resonates in every corner. On my recent stay, I was captivated by its unique blend of rustic luxury and eco-chic design. Each room, crafted with locally sourced materials, tells a story of Tulum's natural beauty and cultural heritage.
Imagine waking up to the gentle sound of waves, stepping onto your private terrace to be greeted by stunning ocean views. Ahau's commitment to sustainability is evident everywhere, from the handcrafted artwork to the bohemian decorations. The yoga classes and windsurfing lessons are just the icing on the cake, offering a perfect balance of relaxation and adventure.
What truly sets Ahau apart is its vibrant atmosphere, where guests and locals alike gather to celebrate the spirit of Tulum. Whether it's savoring a meal at one of their exquisite restaurants or lounging on the beach with a good book, every moment at Ahau is an invitation to connect with nature and indulge in life's simple pleasures. It's more than a hotel; it's an experience that stays with you long after you've left its sandy shores.
Cabanas Tulum, with its effortlessly chic vibe, is a slice of paradise that embodies the true spirit of Tulum. Tucked away at the southern end of the Hotel Zone, it's a place where tranquility meets modern comforts.
Each cabana, a blend of hip design and rustic charm, offers a unique beachside retreat. Picture yourself waking up in a spacious room adorned with attractive open-plan bathrooms and stepping out onto a furnished terrace, the ocean's melody in the background. The absence of TVs encourages a delightful escape from the digital world.
Nestled in the picturesque southern part of Tulum, Mi Amor Colibri Boutique Hotel is a sanctuary of tranquility and romance. This intimate boutique property, popular among vacationing couples, offers a serene escape with its romantic beachfront location and captivating coastal views.
Each rustic-chic room at Mi Amor is a haven of relaxation, many boasting plunge pools or furnished balconies that allow you to immerse yourself in the serene beauty of Tulum. The decor, featuring natural-finish wooden floors and furniture complemented by beige-colored tile and turquoise accents, creates a warm, inviting atmosphere. The variety of rooms, ranging from Pool View to Sea Front Rooms, each offers a unique perspective of the hotel's stunning surroundings, with the Sea Front Rooms adding the luxury of jetted tubs.
Mi Amor's commitment to providing a holistic and peaceful experience is evident in its amenities. The spa, though modest in decor, offers a wide range of treatments, including massages, facials, and baths, perfect for a rejuvenating retreat. The outdoor infinity pool, overlooking the sea, is a serene spot, though it's more suited for relaxation than sunbathing due to its narrow size. The rocky coastline, while beautiful, is not ideal for swimming, but the hotel's deck areas and beach provide lovely alternatives for lounging and soaking up the sun.
Dining at Mi Amor is an experience in itself, with the on-site restaurant led by Paul Bentley serving European cuisine with French and Italian influences. The a la carte breakfast included in the room rates adds to the luxurious feel of the stay. Despite its secluded feel, the hotel is conveniently located just a 10-minute drive from both the Tulum city center and the area's famous ruins, making it an ideal base for exploring the region.
In summary, Mi Amor Colibri Boutique Hotel is an excellent choice for couples seeking a quiet, romantic getaway. Its blend of rustic charm, modern comforts, and attentive service makes it a standout destination in Tulum.
Quick Tip: You can book a Dream Tulum tour from Living Dreams Mexico here.
Situated on El Pez beach it is one of the few hotels in Tulum to have all rooms facing the sea. This is a 'seaside chic' boutique hotel on the beach that you can enjoy with the whole family. Or in my case, hide away from the world!
The hotel's 19 rooms exude a rustic-chic decor, creating a cool and inviting atmosphere with light-colored walls, concrete or tile floors, and wooden-slat shutters. Each room features a private patio, perfect for enjoying the natural ocean breeze and stunning views. For your comfort, the rooms are equipped with air conditioning, beach totes packed with towels, free Wi-Fi, and organic toiletries, though most lack TVs. The luxury rooms elevate your stay with additional stylish touches and a feeling of spaciousness.
One of the highlights of El Pez is its beautiful beach, offering a mix of sandy, rocky, and grassy areas. While the waters may be choppy and not ideal for swimming, the beach's scenic beauty is undeniable. For dining, the hotel boasts a large, contemporary restaurant and bar serving delicious drinks, smoothies, and locally sourced Mexican cuisine. You can start your day with a cooked-to-order breakfast available for an additional fee.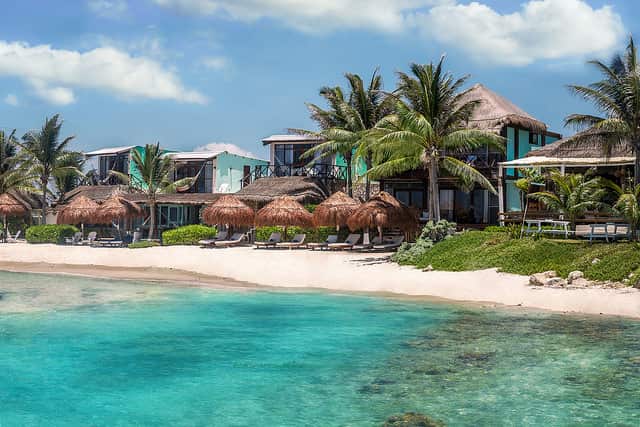 Mezzanine has by far the most impressive beach views in Tulum. Even if you choose not to stay here I highly recommend dining in their award-winning Thai. It is the best Thai food I've eaten outside of Thailand. Probably because it is prepared by an award-winning chef from Thailand. He even came out to meet us and check how the food was, very impressive. As for the hotel, it is small, luxurious, and right on the beach.
The hotel's nine rooms, each embracing a contemporary casita style, feature a blend of polished concrete or tile floors, varnished wood, and either bohemian beach-chic or Thai accents. The Buddha Rooms offer standard comfort, while the Sea View Rooms and opulent Master Suites boast stunning ocean views, private decks, luxurious amenities, and elegant decor.
Perched atop lush mangroves, Mezzanine's beach area combines rocky, wild beauty with tranquil turquoise waters, offering guests a sense of privacy and seclusion despite its public status.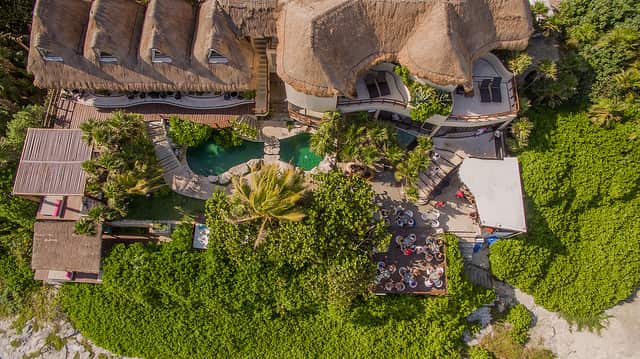 How to get to Tulum
Most people arrive in Tulum by air. The closest international airport to Tulum is in Cancun. From Cancun, I would suggest either hiring a car or driving yourself. This is actually a very good option as it is a straightforward drive and it means you have the car to explore the local area, especially the Cenotes in Tulum and Coba without a guide.
If you don't want to drive you can book a private transfer who will pick you up at the airport and drop you off at your hotel. I wouldn't recommend taking a taxi as they are very overpriced at the airport.
The other option to get from Cancun Airport to Tulum is to take an ADO bus. Just follow the signs in the airport to the ADO terminal. Then take a bus direct to Tulum.
When you arrive in Tulum you will need to take a taxi to the hotel. You won't have a problem finding a taxi.
Quick Tip: I highly recommend booking all of your Mexico transportation with GottoGo. You can search for buses, shuttles, ferries, and Flights on their website. What I love most about them is their customer service. I know these guys personally from living in Guatemala, and they look after their customers.

If anything happens and you get delayed and miss your bus, you can just call them, and they are always there to help. If you book through them, you will pay a little more than booking in person at the bus station. But it's worth it for the ease and security. Click here to search for transportation in Mexico.
Final Thoughts on the best hotels in Tulum
In this guide, I have focused on my experience of hotels in Tulum. In my opinion, if you want to really experience the of the best hotels in Tulum then you need to stay in a Tulum boutique hotel on the beach. Avoid the big chains and stick with the smaller hotels for the tiny luxuries and personal service they offer. Tulum has many beach hotels, but non like La Zebra.
To check prices at La Zebra click here.
Tulum Travel Guide Planning
🧳 Any recommendations on what I should pack for Tulum?
Yes! I have created a whole packing guide to Tulum which you can read here and you can also check out my packing list for Tulum on Amazon here.
🚗 Where can I book bus or private transportation while I'm in Tulum?
I strongly recommend using GottoGo. You can book almost all transport in the major Mexican tourist destinations through them online. They don't just cover buses they also cover shuttles, ferries, and private drivers.
🎫 Where can I buy tickets for museums, attractions, and tours in Tulum?
I recommend either Viator or GetYour Guide.
If you are traveling to Cancun you can use GoCity and save up to 55% of the initial cost of entrance tickets to various museums, tours, and attractions!
If you are traveling to Playa del Carmen then I recommend booking through my friend Vanessa at Turismo Channel. You can check out their tours by clicking here and using the following discount codes for the best prices clairecaroff (car rental), claire10off (for 10% off group tours), claireprivate (for a discount on private tours). You can also send her a WhatsApp message quoting the above codes to receive the discount.
👩‍⚕️ What is the best insurance to have while traveling?
I recommend using Heymondo for a great value policy. The app also offers you 24/7 Dr Chat. For Digital Nomads check out SafetyWing digital nomad insurance.
I have also written a blog post covering all my recommended travel insurance here
✈️ Any flight recommendations?
WayAWay offers you cheap flights with cashback. You can use this code CLAIRE22 to get 10% off. Otherwise Skyscanner or Expedia are my go-to flight searching platforms.
📱What do you use for internet connection while traveling?
I'm a big fan of personal WiFi devices and they have saved my ass so many times when traveling. I wrote a full review of the top travel WiFi devices you can read here. I personally use GlocalMe as I can either pop in a physical sim card or use their local carrier.
With regards to my phone connection, I use e-sims while traveling, so rather than having to swap out my regular sim card I can download the app and buy a virtual sim card. I recommend using eitherAirhub or Alosim. Both have great coverage of multiple countries and are very easy to use.
🛏️ What is the best platform to use for booking accommodation?
The 3 best platforms that I normally use are Booking.com, Hotels.com, and Expedia They offer great deals and multiple options. I always check all three to be sure of the best deals.
🛅 Do you have any luggage recommendations for traveling?
I do have a complete list of the best packing and luggage products that I recommend, you can check the list here. I'm currently traveling with this suitcase and this backpack.
Need Some More Options For Accommodations in Tulum?
I wrote a whole post to help you decide the best area in Tulum to stay with my recommendations depending on your budget. I also wrote a guide on Where to stay in Tulum and The Best Hostels in Tulum Mexico.
Traveling in the Riviera Maya? Click to read my guides to accommodation in Playa del Carmen, and Cancun
This post was proofread by Grammarly