Let's face it, many people come to Playa del Carmen for one reason, to party! And even if it's not all about the party for you the likely hood is you are going to want to go out and enjoy the nightlife in Playa del Carmen at some point during your stay in this vibrant Mexican city.
In this guide to nightlife in Playa del Carmen, I've picked out my favorite places to party in Playa at night. This list is full of the best bars in Playa del Carmen no matter what vibe you are looking for.
Although, if you are looking for more of a beach club day drinking vibe, then check out my Playa del Carmen beach club guide. And just in case you are thinking of venturing out to Tulum, I also have a great Tulum beach club guide you can read here.
Need somewhere to stay in Playa del Carmen? Read my Playa del Carmen accomodation guide to learn about the best areas to stay in… and which ones to avoid!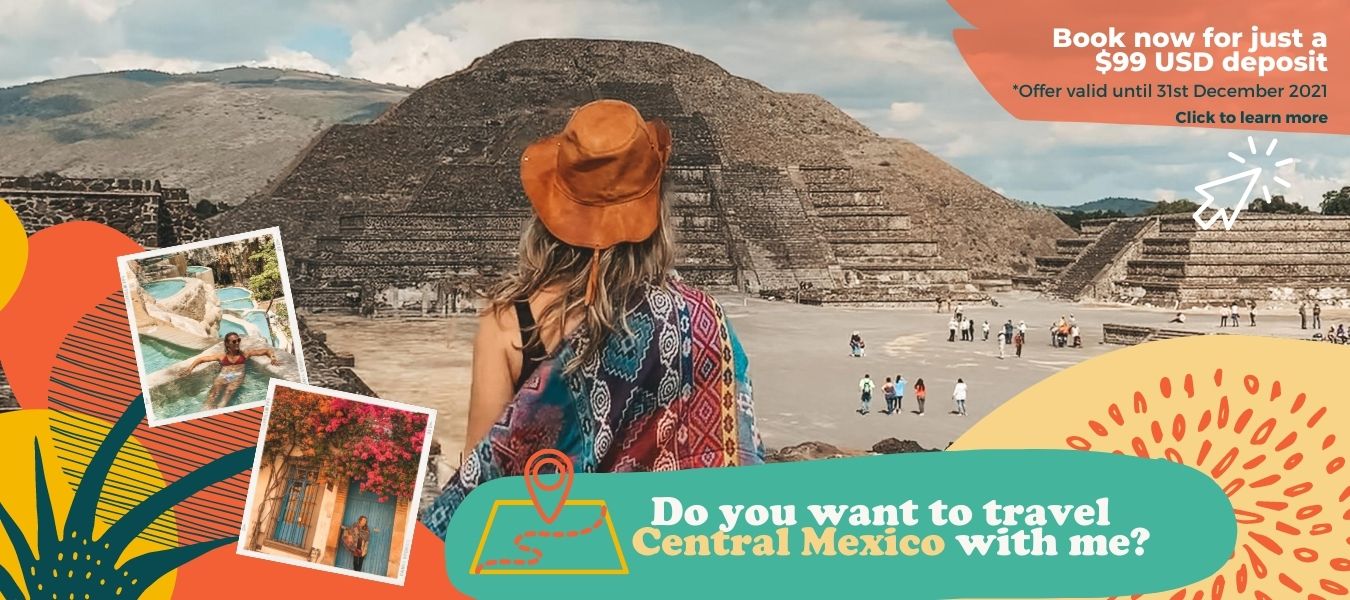 Did You Get Travel Insurance Yet?
If you are planning a trip right now then you NEED to think seriously about insurance. If 2020 taught us anything, it's that you need to be prepared for anything! Travel insurance has always been high on the list of things to get before you travel but now more than ever it should be at the top of your list! I'm pretty sure we have all had travel plans messed up because of COVID and not all insurers covered this. So you need to find an insurer that covers travel disruption due to COVID-19, World Nomads, Safety Wing, or Travel Insurance Master are the ones to go for.

World Nomads is great for incidents that happen prior to your trip, so if you get sick or are unable to travel due to travel restrictions some of their policies will cover that as cancellation cover.

Safety Wing goes the extra mile and covers quarantine outside your home for up to 10 days, they also have a really handy map on their website showing requirements and restrictions for each country.

I also use Travel Insurance Master for some short vacation type trips as they are cheaper than World Nomads a lot of the time.

If you are doing shorter trips or a longer backpacking trip then WorldNomads or Travel Insurance Master are the best option. If you are a digital nomad or planning travel of at least 6 months then go for SafetyWing.
Best Bars In Playa Del Carmen
Most of the nightlife in Playa Del Carmen is concentrated along Quinta Avenida (referred to as 5th ave, or La Quinta).
There is no shortage of bars available where you can kick back with a beer or a craft cocktail and enjoy your time in this town by the sea. From dive bars to swanky rooftop bars, Playa del Carmen nightlife has everything for everyone to suit all tastes and vibes.
Tequila Barrel
Tequila Barrel is one of Playa Del Carmen's biggest sports bars on the famous Quinta Avenida (Fifth Avenue). There is always something going on at Tequila Barrel and it's always a fun time. A nightclub and sports bar all in one, you'll always find people dancing and enjoying life. Located between Calle 10 and Calle 12 Tequila Barrel is one of the best places to party at night in Playa.
Open 10 AM to 4 AM Daily
Prana
If you're in town and looking to listen to and dance to some Hip-Hop while enjoying flavorful/fragrant hookah and great drinks, you have to go to Prana. Prana is located on the same street as some of the best clubs in Playa Del Carmen, 12th Street. Most of the music you'll hear in Playa is House, Techno, Reggaeton, so Hip Hop aficionados love to go to Prana to kick back and enjoy their night listening to something different. If you're into hookah, good drinks, and Hip Hop, you definitely want to add Prana as one of your nightlife stops here in Playa Del Carmen.
Open 8 PM to 4 PM daily
Club Social
Karaoke bars are always a great option for a fun night out in Playa too. Grab your friends and head to Club Social for a night of singing, laughing, dancing, and drinking. Sing your heart out and belt out your favorite songs while enjoying beers with your friends. This casual bar is one of the best in Playa Del Carmen for karaoke and a laid-back good time.
Open Monday – Thursday 1-11 PM Friday and Saturday 5 PM to 3 AM
Playa Del Carmen Clubs
Clandestino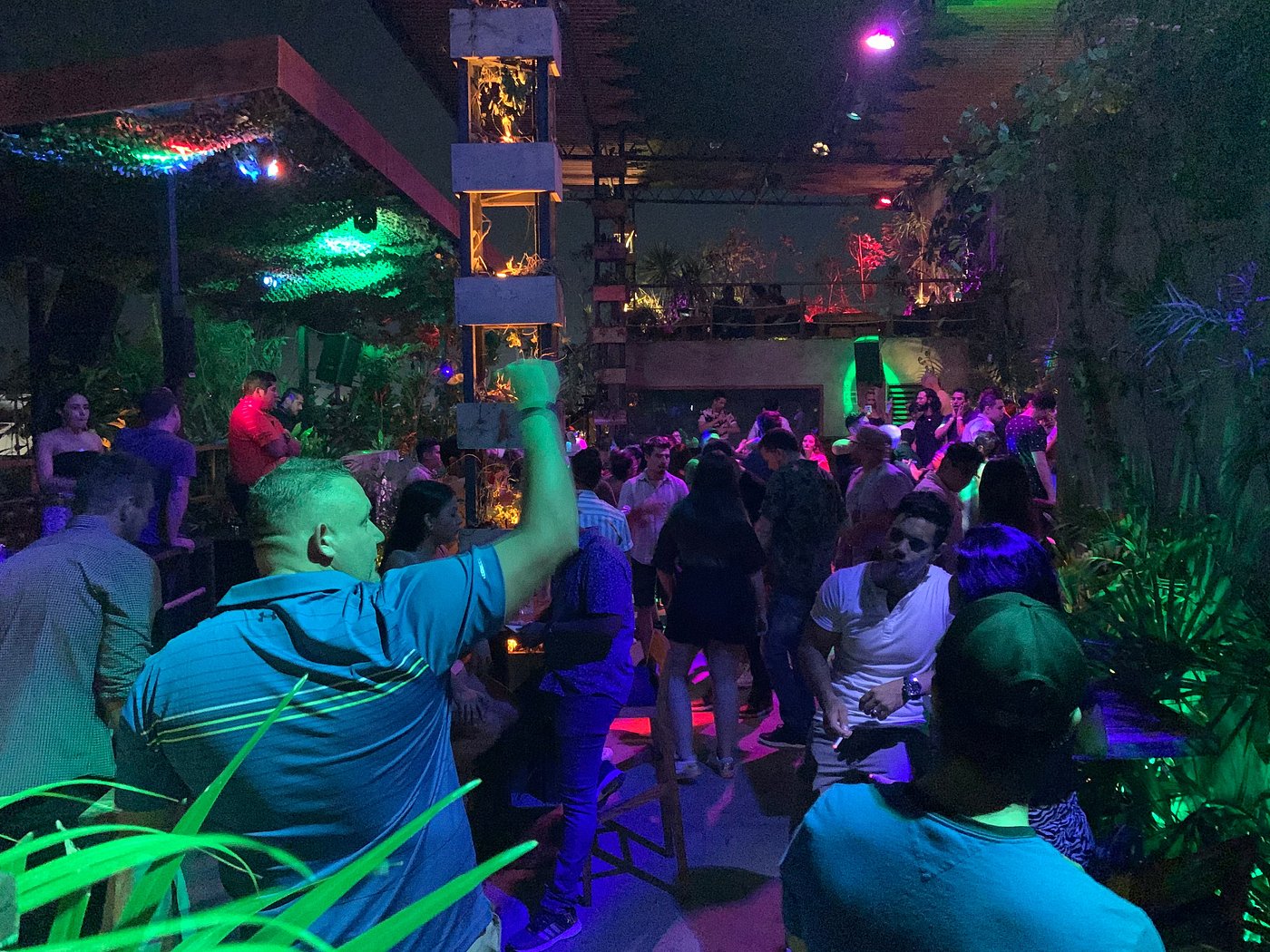 If you are looking to dance the night away at one of the best Playa del Carmen clubs, you have to go to Clandestino. Clandestino has a beautiful atmosphere to enjoy great drinks from the bar and amazing music. It's a faviourite with the local expat community so here you will find a great mix of locals and tourists.
Weekend nights at Clandestino are unforgettable as far as Playa del Carmen clubs go. You'll mix and mingle with some of the most beautiful people in town while enjoying the best nightlife that Playa Del Carmen has to offer. You have to party at Clandestino at least once while here on vacation and then come back again to have one of the best nights of your life. The music, drinks, and vibes are epic.
Open daily 6:30 PM till everyone leaves!
Manndala
Mandala nightclub is one of the biggest and best Playa Del Carmen clubs. Located right on the corner of Calle 12 and 1st, you can't miss this huge posh open-air nightclub. Everyone goes to Mandala when they come to Playa. If you're looking for great music, bottles, table service, dancing the night away with amazing people, Mandala is the Playa del Carmen nightclub for you.
Open daily 7 PM till the early morning
Speakeasy
One of the newest Playa Del Carmen clubs, and one of the best-kept secrets is Speakeasy. This after-hours club is a little bit hidden, but when you find it, you've found one of the greatest nights of your life. If you're into really good music and love dancing until the sunrise, this is your place.
Speakeasy opens late (12:30 am) and stays open until the morning! You have to be on a list to enter and the club is completely air-conditioned for your comfort to dance all night and morning. The decorations inside and the sound system make for a really aesthetically pleasing experience.
You can find more info about them via their IG account here.
Gay Bars Playa Del Carmen
Playa Del Carmen is one of the most LGBTQ-friendly places in Mexico just behind Puerto Vallarta. While there aren't many Gay bars in Playa del Carmen, there are a couple of places where you'll see the rainbow flag flying and know that you are welcome, no matter what.
Las Miches
Las Miches located at the corner of 10th Avenida and Calle 4 is an open-air bar that's lots of fun at night. There is even an awesome music bingo event hosted there each month! The music is always good and the vibes are right for a fun night where you will feel comfortable and respected.
Open 5 PM to 4:30 AM daily
Club 69
Club 69 is one of the only gay clubs in Playa Del Carmen. You'll be able to find cheap drinks and drag shows, but go during the weekend if you're looking for more of a crowd. It's more of a tourist scene than anything, but a place to go and enjoy some drinks and conversation.
Open Tuesday – Sunday 6 PM until late
If you are looking for more information on gay bars Playa del Carmen from experiences travelers in the gay comunity check out this post.
The Best Rooftop Bar Playa Del Carmen
Days and nights in Playa Del Carmen are best spent on a beautiful rooftop overlooking the sea and the city. There are plenty of rooftop bars in Playa del Carmen, but only some are the best! A great rooftop bar Playa del Carmen not only has epic views and drinks, but the pool makes the difference. There's nothing better than enjoying a cocktail and the sunset from a pool while overlooking the Caribbean Sea.
The Thompson
ou have to go to The Thompson rooftop Playa del Carmen. This is absolutely one of the best rooftop bars in Playa Del Carmen. It boasts one of the greatest views and the rooftop pool is Instagram-worthy. Grab a day pass and enjoy the atmosphere, the food and the drinks into the night. If you want to impress your guests or your date, take them to The Thompson and thank me later.
Reef 28
The rooftop bar Playa del Carmen at the Reef 28 is always a good idea. After spending time in the spa, head up to the rooftop bar Playa del Carmen for views, music, and a good time. Lounge in the chairs by the pool or in one of the beds and enjoy your day or night. The music on the roof is always good and sometimes DJs come to play house or techno. On Sundays, there's even a foam party! The drinks from the bar are refreshing and the rooftop has an awesome view of the sea right at the end of Calle 28.
IT Ganesha
IT Ganesha has an amazing rooftop pool in Playa del Carmen. There are two different rooftops to enjoy and plenty of delicious drinks flowing from the bars. Perfect for ladies' night out and weekend parties, IT Ganesha in the happening neighborhood of Zazil-ha is a must. Disco, House, Afro House and Techno nights keep you dancing while the amazing drinks keep you cool. Enjoy watching the sunset or get there for a super fun night out. There is a beautiful fire pit on one of the rooftops with plenty of seating around to enjoy your drinks from the bar.
Beach Bars Playa Del Carmen
Fusion Beach Bar Playa del Carmen
If you have guests in town or want to have a fun night out with a date or friends, head to one of the best bars in Playa Del Carmen, Fusion! Fusion is always a good time and is a great place to start your night or spend the evening out in Playa.
Set right on the beach at the end of Calle 6, Fusion has live music, great drinks, fun vibes, and a nightly fire show. Fusion is one of my fave beach bars Playa del Carmen as it has a great mix of people and you can go casual or dressed up and have an amazing night out in Playa. If you go during a full moon, you can watch the moon rise out of the sea while enjoying a fire show and great drinks. Be sure to visit Fusion for a fun night out!
Open daily 8 AM until late
INTI beach
While on vacation in Playa Del Carmen and looking for a really nice night out on the beach, you don't want to skip going to INTI beach. Their dinner and drinks menu is light, fresh, and fun and the music at night will get you dancing!
Located right on the beach between 4th and 6th street, this beach bar in Playa del Carmen is a must. At night, you'll be surrounded by lit-up palm trees as you dine or drink at the bars. There are plenty of cute places to sit and enjoy the night on the beach, like the hammock chairs or the tables set in the sand. At night you can catch really good DJs spinning house music or techno. Some of the best nights to go are Friday, Saturday, or Sunday to enjoy the beach, the drinks, and the music.
Opens aily from 9 AM
Las Hijas Beach Club
Las Hijas Beach Club is not to be missed! Situated right over the water, this is one of the best beach bars to enjoy the sunset and then dance into the night. The sky bar on the roof of the club has one of the best views. The open-air design has two floors plus a rooftop. There's a pool, palapas, drinks and good food to enjoy as well. On the weekends, local talented DJs come to make you dance dance dance!
This is one of Playa's newest spots for nightlife and if you haven't been yet, you're doing yourself a disservice. Take your friends and have an awesome night out dancing right by the Caribbean Sea! The breeze, the vibes, the people, the music make for an unforgettable night out in Playa.
Las Hijas Beach Club is one of the town's favorites. Go dance and enjoy yourself at one of the best beach bars in Playa Del Carmen.
Open daily from 10 AM
How Safe Is The Nightlife In Playa Del Carmen
It would be wrong of me to not at least touch on the safety aspect of a night out in Playa del Carmen. One thing I would like to say is that in the 3 years I lived in Playa I personally never had a single safety concern on a night out in Playa del Carmen. That said, I know many people who have. From people getting their phones stolen in a club to being drugged taken out to the jungle and sexually assaulted.
Playa del Carmen is no different from any other city around the world, you need to be aware of the safety issues and try and avoid putting yourself in potentially unsafe situations. I actually wrote a VERY in-depth and honest piece about safety in Playa del Carmen and I would strongly suggest reading that.
My biggest piece of advice, especially to solo female travelers is to know how you are getting home before you go out. Please do not get in a taxi unless you know the driver and book over the phone with him/ her direct, or using one of the WhatsApp taxi services. Do NOT just get in a taxi you flag down in the street. Always sit in the back of the taxi and take a photo of the license plate and send it to a friend. Oh and avoid the police… they like to 'shake down' drunk tourists walking home. Best to just give them your money to avoid getting roughed up or taken to jail for the night… this is the most common crime.
Anyway, like I said, personally I've never had an issue. But it would be wrong of me to not mention some safety concerns people face going out at night in Playa del Carmen.
I also wanted to give a shout-out to This Is Playa if you are an African American expat or tourist planning your time in Playa it's a great resource to get the best information.