Finding the best accommodation in Tulum can be a little tricky as there are four distinct areas, all with pros and cons. In this post, I have broken down the three areas to stay in Tulum and listed my top picks depending on your needs and budget.
P.S. read this if you need to travel from Cancun airport to Tulum
Where to stay in Tulum
The first you need to decide before booking accommodation is where to stay in Tulum. This is particularly important because there are four very distinct areas to stay in Tulum and each one of them has many pros and cons. You are going to need to take a lot of things into consideration when choosing your accommodation in Tulum. In this post I've mostly included hotels in Tulum, I actually have full blog posts on Airbnb's in Tulum, Boutique Hotels in Tulum, and Hostels in Tulum you can read if you aren't looking for hotels.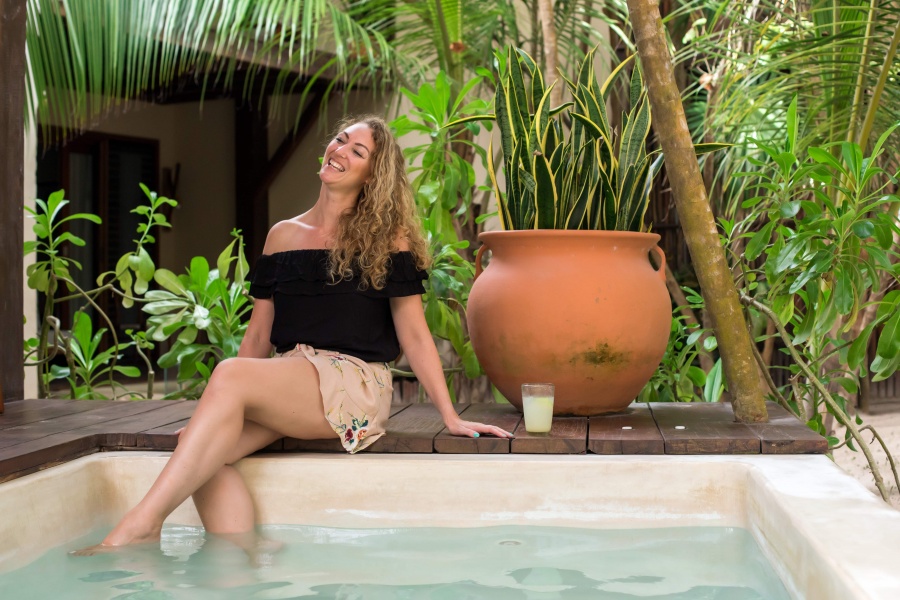 The first time I visited Tulum I had no idea about any of this. I did no research at all and instead, I just booked the cheapest decent Tulum hostel I could find. It actually worked out ok as the hostel was pretty amazing and in a good location but there were probably better options out there but I just didn't know.
The way Tulum is set up the town and the two beach areas are quite some distance apart. This makes walking in between the areas impossible (it is way too hot to be walking so far and there is very little shelter) so you need to keep this in mind when deciding where you want to stay in Tulum.
Lucky for you I now know better so in this post I'm going to break it all down for you so you can make an informed decision on where to stay in Tulum.
Looking for a reputable tour company in The Riviera Maya?
I've been working with Turismo Channel in Playa del Carmen for years and they are who I send all of my family and friends to when they visit the Riviera Maya. I really can recommend them enough for tours, private airport transfers, and rental cars. Vanessa and Oliver are personal friends of mine and I have 100% faith that you will have a wonderful time with them.
You can check out their tours by clicking here and using the following discount codes for the best prices clairecaroff (car rental), claire10off (for 10% off group tours), claireprivate (for a discount on private tours). You can also send her a WhatsApp message quoting the above codes to receive the discount.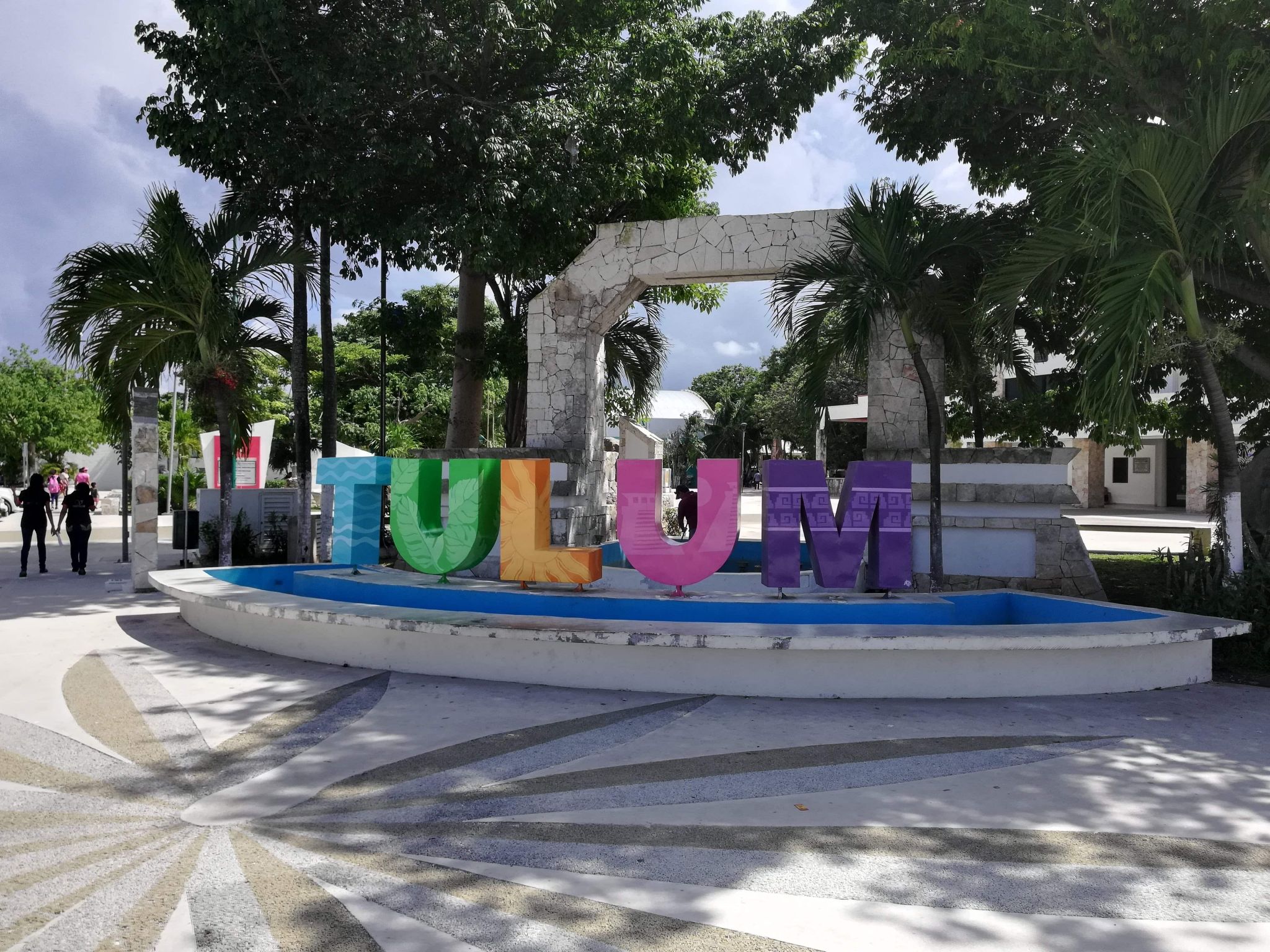 Did You Get Travel Insurance Yet?
If 2020 taught us anything, it's that you need to be prepared for anything! Travel insurance has always been high my list of things to get before I travel but now more than ever its at the top of my list.

I'm pretty sure we have all had travel plans messed up because of COVID and not all insurers covered this. So when looking for travel insurance it's important to check it covers travel disruption due to COVID-19, Hey Mondo, Passport Nomads, Safety Wing, and Travel Insurance Master all provide cover for this.

Hey Mondo is great if you are looking for a great value flexible policy. They offer single trip cover, annual multi trip cover, and long term travel cover. You even have the option to start the cover when you are already on your trip, although you won't be covered for the first 72 hours. For me my favourite feature is their app which offers you a 24/7 Dr chat and the ability to file a claim direct in the app.

Passport Nomads provides the most comprehensive cover for Digital Nomads. The game changer with them is that you have a red card and if you find yourself in need of medical care you just contact them and they will pre load your card with the funds to cover your treatment, meaning you won't need to pay out of pocket and then put in a claim later.

Safety Wing is great value with monthly cover starting at $39. It's super easy to use and it just renews each month. They have an excess of $250 and it's simple to make a claim through their website. I currently use them as they offer me free cover for my son as part of my policy and I like that it renews on a monthly basis, so I don't have to pay out a big lump sum up front.

I also use Travel Insurance Master for some short vacation type trips.

If you are doing shorter trips or an extended backpacking trip then Hey Mondo or Travel Insurance Master are the best option. If you are a digital nomad or planning travel of at least 6 months then go for Passport Nomads or SafetyWing.
Tulum Town
If you are on a budget you will get more for your money in Tulum town. This goes both for accommodation and eating out. Tulum is, in general, more expensive than Playa del Carmen in my personal experience, especially in the beach areas. In the town, it is much easier to find budget accommodation in Tulum (and food). So what are the pros and cons of staying in Tulum town?
Pros: Tulum town runs either side of the main highway that runs from Chetumal to Cancun. So the most obvious benefit is that if you are arriving by road you won't have as far to go. You will be close to the ADO bus station, taxis, and Coliectivos. Tulum Hotel Zone.
You will get more for your money here. Accommodation is much cheaper and there are lots of hotels to choose from.
You will get to mix with locals and a slightly younger crowd in Tulum town. Most of the places on the beach road close around 11 pm due to local regulations about noise. In Tulum town everywhere opens much later and the few clubs in town don't normally even get going until 1 or 2 am.
Street food! You can't visit Mexico and not eat street food. You won't find much in the way of cheap eats down by the beach but if you know where to look in Tulum you will find plenty of street carts selling tacos and tortas.
Cons: You as a 30-minute bike ride, or 10-minute taxi or colectivo journey from the beach. This isn't so bad during the day, but if you want to enjoy the nightlife down on the beach road you are going to need to pay for a taxi as the Colectivos stop running at 8 pm.
If you rent a bike then you can cycle. BUT if you don't know the area I would not recommend this. I cycle everywhere here in Mexico and doing this ride at night even scares me a little! None of the bikes come with lights or helmets and there are big parts of the roads with no lights. There are a lot of big speed bumps and holes in the road to add to the danger level. So I really don't recommend cycling at night.
A taxi from the beach road into town is 80 pesos which is about $4 USD.
2021 UPDATE: So apparently things got pretty crazy in Tulum over the past few years and I'm now hearing taxi drivers are charging anything from $200-$1000 pesos for a ride! CRAZY. Please be sure you either know the price or negotiate BEFORE you get in, especially if you are heading back in the evening. Or just rent a car from my friend Vanessa, tell her I sent you for a special Claire's Itchy Feet discount! She also runs tours and excursions so can help with all your vacay needs.
If you have come to Tulum for the sole purpose of chilling out at the beach, eating at Harwood, and partying the day away at Boa Beach Club then this may not be the best choice for you.
How to get from Tulum town to the beach :
You head down Avenida Coba and you will come to a T-section. Turn left and you are on Tulum Beach Road North otherwise know as the public beach area (Playa Paradiso and Pescadores). Turn right and you are on Tulum Beach Road South or the private beach area. To know more about these two areas see below.
Tulum Beach Road North (Playa Paraiso and Playa Paradiso Public Beach Area)
This is the much quieter area closer to Tulum Ruins with a large public beach area.
Pros: This area is much quieter. You will be able to get to sleep earlier without all of the noise from the bars and the beach is also a lot quieter than the private beach on the other side.
If you want to visit Tulum Ruins you are much closer.
Cons: Most of the cool bars and restaurants that you are going to want to visit at night are other the other side on the South Beach Road area. This means a taxi ride, as it is too far to walk, especially at night in the dark.
Tulum Beach Road South (Private Beach Area)
This is the most popular area in Tulum, but because of this be prepared to pay! Hotels in this area charge on average of $300-$2000 per night! There are some alternatives though for my backpacker friends, so don't worry. I got you covered!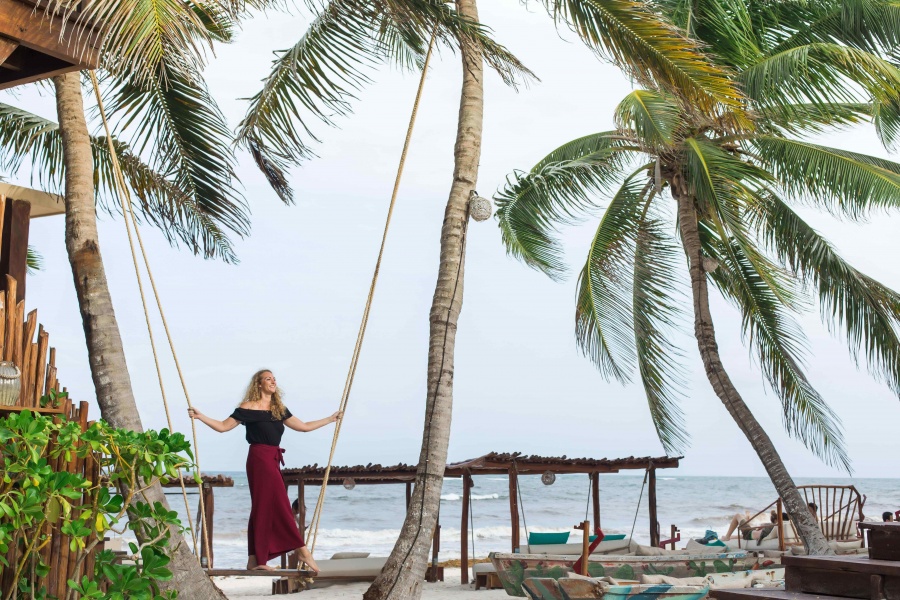 Pros: This is where all of the places you will have read about are located. Harwood, Pablo Escobar house, Azulik etc. If your budget can stretch to it I recommend staying in this area for the real Tulum bohemian experience.
You are right on the beach and it's magical.
Cons: The main one is the cost. For many people, especially my fellow solo travelers, staying in this area is too expensive for accommodation, food, and drinks.
It gets very busy in this area of town. If you prefer something a bit quieter I recommend staying on the public beach side.
Top Tip: Although this is the private beach area, the beach is actually public. So if you can sneak through one of the resorts or find one of the very small and well-hidden paths you can get on to the beach no problem. Most of the resorts will let you stay on a sunbed for the day for a minimum spend so even if you can't afford to stay here you can pretend that you can for the day. That is exactly what I did on my first visit to Tulum.
Need to book transportation in Mexico?
I highly recommend booking all of your Mexico transportation with GuateGo. You can search for buses, shuttles, ferries, and Flights on their website. What I love most about them is their customer service. I know these guys personally from my time living in Guatemala and they really do look after their customers. So if anything happens and you get delayed and miss your bus, you can just call them and they are always there to help.

If you book through them you will pay a little more than if you book in person at the bus station. But it's worth it for the ease and security in my opinion. Click here to search for transportation in Mexico.
Top Hotels in Tulum – The number 1 rated hotel
OK so strictly speaking this is actually just outside Tulum but it is the top rated place to stay in the area. It truly is a beautiful and tranquil place to stay, especially if you just want to chill on the white sand beaches and swim in the crystal clear waters of Tulum without so many people around. It is about a 15-minute taxi ride to get to Tulum town and 20-30 minutes from the main beach roads in Tulum. Totally worth it though if you are looking for a resort with a beautiful beach!
Booking.com rating 9.4
Tripadvisor rating 5
Top Tulum Luxury Resorts in Tulum
Again this is actually outside of central Tulum, but all of the really big resorts like this are. This is the number 2 rated resort in Tulum and if you are staying here it is worth paying for the all-inclusive service as you are a taxi ride away from Tulum's other restaurants and bars. Dreams is an incredible resort with the postcard-perfect Caribbean beach that people come to Tulum for. It is beautifully decorated and has the feel of a retreat center rather than a huge resort.
Dreams is also a great option for family-friendly accommodation in Tulum.
Booking.com rating 8.2
Tripadvisor rating 4.5
What I love about Naala Tulum is the location. It is situated right in the middle of everything but not quite anywhere haha. This means you are in the most central area to be able to easily access Tulum town and the Tulum beach road. You are still likely to need a bike or taxi to get around but it is a great location nonetheless.
I don't know if this could be catalogized as a Luxury Hotel but, I thought it was worth mentioning. The only thing that lets it down slightly is that it isn't directly on the beach but you can rent bicycles at the front desk if you fancy going out to explore.
Booking.com rating 8.5
Tripadvisor rating 4.5
Top Boutique Hotels in Tulum
I actually wrote a whole post just on my top boutique hotels in Tulum that you can read here. But in brief, I have chosen my top two on the beach and in Tulum town for this post. Most of the beachfront accommodation in Tulum are boutique hotels so you will be spoilt for choice if this is what you are looking for.
Top Boutique Hotels in Tulum on the Beach
It is marketed as a romantic getaway. But I actually stayed here with my friend as we wanted to party at Boa Beach Club at one of their Sunday sessions and Mi Amor is right next door. It is a great location and the perfect place to spend a few days or more soaking up the Tulum vibes.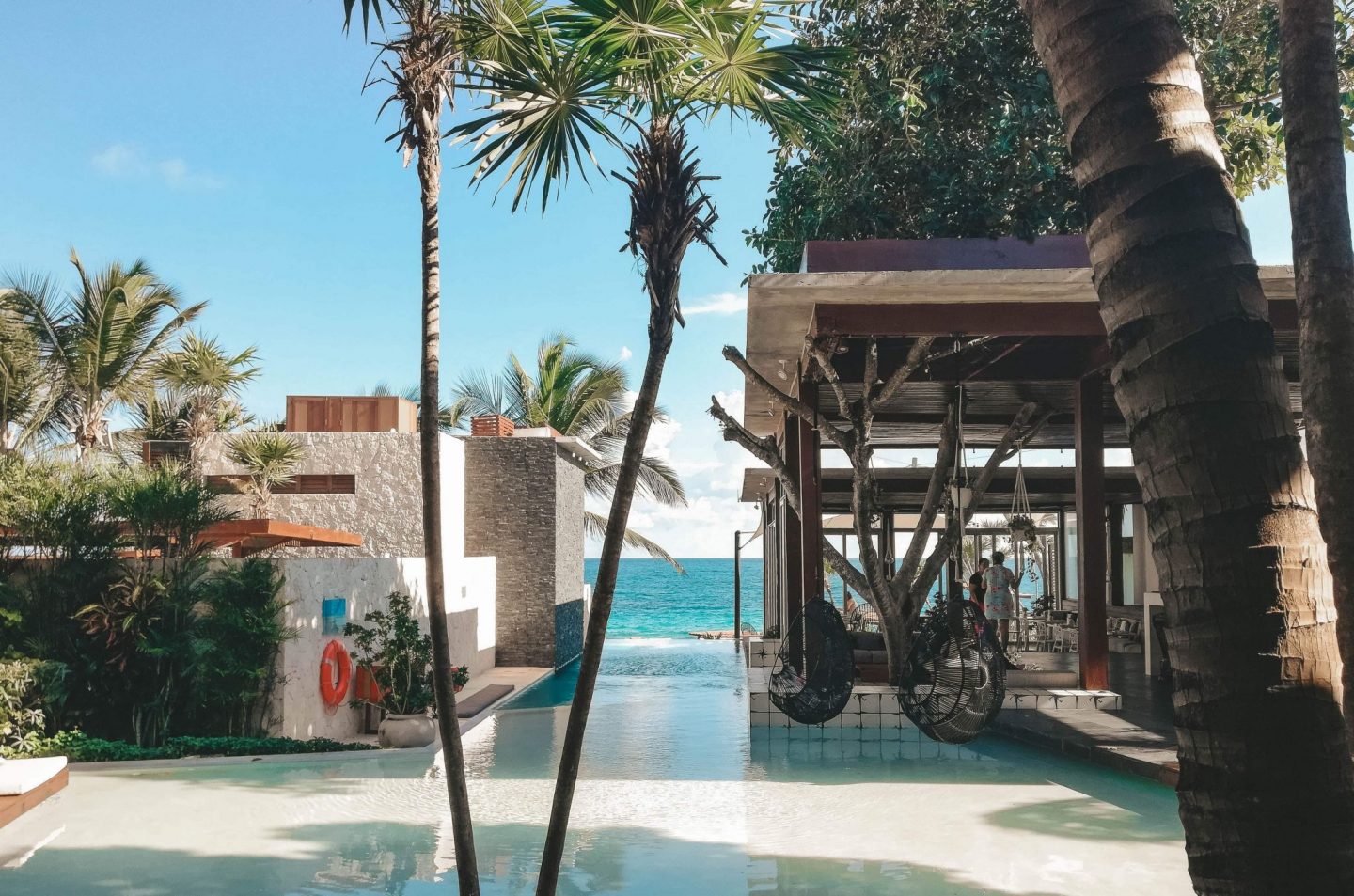 I love the attention to detail in all of the Colibri hotels with always makes them my first choice in boutique hotels in Tulum. Any hotel that has these views, amazing food, and greats me with a complimentary welcome cocktail gets my vote!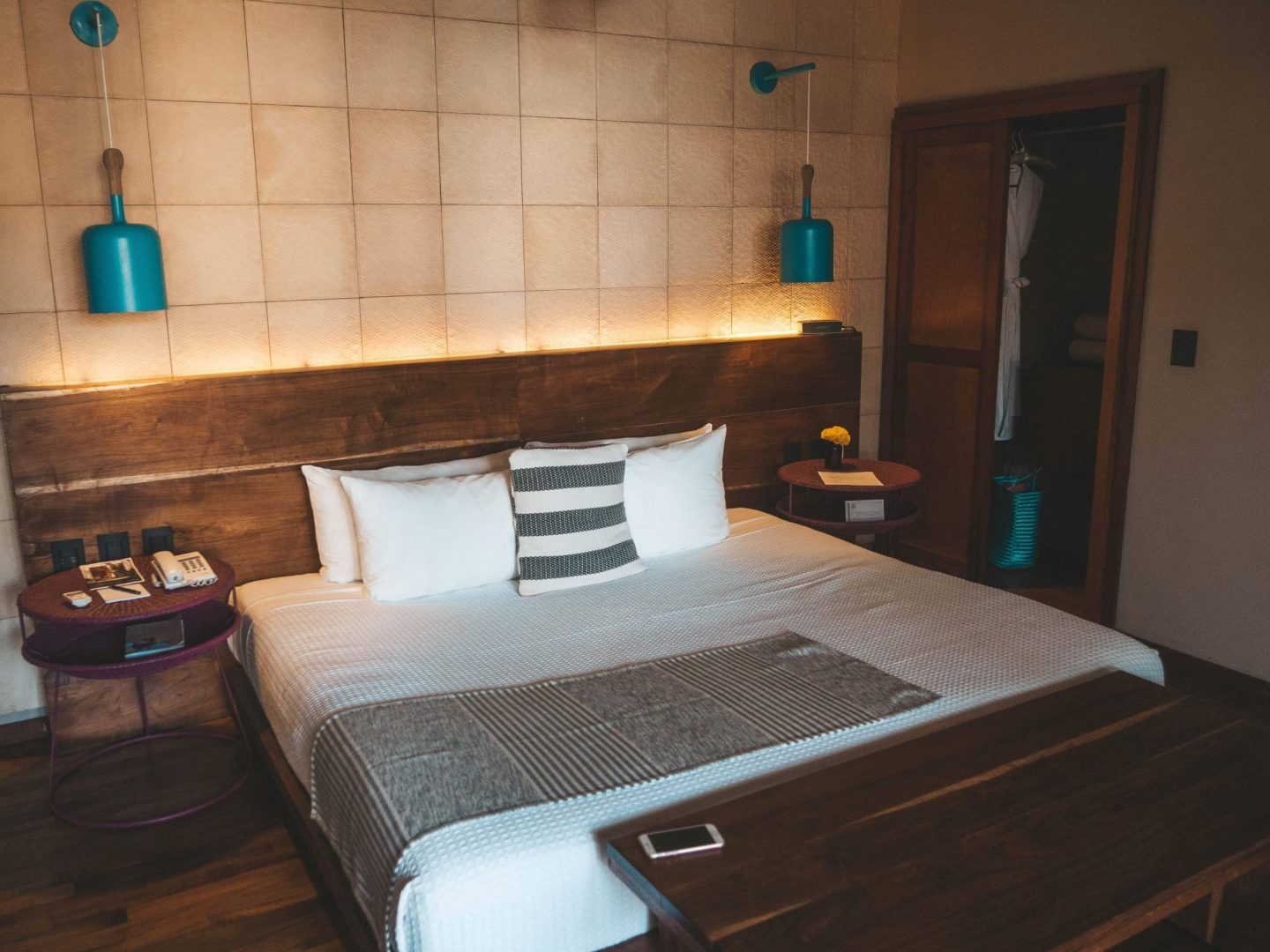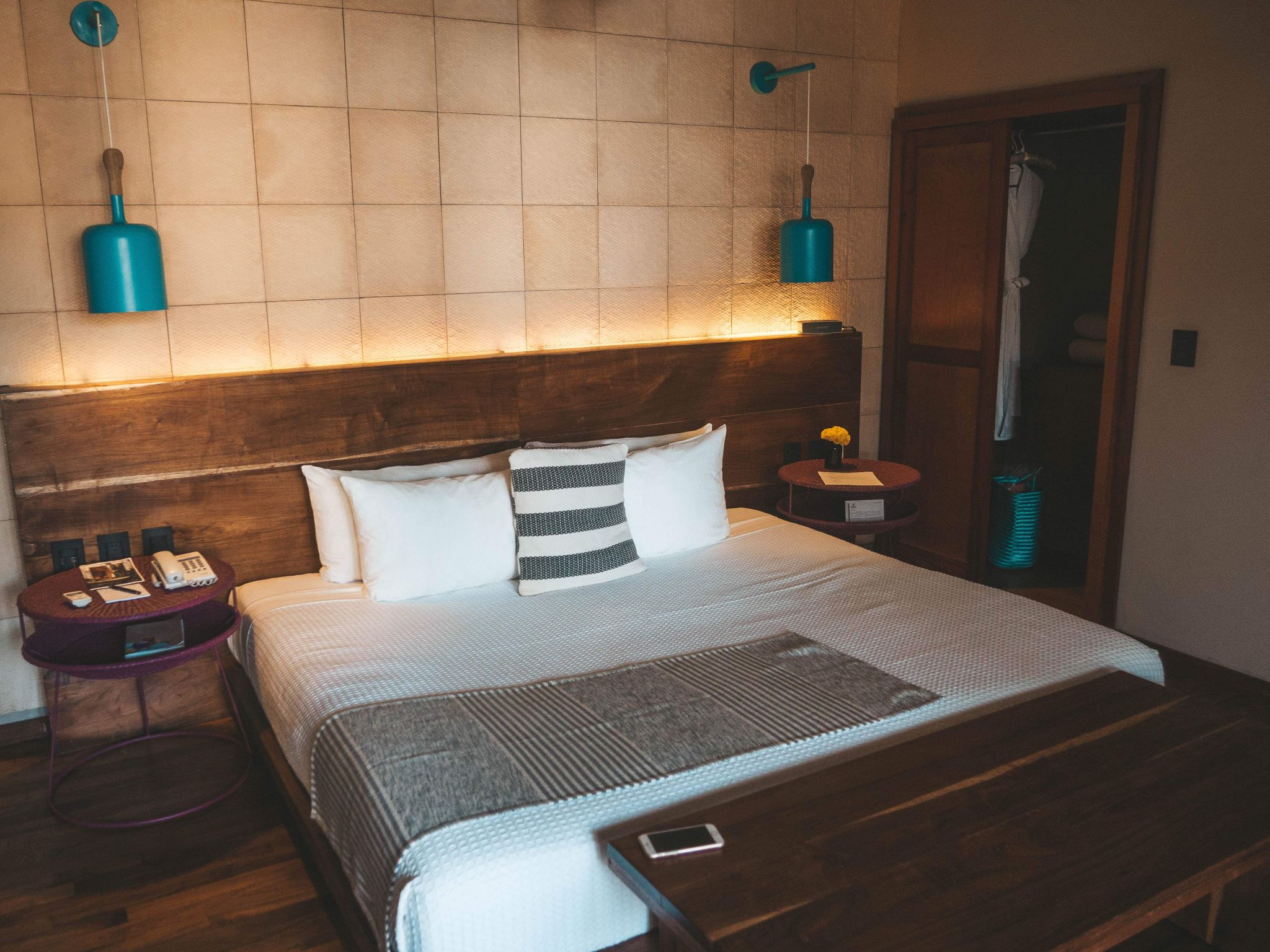 Mi Amor is located on the quieter public side of Tulum beach road next door to Boa.
Booking.com rating 9.3
Tripadvisor rating 5
I am such a fan of La Zebra. Even if you decide not to stay here you need to go and eat in the restaurant! The Chef is a bit of a rising star in Mexico and his traditional Mexican food with a modern twist is phenomenal. I recently got to experience his chef's table and it was an unforgettable night and worth every penny in my opinion. La Zebra Tulum has a great calendar of events including their poplar salsa Sundays and during the high season, they play host The Mulberry project.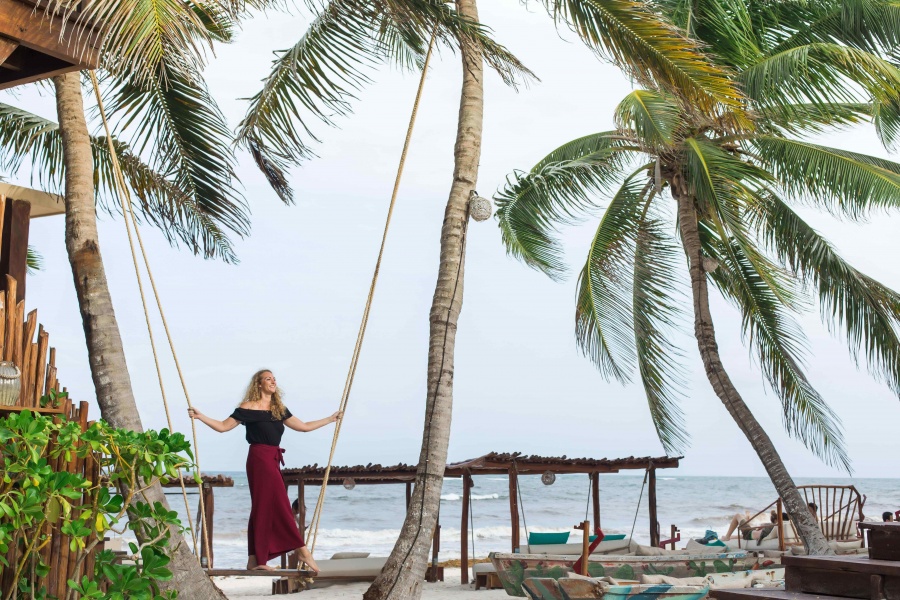 Located on the south side of the beach road La Zebras location is in the ideal place for those of you wanting to visit the most popular restaurants and bars on this side of the beach.
All of this and I haven't even mentioned the rooms, which by the way are incredible. Make sure you book a room with a plunge pool.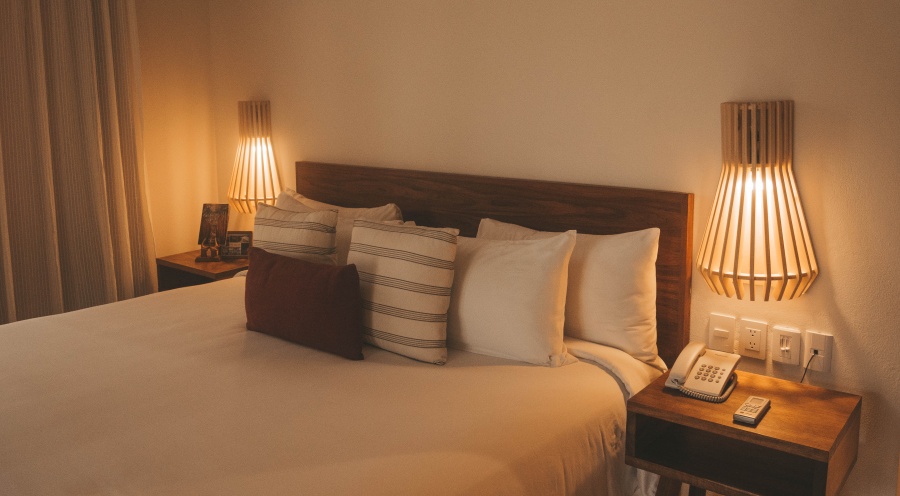 Have you ever been to Tulum if you don't wake up on the beach and drink a morning coffee from your private plunge pool darling?
Booking.com rating 8.9
Tripadvisor rating 5
Other hotels worth mentioning are Tata Tulum (Adults Only), Ana y José Charming Hotel & Spa, and Alaya Tulum.
Need to rent a car in Playa del Carmen?
Whenever I'm in Playa or Tulum I always rent a car through Turismo Channel as they include everything in the quoted price. Car rental companies in Mexico are notoriously tricky to deal with and 9 times out of 10 they will quote you a low price but then when you get there they add on all kinds of insurance and won't give the car to you unless you pay up. It can also take weeks or even months to refund your deposit. I wrote a whole blog post you can read here for more information. If you rent with Turismo channel use the code clairecaroff for a discounted price. You can also send her a WhatsApp message quoting the above codes to receive the discount.
Top Boutique Hotels in Tulum Town
Ok so now onto the boutique hotels in Tulum town. You will sacrifice the beach by staying in the town but you do get more for your money in this area.
This boutique hotel in Tulum town is in a great location, has free bike rental so you can easily get around at no extra cost, and a stunning pool area. There is a continental breakfast included in your stay and you are looking at an average of $200 per night rather than $500 to stay on the beach.
Booking.com rating 8.9
Tripadvisor rating 4.5
Other places worth mentioning are Xscape Tulum, Biwa Tulum, Secret Garden, and Hotel Posada 06 Tulum.
Top Holistic Hotels in Tulum
When I'm asked where the best place to stay in Tulum to really get the 'Tulum experience' I always answer Be Tulum. It nails the whole jungle meets the beach vibe that Tulum is so well known for. With daily yoga from their treetop jungle studio and a wellness center carefully constructed on the jungle side of the road, you can't get more Tulum than be Tulum.
My advice, go for a week! You won't want to leave.
Booking.com rating 9.2
Tripadvisor rating 4.5
Most popular hotels in Tulum (AKA the most Instagrammed hotels in Tulum)
This place doesn't really need an introduction. If you aren't following them on Instagram yet you really need to go follow them now. This is possibly the number one most Instagrammed place in Tulum. If you can't afford to stay there (it is around $1000 plus per night) then you can always eat in the restaurant or take a drink at the bar to get your insta shot!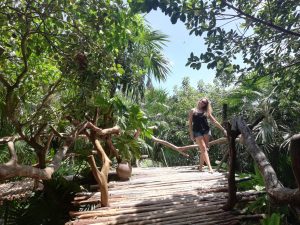 Booking.com rating 8.1
Tripadvisor rating 4
Another Tulum favorite that needs no introduction. Think jungle meets beach in an echo-chic way. They have monthly full moon parties on the beach, regular DJ sets, and temazcal ceremonies. If you are looking for the Tulum holistic bohemium experience you should 100% add this place to your list.
Booking.com rating 7.4
Tripadvisor rating 4.5
The attention to detail here is what you pay for. Situated on the beach front this is my personal favorite for beach chic places to stay in Tulum. It is the perfect place to hide away from the world or a week or two.
Booking.com rating 8.8
Tripadvisor rating 4.5
Best Budget Accommodation near the beach in Tulum
What a find this place was! I paid $25 to stay here for one night. It is very basic so don't expect too much. I mean the shower was the worst I've had in a long time, and this is coming from someone who really doesn't have high standards when it comes to accommodation Honestly I would have preferred a bucket of water. It was so bad I could hardly wash!
But that really was the only negative. The bed was comfortable and clean. You have an area within your bed to lock your whole backpack, a light, and a fan. Plus breakfast is included. But really the best thing about this hostel is the location. You are in staggering distance of all of the top places to eat, drink, and party on the beach in Tulum.
Now if you compare the price tag of $25 a night with a hostel in the center of Tulum it does seem pricey. But the average cost of accommodation in this area of Tulum is around $500 a night! So believe me when I say $25 is excellent value!
Also, this hotel is in the jungle and it is made of bamboo. So if you are a little bit delicate and freak out at the sight of a spider or scorpion then maybe you need to find somewhere else to stay.
Booking.com rating 7.6
Tripadvisor rating 5
I heard about this place from some backpackers I met at a cenote. I decided to go and check it out for myself and it was pretty cool. If I'm honest it wasn't really my vibe. The bed was uncomfortable, it wasn't particularly clean and the food wasn't great.
However, I must admit I'm much happier staying in Boutique hotels these days (must be my age and being on the road so long). I still love staying in hostels, I just prefer something a little more classy. I have spoken to a lot of backpackers who love it here and actually extended their stay so they could hang out here longer.
So I've done the cons, now for the pros. It is cheap! Like $30 for a night all-inclusive. Yep, that's right all of your drinks, food, and even towel and bike rental are included. So yes the food was cheap (what can I say I love my food) but it was included so for the price you are paying it is great value.
This hostel is for all of the backpackers on a tight budget happy to hang out with fellow wanderest drinking beer and eating pizza and fries. The location is great for Tulum Ruins or Playa Paraiso/ Playa Pescadores, but a bike ride or colectivo journey from the town. If you want to go partying in the town or the beach at night you will need to share a taxi or risk cycling.
Another thing I liked about this place was that they have 'free' excursions each day. Normally to a cenote or local place of interest. You do still have to pay the entrance fee but they take you there. It's a really great deal and for all of these reasons if you want to do Tulum on the cheap I would recommend staying here.
Booking.com rating 8.5
Tripadvisor rating 4
Best Budget Accommodation in Tulum Town
This is actually the first place I ever stayed in Tulum and although it is impossible to find because there is no sign on the door it is the perfect little hideaway in central Tulum. They do an amazing breakfast and you can also rent bikes there.
I love the communal area and found the owners to be super friendly and accommodating. I actually stayed in the smaller dorm with the AC which was well worth the extra cost especially if you come during the Mexican Summer when it gets really hot!
Tripadvisor rating 4.5
Hostelworld rating 8.4
This is my current go-to budget place in Tulum. I love the location on the main road between Tulum town and the beach. When I just need a bed for the night in Tulum because I'm working up there or visiting friends I stay here.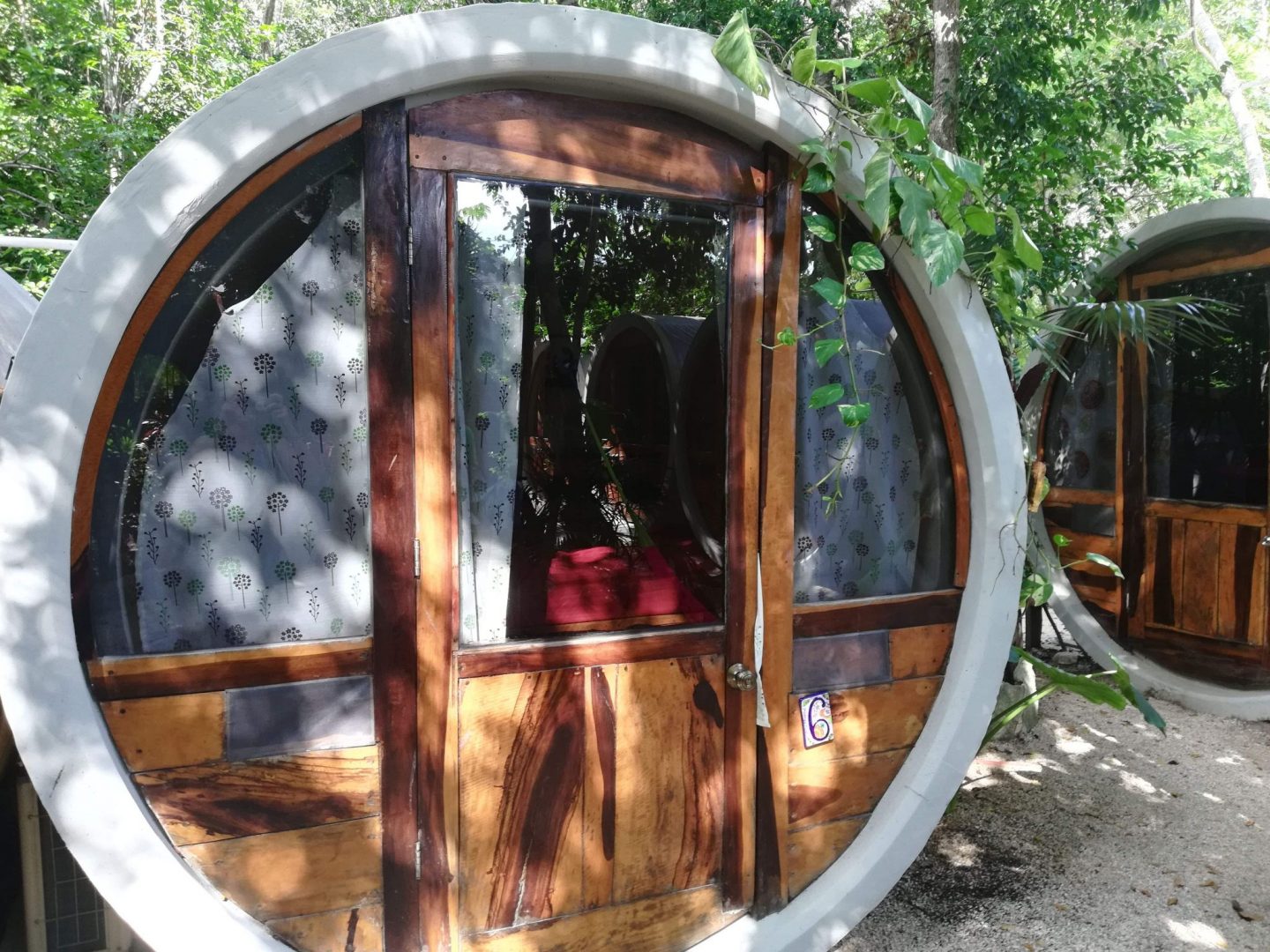 For the price of a night in a dorm room, you can have your only private little tube room. The breakfast is ok and I found some staff more helpful than others but still liked it a lot there.
Booking.com rating 8.5
Tripadvisor rating 4
Pin for Later!
This post was proofread by Grammarly