Despite being the second-largest city in Germany, Hamburg is often under the radar. Most tourists to Germany travel to the capital Berlin or the mountainous regions in the south of Germany. But Hamburg is actually a very fascinating city that is well worth a visit. Something I'm going to focus on in this Guide to Hamburg.
As someone who was born and raised in the metropolitan region of Hamburg and lived and studied there for several years, I have tons of tips and tricks for things to do in Hamburg.
Hamburg is known in Germany as the "Gateway to the World" due to its history as a trade city with one of the largest ports in the world. Locals also like to call the city "the most beautiful city in the world" or their "pearl." While it may be debatable if Hamburg is really more beautiful than cities like Paris, it definitely deserves more attention from international tourists visiting Europe than it currently receives.
Top Things to Do In Hamburg Solo
Hamburg's Speicherstadt
One of the main things to do in Hamburg is certainly a visit to its UNESCO World Heritage site, the Speicherstadt ("warehouse city"). Hamburg gained economic prosperity through trade in goods such as spices, tea, coffee, and carpets. Of course, these goods had to be stored somewhere so the city eventually built the Speicherstadt. Its red-brick buildings are quite impressive, and if the weather is good there are tons of fantastic photo opportunities.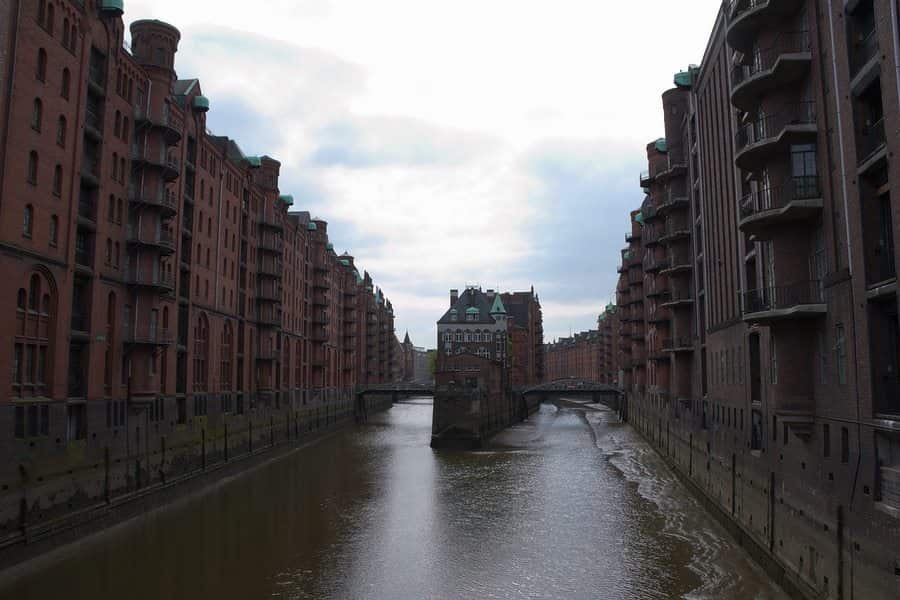 Hamburg's Five Main Churches
From there, you can take a walk through the center of the city where you will see Hamburg's five main churches.
St. Catharine's Church is famous for two things: being the second oldest building in Hamburg, and an organ that was played by Johann Sebastian Bach.
All of Hamburg's main churches were destroyed during World War II. And all of them were rebuilt – except for St. Nicholas Church. The remains are now an impressive memorial against wars. You can take the elevator to the top for a fascinating view of Hamburg.
Hamburg's landmark is St. Michael's Church (St.-Michaelis-Kirche, lovingly nicknamed "Michel" in Hamburg). You can either climb up the 450 stairs to the top of this baroque church or take the elevator. Though, if your fitness level allows it, I definitely recommend taking the stairs to see some details in the tower.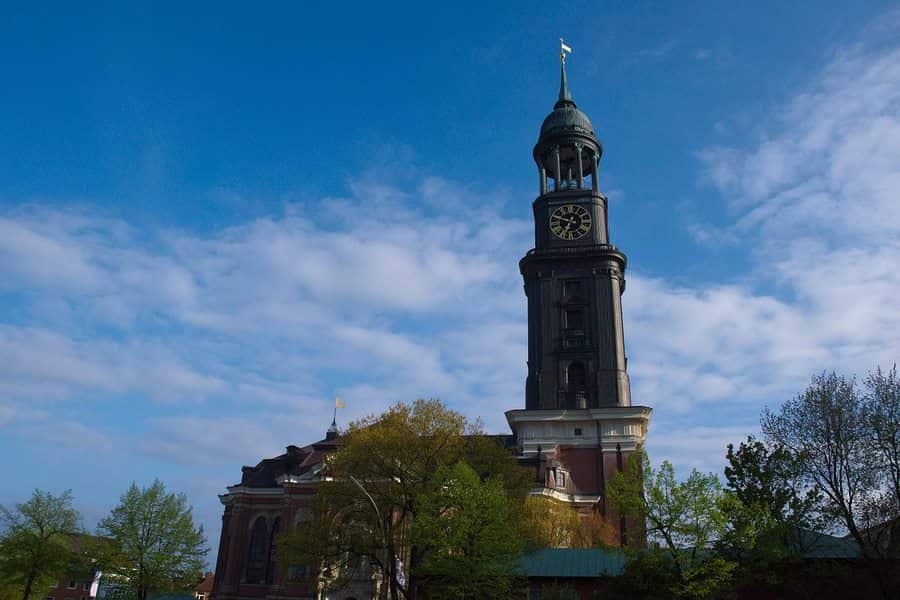 The last two of Hamburg's five main churches are St. Peter's and St. Jacob's church. You can see all the main churches on a walk through the city center.
Hamburg's Canals
As any good guide to Hamburg will tell you. Hamburg is proud to have more canals than Amsterdam and Venice combined. Well, the city is also much bigger than those cities combined. But exploring Hamburg from its waterways provides an excellent overview of the city's history and culture.
There are various routes, of which the most traditional one, the Alsterrundfahrt, will provide marvelous panoramic views of the city.
All of the cruises start from Jungfernstieg from where you can also go and check out the gorgeous City Hall.
Hamburg's Port
A visit to Hamburg simply won't be complete without a walk through the port of the city. Being a port city is what gives Hamburg its unique character. You can either go for a walk around the port area or visit one of the boats and ships that now serve as museums. There is even an old Soviet submarine which you can visit if you're not claustrophobic.
For one of the less common things to do in Hamburg, you can walk through the Old Elbe Tunnel to the other side of the river for magnificent views of the city.
But my top tip is to use the public transport ticket to get on one of the ferries. There's no need to pay for a cruise ship here. Simply get on one of the public ferries and take in the marvelous views from the river. Lines 62 and 64 are great for seeing the old part of the part, while line 72 takes you to the impressive Elbphilharmonie, Hamburg's newest landmark.
Hamburg's Parks
Hamburg is a very green city with plenty of opportunities to stroll through one of the many parks or even have a picnic if the weather permits.
Planten un Blomen is a popular park with different gardens and greenhouses. In the summer, you can attend one of the free water light shows or concerts that take place every night. And during the day, you can sit on one of the chairs and just enjoy the sun.
Hamburg's Stadtpark is where you will find the city's planetarium, but it's also where several open-air concerts take place every summer. Many locals come here for picnics or barbecues when the weather is good.
And then there's Ohlsdorf cemetery. You may find it strange to take a stroll through a cemetery, but Germans love the quiet atmosphere here, and Ohlsdorf Cemetery is the second-largest cemetery in the world. It even has two bus lines.
Blankenese
This quaint Hamburg neighborhood used to be a fishing village but eventually became one of the most affluent areas of the city. Its location in the hills by the Elbe river and the tiny alleyways give it a somewhat Mediterranean atmosphere. It may not top your list of things to do in Hamburg, but if you have some extra hours and the weather is good it's well worth a trip. You can even take a walk along the beach.
Nightlife in Hamburg
Hamburg is world-famous for its red-light district, one of the largest red-light districts in the world. But that doesn't mean there's nothing else to do in the city. On the contrary, Hamburg has one of the best party scenes in Europe. There's something for everybody here. And the best part? On Fridays and Saturdays, the metro system runs all night so it's much easier to get home safely!
Where to Find the Best Bars in Hamburg
The nightlife in Hamburg is great. If you just want to go for drinks there are lots of bars in the popular Schanzenviertel. It may be very gentrified now, but it is still, at its heart, the center of the leftist movement in Hamburg. If you happen to be in the city on a warm summer night, this is one of the best places to meet people. Many young people simply come here with drinks and chat on the main street, Schulterblatt.
Another popular area in Hamburg for drinks is the LGBTQI-friendly neighborhood of St. Georg. It's the center of Hamburg's gay scene, but everybody is welcome.
And then there's picturesque Ottensen where you can find great cocktails for €5 during Happy Hour. If you have several days in Hamburg you can go for drinks in a different neighborhood every night.
Hamburg's Musical Scene
Hamburg is famous for its musicals. There's everything from small productions to elaborate performances of The Lion King. Be aware, however, that all shows are in German.
Concerts in Hamburg
The city is also excellent for concert goers. Concerts are something that you can easily enjoy on your own. Because it's not like you will do much talking at a concert anyway, right?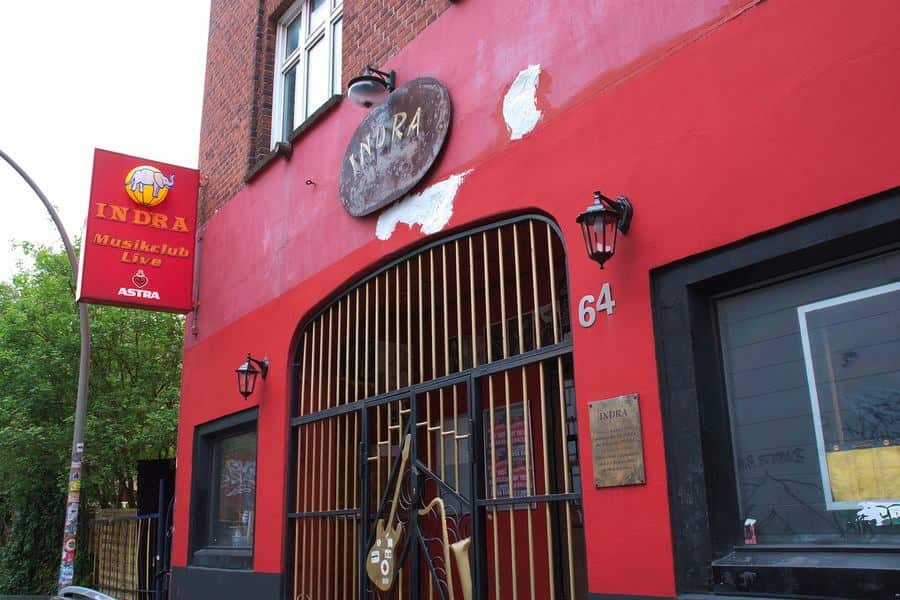 As the home of The Beatles (well, not their actual hometown, but this is where they first started playing professionally), Hamburg is really popular for live shows. You can see live performances in every musical genre. But I'd suggest checking the dates as soon as you book your flight so you can still get tickets.
Hamburg's Club Scene
St. Pauli is definitely a tourist magnet that you might want to check out at least once. And in the Reeperbahn's side streets you can find quirky little bars that play all kinds of music genres. But female solo travelers might find the area a bit too seedy.
However, the best clubs in Hamburg are located a bit further from the red-light district. Under the Sternbrücke bridge, you will find underground clubs such as Waagenbau. And not far from the Schanzenviertel, you can dance the night away at one of my favorite spots: BernsteinBar.
Since people usually hit the clubs from around midnight in Hamburg, they tend to stay out until 5 to 8 am. So if you feel safer going home when it's no longer dark that's perfectly possible.
Generally, it's not considered weird in Hamburg to go out alone so this might be a great way to meet people.
How to Get From the Airport to Hamburg Centre
The airport is connected to the metro system. You can reach Hamburg's Central Station within 30 minutes. Depending on where you are staying, you may have to change lines at some point. But Hamburg's metro system is easy to get around. You could also book a Hamburg airport transfer if you don't want to deal with public transportation.
On the way back to the airport, make sure to get on the first half of the metro. The train is split at Ohlsdorf from where the two parts go in different directions. But don't worry, there are announcements in both parts of the train in German and English so you will still have time to change if you're in the wrong part of the train.
Getting Around Hamburg Public Transport
You will probably walk a lot while you're in Hamburg. Many of the sights in the city center are best explored on foot.
But given the size of the city, you will probably also use the ten metro lines or one of the various buses to get around. You can buy either single tickets, day passes, or weekly tickets, as well as the Hamburg Card which includes entry to some museums.
At night, you can take one of the various night buses, or take a taxi. And on the weekend the metros run all night.
Where To Stay In Hamburg
You should book accommodation in Hamburg as soon as possible because prices are very high and places get booked quickly. Especially if you want to find the best place to stay in Hamburg for your budget.
Airbnb is a decent option in Hamburg and many people actually use it in its originally intended way. People who travel for a while sublet their apartments during that specific time.
The Best Area To Stay In Hamburg
In terms of neighborhoods, you have lots of options. It absolutely depends on personal preference there is no best place to stay in Hamburg. However, just be cautious to ensure that the further away from the center you stay the more you should focus on having a metro stop close by.
One of my favorite Hamburg neighborhoods for accommodation is Eimsbüttel. It's quick and easy to get to from the center but is still a residential neighborhood. That way, you get to know everyday life in Hamburg. And, of course, it also means accommodation here is cheaper.
Here are a few recommendations for accommodations in Hamburg:
Safety In Hamburg Tips
Hamburg is generally considered a safe city. Pickpocketing is common in tourist areas. Especially, in the Reeperbahn area, you should always keep an eye on your belongings.
If there are any protests while you are in Hamburg try to avoid them. The evening of the 1st of May is not the time to explore the Schanzenviertel.
With its many bars, strip clubs, and its entertainment scene, the Reeperbahn area can be quite rough. Physical fights are not uncommon on weekend nights. It's best to know where you're going and avoid arguments.
Be aware that women are not allowed to enter Herbertstraße, the street that lies at the hear of Hamburg's red-light district. While it's not actually illegal to enter, there is a big sign stating that women (and teenagers younger than 18) are not allowed to enter. So even though you can legally enter the street, you might get yelled at or even threatened. For your safety in Hamburg, it's best to just avoid this area.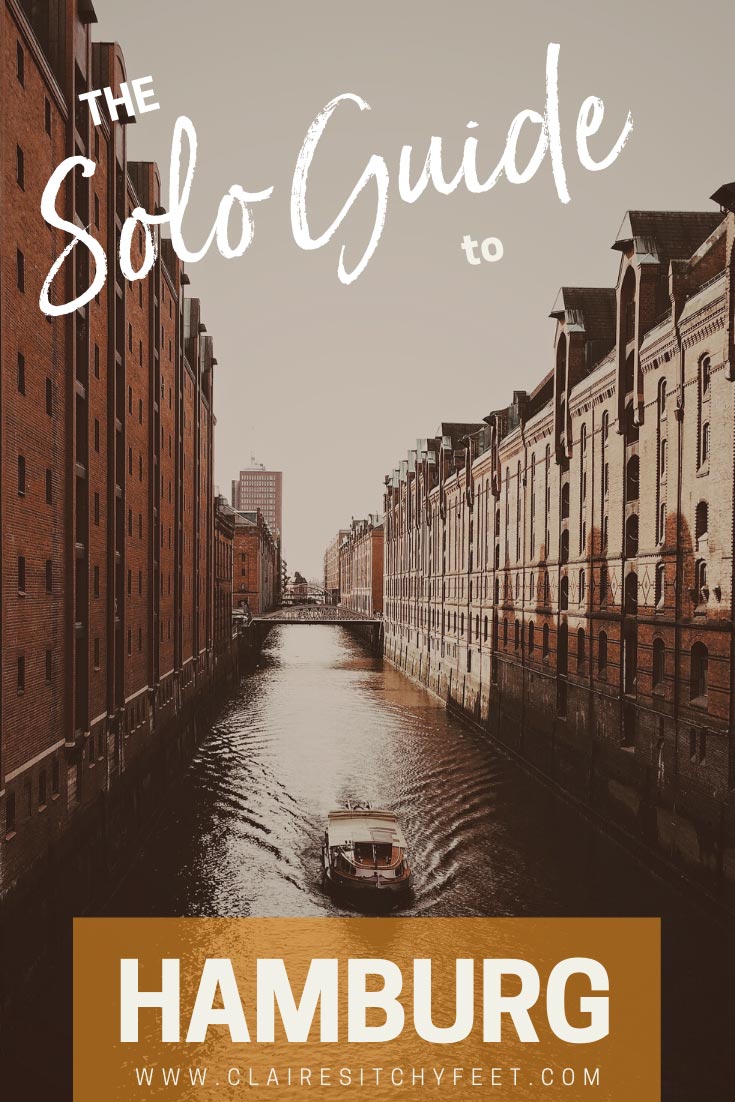 Final Thoughts
Although it's not talked about often as a destination, there are many things to do in Hamburg. From unique architectural highlights to an extensive network of waterways, there is something for everyone in this charming German city. There is more to the city than its red-light district.
Solo travelers visiting Hamburg will particularly appreciate how easy it is to get around as well as the fact that the metro system works 24 hours on the weekend.

About the Author
Nina is a cosmopolitan vegan traveler who was raised in Germany but has lived in Athens for almost 6 years. She is the voice behind Lemons and Luggage, a travel blog dedicated to illustrating the diversity in travel and offering an alternative perspective to male-dominated travel content creators.
As a progressive Muslim feminist traveler, Nina writes without exotification or cultural appropriation.
You can follow her social media accounts at Instagram | Facebook | Pinterest | Twitter | YouTube