With deep cultural heritage and excessive natural beauty, Iran is also known among travelers for having the friendliest people on earth. Can you think of a better combination? In this solo guide to Iran, I'm going to share with you why Iran is the perfect destination for solo travel.
Here in Iran, you will really be looked after by the locals no matter where you go. Be prepared to get invites for dinner, lunch, and social activities. And lots of new friends on Instagram!
If you haven't practiced much Persian yet, get ready to use Google Translate accompanied by lots of loud laughs!
Top things to do and places to visit in Iran
Iran is such a huge country with so many places to see and things to do. Here are some of my favorite Iran highlights you should not miss on your solo trip to Iran.
Isfahan
As one of Iran's most beautiful cities, there are plenty of things to do in Isfahan and you should probably spend 3 days or more in the city to get the most out of it without rushing through it. The most attractive mosques that you should not miss are Jameh Mosque, Sheik Lotfollah Mosque, and Shah Mosque.
The two latter are situated on the main square, Naqsh-e Jahan square while Jameh Mosque is connected to the square through the bazaar.
You should also go and see the two old bridges in the city that cross the dried-out river that once flowed vividly through Isfahan. They are especially spectacular at night when they are lit up. And if you visit Khaju Bridge at night, you can observe the local guys sing and dance under the bridge. You can also go hiking for incredible views of the foggy city.
Kashan and the Maranjab desert
This ancient city has endless sites to visit and you won't run out of things to do in Kashan for at least 3-4 days. There are numerous historical, traditional houses that can be visited where you can travel back in time and get a feel of how the wealthy families lived back in the days. Also, the bathhouse is a spectacular architectural wonder. Except for mosques and the bazaar, you should also go on different excursions from the city.
Visit the Fin Garden, which is the biggest remaining garden in Iran. Situated only a few kilometers outside Kashan you find one of the world's largest underground cities, Noushabad. Next to it are the remains of Noushabad Castle which was built with the mud they pulled out of the ground building the underground city.
For a day trip, you should also take a desert tour to the Maranjab desert including the Salt Lake and caravanserai. This tour is quite expensive to take alone as they charge a fixed price for the car. Therefore, I suggest you ask other guests at the hotel if they want to share or even ask your hosts if they know anyone that arranges trips that have a spare seat so you can share the expenses. If you check this out on the first day in Kashan, you can be flexible with which days you go sightseeing.
Garmeh desert oasis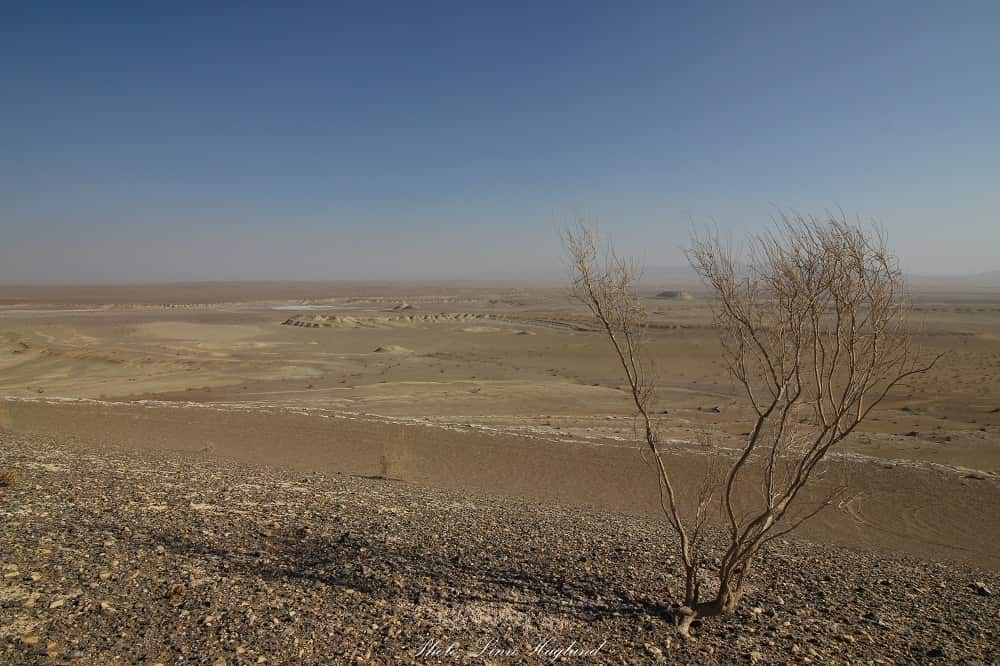 A delightful oasis in the Dasht-e Kavir desert, Garmeh has become a popular destination for travelers, both Iranians, and foreigners. For years the little town was deserted as all inhabitants moved to the cities for work. That was before a local decided to move back and build a guest house. This gave plenty of jobs and slowly the locals started moving back to Garmeh as they had the opportunity to earn an income to support their families.
Today, Ateshooni Guest House is a popular getaway. The owner plays music in the late evenings in the common area, sometimes accompanied by friends. He is multitalented and plays anything from drums, old pots, to didgeridoo. When I was there, he played with two of his friends that sang and played guitar. It was truly magical.
Garmeh is pretty small and half a day of exploring old paths and lost gardens, the little spring and going for a walk up the mountain for the views will do. Right next to the guest house you see the ruins of an old mansion which is pretty cool to walk through.
Unfortunately, large parts of it are used as landfills, but the rubbish aside, it is an incredible opportunity to walk through rooms and halls once-wealthy which today are only clay skeletons. Apparently, the children of the owner have been fighting over what to do with it since they inherited it so now it's just rotting and serving as a dumping ground and fun place to explore for the adventure traveler.
However, the main reason most travelers end up in Garmeh is that they want to experience the desert. At the guest house, they offer day tours or overnight tours where you sleep under the stars. You will go to a salt river and have delicious food served with hot tea in the desert. Truly magical, but there is one backside as a solo traveler. The price.
The desert tour is pretty expensive if you do it alone, so if you are on a budget, you would have to try to find some other guests that want to go on the tour with you. One tip is to call the guest house before you go to Garmeh and ask if there is anyone that wants to share with you and that way you can plan your trip accordingly so you arrive there on a day when it works out.
Abyaneh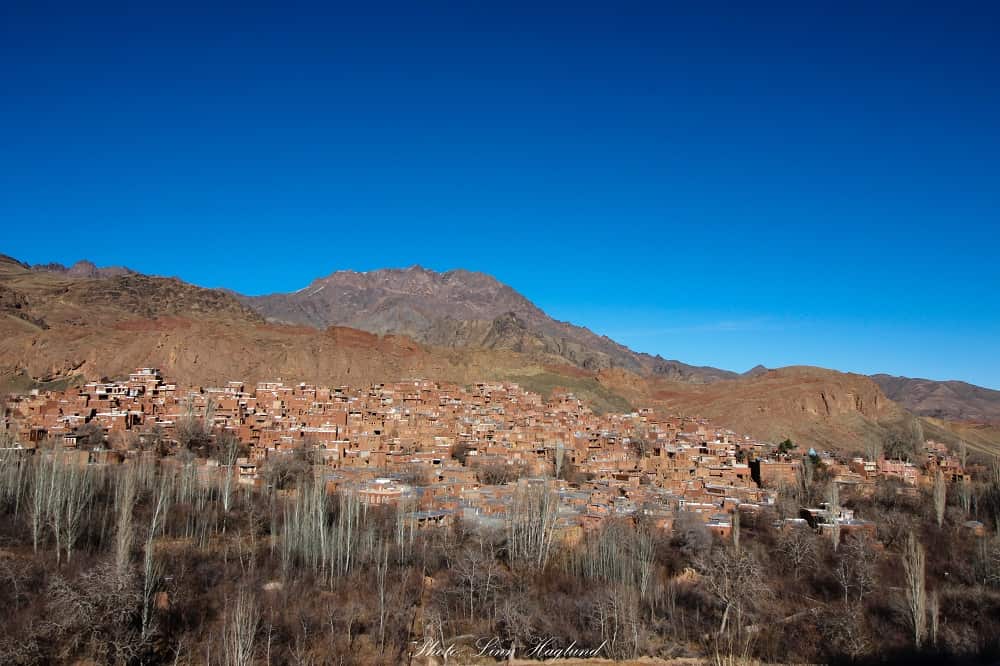 Abyaneh is a small, traditional village in the mountains between Kashan and Isfahan. It is also known as the red village, recognized for its red clay houses covering the hillside. The deep red color is a result of the high level of iron oxide in the soil. To get the iconic view of the village you need to go up the hill to a ruined fortress. The walk is incredibly beautiful and, on the way, up you pass several abandoned cave houses, make sure you enter some of them!
Being one of the oldest villages in Iran, situated 2235 meters above sea level, there is no doubt this is a popular place to visit both for Iranians and foreigners. The villagers have preserved the traditional language, customs, and clothing from before Islamic times. Therefore, make sure you are respectful towards the locals and especially remember to ask before taking photos of old ladies in traditional clothing.
NOTE: There is a large area before arriving in Abyaneh which is strictly prohibited to photograph. If you travel independently by car, I suggest you don't stop anywhere on your way to the village to take photos as this could land you in jail. Better be safe than sorry.
Tehran
The bustling capital of Iran is a great mix of modern cafes and colorful palaces with a breathtaking backdrop of the Alborz mountains rising above the city smog. It is definitely worth spending a few days there. Get lost in the Grand Bazaar and explore the scents of spices, tastes of dried fruit and nuts, gaze at dusty rugs, or just chat with people. Climb the Milad Tower for the best views of the city, though also the Azadi Tower has nice views. Go to the Golestan Palace to get a peek into the wealth of the Qajar era.
If you are in need of nature, head north to Darband and take the chair lift up the mountain where you can go hiking for an hour or ten. Remember to turn around to get a glimpse of Tehran through the smog below you. On the way back down, you can go for a stroll around the charming Darband village and try some delicious street food.
Tehran has a well-functioning metro system so you can easily get around to all the main attractions in the city.
Nightlife in Iran
As an Islamic state, it is prohibited from alcohol in Iran. Therefore, you won't find any nightclubs around. However, teahouses are busy in the evenings. If you ever get invited to a teahouse in Isfahan or Tehran at night with a local, go for it. It might not be exactly the kind of teahouse you had imagined.
But these places are usually a bit out of the center and you won't find them by yourself. I found the most sociable at night was to hang out at the hostel and chat with other travelers or even to the hosts. And drink tea, of course. That said, there is a lot of life in certain parts of the major cities, to mention one, the Armenian quarter in Isfahan was boosting with life after dark.
How to get from the airport in Iran to the city
Whether you fly into Tehran airport or Isfahan airport it is easy to get to the city from the airport.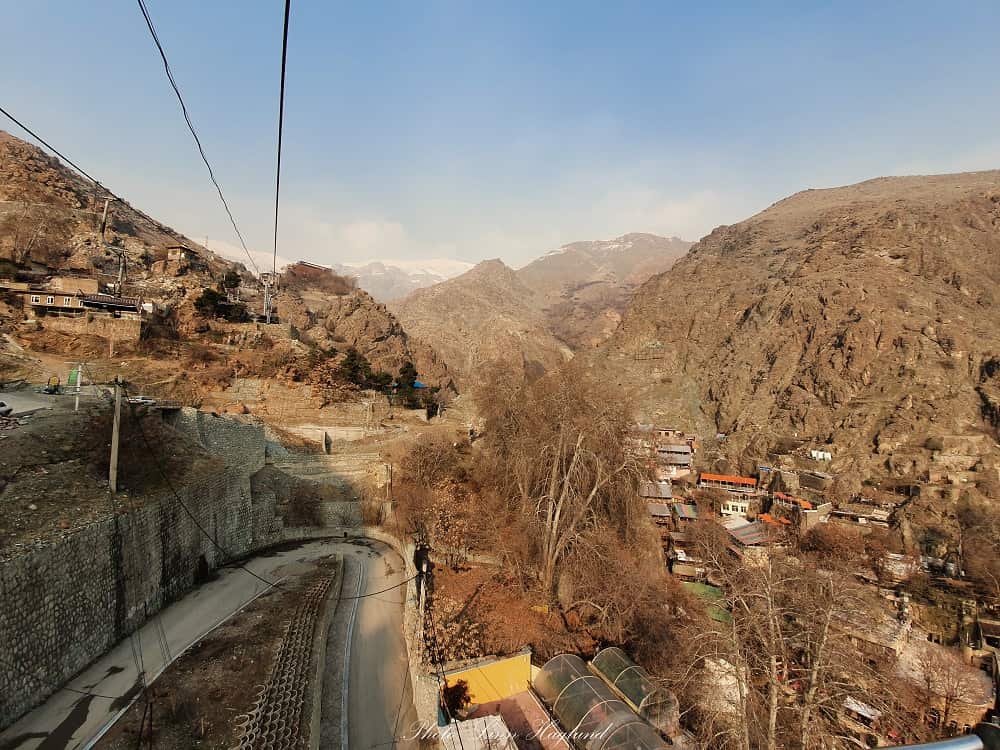 From Tehran Airport To The City
From Tehran airport to the city center you can travel either by taxi (fixed price), Snapp (the equivalent of Uber – ask for help to upload and use the app), or by metro.
You need to change metro at the end stop from the airport (30 minutes) and then take the red line about an hour to get into the city center. There are women-only carriages on the metro and the rest are for both men and women. If you opt for the metro, you can easily ask for help and directions. As mentioned before, Iranians are super friendly and helpful, especially if they see that you travel alone.
From Isfahan Airport To The City
From Isfahan airport, you can get to the city center by taxi or order a Snapp which is the Iranian Uber. You will need an Iranian SIM card activated before you can use it. The easiest way to make it all work is to ask for help.
Public Transport in Iran
Getting around in Iran is easy and generally very safe, even as a solo female. There is a very good bus service between the larger cities with good options for smaller places too. Make sure you check up in advance when the buses leave and book your ticket in advance if you go to smaller places like Garmeh as there might only be one bus a day.
It is not allowed for men and women to sit next to each other on the buses, and on the local buses, women sit in the back and men in front. While the long-distance buses have seat reservations, you don't have to worry as they make sure men and women are not placed next to each other. If you pay a little more, you get on a VIP bus with extra legroom which is really worth it for the small extra fee.
There is also a good train network in Iran which takes you between the big cities.
Otherwise, a good option if you want to stop by places on the way to your destination, is to get a private driver. They don't charge that much and it is a good way of communicating with a local (though not all drivers speak English that well)
It is said that traffic in Iran is extremely scary, but compared to other places in Asia and even Africa and South America I didn't find it particularly noticeable. That's why I would say that if you have traveled a lot to other continents, you probably won't think much about it.
However, if you haven't traveled too much you might need to look away and breathe deeply. One thing I have learned is that wherever you are in the world, they have their own system when they drive, and it usually works fine. It's when you come to a place where that system is the complete opposite of what you are used to that is seems scary. So, trust the locals, they know what they are doing, believe it or not.
Accommodation in Iran
There are so many friendly guest houses in Iran and even if there are not many other travelers, the hosts will usually do anything they can to make their solo travelers feel welcome and taken care of. Prepare for long talks, uncountable cups of tea, and amazing food.
In Tehran, a few hostels that stuck out for meeting other travelers are HI Tehran Hostel, See You In Iran Hostel, and Heritage Hostel. Especially the first was really great and as a female traveler you can take off your hijab once inside which is relieving.
In Isfahan, I can warmly recommend Anar Guest House. The girls that run this hostel are super friendly and if they don't have other plans, even take you out at night to explore Isfahan nightlife like a local. They also have a homestay with their parents where you can expect to get served traditional Iranian breakfast on the floor.
Safety tips for Iran
In general, Iran is an extremely safe country, probably the country I have felt the safest. I didn't feel unsafe one single time, not even after dark. That said, it doesn't mean you don't need to be careful. As a solo female, be aware of men approaching you and be selective of who you spend time with or not. Like anywhere, really.
Personally, I didn't have any uncomfortable experiences other than a couple of men that started walking with me and talked and talked. I never felt threatened in any way and once I decided it was enough, I just turned to them, smiled, and said: "thank you, it has been a pleasure to talk to you, have a good night." To my surprise, they smiled back, thanked me for letting them talk to me and turned happily around in the opposite direction. I must say, that has never happened any other place I have traveled solo.
Other than that, in the big cities, you need to watch your stuff as in any other big city. But no special precautions other than common sense are really needed in this friendly country.
Final Thoughts
Altogether, Iran is destined to give you unforgettable travel experience, and as so many other travelers have said, it is the people that make the unique experience. Make sure you make time to talk to the locals, don't rush, say yes if you get invited for lunch or for tea (whenever it feels right of course!), make room for Google translate conversations. Slow down instead of ticking places of your bucket list because the true experience lies in the people of this spectacular corner of the globe.
Author Bio
Linn Haglund is an avid traveler, originally from Norway. She slow traveled for years after finishing her degree in Tourism and Communication but has now been settled in southern Spain for the last 6 years. Throughout the years of traveling and living abroad, Linn has felt the negatives of tourism close up. This has made her truly passionate about using tourism for good and she founded the travel blog Brainy Backpackers to help other travelers explore this wonderful planet in a responsible way.