Spain is an absolutely beautiful country to visit and in this Madrid solo travel guide, I'm going to share everything you need to know about traveling solo in Madrid.
Incredible history, loads of culture, excellent food, fascinating architecture… all of that can be experienced all over the country, especially in its capital, Madrid. A wonderful city full of life, it can quite honestly be said that Madrid never sleeps. No wonder you're itching to visit it all by yourself! You won't be disappointed no matter what you're looking for, but it's always good to have a plan.
After visiting Madrid myself, here are a few tips for everyone who wants to experience this fantastic city on their own.
Did You Get Travel Insurance Yet?

If 2020 taught us anything, it's that you need to be prepared for anything!

The Insurance companies I personally recommend are Hey Mondo, Passport Nomads, Safety Wing, and Travel Insurance Master

Hey Mondo is great if you are looking for a great value flexible policy. They offer single-trip cover, annual multi-trip cover, and long-term travel cover.

Passport Nomads provides the most comprehensive cover for Digital Nomads. If you find yourself in need of medical care you just contact them and they will pre-load your card with the funds to cover your treatment, meaning you won't need to pay out of pocket and then put in a claim later.

Safety Wing is great value with monthly cover starting at $39. It's super easy to use and it just renews each month. I currently use them as they offer me free cover for my son as part of my policy.

I also use Travel Insurance Master for short trips.

Read my full travel insurance post here where I go into detail about all 4 companies.
Top Things to Do in Madrid
While traveling on your own really does give you an incredible sense of freedom, there are some things in Madrid every visitor should do. It simply wouldn't feel right to skip them. Therefore, make room in your itinerary for one day in Madrid for the following after a night at one of the best boutique hotels in Madrid:
Royal Palace in Madrid
You can't come to Madrid and not visit the Royal Palace. That's just wrong. The Royal Palace in Madrid is the largest of its kind in Europe, with literally thousands of rooms (more than 3000, actually), most of which are open to the public. You have the option of buying a ticket for a guided tour or you can walk around on your own, but in any case, don't miss the throne room, the Royal Armoury, and loads of fantastic art. You will be left speechless in this lavish interior.
Temple of Debod
Once you're done with the palace, head a bit north to find this incredible place. The Temple of Debod is a genuine Egyptian temple, built all the way back in the second century AD. What is it doing in Madrid? Well, it's a gift from Egypt as a sign of gratitude for Spain's help in the construction of a dam. The temple is in a park, surrounded by water, and is quite a magical sight to behold.
Gran Via
Quite close to the temple is Gran Via, which you will want to walk through if you really want to experience Madrid's vibe. This is a bustling street full of people, shops, cafes, street performers… the lot! Perfect for some serious people watching and/or shopping. The pulse of the city can clearly be felt here, and experienced travelers will know to appreciate what it has to offer.
Plaza Mayor
From Gran Via head to Plaza Mayor, Madrid's main square. It is quite a beautiful square and another excellent place for people watching, but be warned that the coffee in the cafes around here gets pricey. I found it extremely charming that the buildings surrounding the square are residential – kind of makes the place feel more homely. Definitely one of THE things to visit when in the city.
Retiro Park (Parque del Retiro)
We have already mentioned a park, but Retiro is the most popular place of that kind in Madrid. This property used to belong to the royal family, and it shows! A lake in the middle, incredibly beautiful greenery all around you, an intriguing pavilion, and an incredible old tree – planted in 1633! – are just some of the highlights. Places for a walk in the sun don't come much better than this.
Prado Museum
Right next to Retiro Park is arguably the most important place to visit in Madrid – the Prado Museum. This is one of the most famous museums in the world, with one of the largest collections which include numerous priceless pieces from artists like Goya, Rembrandt, Botticelli, Rubens, and many others. Having just celebrated its 200th anniversary (the museum was founded in 1819), this is an absolute must on every trip to Madrid, and the ticket prices are quite affordable, too (15 euros). DO NOT MISS THIS!
Santiago Bernabeu Stadium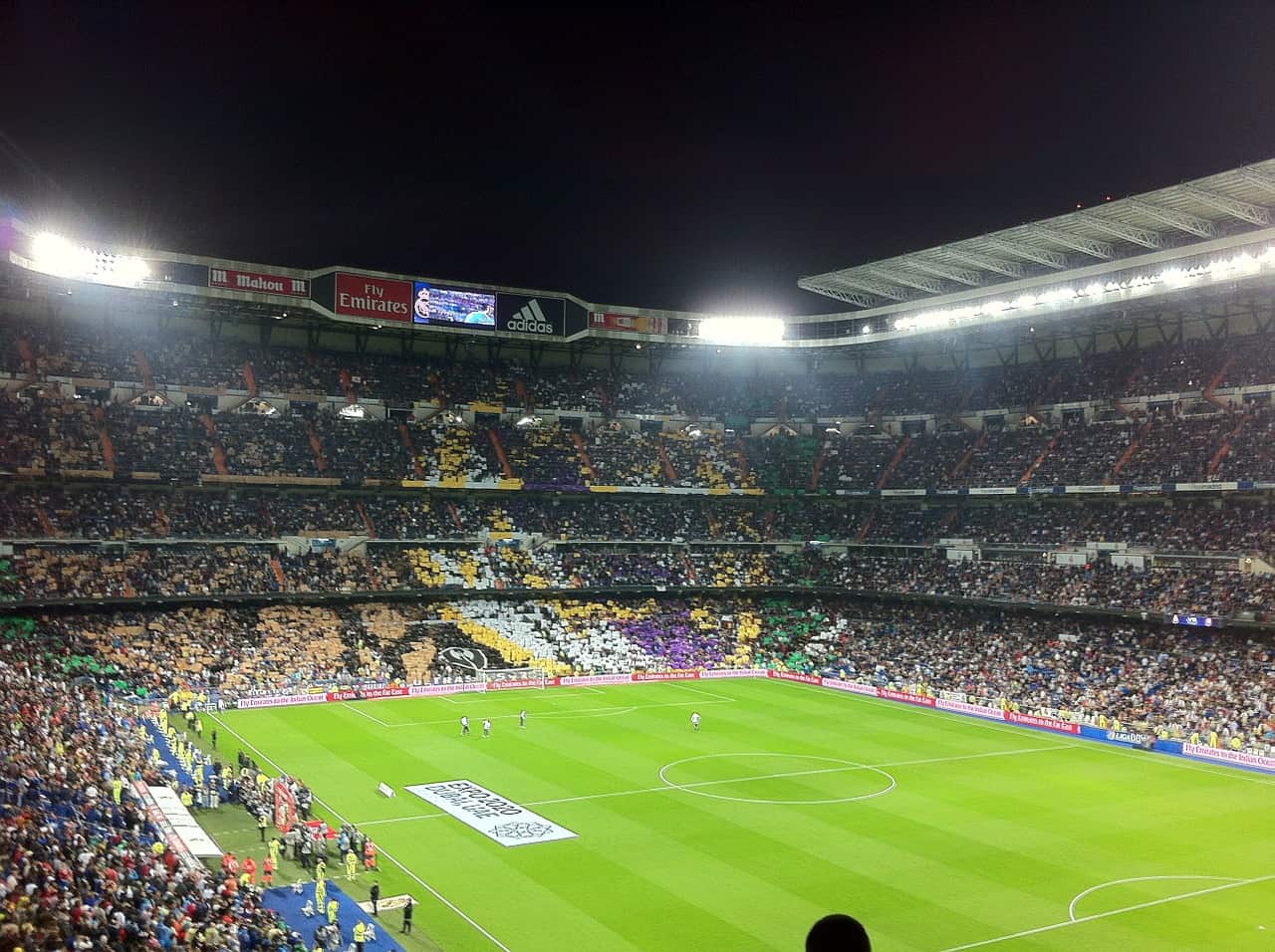 This impressive stadium is home to Real Madrid, one of the most illustrious and most successful football clubs in the world. Take a tour to learn more about the club's impressive past and peek into the trophy room to see the replicas of the Champions League trophies. You can also visit the changing rooms, along with plenty of other details. Every true sports fan will adore this visit.
Things to Do in Madrid at night
For unwinding in the evening, I chose some of the numerous tapas and regulars bars around the city. A lot of people go out at that time, so you really get a pleasant sense of things going on around you. The La Latina neighborhood was particularly attractive to me because it had a fairly relaxed vibe and is home to some of the best tapas bars in Madrid where you can sit down for dinner.
Malasana is another part of the city you can aim for if you're looking for a night out, as this is one of the favorite spots for the young people in the city. It leans more towards parties, though, although the main square (Plaza Dos de Mayo) is a great place for foodies. For LGBT+ travelers, there are a ton of bustling Madrid gay bars and clubs to explore, ranging from cozy cocktail bars to mega-clubs.
If you're not up for partying, there are some very interesting tours you can take. The one about the Spanish Inquisition was particularly interesting, with plenty of cool ghost stories. There is also a walking tour with a flamenco show you can take, and these two really seem like great things to do solo in Madrid if you don't want to sit in bars/clubs.
How to Get From the Airport to Madrid
If you're coming to Madrid by plane and need to get from Madrid airport to the city center, worry not. There are two Metro station terminals right next to Baraja Airport, and Line 8 connects it directly to the city center. The trains are just five minutes apart, so you'll never wait for one long.
Apart from that, though, you have plenty of options, like specialized airport transfer, the Airport Express bus, and taxi. You can also rent a car at the airport, plus you can use Uber. For me, though, the Metro was perfect.
Oh, and there's a very nice little hotel near the airport – UVE Alcobendas.
The form you have selected does not exist.
Getting Around Madrid
Most of the public transport options have been covered in the previous paragraph. Just a few extra pieces of info, though: you will recognize Madrid city buses by their blue color, and generally speaking, one ride, no matter which type of public transport you're using, will cost you about two euros at most. Great deal, but you can do better if you buy a pack of 10 tickets for 12.20.
There's also Uber. What's interesting about this mode of transport in Madrid is that the company's drivers there are required to have special licenses meant for professionals. Therefore, not everyone can drive for Uber in the city, which helps maintain a high standard of service. Also, if you're a woman traveling solo in Madrid, you kind of feel more relaxed with a professional than if just any random guy picks you up in a foreign country.
If you want to set up a day trip from Madrid, consider cercanias, trains that connect the wider area around the city.
Personally, I felt safe no matter which form of transportation I took: metro, taxis, Uber, buses… no unpleasant surprises whatsoever. Taxi drivers were exceptionally professional and polite with me, and every drive was a pleasant one.
Best Places to Stay in Madrid Spain
Madrid has an excellent choice of hotels, especially in the wider city center. What is amazing about them is that so many of them are in buildings from the 19th century but which have, of course, been renovated to perfection. Therefore, apart from great accommodation, you will also get to know a small piece of Madrid's history, as well.
The Principal Madrid is the perfect example of that – not only is it in a building from 1917, but it also offers its guests a spectacular view from the rooftop bar. Hotel Preciados (four stars) is in a building from the 19th century and another great example of what the hotels in the city have to offer, whereas B&B Hotel Madrid Centro Fuencarral 52 has three stars, provides excellent value and is also in a 19th-century building. Incredible, right?
As for hostels, Gran Via Open Hostel is by far the most popular choice in the city, also located in the city center.
Safety Tips for Madrid
I must admit that I felt perfectly safe while in Madrid. The people are friendly, very welcoming and generally, you don't feel threatened or anything of the sort, so you are able to enjoy the city fully. Madrid is actually fairly safe according to all statistical data.
Do be aware, however, that the number of pickpockets is relatively high, so keep your stuff close to you and maybe get one of those travel wallets or something like that to make sure nothing bad happens. Be mindful of your purses, phones, and all those things. Also, the neighborhood of Lavapies is generally not recommended for tourists, especially at night, and Retiro Park should be avoided in the late hours, too.
Pin for Later!
Final Thoughts
Madrid is without a doubt a city worth visiting while you are in Europe and I hope this Madrid solo travel guide has been of help to you. It is full of life, history, culture, fascinating architecture, and many other things that will make you stand in awe. Walking its sunny streets and savoring the fact that you're actually there is quite a special feeling, especially with all those people scuttling around you. So if you're thinking of traveling there, even if by yourself – go for it! The city is safe, its transportation system is excellent, and a visit to Madrid will surely be a trip you'll remember forever.
If you are unsure about what to pack with you, take a look at this Packing Advice for Europe to help you out.
If you are planning to extend your journey to Malaga, here is a list of free things to do in Malaga that you should check out!
About the Author:
Anca is the founder and chief editor of One Day Itinerary, a travel blog dedicated to those who want to make the most of their time in a new city, even if they only have only one day there. Thanks to the fact that she has traveled literally all over the world, she can tell you the dos and don'ts of pretty much every major city. As a matter of fact, she's already done so in her blog posts.