Looking for yoga Playa del Carmen? In this post, I'm going to share all of the best yoga studios in Playa del Carmen Mexico, and of course, some of the teachers to look out for.
Before we begin, I just wanted to say I was a yoga teacher in Playa del Carmen for several years so I know this subject well. A lot has changed over the past few years and some information available about Playa del Carmen yoga classes and studios are very out of date. I will keep this post up to date with any new studio openings or closings.
Yoga in Playa del Carmen is everywhere. Trust me, you will not struggle to find a yoga class here in Playa so don't forget to bring your best harem pants! What you will struggle with is deciding on a yoga studio in Playa del Carmen.
That said each of the yoga studios has a very different vibe to it so when you are first looking for a class, don't be afraid to try out a few different places. But most importantly try out a few different teachers!
Part of the reason I stayed in Playa del Carmen as long as I did is because of the yoga there. You can take classes easily in both English and Spanish, and there are so many amazing teachers you will be spoilt for choice. In addition, there are plenty of yoga retreats in the area and several different options for yoga teacher training in Play del Carmen.
Sunrise Yoga Playa
My personal favorite way to start the day when I'm in Playa del Carmen is on the beach at sunrise. The only way to describe these sunrise yoga Playa del Carmen sessions is yummy! Led by a friend of mine Saul, you will find him there on the beach at CTM 20 minutes before sunrise each day (yep even Christmas morning). The best place to get the most up-to-date information is via Instagram here.
Classes are by donation with a suggested donation of $100 pesos. Make sure you bring your own yoga mat or a towel. And don't forget your swimsuit so you can go for a post-yoga swim!
Playa Yoga Tribe
I had to put Playa Yoga Tribe first as it's where I teach! Playa Yoga Tribe functions very differently to the other yoga studios in Playa del Carmen as it is more of a collective of teachers. The studio itself is inside Hotel Aventura Mexicana, although you may often hear it referred to as Kava Kasa this is because before it became Playa Yoga Tribe it was a bar called Kava Casa.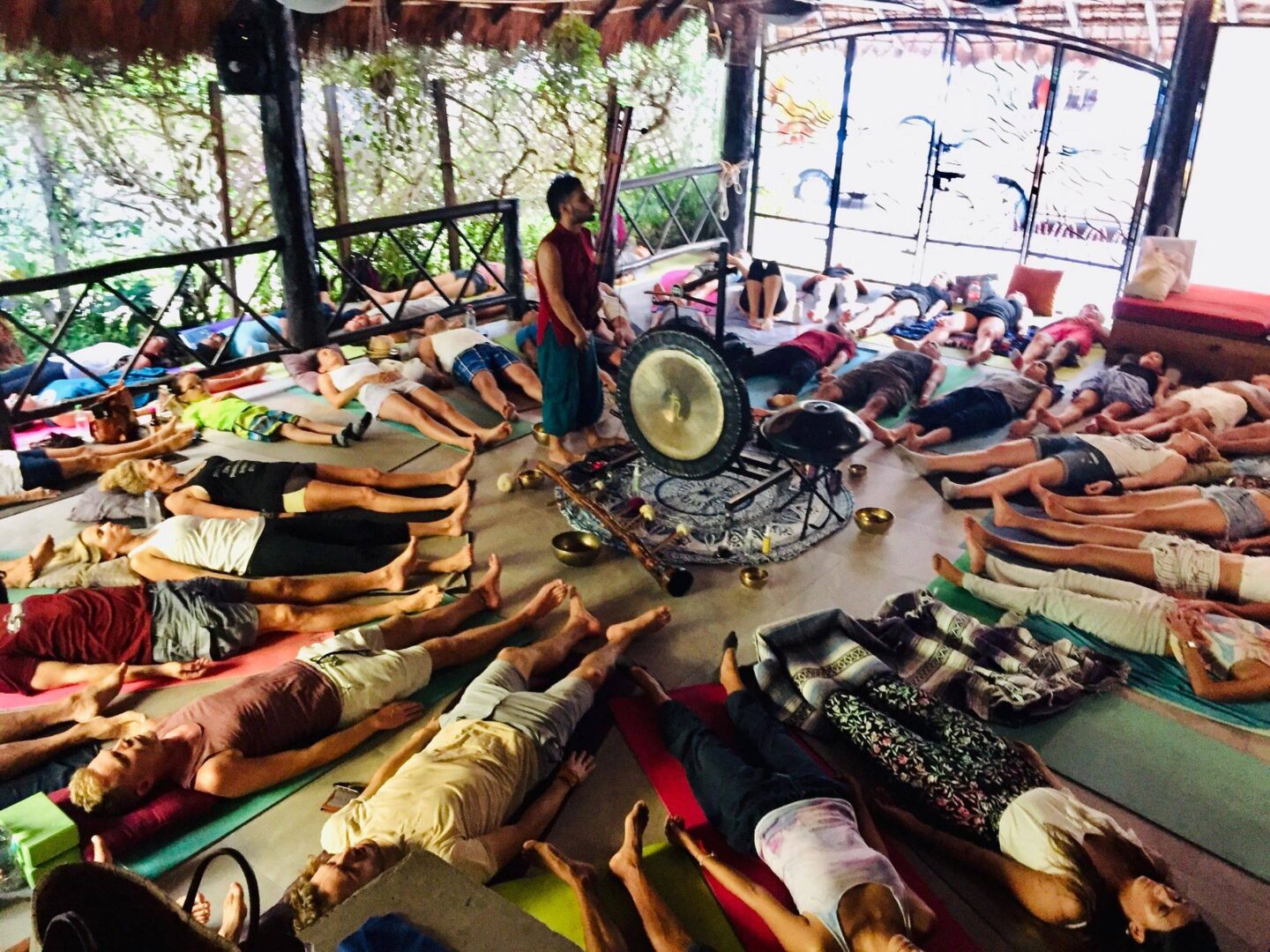 The studio is a palapa (as you can see from the picture) and they have classes from early morning right through to the evening. This is by far the most diverse studio in regards to teaching style as you can take classes in Hatha, vinyasa, ashtanga, Shivinanda, meditation, pranayama… I could go on! The timetable depends on the teaching line up at the time which you can find here. Sometimes you can find kids yoga or even group reiki classes.
One of my favorite things about Playa Yoga Tribe is their weekend schedule always includes a Saturday Playa del Carmen yoga workshop with a special guest teacher and then on Sunday there is always a meditation.
All yoga Playa del Carmen classes are by donation and of that donation, 50% goes to the teacher and the rest to the studio, so please be mindful of that when making your donation.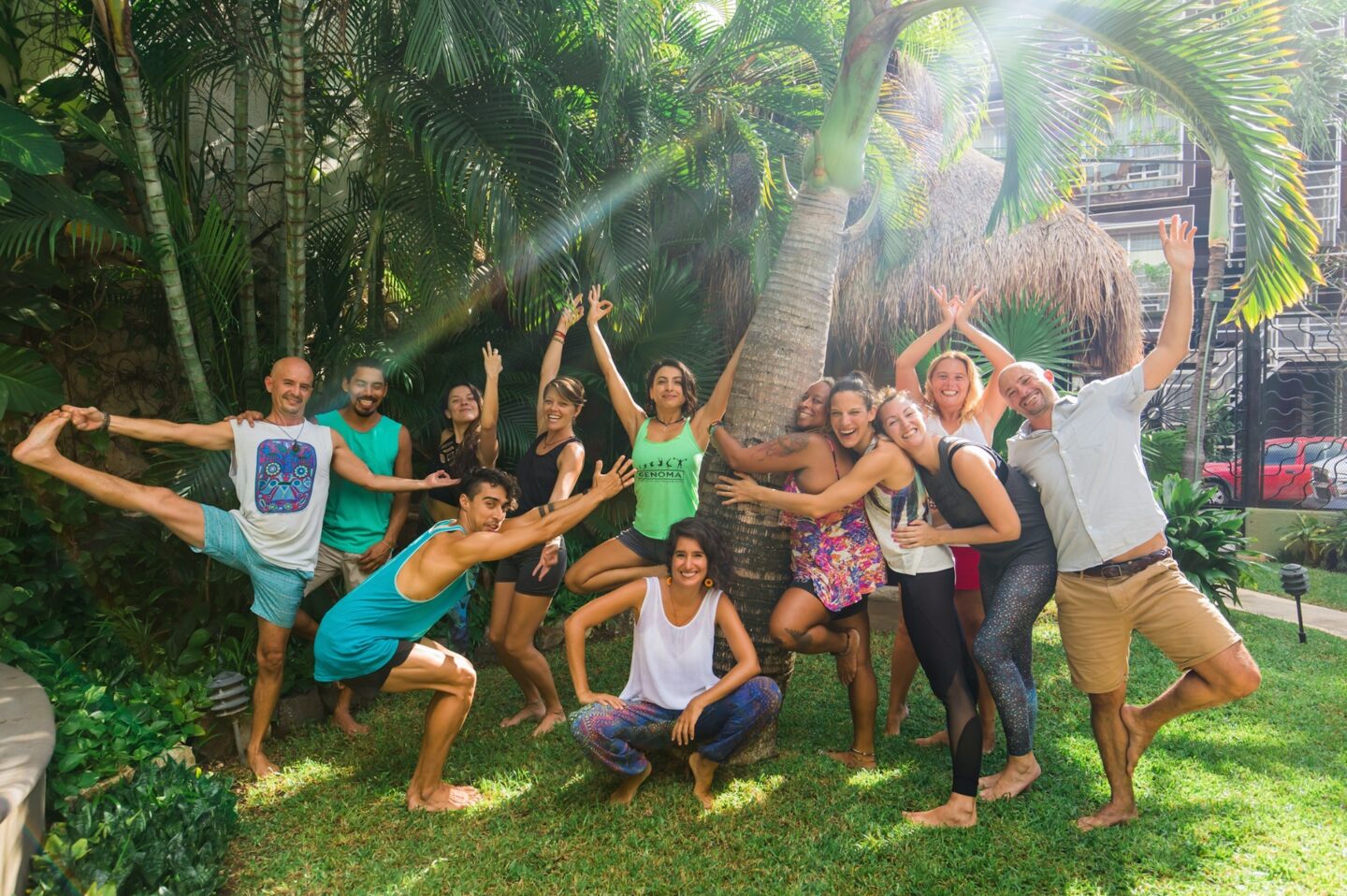 Palapa Suuk
This one can be a little confusing. Palapa Suuk is the Palapa used for yoga among other things by a few different groups. The two main yoga companies running classes here are Yoga By The Sea and Ashtanga Yoga Playa. It was where I took a lot of yoga in Playa del Carmen classes while I lived there.
This is one of the first (possibly the first) yoga studios in Playa del Carmen. It's a Hatha yoga studio although they do also have Yin classes and sometimes sound healings. All of the classes are in the morning Monday – Saturday.
It's my favorite yoga space in Playa del Carmen and I like the teachers here a lot. If I don't practice at Playa Yoga Tribe or Yoga Loft, I take classes here. They also offer Yoga Teacher Training in Playa del Carmen several times a year.
The downside to this studio is that they charge tourists a lot more than locals, good for us, but bad for anyone else. I don't like this. It makes a class the same price as you would pay in the USA pretty much. So unless you are a local, I'd skip taking a class here as you can pay a fraction of the price at the other yoga in Playa del Carmen studios.
The other popular yoga company that offers classes here is Ashtanga Yoga Playa. I took classes here when I first arrived in Playa. I love Ashtanga, but I didn't love the classes. They split up the primary series so you do half one day and then the other half the next day. Personally, if I want to get my Ashtanga yoga on, I go to Yoga Loft. This brings me nicely on to…
Did You Get Travel Insurance Yet?

The Insurance companies I recommend are Hey Mondo, Safety Wing, and Travel Insurance Master

Hey Mondo is great if you are looking for a great value flexible policy. They offer single-trip cover, annual multi-trip cover, and long-term travel cover. Safety Wing is great value, with monthly coverage starting at $39. It's super easy to use, and it just renews each month. I currently use them as they offer me free cover for my son as part of my policy. I also use Travel Insurance Master for short trips.

Read my full travel insurance post here, where I go into detail about all companies.
Yoga Loft isn't for everyone. I've heard on many occasions of people having very negative experiences here. Now to be clear, the issue isn't the teachers, the issue is the reception people in the evenings. I've experienced this myself and it was hard to get past that and hand over my money to someone so rude, but I did and the class was amazing. If you are serious about yoga and love power yoga and/ or Ashtanga then this is your studio.
Once you get past the rudeness in reception the classes are great. You can pay per class or monthly to save money. Once a month Michael Gavy also does Mysore in the mornings for a week. They often have weekend workshops with some big names and run yoga teacher training in Playa del Carmen several times per year.
As a local yoga teacher, they give me a nice discount on their monthly membership witch I'm always super grateful for!
Casa Ananda is one of the most popular yoga studios in Playa del Carmen. They take yoga very seriously here and it's probably the most spiritual of all of the studios. They have a solid timetable of classes but they are all in Spanish, which may be difficult for non-spanish speakers. The studio is also over the other side of the highway so it is a little far out for non local people generally.
They offer yoga teacher training once a year in Spanish. Their course takes part over one intense weekend per month, so it's ideal for locals as you can also pay monthly!
Selina hostel in Playa del Carmen has a full wellness timetable available to guests and non-guests. I love their rooftop yoga studio it's the perfect place for evening classes! You can find out more information on their Facebook page.
Last but not least, Yoga Company. I must admit, I've added this last as I've never been. I've met the owner a few times, and from the photos, the studio looks very nice. But I can't talk from personal experience. The classes are on the expensive side for a drop-in class, but if you pay monthly the price is about normal. They also offer Yoga Teacher Training in Playa del Carmen several times a year.
Private Yoga Classes in Playa del Carmen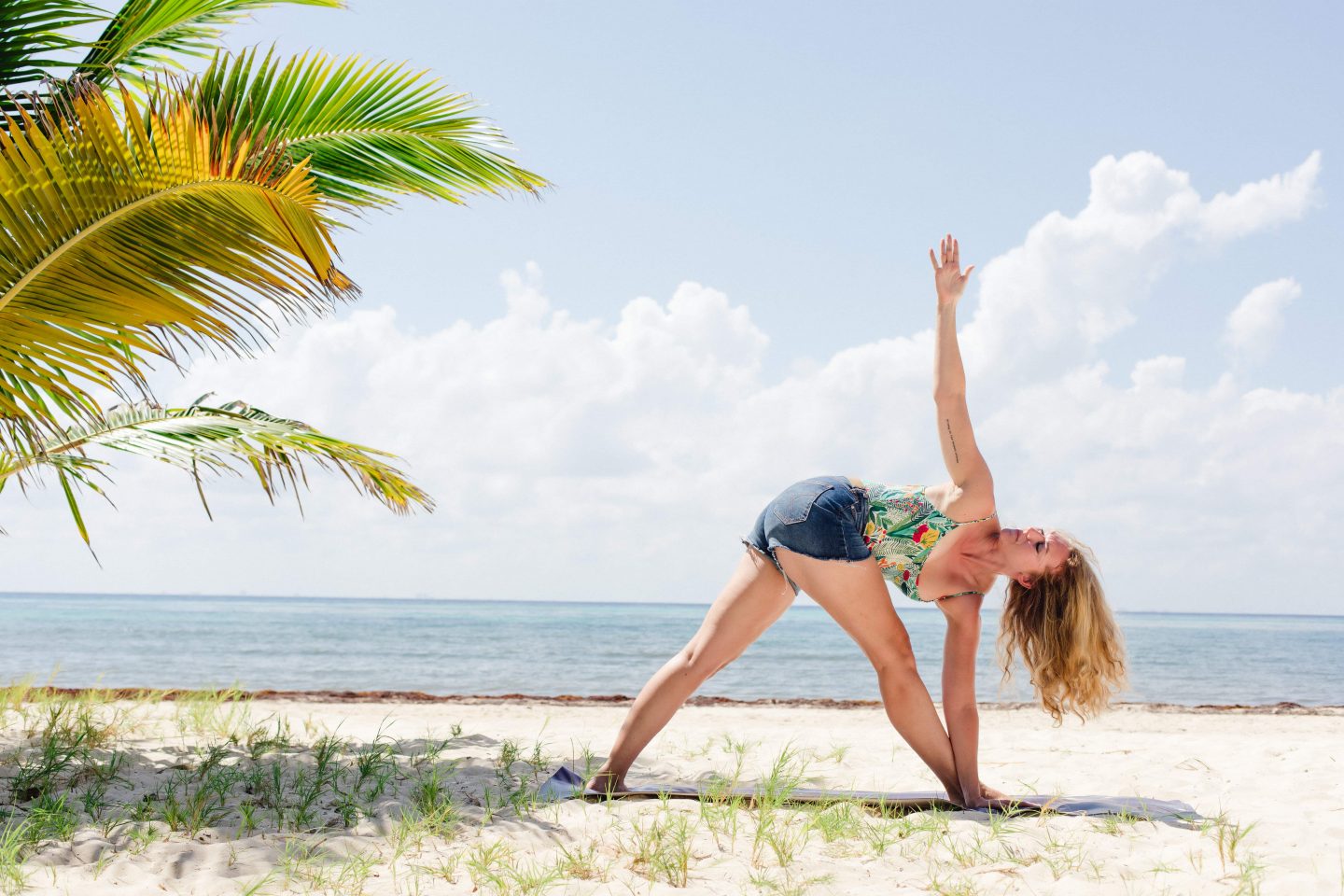 Want a private yoga class on the beach in Playa del Carmen? Or maybe you would like a yoga teacher to come and give you private classes in your apartment?
I would be more than happy to arrange this for you. If I can't take the class myself I am in touch with the best private yoga teachers in playa del Carmen, so I can put you in touch with the best teacher for your needs. Just fill out the form below and I'll get back to you asap.
Looking for somewhere to stay in Playa del Carmen?

Here are a few places I recommend. For more detailed information, check out my Playa del Carmen Accommodation Guide here.

Luxury: MAHEKAL BEACH RESORT
Mid: HOTEL MORGANA
Budget: THE YAK HOSTEL

Planning on traveling around the Riviera Maya? Check out my accommodation guides below:

Isla Holbox Hotels You Need to Stay In
Best Places to Stay in Cancun
Cozumel Accommodations | Condos in Cozumel
Where to Stay in Tulum
The Best Boutique Hotels in Tulum
The Best Hostels in Tulum Mexico