Yoga teacher training really isn't for everyone (read this), sometimes it is better to take the pressure off having to focus on learning to teach yoga. Instead, why not skip the yoga teacher training and just do a yoga and wellness retreat Bali and take some well earned time for yourself?
What kind of Yoga Retreat should you choose?
Before we go any further it's good to think first about the kind of yoga retreat in Bali you want. Let's remove yoga teacher training from the equation and there are two main kinds of yoga retreat. Yoga retreats that are fully guided by a teacher, and personal yoga retreat in Bali. It's important to consider this as there is a pretty big difference. On one, you will be part of a group being guided by a teacher. While the other one will be much more focused on you and your needs with most things being customizable.
Guided Retreat
A guided retreat is a group retreat facilitated by a specific teacher or teachers with set dates. Essentially a teacher will rent a resort on set dates with a specified program for the retreat which can last from a few days to a month. Though there are some guided retreats that are smaller in size and offer more individual programming most have between 10-15 participants.
There are three key things you should look out for when picking your guided yoga retreat in Bali.
Choose your host wisely
This is the number one thing you should really be looking out for when choosing a guided retreat. Who is leading it? Most retreats will have one main leader and a few guest teachers who will come in to lead certain elements. You will be spending a lot of time with this person and he or she will be guiding you through a healing journey, so do some research and make sure you choose your retreat leader wisely.
Ultimately, a guided retreat is an immersive, intimate experience and if you don't resonate with your host then that's going to have a big effect on your experience.
Pay attention to the location
This is most people's starting point. As you have found your way here I'm going to take a wild guess and say you want to do your retreat in Bali. But Bali is several different Islands, so also do a bit more research into the exact area you would like to stay. For example, if you want the option to explore the markets, monkey forest, and go shopping. In this case, its probably not the best idea to head up in the mountains for a month unless they are going to offer you some days off to explore.
Check the Schedule
On a lead retreat, you are likely to be on a tight schedule as there are so many people to organize. Be sure to check this out before you book to make sure it alines with what you want to do. For example, if your main objective is to get some rest and recuperation while maybe doing a class of yoga and an hour of meditation each day then you should probably skip a retreat that is going to get you up at 6:30 am each morning and offer you 3 yoga classes a day.
Personal Yoga Retreat
On the flip side, a personal yoga retreat is where you are much more in control of your experience. A personal yoga retreat is when you and stay at a wellness resort that has a customizable pre-set curriculum that you can tailor to your individual needs. The great thing about personal retreats is that you can make them work for your schedule. You can arrive when you like and leave when you like. The common misconception with this type of retreat is that it is only for the super-rich, but that's not the case, especially in a country like Bali.
Great personal retreats can be tricky to find, but with WellBook they can curate for you the best personal retreat packages in Bali, Thailand, and India. All of the retreats they curate are personal retreats, and they are able to offer you many different options to escape on a wellness vacation all year round.
On a personal retreat, you can create a tailor-made package at a wellness resort that offers a variety of activities, to make you look ad feel amazing. The first step is normally to have an initial consultation with a member of the wellness team either on your first day or by skype before your arrival. From there you get to pick and choose how you spend your time.
There are always many things to choose from such as yoga and fitness classes, meditation, detox regimes, spa treatments, wellbeing consultations, workshops, day-trips and more. The beauty with a personal yoga retreat in Bali is that you can choose when you want to wake up and what classes you'd like to take. If you want to enjoy daily massages, they can make it happen. You will also be able to have a lot more freedom to go out and explore at any time being flexible with your wellness journey. I would recommend a minimum of 2 weeks in Bali if you want to balance sightseeing with relaxing.
Why do a yoga retreat Bali?
Well, the simple answer is, why not! Bali is one of the most beautiful and spiritually awake places in the world. In Bali spiritual retreats are plentiful, let's face it ever since the world became aware of Eat Pray Love people have been flocking there in search of their own spiritual healing and awakening.
Bali is well known for its delicious food, it's quite possibly one of the easiest places in the world to be a vegetarian or vegan. Added to that the sheer volume of wellness practitioner offering a whole array of services from gong baths to massages. Where wellness is concerned there aren't more places in the world as committed to self-care and spiritual development as Bali. Plus once you are done with your Bali retreat you can spend some time exploring all of the amazing places to go in Bali.
So now that's out of the way, it's time to answer the big questions…
Which Bali retreat is for you?
Every retreat is different, and every one of the Bali retreat centers is different. Plus your individual needs are going to be different. So to help you figure out the best retreats in Bali for you I have broken some of my favorites down into different categories and added in links so you can find additional information.
Yoga retreats in Bali for beginners
Are you a beginner? Never stepped foot in a yoga studio before? Not to worry. All of these yoga retreats in bali are suitable for beginners. If you are unsure then you can always ask the retreat leader before you book.
Cultural Yoga Retreat Bali
This is a short 4 day cultural Ubud yoga retreat. The retreat takes place in a small spiritual village close to Mount Batukaru in the center of the island. Over the 4 days, you can expect daily yoga and meditation practices as well as the chance to take part in daily cultural activities within the local Sesandan community.
If you want a fully immersive short wellness retreat, this is the one for you.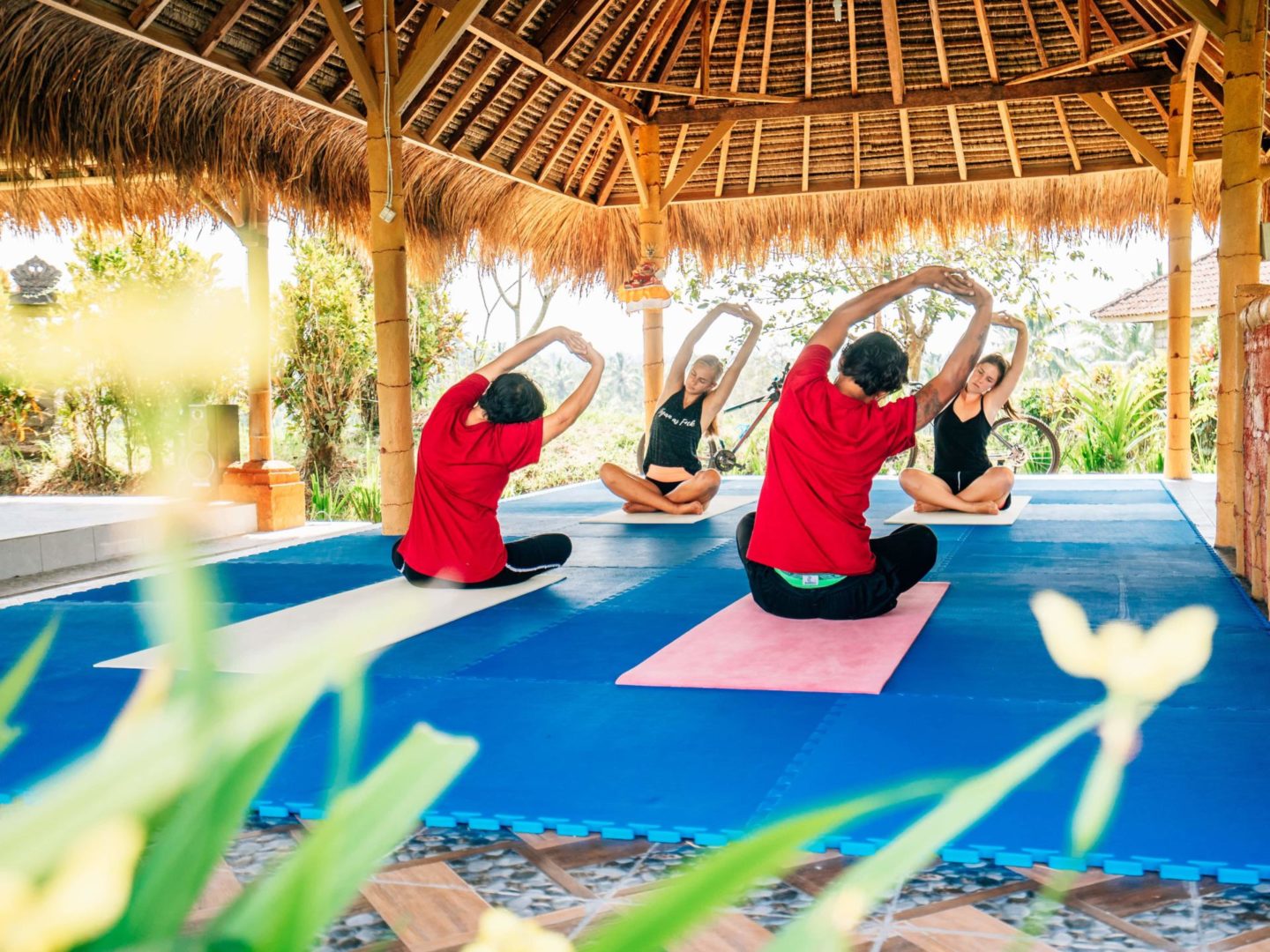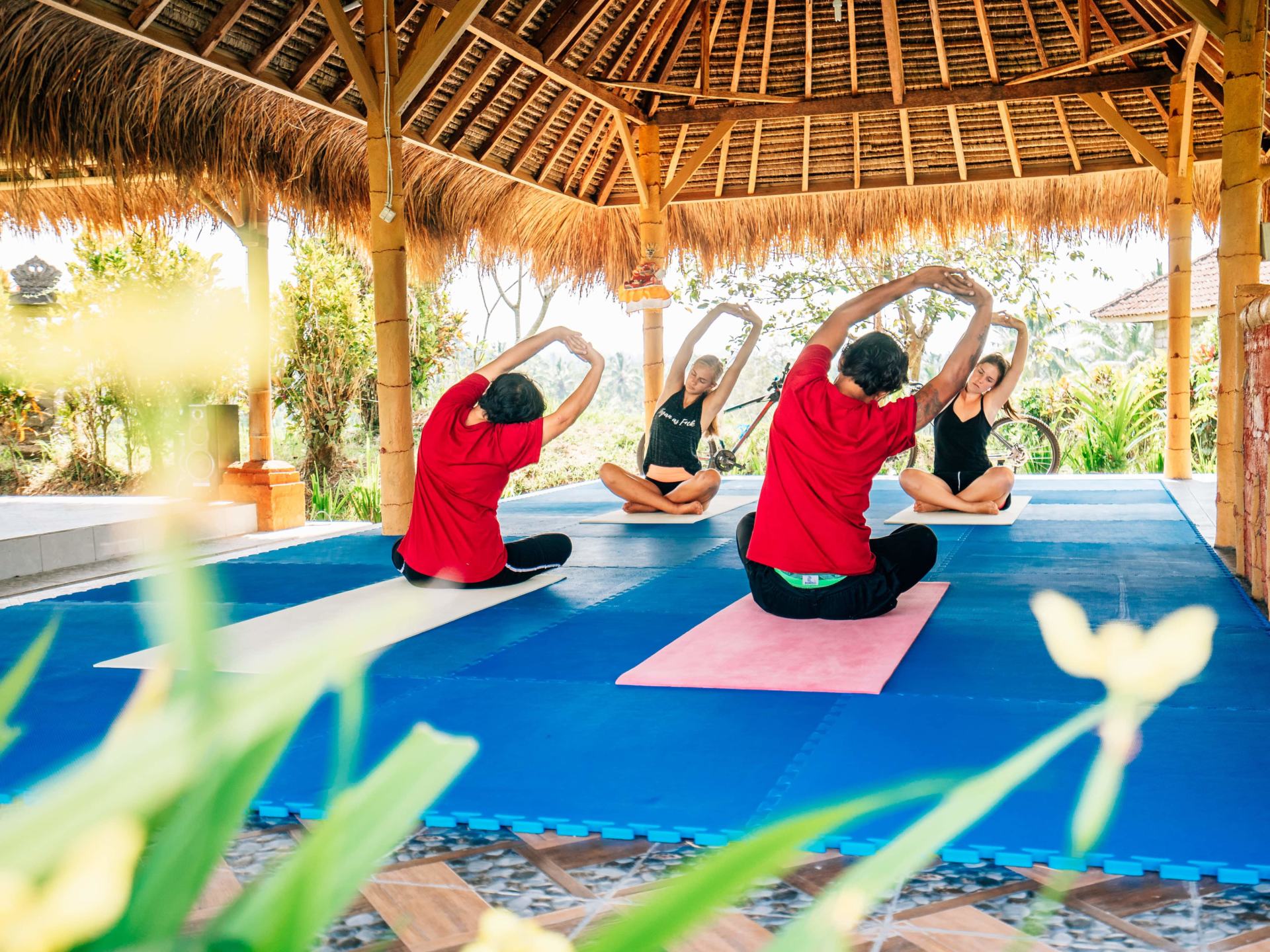 Price from: $240
Number of nights: 3
Yoga Style: Hatha
Location: Ubud
For more information about this cultural yoga retreat click here
Short Yoga Retreats Bali
If you only have a few days to spare then maybe one of these Bali yoga retreats would work for you.
4-day Yoga and Meditation Retreat
If you want a shorter Bali retreat then this 4 day yoga and meditation retreat in Ubud might be just the thing. The daily practice takes place in their beautiful garden, right in the centre of rice paddies.
Included in the retreat are tours to some key sites in the area, including Taman Ayun Temple and Kuta Beach. Food is also included, as are airport transfers and 3 nights accommodation.
Price from: $395
Number of nights: 3
Yoga Style: Hatha
Location: Sesandan, close to Mount Batukaru
For more information about this 4 day meditation retreat click here.
Bali Wellness Retreats
If you are looking for a balanced yoga retreat where you can focus on your all around wellbeing then hopefully one of these Bali wellness retreats is just what you are looking for.
8-day wellness and yoga retreat Ubud
Looking to find some balance in your life? This 8-day wellness retreat suitable for all levels may be just the thing. Located at the FireFly resort in Ubud you can look forward to daily asana practice amongst the peaceful rice fields where the resort is located.
The afternoons are yours to relax and enjoy the unique facilities available to you in the resort, or you are free to explore a little further afield.
In the evenings you will understand where the resort gets its name when the sky lights up around you with the peaceful sight of fireflies.
Daily vegetarian meals are included and you will also receive one Balanise massage as part of the package.
Price from: $325
Number of nights: 7
Yoga Style: Hatha, Vinyasa, Yin Yoga, Partner Yoga
Location: Ubud
For more information about this 7 night wellness and yoga retreat click here
Gluten-free Soul Renewal Yoga Retreat in Gili Air
If you are gluten-free, or trying to be, it can be a struggle, especially those first weeks. What better way to kick start this lifestyle change than while on a Bali yoga retreat?
As well as the delicious daily gluten-free breakfast at this Bali retreat you can expect a week-long program of daily yoga and meditation sessions that will help you to do some soul searching and emerge out at the end of the week feeling renewed and revived.
Other little extras included in this retreat are a 1-hour massage, aqua yoga, and 2 Eat Pray Love lunch tickets at their gluten-free cafe. The retreat is on the island of Gilli Air, just a short boat ride away from Bali and Lombok. There is no strict schedule and you can feel free to do as much or as little of the set program as you like.
You can expect plenty of afternoons snoozing in a hammock, swimming with turtles, or if you are feeling a bit more active going for a bike ride around the Island.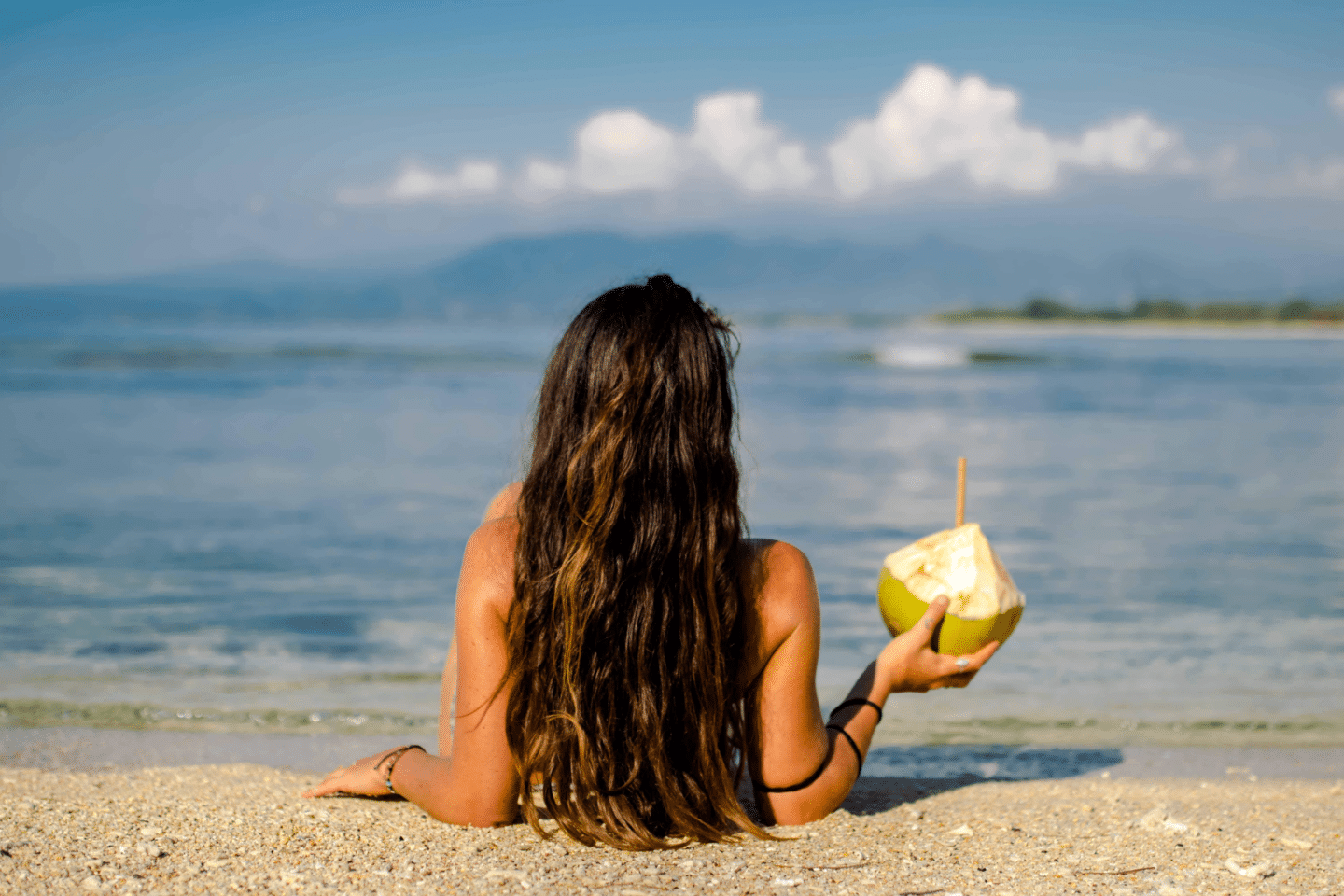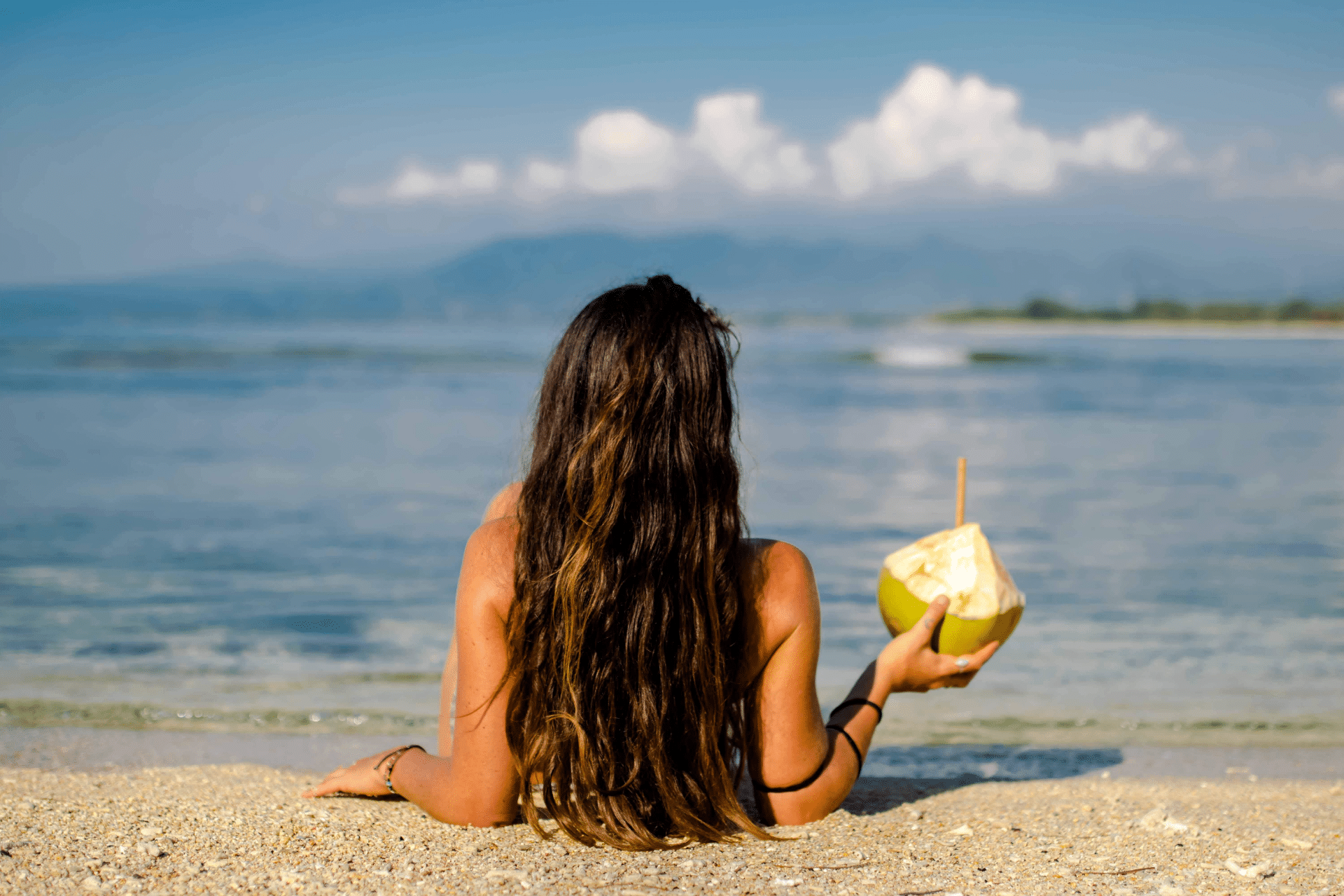 Price from: $293
Number of nights: 6
Yoga Style: Hatha, Vinyasa, Yin, Tantra, Restorative, Nidra, Yin Yang
Location: Gili Air
For more infomation about this Bali retreat click here.
Surf and Yoga Camp Bali
Bali is a great place to If you are interested in a surf and yoga retreat Bali, then you have plenty of options! Here are just a few of the ones I have found that have great reviews.
Surf and yoga retreat Bali
Isla Indah Retreat and Monkey Surfing offer both 3 and 5-night yoga and surfing vacations all year round. They cater to all levels, so even if you are a total beginner who has never stepped on a yoga mat or caught a wave, you will be in good hands learning some new skills. For those with more experience, you can enjoy doing what you love in an island paradise accommodated right on the beach.
Nusa Lembongan is a small tropical island located close to Bali, it is much less developed than Bali and enjoys year-round good weather. It is the perfect setting for a surf retreat Bali.
This is one of the good yoga retreats in Bali for beginners as it mixes surfing too. This means there will be some surf pros looking to take up yoga, and some yogis looking to take up surfing!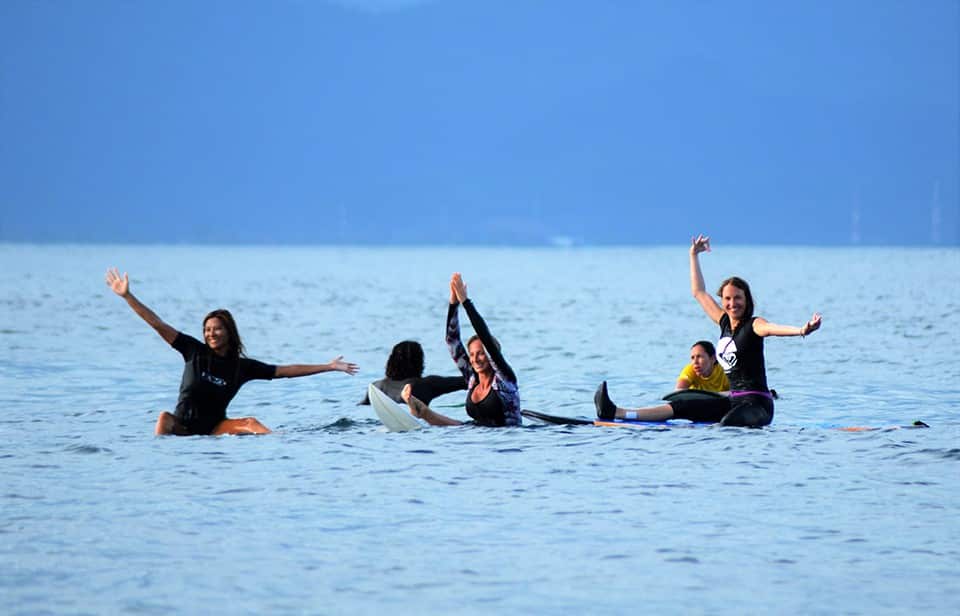 Price from: $362 / $637
Number of nights: 3 / 5
Yoga Style: Hatha Yoga & Surfing / Hatha, Power, Vinyasa, Yin, Acro & Free Diving
Location: Nusa Lembongan
For more information about the 4-day surf and yoga retreat in Nusa Lembongan click here
For more information about the 6-day surf and yoga retreat in Nusa Lembongan click here
Stormrider Surf Camp Bali – 8-day yoga and surf camp
One of the other top surf destinations in Indonesia is Canggu where Stormrider hosts a regular yoga surf retreat Bali. These retreats are suitable for all levels and the schedule is pretty relaxed including daily yoga and surf classes. A healthy daily breakfast is included as is a surf fitness workshop.
Price from: $474
Number of nights: 6
Yoga Style: Vinyasa, Yin & Surfing
Location: Canggu
For more information about the 7-day surf and yoga retreat in Canggu click here
Luxury Yoga Retreat Bali
Bali is well known for its luxury. You will not struggle to find plenty of luxury yoga retreats in Bali. Here are just a few of my favourites.
Luxury Yoga and Wellness Detox Retreat Bali
If you like your yoga wrapped up with a touch of luxury then this is the retreat for you. As well as enjoying daily yoga and meditation the focus of this retreat is Ayurveda. Not sure what Ayurveda is? Read this.
Each day you will be fed 3 Ayurvedic meals for breakfast, lunch, and dinner, and over the course of the 7 night retreat you will get to experience 15 different Ayurvedic and spa treatments, talk about pampering!
As if that wasn't enough you can also look forward to 2 excursions and resort activities and an individual wellness consultation.
If it's an escape you are looking for, here at this Ubud yoga retreat you will find it!
Price from: $2119
Number of nights: 7
Yoga Style: Hatha
Location: Ubud
For more infomation about this luxury Bali retreat, click here
Ubud Yoga Retreat and Spa
Hotel Villa offers a 6-day Ubud yoga retreat spa package that will tick all of your boxes if you are looking to be pampered whilst focusing on deepening your daily yoga practice. The week is designed to help you reconnect with yourself and the nature around you.
They offer both morning and afternoon yoga classes as well as a selection of spa treatments and healthy meals, all included in the price.
A few highlights include 3 massages, a Balinese cooking class, and airport pickup and drop off.
Price from: $845
Number of nights: 5
Yoga Style: Hatha, Vinyasa, Yin, Ashtanga
Location: Ubud
For more information about the spa yoga retreat click here
Affordable Yoga Retreats Bali
If you are looking for some affordable yoga retreats Bali, there are a few great options that you can consider.
Budget Yoga Retreat Bali
Finally a budget yoga retreat in Bali for anyone who wants to experience a retreat, with a limited budget. Rather than being at an expensive retreat centre, or fancy resort. This is a cheap yoga retreat Bali that takes place at a cute hostel.
You can opt for a single room, or if you really want to save some $$ then you can sleep in a shared dorm.
Included in the retreat is daily meditation and yoga classes, 6 nights accommodation, both breakfast and dinner, plus tea, coffee, and kombucha all-day. Each day you will get to participate in Balinese cultural activities, so it is the perfect retreat for anyone wanting to learn more about Bali.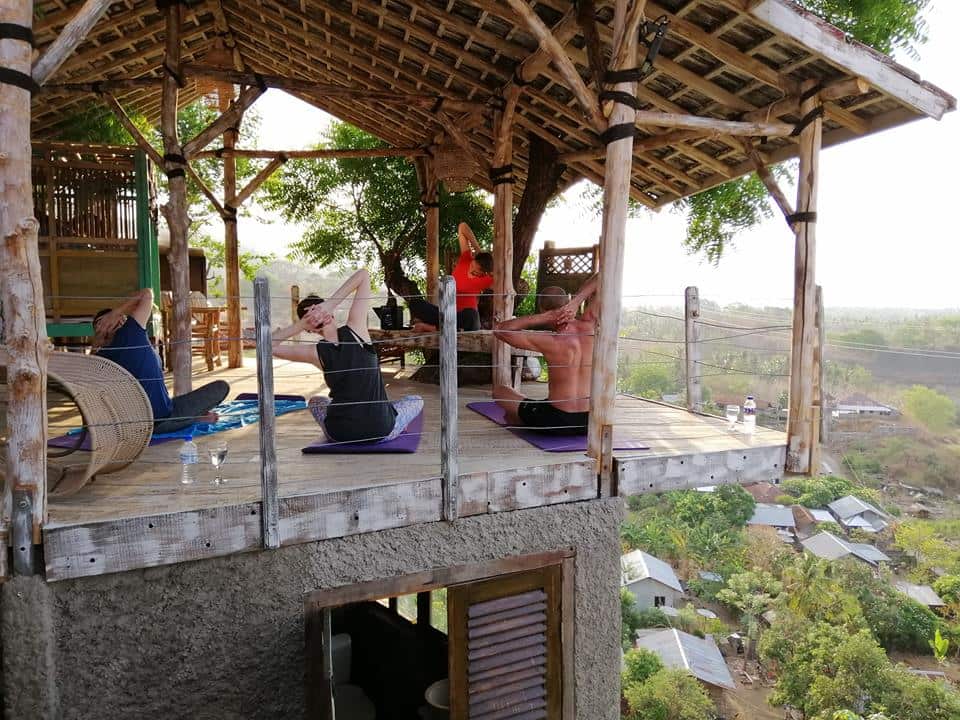 Price from: $243
Number of nights: 6
Yoga Style: Vinyasa
Location: Lovina
For more information about this budget yoga retreat click here
Budget Detox Retreat Bali
This is another budget-friendly option for anyone looking to do a cheap yoga retreat Bali, that doesn't break the bank.
This retreat is organized by Happyfish Bali whose main aim is to create a space for people to recharge their bodies and minds. This detox retreat is a 6-day program that includes 3 days of detoxing, 5 days of practice with 2 yoga classes available each day. You can even take some pilates and surfing classes here.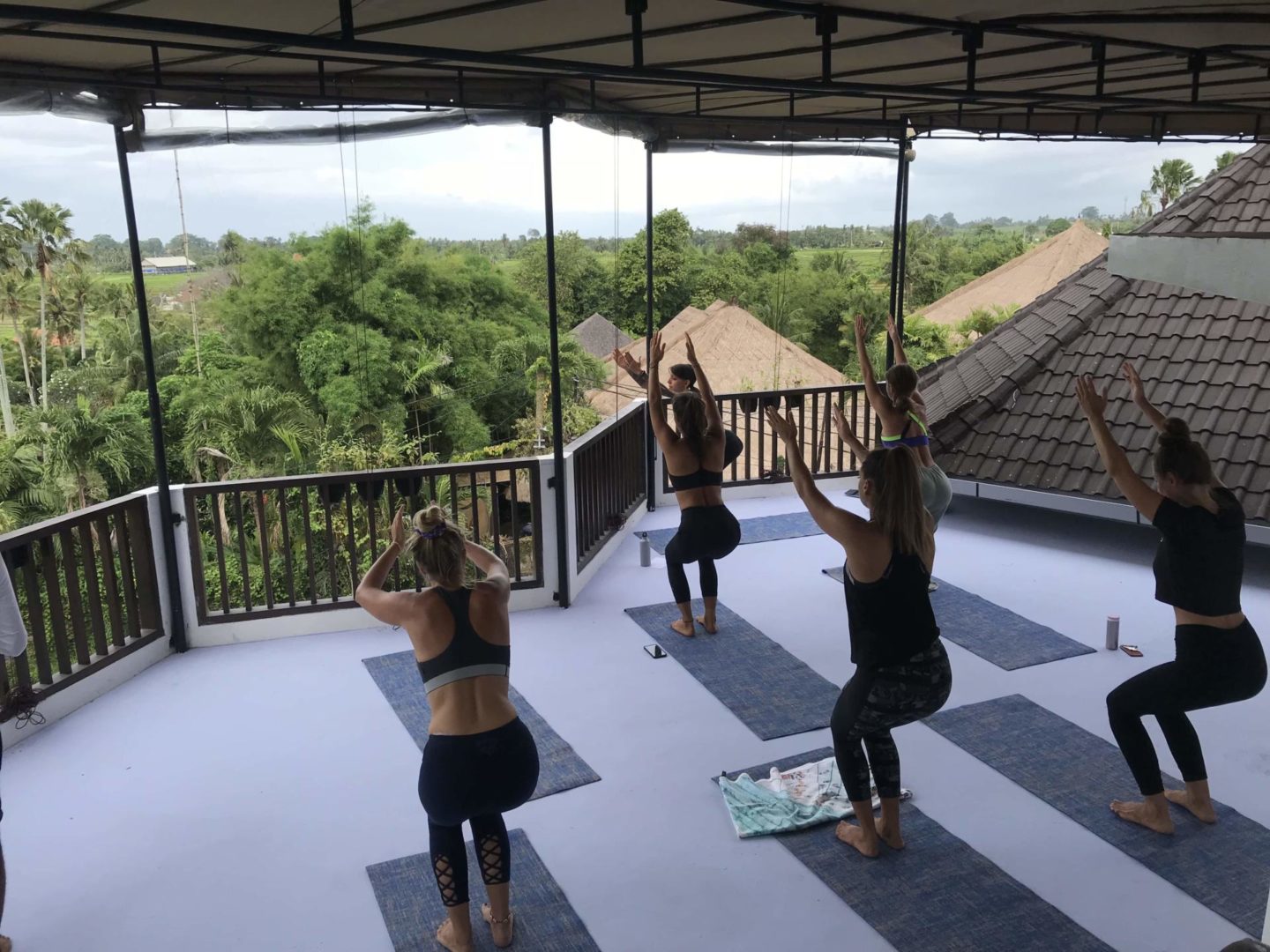 Price from: $671
Number of nights: 6
Yoga Style: Hatha, Vinyasa
Location: Canggu
For more information about this budget, detox retreat click here.
Final Thoughts
So that's my round-up of my top retreats in Bali. Another option I just want to mention is that my good friend Donna Grace organizes personal retreats in Bali. So the idea is that you make contact with her, tell her what you want and she custom makes the perfect retreat for you. So if you have limitations on time, or just want to have something more personalized, then get in touch with Donna here.
Are you ready to book your trip?  To help you get the best deals and service here are the companies that I personally use to book all of my travel online. I always shop around before booking anything, but these are my tried and tested starting places.