It's no secret that I'm obsessed with Guatemala. Take a look through my blog and you will understand why. So although doing a yoga retreat Guatemala may not be the obvious choice, trust me when I say you will not regret booking a Guatemala spiritual retreat.
Why do a yoga retreat Guatemala?
Yoga is huge in Guatemala, it is actually where I really started getting into yoga. Before doing Yoga in Guatemala I have never really understood the spiritual side of yoga, I'd just been focused on the Asana. There is just something so special and spiritual about Guatemala, and Lake Atitlan in particular that it's hard not to start feeling more 'woke' there.
Most of the yoga retreats in Guatemala are in the Lake Atitlan area, although yoga in Antigua Guatemala is pretty huge too, but it's mostly classes rather than retreats of yoga teacher training.
So without further ado here are my top picks for your Lake Atitlan yoga retreat.
Guatemala Spiritual Retreat
The Yoga Forest in San Maros is one of the most popular and well know Guatemala retreat centers. High up above the Mayan village of San Marcos the views from the yoga studio are worth the hike up.
There are many yoga retreats at the Yoga Forest, but their 8 Days Earth Medicine Journey Meditation and Yoga Retreat is one of the best if you are looking for a Guatemala spiritual retreat.
Lead by Kimber-lee and Nicole they will take you on a self-healing journey through the practice of daily yoga, meditation, chanting, and sound healing.
Thanks to the facilities in the Yoga Forest you can also look forward to making use of the sauna, eating lots of lovely vegetarian food, and plenty of relaxing in hammocks. But if you want a little bit more action there will be time to go down the mountain into the town for some paddle boarding and kayaking.
Number of nights: 7
Yoga Style: General Yoga
Location: Lake Atitlan
Guatemala Adventure Yoga Retreat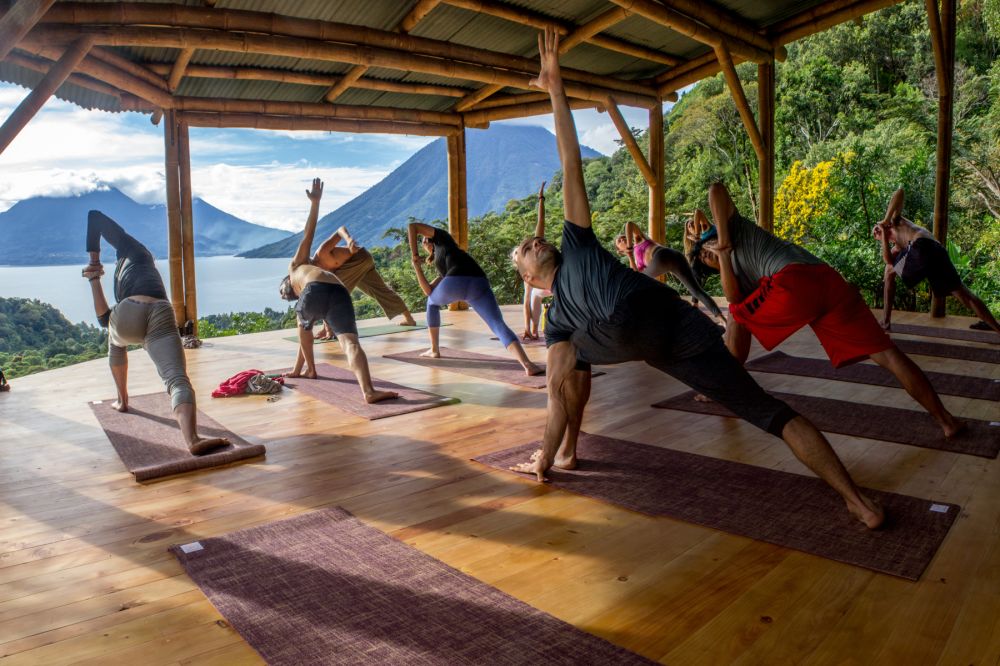 Keen to include a bit of adventure with your Guatemala yoga retreat? I don't blame you, Guatemala is the perfect place for both, especially thanks to all of those volcanos just waiting to be hiked!
On this Lake Atitlan yoga retreat, they offer you the perfect mix of Hatha and Yin yoga mixed with meditation, dancing, and hiking. So if you are looking for a Laka Atitlan yoga retreat that doesn't involve spending the entire week in the yoga studio then this could be just the retreat for you.
Unlock your creativity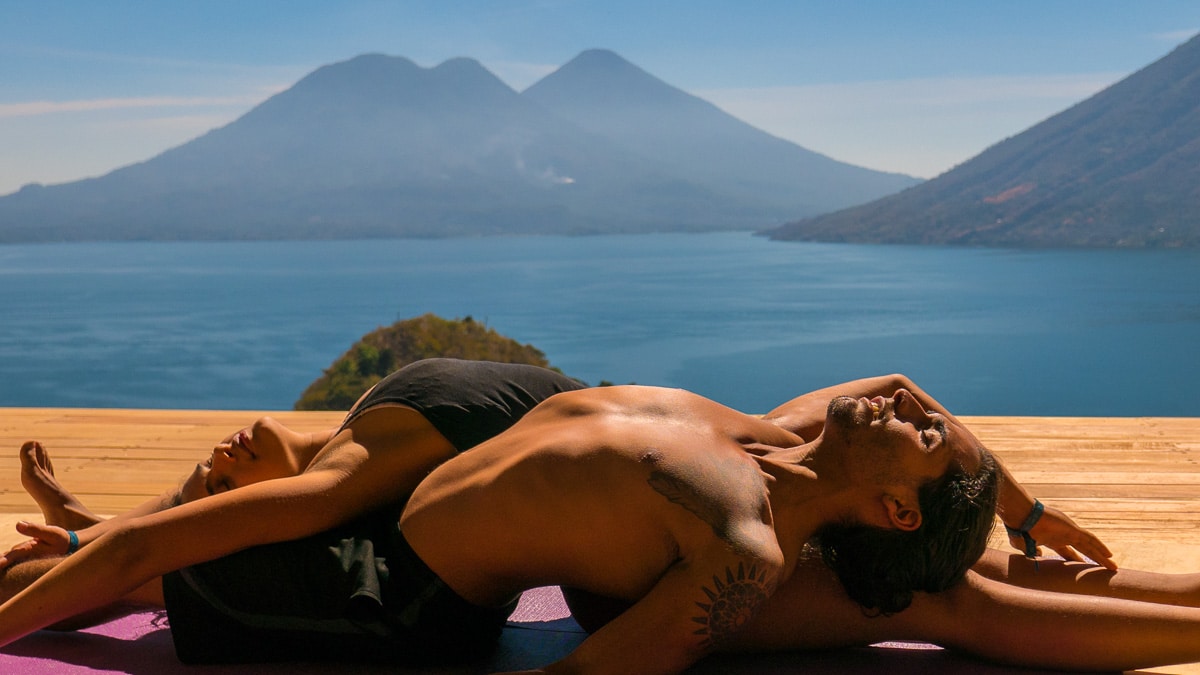 The Create Space retreat is held at one of my personal favorite San Marcos yoga retreat centers, Eagles Nest. I was lucky enough to have stayed there for several nights the last time I visited Guatemala. Sadly there was no yoga retreat happening at the time, but it is a place I would love to return to do one.
The facilities here are basic but enchanting. My favorite part of the day was taking an outdoor shower with this view… and the water was HOT! Not something you should ever take for granted in Guatemala.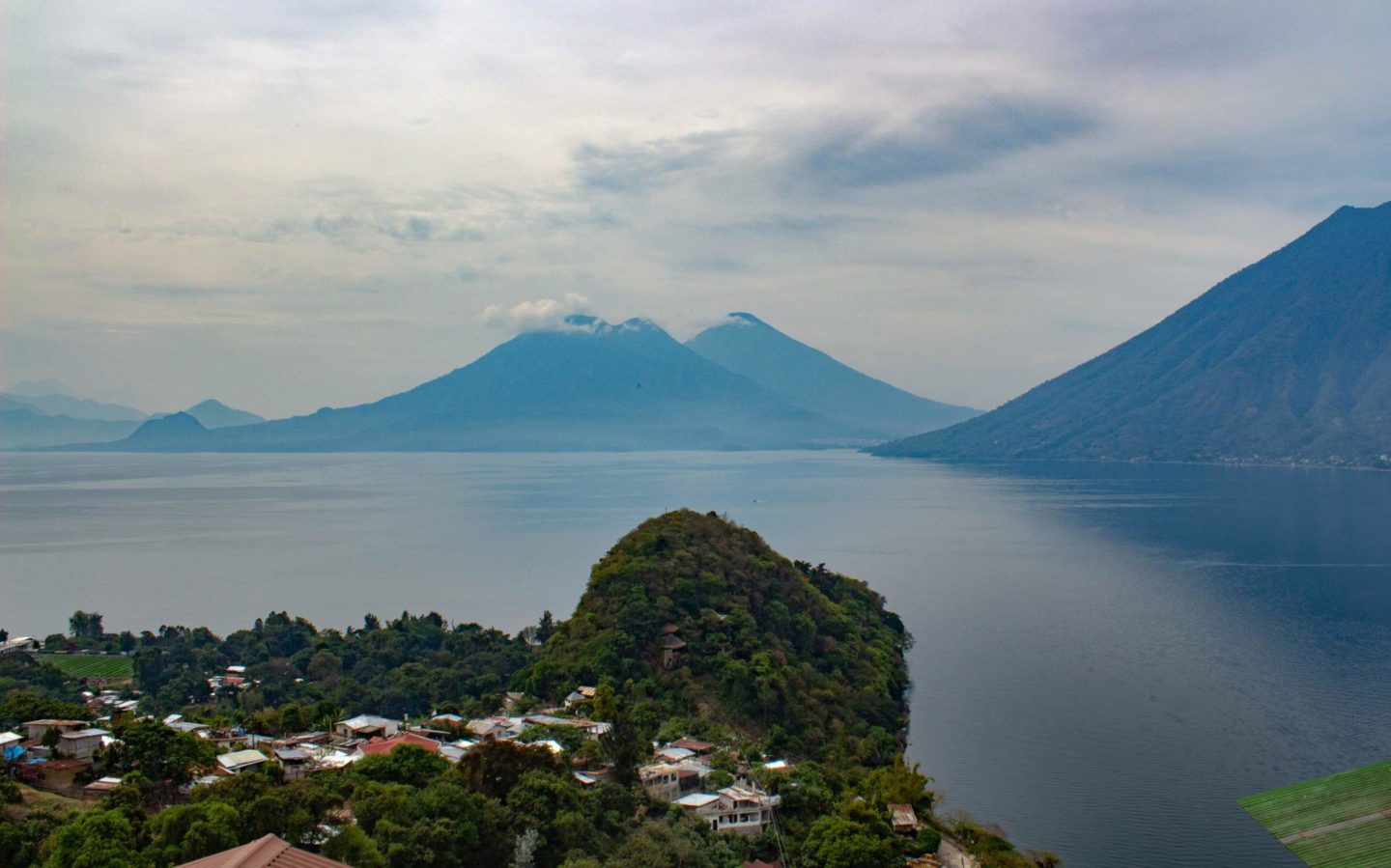 The highlight of any retreat in Lake Atitlan will be the views from the place you do yoga, and the views from the yoga platform at Eagles Nest do not disappoint.
The yoga retreat itself is a 7-day journey to reconnect with your self and unblock your spiritual energy. Expect daily cacao ceremonies, traditional Temazcals, Art, music, writing, movement, mindfulness, sound healing, and visualization. And of course daily yoga and meditation practice, plus a lot more.
Personal Yoga Retreat Guatemala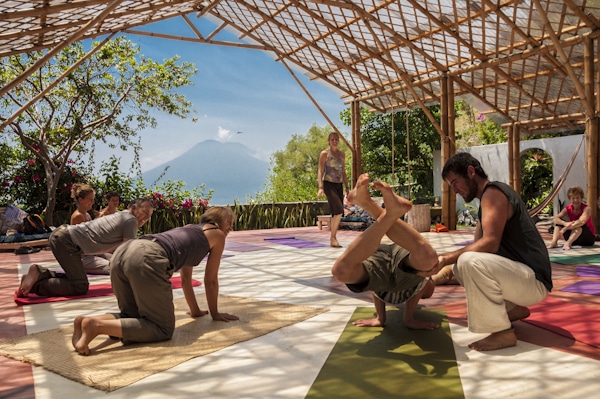 If the idea of an intense Yoga Retreat is a bit much for you, and you prefer something a bit more customized, and luxurious then I can't recommend a personal yoga retreat at Hotel Isla Verde enough.
Firstly I LOVE hotel Isla Verde, it is one of my favorite places on the lake. I often went there just to have breakfast or take a yoga class. The accommodation is some of the best in Guatemala, so if you are worried about the standard of accommodation in Guatemala, and don't fancy the eco-friendly outdoor bathroom situation most of the yoga retreat centers have going on, then this is the retreat for you.
They will put together a daily program for you that includes a daily yoga class someone to one yoga instruction, and 3 delicious meals a day. In addition, you will also get a massage treatment to really make sure you are as relaxed as possible.
Find your Zen
Although San Marcos Guatemala yoga studios are the best known, there are some other places close by that offer just as much. Next door to San Marcos is the smaller Mayan village of Tzunana, where I lived for a while. Personally, if you want a more Zen experience Tzunana is a wonderful place to come.
The retreat at Doron yoga is all about mixing yoga asana practice, pranayama, meditation, and Zen philosophy. You will be taken through daily Morning yoga sessions, Osho Kundalini meditation, pranayama, as well as some Yin yoga to deepen your flexibility and balance your body out. The highlight of this retreat is that you are in a much quieter place, so you can really unplug and disconnect from the outside world spending 6 nights living in a spiritual community.
This is the ideal retreat for anyone who wants to deepen their practice.
Final Thoughts
So that's it! My top 5 yoga retreats in Guatemala. Truth be told, any of these retreats would be amazing, you really can't go wrong. Take a read through the description and choose the one that resonates most with you if you are struggling to decide.
Thinking of doing your yoga teacher training? Take a read of this first.
Are you ready to book your trip?  To help you get the best deals and service here are the companies that I personally use to book all of my travel online. I always shop around before booking anything, but these are my tried and tested starting places.