It's no secret that I'm obsessed with Guatemala. Take a look through my blog and you will understand why. So although doing a Guatemala yoga retreat may not be the obvious choice, trust me when I say you will not regret booking a yoga retreat in Guatemala.
Why do a Guatemala yoga retreat?
Yoga is huge in Guatemala, it is actually where I really started getting into yoga. Before doing Yoga in Guatemala I have never really understood the spiritual side of yoga, I'd just been focused on the Asana. There is just something so special and spiritual about Guatemala, and Lake Atitlan in particular that it's hard not to start feeling more spiritual there.
Most of the yoga retreats in Guatemala are in the Lake Atitlan area, although yoga in Antigua Guatemala is pretty huge too, but it's mostly classes rather than retreats or yoga teacher training.
So without further ado here are my top picks for your Lake Atitlan yoga retreat.
Ps if you need a travel yoga mat for your Costa Rica retreat? Then read my review first.
Not sure about doing a yoga retreat in Guatemala? I also have guides to yoga teacher training and retreats in Bali, Costa Rica, Mexico, India, Thailand, The UK, and Colombia. Plus I have this great guide to online yoga teacher training if you prefer not to travel right now.
Did You Get Travel Insurance Yet?
If 2020 taught us anything, it's that you need to be prepared for anything! Travel insurance has always been high my list of things to get before I travel but now more than ever its at the top of my list.

I'm pretty sure we have all had travel plans messed up because of COVID and not all insurers covered this. So when looking for travel insurance it's important to check it covers travel disruption due to COVID-19, Hey Mondo, Passport Nomads, Safety Wing, and Travel Insurance Master all provide cover for this.

Hey Mondo is great if you are looking for a great value flexible policy. They offer single trip cover, annual multi trip cover, and long term travel cover. You even have the option to start the cover when you are already on your trip, although you won't be covered for the first 72 hours. For me my favourite feature is their app which offers you a 24/7 Dr chat and the ability to file a claim direct in the app.

Passport Nomads provides the most comprehensive cover for Digital Nomads. The game changer with them is that you have a red card and if you find yourself in need of medical care you just contact them and they will pre load your card with the funds to cover your treatment, meaning you won't need to pay out of pocket and then put in a claim later.

Safety Wing is great value with monthly cover starting at $39. It's super easy to use and it just renews each month. They have an excess of $250 and it's simple to make a claim through their website. I currently use them as they offer me free cover for my son as part of my policy and I like that it renews on a monthly basis, so I don't have to pay out a big lump sum up front.

I also use Travel Insurance Master for some short vacation type trips.

If you are doing shorter trips or an extended backpacking trip then Hey Mondo or Travel Insurance Master are the best option. If you are a digital nomad or planning travel of at least 6 months then go for Passport Nomads or SafetyWing.
The Best Yoga Retreats Guatemala
Guatemala Yoga Retreat
Price: From $925 USD
Number of nights: 6
Yoga Style: Yin, Ashtanga, and Vinyassa
Location: Lake Atitlan
Yoga, Meditation and Maya Culture Retreat at Lake Atitlan is one of the most popular and well know Guatemala retreat centers. The rooms at the Doron Yoga & Zen Center (DYZC) are simple, beautiful and charming.
Their 7 Day Retreat Yourself is one of the best if you are looking for a Guatemala spiritual retreat.
Thanks to the facilities, all accommodations are new and are built for comfort and safety while being ecological. Eating lots of lovely vegetarian food, and plenty of relaxing in hammocks. The water source is from a spring supplied by the municipality and from river water that runs through the property.
Highlights
Morning yoga sessions
Detailed afternoon workshops
Osho Kundalini and zen meditation
Pranayama practices to enrich your energy and life force
Yin yoga to deepen flexibility and release emotional tension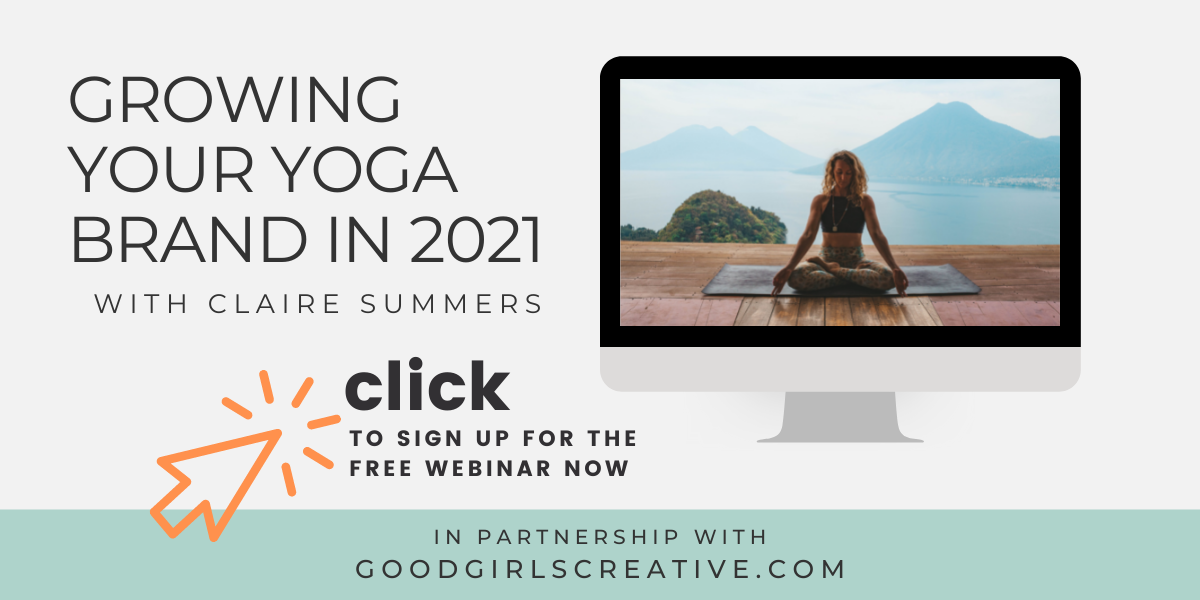 Guatemala Yoga and Fitness Retreat
Price: From $925 USD
Number of nights: 6
Yoga Style: Hatha, Vinyasa, Yin, Restorative
Location: Lake Atitlan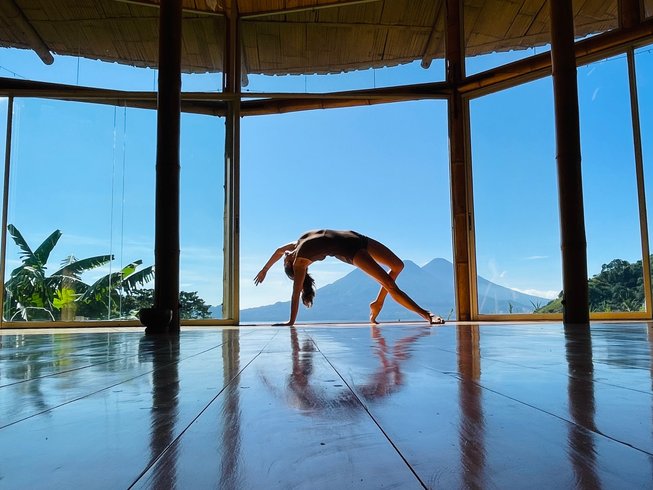 Keen to include a bit of extra fitness with your Guatemala yoga retreat? I don't blame you, Guatemala is the perfect place for both, especially thanks to all of those volcanos just waiting to be hiked!
On this Lake Atitlan yoga retreat, they offer you the perfect mix of Ashtanga and Yin Yang yoga mixed with meditation, breathwork, functional fitness sessions, and hiking. So if you are looking for a Laka Atitlan yoga retreat that doesn't involve spending the entire week in the yoga studio then this could be just the retreat for you.
Highlights
Maya cleansing ceremony
Interesting workshops and lectures
Practice yoga, breathwork, and meditation
Trek among the Lake Atitlán hills
Join functional workout sessions
Three vegetarian meals daily
6 nights accommodation
Find your Zen
Number of nights: 6
Yoga Style: Vinyasa, Ashtanga, Zen
Location: Lake Atitlan
Although San Marcos Guatemala yoga studios are the best known, there are some other places close by that offer just as much. Next door to San Marcos is the smaller Mayan village of Tzunana, where I lived for a while. Personally, if you want a more Zen experience Tzunana is a wonderful place to come.
The retreat at Doron yoga is all about mixing yoga asana practice, meditation, and learning Spanish. You will be taken through daily Morning yoga sessions with meditation to get the body moving and mind sharp. Then it's time for Spanish classes with a fully qualified teacher. Guatemala is the perfect place to learn Spanish, it's where I learned.
The highlight of this retreat is that you are in a much quieter place, so you can really unplug and disconnect from the outside world spending 6 nights living in a spiritual community.
This is the ideal retreat for anyone who wants to deepen their practice while brushing up on their Spanish.
Highlights
Daily yoga classes
Daily meditation session
Spanish classes with a native Spanish speaker and official teacher
Time to explore the beauty and culture of Lake Atitlán
6 nights accommodation
Daily vegetarian meals
The Best Yoga teacher training Guatemala
There are three great options for Yoga Teacher Training in Guatemala, all of them are based in Lake Atitlan at one of the yoga retreat centers there.
21 Day 200-hr Transformational Ashtanga Vinyasa Yoga Teacher Training
Number Of Nights: 20
Yoga Style: Ashtanga, Vinyassa, and Yin
Location: Lake Atitlan
This yoga teacher training course in Guatemala is for students of yoga who want a much deeper spiritual training course that goes beyond just asana practice. The YTT 200-hour training course is held at Doron Yoga and Zen Center in Guatemala in a small Mayan Village called Tzununa (just next to San Marcos). I actually lived very close by for some time and it really is the most magical area.
Highlights
Pranayama and Kundalini practices
Eligibility for 200-hour RYT certification
Ashtanga Vinyasa, Yin, and Nidra yoga sessions
Extensive 300-page manual written by Doron Hanoch
Life-transforming philosophy discussions and hands-on assist workshops
3 daily nutritious home-cooked vegetarian and vegan meals
20 nights accommodation
Herbal tea and coffee
21 Day 200-Hour Yoga Teacher Training in Santiago Atitlán
Number Of Nights: 20
Yoga Style: Ashtanga, Vinyasa, Hatha, and Sivananda
Location: Lake Atitlan
Mystical Yoga Farm is probably one of the best-known yoga teacher training centers in Guatemala. The only downside to training up there is that it is quite far away from everything. But wow what a view you get. I wouldn't let this put you off too much though as honestly when you are going through your 200 hours in 21 days you really don't have time for much else!
It's a great course, in a great location.
Highlights Include
The art of teaching and alignment sessions
Yoga Sutras, yoga anatomy, and spiritual lessons
Guided meditation including pranayama, asana, and relaxation
Satsang (community gathering) and Karma yoga sessions
Daily vegetarian meals prepared with love
20 nights cozy accommodation
21 Days 200-Hour Earth Medicine Yoga Teacher Training
Number Of Nights: 20
Yoga Style: Hath, Vinyasa, Yin, and Restorative
Location: Lake Atitlan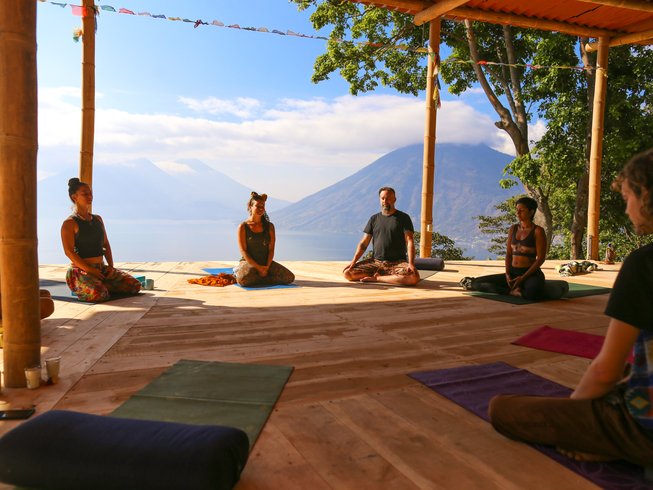 This Guatemala yoga teacher training is all about connecting and learning about the ancient yogic wisdom while restoring harmony and balance into your daily existence. And the Arco Isis Sanctuary really is the perfect location for it.
The idea is that with the wisdom you will find during the course it will open you up to reconnect and find a deeper holistic understanding of how to live by these principles in your daily life.
This yoga teacher training in Guatemala offers a powerful place to study not only yoga, but to also learn about the ancient Mayan culture, and find a deep inner knowing of your heart.
Highlights Include
200-hour course curriculum
Anatomy and philosophy class
Daily Satsang and spiritual lesson
Daily meditation, pranayama, and asana
Daily breakfast, lunch, and dinner
20 nights accommodation
Final Thoughts
So that's it! My top 5 yoga retreats in Guatemala and some great yoga teacher training options. Truth be told, any of these retreats or Guatemala yoga teacher training courses would be amazing, you really can't go wrong. Take a read through the description and choose the one that resonates most with you if you are struggling to decide.
Thinking of doing your yoga teacher training? Take a read of this first.
PIN ME!