Headed out on a wellness adventure and trying to decide what to pack for a yoga retreat? This yoga retreat packing list will give you all the info you need to travel like a pro! Let's be honest – no one enjoys the packing process, especially if you aren't sure what to bring or wear.
We've all been there before, so I'm sharing the inside scoop on what to pack for a wellness retreat. This packing guide will help you determine what to wear to a yoga retreat and what must-have accessories to bring so you can arrive prepared and ready to hit the mat.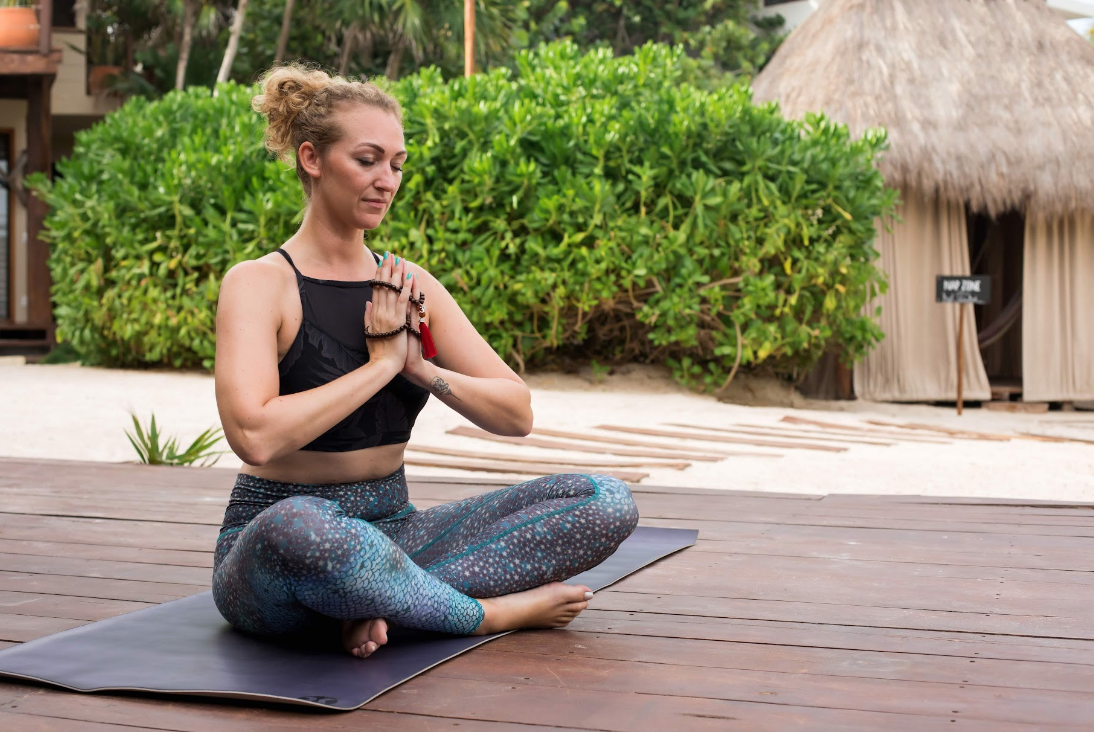 Did You Get Travel Insurance Yet?

The Insurance companies I recommend are Hey Mondo, Safety Wing, and Travel Insurance Master

Hey Mondo is great if you are looking for a great value flexible policy. They offer single-trip cover, annual multi-trip cover, and long-term travel cover. Safety Wing is great value, with monthly coverage starting at $39. It's super easy to use, and it just renews each month. I currently use them as they offer me free cover for my son as part of my policy. I also use Travel Insurance Master for short trips.

Read my full travel insurance post here, where I go into detail about all companies.
Research and Planning For Your Yoga Retreat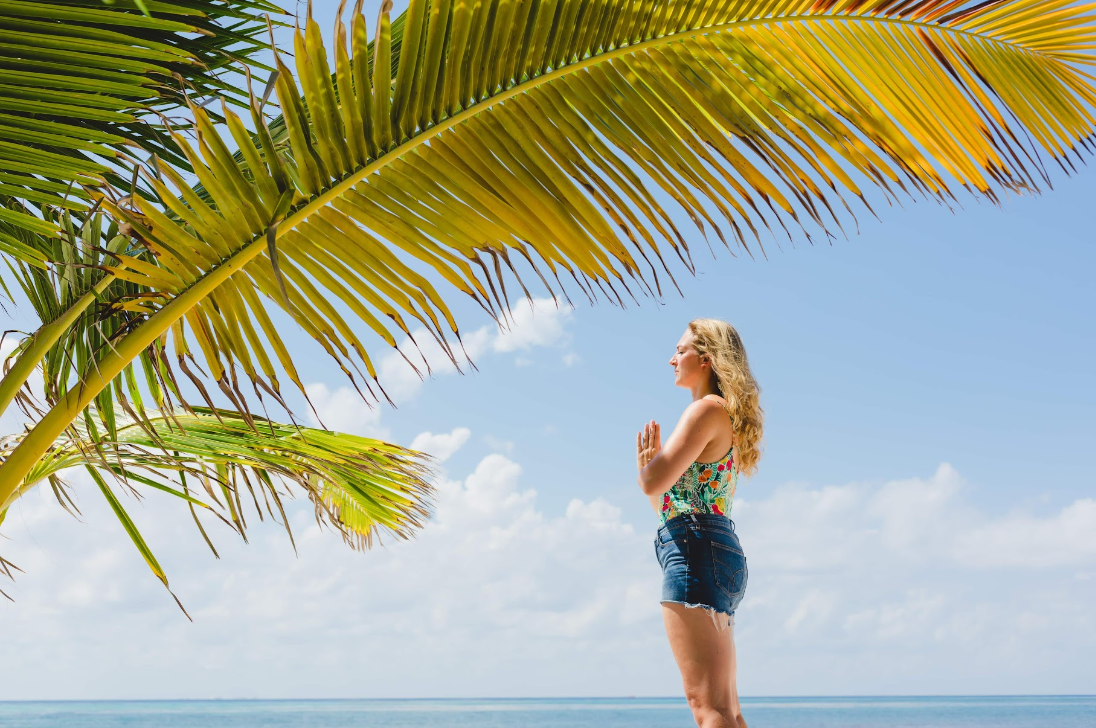 Before you start packing, the first step is to research the specifics of your yoga retreat. Location is a crucial factor in deciding what to pack for yoga retreats since the climate will determine your outfits. Will you travel somewhere warm and tropical where you need lots of loose, flowy pieces?
Or maybe you're headed to a cool, dry climate where layering is essential. Regardless, check the weather of your destination before you start packing so you can avoid bringing items you don't need.
You also want to consider how long the yoga retreat will be and what activities you'll participate in. Check with the event organizers for any specific recommendations or requirements, and confirm if you'll have access to laundry facilities. If you'll have the opportunity to hike, swim, or travel into town, bring appropriate outfits and accessories, like hiking boots or a swimsuit.
Quick Tip: Book Your Yoga Retreat ahead with BookYogaRetreats. There are online and offline options available.
Every yoga teacher training packing list includes essentials yogis should bring to their retreat experience. Of course, one of the most important items is your yoga mat.
A lightweight and durable mat is ideal when traveling because it'll hold up against wear and tear and won't weigh you down. When choosing a travel yoga mat, make sure to find an option with the appropriate length, size, and level of cushion to suit your practice style.
Check out my favorite travel yoga mats reviewed in this post.
Using yoga props is a personal preference, but they can enhance and deepen your practice. Popular options include blocks, straps, and bolsters. These accessories will help you modify poses and cater to your body's physical needs and restrictions, ensuring an effective yoga session.
If I'm honest, when thinking about what to pack for a yoga retreat I probably wouldn't be packing any yoga props. They take up space and I'd be very surprised if the yoga retreat you were going to doesn't have a good selection of props for you to use!
The last yoga retreat essential you have to pack is comfortable clothing. Since yoga is about flowing through different movements and holding various poses, you'll want to invest in breathable and stretchy pieces.
The items you pack will depend on your style and specific yoga practice, but make sure you're bringing versatile pieces that allow plenty of freedom to move and stretch.
Yoga Retreat Clothing I Love
Wondering what to wear to a yoga retreat? I got you covered. Honestly, this caused me quite a bit of anxiety on my first yoga retreat. But as soon as I got there it became super clear… You can wear what you want!
Yoga brings people from all walks of life together and everyone will be dressed differently! So basically pack things you love. Things you feel good in, and of course plenty of clothing to do yoga in. That said I've linked some of my personal favorite yoga items I love below.
Meditation Looks
Yoga Class Outfits
Classroom Clothing
Casual Evening Outfits
If you still aren't sure what to wear to a yoga retreat and want to do some online yoga shopping I personally love the following yoga brands.
Yoga Footwear To Pack
While I personally always prefer bare feet for myself and my yoga students if you are one of those people who can't stand their bare feet then you can purchase yoga shoes or socks for indoor practices.
These footwear options offer some grip to prevent you from slipping or sliding around and are ideal for yogis who don't want to walk around the retreat barefoot.
This comes down to personal preference, so stick with whatever makes you feel most comfortable.
When you're not practicing yoga on your retreat, you'll hopefully have time to explore and try different outdoor activities. Pack at least one to two pairs of comfortable travel shoes that you can use for walks or hikes.
Sandals are easy to slip on and off, and a sturdy pair of hiking boots or walking shoes is vital so you can embark on any adventure that comes your way.
Must Pack Yoga Accessories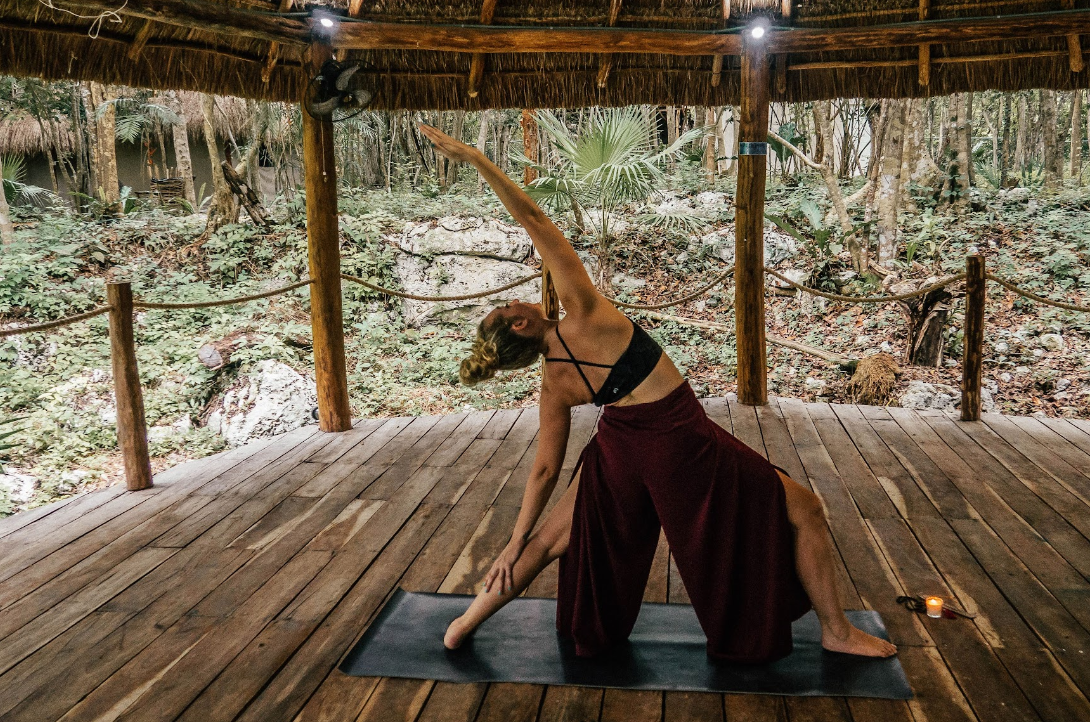 When creating your yoga retreat packing list don't forget to leave some space in your luggage for yoga accessories!
A water bottle is one of the most important items to bring along since staying hydrated is essential. Packing a reusable water bottle is also a great way to minimize waste from disposable or plastic bottles.
You might want to pack a yoga towel if you'll be participating in intense practices where you'll be sweating. Yoga towels will help keep your mat clean and absorb sweat so you can stay focused on the class, especially if you'll be in a hot and humid environment.
Whenever I'm traveling anywhere in the world, and especially when attending a yoga retreat I always pack a little bag of goodies including some of my favorite crystals, essential oils, and some oracle cards. It's these little things that just elevate my mood and practice and don't take up much room in my luggage.
Yoga Retreat Packing List Self-Care and Toiletries
Self-care should always be a priority, even when traveling to a yoga or wellness retreat. Travel-sized hygiene and personal care items will keep you clean and composed throughout your trip. Don't forget to pack your toothbrush, toothpaste, deodorant, and other toiletries you reach for daily.
Skincare products are also essential to keep your skin soothed and healthy throughout your retreat. Sunscreen is a crucial step in any skincare regimen to prevent harmful sun damage that leads to signs of aging like wrinkles, hyperpigmentation, and rough skin texture. I also suggest bringing moisturizer and lip balm so you don't have to worry about dry, cracked skin.
Other important self-care items to pack for a yoga retreat include necessary medications and a small first aid kit. You never know what could happen while traveling or participating in the retreat, so keep basic first-aid items like band-aids and antiseptic ointment close.
Other Packing Essentials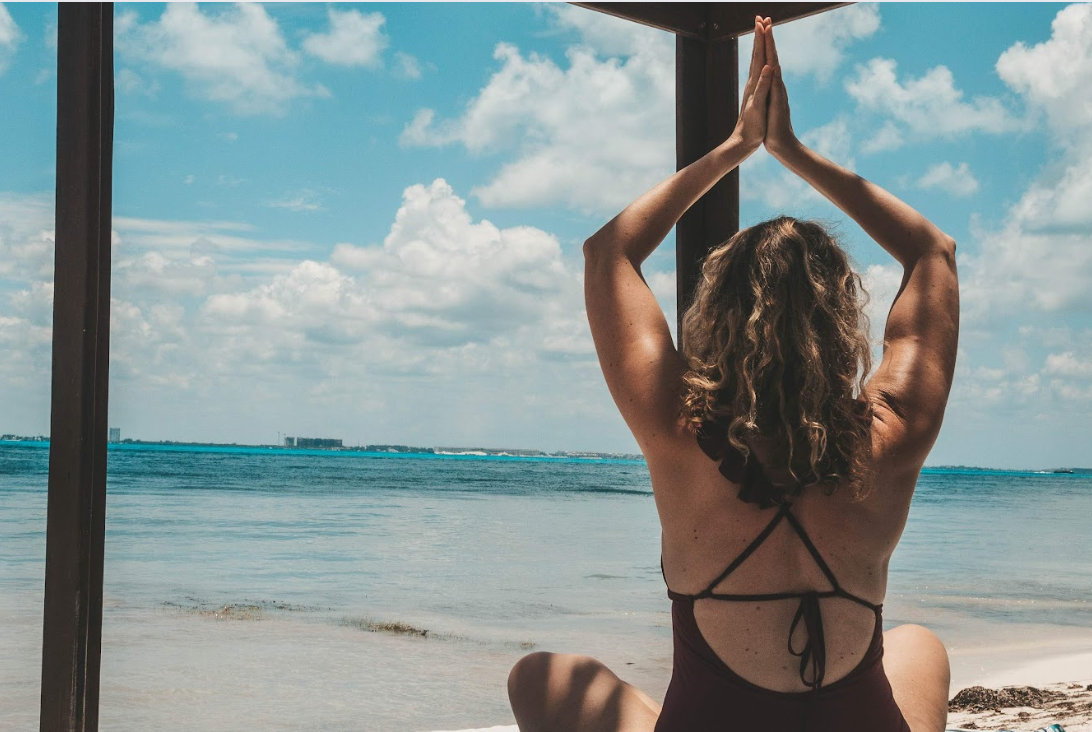 If you have extra room in your luggage after packing up all the essentials, consider throwing in some travel accessories. Electronics like your phone, headphones, and chargers are important on travel days when you need to pull up directions or boarding passes quickly.
You'll probably spend a lot of the retreat disconnecting from technology and the outside world, but it's always a good idea to keep electronics on hand.
I always bring a journal and pen when traveling, especially on a wellness retreat. I like to reflect on different experiences by jotting down insights and random thoughts throughout my trip. Journaling is an excellent way to connect with your inner self and quiet your mind.
Similarly, you can bring some books or magazines to occupy your free time. Self-help and educational books are good options to grow in a specific aspect of your life or learn more about a topic. You can also bring some lighthearted reading materials for when you really want to relax and unwind.
Quick Tip: Check out my other Yoga posts all over the world here:

Asia:
Discover the 7 Best Yoga Teacher Training Programs in Thailand: A Comprehensive Guide
Get Your Zen On: Exploring the Best Yoga Retreats in Thailand
Yoga in Thailand | The Best Thailand Yoga Retreats Reviewed
The Insider's Guide to Yoga in Thailand
The Best 6 Places for an India Yoga Retreat
Bali Yoga Retreat | The Best Yoga Retreats In Bali Reviewed
Bali Yoga Training | The Best Bali Yoga Teacher Training

Europe:
Discover Serenity: Best Yoga Retreats in Ibiza to Reconnect with Yourself
Discover the Power Within Top 7 Life-Altering Yoga Retreats in Europe
The Best Places for a Yoga Retreat In The UK

America:
The Best Yoga Retreats In Mexico
A Guide to Yoga in Guatemala | Yoga Guatemala
Yoga Playa del Carmen
Yoga Retreats Colombia | The Best Colombia Yoga Retreats Reviewed
The Best Guatemala Yoga Retreat
The Best Costa Rica Yoga Retreats
What's Better? Online or In Person Yoga Teacher Training
How to do A Yoga Teacher Training While Traveling Full-Time

Tips & Packing Guide:

The Best Online Yoga Teacher Trainings (Including Pros and Cons of online yoga courses)
The Best Yoga Teacher Training Courses Worldwide
The Best Yoga Mats for Travel
The Best Yoga and Dance Bras Reviewed
Discover the Best Yoga Tops for Women

What to pack for a yoga retreat Quick Checklist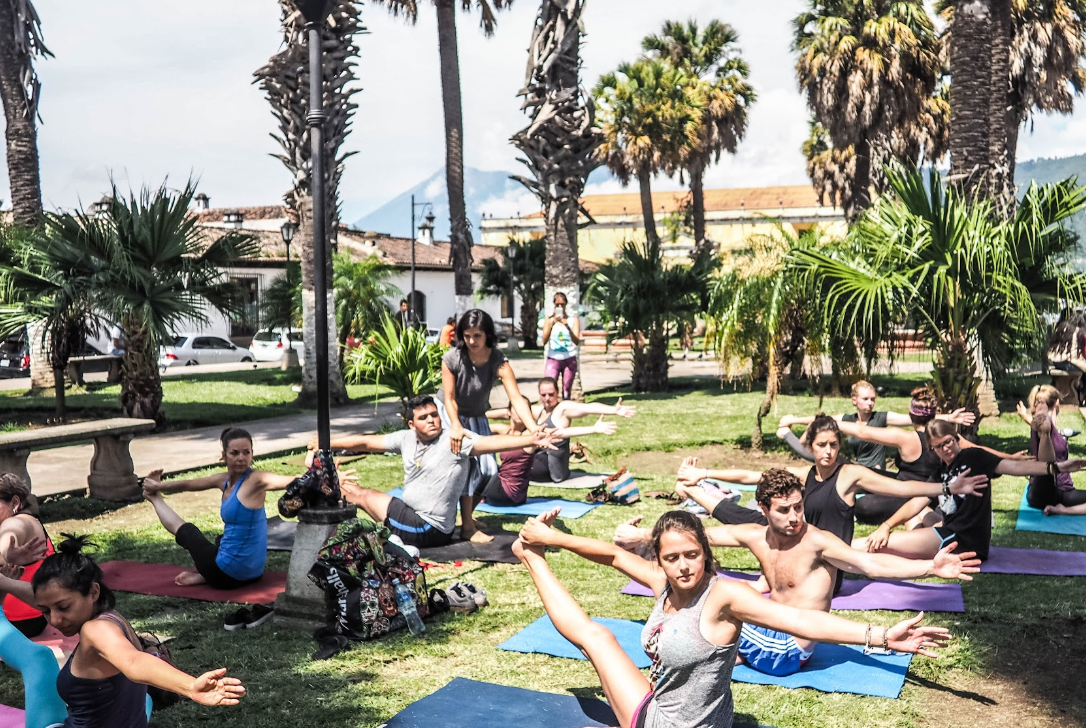 To sum everything up, here's a list of yoga retreat packing list essentials I recommend packing for your next wellness or yoga retreat:
Yoga Mat: Bring your own mat for personal hygiene and comfort during yoga sessions.
Comfortable Yoga Clothing: Pack breathable and stretchy yoga outfits that allow for ease of movement.
Water Bottle: Stay hydrated throughout your retreat with a reusable water bottle.
Towel: Bring a towel for wiping sweat or use during hot yoga sessions.
Journal and Pen: Reflect on your experiences, write down insights, or jot down any important notes during the retreat.
Comfortable Walking Shoes: Pack comfortable shoes for walking or outdoor activities during free time.
Swimwear: If there's a pool or nearby beach, pack swimwear for relaxation or water activities.
Layering Options: Include lightweight layers like tank tops, long-sleeved shirts, and cardigans for different temperatures or indoor/outdoor activities.
Comfortable Sleepwear: Pack comfortable sleepwear for restful nights.
Toiletries: Remember travel-sized toiletries, including shampoo, conditioner, soap, toothpaste, and any personal care items you may need.
Sunscreen: Protect your skin from the sun's rays, especially if outdoor activities are part of the retreat.
Insect Repellent: If the retreat is in a location with bugs or mosquitoes, bring insect repellent for added comfort.
Snacks: Pack healthy and energizing snacks to eat between meals or during breaks.
Personal Items: Remember to bring any personal items you may need, such as medications, contact lenses or glasses, and any necessary hygiene products.
Comfortable and Casual Clothing: Pack casual and comfortable clothing for relaxation periods or exploring the surroundings.
Reusable Shopping Bag: Bring a reusable bag for carrying items or any shopping you may do during the retreat.
Electronics: While it's good to disconnect, you may want to bring essentials like a phone, headphones, and chargers
Open Mind and Positive Energy: Lastly, bring an open mind, a positive attitude, and a willingness to immerse yourself in the retreat experience.
Quick Tip: View my full yoga retreat packing list essentials here.
Yoga Travel Guide Planning
🧘‍♀️ Where can I look for the best Yoga Retreats?
I always use BookYogaRetreats when planning my Yoga Retreats Journey. You can select by region and there are many options whether you want to do it online or not.
🧳 Any recommendations on what I should pack in my Yoga Retreats?
Yes! I have created an idea list of what you should pack when leaving for your Yoga Retreats. You can check the full list here
📚 What books would you recommend to someone who wants to learn more about Yoga?
There are so many books I can recommend for you who's just starting out or an advanced Yogi. I have the full list for you here.
🚗 Where can I book bus or private transportation while I'm traveling?
I strongly recommend using Bookaway. You can book almost all transport in the major tourist destinations through them online. They don't just cover buses they also cover shuttles, ferries, and private drivers.
👩‍⚕️ What is the best insurance to have while traveling?
I recommend using Heymondo for a great value policy. The app also offers you 24/7 Dr Chat. For Digital Nomads check out SafetyWing digital nomad insurance.
I have also written a blog post covering all my recommended travel insurance here
✈️ Any flight recommendations?
WayAWay offers you cheap flights with cashback. You can use this code CLAIRE22 to get 10% off. Otherwise Skyscanner or Expedia are my go-to flight searching platforms.
📱What do you use for internet connection while traveling?
I'm a big fan of personal WiFi devices and they have saved my ass so many times when traveling. I wrote a full review of the top travel WiFi devices you can read here. I personally use GlocalMe as I can either pop in a physical sim card or use their local carrier.
With regards to my phone connection, I use e-sims while traveling, so rather than having to swap out my regular sim card I can download the app and buy a virtual sim card. I recommend using eitherAirhub or Alosim. Both have great coverage of multiple countries and are very easy to use.
🛏️ What is the best platform to use for booking accommodation?
The 3 best platforms that I normally use are Booking.com, Hotels.com, and Expedia They offer great deals and multiple options. I always check all three to be sure of the best deals.
🛅 Do you have any luggage recommendations for traveling?
I do have a complete list of the best packing and luggage products that I recommend, you can check the list here. I'm currently traveling with this suitcase and this backpack.
Conclusion
When creating your own yoga retreat packing list the most important thing to consider is your yoga retreat's location, climate, and activities. And always check with the retreat organizers for any specific recommendations or requirements.
Enjoy your transformative yoga retreat experience!
Pin for later