Are you ready to take a break from your busy life and embark on a journey of self-discovery and relaxation? What better place to do that than Ibiza Yoga retreats where stunning landscapes and transformative powers of Yoga come together to help you find your inner Zen.
I have put together this blog post to share insider tips and honest reviews of my favorite Ibiza yoga retreats. Whether you are a seasoned yogi or just starting out, there is something for everyone on this list.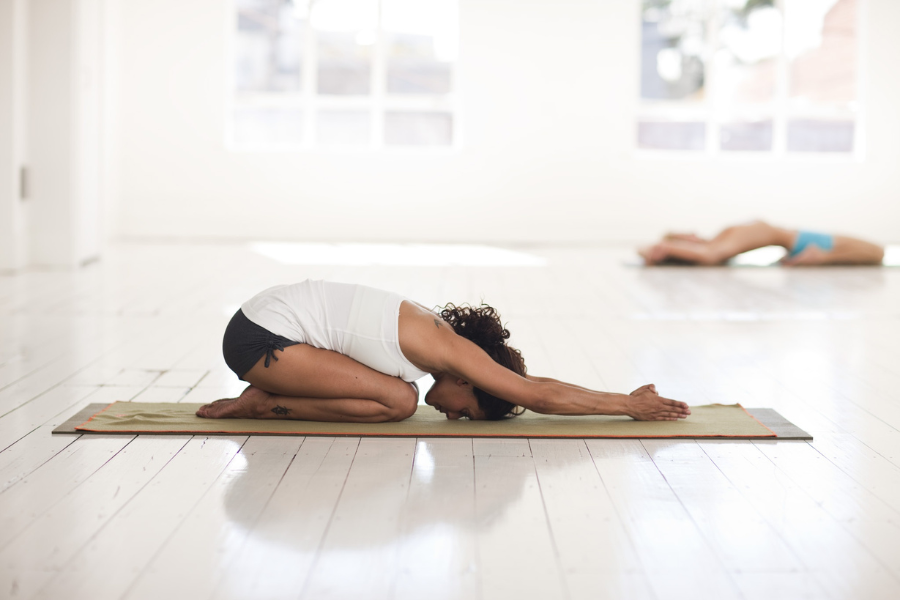 Why Yoga Retreat in Ibiza?
Yoga in Ibiza is a natural choice for anyone looking to find a perfect escape from a busy life. The enchanting beauty and the vibrant energy of Ibiza come together to form an unforgettable experience for its visitors.
Picture yourself practicing yoga on pristine beaches, surrounded by crystal-clear turquoise waters and breathtaking sunsets, sounds like heaven right?
Not to mention the laid-back atmosphere and tranquil vibes of the island along with stunning scenery provide an ideal backdrop for finding your inner peace.
Moreover, the wellness scene in Ibiza is thriving. The island is brimming with top-quality yoga studios, holistic centers, and renowned yogis that can help you in your journey to unlock your full potential.
Do not hesitate to take full advantage of the variety of wellness programs offered in Ibiza. Treat yourself to meditation sessions, wellness therapies, rejuvenating spa treatments, and detox programs that nurture your mind, body, and soul.
We cannot ignore the vibrant and unique culture of Ibiza as well. The world-class restaurants in Ibiza are a must-try. The food scene here is so good it might send you into a food coma. Ibiza is one of those places where food is healthy and DELICIOUS, a perfect combo for a yogi, right?
So what are you waiting for? Grab your yoga mat and get ready to enjoy yoga in Ibiza where serenity, beauty, and inner peace awaits you.
Did You Get Travel Insurance Yet?

If 2020 taught us anything, it's that you need to be prepared for anything!

The Insurance companies I personally recommend are Hey Mondo, Passport Nomads, Safety Wing, and Travel Insurance Master

Hey Mondo is great if you are looking for a great value flexible policy. They offer single-trip cover, annual multi-trip cover, and long-term travel cover.

Passport Nomads provides the most comprehensive cover for Digital Nomads. If you find yourself in need of medical care you just contact them and they will pre-load your card with the funds to cover your treatment, meaning you won't need to pay out of pocket and then put in a claim later.

Safety Wing is great value with monthly cover starting at $39. It's super easy to use and it just renews each month. I currently use them as they offer me free cover for my son as part of my policy.

I also use Travel Insurance Master for short trips.

Read my full travel insurance post here where I go into detail about all 4 companies.
How To Choose The Best Yoga Retreat In Ibiza For You
Choosing the perfect yoga retreat is a very personal decision based on your specific preferences and goals but here are a few things to think about to help you choose the right retreat for you:
1. Determine your goals: Before you start searching for retreats, think about what you hope to achieve from the experience. Are you looking to deepen your practice, learn a new style of yoga, or simply relax and recharge? Knowing your goals will help you narrow down your search and find a retreat that meets your specific needs.
2. Research the teacher or leader: The teacher or leader of the retreat can have a big impact on your experience, so it's important to do some research before booking. Look for a teacher or leader with experience and a teaching style that resonates with you.
3. Consider the location: The location of the retreat can also play a big role in your experience. Do you prefer a secluded, natural setting, or would you rather be in a bustling city? Consider factors such as the climate, the activities offered, and the overall atmosphere of the location.
4. Check the schedule: Look at the schedule of the retreat to ensure it aligns with your needs and preferences. Some retreats may have a strict schedule with little free time, while others may offer a more relaxed and flexible schedule.
5. Read reviews: Reading reviews from past participants can provide valuable insights into the quality of the retreat and the experience offered. Look for reviews that speak to your specific goals and preferences. One of the reasons I love booking retreats through BookYogaRetreats is that you can read the reviews and know they are genuine.
6. Consider your budget: Yoga retreats can vary widely in cost, so it's important to consider your budget when choosing a retreat. Keep in mind that a more expensive retreat may offer higher quality accommodations, food, and experiences, but that doesn't necessarily mean it's the best fit for you.
In this review, I've tried to include a variety of yoga retreats in Ibiza that cater to many different wants, needs, and budgets!
SAMATVA LUCE Sound & Yoga Retreat – Ibiza
When: 9th – 13th June 2023
Number of nights: 4
Yoga Style: Vinyasa
Location: Ibiza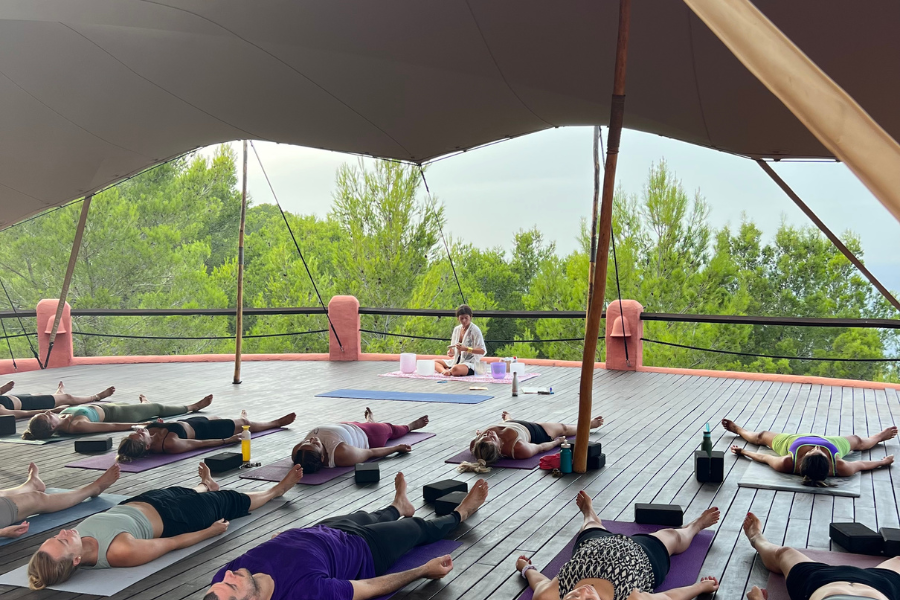 Are you ready to feel the freedom that Ibiza has to offer? The island of Ibiza is said to be home to powerful crystals that vibrate at a higher frequency, and you're invited to join this 5-day transformational retreat.
You'll spend your days practicing yoga in the outdoor shala, relaxing by two pools, swimming in a secret spot, and soaking up the sweeping views of the Mediterranean. And don't worry about food – we've got you covered with nourishing vegan meals.
This is a chance to come with an open mind, ready to embrace change, and recharge your batteries with daily yoga, mantras, pranayama, sound, and ceremony. The outdoor yoga shala and ocean views will create the perfect setting for you to connect with yourself and the energy of this special island.
Leah and Danielle can't wait to welcome you with open arms to Ibiza and share this incredible experience with you. Get ready for a journey of transformation, relaxation, and connection.
Daily sample schedule
7.30 Light breakfast
9.30 – Vinyasa yoga
11.00 – Reflection / Relaxation time
12.00 – Lunch
16.00 – Meet Your Voice – Vocal Workshop
19.30 – Dinner
20.00 – Cacao Ceremony with Soundbath
7-Day Unique Bliss Ibiza Yoga Retreat in Villa Asana
Price from: $1,652
Number of nights: 6
Yoga Style: Hatha, Power, Vinyasa, Yin
Location: Ibiza
This 7-day unique bliss Ibiza yoga retreat in Villa Asana combines the healing practices of yoga and meditation and I love the fact that you can take classes in secret, picturesque locations across the island.
While on this retreat, you can immerse in organized excursions like hikes, boating, beachcombing, cliff jumping, and spa days, all under the breathtaking sunset vista at Es Vedra.
This retreat is centered around Villa Asana, an elegant 4-bedroom villa in Port Des Torrent's tranquil village. Just a two-minute walk from the local beach and a short drive from Cala Bassa and Cala Comte, this villa's location is perfect for yoga in Ibiza.
The facilities, like a jacuzzi, BBQ area, covered yoga space, gym, and pool table, make Villa Asana a not-to-miss yoga place in Ibiza.
This yoga retreat Spain villa also features a spacious swimming pool surrounded by lush gardens, where you can find plenty of cozy chill-out areas.
Since Villa Asana has been recently refurbished, you'll see that it's equipped with shared bathrooms that have large walk-in showers, air conditioning throughout, and high-speed WiFi.What sets this retreat apart from other yoga en Ibiza experiences is the chance to venture outside the villa for outdoor yoga classes and optional excursions.
What's included:
6 nights accommodation
2 daily yoga classes
Outdoor yoga excursions
Daily buffet breakfast, self-service lunch, and 3-course dinner
Drinks including water, tea, coffee, fruit juice, and wine
Free daily island excursions
Es Vedra champagne sunset
Free Ibiza gift bag
A Deep Relaxing and Healing Yoga Retreat Ibiza
Price from: $1,652
Number of nights: 4
Yoga Style: Hatha, Iyengar, Vinyasa, Restorative
Location: Ibiza
Deep Yoga Ibiza is a perfect option for anyone looking for a small group where you get lots of individual attention. The retreat house is nestled between pine trees and is just a short walk away from the secret beach of Aguas Blancas.
The yoga session is mostly in the mornings which gives you plenty of time to enjoy the gorgeous turquoise waters of Aguas Blancas. Aron is an experienced instructor with an individualized approach that is a perfect blend of ancient yoga and modern-day meditation.
Witnessing the sunrise from the sea as you meditate creates a divine connection with nature, setting the stage for a transformative mental reset. Oh, and I absolutely love the nutrient-rich, mouthwatering meals cooked by Japanese chef Tori Muraki, who understands the importance of nourishing, delicious food in enhancing your yoga practice. While on this yoga retreat in Spain, you can secure a private apartment or glamping tent and even create a personalized retreat with exclusive group rates. They offer flexible dates and durations in this retreat so you can join them when you are truly ready.
What's included:
4 nights accommodation
Daily 3-hour yoga classes and meditations (about 11 hours of class)
Delicious brunches daily
2 evening meals
7-Day Sensory Awakening Meditation
Price from: $2,093
Number of nights: 6
Yoga Style: Yin, Ashtanga
Location: Ibiza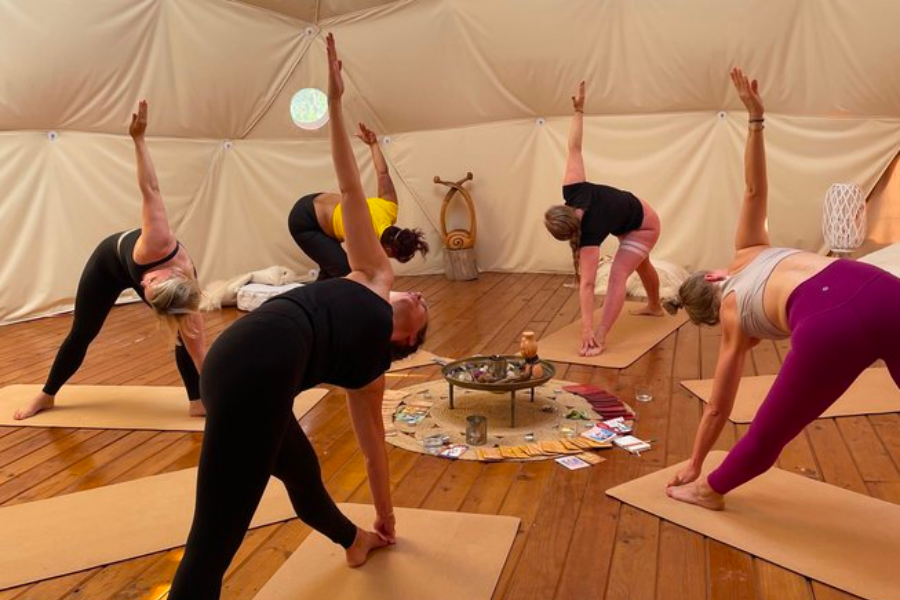 The Retreat House Ibiza is specially designed for women who are looking for perspective and regaining their lost self.
If big life changes have left you baffled or you need to align your thoughts, this 7-Day Sensory Awakening Meditation and Yoga Retreat is just what you need. This transformative retreat will rejuvenate your mind, body, and spirit with its alluring blend of traditional yoga practices and sensory experiences.
This eco-friendly sanctuary offers eco-chic accommodations, blending seamlessly into the natural environment, creating a space for reflection and growth.
If you've lost touch with your feminine energy or wish to achieve deep healing, this Yoga en Ibiza sanctuary says amen. During the 7-day stay, Rachel, your yoga instructor will guide you through daily yoga and meditation sessions tailored to your skill level.
With a combination of Hatha, Yin, and Restorative yoga practices, this revival will connect you to yourself.
In this yoga retreat in Spain, you'll be welcomed with 3 daily plant-based meals prepared by the in-house chef, using fresh, organic ingredients sourced locally from Ibiza's bountiful farms.
As the sun sets, you must gather around the fire pit for soulful conversations and stargazing, creating lasting memories and connections with fellow retreat-goers.
With a 'no judgment' policy and comfortable living conditions, The Retreat House Ibiza stands tall for the Divas seeking inner healing and strength.
What's included:
Start and end every day with different types of yoga and meditation
Cool excursions to get to know the island
Daily activities like workshops, painting, and hiking
A goddess photoshoot including hair and make-up before the closing party
6 nights accommodation in a beautiful location
3 delicious, healthy plant-based meals from a local chef every day
Welcome gift
6 Days of Authentic yoga retreat with an Indian Yoga Teacher in Ibiza, Spain
Price from: $936
Number of nights: 5
Yoga Style: Hatha, Vinyasa, Nidra, Ashtanga
Location: Ibiza
Ever dreamt of your section of paradise where your soul and body are free? That's what a 6-day stay in Carrer Benirràs, Ibiza gives you.
At the heart of this transformative experience is an esteemed Indian yoga teacher who brings a wealth of knowledge and expertise gained from years of practice and teaching in the birthplace of yoga. More than the physical aspect, this yoga retreat's spiritual power will leave you connected to your true self.
Located on a 20-acre fertile land and surrounded by stunning vegetation, your stay in this retreat will feel like a part of a painting.
The yoga teacher here will lead you through various yoga styles, including Nidra (their key focus), Hatha, Ashtanga, Vinyasa, and Yin. With personalized attention, you'll deepen your understanding of yoga philosophy, learn proper alignment, and cultivate a strong foundation to grow your practice.
Your daily schedule will include two yoga sessions, including Ashtanga Vinyasa and Hatha Yoga. Pranayama and meditations are also included in these classes to give you ample relaxation, exploration, and self-reflection.
You'll also have the opportunity to attend enlightening workshops and lectures covering topics such as pranayama, Ayurveda, and yogic lifestyle.
This yoga retreat Spain commits to your holistic well-being that extends beyond the yoga mat – you can also join surprise group hikes to work out those muscles and bond with fellow yogis.
What's included:
Daily 2 yoga sessions
5 nights of comfortable accommodation
Vegan and vegetarian lunches daily
Dining options at the beach just 2 minutes away
Provided kitchen and groceries so you can prepare your own breakfasts
Refreshing juices and fruits
4-Day Healthy Healing Happy Private 1-on-1 Retreat with Yoga in Ibiza
Price from: $1,652
Number of nights: 3
Yoga Style: Hatha, Power, Yin, Restorative, Zen, Yin Yang
Location: Illes Balears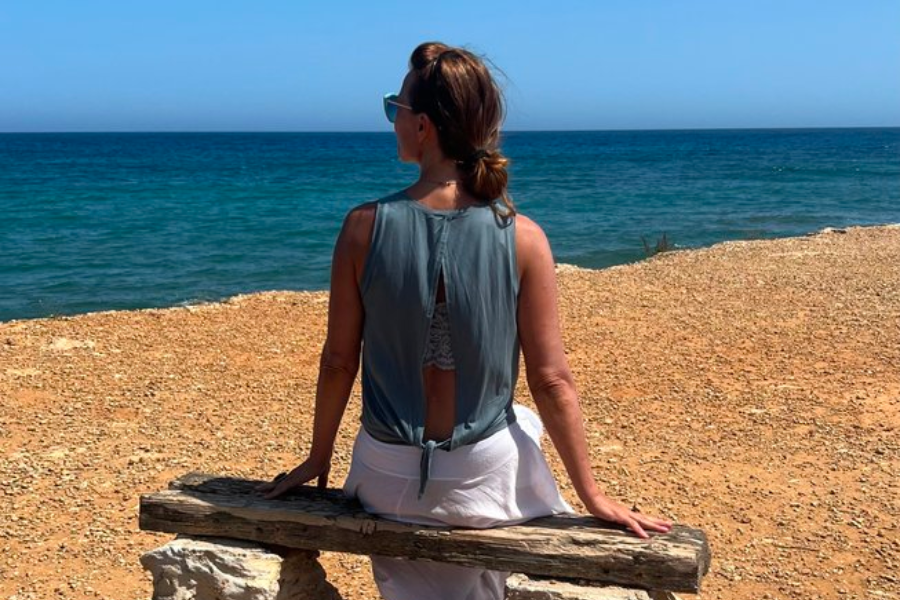 How would it feel to experience a soul-finding retreat that brings out your inner conflicts and helps you deal with them? All while you relax in a soulful place where meals are served fresh, and the wind blows slow?
The 4-day Yoga Healing Happiness retreat can do it all for you and more. Since the instructor, Scarlet Nayana designs your retreat after having a chat with you, you can add or skip anything you want.
For example, Scarlet is an excellent massage therapist who knows potent oil blends that can uproot your tiredness and help you feel rejuvenated. If you need a massage in the serene Yoga en Ibiza place, you can book a session with her.
The 4-day Yoga Healing Happiness retreat will power you with a blend of Hatha, Power, Yin, Zen, Yin Yang, and Restorative practices designed to your preferences. These sessions will help deepen your practice, improve your flexibility, and strengthen your connection with your inner self.
'We are what we eat' is taken very seriously in Yoga Healing Happiness. Here, you will be greeted with nutritious juices, meals, snacks, and beverages that detox your body and help you feel the lightest you've ever felt.
To complement your yoga practice, you can choose from a wide range of offerings such as Pilates Ibiza, sound healing, or a deeply soothing massage, all provided by their skilled therapists.
During your free time, you can explore the stunning beaches, charming villages, and vibrant markets of Ibiza or unwind by the retreat's inviting pool, taking in the soothing sounds of nature.
What's included:
3 nights accommodation
Healthy breakfast and lunch
Daily yoga
Daily meditation
Coaching and guidance (talks, writing exercises, guided meditations, health for body, emotions and thoughts)
Mindfulness
Zoom session upfront possible
Exploring and sightseeing on the island
6-Day Journey into Consciousness Immersive Yoga Retreat in Ibiza
Price from: $4,023
Number of nights: 5
Yoga Style: Vinyasa
Location: Ibiza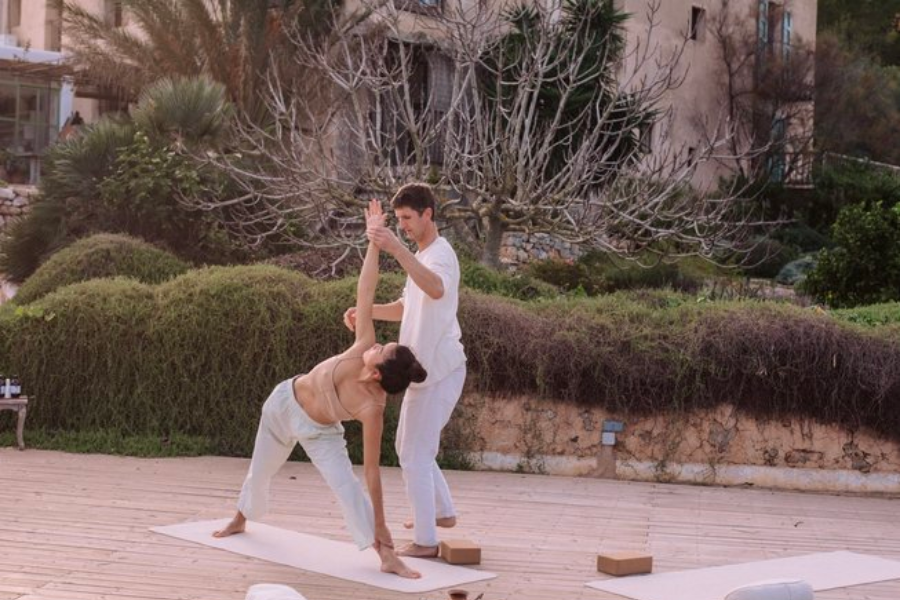 Are you tired of being in 'fight or flight' mode or feeling hindered in everything you do? In this 6-day Journey into Conscious Yoga in Ibiza retreat, you get to align your energies with your physical self and feel like a powerful unit.
This transformative experience combines Vinyasa, Pranayama, Satsang, and other holistic practices to help relieve your trapped thoughts.
The skilled instructors here closely monitor your posture and the energies you exude to help you do the best yoga en Ibiza.
You'll delve into the practice of asanas, pranayama, and meditation, cultivating strength, flexibility, and mindfulness. Their small group setting ensures personalized attention and guidance, allowing you to deepen your practice and explore the transformative power of yoga at your own pace.
Besides the diverse yoga sessions, the retreat includes soulful discussions about herbal medicine, soul guidance, and holistic health that encourage self-exploration and personal growth.
With its combination of yoga, meditation, workshops, and excursions, this retreat offers an unparalleled opportunity to awaken your spirit and ignite your passion for life. Whenever you're ready to live your conscious life, try this yoga in Ibiza retreat!
What's included:
Full immersion
3 daily meals
5 nights accommodation
7-Day Luxury Bliss Yoga Retreat in Ibiza with Free Island Adventures
Price from: $1,321
Number of nights: 6
Yoga Style: Vinyasa, Yin, Restorative
Location: Ibiza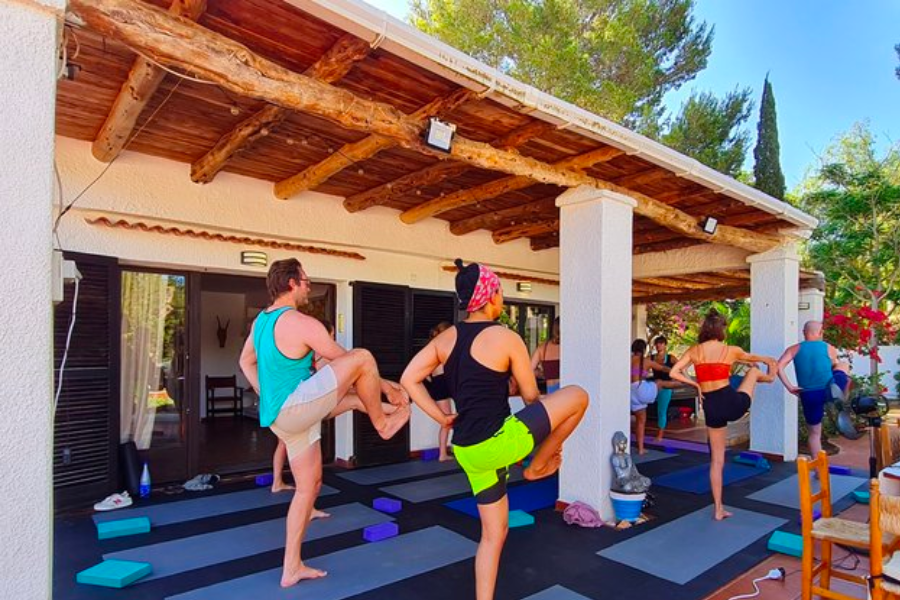 A holiday of you basking in the warm sunlight of Ibiza, surrounded by the intoxicating scent of orange, pomegranate, and fig trees as you embark on a week-long journey of self-discovery – sounds like a dream? Lucky for you, it's granted in Ibiza!
The 7-Day Luxury Bliss Yoga Retreat in Ibiza with Free Island Adventures is calling your name, offering a once-in-a-lifetime experience that blends yoga, island exploration, and scrumptious meals by an in-house chef.
Now, let's talk yoga. You'll be in the expert hands of Jo Tison and Aroa Aliberch, two incredible instructors who'll guide you through two daily Yin, Vinyasa, and Restorative yoga sessions.
Jo, with her focus on self-healing, will help you tap into your inner strength and resilience. Aroa, on the other hand, will assist you in finding a deeper connection with yourself to ensure that you leave the retreat feeling more in tune with your body and mind than ever.
One of the best parts of this retreat is the opportunity to explore the magical island of Ibiza. You'll embark on daily excursions to discover hidden gems, white sandy beaches, and vibrant local culture. These adventures are completely free, impromptu, and thrill-filled, so you soak up the island's beauty while at it.
After a day of yoga and exploration, you'll return to a luxurious villa in the midst of lush gardens, where you can unwind with a good book or laze around by the pool on a comfy Balinese bed. And if you're in the mood for beach time, the idyllic Cala de Bou beach is a few minutes away – let yourself loose and unwind.
Let's not forget the food. Your taste buds are in for a treat as the retreat's talented in-house chef whips up delectable vegan and vegetarian meals. And to top it all off, you'll even receive a free Ibiza gift bag and a packed lunch for your journey back to the airport – that's kind of new for yoga retreats, and I admire this gesture.
What's included:
6 nights accommodation
Delicious buffet breakfast
Self-service lunch
3-course dinner with wine
2 daily yoga classes
Outdoor yoga excursions
Free daily activities including snorkeling, beach days, and Es Vedra sunset
4 Day Luxury Detox, Yoga, and Wellness Retreat on Healing Ibiza
Price from: $1,130
Number of nights: 3
Yoga Style: Nidra, Yin, Restorative
Location: Ibiza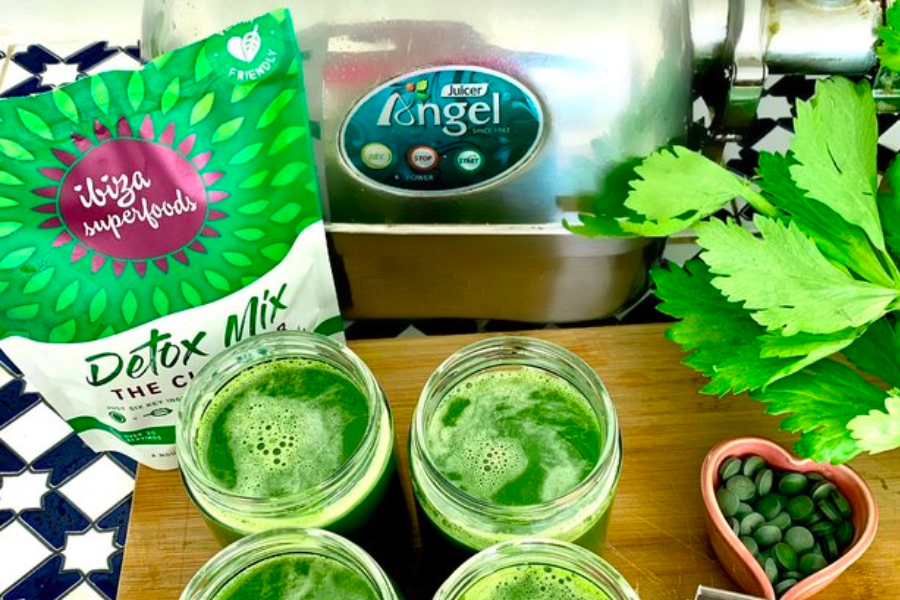 Living in a stressful environment, burn-outs, unsupportive living conditions, and just life, in general, can intoxicate us.
Our modern lifestyles also expose us to toxins, pollutants, and unhealthy habits that can burden our liver and other organs.
And that's when we must give ourselves the liberty to breathe, detoxify, and heal. This 4-7 day liver/juice detox retreat focuses on your core and helps bring your body to its natural, pure state.
Tailored to your needs and preferences, you can choose between liver detoxification or juice fasting, along with holistic practices like Yin, Nidra, and Restorative yoga to enhance your physical and mental well-being. With flexible 4-7 day programs, you can make this retreat fit perfectly into your schedule.
What makes this retreat stand out is the pre-retreat consultation with a friendly nutritionist who will help you determine the best program tailored specifically for you. Throughout the week, you'll explore a world of nutrition, yoga, mindfulness, and delicious plant-based meals, all designed to support your detox journey.
But the retreat isn't just about cleansing your body and mind; it's also about having fun and connecting with like-minded individuals. You'll have the chance to hike through the breathtaking landscapes of Ibiza, participate in engaging workshops, and indulge in some well-deserved pampering.
As the days unfold, you'll learn simple yet effective methods to break away from habits that no longer serve you. This retreat will leave you with a profound sense of renewal and rejuvenation, as well as a deeper appreciation for the beauty of Ibiza and the Mediterranean.
Picture your day beginning with morning detox herbal infusions and Ayurvedic cleansing rituals, followed by a gentle morning yoga practice with calming breathwork. As the day progresses, you'll enjoy organic cold-pressed juices, liver flush drinks, teas, and supplements. In the evening, unwind with a soothing Yin or Yoga Nidra session and take part in an afternoon workshop or hike to explore the island's stunning natural beauty.
What's included:
Choice of 2 fully guided purification programs (juice me up or liver lover cleanse)
Pre-cleanse health consultation with nutritionist Verity to help establish which program best suits you
1:1 consultation with their wellness concierge on arrival
Morning yoga and breath work with Katja
Evening Yin yoga or yoga Nidra to relax and wind down
Nutritional talks and workshops
Daily support and advice including pre and post cleanse care
Ayurvedic herbs and cleansing rituals to enhance the purification process
Lymphatic massage or reflexology session
Outside activities include gentle hikes and silent sunset walk to absorb Ibiza's natural beauty and connect with nature
A trip to a luxury 5-star spa to enhance to sweat out those toxins
3 nights accommodation
Group transfer to and from Ibiza airport at a designated travel time
Detox goody bag
What To Pack For Your Yoga Retreat Ibiza
Packing for a yoga retreat will depend on a few factors such as the location, duration, and activities planned during the retreat. However, here are some general items to consider bringing:
1. Comfortable yoga clothes: Pack comfortable clothes that you can move freely in. Depending on the weather, you may need layers or lighter clothing.
2. Yoga mat: Bring your own yoga mat if you have one. Some retreats may provide mats, but it's always a good idea to bring your own.
3. Props: Depending on your yoga practice, you may need props such as blocks, straps, or blankets. Check with the retreat organizer to see if they provide these or if you should bring your own.
4. Water bottle: Staying hydrated is important, so bring a refillable water bottle that you can use throughout the day.
5. Snacks: While most retreats provide meals, you may want to bring some snacks to have between meals or during breaks.
6. Toiletries: Pack toiletries such as shampoo, conditioner, toothpaste, and sunscreen. If you're staying in shared accommodation, bring a towel and any other personal hygiene items you need.
7. Comfortable shoes: Pack comfortable shoes for walking or hiking, depending on the activities planned during the retreat.
8. Journal and pen: Many retreats include time for self-reflection, so bring a journal and pen to capture your thoughts and reflections.
9. Books or other reading material: If you have downtime between activities, you may want to bring a book or other reading material to unwind.
10. Travel adapter and charger: If you're traveling to another country, don't forget to bring a travel adapter and charger for your electronics.
Remember to check with the retreat organizer for a complete packing list and any specific items they recommend bringing for the retreat. And you can read my full yoga retreat packing list here or visit my Amazon list here.
Pin for later