Are you looking for a little escape from The City? Whether you are living in NYC or vacationing, we all deserve a little luxury from time to time. However, this is New York and luxury costs. That means those of us on a tight budget may have to forgo the expensive massages and stick to a DIY Facemask in our AirBnB. So, when I discovered SoJo Spa Club just over the water from Manhattan in New Jersey, I felt like I had won the lotto. Her is my SoJo Spa Club Review.
First off don't let the fact it is in NJ put you off. They run a FREE shuttle service that will pick you up in Mid Town and wiz you across the water in no time. Plus, everyone knows that you get the best views of that iconic NYC Skyline on the other side of the Hudson River.
My SoJo Spa Club Review
SoJo Spa Club is spread out over five floors. That's right five floors of pools, saunas, steam room, treatment rooms, and restaurants. Oh, and did I mention the infinity pool with a killer view of Manhattan?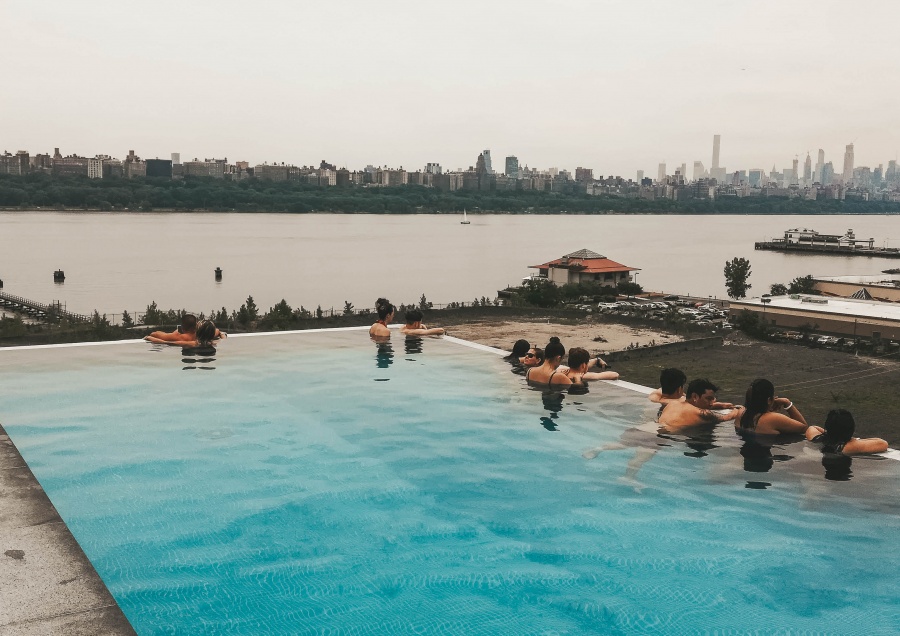 Word of warning, do not underestimate this place. It is enormous and it isn't somewhere you want to just come for a few hours – you will need all day!
When you pay the entrance fee (don't forget to bring ID with you) you will need to give them a credit card to add to your account. Then you will be given a wristband that you use to open your locker and charge any food, drinks or treatments you decide to get.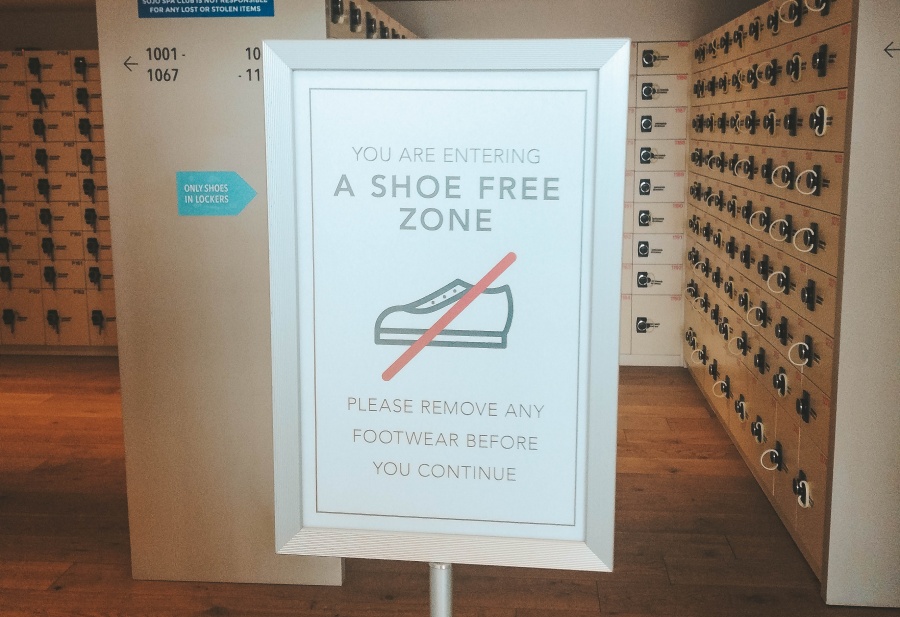 This means you can safely lock everything away and you don't have to worry about keeping money on you in the spa. They operate a no footwear policy, so you have to leave your shoes in a shoe locker before going up to the spa.
How does it work
Once you get into the spa, you enter the female (or male) bathhouse. Here they will give you a robe and towel. You lock your clothes away and put on your bathing suit and dressing gown and then it's time to explore.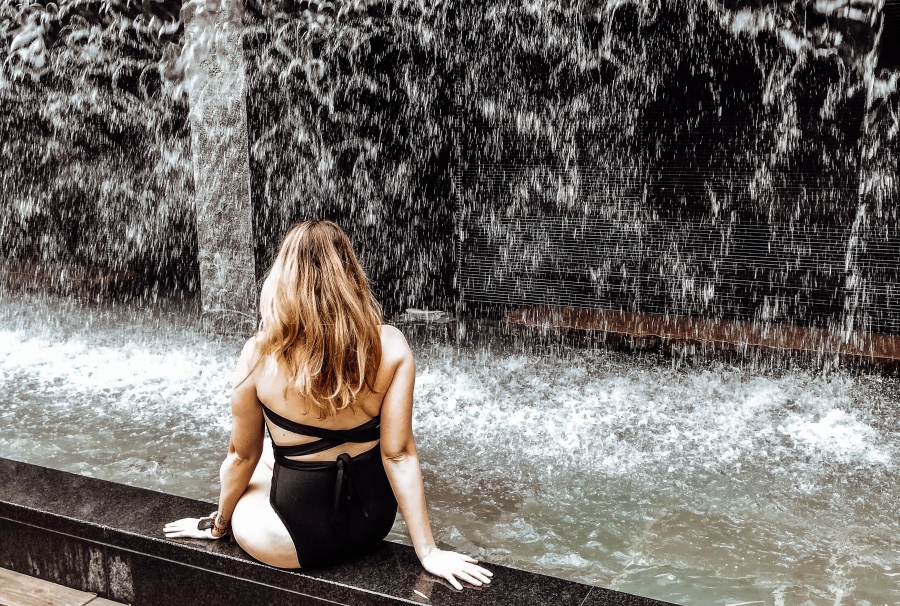 Nudity
Within the male and female bathhouses, clothes are optional. So if you are on the shy side, you have been warned. Cameras are not allowed in these areas for obvious reasons.
The floors
The 4th floor
This is where the bathhouses and changing rooms are. Then outside there are several different pools including a HINOKI bath and a hydrotherapy pool. Or as I like to call is my budget-friendly massage therapist.
Don't miss out on the Ganbanyoku Sauna – I took a little nap here after my lunch – bliss.
In the bathhouse, you can book a Korean scrub, and if you can spare the money, I urge you to book it. I have never felt so relaxed and clean as I have after that scrub. My elbows felt like a newborn baby's. If you are a bit modest though it may be best to give this a miss. The scrub involves being butt naked and scrubbed within an inch of your life while having warm water thrown all over you by a tiny (but very mighty) Korean woman.
I think my favorite moment of the day was hearing my mum reply in a startled voice "What you want me to take off everything?". Oops! Sorry, Mum probably should have pre-warned you that would happen. Anyway, you have been warned!
The 5th floor
If the Korean scrub is a bit too much nudity and scrubbing for your liking, you will find the treatment rooms up here. If you know you want something done, I recommend coming straight here as they do get booked up quick. Check SoJo's website for prices and special offers.
On this floor, you will also find five different saunas, an ice room, a halotherapy room and plenty of places to lounge around or take a nap. On my first visit, I missed this floor! Don't be like me take your time and try them all out.
The only thing you have to pay extra for, and book in advance, is the halotherapy room. For an additional $10 you can enter the salt room for 45 minutes and breath in the salt. I just took a nap and breather it all in. A few of the women in there with us were affected quite severely with the salt and left early. So be sure to take in a bottle of water if you know you can be sensitive. My mum and I had no problems at all.
The 6th floor
Here you will find two dining options. A more formal restaurant with a view of Manhattan or a more casual cafeteria. Both are very reasonable prices, and the portions are enormous. Being in Manhattan everything is overpriced. I found eating here a bargain in comparison.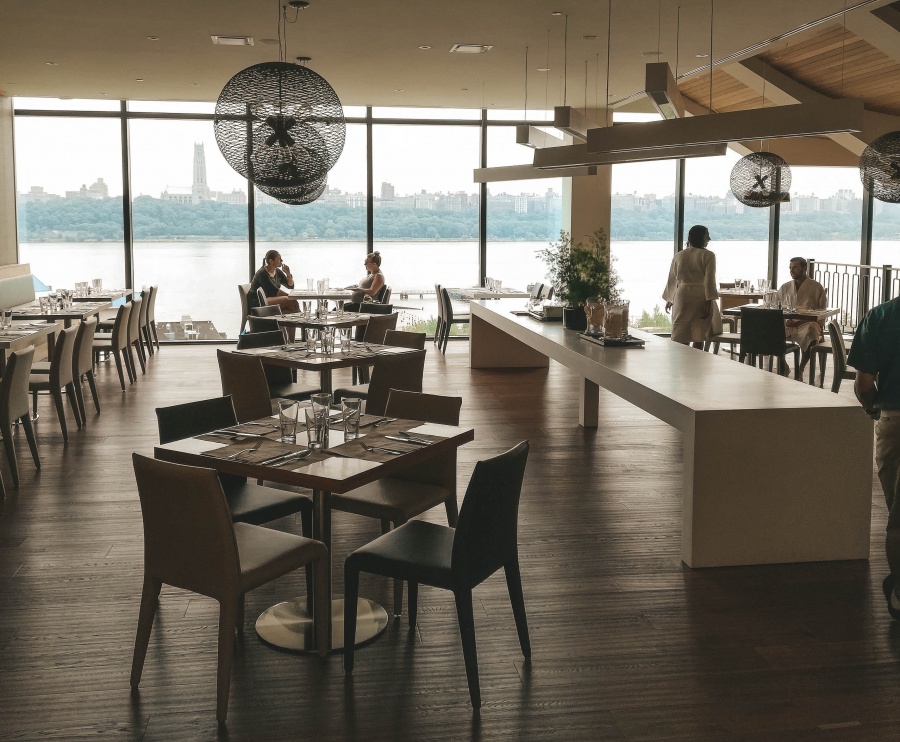 Note: There will soon be a volcanic sand bath and a water slide! But they weren't open while I was there.
The 7th and 8th floor
These two upper floors are outside, and this is where you can relax in the sun if the weather is on your side. You could also work out in the fitness center or enjoy the view from the infinity pool (now we're talking).
If you prefer to eat alfresco, you can also dine at the outdoor grill during the summer. I probably spent the least amount of time up here and the most time down on the 4th floor in the different pools.
Final thoughts on SoJo Spa Club
As you can see from this post, I'm a HUGE fan of SoJo. I think it is fantastic value for money. The food is excellent and even if you are on a budget, $100 for a full day in a Spa with food and drink is a pretty good price to pay. Although after visiting this place, all the best quality massage chairs in the world and spas out there will have tough competition to come close to here.
I hope you have found this useful. Don't forget to download these travel apps and check out my other NYC guides.
Traveling to NYC? Take a read of my other guides:
10 British inspired places to visit in New York City
The 11 most Instagrammable places to eat in New York City
How to spend 5 days in New York City
How to Spend a Weekend in New York City
5 Ways to Win at Christmas Shopping in New York City
This post was proofread by Grammarly
Are you ready to book your trip?  To help you get the best deals and service here are the companies that I personally use to book all of my travel online. I always shop around before booking anything, but these are my tried and tested starting places.