If you are traveling in Colombia you are probably at some point going to want to travel from Bogota to Medellin (the second largest city in Colombia). To do this you have 2 options. In this post, I will talk you through the pros and cons and a step by step to help you get from Bogota to Medellin.
Solo traveling for the first time? Get my new book…
You have 2 options for getting from Bogota to Medellin (in from Medellin to Bogota):
Take a bus

Take a plane
In all honesty, there really isn't that much difference in cost between flying between Medellin and Bogota and taking the bus.
The biggest issue is time!
Taking the bus from Medellin to Bogota can take between 10-15 hours and a flight will take around 1 hour (plus getting through security either end of course).
1. Taking the Bus from Bogota to Medellin
You can take a bus from the main transport terminal in Bogota to the bus station in the north of Medellin. There are multiple busses scheduled per day including several overnight buses. The bus may tell you 10 hours, but I was on it for 12 and I've heard of people who were on it for 15 hours or more. So don't make any plans to do anything other than sitting on the bus for the whole day/ night.
If you want to make the most of your time get a night bus. You will save on accommodation and you can sleep through the time. This is the most economical way to travel. Even though the flight may be short all of the fuss with security and waiting will eat into your day anyway.
Book the bus with Brazilia as they have really comfy seats that go right back! I got lots of sleep and no bad back. If you do travel through the night though be warned they crank the AC up so be sure to wrap up warm!
If you do have the time though take a bus in the day. I actually missed my flight (oops) so I had no choice. But I was so glad I did with these views! Although after 10 hours I was feeling a little crazy…
It was a really nice bus ride, breathtaking scenery, films on some big TV screens and a really good meal on the side of the road!
Tips for taking the bus from Bogota to Medellin:
Make sure you have some layers as it can get cold with the AC

You will only stop once…so go easy on the water
Booking the bus:
You can either book on Busbud or just turn up and get a ticket. I paid $57mil at the ticket office. If I'd have booked through Busbud it would have cost me $65mil. So you can save a little.
I didn't book on Busbud as they made it very clear on their website that I have to print out my ticket and electronic tickets weren't accepted. This was no good for me. Plus I wasn't sure if I would make the 9 am bus, or if I would have to wait for the 10:30. So I took my chance!
It is a chance though. These busses can get full so if you want to be guaranteed a seat on the bus book on Busbud or get to the station early. If you want to take a night bus you will 100% need to book it in advance, I didn't traveling from Santa Marta to Medellin and had to spend an extra night there!
Getting to the bus stop in Bogota:
I took a taxi from La Candelaria and it was around 25 minutes and cost me $10mil pesos.
Getting from the bus stop in Medellin:
When I arrived in Medellin I was able to get a taxi from the bus stop to take me to Laureles for $13mil
If you want to travel from Medellin to Bogota then you will just need to reverse this journey.
2. Fly from Bogota to Medellin
If you don't have luggage you need to check-in and don't mind paying a few $$ more. Then flying is by far the quickest option. There are several flights per day between Bogota to the main airport in Medellin. And 1 or 2 to the smaller more central airport.
You can easily get to the airport on public transport from La Candelaria see here. Once in Medellin, it will cost around $70 mil COP to get into town from the main airport in a taxi, and a lot less from the smaller airport. There are no buses that will take you into Medellin from the airport but you can get a taxi collectivo. The price will depend on how many people are sharing, and how much the driver wants to charge you! But expect to pay around $15mil COP. The colectivos pick up and drop off from San Diego shopping center.
Word of warning if you book a flight with Vivo Colombia. They like to catch people out with extra charges, so make sure you read the fine print and print everything off. Also, don't try and get away with oversized/ overweight luggage. They love to charge extra!
Wondering where to stay in Medellin? I recommend staying in either El Poblado or Laureles and here are a few of my favorite places to stay:
Parceros Med Hostel ( I stayed here for a month and loved it!)
Los Patios Hostel Boutique
Purple Monkey Hostel
Hostal Medellin -Laureles
El Jardín de la 10 – El Poblado
Wondering where to stay in Bogota? I recommend staying in Chapenero over La Candelaria if you are staying longer than 24 hours.
Hotels I recommend are:
Hotel Morrison
Selina Chapinaro
Republica Hostel Chapinero
Hotel Living 55
93 Luxury Suites & Residences
If you are only in town for 1 night then I recommend staying in one of these places in La Candelaria:
Selina La Candelaria
Casa artistica
Arche Noah Boutique Hostel
If you need a hotel close to the airport then I recommend the Radisson AR Bogota Airport.
Concerned about safety in Bogotá? Take a read of my safety guide to Bogotá.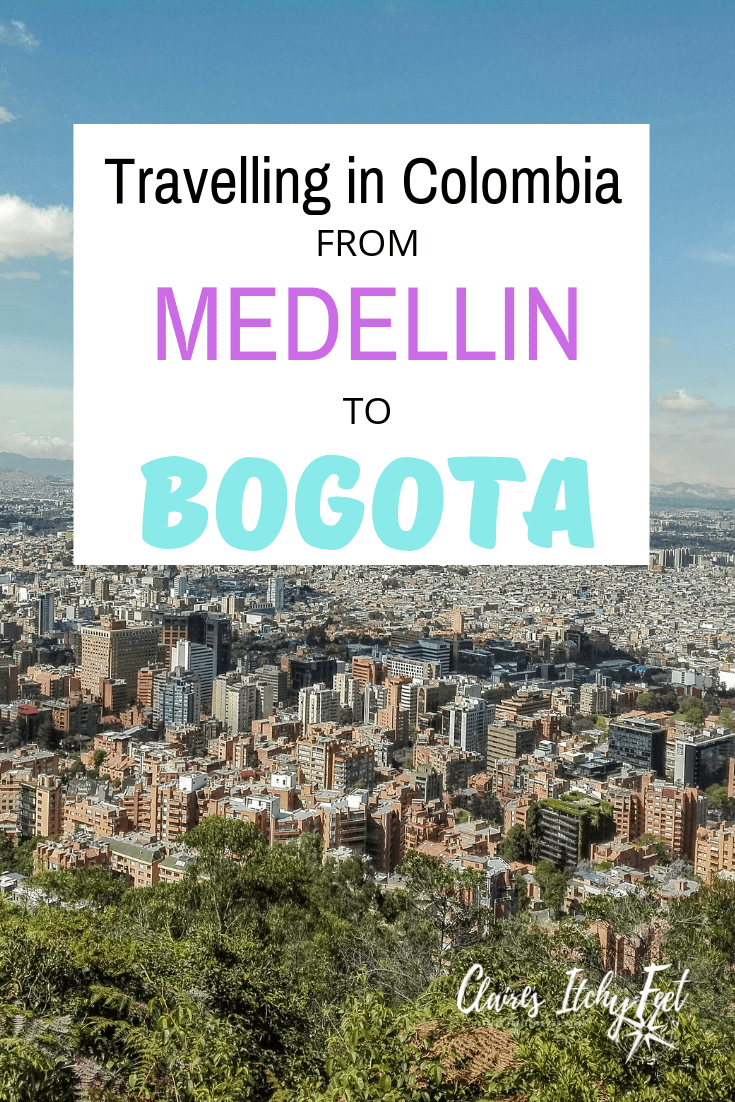 This post was proofread by Grammarly
Are you ready to book your trip?  To help you get the best deals and service here are the companies that I personally use to book all of my travel online. I always shop around before booking anything, but these are my tried and tested starting places.