If you're heading to Colombia, likely, one of the things that attracted you in the first place was the promise of amazing Medellin Colombia nightlife. Well, friends, you won't be disappointed. Medellin nightlife is fun beyond belief and is easily one of my favorite cities in the world to party in.
The thing about Medellin is that just being in the city feels like a party, and as day turns to night that feeling is amplified.
Seriously, there are so many things to do in Medellin at night! Nightlife in Medellin Colombia really is something else!
Paisas (people native to Medellin) are, in my experience, a really fun group of people to go out with. So find yourself some amigos and get ready to enjoy Colombia-style parties that you'll never forget (or hardly remember, if you do it right). Here's my guide to the best nightlife in Medellin.
Need a Colombia backpacking itinerary? Click here to read mine.
Quick Tip: Book accommodation, tours, and transport ahead of time online to save money and stress.
Best Medellin Tours: Click here to check out the top Medellin tours
Best Medellin Accommodation: Click here to check out the best accommodation in Medellin
Best Medellin Transport: Click here to book a bus, ferry, or train in Medellin
A bit about Medellin Colombia Nightlife
When you think of Colombia you'll probably immediately think of salsa or reggaeton. And you wouldn't be wrong. But Medellin nightlife is so much more than that. As well as hot and sticky dancefloors made for Perreo (bumpin' & grindin), there's a huge electronic music scene that attracts world-class DJs.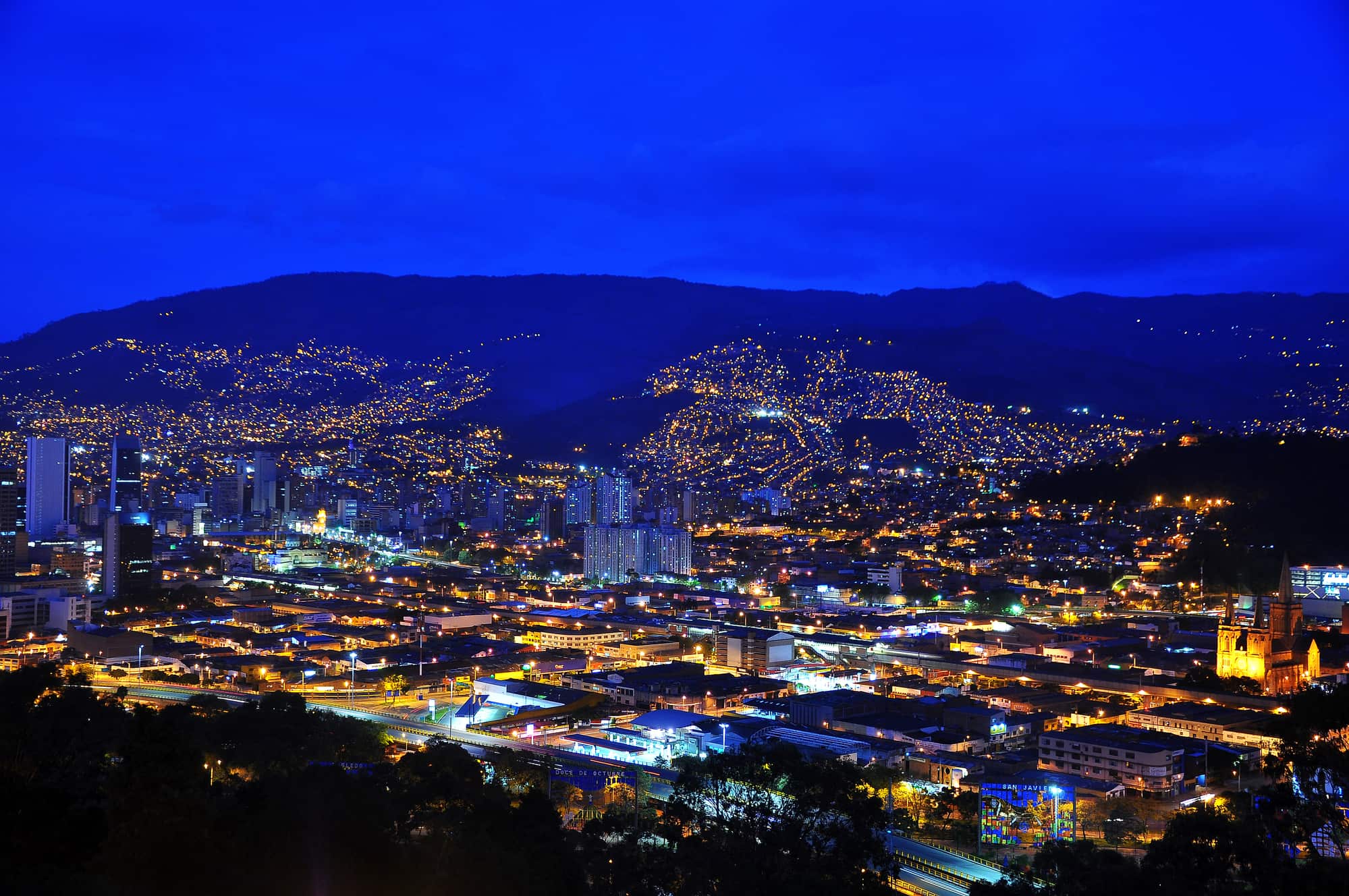 Or, if you prefer to sip cocktails and chat with your amigos, there are dozens of gorgeous bars and lounges to choose from. If, like me, you enjoy a combination of sipping expensive drinks and grinding to J Balvin, you're really going to love Medellin after dark.
Medellin nightlife – Where to go out in Medellin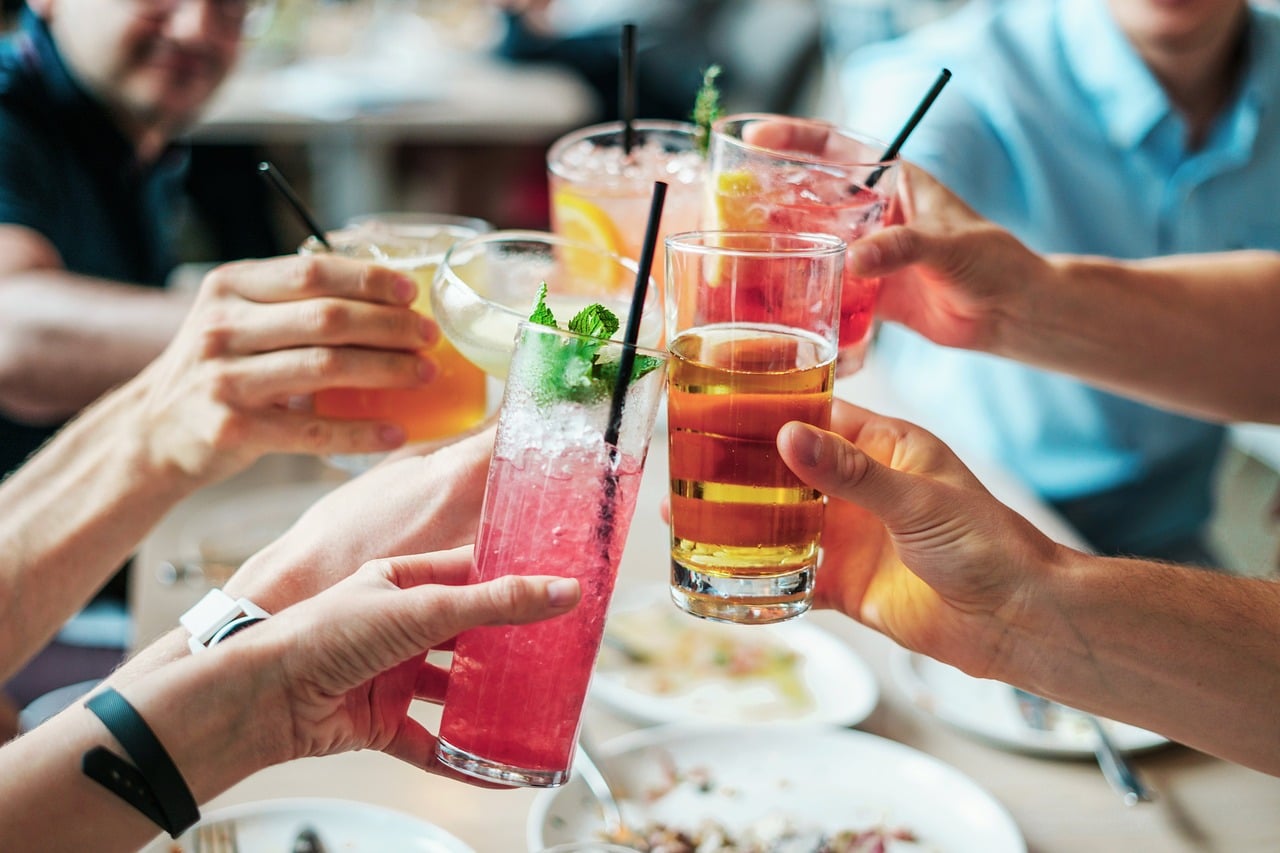 For most visitors, El Poblado is the first stop on their Medellin nightlife agenda. This neighborhood is where I spent my first few weeks in Medellin hanging out, and plenty is going on to ensure that you never get bored.
Parque Lleras is the heart of El Poblado Medellin's nightlife. This area is teeming with bars and clubs and it's packed with locals and tourists every single weekend. If you head up the hill a little you'll find Provenza: an equally popular but slightly classier area of El Poblado. Here you'll still find great parties, but there are also some beautiful cocktail bars and rooftop terraces to enjoy, too.
Need to book transportation in Colombia?
I highly recommend booking all of your Colombia transportation with GottoGo. You can search for buses, shuttles, ferries, and Flights on their website. What I love most about them is their customer service. I know these guys personally from my time living in Guatemala and they really do look after their customers. So if anything happens and you get delayed and miss your bus, you can just call them and they are always there to help.

If you book through them you will pay a little more than if you book in person at the bus station. But it's worth it for the ease and security in my opinion. Click here to search for transportation in Colombia.
Laureles Medellin
The other main area to party is Laureles Medellin. This neighborhood is popular with long-term ex-pats and has a much more local feel to it. La 70, which is a street running from Estadio metro station, is the bloodline for Laureles' party scene.
There are hundreds of bars in the Laureles Medellin area and you could go out every night and never hit the same spot twice. From tiendas, which are stores where you can sit outside and drink (it's more fun than it sounds, I promise), to wild reggaeton bars, there's something for everyone. I really love this area so even if you're staying in El Poblado I'd recommend hopping on the metro or in an Uber and checking it out.
All of the other barrios in Medellin boast their own party scene, but if you're in town for the first time you'd be best served sticking to these two key areas.
Did You Get Travel Insurance Yet?

The Insurance companies I recommend are Hey Mondo, Safety Wing, and Travel Insurance Master

Hey Mondo is great if you are looking for a great value flexible policy. They offer single-trip cover, annual multi-trip cover, and long-term travel cover. Safety Wing is great value, with monthly coverage starting at $39. It's super easy to use, and it just renews each month. I currently use them as they offer me free cover for my son as part of my policy. I also use Travel Insurance Master for short trips.

Read my full travel insurance post here, where I go into detail about all companies.
Medellin Colombia nightlife – The best bars in Medellin
If you've got two left feet fret not: there are loads of bars where sitting isn't frowned upon. Here are some of the best bars in Medellin (in my humble opinion, of course)…
El Social is my favorite place to sit outside and enjoy a Michelada or five while soaking up El Poblado's night-time vibe. This bar has been here for decades and hasn't always been particularly special, but now it's my go-to place for relaxed drinks with my pals. There are a couple of floors with seating and tasty bar snacks are available if you need to line your stomach for a big night out.
If you're feeling a little fancier, Alambique is dreamy. It's a bugger to find – the entrance is an unmarked door and when you find your way in you might mistake it for an art gallery. But if you head up to the top floor you'll find one of the most gorgeous drinking spots in Medellin. The cocktail list is killer and if you're hungry, the food is equally heavenly. It's best to book a table at the weekend as it's a popular spot (as it should be).
If you're seriously boujee, you'll want to check out the Envy Rooftop at the Charlee Hotel. The hotel itself is seriously luxe, but if your pockets aren't deep enough for a night's stay you can fake it at their rooftop bar. The views are unreal at sunset, so I'd recommend heading over for an early evening gin to start your night right. It's wise to book for Envy, too. Again, it's pretty popular.
Love beer? Me too! 20 Mission Cerveza is seriously brilliant and is my favorite spot for tasty brews. The owners are cool guys so if you see them, buy them a tequila from me, wouldya?
My main hang spot in Laureles is Barrio Central. This pub is owned by an English dude and is my go-to place for taking dates. It's pretty chill but always busy enough to have a good vibe, and the crowd is mainly young and always fun. There's plenty of outdoor seating and they often show big sporting events if that's your thing. If not, turn your back to the telly and enjoy cheap beer and great food among the youth of Laureles.
Another option is La Charcu, which is on the corner of La 70 and the perfect spot for people-watching (I love people-watching). They have a brilliant selection of beers from around the world, and their cocktails aren't too shabby, either. Service is impeccable and it's way too easy to stay at this spot all night.
Cafe Zeppelin and Cafe Cliche are, as their name suggests, cafes. But, both stay open well into the evening and offer a more relaxed vibe than the bars you'll find along La 70. Cafe Cliche's house wine is so cheap and delicious and is the reason that so many of my evenings there are blurry.
If you're staying near Laureles and attempting to learn Spanish, the bar at Ondas hostel in La Floresta hosts a super-popular language exchange on Friday evenings. My Spanish hasn't improved at all since I've been going (turns out, I'm a terrible language learner), but I've made a great group of Colombian mates from going here, so if you're traveling solo I'd definitely recommend checking it out.
Medellin Colombia nightlife – The best clubs in Medellin
If you'll excuse the generalization, Colombian people love to dance. And, they're bloody good at it, too. That's probably why Medellin clubs (and Colombia night clubs in general) are the most fun places in the entire world (probably). There are many, many contenders for the best nightclubs in Medellin, but here are some of my favorites…
Let's start with salsa. Colombia nightclubs are one of the best places in the world to dance salsa and there are literally dozens of clubs dotted around Medellin that offer a place to dance every night of the week. If you're a salsa novice it's worth taking salsa classes in Medellin to get your skills on point before heading to a salsa night.
Salsa in Laureles
This article has all the information you need to choose the right dance school for you. My favorite salsa spots are in Laureles, and Son Havana is my go-to salsa club for Friday night dancing. The live band is awesome and the atmosphere is welcoming enough to not be intimidating to first timers.
If you like your salsa extra steamy you might want to head to Tibiri. This basement salsa club is hotter than the sun and attracts serious dancers who don't mind sweat dripping from the ceiling. Even if you don't make this your regular salsa spot, you should really check it out at least once during your stay in Medellin.
Party in El Poblado
If El Poblado is your favorite barrio to party in, I recommend that you check out Buena Vista. Located close to Parque Lieras, this central spot plays a variety of Latin music so isn't technically a salsa bar. But I love the authenticity of dancing in between tables full of locals drinking guaro (the nickname for Aguardiente, which is a local liquor) so much that I couldn't leave this place off my list. For Cuban salsa vibes, check out Mi Habana. This joint was opened by a group of Cuban immigrants and offers awesome food, live music, and all the Cuban salsa dancing you can handle.
For an alternative to Poblado and Laureles, check out Social Club in Aguacatala. It's sometimes a little quiet but I love it as a 'starter club' for big salsa nights out.
Did someone say reggaeton?
If you've ever met me you'll know that reggaeton is my favorite musical genre, and if I could I'd spend every weekend perreo-ing my way around a dancefloor. My preferred way of finding somewhere to dance reggaeton is by following my ear.
La 70, the main party street in Laureles, comes alive with the sound of reggaeton at night, so I'd recommend just picking whichever club looks the most lit (and is playing the Nicky Jam). In El Poblado, Vintrash has the perfect sweaty dance floor for bumpin' and grindin' and has a fun mix of foreigners and locals. There's also a bar upstairs where you can catch your breath/mop your brow/drink some drinks. Sky Bar is another popular place for reggaeton and is perfectly located on Parque Lleras. Some of my favorite Medellin nights have ended in Sky Bar and it's always a fun place to be.
Best places for a bit of everything
Crossover clubs, or fondas, are fun places to dance reggaeton, salsa, bachata, and pretty much any other Latin genre you can think of. La Tienda de la 70 is my favorite fonda in Laureles, Oye Bonita is the best one in Envigado, and one of El Poblado's best fonda is Fonda la Catrina.
If you hate Latin music (what is wrong with you??) there are plenty of EDM clubs dotted around.
Fahrenheit and Salón Amador are two of the best clubs in El Poblado, and Calle 9 + 1 a very close third. Technically, Radio City is a bar, but they have great DJs playing electronic music on weekends and it's a fun place to sink cervezas and do some dancing.
Quick Tip: View my full Colombia packing guide here including a downloadable checklist. And check out my Colombia Essentials shopping list here.
Medellin Travel Guide Planning
🧳 Any recommendations on what I should pack for Medellin?
Yes! I have created a whole packing guide to Medellin which you can read here and you can also check out my packing list for Medellin on Amazon here.
🚗 Where can I book bus or private transportation while I'm in Medellin?
I strongly recommend using GottoGo. You can book almost all transport in the major tourist destinations through them online. They don't just cover buses they also cover shuttles, ferries, and private drivers.
🎫 Where can I buy tickets for museums, attractions, and tours in Medellin?
I recommend either Viator or GetYour Guide. They have a lot of options!
👩‍⚕️ What is the best insurance to have while traveling?
I recommend using Heymondo for a great value policy. The app also offers you 24/7 Dr Chat. For Digital Nomads check out SafetyWing digital nomad insurance.
I have also written a blog post covering all my recommended travel insurance here
✈️ Any flight recommendations?
WayAWay offers you cheap flights with cashback. You can use this code CLAIRE22 to get 10% off. Otherwise Skyscanner or Expedia are my go-to flight searching platforms.
📱What do you use for internet connection while traveling?
I'm a big fan of personal WiFi devices and they have saved my ass so many times when traveling. I wrote a full review of the top travel WiFi devices you can read here. I personally use GlocalMe as I can either pop in a physical sim card or use their local carrier.
With regards to my phone connection, I use e-sims while traveling, so rather than having to swap out my regular sim card I can download the app and buy a virtual sim card. I recommend using eitherAirhub or Alosim. Both have great coverage of multiple countries and are very easy to use.
🛏️ What is the best platform to use for booking accommodation?
The 3 best platforms that I normally use are Booking.com, Hotels.com, and Expedia They offer great deals and multiple options. I always check all three to be sure of the best deals.
🛅 Do you have any luggage recommendations for traveling?
I do have a complete list of the best packing and luggage products that I recommend, you can check the list here. I'm currently traveling with this suitcase and this backpack.
Final Thoughts
So there you have it: my guide to Medellin Colombia nightlife. I hope you love this city after dark as much as I do. And if you don't, maybe the problem is that you just haven't downed enough Aguardiente yet. PS if you are worried about safety in Medellin, take a read of this.
Which is your favorite place to head in Medellin at night? Let me know in the comments and if I see you there the cervezas are on me.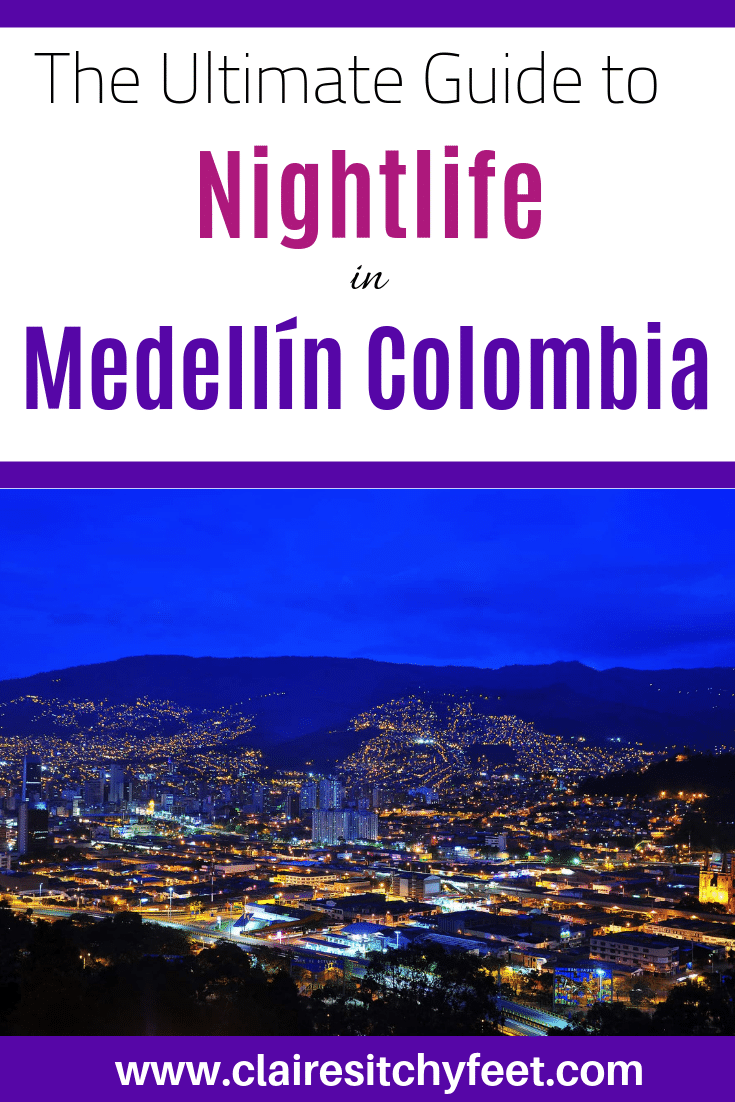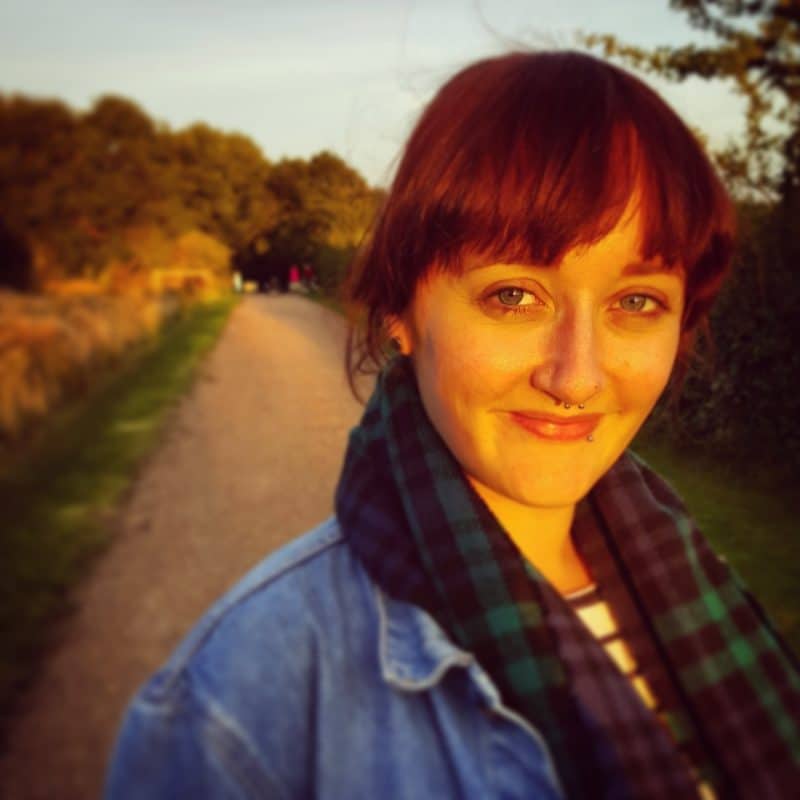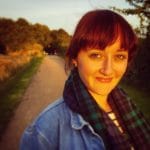 Author Bio: Sophie is a freelance writer from the north of England. She has been traveling and working in Latin America since August 2017 and is currently living in Medellin, Colombia. When she's not working you'll find her writing for her blog, Table for One, where she talks about what it's really like to travel the world as a solo woman.