Scuba Diving in Playa Del Carmen was on the top of my Mexico to do list. It is one of the top things you can do in Playa del Carmen, or in fact anywhere along the Riviera Maya. I qualified with BSAC (British Sub Aqua Association) in 2006, but I hadn't been in under the water for many years. I decided that needed to change and where better to do a diving course than in Playa Del Carmen.
There are so many scuba diving companies here in Playa del Carmen it can be a little overwhelming and confusing to know who to book with.
Not only will you need to choose a diving company but also decide whether or not you need to to do a course. Oh and then you will also need to determine where you want to scuba dive in Playa del Carmen… so many choices.
In this article I am going to talk about:
How to choose a diving company in Playa Del Carmen
Do you need to get a diving certificate to scuba dive in Playa Del Carmen
Should you scuba dive in the sea or the cenotes while in Playa Del Carmen
How to choose a diving company in Playa Del Carmen
The first thing I always do when selecting any company to work with is to check out their environmental policies. This involves typically taking a quick look on their website at their about me section. Things I like to see are that they are members of conservation groups and associations.
Once I've found a company I like the look of I then check out their trip advisor reviews and google reviews. I tend to just run a search and read the bad reviews to make sure it doesn't have any red flags for me. General moans and complains are fine, but anything about environmental or animal malpractice or lousy equipment and I cross them off my list.
When scuba diving the three things you want to look out for are:
Equipment – you don't want to risk using shoddy equipment
Environmental – it's important that they take their environmental responsibility seriously and don't do anything that could be harmful to the marine life
Employees – you need to make sure all employees are appropriately qualified, experienced and professional
Once you have an idea of who you want to dive with I prefer to go into the Dive Shop in person to book. This way you can meet some of the staff and get a better feel for the company. Go with your gut. If you like them go in to ask any questions you have, and then book. If you don't get a good vibe from them, then try somewhere else.
Diving although generally very safe is still a high-risk activity. So the most important thing is you feel comfortable putting your trust in the company.
Do I need to get a diving certificate to dive in Playa Del Carmen?
The short answer is no.
If you don't want to do a full diving course, you can do tri dive or fun dive. This involves doing a short induction (around 30 minutes) where you will learn some basic safety and do some drills to keep you safe under the water. Things like how to recover your respirator if it comes out of your mouth. Or how to clear your mask if it fills with water. On a fun dive, you learn the essential basics to keep you safe in the water. Then if you can pass these basic safety drills, you will be able to dive at a safe and shallow distance. Although I recently did my Advanced Open Water over on Cozumel with Scubatony and it was awesome. So if you go with the right company getting certified can be a lot of fun!
This is a great way to be introduced to diving if you aren't sure about it.
The first time I went diving I was pretty nervous, and honestly, I didn't think I was going to like it. So, to commit to doing a three-day multi-dive course felt like a massive step for me. Doing the tri dive in 1 afternoon was the perfect stepping stone. If you want to do this option, then check with the company if you get a discount if you decide to do the full three-day course.
I knew straight away after my first dive that I wanted to become a certified scuba diver. I did a full five-day course with BSAC to approve me to dive to 20 meters. However, the most internationally recognized qualification is PADI. If you decide to do a Scuba Diving course in Playa Del Carmen, it will likely be PADI Open Water Diver and take you three days.
Why do a diving course in Mexico?
There are a lot of reasons to do your diving qualification while here in Mexico because there are some pretty cool experiences that you will only be able to do if you have the certification. Like diving in the Cenotes or deep diving on the reefs in Puerto Morelos or Cozumel.

My experience diving with Phantom Divers in Playa Del Carmen
As I hadn't been scuba diving for almost ten years (how did that happen!), I needed to do a refresher. After spending a lot of time checking out diving companies in Playa Del Carmen, I chose to dive with Phantom Divers. I spent an afternoon with them going over the drills and essential health and safety information.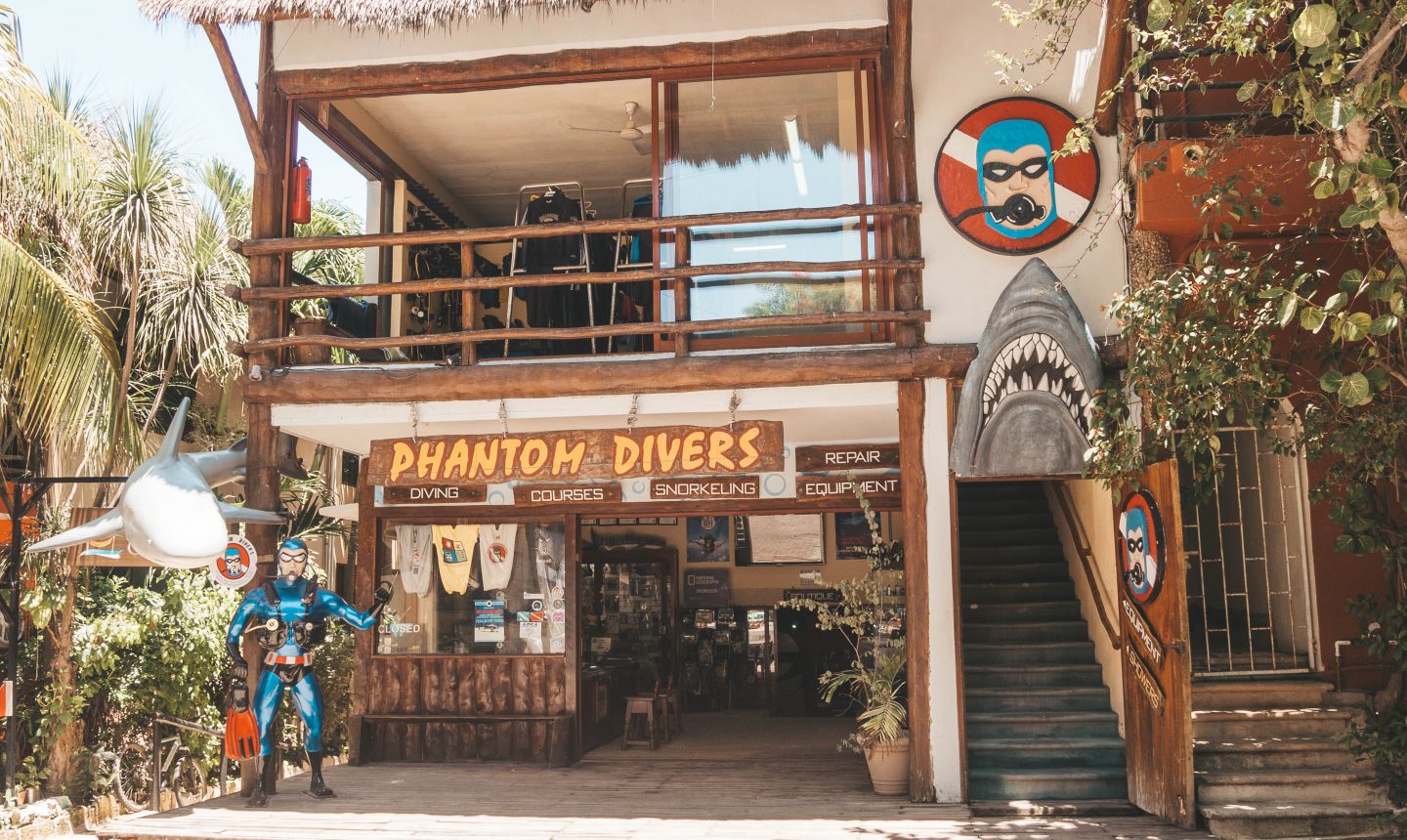 I was then taken out into the sea to practice my drills before going to 2 dive sites. The first dive site was a beginners site, and it was an excellent place for me to get comfortable in the water again.
The second site was a bit more interesting with many schools of fish hiding amongst the caves. I even saw a turtle!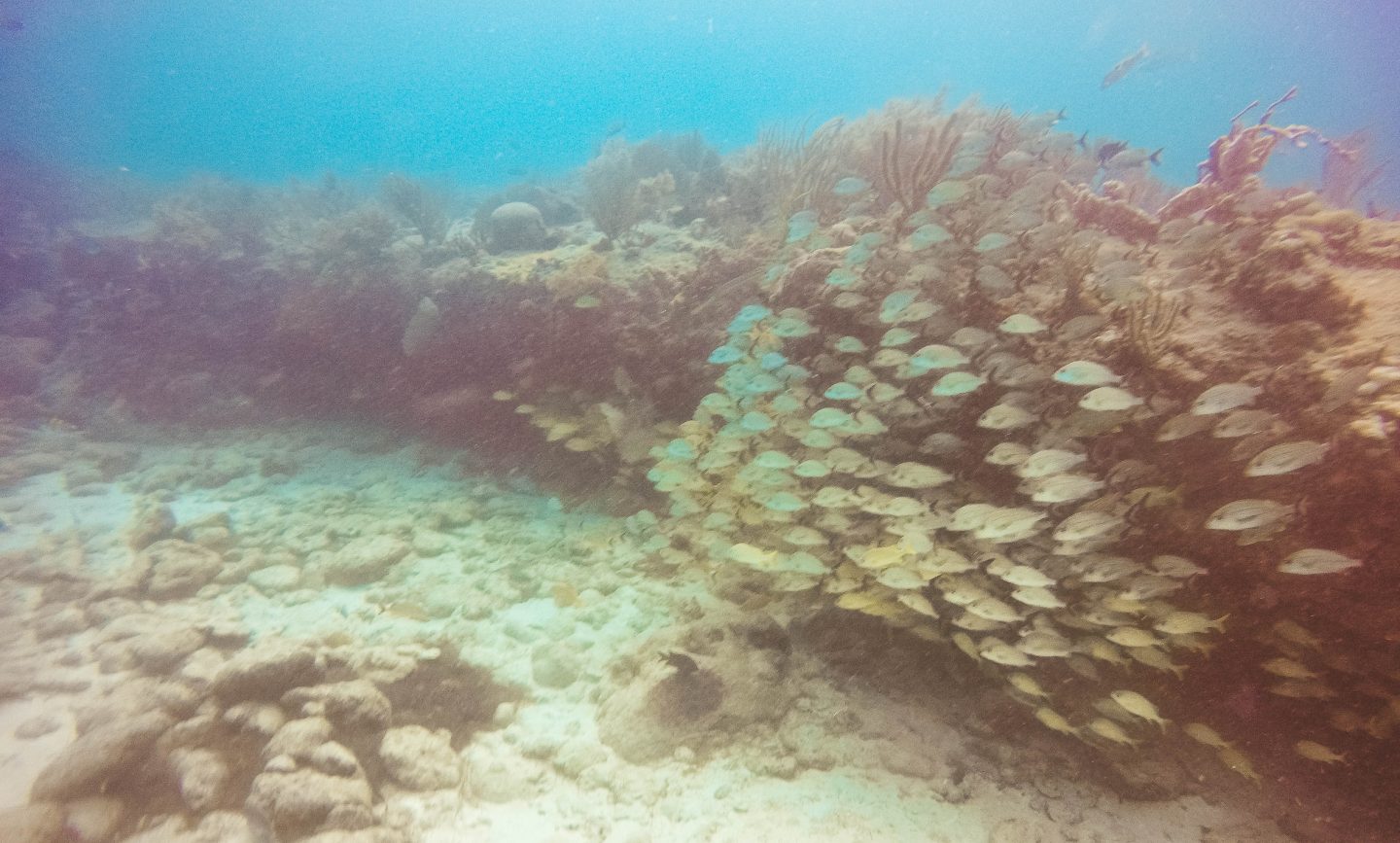 I must admit I wasn't very impressed with Phantom Divers. Instead, I would recommend diving with Koox in Playa del Carmen. They mostly offer diving in Cenotes and my experience with them was really positive (I'll be writing about it soon).
Should you dive in the sea or the cenotes while in Playa Del Carmen?
You will need diving experience to dive in the cenotes. Without a certificate and some prior experience, you will only be able to snorkel. Cenotes are flooded caves and underground rivers. Therefore diving in them is more like cave diving which generally needs a specialist certificate. As many of the cenotes have open and closed areas, it is possible for divers without this specialist certificate to dive. But you do need to hold at least an open water certificate and be experienced and comfortable under the water. I have been diving in Cenotes with both Koox in Tulum and Koox in Playa del Carmen in Playa del Carmen and highly recommend both. If you prefer to go snorkeling in Cenotes and are looking for the best cenote near Playa del Carmen check this out.

Love diving? Have you ever considered doing a Liveaboard in Mexico? I'm seriously thinking about it after reading this guide to the best Liveaboards. Although I'm not sure how my seasickness will be haha.
So do some diving in the sea, get your certificate and then go and have fun in the cenotes.
Need somewhere to stay in Playa del Carmen? Take a look at my accommodation guide.
Looking for things to do in the Riviera Maya?
Check out these articles:
Visiting Cenote Azul and Cenote Cristalino
The Complete Guide to Chichen Itza in Mexico
How to see the Mayan Ruins in Tulum
How to spend a weekend in Merida
Food Tour in Playa Del Carmen Review
Doing a cooking class in Tulum
Are you ready to book your trip?  To help you get the best deals and service here are the companies that I personally use to book all of my travel online. I always shop around before booking anything, but these are my tried and tested starting places.