Scuba Diving Playa Del Carmen was on the top of my Mexico to-do list. It is one of the top things you can do in Playa del Carmen, or in fact anywhere along the Riviera Maya. Granted, diving in Playa del Carmen doesn't quite get the same praise and attention that nearby Cozumel does but there are still a lot of reasons to do some Scuba diving in Playa del Carmen Mexico, and I'm going to cover them all in this blog post!
New diver thinking of investing in a dive computer? Read my review of the best dive computers for new divers here.
Need to book transportation in Mexico?
I highly recommend booking all of your Mexico transportation with GuateGo. You can search for buses, shuttles, ferries, and Flights on their website. What I love most about them is their customer service. I know these guys personally from my time living in Guatemala and they really do look after their customers. So if anything happens and you get delayed and miss your bus, you can just call them and they are always there to help.

If you book through them you will pay a little more than if you book in person at the bus station. But it's worth it for the ease and security in my opinion. Click here to search for transportation in Mexico.
A Few Reasons To Scuba Dive Playa del Carmen
It's convenient – If you are pushed for time and can't manage to get over to Cozumel, then scuba diving in Playa del Carmen Mexico is your best bet as most people prefer to spend their vacation time in one place.
You have many options – There isn't just reef diving here in Playa. You have a wreck, Bull Sharks (in season), and cenotes. Lots of choices!
Cost – Diving in Cozumel is more expensive. So if you are on a budget then you can save money on diving and also the price of the ferry.
Did You Get Travel Insurance Yet?
If 2020 taught us anything, it's that you need to be prepared for anything! Travel insurance has always been high my list of things to get before I travel but now more than ever its at the top of my list.

I'm pretty sure we have all had travel plans messed up because of COVID and not all insurers covered this. So when looking for travel insurance it's important to check it covers travel disruption due to COVID-19, Hey Mondo, Passport Nomads, Safety Wing, and Travel Insurance Master all provide cover for this.

Hey Mondo is great if you are looking for a great value flexible policy. They offer single trip cover, annual multi trip cover, and long term travel cover. You even have the option to start the cover when you are already on your trip, although you won't be covered for the first 72 hours. For me my favourite feature is their app which offers you a 24/7 Dr chat and the ability to file a claim direct in the app.

Passport Nomads provides the most comprehensive cover for Digital Nomads. The game changer with them is that you have a red card and if you find yourself in need of medical care you just contact them and they will pre load your card with the funds to cover your treatment, meaning you won't need to pay out of pocket and then put in a claim later.

Safety Wing is great value with monthly cover starting at $39. It's super easy to use and it just renews each month. They have an excess of $250 and it's simple to make a claim through their website. I currently use them as they offer me free cover for my son as part of my policy and I like that it renews on a monthly basis, so I don't have to pay out a big lump sum up front.

I also use Travel Insurance Master for some short vacation type trips.

If you are doing shorter trips or an extended backpacking trip then Hey Mondo or Travel Insurance Master are the best option. If you are a digital nomad or planning travel of at least 6 months then go for Passport Nomads or SafetyWing.
Choosing A Dive Center Playa Del Carmen
There are so many scuba diving companies in Playa del Carmen it can be a little overwhelming and confusing to know who to book with. Lucky for you though I did my research and found a company I'm more than happy to recommend. Double K Diving is my go-to dive center Playa del Carmen. It's a female-led company run by Kim and Kelly who are both amazing dive instructors and Kim is also a marine biologist. That means not only do you get an amazing dive, but you also get all of their scientific knowledge. Extra important if you do something like the Bull Shark dive!
I've been on several dives with Double K diving in Playa del Carmen now and I'm more than happy to recommend them. I have very high standards when it comes to recommending dive companies as I've heard of too many horror stories about some companies here with substandard dive masters. It's extra important to trust who you are diving with, especially when it comes to doing dives like the Bull Shark dive, or diving in cenotes.
Diving although generally very safe is still a high-risk activity. So the most important thing is you feel comfortable putting your trust in the company. You can check out their reviews on Trip Advisor here and their Facebook Page here.
Looking for a reputable tour company in The Riviera Maya?
I've been working with Turismo Channel in Playa del Carmen for years and they are who I send all of my family and friends to when they visit the Riviera Maya. I really can recommend them enough for tours, private airport transfers, and rental cars. Vanessa and Oliver are personal friends of mine and I have 100% faith that you will have a wonderful time with them.
You can check out their tours by clicking here and using the following discount codes for the best prices clairecaroff (car rental), claire10off (for 10% off group tours), claireprivate (for a discount on private tours). You can also send her a WhatsApp message quoting the above codes to receive the discount.
Scuba Certification Playa del Carmen
Do you need a scuba certification to dive in Playa del Carmen? The short answer is no.
If you don't want to do a full diving course, you can do what's called a Discover Scuba Dive. This involves doing a short induction (around 30 minutes) where you will learn some basic safety and do some drills to keep you safe under the water. Things like how to recover your respirator if it comes out of your mouth. Or how to clear your mask if it fills with water. Then you will do shallow dive to practice your new skills. So long as you can demonstrate to the instructor that you are able to do these basic safety drills, you will be able to dive at a safe and shallow distance.
The first time I went diving I was pretty nervous, and honestly, I didn't think I was going to like it. So, to commit to doing a two/three-day multi-dive course felt like a massive step for me. Doing the discover scuba dive in 1 afternoon was the perfect stepping stone. Double K offers this and you can learn more here.
Personally, I knew straight away after my first dive that I wanted to become a certified scuba diver. I did a full five-day course with BSAC to approve me to dive to 20 meters. However, the most internationally recognized qualification is PADI. If you decide to do a Scuba Diving course in Playa Del Carmen, it will likely be PADI Open Water Diver and take you two or three days.
A discover scuba is a great option if you aren't sure if you will like scuba diving, or if you are very short on time and only have half a day. If you have the time though I would strongly recommend doing your scuba certification in Playa del Carmen. Becoming a certified diver has opened up a whole new world for me (quite literally) and this has changed my life.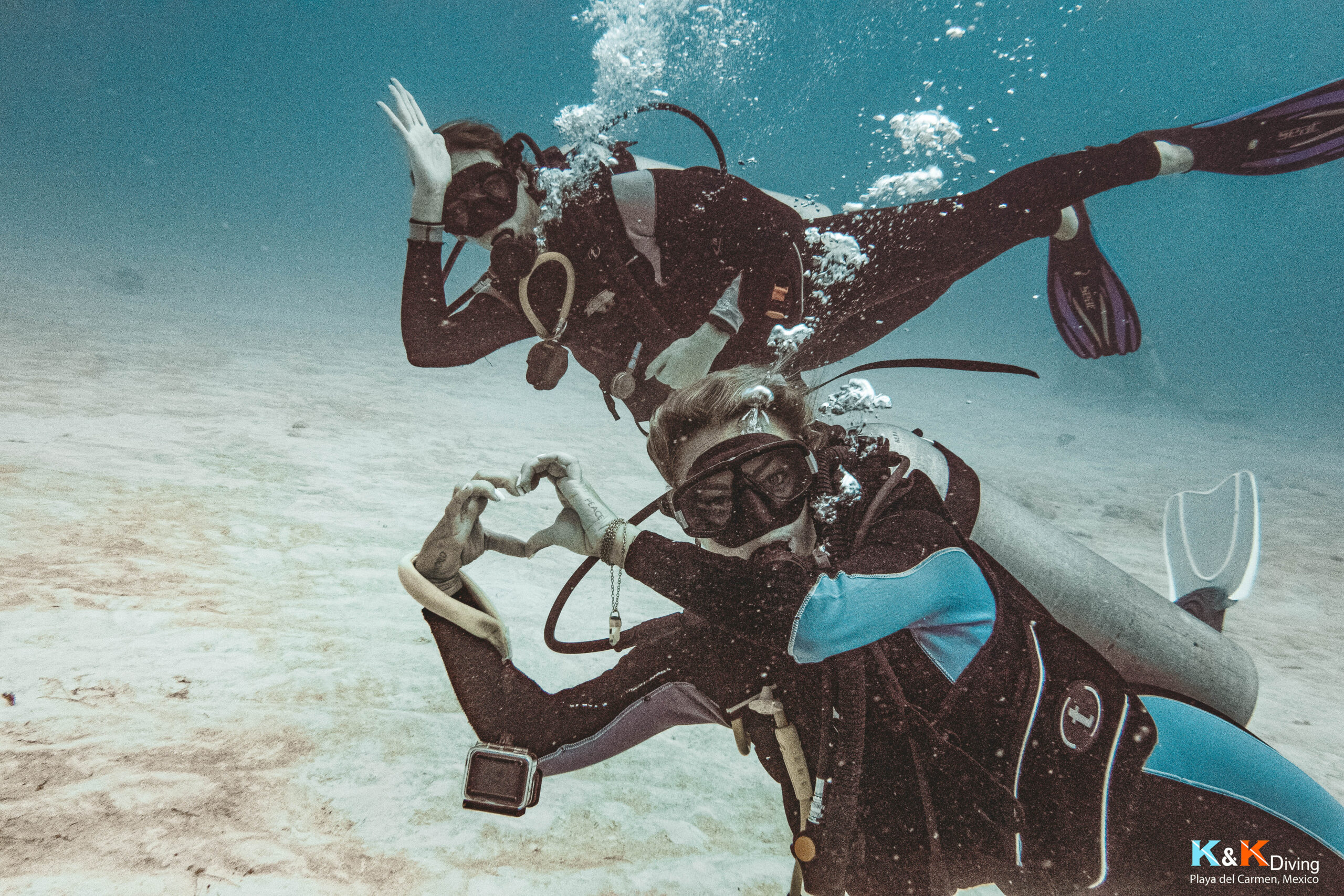 Why do a Scuba diving course in Playa del Carmen Mexico?
There are a lot of reasons to do your diving qualification while here in Mexico because there are some pretty cool experiences that you will only be able to do if you have the certification. Like diving in the Cenotes or deep diving on the reefs in Puerto Morelos or Cozumel.
The waters in Playa del Carmen are warm and calm all year round and the visibility is almost always good. Take it from someone who did her certification in the murky cold waters of Plymouth England, get your certification in the Caribbean haha.
If you want to learn more about getting your open water certification in Playa del Carmen click here.
Bull Shark Diving Playa del Carmen
If you are planning on diving Playa del Carmen between November and February then I can't recommend this dive enough! I did it recently and I already want to go again. It really was out of this world. For me, this is the best thing about Playa del Carmen scuba diving. There are vier few places in the world you can experience this.
I've actually written a whole blog post, just about diving with the Bull Sharks in Playa del Carmen and you can read it here. To do this dive you either need to have at least 10 dives or an advanced dive certification and have been diving recently.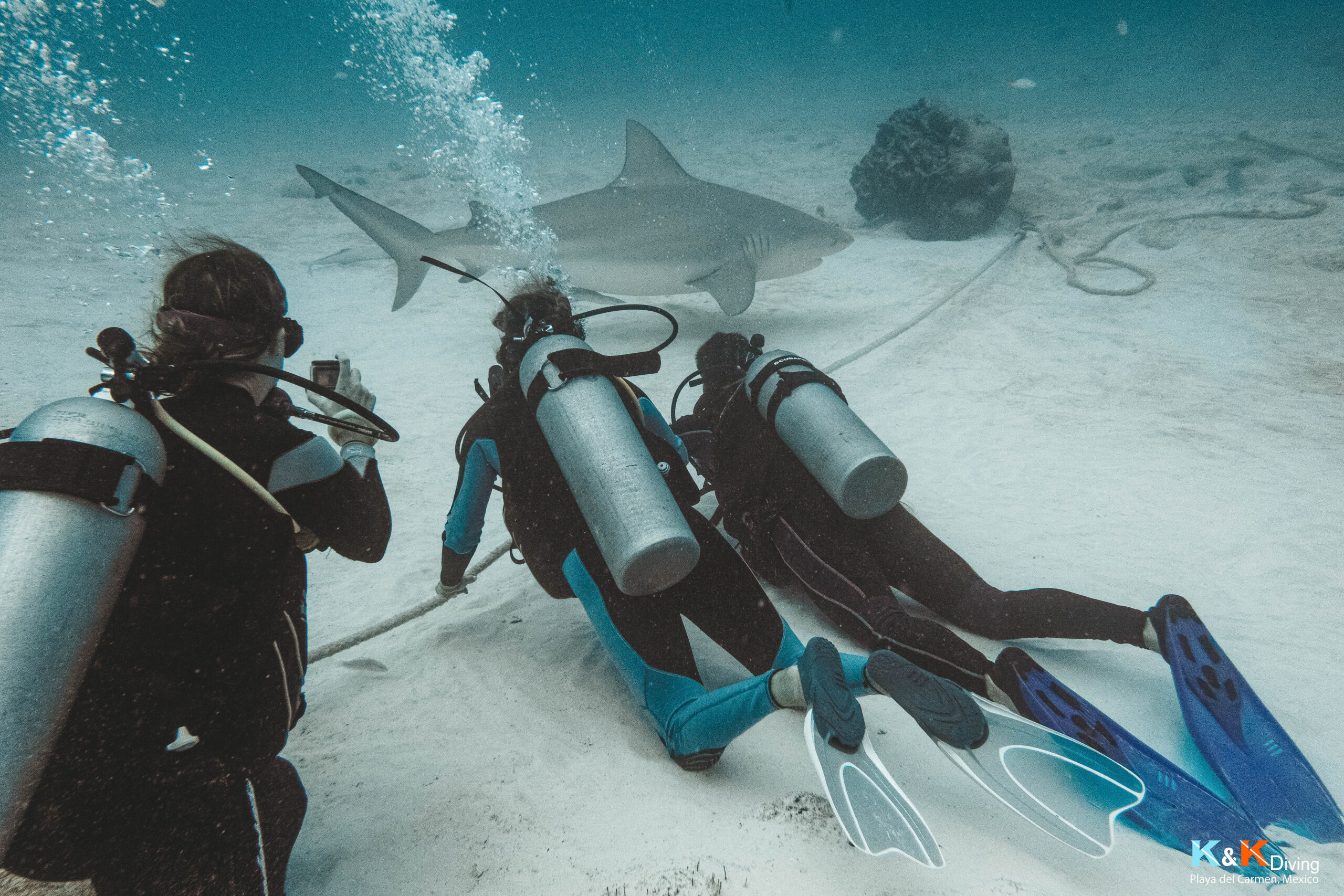 Cenote Diving Playa Del Carmen
I recently went diving in a cenote with my friends Alyssa from My Lifes a Travel Movie and Alex from Alex in Wanderland. Alyssa had a bad experience in a cenote a few years ago and was genuinely terrified of going back into a cenote again. Kelly from Double K Diving desperately wanted to help Alyssa overcome her fear and get her back into a cenote. So we arranged a dive in a beautiful cenote and Kelly and Kim got to work helping Alyssa feel as comfortable as possible.
This really demonstrated just how professional Kelly and Kim are, they really went above and beyond to help her overcome her fears and it paid off. I can't even express how amazed I was with Alyssa. She was a totally badass getting back into a cenote after what happened to her last time.
So yeah, choose your cenote guide very wisely. Cavern diving is not something to mess around with.
You can learn more about cenote diving here.
Do you need to be an advanced diver to dive in a cenote?
This actually depends. Some divers do their dive certification in a cenote! There are many different cenotes and a good dive instructor will make sure you dive in one that matches your experience level. So if you are a new diver with little experience there are many cenotes you can dive in. But there are many that are more suited to advanced divers.
Without a dive certification though, you will only be able to snorkel in cenotes.
What is a cenote?
Cenotes are flooded caves, caverns, and underground rivers. Therefore diving in them is more like cave diving which generally needs a specialist certificate. As many of the cenotes have open and closed areas, it is possible for divers without this specialist certificate to dive as they are classified as caverns, not caves (an important distinction). You do need to hold at least an open water certificate and be experienced and comfortable under the water.
Other Diving in Mexico
Love diving? Have you ever considered doing a Liveaboard in Mexico? I'm seriously thinking about it after reading this guide to the best Liveaboards. Although I'm not sure how my seasickness will be…
Looking for somewhere to stay in Playa del Carmen?
I wrote a whole guide to Accommodation in Playa del Carmen you can read here. I also recommend booking one of these Airbnb's. They are all in great locations and are super reasonably priced.
Budget Airbnb Studio on 5th Avenue
Stunning Studio Close To The Beach In Playa del Carmen
Cute Studio In Central Playa (close to 5th & the beach)
Stylish Apartment with Parking Close to the Beach
Downtown Playa del Carmen Apartment with Balcony and Rooftop Pool