Scuba Diving Playa Del Carmen was an absolute must on my Mexico to-do list, and for good reason! This spectacular activity is not only one of the top things to do in Playa del Carmen but is also a highlight along the entire Riviera Maya. While it's true that diving in Playa del Carmen might not receive the same level of acclaim as the nearby Cozumel, it undoubtedly offers its own unique and mesmerizing experiences. As a scuba Playa del Carmen enthusiast, I was eager to explore the underwater wonders this destination had to offer.
In this blog post, I'm going to delve into why Playa del Carmen diving should be on every diver's bucket list. From the vibrant marine life to the stunning coral reefs, and the diverse range of dive sites, there's a plethora of reasons why the dive shop Playa del Carmen options are so popular among both beginners and seasoned divers. Whether you're looking to explore the famous Cenotes, drift along the reefs, or maybe even encounter some of the larger pelagic fish, Playa del Carmen offers a diverse scuba diving experience that caters to all levels of divers.
So, grab your fins, mask, and a sense of adventure, as I take you through the many reasons why Scuba diving in Playa del Carmen, Mexico, is an unmissable experience. Stay tuned as we uncover the best dive spots, the most reputable dive shops in Playa del Carmen, and some insider tips to make your underwater journey absolutely unforgettable!
New diver thinking of investing in a dive computer? Read my review of the best dive computers for new divers here. You can also read and print out my full Scuba Diving packing list here.
Quick Tip: I highly recommend booking all of your Mexico transportation with GottoGo. You can search for buses, shuttles, ferries, and Flights on their website. What I love most about them is their customer service. I know these guys personally from living in Guatemala, and they look after their customers.

If anything happens and you get delayed and miss your bus, you can just call them, and they are always there to help. If you book through them, you will pay a little more than booking in person at the bus station. But it's worth it for the ease and security. Click here to search for transportation in Mexico.
A Few Reasons To Scuba Dive Playa del Carmen
It's convenient – If you are pushed for time and can't manage to get over to Cozumel, then scuba diving in Playa del Carmen Mexico is your best bet as most people prefer to spend their vacation time in one place.
You have many options – There isn't just reef diving here in Playa. You have a wreck, Bull Sharks (in season), and cenotes. Lots of choices!
Cost – Diving in Cozumel is more expensive. So if you are on a budget then you can save money on diving and also the price of the ferry.
Did You Get Travel Insurance Yet?

The Insurance companies I recommend are Hey Mondo, Safety Wing, and Travel Insurance Master

Hey Mondo is great if you are looking for a great value flexible policy. They offer single-trip cover, annual multi-trip cover, and long-term travel cover. Safety Wing is great value, with monthly coverage starting at $39. It's super easy to use, and it just renews each month. I currently use them as they offer me free cover for my son as part of my policy. I also use Travel Insurance Master for short trips.

Read my full travel insurance post here, where I go into detail about all companies.
Choosing A Dive Center Playa Del Carmen
There are so many scuba diving companies in Playa del Carmen it can be a little overwhelming and confusing to know who to book with. Lucky for you though I did my research and found a company I'm more than happy to recommend. Double K Diving is my go-to dive center Playa del Carmen.
It's a female-led company run by Kim and Kelly who are both amazing dive instructors and Kim is also a marine biologist. That means not only do you get an amazing dive, but you also get all of their scientific knowledge. Extra important if you do something like the Bull Shark dive!
I've been on several dives with Double K diving in Playa del Carmen now and I'm more than happy to recommend them. I have very high standards when it comes to recommending dive companies as I've heard of too many horror stories about some companies here with substandard dive masters. It's extra important to trust who you are diving with, especially when it comes to doing dives like the Bull Shark dive, or diving in cenotes.
Diving although generally very safe is still a high-risk activity. So the most important thing is you feel comfortable putting your trust in the company. You can check out their reviews on Trip Advisor here and their Facebook Page here.
QUICK TIP: Book your tours, rental cars, and transfers through my local contacts

I've been working with Living Dreams Mexico for years and they are who I send all my family and friends to when they visit the Riviera Maya. I really can recommend them enough for private tours and experiences. They have solid 5* reviews on Trip Advisor and Google from almost 4000 reviewers! You can view all their tours here.

If you're looking for private airport transfers and rental cars then Vanessa and Oliver from Turismo Channel are personal friends of mine and I can 100% recommend them to make an inquiry click here and complete the form. Someone will be in touch within 24 hours.
Scuba Certification Playa del Carmen
Do you need a scuba certification to dive in Playa del Carmen? The short answer is no.
If you don't want to do a full diving course, you can do what's called a Discover Scuba Dive. This involves doing a short induction (around 30 minutes) where you will learn some basic safety and do some drills to keep you safe under the water.
Things like how to recover your respirator if it comes out of your mouth. Or how to clear your mask if it fills with water. Then you will do a shallow dive to practice your new skills. So long as you can demonstrate to the instructor that you are able to do these basic safety drills, you will be able to dive at a safe and shallow distance.
The first time I went diving I was pretty nervous, and honestly, I didn't think I was going to like it. So, to commit to doing a two/three-day multi-dive course felt like a massive step for me. Doing the Discover scuba dive in 1 afternoon was the perfect stepping stone. Double K offers this and you can learn more here.
Personally, I knew straight away after my first dive that I wanted to become a certified scuba diver. I did a full five-day course with BSAC to approve me to dive to 20 meters. However, the most internationally recognized qualification is PADI. If you decide to do a Scuba Diving course in Playa Del Carmen, it will likely be PADI Open Water Diver and take you two or three days.
A discover scuba is a great option if you aren't sure if you will like scuba diving, or if you are very short on time and only have half a day. If you have the time though I would strongly recommend doing your scuba certification in Playa del Carmen. Becoming a certified diver has opened up a whole new world for me (quite literally) and this has changed my life.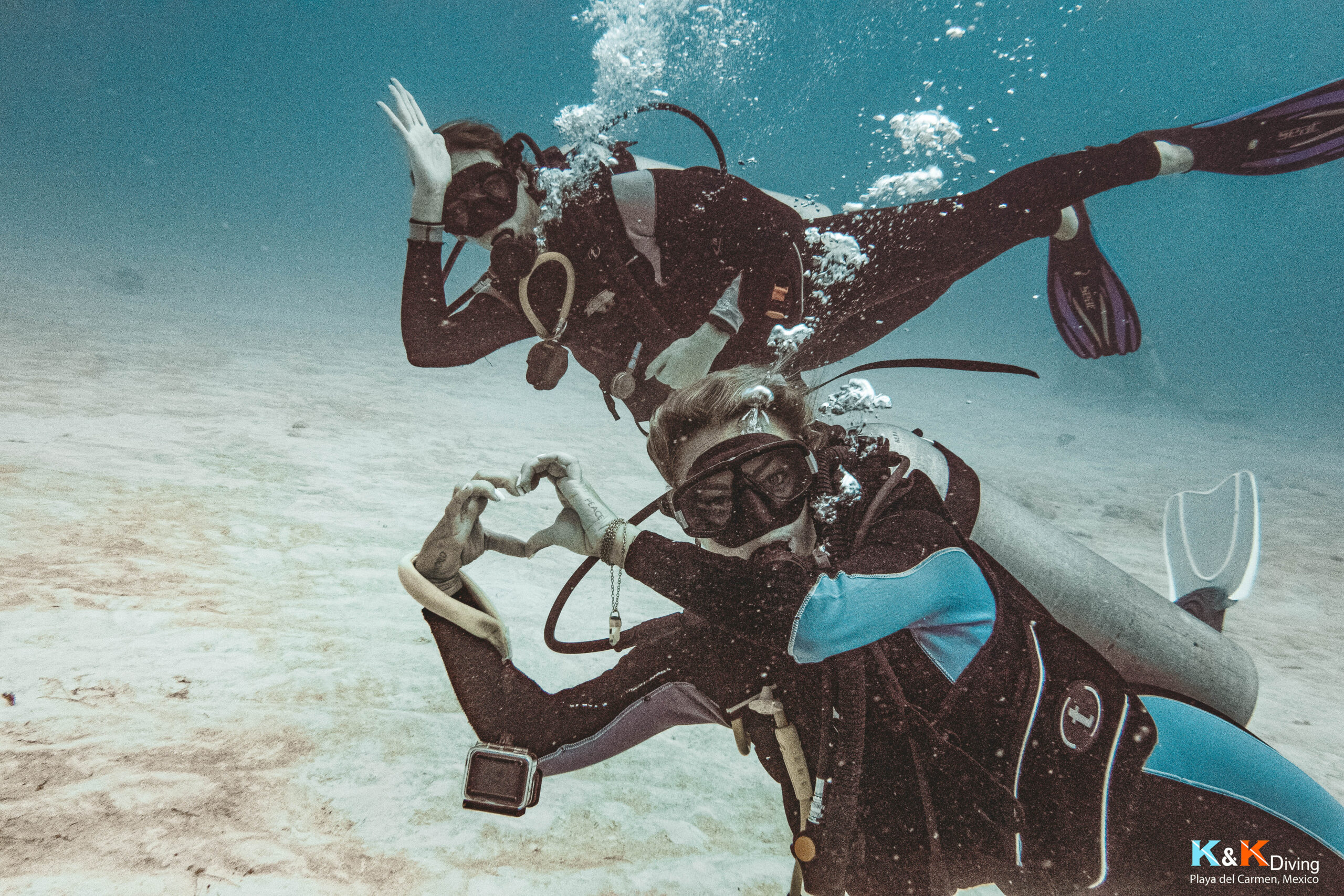 Why do a Scuba diving course in Playa del Carmen Mexico?
There are a lot of reasons to do your diving qualification while here in Mexico because there are some pretty cool experiences that you will only be able to do if you have the certification. Like diving in the Cenotes or deep diving on the reefs in Puerto Morelos or Cozumel.
The waters in Playa del Carmen are warm and calm all year round and the visibility is almost always good. Take it from someone who did her certification in the murky cold waters of Plymouth England, get your certification in the Caribbean haha.
If you want to learn more about getting your open water certification in Playa del Carmen click here.

Bull Shark Diving Playa del Carmen
If you are planning on diving Playa del Carmen between November and February then I can't recommend this dive enough! I did it recently and I already want to go again. It really was out of this world. For me, this is the best thing about Playa del Carmen scuba diving. There are vier few places in the world you can experience this.
I've actually written a whole blog post, just about diving with the Bull Sharks in Playa del Carmen and you can read it here. To do this dive you either need to have at least 10 dives or an advanced dive certification and have been diving recently.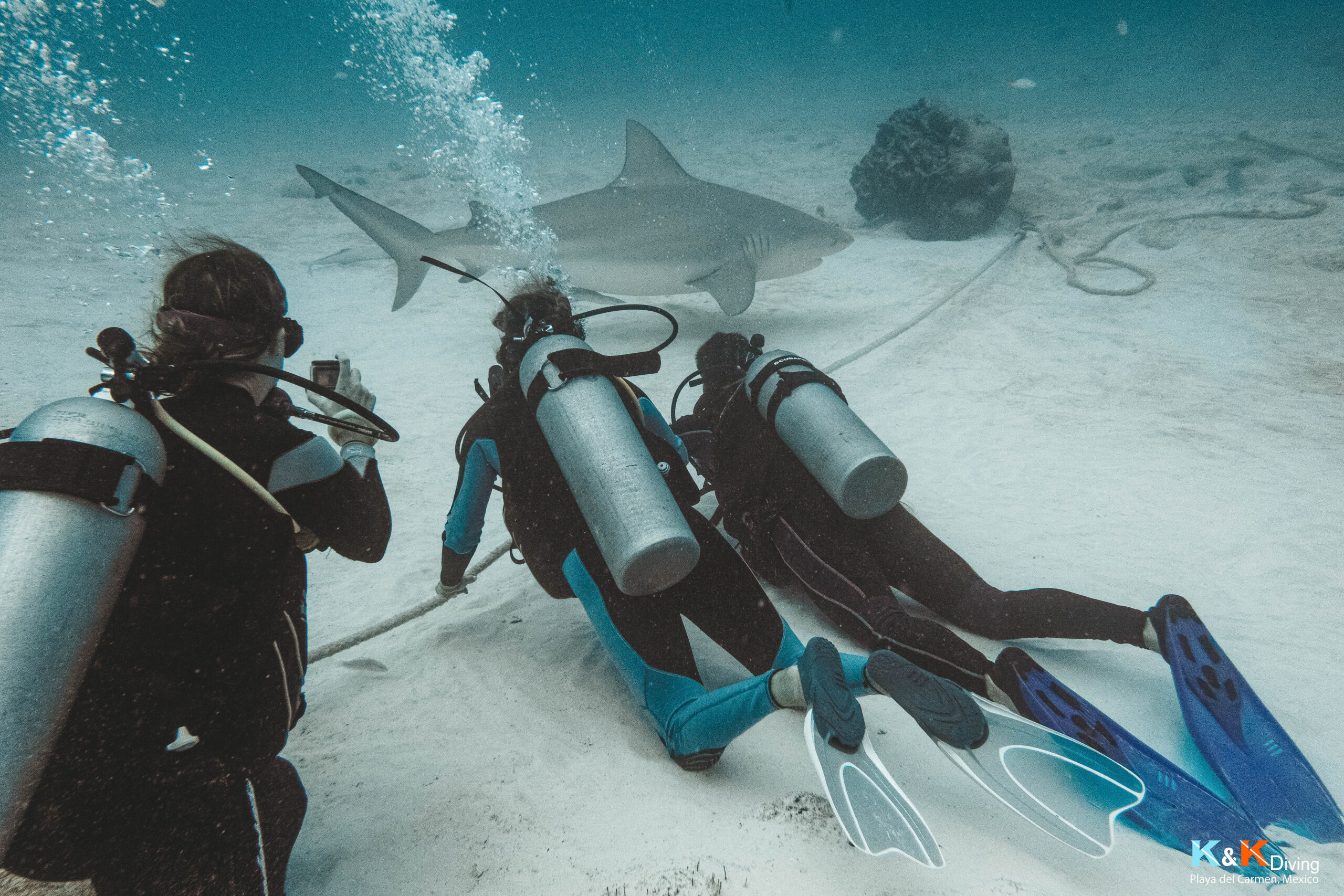 Quick Tip: Check out my Scuba Diving Essentials shopping list here and read my Diving Equipment List For Dive Vacations
Cenote Diving Playa Del Carmen
I recently went diving in a cenote with my friends Alyssa from My Lifes a Travel Movie and Alex from Alex in Wanderland. Alyssa had a bad experience in a cenote a few years ago and was genuinely terrified of going back into a cenote again. Kelly from Double K Diving desperately wanted to help Alyssa overcome her fear and get her back into a cenote. So we arranged a dive in a beautiful cenote and Kelly and Kim got to work helping Alyssa feel as comfortable as possible.
This really demonstrated just how professional Kelly and Kim are, they really went above and beyond to help her overcome her fears and it paid off. I can't even express how amazed I was with Alyssa. She was a totally badass getting back into a cenote after what happened to her last time.
So yeah, choose your cenote guide very wisely. Cavern diving is not something to mess around with.
You can learn more about cenote diving here.
Do you need to be an advanced diver to dive in a cenote?
This actually depends. Some divers do their dive certification in a cenote! There are many different cenotes and a good dive instructor will make sure you dive in one that matches your experience level. So if you are a new diver with little experience there are many cenotes you can dive in. But there are many that are more suited to advanced divers.
Without a dive certification though, you will only be able to snorkel in cenotes.
What is a cenote?
Cenotes are flooded caves, caverns, and underground rivers. Therefore diving in them is more like cave diving which generally needs a specialist certificate. As many of the cenotes have open and closed areas, it is possible for divers without this specialist certificate to dive as they are classified as caverns, not caves (an important distinction). You do need to hold at least an open water certificate and be experienced and comfortable under the water.
Other Diving in Mexico
Love diving? Have you ever considered doing a Liveaboard in Mexico? I'm seriously thinking about it after reading this guide to the best Liveaboards. Although I'm not sure how my seasickness will be…
Quick Tip: You can check out my other diving posts here

Bull Shark Diving In Playa Del Carmen Everything You Need To Know
Tulum Cenote Diving
Best Scuba Diving In Europe: Top Dive Sites Europe
The Best Maldives Diving: Where To Dive And Stay For The Perfect Dive Vacation
The Best Scuba Diving In Florida

Experience The Ultimate Dive Adventure: A Guide To Liveaboard Diving
Scuba Diving Colombia | Dive Spots You Can't Miss
The Best Scuba Diving In Cyprus
The Ultimate Guide To Diving In Cozumel
7 Tips For Choosing The Best Liveaboard Boat For Your Diving Adventure

Scuba Diving In Limassol Review
Cozumel Scuba Diving
24 Reasons Cozumel Diving Is The BEST
Riviera Maya Diving | The Best Scuba Diving Riviera Maya
Scuba Diving In Puerto Morelos
Travel Guide Planning
⛴️ Where can I book Liveaboard Diving trips?
You can book your liveaboard diving trips in here. They have a lot of dates available and a lot of countries you can choose from.
🚗 Where can I book bus or private transportation while I'm traveling?
I strongly recommend using Bookaway. You can book almost all transport in the major tourist destinations through them online. They don't just cover buses they also cover shuttles, ferries, and private drivers.
🎫 Where can I buy tickets for museums, attractions, and tours?
I recommend either Viator or GetYour Guide. They have a lot of options!
👩‍⚕️ What is the best insurance to have while traveling?
I recommend using Heymondo for a great value policy. The app also offers you 24/7 Dr Chat. For Digital Nomads check out SafetyWing digital nomad insurance.
I have also written a blog post covering all my recommended travel insurance here
✈️ Any flight recommendations?
WayAWay offers you cheap flights with cashback. You can use this code CLAIRE22 to get 10% off. Otherwise Skyscanner or Expedia are my go-to flight searching platforms.
📱What do you use for internet connection while traveling?
I'm a big fan of personal WiFi devices and they have saved my ass so many times when traveling. I wrote a full review of the top travel WiFi devices you can read here. I personally use GlocalMe as I can either pop in a physical sim card or use their local carrier.
With regards to my phone connection, I use e-sims while traveling, so rather than having to swap out my regular sim card I can download the app and buy a virtual sim card. I recommend using eitherAirhub or Alosim. Both have great coverage of multiple countries and are very easy to use.
🛏️ What is the best platform to use for booking accommodation?
The 3 best platforms that I normally use are Booking.com, Hotels.com, and Expedia They offer great deals and multiple options. I always check all three to be sure of the best deals.
🛅 Do you have any luggage recommendations for traveling?
I do have a complete list of the best packing and luggage products that I recommend, you can check the list here. I'm currently traveling with this suitcase and this backpack.
Final Thoughts
Playa del Carmen offers a rich and diverse scuba diving experience, accommodating divers of all levels with its reputable dive shops, diverse marine environments, and unique diving opportunities. It's an underwater journey that promises to be unforgettable.
Looking for somewhere to stay in Playa del Carmen?

I wrote a whole guide to Accommodation in Playa del Carmen you can read here. I also recommend booking one of these Airbnb's. They are all in great locations and are super reasonably priced.

Charming Penthouse
Paradise Awaits at our Trendy Condo, Fantastic Rates!
Casa De Namaste- Relaxing 1 Br Condo near Playa's best Beaches & 5th Ave!