Having spent most of the past year based in Guadalajara, Mexico I have been able to take lots of Mexican trips, including several road trips in Jalisco.
In this blog post, I have listed all Jalisco Pueblos Magicos for you and included all of the important information about how to get there, where to stay, and, of course, what to do while you are there.
What Is A Pueblo Magico?
The Pueblos Magicos award is an initiative spearheaded by Mexico's Secretariat of Tourism. It's a status given to towns with historical significance. It could be because of the food, the architecture, the festivals, traditions, etc.
Each Pueblo Magico has its own special something, and these Magic Towns in Jalisco are some of the best places to experience authentic Mexican culture including food and various kinds of activities.
How Many Pueblo Magicos Are There In The State Of Jalisco?
A lot of what Mexico is known for – agave, tequila, and mariachi – internationally originates from the State of Jalisco.
The Pueblo Magico program offers a glimpse into several of Mexico's off-the-beaten-path destinations of cultural significance. As of today, there are currently 132 Pueblos Magicos across the whole of Mexico, 9 of which are located in the state of Jalisco.
The Pueblos Magicos Jalisco are as follows:
Largos de Moreno
Did You Get Travel Insurance Yet?

The Insurance companies I recommend are Hey Mondo, Safety Wing, and Travel Insurance Master

Hey Mondo is great if you are looking for a great value flexible policy. They offer single-trip cover, annual multi-trip cover, and long-term travel cover. Safety Wing is great value, with monthly coverage starting at $39. It's super easy to use, and it just renews each month. I currently use them as they offer me free cover for my son as part of my policy. I also use Travel Insurance Master for short trips.

Read my full travel insurance post here, where I go into detail about all companies.
Ajijic
The most recently named Pueblo Magico in Jalisco is Ajijic, this magical little town with a cosmopolitan feel and a bohemian atmosphere.
Ajijic has one of the world's most perfect climates, ranging from 41°F to 87°F throughout the year so it's no wonder that it's become a cultural hub among travelers from all over the world. With its large ex-pat community, numerous yoga studios, gyms, outdoor activities, musical festivals, restaurants, and clubs Ajijic truly deserves the title of a magic town.
HOW TO GET TO AJIJIC
Ajijic is located about a half-hour drive outside Guadalajara airport, roughly 50 km south of Guadalajara, and there are regular buses running to Chapala and Ajijic as well.
THINGS TO DO IN AJIJIC
Walk through the streets and explore the local mural art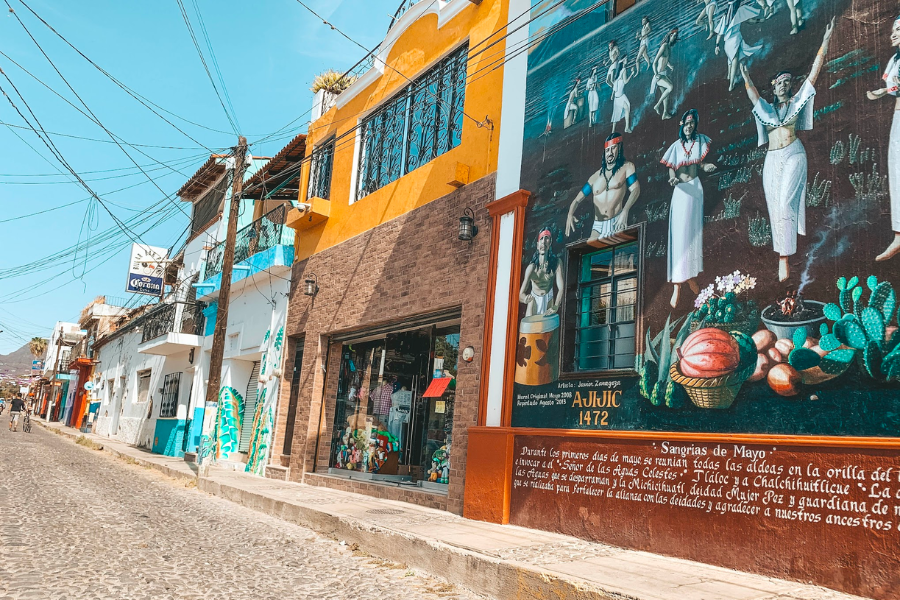 There are so many interesting murals in Ajijic, which is often referred to as the Town of Murals. Talented local artists bring alive the town's plain facades one by one by turning them into vibrant and colorful paintings that you can admire 0-24 as they're literally everywhere.
Enjoy a day of kayaking on Lake Chapala
Lake Chapala is known as Mexico's largest freshwater lake, 86% of which is located in the State of Jalisco. Its waters are the main source of drinking water supply for Guadalajara since it provides about 60% of the water that reaches the city. In its waters live more than 40 species of fish and 80 species of birds, between migratory and native to the region.
Visit Corazón de Malta brewhouse and restaurant
Corazón de Malta is a local brewery in Ajijic that's very popular with visitors and locals alike. They offer typical European dishes such as pizza or fish and chips, and their beers are available throughout bars in the Guadalajara area.
Take a creative writing course at The Lake Chapala Society
The Lake Chapala Society is a non-profit organization dedicated to promoting the mutual exchange of knowledge, expertise, and culture without borders.
WHERE TO STAY IN AJIJIC
Budget Option: Gypsy caravan
This private little cabin is located in the middle of a tropical garden on the property of a well-known local artist. Make sure to book a night or two here to experience the true magic of Pueblo Magico Ajijic!
Mid-Priced Option: Donaire Hotel Boutique
Donaire has located approximately 3 km from Chapala Lake which makes it the perfect place to stay while visiting Ajijic.
Luxury Option: Luxury condo
A beautiful luxury condo located on top of a hill with an inimitable view of Lake Chapala.
Lagos de Moreno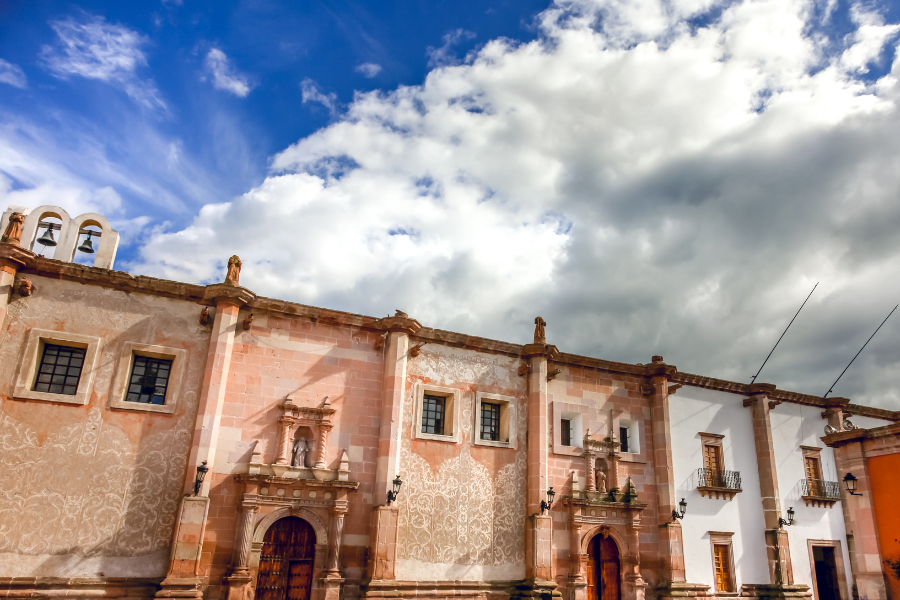 The fact that you might have not heard much about Lagos de Moreno is just one more reason to visit this beautiful historic town of Jalisco that has earned World Heritage Site status from UNESCO. Lagos de Moreno has become the fifth town to be recognized as one of the Pueblos Magicos Jalisco.
HOW TO GET TO LAGOS DE MORENO
The closest city to Lagos de Moreno is Leon, Guanajuato, only 26 miles away, and the nearest airport is at Silao, another 13 miles further south. You can get to Lagos from both places via the federal highway number 45, or simply catch a bus from either one of them.
THINGS TO DO IN LAGOS DE MORENO
Explore the spectacular haciendas
Visit one of the religious sites of the city
If you're interested in religion or just a great fan of architecture, Basilica de San Pedro, Templo del Calvario, La Mesa Redonda, and Paroquia NS de l'Asunction are all worth a visit.
El Paraiso is the local aqua park with nice and clean water. Even better, you can bring your own food/snacks! Good to know: there is no public transportation around here so you need to get to the aqua park by car.
Take a guided tour to Quesos Thomsen and Lacteos Gama, two of the local cheese factories
The local cuisine – which is known as cocina mestiza – blends influences from the Chichimeca and Tlaxcalteca indigenous traditions with Europen ingredients and some African flavors originating from the slaves that came with the Spanish conquerors.
At El Calvario market, you can also try the Nicholas (ground meat served with bread, pepper, and spices).
WHERE TO STAY IN LAGOS DE MORENO
Budget Option: Casa Damiana
Casa Damiana is a cute hotel very close to the city center where you can enjoy a good night's sleep and the stunning views of Lagos de Moreno.
Mid-Priced Option: Airbnb
A lovely boutique hotel in the highlands of Jalisco for those looking to escape city life.
Luxury Option: The House Of All
An entire home for families or friends traveling together located in a beautiful remote setting of Lagos de Moreno.
Mascota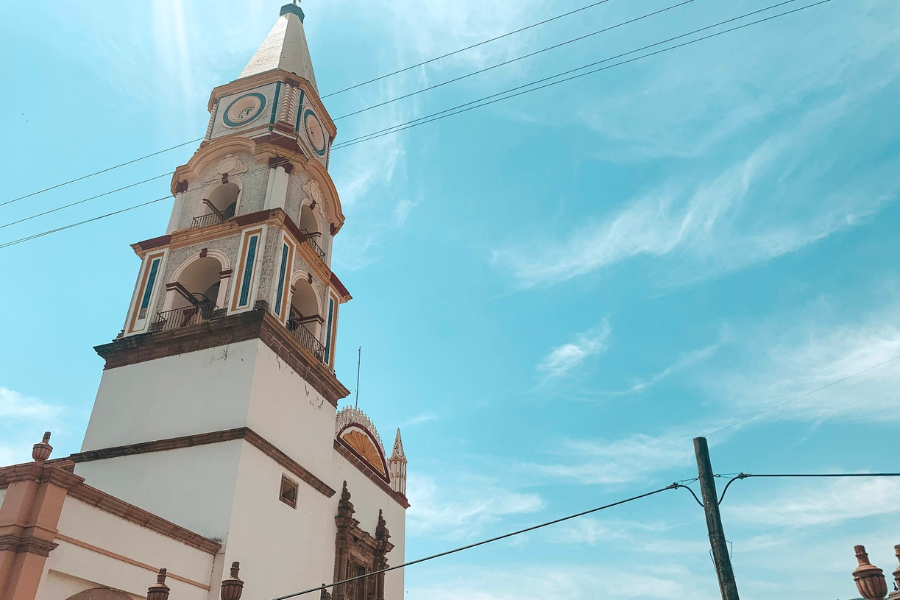 One of the Pueblos Magicos and Jalisco's best-kept secrets is Mascota, a historic little town nestled high in the Sierra Madre.
HOW TO GET TO MASCOTA
You can reach Mascota from Puerto Vallarta in about 2 hours by car, and it's a half-day drive from Guadalajara, making it the perfect destination for a weekend getaway.
THINGS TO DO IN MASCOTA
One of the top reasons to visit Mascota is, undoubtedly, its proximity to Jalisco state's busiest travel hubs. But there are so many other reasons to spend time in this charming little town! Its historic and natural attractions, agreeable climate and overall relaxed pace is what really makes Mascota a Pueblo Magico.
Walk or cycle around the historic center of Mascota
Finding a parking spot is relatively easy in the town center but I'd still encourage you to walk the town from end to end as it doesn't take too long and allows you to immerse yourself in the local culture.
Try the local jocoque and panela
Make sure you don't leave Mascota without grabbing yourself a cup of café de olla (a special type of Mexican coffee with cinnamon and anise) or sampling some local treats like guayabita and camote sweets. If you're already over tequila at this point (really?), try Raicilla (a delicious regional spirit similar to tequila) or rompopes (similar to eggnog).
WHERE TO STAY IN MASCOTA
Mascota doesn't have a lot of lodging options to choose from but the ones that are available are almost always top-quality, with the staff going above and beyond to make you feel welcome.
Budget Option: Bamboo Room
A private room in a bungalow with an outstanding view to the beautiful mountains of Mascota.
Mid-Priced Option: Santa Elena Hotel Boutique
Santa Elena Boutique Hotel is an 18th-century hacienda located only a short distance away from Plaza Principal, and close to many of Mascota's top restaurants and cafes.
Luxury Option: Mexican-style cottage
A beautiful, authentic Mexican hacienda close to the main plaza, perfect for traveling with family and/or friends.
Mazamitla
Mazamitla is a mountain town with many opportunities for adventure sports. It's the perfect destination for those who like to enjoy the tranquility of a cabin and enjoy the landscapes of the mountains while riding a horse.
HOW TO GET TO MAZAMITLA
It's relatively easy to get to San Sebastián del Oeste from Guadalajara by bus, car or flying. Aeroméxico, Interjet and Volaris all fly directly to Mazamitla from Guadalajara.
THINGS TO DO IN MAZAMITLA
Walk through Los Cazos and reach the El Salto Waterfall
Learn to zipline at Mundo Aventura
Tour the surroundings of the Sierra del Tigre
WHERE TO STAY IN MAZAMITLA
If you're coming for the mountains and some relaxation, you'll find that Mazamitla is the perfect place for you.
Budget Option: Cabana la parota
A super cozy and relaxing experience topped with a spectacular mountain view and a cozy fireplace.
Mid Priced Option: Cabana La Negrita
A newly opened and beautifully designed boutique hotel with a lovely view and a barbecue.
Luxury Option: La Estela Bubble Glamping
A fun way to experience the nature that surrounds Mazamitla is by staying at this bubble-glamping capsule hotel. The bubbles have both AC and heating for any climate and the staff goes above and beyond to make your stay truly unforgettable.
San Sebastián Del Oeste
The scenery of the Pueblo Magico of San Sebastián del Oeste is truly magical – no wonder it's become known as one of the Magic Towns of Jalisco! To this day, its flora and fauna remain almost in pristine condition and are a perfect complement to the town's urban image.
HOW TO GET TO SAN SEBASTIÁN DEL OESTE
You can easily get from Guadalajara to San Sebastián del Oeste by bus or car (note that you will spend at least 4 hours driving in from Guadalajara), and Aeroméxico, Interjet, and Volaris all fly directly to San Sebastián from Vallarta.
THINGS TO DO IN SAN SEBASTIÁN DEL OESTE
San Sebastián del Oeste is characterized by the production of leather goods, carved wood, and textile which also make the best souvenirs for gifts.
Spend a night at Hacienda Jalisco to feel like in the old west
Climb the Cerro de la Bufa and see the landscape from above
Walk through the artisan cigar factory
Visit the Quinta Mary for a 100% organic high-altitude coffee
WHERE TO STAY IN SAN SEBASTIÁN DEL OESTE
Budget Option: Teodoro's home
A cute little cabin in the middle of the forest hosted by a sweet couple, Teodoro and his wife. The best place to relax and stay with family and friends.
Mid-Priced Option: Eagle's Nest
The Eagle's Nest is a charming guesthouse designed to offer a perfect place to rest and relax in a beautiful environment surrounded by nature and tranquility.
Luxury Option: Sierra Lago
Surrounded by the mountains of Sierra Madre, this all-inclusive resort features luxury chalets, extensive grounds, and a spa.
Talpa De Allende
Pine trees, coffee and the smell of guava – you've arrived at Talpa De Allende.
Besides being one of the Pueblos Magicos Jalisco, Talpa De Allende is the destination of a popular pilgrimage route where La Chaparrita, The Little Short One, aka Our Lady of the Rosary is located. Her birthday is celebrated on October 7, when millions of people walk to Talpa every year.
HOW TO GET TO TALPA DE ALLENDE
Talpa de Allende is located in the west of the state of Jalisco and borders to the north with Puerto Vallarta and Mascota.
If you're traveling by car, you have to take the free road to Ameca, Jalisco, passing through Ameca, Mixtlán and Atenguillo. The drive from Guadalajara to Talpa takes about 2.5 hours.
By bus (approx. 4 hours), you can depart from the New and the Old Bus Stations in Guadalajara.
THINGS TO DO IN TALPA DE ALLENDE
The local cuisine offers as a representative dish the typical traditional birria, but there are other traditional dishes with a local touch, such as gorditas, pozole, tamales, and tostadas, while the guava is present in most locally produced desserts.
Visit the Basilica of Our Lady of the Rosary of Talpa
The Basilica is located in the center of town, the Sanctuary of the Virgen del Rosario, Built-in 1782 with Churrigueresque and Gothic style.
It exhibits several religious objects, as well as a collection of dresses of the Virgin in which you can see embroidery with gold threads of up to 24 carats.
Visit the Parish of Saint Joseph
This is a temple built in the place where, according to tradition, the image of the Virgin of Talpa experienced the Miracle of the Renewal.
WHERE TO STAY IN TALPA DE ALLENDE
Mid-Priced Options:
Doña Francisca Hotel Boutique is a beautiful and charming hotel located in the heart of the Magical Town of Talpa de Allende, only a few meters from the Basilica of Talpa.
A centrally located apartment within walking distance from everything important.
Luxury Option: Finca Madero
Tapalpa
Back in 2002, Tapalpa was the very first of the magic towns in the State of Jalisco to be named as a Pueblo Magico Jalisco.
With its lush forests and giant rock formations, Tapalpa is a very popular travel destination for visitors looking to spend their time with outdoor activities. Tapalpa is the perfect combination of natural beauty, architecture, tranquility, and adrenaline, making it a unique place that offers something for everyone.
There are also a number of traditional foods that you need to try while you are visiting Tapalpa, including Cajeta quemada (a goat's milk caramel candy), goat birria, and the famous Borrego al pastor, an insanely delicious roasted lamb dish that is unique to this area.
HOW TO GET TO TAPALPA
About a two-hour drive south of Guadalajara, Tapalpa is the perfect place to saddle up and step back in time.
Buses from Guadalajara to Tapalpa leave from the new bus station. Look for the line Sur de Jalisco!
THINGS TO DO IN TAPALPA
Visit the ruins of the first paper mill in Latin America
Latin America's first paper factory was opened in Tapalpa in 1840. In 1923, the factory shut down and was abandoned due to the Mexican Revolution. Today its abandoned ruins are one of the most popular tourist attractions of Tapalpa.
Marvel at the beauty of Valle de Los Enigmas
Thought to be the site of ancient rituals, the beautiful Enigma Valley outside of the Magical Town of Tapalpa has attracted thousands of people from all over the world. Las Piedrotas (big stones), as people commonly call them, is a place with several giant monolithic rocks.
Ride through the beautiful scenery on a horse
Paraglide over the valley of Tapalpa
WHERE TO STAY IN TAPALPA
Budget Option: Hotel Mi Pueblito by Rotamundos
Mid Priced Option: Cabana Oso Tapalpa, Glamping Casitas Hojalá
You'll find that there are many glamping opportunities in Tapalpa ranging from mid-priced to luxury options, both of which can be a great choice if you travel solo or spend some time in Tapalpa as a couple without kids.
Luxury Option: La Jauja
La Jauja is a beautifully designed, California-style cabin in the mountain area that comes with a housekeeper and a private chef (note that the food is not included in the price).
Tequila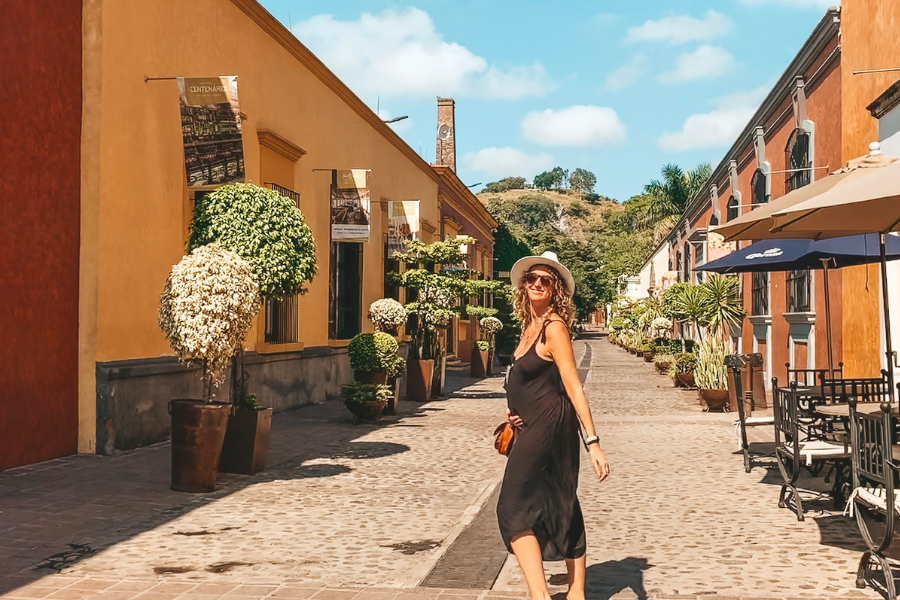 Walk through blue agave fields, taste Mexico's most famous distillate, and explore old tequila factories in Santiago de Tequila!
Besides being one of Mexico's famous exports, tequila can refer to a couple of other things too. The volcano that created a massive deposit of obsidian and soils favorable for the agave plant is also called Tequila, similar to the municipality and Pueblo Magico of Tequila in the State of Jalisco.
Some Fun Facts About The Agave Landscape Of Tequila
The agave plant, which has a long and important chapter in local folklore, was called the marvelous tree because of all of the ways it was used. The cooked agave is delicious but the plant was also used for sewing materials, clothing, and building materials, among others. Give your Instagram account a quick boost by visiting this historical area!
The agave landscape was declared a World Heritage Site by UNESCO in 2006
It comprises an area as large as 34,658 hectares
Agave cultivation is part of the national identity of Mexico; blue agave has been used since the 16th century to produce fermented beverages
Their process – and hence, their product – is unparalleled in the world
Some of the distilleries were founded in the 18th century (Cuervo) while others are brand new

HOW TO GET TO TEQUILA
It is an easy and quick 60 km drive to Tequila from Guadalajara along a toll freeway. There is also a slower yet more scenic country highway that runs through the scenic agave fields.
THINGS TO DO IN TEQUILA
Visit some distilleries and get a taste of the local tequila
Spend the night at La Cofradía, the only hotel with a tequila factory
Ride through the tequila fields
WHERE TO STAY IN TEQUILA
Below I've listed some of my favorite stays in Tequila for all budgets but if you can, I highly recommend spending at least one night at a local distillery. I'd personally recommend Matices Hotel The Barricas where you can sleep in giant barrels while enjoying the magical view of the blue agave fields that surround the property.
Budget Option: Departamentos Tequila
Just a few blocks away from the center, Departamentos Tequila offers a quiet and spacious space with private parking for guests.
Mid Priced Option: Casa Tahona
Casa Tahona is a beautiful boutique home in the center of the magic town of Tequila within walking distance from every important tourist attraction.
Luxury Option: Hotel Villa Tequila
Rooms at Hotel Villa Tequila are simple and spacious, and most have stone floors! The hotel has a heated rooftop pool with a bar and a restaurant that offers classic Mexican dishes with a twist.
Tlaquepaque
Tlaquepaque earned the designation of Pueblo Magico back in 2018. The place is world-famous for its ceramics so it's only natural to meet popular artists and renowned potters here while exploring the area's famous art galleries. An important pottery town, Tlaquepaque makes and sells beautiful distinctive artesanías that are hand-painted with old techniques in order to preserve as much of the local culture as possible.
HOW TO GET TO TLAQUEPAQUE
Given its proximity to Guadalajara, Tlaquepaque makes for the perfect day trip during your stay in the State of Jalisco.
THINGS TO DO IN TLAQUEPAQUE
Even though the place is one of the most important pottery-producing towns in the whole of Mexico, pottery is not the only thing that makes Tlaquepaque a special place for visitors. Watching the mariachi bands play is an experience you simply cannot miss, given that mariachi originates in the State of Jalisco.
Marvel at the beauty of the Parish of San Pedro Apóstol
Of Byzantine, Baroque and Roman styles, the San Pedro Apóstol was built by the Franciscan order and received the category of Parish in 1845. It has the category of Lateran Basilica. Inside, it preserves oil paintings by famous painters, as well as polychrome sculptures.
Get crafty at the workshops of the artisan corridor
Walk around the Parián and stay for a mariachi show
Visit the famous Ceramics Museum
WHERE TO STAY IN TLAQUEPAQUE
Budget Option: Casa Alfredos
Casa Alfredos is an adults-only boutique hotel with a nice and helpful staff and great American breakfast options.
Mid-Priced Option: Quinta Don Jose Boutique Hotel
With Guadalajara Airport 13 km away, Quinta Don Jose Boutique Hotel is a great choice for spending the night in Tlaquepaque as they offer free airport pick-up and transfer for guests staying for 3 nights or more.
Luxury Option: GALA Hotel Boutique
GALA is located in a quiet neighborhood and the property has a very historic presence with a modern twist. And some of the best specialty coffee in town!