Cyprus is a small island with a big history. So choosing where to stay in Cyprus on your next holiday needs some thought. On the surface, you may think there isn't much difference between Aya Napa and Pathos, but there really is! Cyprus is diverse. It may be small but it has everything from diving to Skiing!
In this where to stay in Cyprus guide, I'm going to break down the different areas in Cyprus to give you as much information as I can so you feel fully informed before booking your Cyprus holiday.
As well as recommending the best place to stay in Cyprus I've also made some hotel and resort recommendations to help you pick a great place to stay.
And of course once you have booked your holiday in Cyprus I have multiple blog posts on all of the fun things to do in Cyprus as well as beach guides, restaurant guides and so much more, so be sure to check them all out here.
Did You Get Travel Insurance Yet?

The Insurance companies I recommend are Hey Mondo, Safety Wing, and Travel Insurance Master

Hey Mondo is great if you are looking for a great value flexible policy. They offer single-trip cover, annual multi-trip cover, and long-term travel cover. Safety Wing is great value, with monthly coverage starting at $39. It's super easy to use, and it just renews each month. I currently use them as they offer me free cover for my son as part of my policy. I also use Travel Insurance Master for short trips.

Read my full travel insurance post here, where I go into detail about all companies.
North or South?
I'm not going to get into the politics of this here. But for those who don't already know, Cyprus is a divided country. The northern part of the island is occupied by Turkey. It is not a recognized country by anyone other than Turkey who refer to it as the Turkish Republic of Northern Cyprus. The southern part of Cyprus is a recognized country with the official title The Republic of Cyprus.
As a tourist here, it's important you know this to avoid getting into any sticky situations.
Firstly, you don't want to book a flight into Cyprus through the airport in the northern part of Cyprus and then try to cross the border to enter the Republic of Cyprus, they won't let you in. Because it's not recognized officially entering through the northern airport is classed as an illegal entry into the country.
However, if you are planning a holiday in the Turkish Republic of Northern Cyprus, it's totally fine to fly in and out of the northern airport.
For everyone else be sure to fly into one of the 2 international airports in the Republic of Cyprus.
If you want to visit the Turkish Republic of Northern Cyprus on a day trip, I'd recommend you do a full-day private tour like this one. Otherwise, play it safe and all across the pedestal border in Nicosia city center, you can read about how to do that here.
How Many Airports Are In Cyprus
There are 3 international airports in Cyprus:
The largest airport is Larnaca which has flights operated by 49 different airlines and Pathos is second with flights from 13 different airlines.
I would strongly advise against using Ercan airport for the reasons mentioned above. It is only serviced by 4 airlines and it's pretty much just flights from Istanbul.
If you are looking to visit Larnaca, Aya Napa, Protaras, or Nicosia then I would recommend flying into Larnaca airport. If you are visiting the Pathos region then fly into Pathos airport. If however, you are visiting Limassol then you can pick whichever has the cheapest flight deals as it's right in the middle of the 2 airports.
I have detailed instructions on how to get from the airports to the different towns and cities linked below. As many flights arrive at very unsociable hours I strongly recommended booking your airport transfer ahead of time.
So now you know how to get to Cyprus, it's time to dig in a little to help you to decide where to go in Cyprus once you get here.
P.S. if you are looking for things to do in Cyprus, read this.
Where to stay in Cyprus
Here's my quick and dirty guide to where to stay in Cyprus depending on what you are traveling here for. Keep reading to learn more about each place.
Cyprus Resorts Guide
Of course, there are so many amazing small towns and villages to visit in Cyprus, as well as the capital Nicosia. But in this guide, I'm just writing about the main resorts to help you choose where to locate yourself.
Cyprus is a small island and 1-2 weeks will give you plenty of time to do lots of day trips and explore other areas like Kato Drys, Lefkara, Nicosia, Troodos mountains, etc. You just need to rent a car to move around the island with ease, there are inter-city buses, but a car will give you much more freedom.
Limassol
I had to put Limassol at the top, because for me, it's the top all-around Cyprus destination. It's in the middle of the two airports. It has the most beautiful seafront walk from one end of the city to the other with cafes, sculptures, grassy areas, outdoor fitness equipment, and even swimming pools to keep you entertained a long the way. For me, Limassol is the city in Cyprus that gives me some serious Miami vibes. It's vibrant, cosmopolitan, and you could never get bored here there is so much to do in Limassol.
But with all the new skyscrapers shooting up and the young vibes the city gives off, it has also retained all of its old charm. One of the best-known sights in Limassol is its centuries-old castle which stands in the heart of its old town and houses the Cyprus Medieval Museum.
My favorite way to spend a day in Limassol is to park along the seafront and take a walk along the Prokymea (Molos) Sculpture Park to the old marina (which is actually very newly developed) for a coffee. You can then cross over the road into the Old Town for some shopping, to visit the castle and museum, and then enjoy a delicious Cypriot meal in one of Limassol's best restaurants. My personal recommendation is to eat at Artima Restaurant which is just behind the castle in Medieval Square.
If you are visiting Limassol you really must get out of the city and into the surrounding villages and mountains to really get the full Limassol experience. I highly recommend doing a tour of the Commandaria region which is where they make the famous Cypriot wine, doing some hiking in the Troodos Mountains, and spending some time underwater scuba diving in Limassol.
Limassol also has the largest port in Cyprus which is where all of the cruise ships and international ferries dock. There are some very exciting cruises that leave from Limassol to places like Israel, Greece, and Turkey which are worth checking out.
All in all, Limassol has everything you could possibly need for an amazing holiday or a longer-term stay for Digital Nomads. Its central location makes it even more attractive as a jumping-off spot to explore the rest of the island.
Where to stay in Limassol
Resorts
Parklane, a Luxury Collection Resort & Spa, Limassol
Mid-Budget
Budget
For solo travelers
Pathos
Pathos really surprised me the first time I visited. I'm not sure what I expected really, but it surpassed all my expectations. Firstly, to state the obvious, yes it's very British and very tourist-focused. But it's also full of nice restaurants and cafes. The beaches are clean, and sandy and the water is perfect.
I love walking around the old town and shopping in the market. If you find yourself up that way be sure to stop off at the Cafe Nero for a cold drink and to take in the spectacular view, especially in the golden hour.
What I really loved about Pathos though is its historic importance. There is a large archeological sight that you can access at the end of the marina by the castle for just under €5 per person. It spans from hundreds of years BC until now. The highlight has to be the incredible mosaic floors.
In the greater Pathos area, you have so much to do from marveling at the shipwrecks at sunset to bathing in the waters of Aphrodite herself.
Pathos is great for couples, there are so many romantic spots here to explore with your significant other. But it's also really good for families especially if you book into one of the bigger resorts. It also has a large water park perfect for keeping the kids busy for a day.
You have the airport close by and Limassol and the Troodos mountains are less than an hour's drive if you wanted to rent a car and go to check out some other areas on the island.
You can read my things to do in Pathos blog post here.
Where to Stay in Pathos
Resorts
Mid-Budget
Budget
For solo travelers
Larnaca
Living in Larnaca I'm a little biased… But I love this area. I will admit, it may be best suited to people who either live here, want a very quiet family holiday or want to spend all their time wreck diving or kite surfing.
I have a house in the sleepy village of Pervolia 15 minutes from Larnaca airport. It's right across from the beach and has its own pool. It takes us 40 minutes to 2 hours to get from here to most places on the island as we are pretty centrally located, and as I said the airport is just 15 minutes away. And traffic isn't a thing. For a Digital Nomad family, we are in location HEAVEN here.
That said, Larnaca doesn't have big flashy resorts like Aya Napa or Limassol. It doesn't have the beautiful beaches that Pathos of Protaras has. It's small the beaches are rocky. And some days it can feel like a ghost town. But it has such charm and ease that it feels good to be here. Whenever we attempt to go to the more beautiful beaches like Nisi beach in Aya Napa, we always end up back in the car and returning to our beloved (black sandy and very rocky) Faros beach because it's quiet and peaceful and drinks don't cost us a fortune.
What can I say, I'm just not a party person anymore!
Larnaca is great for families who want to rent a nice villa and a car and do more of a DIY holiday BBQing by the pool and taking day trips in the rental car. It's also great for older digital nomads who prefer a more low-key destination. The Larnaca region also has some many villages that really need to be visited. We spend a few nights at this stunning Airbnb in Kato Drys which is very close to Lefkara (where the famous lace of Cyprus is made) and it was heaven. You can read my full review here. I strongly suggest come on a day trip to this area and staying a night or 2 if you have the time.
Larnaca is my favorite solo travel destination in Cyprus. It feels very safe here and there really are no bad, or unsafe areas here.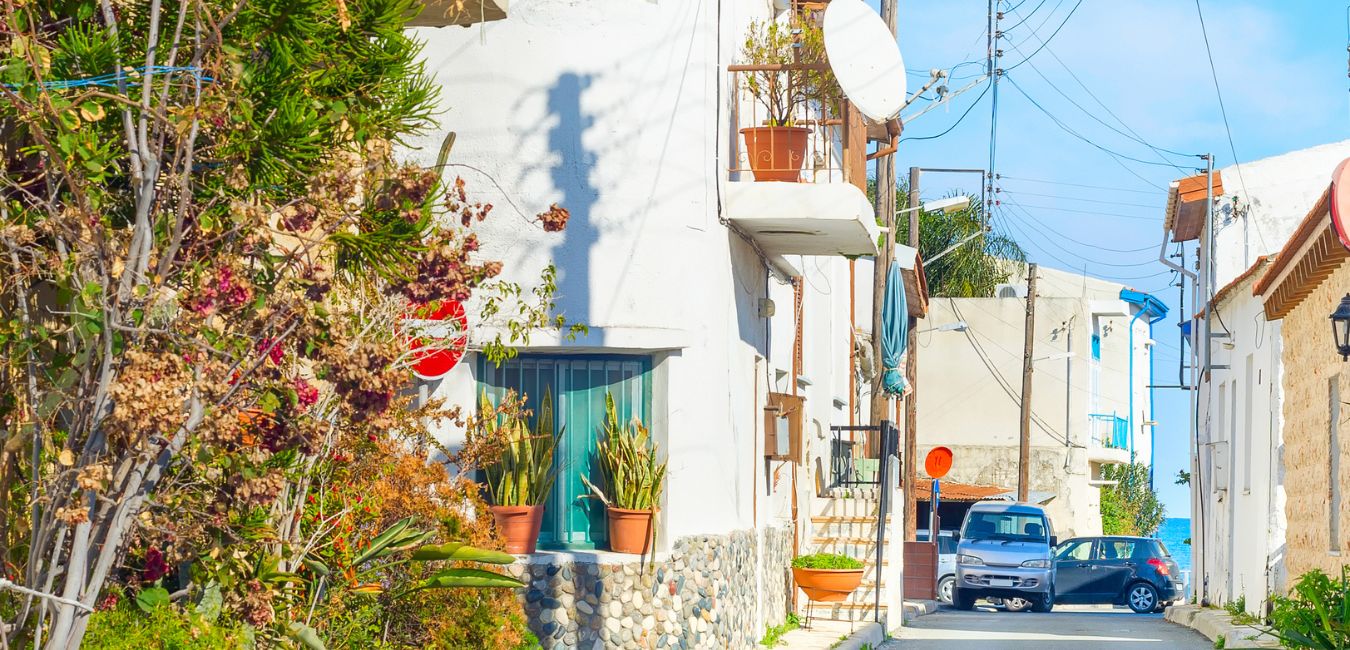 Where to stay in Larnaca
Resorts
Mid-Budget
Budget
For solo travelers
Villa Sophia
Of course, if you are thinking of staying in Larnaca then you are welcome to rent our home Villa Sophia in Pervolia while we are away traveling (which is about half of the year). You can check it out on Airbnb here.
Pissouri
Pissouri is a charming village in Cyprus, and it offers a variety of accommodation options to suit every budget and preference. From luxurious villas to cozy apartments, Pissouri has it all.
If you're looking for a relaxing and peaceful holiday, you can find several quaint hotels and guesthouses nestled in the heart of the village.
On the other hand, if you prefer a more luxurious experience, Pissouri boasts a range of high-end resorts with incredible amenities such as spas, private pools, and restaurants. Whatever your budget or preferences, you are sure to find the perfect place to stay in Pissouri.
Where to stay in Pissouri
Columbia Beach Resort Pissouri
If you're looking for a luxurious beachfront getaway, check out Columbia Beach Resort. Located in the stunning Pissouri Bay Beach, this resort offers world-class service and amenities, including two swimming pools, three restaurants, and six bars.
My husband Carlos and I were instantly captivated by the luxurious charm of this Cyprus village-inspired resort. We felt at home in the relaxing atmosphere, complete with a stunning swimming pool and plenty of comfortable spots to unwind.
Unlike most resorts, this one offers only suites, including family and garden view options. During my visit, I was impressed by the spaciousness, comfort, and elegance of each suite.
And when it's time to pamper yourself, the spa has everything from heated and cold plunge pools to fitness and yoga studios, as well as a range of relaxing massages. You won't want to miss the chance to experience the splendor of Columbia beach resort during your next trip to Cyprus.
Aya Napa
Ok, so Aya Napa is apparently trying to shake off its reputation for being a party place for British youths and rebrand itself as a more family-friendly destination. On my last few visits, although I did see more families there, it seemed to me it was still overwhelmingly geared towards the partying crowd.
We tried to visit Nisi Beach, but it was full to the brim (mostly with young people), the music was loud and the bars were full of people dancing to said loud music… it was not the chill Sunday afternoon at the beach we had planned. So after chatting to one of the guys collecting money for the sun loungers who told us it was like this here every day, we gave up and went back to Larnaca.
The time before we skipped the beach and took a walk around the town center, which is basically night club after night club. During the day it stank like a teenage boy's bedroom and felt like a ghost town, I guess everyone was sleeping off their hangovers.
Anyway, I know I'm bashing Aya Napa. But it's just not my thing anymore. I had more than a few amazing nights out here in my early 20's, but those days are long gone haha. If you are in your 20's looking for a boozy holiday with your friends, you will find it here!
There are lots of cool things to do in the Aya Napa area, like the sea caves, the sculpture park, and of course the underwater museum. There is even a new water park opened up which is great for families. But if you stay close by then you can do all the good stuff and avoid the nighttime madness and beaches packed with drunken teenagers.
If you are traveling solo I would be more careful when in Aya Napa. Cyprus is one of the safest countries in the world to travel to. But Aya Napa is a little different and you do see stories of assault in the local news that happen at night here by partygoers. Be very mindful of your drinks at night, and choose your accommodation wisely.
Honestly, unless you find an amazing accommodation deal in a resort in Aya Napa, I'd skip it and head up the road to Protaras.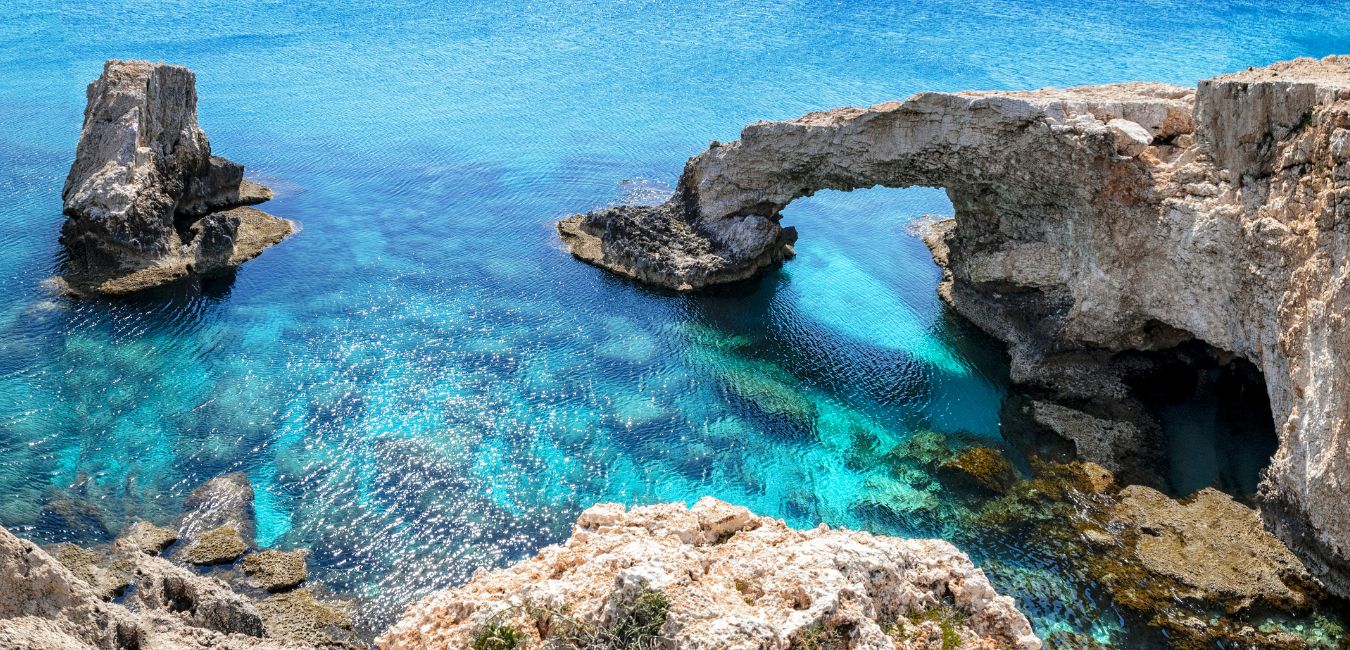 Where to stay in Aya Napa
If you want to stay in Aya Napa there are some beautiful resorts to stay in right on the beach. I'd strongly recommend this option so you can be self-contained. Especially if you have little ones. For solo travelers make sure you are in a good safe location. Check out these options below.
Resorts
Mid-Budget
Budget
For solo travelers
Protaras
I actually spent a week in Protaras 10 years ago as my best friend got married in a resort there. I really like Protaras and it's a great place for solo travelers, couples, and families. It's very close to Aya Napa, but the evenings are much more chill and the partying isn't quite so hard!
The beaches are beautiful, there are lots to do from scuba diving to paragliding, or just chilling on the sandy beaches. The main street is full of restaurants, bars, and shops so if you are staying in the main town at one of the hotels or resorts you have everything within walking distance. Then if you need to go a little further afield there are plenty of places to rent a car for the day. Or you can hop on the bus and go to Aya Napa for a change of pace.
Of course, the beauty of Protaras is that you are close enough to Aya Napa to jump into a taxi there for the evening if you want to party.
As well as lots of nice resorts to choose from there is an abundance of privately rentable holiday villas in the area. If you choose this option you will need to rent a car to get around more freely and do your grocery shopping etc. But it can save you a lot of money if you are in a group.
For solo travelers, if you can find a good deal of a resort, treat yourself. Otherwise, there are some options for more low-key hotels or apartments on Airbnb, depending on your budget.
The only downside to Protaras for me is that it's all very tourist-focused and so prices are on the high side. I'm sure there are some smaller local places to eat and drink, but you may need a car and some local friends to find them!
Where to stay in Protaras
Resorts
Mid-Budget
Budget
For solo travelers
PIN FOR LATER!