If you're planning a trip to Cyprus and aren't sure what to pack and what to leave at home, I've got you covered with this Cyprus Packing Guide! The Mediterranean island of Cyprus is a gorgeous travel destination, but preparing for the country's varied weather conditions can be challenging.
Although Cyprus is in the Mediterranean its climate is much more aligned to that of the Middle East, and looking at Cyprus on a map it's not hard to understand why! Having lived there in both the summer and the winter I can tell you packing can be a challenge!
The summers are as hot as they come and winters are cold and damp. Plus no matter what time of year you go you can always take a trip up the Troodos Mountains to cool off. In winter you can even go skiing up there!
This Cyprus packing list will give you all the info you need to ensure a comfortable vacation and travel experience. I'll highlight must-have clothing pieces, cultural traditions to be respectful of, and packing tips and tricks.
Did You Get Travel Insurance Yet?

If 2020 taught us anything, it's that you need to be prepared for anything!

The Insurance companies I personally recommend are Hey Mondo, Passport Nomads, Safety Wing, and Travel Insurance Master

Hey Mondo is great if you are looking for a great value flexible policy. They offer single-trip cover, annual multi-trip cover, and long-term travel cover.

Passport Nomads provides the most comprehensive cover for Digital Nomads. If you find yourself in need of medical care you just contact them and they will pre-load your card with the funds to cover your treatment, meaning you won't need to pay out of pocket and then put in a claim later.

Safety Wing is great value with monthly cover starting at $39. It's super easy to use and it just renews each month. I currently use them as they offer me free cover for my son as part of my policy.

I also use Travel Insurance Master for short trips.

Read my full travel insurance post here where I go into detail about all 4 companies.
Understanding Cyprus's Climate and Culture
Cyprus has a subtropical Mediterranean climate that includes hot, dry summers and mild, rainy winters. Since temperatures in Cyprus can vary widely throughout the seasons, it's important to pack versatile clothing that you can easily layer and style in different ways. Even on hot days in Cyprus, temperatures tend to dip when the sun goes down, so you truly need to be prepared for any kind of weather.
With Greek and Turkish cultural influences, Cyprus boasts a unique blend of fashion trends. Light and airy pieces that can be dressed up or down are popular choices in Cyprus, and traditional clothing items include modest long skirts, patterned dresses, and flowy blouses. Many Cyprus locals dress simply and conservatively, with women covering their shoulders and knees.
If I had to use one word to describe the way Cypriot women dress, it would be classy. I'll never forget the first time I visited the shopping mall in Larnaca. We were in the middle of home renovations and I was dressed in shorts and a t-shirt, pretty much covered in dust. I looked around and felt extremely embarrassed. EVERYONE was dressed up, to go shopping!
I've dug into this deeper with some older local women and apparently, it's a cultural thing. The woman always get dressed up to go anywhere, even to their friend's house! I think this is relaxing more with future generations. But you won't see a lot of local women dressed down eating in a restaurant or even shopping in a supermarket.
Essential Items To Pack for Cyprus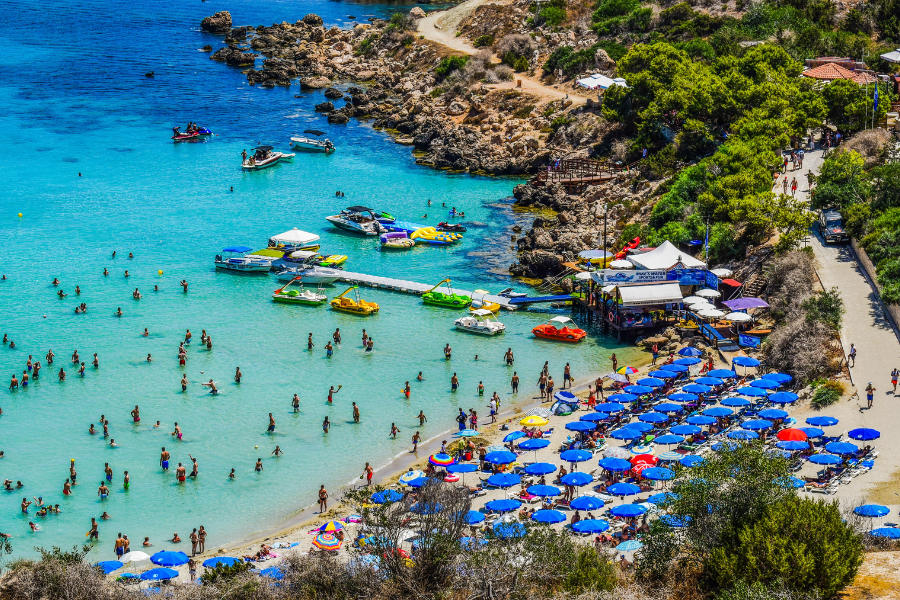 Since Cyprus has a generally warm and mild climate, you'll want to pack plenty of lightweight and breathable clothing pieces. Materials like linen and cotton are popular picks to include in your packing list for Cyprus. Nothing is worse than being uncomfortably hot and sweaty while trying to enjoy a vacation, so save yourself the trouble and stick with light, flowy clothes.
Maxi dresses and skirts are the perfect option to achieve an effortlessly fashionable look that requires minimal effort. Keep things simple with a versatile neutral like white or cream, or make a statement by choosing dresses and skirts with a fun pattern or bold color.
I suggest packing shorts and tank tops for casual outings in Cyprus, including beach days and touring some of the country's quaint villages. While these pieces aren't appropriate for more formal activities, they are great for staying cool and comfortable on busy travel days.
As you plan what to wear in Cyprus, make sure to pack a light cardigan or shawl for the evenings. Even during summer, when temperatures are at their peak, nights in Cyprus tend to be cool and breezy. Especially by the sea.
Swimwear is an essential addition to any Cyprus packing list! Cyprus is known for its picture-perfect beaches and miles of coastline, so you should plan to go swimming in the ocean or pool at least once during your trip.
When it comes to deciding what to pack for Cyprus, I highly recommend bringing a pair of comfortable walking shoes. They might not be the most fashion-forward footwear pick, but they'll make all the difference on long exploring days when you'll be walking for miles.
Accessories are the perfect finishing touch for any outfit, and a stylish hat and sunglasses are must-haves for Cyprus. The sun can get intense in Cyprus, especially during the summer, so you'll want to pack plenty of sun protection to stay cool and prevent sunburns.
Another piece you can't skip when packing for your Cyprus trip is a sarong or cover-up. Many of the religious and cultural sites in Cyprus require women to cover their shoulders and hair, so keeping a light cover-up on hand makes it easy to dress modestly as needed.
Quick Tip: Book accommodation, tours, and transport ahead of time online to save money and stress.
Best Cyprus Tours: Click here to check out the top Cyprus tours
Best Cyprus Accommodation: Click here to check out the best accommodation in Cyprus
Best Cyprus Transport: Click here to book a bus, ferry, or train in Cyprus
What to Pack for Specific Activities in Cyprus
Beaches and Water Activities: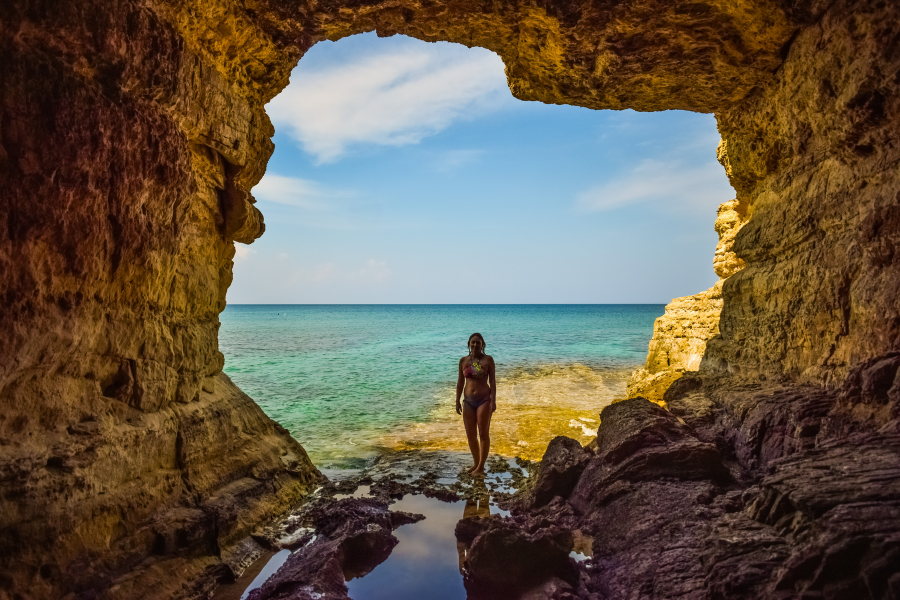 Swimming, snorkeling, boating, and other water activities are popular in Cyprus, so don't forget essentials like swimwear, cover-ups, and
Outdoor Exploration and Hiking:
If you plan to explore Cyprus's gorgeous outdoor landscape by hiking and biking, I recommend packing lightweight and moisture-wicking clothing. Athletic tops and bottoms will prevent overheating and keep you feeling easy-breezy on all your adventures.
Make sure to invest in a sturdy pair of hiking shoes to prevent blisters and foot pain, and finish your outfit with a hat for sun protection. Lastly, sunscreen and insect repellent are key, so you don't have to worry about sunburns or bug bites.
Cultural Sightseeing:
While shorts, tank tops, and swimwear have their time and place during your Cyprus vacation, many cultural and religious landmarks will require modest outfits.
Dressing conservatively when visiting these sites is a good way to experience local traditions and culture respectfully. If you plan to visit a church or religious site, I suggest wearing long pants or skirts and covering your shoulders.
One of my favorite options is a lightweight, long-sleeved shirt that will keep you covered and protected from the sun.
Cyprus Packing Essentials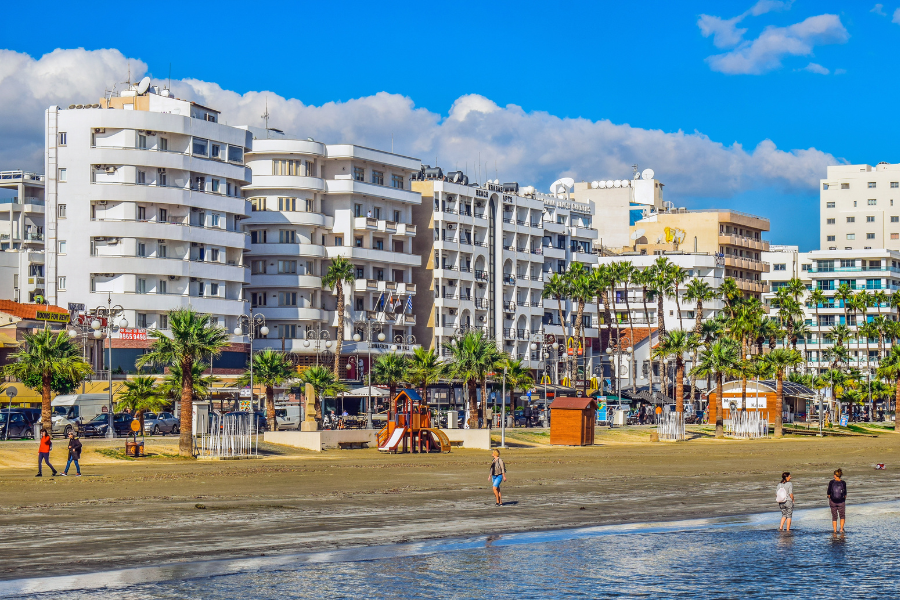 Sunglasses
Does anyone actually leave home without sunglasses? I personally always travel with 2 pairs. One for day-to-day use that I normally just throw in my bag. Then a second pair that are a bit nicer which I wear when I want to take some nice pics for the gram.
I always get my sunglasses from Blenders, Glassesshop, or Knockaround as they are good quality, have UV protection, and are really reasonably priced.
Reusable Water Bottle
Having a good reusable water bottle is essential. If you are still a little worried then get a water bottle with a filter like this for peace of mind. For a bottle with extra tech this one is self-cleaning via UVC light, is USB rechargeable, and turns any water into drinkable freshwater. It is also vacuum-insulated to keep your water cold for up to 12 hours.
Hand Sanitizer
Let's face it, 2020 changed the way we travel, and there is no going back. Hand sanitizer is something you can no longer travel without and I'm obsessed with this hand sanitizer holder my friend designed. You can buy them in a pack of 2 and the bottles come with it so you can top them up.
Not only are they super practical so they clip on o your purse, or luggage but you can also clip your mask on there too, save throwing it into your backpack! It's vegan leather and you can choose the cute florals (which I have) or a brown and black combo.
Bug Spray
I suggest getting an eco-friendly one for your body and then getting something a little more aggressive like this to spray on your clothing.

Vaccines
You may need to prove you have had any specific vaccines and for some places, you may need malaria pills. There are many vaccines that are strongly advised for travel depending on your location. So a few months before you travel to speak to a medical professional and make sure you were immunized with all of the suggested vaccines.
Please never take medical advice like this from a blogger! Go see a medical professional…
Luggage for Cyprus
It's totally up to you if you prefer a backpack or a suitcase. Personally, when traveling in Cyprus I opt for a suitcase these days, but if you are planning on doing a lot of bus travel and planning on visiting some of the smaller towns, then you might want to opt for a backpack instead.
If you plan on covering a lot of ground then I would personally suggest a 60L backpack and a small daypack that can easily be packed when traveling.
I've added images and links for the luggage I have tried and tested in Europe below.
If security is a concern for you then I highly recommend getting in Pacsafe backpack for added security and peace of mind. I also wrote this blog post on the best digital nomad backpacks and this one about carry on luggage, just in case they are useful to you. The KnackPack is great for digital nomads with specific space for your tech and all your essentials.
If backpacks are not your thing, this suitcase with a 20″ laptop pocket will do wonders for you, and with this coupon LEVEL8Claire10 you get a 10% discount!
You are also going to need some packing cubes to help keep all of your things organized (and squeeze in a few extra items of clothing). Plus a good laundry bag, toiletry bag, and of course a shopping bag. Alternatively, get a backpack with built-in packing sections like this one. It hangs like a mini wardrobe too which can be helpful instead of using hotel storage. It's what I'm personally traveling with these days.
Last but not least, this travel pillow with memory foam will be your best friend for long periods of traveling.
Other Useful Things to Pack for Cyprus
Over the years backpacking the world, I've got packing down to a fine art and I have some essential items in my backpack that you might not think of. So here are some things you are going to need that you might not think of!
Laundry Soap and a Nail Brush – Unless you want to be doing laundry every few days, it's best to just wash out your underwater in the shower each night. To do this I always travel with a bar of laundry soap and a nail brush. It also comes in handy to clean off marks and stains from clothes you are washing.
A Travel Washing Line – I love mine, it's so handy and takes up no room at all.
A Sewing Kit – When you are traveling sometimes you need to make-do-and-mend.
Mini First Aid Kit – Goes without saying really! I also add in some extras like activated charcoal and other useful pharmaceuticals.
Carabiner clips – So useful for attaching things to your backpack!
Head torch – Equally as useful for camping as it is for reading in bed, or trying to find your way home in the dark.
Ear Plugs – If you are planning on staying in hostels you are going to need these!
A Whistle – I know many people worry about safety and want to protect themselves. I like to carry a whistle just in case I need to pull attention. It might not be as effective as pepper spray, but as that is illegal to fly with too many countries, this is a good alternative.
A Door Stop – Worried about safety in your room at night? Use the doorstop to block the door from the inside and make it harder for someone to enter the room.
Silk Sleeping Bag Liner – Another thing that doesn't take up so much room, but will give you a lot of peace of mind if you need it. Sometimes you might either find yourself chilly or just not wanting to sleep in the bedsheets. So hopping inside a sleeping bag liner helps you get a good night's sleep, wherever you are…
Umbrella – If you are traveling somewhere tropical it's likely to rain, but still be hot. Having an umbrella in your bag will keep you dry without making you feel like you will collapse from heat exhaustion!
A padlock – I recommend getting one of these locks so you don't need to worry about keys. They are TSA approved so you can use them to lock your luggage when flying as well as using it to lock your locker at the hostel.
USD – I always keep an emergency $50 USD hidden somewhere, just in case. USD is the most widely accepted currency, but you will need to ensure the notes are clean and crisp. Many places won't accept them if they are marked at all.
Quick-dry towel – I have 2, a large one and a small hand size one that I keep clipped to my backpack.
A sarong – I never travel anywhere without at lease 2 sarongs. I use them to replace my towel, hang over my bed in a hostel for privacy. Wrap around my hair when it's wet, sunbathe on… I could go on and on. I even make a dress out of mine when I'm at the beach.
A scarf – Another multi-use item that doesn't take up much room. Scarfs are great for covering shoulders from the sun, or when entering churches. It will also help keep you warm, and they look cute!
Yoga Mat – I never travel without my yoga mat. I wrote a whole post to help you choose the best travel yoga mat here.
Spice Bag – If you are planning to do some cooking then I recommend making a spice bag so you don't end up wasting lots of money or herbs and spices, or eating bland food for the whole of your trip. I put my spices into ziplock bags and then keep them in one of these clear bags.
Ziplock Bags – I know, I know, more plastic. But they do come in really handy when traveling and you can wash and reuse them so you aren't throwing them away.
Coffee Flask – Great for keeping hot drinks hot and cold drinks cold. It also saves you having to use disposable cups when you buy a takeaway coffee.
Aeropress – I do love my coffee, so traveling without my Aeropress is not an option haha. This is also another great portable coffeemaker/ mug if you aren't a fan of the Aeropress.
Clothing to Pack for Cyprus
You can see my full Cyprus packing list here on Amazon, So I'm going to try and keep this section brief.
For the beach towns and cities – It's hot and humid, so pack accordingly. Shorts, lightweight dresses, sandals, etc. Oh and don't forget your swimwear!
For Cyprus, – Jeans and comfy shoes. Make sure you have a rain jacket and warm layers if you travel there in the winter as it can get chilly.
You will need cool clothing for the summer, and layers for the winter. Pack clothing suitable for hiking and horseback riding like these leggings and this t-shirt. Hiking boots are great if you plan of hiking, but I got by with these travel shoes (which I'm obsessed with). You will need a coat here, something like this one.
If you are ready to invest in a good quality all-weather travel jacket then the Gamma – Graphene Heated Jacket is the jacket you have been waiting for. It's a real game changer as it works in both warm and cold weather. And if you are allergic to the cold like me then you will LOVE its built-in heating system… yup that's right it has a built-in heater haha. Use the code CLAIRE10 to get a 10% discount!
The other travel brand I'm loving right now is NxTSTOP. From comfy socks to travel kits with essential clothing like sweatpants, t-shirts, and towels. Both I and my husband always travel in their travel pants and T's.
If you are planning on doing some scuba diving then check out this essential diving gear to pack list.
Toiletries to Pack for Cyprus
You can very all of the travel toiletries I recommend here on this Amazon list. Many things you can actually buy in Cyprus easily, so I wouldn't stress too much about buying a lot of toiletries to travel with. But there are some things that are harder to get hold of and expensive in Cyprus, so I always try and travel on my own.
Technologies to Take to Cyprus
If you are stressing about taking your smartphone to Cyprus, don't. Take a read of these posts to help you prepare if you are worried.
Here are some digital things I'd recommend packing for Cyprus.
Smart Phone – If you don't want to take your fancy iPhone traveling, then this is a great phone with a very good camera for under $300. It's what I used to use before I invested in the iphone 13 pro max.
Kindle – Save space by investing in a kindle and kindle unlimited. You will find most of the lonely planet travel guides are available to read for free with the plan.
Lightweight laptop and external hard drive – I have a MacAir which is perfect for traveling. After losing all of my photos a few years ago I also always travel with a heavy-duty external harddrive.
Camera and Tripod – I travel with this DSLR but I also have this mirrorless camera which I often take if I want to use something more discreet. My camera gear has grown with my blog and my essential travel cameras now include this DJI Osmo and this mini drone. If you need a tripod, I love this one as I can use it with all of my cameras (even my phone), plus it's small and light enough to fit in my daypack.
Backup charger – I have these two and always keep one in my bag.
Travel adaptor – Get a worldwide one like this so you can use it wherever you travel to.
Portable WiFi – I never travel without my GlocalMe G4 because of its versatility. Read my full portable wifi guide here.
Cyprus Packing Guide Tips and Tricks
Once you've decided what clothing pieces you want to bring on your trip to Cyprus, it's time to get packing! Light and versatile clothes are ideal because they'll take up minimal space, leaving plenty of room for bulkier items and souvenirs.
Packing cubes and organizers are great travel accessories that help you make the most of your suitcase space. You can also roll your clothes up rather than packing them flat to save space and reduce wrinkles. As always, make sure you check the weather forecast before you start packing so you can stay prepared.

Cyprus Travel Guide Planning
👩‍⚕️ What is the best insurance to have while traveling?
I recommend using Heymondo for a great value policy. The app also offers you 24/7 Dr Chat. For Digital Nomads check out SafetyWing digital nomad insurance. I have also written a blog post covering all my recommended travel insurance here
✈️ Any flight recommendations?
WayAWay offers you cheap flights with cashback. You can use this code CLAIRE22 to get 10% off. Otherwise, Skyscanner or Expedia are my go-to flight-searching platforms.
🎫 Where can I buy tickets for museums, attractions, and tours in Israel?
I recommend either Viator or GetYour Guide. They have a lot of options available!
🚗 Where can I book rental cars or private transportation?
I strongly recommend using RentalCars. They are available in more than 60.000 locations and customer service support in more than 40 languages.
📱What do you use for internet connection while traveling?
I'm a big fan of personal WiFi devices and they have saved my ass so many times when traveling. I wrote a full review of the top travel WiFi devices you can read here. I personally use GlocalMe as I can either pop in a physical sim card or use their local carrier.
With regards to my phone connection, I use e-sims while traveling, so rather than having to swap out my regular sim card I can download the app and buy a virtual sim card. I recommend using either Airhub or Alosim. Both have great coverage of multiple countries and are very easy to use.
🛏️ What is the best platform to use for booking accommodation?
The 3 best platforms that I normally use are Booking.com, Hotels.com, and Expedia. They offer great deals and multiple options. I always check all three to be sure of the best deals.
🛅 Do you have any luggage recommendations for traveling?
I do have a complete list of the best packing and luggage products that I recommend, you can check the list here. I'm currently traveling with this suitcase and this backpack.
Conclusion
This Cyprus packing guide has all the tips and tricks you need to pack for your Cyprus vacation like a pro! I encourage you to keep your travel needs and preferences in mind as you pack for Cyprus so you can feel comfortable and confident during your trip. Embracing Cyprus's unique culture and respecting local traditions will help you have the best experience possible. Thanks for giving this Cyprus packing list a read! Check out my other packing guides and travel resources for more ideas and expert tips.
Pin for later