Do you want to get a Mexican drivers license as a foreign person in Playa del Carmen? Well, you are in the right place to get the most up-to-date information (I just got mine in 2022). Before I went to get my Mexican drivers license in Playa del Carmen I read several blog posts to prepare, and all of them were out of date and things had changed. So of course, I thought I'd better put this blog post together to make sure you have access to the most up-to-date information.
Did You Get Travel Insurance Yet?
If 2020 taught us anything, it's that you need to be prepared for anything! Travel insurance has always been high my list of things to get before I travel but now more than ever its at the top of my list.

I'm pretty sure we have all had travel plans messed up because of COVID and not all insurers covered this. So when looking for travel insurance it's important to check it covers travel disruption due to COVID-19, Hey Mondo, Passport Nomads, Safety Wing, and Travel Insurance Master all provide cover for this.

Hey Mondo is great if you are looking for a great value flexible policy. They offer single trip cover, annual multi trip cover, and long term travel cover. You even have the option to start the cover when you are already on your trip, although you won't be covered for the first 72 hours. For me my favourite feature is their app which offers you a 24/7 Dr chat and the ability to file a claim direct in the app.

Passport Nomads provides the most comprehensive cover for Digital Nomads. The game changer with them is that you have a red card and if you find yourself in need of medical care you just contact them and they will pre load your card with the funds to cover your treatment, meaning you won't need to pay out of pocket and then put in a claim later.

Safety Wing is great value with monthly cover starting at $39. It's super easy to use and it just renews each month. They have an excess of $250 and it's simple to make a claim through their website. I currently use them as they offer me free cover for my son as part of my policy and I like that it renews on a monthly basis, so I don't have to pay out a big lump sum up front.

I also use Travel Insurance Master for some short vacation type trips.

If you are doing shorter trips or an extended backpacking trip then Hey Mondo or Travel Insurance Master are the best option. If you are a digital nomad or planning travel of at least 6 months then go for Passport Nomads or SafetyWing.
What do you need to get a drivers license in Mexico as a foreigner?
Your passport and a photocopy of the photo page
Your proof of residency in Mexico (Permanent or temporary residency card, this could also be your FMM) and a copy of both sides
Your CURP if you have one – you can easily print this off here
A utility bill that was issued in the last 2 months plus a photocopy. Most people bring a CFE or water bill. It does not need to have your name on it, just your address.
Your drivers license issued by your home country and a photocopy of it.
To know your blood type. You don't need proof, but if you don't already know this you can go into any of the labs and get this done quickly and cheaply.
It's important that you bring copies of everything with you. If you need to make the copies there is a copy shop right across from the place where you need to go to get the Mexican drivers license in Playa del Carmen.
Ok so just to say, I did this in Playa del Carmen, so this information is good only for here. There is a possibility that these requirements will differ from state to state. Also, it's common practice here for people on an FMM (tourist card) to ask for a drivers license so it will be more routine here. In other states, it may not be so common. The other thing to say is that I am a permanent resident, so I was able to get a 5-year license. If you are just here on a 180-day FMM tourist card, then your license will only be granted for that time, and I can't be 100% sure of the cost of the license.
Do you need a drivers license to get a Mexican drivers license?
Everything I read about getting a drivers license in Playa del Carmen told me that I would need to either take a driver's test (a quick spin around the block) or they would take my drivers license (issues by the UK) off me and replace it with the Mexican one. Obviously, I didn't like the idea or either of these options!
So I'm glad to report that I was able to get my Mexican drivers license in Playa del Carmen without handing over my UK drivers license! they just asked me for a photocopy of it… which I did;t have because nothing I read told me I needed it, OOPS! Lucky for me the lady took pity on me as I have my baby with me and she made the copy for me. Otherwise, I would have had to go and line up again! So be sure to take a copy with you.
If you don't have a drivers license from your home country, then you will need to do the test.
Need to book transportation in Mexico?
I highly recommend booking all of your Mexico transportation with GuateGo. You can search for buses, shuttles, ferries, and Flights on their website. What I love most about them is their customer service. I know these guys personally from my time living in Guatemala and they really do look after their customers. So if anything happens and you get delayed and miss your bus, you can just call them and they are always there to help.

If you book through them you will pay a little more than if you book in person at the bus station. But it's worth it for the ease and security in my opinion. Click here to search for transportation in Mexico.
Where to go in Playa del Carmen to get a Mexican drivers license
To get your Mexican drivers license you will need to take a taxi as it's over the other side of the highway and too far to walk. You should pay anywhere from 50-100 pesos for the ride from centro (depending on your level of Spanish haha).
You need to go to the Direccion General De Seguridad Publica Y transito Municipal
Avenida Poniente S/N 125, Ejidal, 77727 Playa del Carmen, Q.R.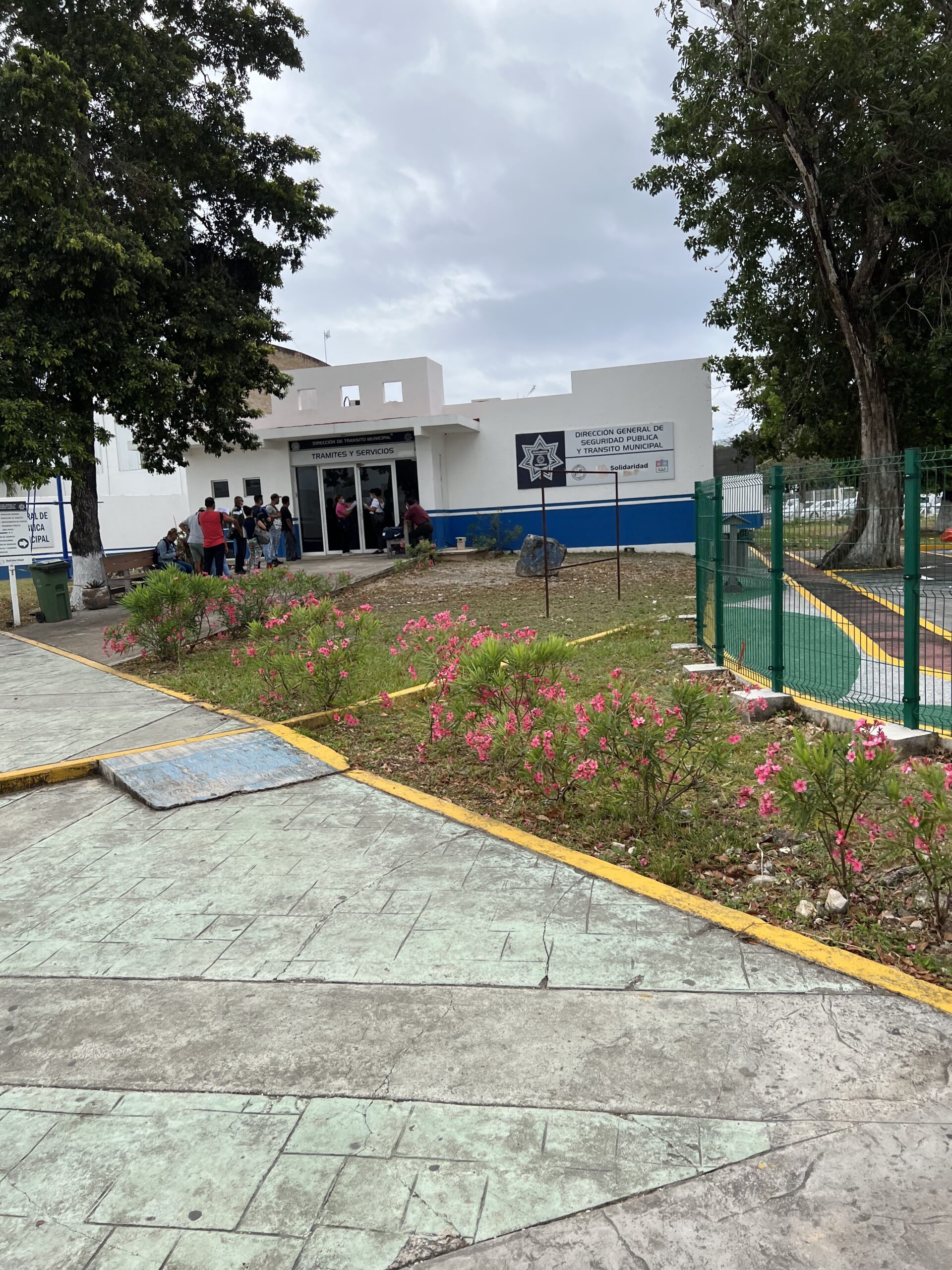 It's in the same location as the police station and you really can't miss it! It's pretty easy to park on the street outside if you plan to travel by car.
I found everyone I spoke to was very helpful and friendly even with my broken Spanish.
Need to rent a car in Playa del Carmen?
Whenever I'm in Playa or Tulum I always rent a car through Turismo Channel as they include everything in the quoted price. Car rental companies in Mexico are notoriously tricky to deal with and 9 times out of 10 they will quote you a low price but then when you get there they add on all kinds of insurance and won't give the car to you unless you pay up. It can also take weeks or even months to refund your deposit. I wrote a whole blog post you can read here for more information. If you rent with Turismo channel use the code clairecaroff for a discounted price. You can also send her a WhatsApp message quoting the above codes to receive the discount.
What to expect when you get your Mexican drivers license
So firstly expect a wait! I was waiting outside for almost an hour before I even got inside. Once inside it was pretty quick and efficient. To avoid such long wait times I'd advise getting there early around 9-10 am.
Once inside you will move around to different counters seeing different people once you have done all of the necessary things your license is printed and handed to you there and then. I found the whole thing extremely efficient and I was actually super impressed with just how easy the process was.
Here is the what to expect when you enter the office to get your Mexican Drivers License: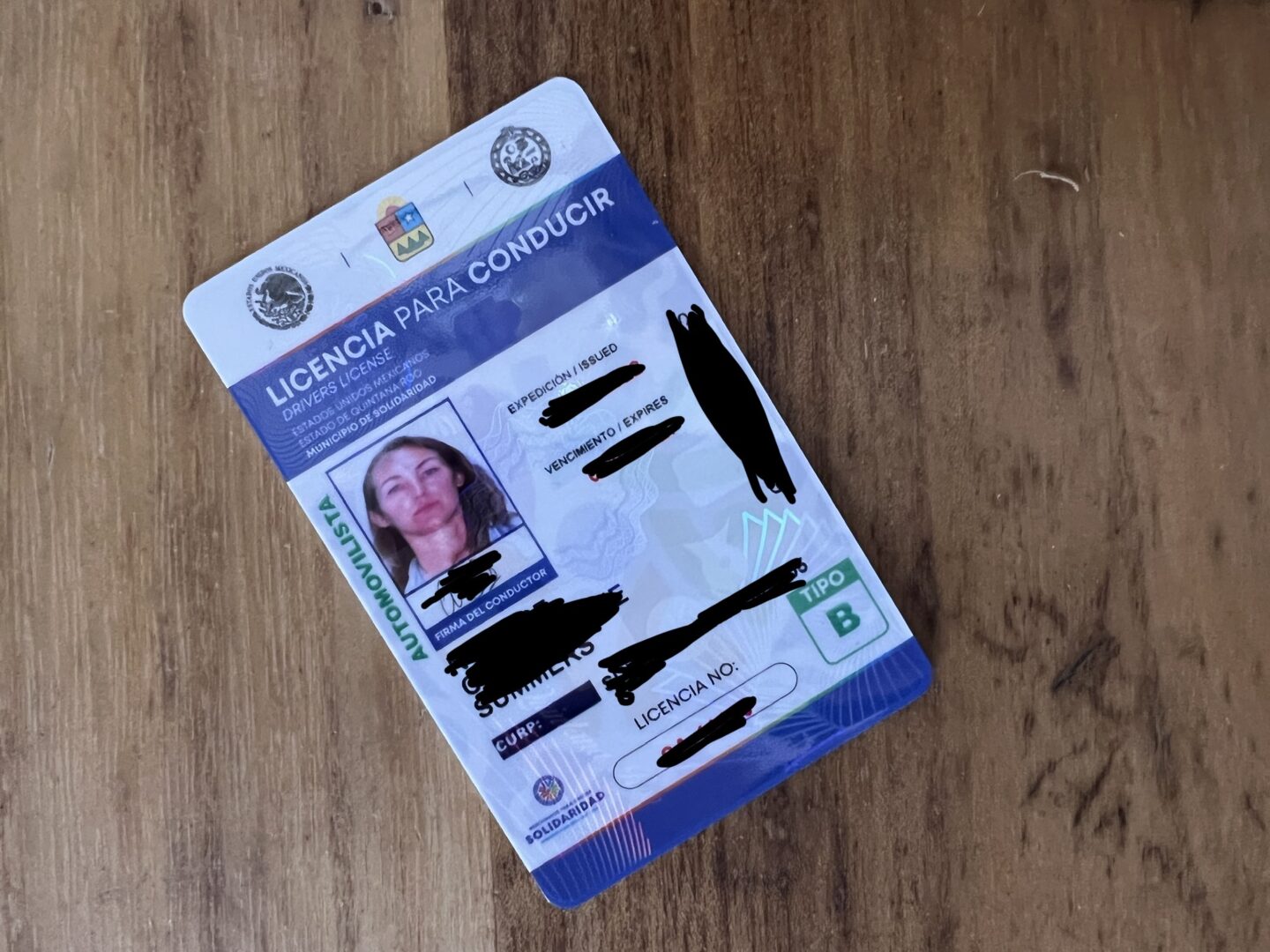 You will first see the reception officers and hand them all of your paperwork. They will check everything and ask you how long you want your license for. If it's an FFM then you can only get it until that expires. For temp residents, I will be until that expires. But if you are a permanent resident like me then you can choose 2 or 5 years. I chose 5 years as the cost was only $900 pesos. I'm not sure why but when I went there was a 50% discount on licenses! The advertised Mexican drivers License costs were $1126 pesos for 2 years and $1797 pesos for 5 years. But as of April 2022, you only pay $500 or $900 with the discount. Once the officer confirms you have everything needed they will enter you into the system and hand you a ticket and tell you which window to visit next.
At the next window, they will take the following information: Full name, DOB, Marital status, and Emergency contact number. Then they will direct you to the next station (eye test).
You will be required to do a quick eye test. It was very easy, but you will need to know the alphabet in Spanish! Watch out for the A, I, and E haha. Although I think they tend to skip those letters for English speakers as we struggle. They will also ask you for your blood type here. So long as you pass the eye test you will be directed to pay.
At the pay counter, you can pay by either cash or card. Keep your receipt as you will need to prove you have paid at the final counter. (If you need to do the drivers test, then I think that's the next place you go. You do a practical test and a written test. You can ask for the written test in English).
This is the final counter! Here they ask you to check all of the information on a screen. They will fingerprint you and get a digital signature from you and take your photo. Then you wait a few minutes for your brand new shiny Mexican drivers license to be printed.
It really is as easy as that!
If anyone on an FMM does go and get their license and anything in this post is incorrect, please do reach out and let me know so I can update it!