Searching for the best Tulum beach Mexico has to offer? You're not alone! Here's what most of the fancy Tulum beach clubs and beach hotels in Tulum don't want you to know: all beaches in Mexico are public. There are no private beaches in Mexico, and blocking public access to the beach is illegal.
That said, some of the best beaches in Tulum are located in the "hotel zone," which can be hard to access. Often, the only way to enjoy a Tulum Mexico beach is to pay a lot of money through one of the local beach clubs.
In this Tulum beach blog, I'm sharing the best beaches in Tulum and tips for accessing the beach without paying.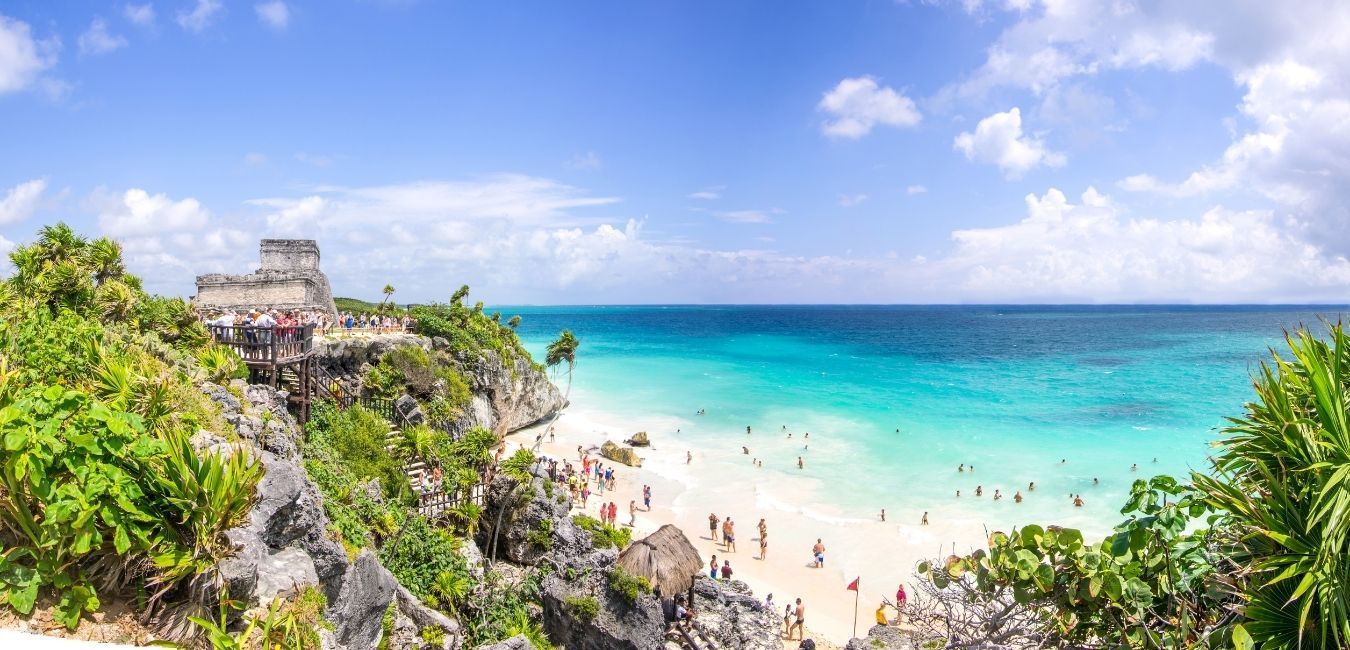 Did You Get Travel Insurance Yet?

The Insurance companies I recommend are Hey Mondo, Safety Wing, and Travel Insurance Master

Hey Mondo is great if you are looking for a great value flexible policy. They offer single-trip cover, annual multi-trip cover, and long-term travel cover. Safety Wing is great value, with monthly coverage starting at $39. It's super easy to use, and it just renews each month. I currently use them as they offer me free cover for my son as part of my policy. I also use Travel Insurance Master for short trips.

Read my full travel insurance post here, where I go into detail about all companies.
How to Access the Best Beaches Tulum
The easiest way to access the best beach Tulum spots is to walk through the entrance to one of the beach clubs—if anyone asks, tell them you're going for a drink. Keep on walking, and you should be fine. It can be tricky when you leave, as the staff doesn't want you to pass back through unless you buy a drink.
Also, if you plan on spending the day at Tulum beach, it may be worth paying for some beach clubs in Tulum. Thankfully, not all charge a small fortune—many have a minimum spend. I wrote a whole blog post on the best beach clubs in Tulum, which you can read here.
Quick Tip: I highly recommend booking all of your Mexico transportation with GottoGo. You can search for buses, shuttles, ferries, and Flights on their website. What I love most about them is their customer service. I know these guys personally from living in Guatemala, and they look after their customers.

If anything happens and you get delayed and miss your bus, you can just call them, and they are always there to help. If you book through them, you will pay a little more than booking in person at the bus station. But it's worth it for the ease and security. Click here to search for transportation in Mexico.
A note on privilege…
I can't write this post about the best Tulum Mexico beach without mentioning it's much easier for me (a white European woman) to access a Tulum beach than it might be for a person of color, especially a local Mexican. Why? Most of the time, I can just walk right on through the hotels and resorts, and most of the time, no one questions me. However, when I've tried to do this with my Mexican friends, whether we're successful has been hit or miss.
Tulum Beach Mexico Guide: Best Beach in Tulum
Let's get down to business: where are the best beaches in Tulum? The primary Tulum beaches are divided into north and south sections.
North Tulum beaches are less developed and, in my opinion, more beautiful. They are better if you don't want to shell out for a beach club. That said, Tulum's beaches are stunning, so it doesn't matter where you go—you can expect white sand and turquoise-colored waters everywhere.
Quick Tip: Book accommodation, tours, and transport ahead of time online to save money and stress.
Best Tulum Tours: Click here to check out the top Tulum tours
Best Tulum Accommodation: Click here to check out the best accommodation in Tulum
Best Tulum Transport: Click here to book a bus, ferry, or train in Tulum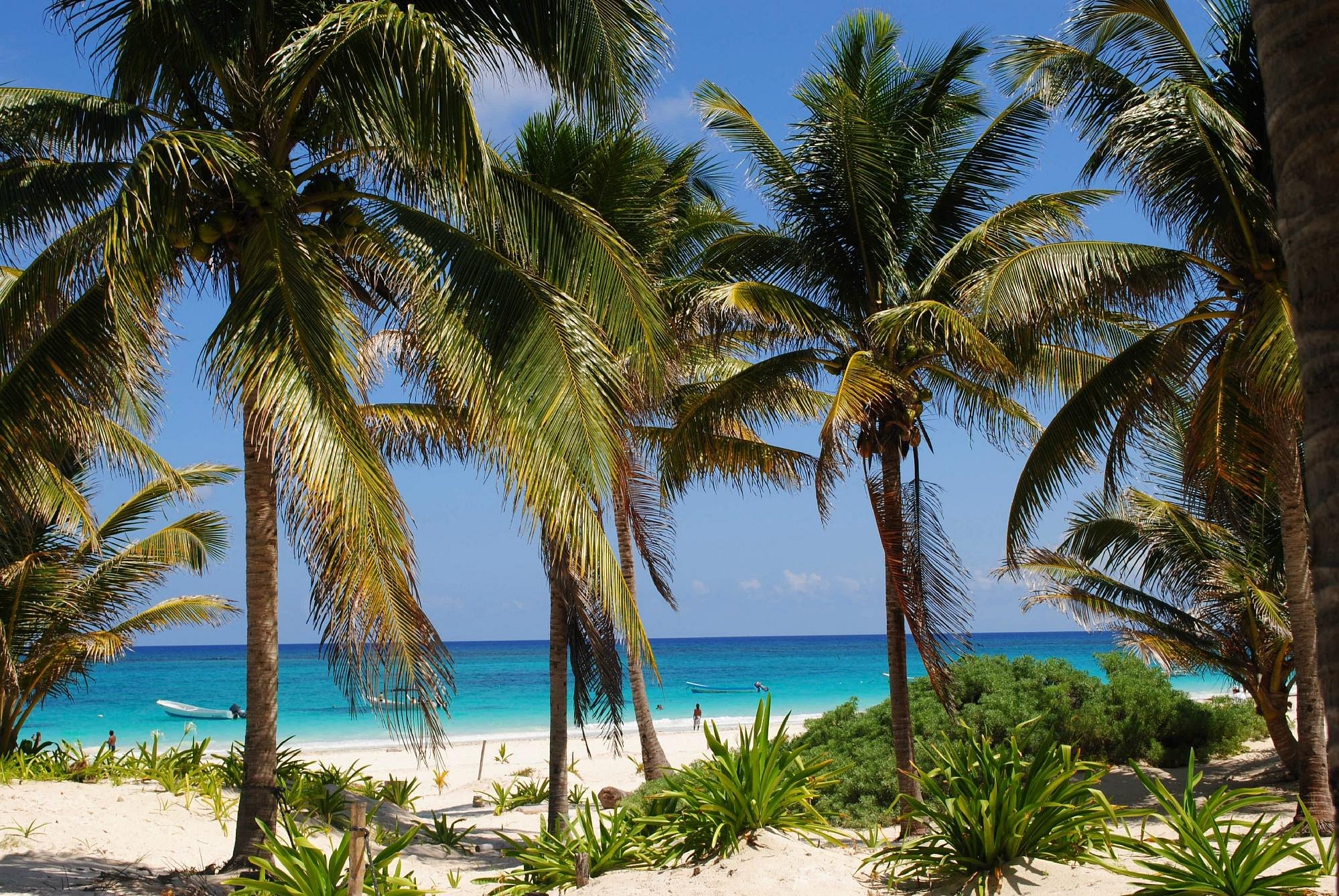 Located in the north section of beaches, Playa Paraiso Tulum is known as one of the most beautiful beaches in the world. That's why its name translates to "Paradise Beach Tulum," after all! Public access is easy here, as there are plenty of places to enter.
Playa Paraiso Tulum is also an extensive section of beach, so overcrowding isn't much of an issue. If you prefer to rent a sun lounger and umbrella, the cost is around 200 pesos for the day. There are also many restaurants and vendors in the area.
Playa Ruinas is another beautiful Tulum beach found on the northern side. This is the perfect beach for visiting the Tulum ruins, as it's right below the archeological site. Playa Ruinas is one of the most popular beaches in Tulum for tourists. Arrive early to get a good spot for your towel before the masses!
Las Palmas is slightly more secluded than Playa Paraiso, with no restaurants or vendors. It's quieter here than the other beaches, so it's ideal for peace and to escape the crowds. Facilities are a short walk away, so if you get hungry, you can always take a quick walk to various restaurants.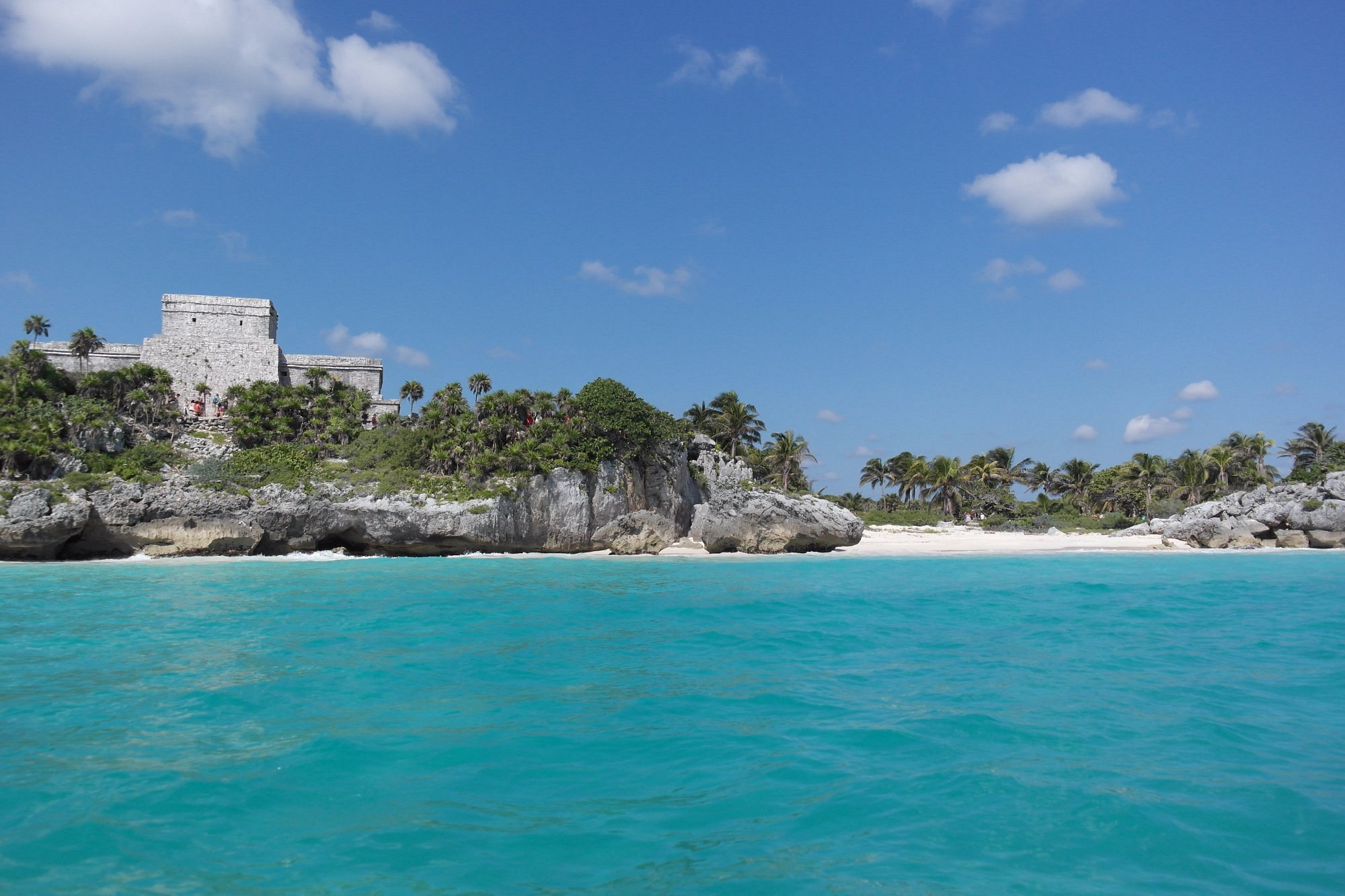 Playa Pescadores is the best Tulum Mexico beach if you want to eat the best ceviche in Tulum! This beautiful beach just north of Playa Paraiso has dreamy views of the ruins and is a good beach for a snorkeling tour. Tulum doesn't have the best snorkeling, but if you book an excursion, you'll get to take a boat ride to a colorful reef. Ask around and negotiate the price, as you can get a great deal if you don't mind haggling with the vendors.
Quick Tip: You can book Tulum and Sian Ka'an tours from Living Dreams Mexico here.
Click The Images To Shop My Tulum Beach Looks
5. South Playa
South Playa is all Tulum beaches in the southern hotel zone, where all the fancy Tulum hotels and beach clubs are located. The beach is beautiful here but not as wide, and it can be tricky to find the public access points. If this is the Tulum beach you want to visit, you're better off paying for a beach club.
You don't have to spend much money, as many have a minimum consumption of around 300 pesos ($15 USD). This is usually the price of a lunch and a soft drink or two—it also means you can lay on a sun lounger and access the club restrooms. Check out this blog post on the best Tulum beach clubs for more info about my favorite ones.
If you don't want to visit a beach club, you will need to look for the public access points. They can be hidden, but you can also try walking through a hotel and telling them you're going to the beach club.
Quick Tip: View my full Mexico packing guide here including a downloadable checklist. And check out my Mexico Essentials shopping list here.
The "Secret Beach" can be found just outside Tulum in the Sian Ka'an Biosphere, a protected natural area. You should try to tour Sian Ka'an if you have time—it was one of my favorite days in Mexico. Just watch the video below to see what it's all about!
Anyway, Secret Beach is the best beach in Tulum Mexico to get off the beaten path. It's tricky to get to, as it involves a long bike ride and a bumpy ride through Sian Ka'an if you drive. The road is known as being horrible, and it often washes away in the rain. But wow, it's worth it. Take your own supplies with you, as this area is undeveloped.
Directions to the Best Beaches Tulum
Tulum is fairly pretty spread out, so if you're not staying in the beach hotel zone, you'll need some directions to get to the beach. Take the main road past the supermarket in Tulum's town center. When you reach the end of the road, you have two options. To get to the northern beach in Tulum, you must go around the roundabout and turn left. Don't be put off by the barrier—it's a public road. If you want to go to the south Tulum beaches, follow the road to the right.
QUICK TIP: Book your tours, rental cars, and transfers through my local contacts

I've been working with Living Dreams Mexico for years and they are who I send all my family and friends to when they visit the Riviera Maya. I really can recommend them enough for private tours and experiences. They have solid 5* reviews on Trip Advisor and Google from almost 4000 reviewers! You can view all their tours here.

If you're looking for private airport transfers and rental cars then Vanessa and Oliver from Turismo Channel are personal friends of mine and I can 100% recommend them to make an inquiry click here and complete the form. Someone will be in touch within 24 hours.
Transport to Tulum Beaches
Bike: Who doesn't enjoy riding a bike in Tulum? It's a nice flat ride to the beach from the heart of Tulum, and most of it is on a bike path.
Drive: I always rent a car and drive in Tulum, as I find it much easier and cheaper. Parking can be pretty tight on the south side as the roads are narrow, but there is generally much of it. I usually try to find a space in a staffed parking area as they feel more secure. If you're visiting a beach club, most offer free parking.
Roads are wider on the north side as it's less built up. It's easier here to find free parking on the streets and a public parking lot close to Playa Pescadores.
Taxi: I recommend taking a taxi if you don't want to bike or rent a car. The rates are fixed, and the ride from downtown Tulum to the beach will cost 80 pesos.
Walk: I wouldn't recommend walking as there isn't much shade and the sun is punishing. If you do walk, make sure to wear a cover-up and bring plenty of water.
Need to rent a car in Playa del Carmen?
Whenever I'm in Playa or Tulum I always rent a car through Turismo Channel as they include everything in the quoted price. Car rental companies in Mexico are notoriously tricky to deal with and 9 times out of 10 they will quote you a low price but then when you get there they add on all kinds of insurance and won't give the car to you unless you pay up. It can also take weeks or even months to refund your deposit. I wrote a whole blog post you can read here for more information. If you want to get a quote to rent a car with Turismo channel click here to complete the form.
Tulum Travel Guide Planning
🧳 Any recommendations on what I should pack for Tulum?
Yes! I have created a whole packing guide to Tulum which you can read here and you can also check out my packing list for Tulum on Amazon here.
🚗 Where can I book bus or private transportation while I'm in Tulum?
I strongly recommend using GottoGo. You can book almost all transport in the major Mexican tourist destinations through them online. They don't just cover buses they also cover shuttles, ferries, and private drivers.
🎫 Where can I buy tickets for museums, attractions, and tours in Tulum?
I recommend either Viator or GetYour Guide.
If you are traveling to Cancun you can use GoCity and save up to 55% of the initial cost of entrance tickets to various museums, tours, and attractions!
If you are traveling to Playa del Carmen then I recommend booking through my friend Vanessa at Turismo Channel. You can check out their tours by clicking here and using the following discount codes for the best prices clairecaroff (car rental), claire10off (for 10% off group tours), claireprivate (for a discount on private tours). You can also send her a WhatsApp message quoting the above codes to receive the discount.
👩‍⚕️ What is the best insurance to have while traveling?
I recommend using Heymondo for a great value policy. The app also offers you 24/7 Dr Chat. For Digital Nomads check out SafetyWing digital nomad insurance.
I have also written a blog post covering all my recommended travel insurance here
✈️ Any flight recommendations?
WayAWay offers you cheap flights with cashback. You can use this code CLAIRE22 to get 10% off. Otherwise Skyscanner or Expedia are my go-to flight searching platforms.
📱What do you use for internet connection while traveling?
I'm a big fan of personal WiFi devices and they have saved my ass so many times when traveling. I wrote a full review of the top travel WiFi devices you can read here. I personally use GlocalMe as I can either pop in a physical sim card or use their local carrier.
With regards to my phone connection, I use e-sims while traveling, so rather than having to swap out my regular sim card I can download the app and buy a virtual sim card. I recommend using eitherAirhub or Alosim. Both have great coverage of multiple countries and are very easy to use.
🛏️ What is the best platform to use for booking accommodation?
The 3 best platforms that I normally use are Booking.com, Hotels.com, and Expedia They offer great deals and multiple options. I always check all three to be sure of the best deals.
🛅 Do you have any luggage recommendations for traveling?
I do have a complete list of the best packing and luggage products that I recommend, you can check the list here. I'm currently traveling with this suitcase and this backpack.
Tulum Beach Guide: Final Thoughts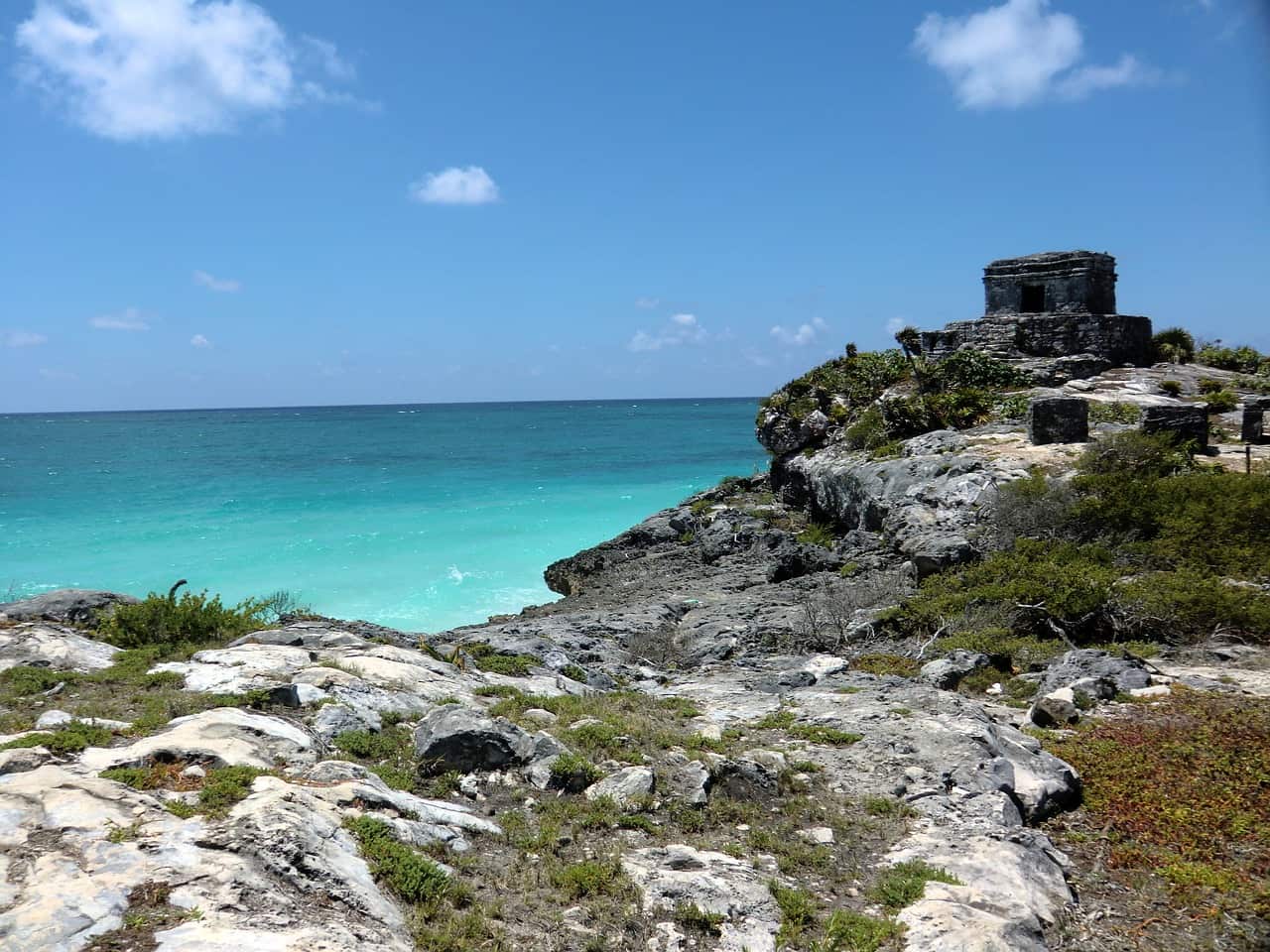 I usually go to beach clubs, as I like spending the day there, and they offer bathrooms, sunbeds, food, and drinks. If I'm just going to the beach for a couple of hours, I will go alone.
If you don't want to pay for food and drinks, stick to the northern beaches—they're less developed, public access is much easier, and you'll have more space to lounge. Remember snacks, water, and a beach umbrella for shade. Anyone who wants more facilities and plans to buy food should go to a beach club. Check out this post to find the best Tulum beach club for your budget.
Whichever Tulum Mexico beach you visit, I hope you have a great experience!
Pin It For Later