Wondering where the best public beaches in Tulum Mexico to visit are? You're not alone! Here's the thing most of the fancy Tulum beach clubs and beach hotels in Tulum don't want you to know… All beaches in Mexico are public. There are no private beaches in Mexico and it is illegal to block public access to the beach.
That said, in Tulum, they make it extremely difficult for the public to access the beach along the hotel zone, so it seems like the only way to get on the beach is to pay a lot of money to one of the beach clubs.
So, in this blog post, I'm going to share the best beaches in Tulum and give you some tips for getting on the beach without having to pay!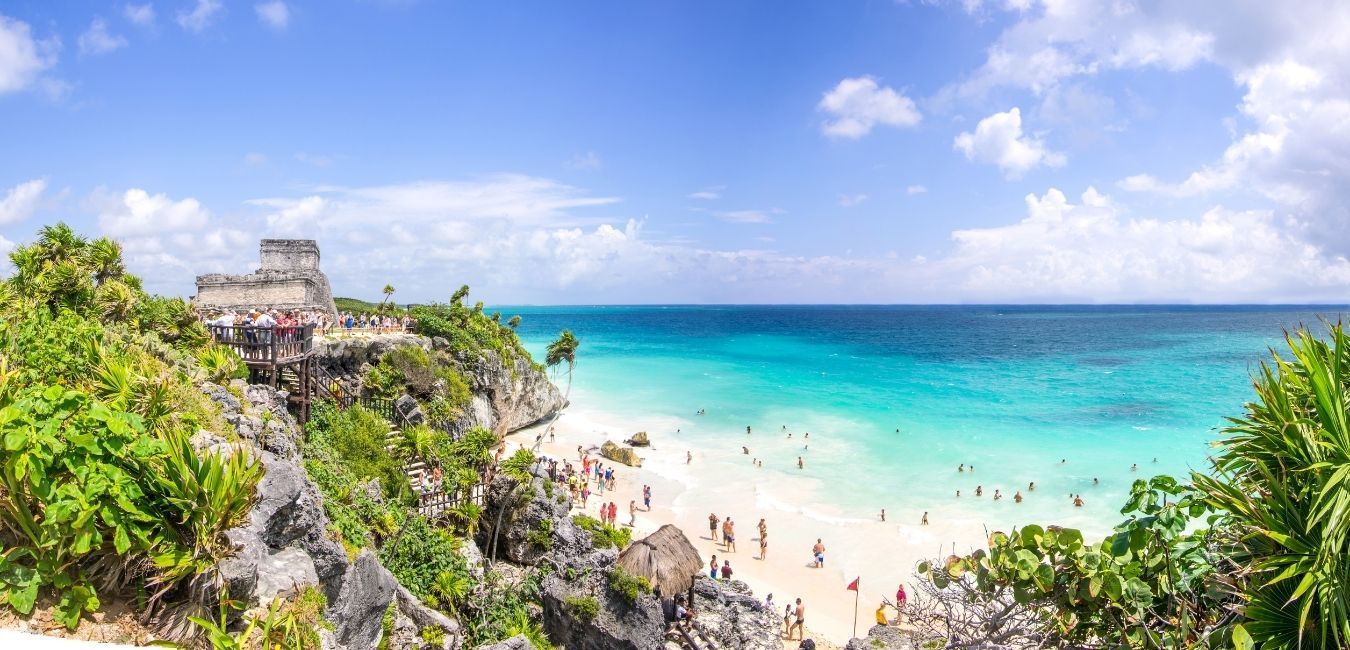 Did You Get Travel Insurance Yet?
If 2020 taught us anything, it's that you need to be prepared for anything! Travel insurance has always been high my list of things to get before I travel but now more than ever its at the top of my list.

I'm pretty sure we have all had travel plans messed up because of COVID and not all insurers covered this. So when looking for travel insurance it's important to check it covers travel disruption due to COVID-19, Hey Mondo, Passport Nomads, Safety Wing, and Travel Insurance Master all provide cover for this.

Hey Mondo is great if you are looking for a great value flexible policy. They offer single trip cover, annual multi trip cover, and long term travel cover. You even have the option to start the cover when you are already on your trip, although you won't be covered for the first 72 hours. For me my favourite feature is their app which offers you a 24/7 Dr chat and the ability to file a claim direct in the app.

Passport Nomads provides the most comprehensive cover for Digital Nomads. The game changer with them is that you have a red card and if you find yourself in need of medical care you just contact them and they will pre load your card with the funds to cover your treatment, meaning you won't need to pay out of pocket and then put in a claim later.

Safety Wing is great value with monthly cover starting at $39. It's super easy to use and it just renews each month. They have an excess of $250 and it's simple to make a claim through their website. I currently use them as they offer me free cover for my son as part of my policy and I like that it renews on a monthly basis, so I don't have to pay out a big lump sum up front.

I also use Travel Insurance Master for some short vacation type trips.

If you are doing shorter trips or an extended backpacking trip then Hey Mondo or Travel Insurance Master are the best option. If you are a digital nomad or planning travel of at least 6 months then go for Passport Nomads or SafetyWing.
Just walk on through!
By far the easiest way to get onto the best public beaches in Tulum Mexico is to just walk on through the entrance to one of the beach clubs. If anyone asks you, tell them you are going for a drink. Then just keep on walking right on through to the other side. It normally works just fine. It's actually a bit more tricky when you want to leave as they don't like you to pass back through unless you really did by a drink!
Also, if you are planning on spending the day at the beach sometimes it's worth going to one of the beach clubs in Tulum. Not all of them charge a small fortune, many of them just have a minimum spend. The issue is many people only know the super expensive ones that want you to spend a minimum of $70 to use a sunbed! I wrote a whole blog post on the best beach clubs in Tulum you can read here.
Need to book transportation in Mexico?
I highly recommend booking all of your Mexico transportation with GuateGo. You can search for buses, shuttles, ferries, and Flights on their website. What I love most about them is their customer service. I know these guys personally from my time living in Guatemala and they really do look after their customers. So if anything happens and you get delayed and miss your bus, you can just call them and they are always there to help.

If you book through them you will pay a little more than if you book in person at the bus station. But it's worth it for the ease and security in my opinion. Click here to search for transportation in Mexico.
A note on privilege…
I can't write this post on the best beaches in Tulum Mexico and not mention that it is much easier for me (a white European woman) to access the beach than it is for a person of color, especially a Mexican (I.e. not a tourist). Why? Because most of the time I can simply just walk right on through the hotels and resorts acting like I belong there and 9 times out of 10 no one will question me. When I've tried to do this with my Mexican friends it's always hit and miss if we get away with it or not.
The 6 best public beaches in Tulum
Ok let's get down to it, where are the best beaches in Tulum?
For starters, the main beaches in Tulum are broken up into two sections. The North Tulum beaches, and the South Tulum beaches.
The north beaches in Tulum are less developed, and in my opinion more beautiful. They are better if you don't want to shell out for a beach club. That said all of the beaches in Tulum are stunning and so it doesn't really matter where you go as you can expect white sand and turquoise-colored waters.
Best Beach Tulum – Playa Paraíso
On the north side of the beach road. Playa Paraiso is known as one of the most beautiful beaches in the world, not just in Tulum. It's why they named it paradise beach after all! Public access is easy here and you will find plenty of places you can enter easily.
It's also a very wide section of the beach so overcrowding isn't so much of an issue here. If you prefer to rent a sun lounger and umbrella the cost is around 200 pesos for the day. There are also plenty of restaurants and vendors around if you need them.
Another beautiful Tulum beach on the northern side. This beach is the perfect one to visit if you are also visiting Tulum ruins as it's right below the archeological site. Because it's so close to the ruins it is a popular beach with tourists and it's one many of the tours visit. So do get there early if you want to get a good spot to pitch your towel before the masses.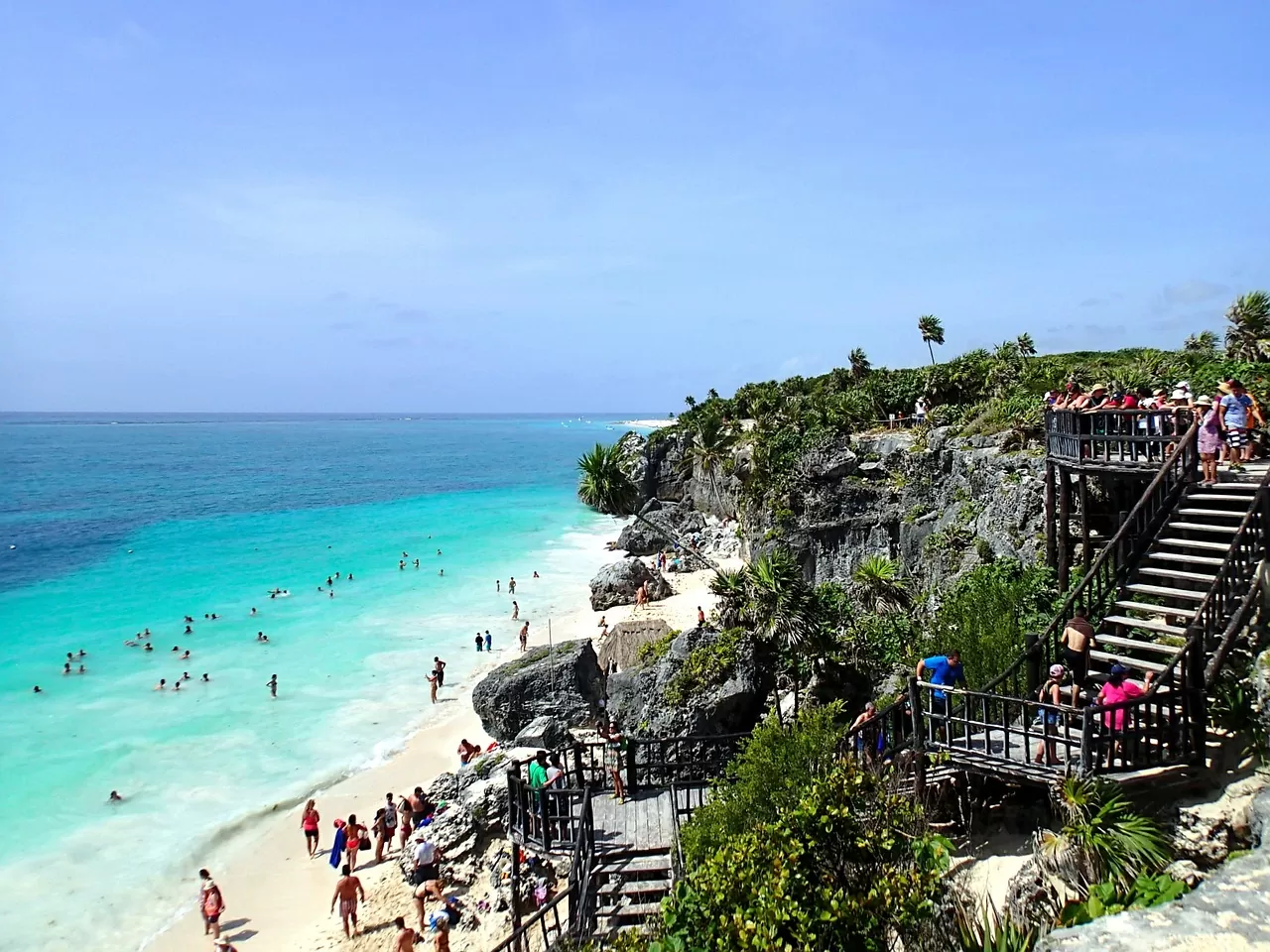 Las Palmas
Slightly more secluded than Playa Paraiso with no restaurants or vendors it's quieter here than the other beaches. If you want some peace and quiet and to escape the crowds this is the beach for you. There are facilities a short walk away on the other beaches, so if you do get hungry then you can always take a walk to the next Tulum beach along.
This is the best beach in Tulum Mexico if you want to eat the best ceviche in Tulum! You can find this beautiful beach just north of Playa Paraiso. It has dreamy views of the ruins and it's also a good beach to take a snorkeling tour from. Tulum doesn't have the best snorkeling. But if you book a tour then will take you out to the reef in a boat. Do make sure you ask around though and negotiate the price as if you don't mind haggling with the vendors you can get a great deal.
Click The Images To Shop My Tulum Beach Looks
You can also check out my Mexico packing list here.
South Playa
South Playa is basically all of the Tulum beaches in the south of the hotel zone aka where all of the fancy Tulum hotels and beach clubs are. The beach is beautiful here. But it's generally not as wide, it can be tricky to find the public access points and in all honesty, if this is the part of the beach you want to visit you are better off visiting one of the beach clubs. You don't have to spend a lot of money. Many of them have a consumption minimum, so you have a minimum spend of around 300 pesos (around $15 USD). For this, you can normally get lunch and a soft drink or 2. It also means you can lay on a sun lounger and have access to the restrooms.
Take a look at this blog post on the best Tulum beach clubs for more info about my favorite ones.
If you don't want to visit a beach club then you will need to look out for the public access points to get on the beach. They can be a bit hidden… or just walk through a hotel and tell them you are going to the beach club!
Secret beach is actually just outside Tulum in Sian Ka'an Biosphere ( a protected area of natural beauty). And FYI you should 100% try and do a tour to Sian Ka'an if you have time, I went and it was one of the best days, just watch this video below to see what it's all about.
Anyway, Secret beach is the best beach in Tulum, Mexico if you want to get right off the beaten path. It's tricky to get too. It's going to be a long bike ride and if you drive be prepared for a bumpy ride as the road through Sian Ka'an is well known for being terrible. It often washes away in the rain! But wow, it's worth it. Be sure to take your own supplies here with you though as this whole area is totally underdeveloped.
How to get to the beach in Tulum Mexico
Tulum is actually pretty spread out so if you are not staying in the beach hotel zone of Tulum then you will need to get yourself to the beach.
From Tulum town you need to take the main road to the beach, there is only one! It will take you down past the big supermarket. When you reach the end of the road you have two options. To get to the northern beach in Tulum you will need to go around the roundabout thing and turn left. Don't be put off by the barrier, it's a public road. If you want to go to the south Tulum beaches, you need to just follow the road around to the right.
Looking for a reputable tour company in The Riviera Maya?
I've been working with Turismo Channel in Playa del Carmen for years and they are who I send all of my family and friends to when they visit the Riviera Maya. I really can recommend them enough for tours, private airport transfers, and rental cars. Vanessa and Oliver are personal friends of mine and I have 100% faith that you will have a wonderful time with them.
You can check out their tours by clicking here and using the following discount codes for the best prices clairecaroff (car rental), claire10off (for 10% off group tours), claireprivate (for a discount on private tours). You can also send her a WhatsApp message quoting the above codes to receive the discount.
The best options for transport to the public beaches in Tulum are:
Bike– who doesn't ride a bike in Tulum? It's a nice flat ride to the beach from Tulum town and most of it is on a bike path.
Drive – Personally I always rent a car and drive in Tulum. I don't really drink alcohol these days and find navigating Tulum much easier (and cheaper) in a car.
Parking can be pretty tight on the south side as the roads are narrow, but there is generally lots of parking. Personally, I normally try to find a space in an actual manned parking area as it feels a bit more secure. If you are visiting a beach club most of them have free parking. If not there is some on-road parking and car parks on the south side.
On the north side as it's less built up and the roads are wider. It's easier here to find free parking on the roads or there is a public car park close to Playa Pescadores.
Taxi – If you don't want to bike or rent a car then I would recommend taking a taxi. The rates are fixed and the ride from Tulum town to Tulum beach will cost $80 pesos.
Colectivo – Another option is a local colectivo. Although to be honest I've never personally done this because they are pretty infrequent but if you see one you can flag it down. I think they stop at around 6 pm.
Walk – I honestly wouldn't recommend this. It's not a long or a hard walk, but there isn't much shade and the sun is punishing. So I don't recommend it purely because it's just too hot and if you are planning on hanging at the beach all day that's a lot of sun! If you do walk, cover-up and bring plenty of water.
Need to rent a car in Playa del Carmen?
Whenever I'm in Playa or Tulum I always rent a car through Turismo Channel as they include everything in the quoted price. Car rental companies in Mexico are notoriously tricky to deal with and 9 times out of 10 they will quote you a low price but then when you get there they add on all kinds of insurance and won't give the car to you unless you pay up. It can also take weeks or even months to refund your deposit. I wrote a whole blog post you can read here for more information. If you rent with Turismo channel use the code clairecaroff for a discounted price. You can also send her a WhatsApp message quoting the above codes to receive the discount.
Beach Club, or Go it alone?
Personally, I normally go to a beach club as I like to spend the day there so having bathrooms, a sunbed, and food and drink available are important to me. If I'm just going to the beach for a couple of hours, then I go it alone.
If you don't want to pay for food and drink then I'd advise you to stick to the northern beaches, they are less developed, public access is much easier and you will have more space as the beach clubs aren't taking over half of the beach. If you do this just make sure you bring your own food and drink and a beach umbrella if you have one for some shade.
If you want more facilities and plan on buying food and drink, then it's best to go to a beach club. Check out this post to find the best beach club for your budget.
Whichever Tulum beach you decide to go to, I hope you have a great day!
Pin It For Later